Cross Checks:

Scott Gomez
May, 17, 2013
5/17/13
8:41
PM ET
SAN JOSE, Calif. -- Lost in the drama which ended Game 2 in the Sharks-Kings series -- with Los Angeles scoring twice in the final two minutes to steal a 4-3 win -- was a neat little story about a player trying to pick himself off the scrap heap.
San Jose's
Scott Gomez
was promoted to third-line center and did not disappoint with his effort, tallying two assists and delivering a strong overall performance in an expanded role.
I know, it's a little bit too much to take for fans of the
Montreal Canadiens
and
New York Rangers
.
But it's a funny thing when you're no longer a $7 million player, but rather a $700,000 bargain. The expectations are drastically different. Suddenly, your experience and skating in a bottom-six role is greatly appreciated.
The Sharks took a chance on Gomez early in the season after Montreal showed him the door via a buyout, and they haven't regretted it.
"He loves the game," Sharks GM Doug Wilson told ESPN.com Friday. "He worked hard. He came here looking for an opportunity and he got one because he's earned it. He's earned the ice time. And that says an awful lot about him, because he's accomplished an awful lot in this league. His love for the game and his desire to be part of a team and contribute in any way that he can speaks volumes about Scott."
Gomez is all smiles these days. Being away from the Montreal spotlight, where his offensive shortcomings were a daily media dish, has served him well.
"I think we all get to different stages in our lives," Hall of Famer and Sharks associate coach Larry Robinson told ESPN.com Friday. "He went through a tough time in New York. And then things went not too bad at the start in Montreal, and then all of a sudden he was their whipping boy. I think you hear it for so long, after a while maybe you start to believe it yourself and you start to question just how good you really are.
"He's not going to change," Robinson said. "His strengths have always been, I think, he sees the ice as good as anybody. He's a true passer. He's never been and never will be a shooter. But he's a guy that makes things happen.
"I think now, he's starting to believe in himself a bit more."
Robinson was a key figure in both the Sharks taking a gamble on Gomez and the player wanting to make San Jose his next stop. Gomez has huge respect for Robinson, whom he played for in New Jersey, and that made his decision easier.
"Larry is one of the guys that showed me how to be a professional when I came into this league," said Gomez.
[+] Enlarge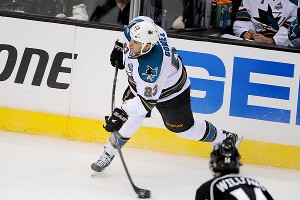 Andrew D. Bernstein/Getty ImagesFree of the expectations that came with playing in Montreal, Scott Gomez is at peace with his role in San Jose.
Being a pro means accepting what the new reality is. Gomez has been a bottom-six forward on the Sharks this season after spending most of his career as a top-line guy. But if you're looking for the grumpy veteran, you're not going to find one here. Gomez has been only upbeat in San Jose.
"He's often the life of the locker room, he's a guy you can laugh and joke with," said Sharks teammate
Adam Burish
. "He's got a good sense of when it's a good time to have fun and laugh and when it's a good time to hold guys accountable. He's done a good job of that."
And Gomez isn't scared to pipe up when something needs to be said.
"On the bench, he's saying things that probably a lot of guys aren't comfortable saying," said Burish. "Like calling a guy out, calling an older guy out, he can do it because of where he's been and what he's done. I think he's brought that."
Gomez's contributions here are clearly just as important off the ice.
"Gomer has been a very good player for us in a number of different ways," said Sharks head coach Todd McLellan. "I don't want to say it's surprising, but he's almost like a third or fourth coach. He's trying to do things the right way, he's trying to get guys to keep their shifts short, he's trying to make sure we have a high guy, he's trying to make sure we don't turn pucks over.
"I didn't know we were getting that in Scott Gomez, but we got it. And he's been a big influence that way."
Just don't call this the reinvention of Gomez.
The 33-year-old Anchorage, Alaska, native scoffed at that notion. He's not trying to redo his game. He's just accepting whatever role he's being given.
"That's part of winning, everyone sacrifices," said Gomez. "I was taught by some of the best. In New Jersey, people forget I started on the wing and on the fourth line. It's about winning. Every team I've ever won on it's about sacrificing. As you get older, you realize it more. That's never been an issue. It started with my parents. I was fortunate to start with an organization that only cares about winning."
So, pout because he's no longer in a top-line role? That's not going to happen. What kind of example would that be setting, he asked.
"It would be a slap in the face to everybody that's helped me along the way if I didn't help the young guys out and sit here and mope around," said Gomez. "I came here for a reason. It was my best chance to win, and it's been great. When your number is called, you better be ready."
Let's not exaggerate things here. I don't think you're ever going to see Gomez put up big numbers again. But he still has the skating ability and the vision.
At the right price, he can help a lot of teams next season. His performance Thursday night showed that.
"I thought it was the best game he has played since coming to San Jose," said a veteran NHL scout. "But he still plays a perimeter game. That's who he is."
Hey, as Gomez said himself, he's not going to go out there and start hitting guys like he's some sort of energy guy. It's not his thing. But he can still help in his own way. And for a prorated $700,000 salary, the Sharks will take it.
Gomez, 33, had one year -- which carried a $7.35 million cap hit -- remaining on his $51.5 million deal when the Habs bought him out on the eve of the season. Montreal still paid him his prorated $5.5 million salary this season, and will owe him $1.5 million next season and $1.5 million the season after that as part of his buyout.
Never again will his salary be the story. But Gomez insisted Friday that his big salary in Montreal was never a pressure point that dragged him down. He doesn't feel liberated now because he's on a bargain-basement deal in San Jose.
"Money's never been anything," said Gomez. "I wasn't born with it, I wasn't raised with it. I've gotten to play in the National Hockey League, my dreams have come true, I've done everything because of this game."
So no, he insists his salary in Montreal was not a burden.
"Never, never," he said. "I've been in the league a long time, I've paid my dues. I've never thought about it once like that. It's never been an issue. You go out there and have fun. Obviously it's set my life up and my family forever [financially] and I'll always be grateful for the guys before me that paved the way for that. There's no question."
This clearly isn't the story of the new Scott Gomez. It's about the old Scott Gomez feeling at peace with a new team.
January, 25, 2013
1/25/13
12:33
PM ET
It has been a week since the NHL returned from its self-imposed lockout exile. It's far too early to draw lasting conclusions but certainly enough to gather initial impressions, now that we're detailing power-play success over HRR and back-diving contract control.
Fan Faithfullness
So much for boycotts and fan apathy. The NHL reports that average per-game announced attendance is up 6.6 percent, or more than 1,000 fans per game, through the first 49 games of this season compared to the first 49 last season.
Not only have the fans come back with a vengeance, filling almost every NHL rink to capacity, but they're watching on television in record numbers as well. NBC's opening-weekend games (Chicago in Los Angeles and Pittsburgh in Philadelphia) were the most-watched regular-season games, outside the Winter Classics, in 14 years. Pittsburgh, Philadelphia and Chicago reported record local ratings. NBC Sports Network's offering of the Boston-
New York Rangers
tilt on Wednesday drew 956,000 viewers, the biggest single regular-season-game audience in the network's history and the most-watched regular-season game on cable since 2002. An incredible 27 percent of the Canadian population tuned in to the Montreal-Toronto season opener. Boston, St. Louis, Minnesota, Dallas and Florida also reported significant spikes in viewership for their local broadcasts.
It's not all roses and cherries, though. Phoenix drew an announced crowd of just 8,355 Wednesday night, and this for a team that went to the Western Conference finals last spring. While the Blue Jackets are clearly not a big draw in Denver, the Avs announced 14,325 Thursday night, well short of a sellout at the Pepsi Center. The Panthers and Blues were also short of sellouts in home games Thursday night.
A better indication of whether fans and sponsors are prepared to forgive and forget when it comes to the lockout will come in a month or two, especially if teams like Florida or Columbus or Carolina have fallen out of the playoff race. What will the numbers look like then? Maybe the short season will keep eyes on the game and butts in the arena seats in record numbers right through to the end. Maybe not.
Faltering Favorites
Not many would have predicted that the Rangers,
Philadelphia Flyers
,
Washington Capitals
,
Los Angeles Kings
and
Detroit Red Wings
would start a combined 3-13-1. Throw in a 1-3 start for the
Phoenix Coyotes
, who won the Pacific Division last season and advanced to the Western Conference finals, and a 1-3 start for the defending Southeast Division champs from Florida, and you've got a lot of teams with high expectations and standards that are wallowing near the bottom of the standings. Worth noting is that the 1994-95
New Jersey Devils
started 0-3-1 and went on to win the Cup during that 48-game, lockout-shortened season. Is there a similar rags-to-glory story among these slow starters? Maybe the better story is which of this group of well-heeled bottom-dwellers can turn things around enough to make it to the playoffs in late April. Our guess is no more than three.
Markov Is Back
Yes, the absence of unsigned restricted free-agent defenseman
P.K. Subban
has been a problem for the Canadiens, but the return to form of
Andrei Markov
and the emergence of young Swiss defender
Raphael Diaz
means Subban's absence is felt less keenly. Before the start of the 2013 season, Markov had played in just 65 NHL regular-season games since 2009-10 because of a series of mostly knee-related injuries. But Markov has three goals and an assist while averaging 23:47 of ice time to help bolster a power play that must produce if the Canadiens are to make it back to the playoffs. Diaz has also been a revelation after a strong lockout spent playing with
Damien Brunner
and
Henrik Zetterberg
in Switzerland. He has five assists in three games for the Habs, who won two in a row after an opening-night loss to Toronto.
Injuries Hitting Hard
Everyone assumed injuries were going to be a major theme in a shortened season. But whether it's the compressed schedule (it actually just seems busier than a normal 82-game slate) or the lack of a training camp or the disparity between those who played during the lockout and those who didn't, the injury bug has bitten and bitten hard. The Flyers are without
Danny Briere
and
Scott Hartnell
, and their defensive depth at the AHL level has been ravaged by injury. The Red Wings have been nicked up, testing their defensive depth.
Steve Downie
is gone for the season for the Avs.
Joffrey Lupul
suffered a broken forearm after being hit by a shot from Maple Leafs teammate
Dion Phaneuf
and will be gone for a couple of months.
Mike Smith
left the Coyotes' net midway through the first period this week, although his injury isn't believe to be serious. Still, don't expect the bug to be stopping its bite anytime soon. With that in mind, look for the teams with the greatest organizational depth to rise above these injuries and stay in the hunt for playoff berths and/or top seeds.
Rookies On A Roll
Maybe it's no surprise that a handful of youngsters are having an immediate impact in this young NHL season. Whether it's
Vladimir Tarasenko
in St. Louis, who had four goals and six points to lead all rookies as of Friday, or Detroit's Brunner, who scored one of the prettiest shootout goals you'll ever see, or
Dougie Hamilton
, who looks as if he has been patrolling the Boston blue line for years and not just days, the lockout has given way to a serious youth movement.
Justin Schultz
and
Nail Yakupov
in Edmonton,
Cory Conacher
in Tampa and
Jonathan Huberdeau
in Florida are other noteworthy first-year players making a name for themselves. Usually coaches and GMs worry about the final third of a normal season for rookies, the travel and the physicality of a full schedule often taking the bloom off the rookie rose by the last 25 or 30 games. But with a 48-game slate, these rookies might keep lighting it up from beginning to end.
Buyout Payoff
Good for the league and the players to get together and adjust the buyout process to allow Montreal and the Rangers to part company with unwanted players
Scott Gomez
and
Wade Redden
, respectively. We understand the logic that led to both teams initially planning to park both players for this season with the intent of buying them out next summer. Teams can't buy out injured players, and it made more sense business-wise not to have them play. But there was something inherently wrong about it and the two sides agreed to alter the language and allow the Rangers and Habs to buy out those players. That has allowed Redden to resume his NHL career with the
St. Louis Blues
and Scott Gomez to sign a one-year deal with the
San Jose Sharks
. Both have much to prove, although wouldn't that be an interesting storyline if either were to end up holding up the Stanley Cup in the spring? Bottom line, it was the right thing to do. If only the two sides had been able to summon up that spirit of cooperation last summer.
Sharks Have Bite
San Jose head coach Todd McLellan told us before the start of the season about the challenges of putting together a lineup with players who were at varying degrees of readiness, some having played extensively in Europe or the AHL, some having played a bit and others not at all. Whatever McLellan is doing, it's working: The Sharks were one of two undefeated teams in the Western Conference through Thursday's games (Chicago was the other).
Patrick Marleau
, who did not play during the lockout, had three straight two-goal games to lead the league in goals; linemate
Joe Thornton
, who played in Switzerland during the labor impasse, leads the NHL with nine points. Will the Sharks, off the Stanley Cup radar for the first time in years, make skeptics pay with their first championship, regardless of who played where and how much during the lockout?
You Get The Power
It's interesting to see which teams have been able to take advantage on the power play early on and how important it has been. The Blues and Sharks led the NHL with seven power-play goals each. The Blues were clicking at a shocking 53.8 percent rate while Chicago was third with six man-advantage goals. The three teams were a combined 10-1-0 to start the season. At the other end of the ladder, the Kings and Red Wings were the only teams without a power-play goal at week's end. They were a combined 0-for-34 with a man advantage and had combined for a 1-4-1 record.
January, 14, 2013
1/14/13
9:19
PM ET
The
Vancouver Canucks
insist they will be patient on the
Roberto Luongo
trade front, regardless of what anybody thinks.
They will not make a panic trade just for the sake of moving Luongo out of town. They aren't moving him unless they get fair value for him.
"He's an All-Star goalie," veteran Canucks GM Mike Gillis told ESPN.com Monday. "It's a completely media-driven notion that we have to do this quickly and it's going to be a terrible situation [if Luongo starts the season in Vancouver]. It wasn't a terrible situation last year and it won't be this year if he's here."
The fact that new No. 1 netminder
Cory Schneider
has a good relationship with Luongo certainly helps things. But for Luongo's sake, you hope this deal gets done as soon as possible, although he's been the utmost pro about it so far.
Toronto remains the most obvious destination, and while Gillis did not want to shed any more light on the Luongo situation Monday, another NHL source told ESPN.com that the Maple Leafs and Canucks have indeed touched based with each other since Brian Burke's firing as GM last week.
But I don't think too much has changed. I don't believe new Leafs GM Dave Nonis wants to overpay, despite clearly having interest in Luongo -- a star netminder he brought to Vancouver in the first place when Nonis was the Canucks' GM.
My understanding is that the Canucks' asking price is an established NHL player plus a high-end prospect. In Toronto's case, I believe that prospect is
Nazem Kadri
, and that's a player I don't think Toronto is willing to move at this point. That could change, of course.
But the reason Vancouver needs an NHL player as well in the deal is underlined by the injury to
Ryan Kesler
. The Canucks are thin right now at center. Whether it's a guy like
Tyler Bozak
or another skater, Vancouver would need an established NHL body from the Leafs in any deal.
Toronto hasn't given up on goalie
James Reimer
, either. I think the Maple Leafs want to see how he does out of the gates before deciding whether or not they need to make a goalie move. The risk in that, at least from the Luongo point of view, is that perhaps other NHL teams ramp up their interest in Luongo either because of injury or poor play from their goalie.
And by the way, whichever team gets Luongo is getting a netminder that remains among the top 10 elite netminders in the NHL, in my mind. And he'll be a motivated one, too.
Gomez, Redden sent home
In the wake of Montreal's announcement Sunday that
Scott Gomez
was sent home to await a summer buyout, the NHL Players' Association reached out to the NHL to discuss the situation on Monday. In fact, both sides spoke a few times about it.
It doesn't sit too well with the players' union given that Gomez is unable to ply his trade. But because the Habs will continue to pay Gomez his full salary, there's really nothing technically wrong, and certainly the NHL's position is that rookie Montreal GM
Marc Bergevin
did nothing wrong here.
It's the same situation in New York, where
Wade Redden
remains in limbo. Both the Rangers and Canadiens plan to use a compliance buyout this summer (which doesn't count against the salary cap) to get out of those respective contracts -- but the new CBA states that those compliance buyouts can't be used until June, at the earliest. Thing is, neither the Habs nor Rangers want to jeopardize that opportunity to get the cap savings by having the player get injured this season and thus not qualify for the compliance buyout if the player is still hurt come June.
From the NHLPA's perspective, while both players are getting paid, not playing this season would hurt their future job prospects, and it's hard to argue that.
What needs to happen here is common sense. I'm hoping the NHL and NHLPA come to some sort of side agreement that deals specifically with Gomez and Redden that allow each player to continue their NHL careers but still allow the Habs and Rangers to get out of their cap issue with both players next season. We shall see what comes out of this.
The Rangers, by the way, have worked hand in hand with Redden's camp (agent Don Meehan) to try to solve this for weeks. So there's no bad blood there at all. Just two sides trying to find a good and fair solution.
December, 24, 2012
12/24/12
12:15
PM ET
By
Devon Heinen
| ESPN.com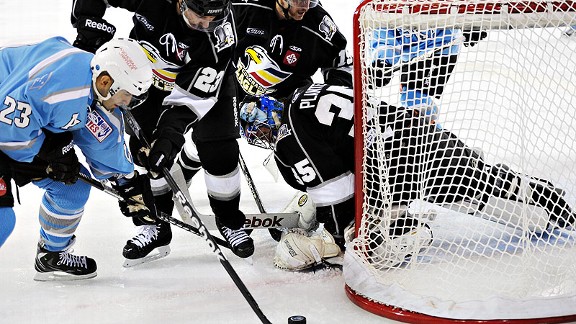 Erik Hill/Anchorage Daily News/MCT/Getty ImagesScott Gomez has taken his hockey act back to his hometown during the lockout.
It started off as a few here, a few there. Over time, more and more players followed suit, packing their skates, their sticks and taking their skills to far-off cities in Europe and Russia during the NHL's lockout. However, for four forwards from Anchorage, the chance to go home was too good to pass up.
"It's a once-in-a-lifetime opportunity," said
Washington Capitals
forward
Joey Crabb
of spending the fall as a member of the East Coast Hockey League's Alaska Aces. "Spending the holidays with my family ... it's been over 15 years since I've gotten to do that."
Despite playing on the game's biggest stage for six years,
Nate Thompson
initially felt the spotlight upon returning to Anchorage's Sullivan Arena.
"The first couple of games I was actually pretty nervous playing at home just because you're playing in front of family and friends," said Thompson, a center with the
Tampa Bay Lightning
.
Brandon Dubinsky
felt it, too.
"The first time I walked on the ice -- you know, first game -- I was extremely nervous," said the center, who was obtained by the
Columbus Blue Jackets
as part of the
Rick Nash
trade.
At first, it was just the three.
Montreal Canadiens
center
Scott Gomez
was in town too, and after skating with the others during practices, the two-time Stanley Cup winner couldn't help himself.
"There's nothing that can ever replicate playing the game," Gomez said. "It was just too hard watching it."
With their stable of NHLers, the Aces got off to a hot start and found themselves with one of the best records in the ECHL.
"There's two ways to look at it," said Aces head coach and former NHLer
Rob Murray
. "These guys could come and just be around and keep playing just so that they can stay in shape, you know, in the event of the lockout ending. But, in my mind, you've got Crabb and Thompson, Gomez, Dubinsky -- all four of these guys -- they're invested in the team."
"You got to give them credit for the willingness to play at a lower level against younger players that are ultimately vying for their job in the NHL," said
Brad Ralph
, head coach of the Aces' Mountain Division rival, the Idaho Steelheads.
"They're certainly not doing it as a financial incentive," said Aces co-owner Jerry Mackie. "Just the insurance that they have to have and they have to purchase themselves is as much, or -- certainly in some cases with the higher contracts -- a lot more than what they'll make playing here."
For Dubinsky, playing at home has come at an additional cost. Twelve games into the campaign, the center's season was derailed when he broke his hand blocking a shot during a penalty kill. At the time, he led the Aces in points. The Blue Jackets could suspend Dubinsky if the lockout is settled soon.
Even though he's been sidelined, Dubinsky hasn't disappeared. Both he and the other three NHLers have taken on leadership roles by helping their younger teammates hone their craft.
"You can say as a coach, 'Hey, this is what you need to do to get to the next level,'" said Murray, "but when you have it illustrated for you on a daily basis by these NHL guys, you know, all of a sudden there should be a light that goes off in these guys' heads."
That light has gone off for one of the younger Aces.
William Wrenn was San Jose's first selection -- taken in the second round -- in the 2009 NHL draft. This season the two-way defenseman attended training camp in Worcester, Mass., with the Sharks' American Hockey League affiliate, but was a camp casualty because of the NHL lockout.
"My exit meeting, they told me that I played well ... but that just basically the numbers are tight this year," Wrenn said.
An Anchorage native himself, Wrenn was given the option to play for San Jose's ECHL affiliate in San Francisco or to come home and begin his professional career with the Aces. He chose the latter, where the veteran Gomez has taken him under his wing from time to time.
"Scott's gotten on me a couple of times about just taking control of the game when I have the puck," Wrenn said. "You know, being confident in my decisions."
The pep talks have paid off. Through 29 games, the young blueliner had 14 points (5 goals, 9 assists) and is just two off from matching the point total he put up in his final regular season of major junior hockey last season.
"It's not coming from me," Gomez of his pep talks. "It's coming from a Scotty Stevens, a
Bobby Holik
,
Scott Niedermayer
,
Claude Lemieux
-- I mean, guys that have ... helped me out."
The time in Anchorage has also enabled the NHL Aces to help out in other ways. Separated from its closest neighboring states by Canada and the Pacific Ocean, Alaska -- made up of 730,000 people, nearly half of whom live in or around Anchorage -- is often left to look from within for leaders and strength in times of need, something the four NHLers from Anchorage haven't forgotten.
"There's no question," Gomez said. "Alaskans, we take care of our own."
It's not just talk for Gomez. His nonprofit foundation is giving 75 boys and girls in the Frontier State the chance to play hockey this season by paying for fees and gear.
Anchorage houses Joint Base Elmendorf-Richardson, the state's largest military installation. In November, the Aces hosted a military appreciation weekend. For Thompson, it was a chance to interact with the base's Air Force and Army members as well as individuals from other service branches who have made a lasting impression.
"They sacrifice so much for us and the country," Thompson said. "Getting to meet them and talk to them and really try and give back to them that weekend was pretty cool."
For Dubinsky, giving back to his hometown took on additional meaning. Like many professional sports teams, the Aces work with area schools to promote reading, exercise, proper nutrition and anti-bullying; however, when the center stepped inside the halls of one Anchorage school, it was done to pay a special visit to his 11-year-old stepbrother's class.
"It was cool," Dubinsky said. "I think he felt ... sort of like the big dog on campus for the next day or two."
"He went and did that all on his own, which I thought was fabulous," said Diane Johnson, an Anchorage School District employee who doubles as the coordinator of the Aces' Skate Into Reading program.
Dubinsky signed autographs, talked to and fielded questions from the group of preteens he deemed to be a "much harder" crowd than the professionals paid to write about his career. One boy even compared stats.
"Did you score any hat tricks last year?" the boy asked Dubinsky.
"No, I didn't," Dubinsky replied.
"Well," the boy said, "I scored two."
Johnson and others in the community recognize the star status that the four players have at home and how their involvement with the community continues to go a long way, yet Dubinsky knows the size of his and his teammates' actions in the big picture.
"I'm not going out trying to save the world here," Dubinsky said. "It's just subtle things."
July, 20, 2012
7/20/12
10:56
AM ET
March, 13, 2012
3/13/12
7:52
PM ET
Sabres defenseman
Tyler Myers
was suspended three games for boarding Canadiens forward
Scott Gomez
on Monday night.
Myers will lose $14,189.19 in salary.
November, 1, 2011
11/01/11
12:36
PM ET
When it comes to ranting, you puck heads never disappoint. Let's take a look this week:
harry2299:: Pierre, being a Kings fan I can't have too much to gripe about as they've looked pretty strong to start the season, but there are two things I need to vent about. First, I've watched every game and Dustin Penner has been INVISIBLE. I make a point to watch him when he's on the ice and he seems to be skating aimlessly at the blue line in the defensive zone or turning the puck over when it happens to find him. I read before the season he was devoted to being in shape for this season after Lombardi called him out is he a lost cause? Also, what is it gonna take for Slava Voynov to earn a spot in the Kings lineup? He tore it up in Manchester last season and in his brief call up this year looked poised and ready for the NHL. Thanks. Less
[+] Enlarge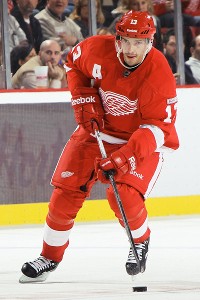 Dave Reginek/NHLI/Getty ImagesThe Wings will need Pavel Datsyuk to turn it on if they hope to win the West again.
kingscrash23: Pierre, is there or has there ever been a bigger waste of space then Dustin Penner?? He should never, EVER cash one of his checks. He doesn't earn a dime of his money. His complete lack of effort and intensity is painful to watch. He plainly just doesn't care. Jonathan Bernier?? Man, he has been overrated since day one. … gotta be the dumbest goalie in the league. He's been playing how long and still can't figure out don't kick rebounds into the slot, stop swimmin outta control and get pucks to the corner if ya don't stop em!! Penner, Bernier, Drewiski and a pick to CBJ for Carter and Mason and bring back Slava. … what's the kid gotta do to stay??
My take:
Two Penner rants! With one assist in nine games, Penner is off to the worst kind of start. It is indeed tough to figure this guy out. If there's ever a season you'd look for him to bounce back, it's this one: He actually devoted himself more to working out this summer under the watchful eye of the Kings. He's in a contract year, eligible to be an unrestricted free agent July 1, and coach Terry Murray handed him the keys to success by starting Penner on a line with
Anze Kopitar
to begin the season. And even that didn't help. It really is a head-scratcher because Penner loves living in SoCal, so you would think he would be doing anything he can to stay there. It's only a month into the season, but so far the results aren't promising. I don't see the Kings keeping him around past this season unless there's a drastic turnaround in his play.
Still, the Kings see a player who wants to improve and has the potential to help the team.
"He's working through some injuries but is learning to work,'' Murray told ESPN.com via text Tuesday. "He needs to get closer to the net; he's looking to pass the puck into it.''
---
tj703: It is really hard to actually complain with the last 20 years the Wings have given me as a fan. However, the compete level has been pretty embarrassing in this four-game losing streak. The call up of Nyquist is a good sign; I hope Tatar shows up in Detroit soon as well. This letting guys come along slowly makes sense when people are working hard for their jobs. Bertuzzi, Holmstrom and Hudler aren't really doing that. They also need to sit Cleary, his upper body injury is hampering him. It wouldn't be terrible to see Holland pull a trade or two and shake up the locker room again. It might help Mike Babcock get his message across.
My take:
Wings fans have high standards after two-plus decades of being the NHL's model franchise. This is still a very good team, but gone are the days of being that much better than the rest. The NHL's salary-cap system has achieved what it wanted seven years ago -- evening out the talent bases across the league. Look at the standings today; they're so close. It's a total crapshoot. Wings fans don't want to hear that, but it's the truth. All you can hope for is to get into the playoffs again, which the Wings will, and then take your chances from there.
Having said all that, the Wings can play much better than they have of late. No better poster boy for that than the incredibly talented
Pavel Datsyuk
-- who is minus-8 in his past six games. You know that trend isn't going to continue. His name isn't on the Selke Trophy three times for no reason. Take a deep breath, Wings fans. Your team isn't this bad.
---
xcirclex: So Dave Bolland is back from a preseason injury and has racked up 5 goals and leads the league with 2 short-handers. The question is: Why is his name never mentioned when Selke trophy conversations take place? I have a hard time thinking of a forward who has been more in the limelight when defensive play becomes critical (i.e., the playoffs).

Especially after Henrik Sedin's legendary "just another player" remarks prior to the 7-2 drubbing in Game 4 last year. A series where post-Bolland, the Sedin's racked up a combined 5 points and a -13 +/-, while Bolland finished with 6 points and a +6. You can go back to the year prior for more of the same.
My take:
I'm a huge Dave Bolland fan (you may remember I chose him for my daily video blog during 2010 Stanley Cup finals). Probably the biggest reason Bolland hasn't garnered Selke attention in previous seasons is because
Jonathan Toews
is on his team. You saw what Toews did at the 2010 Vancouver Olympics. There are few better two-way players in the entire NHL than Toews. And that right there is what hurts Bolland's chances. But perhaps if he keeps this up he'll get more recognition this season. He certainly deserves it. He's a courageous shot-blocker and a tenacious puck-battler and drives the opposition batty. One of my favorite players in the NHL -- bar none.
---
Alpamayo91: Pierre, normally your highest-paid player should be your last concern in terms of performance. However, what to do with Scott Gomez? Plekanec-Desharnaies-Eller-Nokelainen have definitely given life to the Montreal forwards. Can you buy back such contract? Can you send him to Hamilton? Or do you keep him for the sake of depth (MTL has no other center should one of those above get injured) and risk ruining the chemistry? Can you play such contract on a 3rd or 4th line?
My take:
An NHL scout recently told me about Scott Gomez: "You know, if that guy made $2 million, they'd love him in Montreal.'' That's because Gomez does hustle. He works his butt off. Problem is, his cap hit is $7.35 million, and there's two more seasons after this year on that deal (in real life, his salary dips to $5.5 million next season and $4.5 million in the final year). His production has never lived up to that monster contract. I see two options for the Habs: 1) Next summer a team finds itself desperate to get to the cap floor and needs a contract with a big cap hit but not a big salary. As I mentioned above, Gomez's salary actually dips next season, even though his cap hit remains high. 2) In the new collective bargaining agreement next year, the NHL possibly allows once again for a one-time buyout window, where it doesn't count against the salary cap. Bingo.
---
joedirt113: Fire the coach, trade Lucic, Marshand needs to go, Krejci overperformed, Chiarelli traded out best prospect for that bum Kaberle, Pouliot aka "the biggest disappointment in league history", they drafted Seguin with a congenial hip what the heck? and McQuaid is a pylon. Those are all the words of wisdom in the office today. Rewind back to game 70 of the 2010-2011 season to replay panic...prior to winning the cup. Hmmm the lifecycle of a Boston sports fan. Julien has gone from goat to hero, to goat in a period of 4 months.
My take
: Yes, I do agree B's fans need to take a deep breath. Look at Montreal last week. Habs fans were ready to burn down the city before three straight wins calmed everyone down. The Bruins do have some issues. I think some of their players did not come ready for this season, but overall I still believe in the Cup champs and their ability to make the playoffs and contend this season. If this doesn't turn around soon, the GM has cap room and flexibility to force change. He won't sit on his hands, believe me.
---
JanneyShanny: What in the world happened to Jaroslav Halak? More importantly, why have the St. Louis Blues not put a solid goalie between the pipes for a full season since Grant Fuhr? With the inevitability of Brian Elliott not keeping up this pace; it looks like the Blues are in for another year of mediocre goaltending, which usually leads to a disappointing spot in the standings.
My take:
I still think Halak will bounce back, but I will share this with you: When the
Montreal Canadiens
decided to trade Halak and keep
Carey Price
-- a decision that was highly criticized and polarizing in hockey-made Montreal -- a source told me that the Habs' front office had zero hesitation in its decision. It was Price all the way, without a moment's hesitation, despite Halak's heroic 2010 playoffs. The feeling was that though Halak was a very good goalie, Price had the potential to be a great one. So far that decision by the Habs has been spot on.
---
kevin23610: Winter Classic ISSUE; I'm tired if people pushing this event down our throats as something that "promotes" the game. If they're doing this to promote the game then why does it cost SO much to go to? It cost an AVERAGE Flyers season ticket holder (and I'm sure It's VERY comparable to the other places it's been held) $502 dollars just to get mediocre seats. It would cost Joe Blow, on average, about $400 a ticket just to see the game. I don't think this is even in the realm of a reasonable price. This will only get people with high disposable incomes and (already) hardcore avid fans to the games, NOT newcomers. This is just another hockey game on TV to the "on the fence" fans. If you put aside the GREED and made it affordable enough then the on the fence fans might actually come out and have the game mean something to them. Seems to me this is more for the pocket-lining of team owners and TV advertising revenues than it is for the fans.
My take:
The NHL views the Winter Classic as its Super Bowl experience. Hence, the ticket prices. Let's be honest, the moment the outdoor game became a huge hit in Buffalo you knew the league was going to maximize its potential and rake in everything it could before the event got stale (which will happen one day). So yes, the average fan is getting gouged. No surprise there.
March, 25, 2011
3/25/11
6:15
PM ET

Stock up
Joe Pavelski, San Jose Sharks: The Sharks appear to be peaking at just the right time, having lost just twice in regulation in their past 18 contests. Up front, Patrick Marleau is scoring in bunches, but what about Pavelski, who has collected an incredible 17 points in his past six games? If depth down the middle is an indicator of Cup worthiness, the Sharks have it. And if Pavelski keeps up this pace, the Sharks may finally be ready to extend that spring run into June, a run Sharks fans have been waiting for since the lockout.
Mike Knuble, Washington Capitals: Speaking of teams ramping it up for the playoffs, how about the Washington Capitals? They have won 11 of 12 games, are running away with the Southeast Division and now have an outside shot at the top seed in the Eastern Conference for the second straight season. With captain Alex Ovechkin resting an injury for a week or so, heart-and-soul veteran Knuble has stepped up with five goals and three assists in his past five games. Knuble has now hit the 20-goal plateau for the eighth straight season, only the fifth active player to do so.

Stock down
Scott Gomez, Montreal Canadiens: We know Gomez is more of a playmaking center than a sniper, but still, it might be nice if he scored once in awhile. Gomez has gone 22 straight games without a goal; that's just not cutting it, especially given that the offensively challenged Habs have now been shut out twice in a row, including Thursday's embarrassing 7-0 loss in Boston. Gomez has chipped in just eight assists over that 22-game span and has not had a multipoint game since Jan. 21. It'll be one and done for the Canadiens unless they can get some depth scoring, and that means Gomez will have to step it up.
Martin Havlat, Minnesota Wild: Another disappointing finish to the season for the Minnesota Wild, who will miss the playoffs for the third season in a row. That's what happens when you lose seven straight in late March and manage to score just nine times over that period. There is a lot of blame to go around in the State of Hockey, but Havlat's drop-off in production was certainly a big factor. Havlat, the team's leading scorer, has gone seven straight without a goal and has just one in his past 11 games.