Cross Checks:

Scott Hartnell
April, 20, 2014
Apr 20
4:31
PM ET
NEW YORK -- And we have ourselves a series, folks.
Following a 4-1 win over the
Philadelphia Flyers
in Game 1, the
New York Rangers
had the chance to secure a two-game lead at Madison Square Garden, siphon all confidence from the Flyers and send them back to Philadelphia with doubts about whether they could knock off their divisional foe in the best-of-seven set.
They didn't.
[+] Enlarge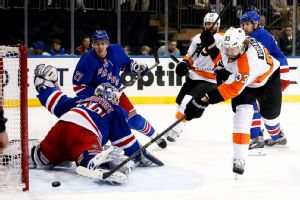 Paul Bereswill/Getty ImagesFour unanswered goals sunk the Rangers in Game 2.
Instead, the Rangers let a two-goal lead in the first period disappear as a resilient Flyers squad rattled off four unanswered goals to snap a nine-game losing streak at MSG with a 4-2 win Sunday afternoon. The two teams now head to Philly for Game 3 in what promises to be hostile territory for the Blueshirts at Wells Fargo Center on Tuesday.
"We knew they were going to come back and play a better game than last time. It's going to be a close race," said goaltender
Henrik Lundqvist
, who gave up three goals on 24 shots. "We didn't expect this to be easy."
And it won't be, if Sunday's matinee was any indication. Staring down a 2-0 hole after the Rangers exploited some wide-open passing lanes and took advantage of the Flyers' lack of discipline, Philadelphia surged back with the help of its first line.
Rendered ineffective for the most part on Thursday, the Flyers' top trio of
Scott Hartnell
,
Claude Giroux
and
Jakub Voracek
got the team on the board off the rush late in the first period and didn't look back. The Flyers' penalty kill was stellar, limiting the Rangers to just one man-up marker on six power-play attempts. Backup netminder
Ray Emery
, who was replacing injured starter
Steve Mason
, was solid in net, making 31 saves to record his first win of the 2014 Stanley Cup playoffs.
The Flyers raised their level of play, as the Rangers expected they would.
"This is a good team. By no means did we think this was going to be an easy series," said veteran forward
Martin St. Louis
, who scored his first playoff goal as a New York Ranger on a sharp-angle shot 4:08 into play. "We know we have to be better. We knew that they were going to be better after Game 1, and they were."
In recent years, the Rangers have shown difficulty in closing out a series quickly, even after taking Game 1. In the 2012 playoffs, the Eastern Conference-leading Rangers took the series opener of both their quarterfinal set against the
Ottawa Senators
and their semifinal matchup against the
Washington Capitals
. It took the Rangers seven games to win both series, raising the question of whether fatigue was a factor in the team's Eastern Conference finals loss to the
New Jersey Devils
that spring.
Last spring, the Rangers fell down 2-0 before edging the Capitals in seven games. They were then bounced in a matter of five in the second round, outclassed by the dominant
Boston Bruins
.
New York couldn't convert on the chances it had to close out Sunday's game, and the Flyers responded with that needed sense of opportunism.
How much did that hurt the team in the end?
"They were very big," alternate captain
Brad Richards
said of the team's missed opportunities. "We had some power plays tonight that we didn't get done. We had some point-blank chances that Emery made some big saves on. It could go either way in some of those situations. They seemed to be very opportunistic on their chances, and they won."
Buckle up. These teams may be in for a lengthy battle.
April, 20, 2014
Apr 20
3:02
PM ET
NEW YORK -- The
New York Rangers
squandered a 2-0 lead as the
Philadelphia Flyers
rallied from behind with four unanswered goals for a 4-2 win over the Blueshirts on Sunday that tied the series 1-1 and sends the two teams back to Philly for Game 3 at Wells Fargo Center.
An undisciplined and defensively porous Flyers team was exposed in the first period, but recovered in the second to become the aggressors in the latter half of the game.
Philly's penalty-killing effort was superb, limiting the Rangers to just one goal in six power-play opportunities for New York. Anchoring the Flyers in net, backup netminder
Ray Emery
delivered a fine 31-save performance to prove himself capable of handling the load with regular starter
Steve Mason
on the shelf with injury.
Mason, who has missed the first two games of the series, is hoping to make his return in Game 3, but Flyers coach Craig Berube may have a difficult decision on his hands once Mason returns to good health.
Redemption shot:
Flyers rookie forward
Jason Akeson
got a sweet taste of redemption Sunday afternoon, with his rebound goal on a gaping net to knot the score at 2 in the second period. Akeson had a rough night in his NHL playoff debut in Game 1 on Thursday, taking a double-minor high-sticking penalty on
Carl Hagelin
that resulted in a pair of power-play goals for the Rangers. Nonetheless, Flyers coach Craig Berube expressed faith in the youngster, going right back to him on Sunday. Akeson started the game with linemates
Matt Read
and center
Sean Couturier
and continued to receive power-play time as well. His power-play marker at 5:45 on Sunday was his second career goal in only his fourth NHL game.
Fast and loose:
The NHL's most penalized team through the regular season was, unsurprisingly, not very disciplined once again. The Flyers gave the Rangers' special teams plenty of work in the beginning of the game, putting them on the power play three times in the opening frame, twice on ill-advised offensive-zone penalties. The Blueshirts capitalized on only one of those man-up opportunities, when
Benoit Pouliot
's flubbed shot from the right circle beat Emery for a two-goal lead at 8:22. That goal highlighted another major problem area for the Flyers: They gave the Rangers entirely too much room on the ice to execute the type of cross-ice feeds that set up Pouliot and resulted in
Martin St. Louis
' first playoff goal of the series earlier in the period. The Flyers failed to clog up the passing lanes and paid for it dearly as the Blueshirts jumped out to a 2-0 lead.
There they are:
Largely ineffective in Game 1, the Flyers' first line came alive late in the first period with an expert rush that allowed them to cut the Rangers' lead in half at 2-1. Sprung by linemate
Scott Hartnell
, skilled winger
Jakub Voracek
blew past defenseman
Ryan McDonagh
(how rarely does that happen?) and beat Lundqvist for his third career playoff goal with 5:46 remaining in the first period. Voracek and first-line center
Claude Giroux
were both held without a shot in Game 1 on Thursday.
April, 22, 2013
4/22/13
12:25
PM ET
With the
Flyers
about to miss the playoffs for only the second time in 18 seasons, the focus in Philadelphia turns to what has to be done for the team to avoid a similar fate a year from now.
This isn't a town where missing the playoffs is taken lightly. Owner Ed Snider wants to win -- now.
Having said that, there's the danger of overreacting to a lockout-shortened season when a lot of strange and surprising things happened around the league.
"There's a fine line between winning and losing in our league, that's how tight it is," Flyers GM Paul Holmgren told ESPN.com Monday. "You don't have to look very closely at the standings to recognize that. There's a few teams that had runaway years, you look at Pittsburgh and Chicago in particular, but everybody else is fairly close.
"I look at our team, it's amazing that's where we're at with the power play and penalty killing near the top of the league; but 5-on-5 goals, we're way down. That's probably what did us in, more than anything."
Indeed, it's hard to believe a team that Monday morning sat third overall on the power play and sixth on the penalty kill will miss the playoffs. However, when you look at the 5-on-5 goals for/against ratio (one of my favorite stats), the Flyers sit 28th overall at 0.82, just ahead of the
Calgary Flames
and
Florida Panthers
.
"We changed the way we played a little bit in our end and I think it affected us offensively," Holmgren said. "We didn't really get the hang of how we were trying to play, I think."
Not re-signing
Jaromir Jagr
last season has been pointed out by many as a mistake, as the future Hall of Famer meshed very well with
Claude Giroux
last season. Trading
James van Riemsdyk
to the
Toronto Maple Leafs
last summer has also been linked to the Flyers' offensive struggles.
Losing
Scott Hartnell
for a month early in the season to a broken foot was a huge loss to the top line. It was the beginning of a long list of injuries to the Flyers in general that certainly impacted the team.
"Obviously losing people at different times of the year doesn't help," Holmgren said. "But you have to find ways to fight through that stuff, and we didn't."
Another key factor: The Flyers had hoped that second-year forwards
Brayden Schenn
and
Sean Couturier
would take their games to another level, and that simply didn't happen.
"We rely a lot on Brayden Schenn and Sean Couturier, they both played significant minutes this year," Holmgren said. "They probably had similar years than they had last year in terms of numbers if you pro-rate it, but obviously when you're playing those minutes maybe you expect a little more. Maybe our expectations were a little bit too high for those young guys. I think they're both good young players; they're going to continue to grow and get better. Sometimes you can't speed up that process no matter what you do. You just have to let time take care of it."
Sometimes when young players don't develop as quickly as the team had hoped, the coaching staff feels the heat.
And certainly with the pressure to win in Philadelphia, missing the playoffs is usually a dangerous thing for a coach. But when asked about the future of Peter Laviolette, Holmgren denied the speculation about the coach being in trouble.
"I've never even thought along those lines," Holmgren said. "I think Peter's a good coach, I think our coaches have done a good job under the circumstances. Nobody's happy with the position we're in and not being in the playoffs. We need to sit down at talk at the end of the year and figure out a way to get back in. That's what we do."
There's been just as much if not more speculation about the future of
Ilya Bryzgalov
, who is wrapping up Year 2 of a nine-year, $51 million deal with the Flyers. Some believe the proper thing to do with the Russian netminder would be to use one of the two compliance buyouts the NHL offered up in the new CBA which don't count against the cap. All it would cost is money, as in $23 million over the next 14 years according to capgeek.com, if the Flyers were to buy him out.
That talk intensified at the trade deadline after the Flyers acquired goalie
Steve Mason
. But as Holmgren put it Monday, he was only trying to strengthen the team's depth of the position, not replace Bryzgalov. People should not have read more into it than that, the GM said.
"Steve is a guy that we've liked. When the opportunity came up to make the trade for him, it was the intention of having good goaltending," Holmgren said. "I think right now with Ilya and Steve, we've got good goaltending moving forward. Any talk of anything other than that I think is out of bounds."
The point, Holmgren said, is to protect Bryzgalov next season so he doesn't have to play too many games.
"Ilya played a lot of games this year, but he's not going to play 82 games next season," Holmgren said. "You need a guy that can go in. Steve's a young guy still, he's had some success at an early age in our league. I think working with (goalies coach)
Jeff Reese
he can get back to a good level. He certainly has the right attitude about it. He's been great since he's been here."
To be clear, I asked Holmgren if there was any basis at all to the speculation of a Bryzgalov buyout.
"No," he said.
But there is offseason work to be done for a Flyers team that is just three years removed from a berth in the Stanley Cup final.
"Now we have to figure out a way to get back in the thick of things," Holmgren said. "I like our group moving forward. We'll look at a number of different things through the draft and through the rest of the summer and come up with something that will help us get back in the mix."
January, 23, 2013
1/23/13
9:00
PM ET
Is it possible we're going to look back on these opening days of the 2013 season as the defining moment for the
Philadelphia Flyers
?
Already reeling from an 0-3 start that has seen them outscored 11-3, the Flyers got a double-whammy on Wednesday. First came the news that
Brayden Schenn
would be suspended for one game for his hit on
Anton Volchenkov
in Tuesday's 3-0 loss to the
New Jersey Devils
. But worse was the news that front-line winger
Scott Hartnell
would be lost indefinitely to a foot injury.
"Scott will be out indefinitely with a left foot injury. We will know more on this within a day or two as we await results of tests," GM Paul Holmgren said in a statement released by the team Wednesday evening.
Hartnell, coming off a career year last season that saw him score 37 goals, is not just an offensive force for the team. He brings a snarl to his game that will be sorely missed by a team that can ill afford his absence.
A year ago, the Flyers entered the 2011-12 season with captain
Chris Pronger
in the lineup and a rejuvenated
Jaromir Jagr
stepping into top line duties with Hartnell and
Claude Giroux
.
That seems like a world away now.
Pronger is believed to be done playing hockey as a result of concussion-related injuries that saw him miss the second half of last season. Jagr is playing in Dallas, where he signed as a free agent in the offseason.
Veteran presence
Daniel Briere
is still rehabbing a wrist injury sustained while playing in Europe during the lockout and, while he skated Wednesday with Giroux, he is still a number of days away from returning to action. That means the Flyers are looking down the barrel of an 0-4 start with the defending Atlantic Division champion
New York Rangers
coming to Wells Fargo Center Thursday evening.
After that game, the Flyers play four straight on the road.
Now, no one loses a playoff berth in the first two weeks of a season, not even a truncated, 48-game season. But with the Flyers struggling out of the gate, this will give Holmgren and coach Peter Laviolette a chance to see who in their fine supporting cast is ready to step forward.
Last season, the maturity and consistency of a handful of young players like
Sean Couturier
,
Matt Read
,
Eric Wellwood
and Schenn propelled the Flyers through the season.
Couturier has one of the Flyers' three goals, while new captain Giroux has the other two.
Someone will have to step up in the coming days and help pull the Flyers back onto the track. If they don't, there's a good chance we'll look at these opening days and mark them as the point at which the season was lost.
October, 2, 2012
10/02/12
9:18
AM ET
By
Sarah Goldstein
| ESPN.com
March, 19, 2012
3/19/12
10:14
AM ET
If you spent too much time celebrating St. Patrick's Day or cursing your bracket, that's OK. We forgive you. Just don't let it happen again. Here's what you missed in the NHL over the weekend:
Sunday
-- That
Scott Hartnell
did something annoying again. And he also scored a key goal, firing home a blast from the deep slot to give the Flyers a last-second OT win over the Penguins. The heartless Hartnell snapped the Penguins' impressive winning streak. But, really, I'm still laughing at his "Suck it, Phaneuf" line from the All-Star Game and subsequent beatdown. Classic.
-- Nifty note from Elias on the goal: Scott Hartnell scored with 0.9 seconds remaining in overtime to earn the Flyers a 3-2 win over the Penguins and end Pittsburgh's 11-game winning streak. It was the latest regular-season overtime goal in Flyers history and only the third overtime goal at the 4:59 mark in an NHL game over the past five seasons. Remarkably, the two other instances happened on the same day, March 20, 2010, with Carolina's
Jamie McBain
(at Pittsburgh) and Detroit's
Henrik Zetterberg
(at Vancouver) scoring the last-second game-winning goals.
-- The Blackhawks got a pair of goals from checker
Andrew Shaw
-- his assignment was
Alex Ovechkin
--
in a big win over the Capitals
. The Caps better rally or else they face an offseason in a glass case of emotion.
-- Self-referential alert: Love me this
playoffs matchups page
of ours.
-- Outside looking in, with a shot: Winnipeg, Buffalo, Carolina; San Jose, Los Angeles, Calgary.
Wait, Carolina? That can't be right
.
Saturday
-- Dude named
Sidney Crosby
had three assists in the Penguins' win over the Devils. New guy, I think. Has good upside. Must have called him up from Wilkes-Barre or something. Hmph. I'll get back to you with more on this one.
--
Tim Thomas
made a save in the shootout,
Ilya Bryzgalov
didn't. And that's the difference between a win and a loss in today's NHL. But you didn't go to the fridge while it was being decided, did you?
-- Despite the return of
Ryan Callahan
and
Michael Del Zotto
, the Rangers lost at home to the Avalanche. Those pesky Avs temporarily climbed into seventh in the Western Conference (they are eighth as of Monday).
-- The Blues beat up on the Bolts. By the way, the Blues have locked up a playoff spot and are No. 1 in the league. If you predicted that in September, your medication is better than mine.
January, 27, 2012
1/27/12
9:39
PM ET
If it's possible for a guy to be in the thick of the NHL's scoring race and be under the radar,
Marian Hossa
is that guy.
Never mind a scoring title; maybe it's time Hossa should be mentioned in the Hart trophy discussion, as he has made use of his first long summer in a long time to return to elite form.
Hossa is tied for third place in NHL scoring with 53 points in 49 games and is tied for seventh in the league with a plus-24.
"This is the Marian Hossa that everyone knows; he's a dominant player," Chicago GM Stan Bowman told ESPN.com on Friday. "He is an unassuming guy but he's got like a quiet intensity about him."
While most of the two-way hockey accolades in Chicago go to captain
Jonathan Toews
-- and with good reason -- Hossa's value to the team is significant. He kills penalties and works the power play, and when there is a player who needs a little pick-me-up, he generally ends up playing with Hossa for a time.
"He's like the cure-all," Bowman said.
The Hawks' GM has a clear idea of what has been the catalyst to Hossa's banner season, and it's something called rest.
Between 2008 and 2010 when he won a Cup with Chicago, Hossa played an incredible 65 postseason games. Throw in the 2010 Olympics, and you had a guy who, in Bowman's words, was burned out.
Last spring, however, the Hawks were dispatched in seven games in the first round by Vancouver, and after the world championships, Hossa told Bowman that he needed this chance to recharge.
"He fortunately had a long summer so he could let his body recover," Bowman said.
Hossa broke into the NHL as an Ottawa Senator, so he's enjoying the All-Star weekend, and he's enjoying his newfound energy and production.
"I definitely believe that has something to do with rest, longer summer and also my summer program for getting in the best shape I can get," Hossa said. "I think overall when I look at it, I feel like [I] turned off from hockey for a certain period of time and after I really started working hard on my strength in the gym and I think [it] definitely helped because I feel really good right now, I feel healthy.
"Overall it feels much better than years before."
Hartnell pleased to be among stars
For every guy like
Alex Ovechkin
who ducks the All-Star Game, there's a guy like Philadelphia's
Scott Hartnell
whose inclusion means the world.
The rough and tumble Hartnell enjoyed his finest offensive season back in 2008-09 when he registered 30 goals and 30 assists in 82 games.
But this season, playing for the most part with
Jaromir Jagr
and fellow All-Star
Claude Giroux
, Hartnell has 25 goals and 44 points in just 48 games. And he is tied for the league lead with 13 power-play goals.
And yes, he's pleased as punch to be here in Ottawa.
"It's rewarding I think to get the nod to come here and be recognized for a good start," Hartnell said.
"It was a surprise to get the phone call, and it's just been an exciting first half of the year and looking forward to the second half and having a good playoff run."
Maybe Hartnell always knew he had it in him or maybe this has been something of an awakening, but he knows it hasn't happened by magic.
"I think playing with Jagr and Giroux obviously has helped that tremendously," Hartnell said. "The biggest thing is I don't take it for granted every day that I'm with them in the lineup. I've worked harder off the ice than I ever have before. You see Jaromir Jagr and the career he had and skating after practice with the heavy stick and all that kind of stuff, and you think, wow, this guy's got enough God-given talent to be fine not to work hard, so if you look at that and try and take that and use it for myself, and things went better."
Both Giroux and Jagr talked to Hartnell about conditioning before the season, and Hartnell has worked hard to make sure he can keep up.
"I'm playing 20 minutes a night every night, where the first five, six games I was playing 10 minutes and I didn't feel comfortable with myself on the ice and I really worked hard to get back to how I felt great on the ice," Hartnell said. "These guys are great before the game, after shifts, after the first period, even though we had a good period or whatever and the goals weren't there or whatever; it's like keep going, play the same way, it's going to come. They just want to win so bad, they want to score goals, they want to get points -- just to have that 'We're going to take over this game' mentality that Claude and Jags have, it's contagious."