Cross Checks:

Scott Niedermayer
November, 11, 2013
11/11/13
11:10
PM ET
TORONTO -- The game's greatest Hall of Famer, Wayne Gretzky, was on hand Monday. He talked about the memories that came flooding back to him when he was inducted in 1999.
"To make the Hockey Hall of Fame is really hard. You've got to be a real special person because that's what makes it a special place," Gretzky told a gaggle of reporters.
"I was just telling some friends today, I was telling my boys, I still come here to visit the Hall of Fame. When I was a kid, I used to come here and just stare at all the equipment and the names. I got a chance this summer to bring my 13-year-old son here and just spend a couple of hours here."
Gretzky said coming into the Hall of Fame is a chance to share a tremendous honor with those who helped build the path to the NHL and a place in the Hall.
"The moms are the ones that don't get enough credit that they deserve because they're the ones that get up at 5 a.m. and take them to practices when you're a kid, take you to games because your father's working. It's a great honor not only for the players and the athletes but for the families," Gretzky said.
"It's extremely emotional. Once you get there. Listen, the NHL coaches and the management are so wonderful and they're so good. But it's the people who get you there. Your pee wee coach, your novice coach, your bantam coach, your high school teacher or principal that really believes in you and gives you that extra little push and nudge that says you can do it. And those are the people, when I stood up there, I was sort of thinking about when I made the Hall of Fame because without those people at 12, 13, 14, 15, I would never have made it."
Speech highlights
As always, a great night for those who love a little emotion with their ceremony.
Brendan Shanahan
dedicated his honor to his father, who died of Alzheimer's and never saw him play in the NHL. He talked lovingly about the influence of his mother, who, with his father ailing, drove to London, Ontario, to spend time with him while he was playing junior hockey. And he praised his older brothers, who never said no to him when he wanted to come and play lacrosse with them.
Scott Niedermayer
talked about the joy of being able to spend the final days of his career in Anaheim, where he got a chance to play and win a Stanley Cup with his brother Rob. The two had faced each other in the 2003 Stanley Cup finals, but in 2007, Scott Niedermayer took the Stanley Cup from NHL commissioner Gary Bettman and handed it to his brother, more than making up for the 2003 clash.
Perhaps the most eagerly anticipated speech of the night was
Chris Chelios
', because there was a sense he might take a shot at Bettman, with whom he warred over the years. Instead, the rugged defenseman noted that the labor disputes were the parts of his career he hated the most, and that nobody won. At the end of his speech, he brought his entire family onto the stage with him.
Canadian women's great Geraldine Heaney thanked her parents for never telling her that hockey wasn't for girls.
And then there was
Pittsburgh Penguins
general manager Ray Shero, who took to the podium to accept the Hall of Fame honor for his father, former
Philadelphia Flyers
coach Fred Shero. He asked the many former Flyers players and colleagues in attendance to stand so he could honor them as they had honored his father by attending. Very nice.
Harding keeps Wild in hunt
The
Minnesota Wild
are back in the hunt in the Central Division after a very up-and-down start to the season, and you don't have to look very far to see who one of the main catalysts has been: netminder
Josh Harding
.
GM Chuck Fletcher said it goes back to last season when Harding, who missed most of the regular season dealing with medication and protocols for treating multiple sclerosis, was forced into action in the first round of the playoffs against Chicago when
Niklas Backstrom
went down with an injury before Game 1.
This season, Harding has rolled up a 9-2-2 record, a .947 save percentage and 1.22 goals-against average -- the latter two of which are among the league leaders.
"He came into camp, he had a very good training camp and he's played well," Fletcher said. "He's always been a good goaltender and again the doctors are confident they can work with Josh to manage the situation. Life is full of uncertainty, you never know what will happen, but right now, he's just a good NHL goaltender. There doesn't need any asterisks next to what he's doing."
Someone asked the Minnesota exec if he'd seen any sign of Team Canada executive director
Steve Yzerman
scouting Harding, who would be a dark horse to make the Canadian team for the Sochi Olympics.
"Ha, ha, ha. I don't know about all [that] but we're happy to have him," Fletcher said.
Another element of the Wild's success has been the play of youngsters
Charlie Coyle
,
Mikael Granlund
and
Nino Niederreiter
, who was acquired in the offseason from the
New York Islanders
.
"We knew they'd be better, but we needed them to do more than just wear a jersey this year. We needed them to contribute and help our team win," Fletcher said. "But at lot of the credit goes to the veteran players."
Coyle has been playing with
Mikko Koivu
and
Zach Parise
, while
Jason Pominville
has been playing with Granlund and Niederreiter.
"Every time (Granlund) makes a great play Pominville puts it in the net, that in turn helps with both those guys' confidence," Fletcher said
Goalies coach Burke shares moment with Shanahan
Among those in attendance at Monday's ceremony was
Phoenix Coyotes
goaltending coach
Sean Burke
, who diverted from the Yotes' road trip to share a Hall of Fame moment with his old pal Shanahan, with whom he played as a young man in New Jersey.
"We both basically broke in together. He was with the team that year that I came from the Olympic club in '88 and joined the team," Burke told ESPN.com.
"Him and I moved in together the year after, two young players. We ended up playing in Hartford together as well and really just stayed friends over the years," Burke added. "He's a guy that is well deserving of this, as everybody knows. But when you play with a guy, you really appreciate even more because of how hard you see them work day in and day out. He definitely made himself into a heck of a player."
Speaking of Olympic goaltending and which direction Canada might turn, Burke is rooting for his charge in Arizona: Mike Smith.
"You come into the season, I definitely wanted it to be a factor for him. Something he thought about," Burke said. "That helps your preparation in the summer, it helps when the season starts getting a focus not only on your own team but something else as well.
"There's a lot of good goalies. I don't think Canada has anywhere near the problems in goal that everybody makes that out to be. But I do think Smitty's the type of guy that, if you have him in the three-hole or you have him as the guy playing, he can fill that role. He's definitely the type of player, when he gets hot he can carry you for a long time. In a tournament like the Olympics, you only need a guy to be good for two and a half, three weeks. He's the type of player that can raise his game to that level. So I really would like to see him be a part of that team, but like I said, there's a lot of good goalies."
Babcock's players
There were lot of connections on Hall of Fame night with Chelios and Shanahan having played together in Detroit. Red Wings head coach Mike Babcock coached both, and he also coached Scott Niedermayer in Vancouver at the 2010 Olympics and the 2004 World Championships, as well as losing to Niedermayer's
New Jersey Devils
in the 2003 Stanley Cup finals when he was head coach in Anaheim.
"I'm real fortunate. I got an opportunity obviously to coach Niedermayer two times and had an opportunity to coach Cheli and Shanny in Detroit, so you're proud of those guys," Babcock said.
"Not many guys are fortunate enough to have coached as many Hall of Famers that I've been lucky enough to coach, and you feel fortunate to have coached such great players."
Goalie fights debate
Among the topics expected to be discussed at Tuesday's meeting in Toronto of NHL general managers will be what to do about fighting goaltenders in the wake of an ugly incident recently involving
Ray Emery
of the
Philadelphia Flyers
and his unwilling dance partner,
Braden Holtby
of the
Washington Capitals
.
"No, it's not part of the game,"
Glenn Healy
, a longtime NHL netminder and now a national analyst, told ESPN.com.
"If you've got a goaltender who wants to actively pursue another goaltender or wants to defend a teammate, that's fine. Gloves off, Marquess of Queensberry rules. But in this case, you have one that didn't really want to, and I wouldn't either. So I think there's one rule that makes it nice and easy, nice and tidy -- and that is, if you instigate a fight with a goalie who doesn't want to combat, there's a suspension. Then you end the garbage."
Suspending a goaltender would make things complicated for teams, as they would have to call someone up to replace him for that period of time and, depending on the situation, could end up having to send another player down, possibly exposing one to the waiver wire.
"That then becomes a big issue. You initiate with a goalie, you're getting whacked, you're going to get suspended," Healy said. "Keep it simple. None of this over the blue line, behind the blue line if he goes over center. No, no. You initiate, you're done."
Larionov's charges
Hall of Famer
Igor Larionov
is enjoying a good turn as a player agent these days. He is headed later this week to Edmonton to get a better handle on what's happening with his young client,
Nail Yakupov
, who was selected first overall in the 2012 draft but has been a healthy scratch and seen his ice time ride up and down as the Oilers have stumbled through the first quarter of the season.
The Yakupov situation is in direct contrast to the experience of Larionov's other young client,
Alex Galchenyuk
of the
Montreal Canadiens
.
Playing mostly with other youngsters
Brendan Gallagher
and
Lars Eller
, Galchenyuk continues to impress, with three goals and 11 assists in 18 games thus far this season.
The key is obvious, according to Larionov: Confidence on the part of Canadiens head coach Michel Therrien and GM
Marc Bergevin
.
"That's the answer for that. That's the answer," Larionov said. "I talked to Michel, I talked to Marc Bergevin at the beginning of the season."
And while they knew there it wouldn't always be smooth sailing for Galchenyuk, they were prepared to live with that, Larionov said.
"He's going to make some mistakes, but you can see he's getting better every time he steps on the ice. They try him on the left wing, they try him in the middle, so they have a player that can play any position," Larionov said. "Obviously you don't want to put too much pressure on a 19-year-old guy, but when he's playing so well it's a shame not to let him go. He's going to make like 10 great plays and maybe three bad plays, but still, he's going to be good for the game."
November, 8, 2013
11/08/13
5:59
PM ET
TORONTO -- As the members of the class of 2013 were handed their Hockey Hall of Fame induction rings Friday afternoon, the kickoff to a memorable weekend leading up to Monday night's official induction, it was impossible not to think about how much the game has changed and where it's headed.
Chris Chelios
could be as nasty as they come.
Brendan Shanahan
had more than 2,000 penalty minutes. The late Fred Shero coached the Broad St. Bullies.
None of them did anything that wasn't perfectly acceptable at the time, very much part of the hockey culture of their particular era.
"You can't elbow a guy in the head today," said Chelios, considered the greatest American player of all-time. "Back in the '80s? I'm going to try and take Mogilny's head off; and I did because it was allowed, it was tolerated, it was a two-minute penalty and that's it. Now with the rules? As a player you have to adjust."
And he would have adjusted. What makes great players great is that they can adapt to their surroundings. Chelios could have easily played in today's NHL, but he would have toned down the dirty stuff, picking his spots for sure.
"The whole game is evolving certainly," Shanahan said after picking up his HHOF ring, very much the face of that evolution as the head of the NHL's Player Safety Department.
"I do think our challenge every night is to try and get involved in a way where we don't lose the physicality of hockey. Sometimes that's a difficult job to do. We do it as a committee and we do our very best. But it's certainly a new direction. Sometimes you'll think back to the way you used to do things, the rules were different. It's a challenge."
Shanahan points to a game in Carolina years ago when he played with Detroit when he and
Bob Boughner
got into a stick-swinging incident.
"A vicious stick fight," Shanahan recalled. "It was vicious. And we both got match penalties. But there was no video of it. So we didn't get suspended."
Then Shanahan continues with a wry smile: "Boughner and I might have reached out to each other after the game to get our stories straight, to keep each other from getting suspended -- which years later I admitted to Colin Campbell. But I tell you what, that would have been leading off the news that night. I would not have been able to escape that one from Colin."
With more education on the long-term effects of brain injuries, the game is forever headed in a new direction.
"I never had a reported concussion in my career until my 19th year in the league, when I was actually knocked out cold," Shanahan said. "I know I must have had plenty of concussions. We just didn't know. It's also about more knowledge."
Ray Shero is one of the more outspoken GMs in the NHL when it comes to pushing for change and a crackdown on head shots and fighting. If that sounds at all like he's at odds with what his late father represented, it isn't.
Because of the Broad St. Bullies image, people forget that Fred Shero was a great hockey mind who was often ahead of the curve, ahead of his time for some of his coaching ideas. And he won championships in other leagues with teams that weren't full of tough guys.
The point is, Ray Shero said, if his father was alive today, he wouldn't bury his head in the sand over the issues at hand in the game.
"I think he'd really want to look at it," Ray Shero told ESPN.com Friday after picking up his father's HHOF ring. "Because I do think when I look back at when he coached, one of the reasons he's going into the Hall of Fame is because he was an innovator. I believe that he would want to have this discussion and look at things, and see that the game is changing.
"I don't think my father would be standing here today steadfast about not changing. As Brendan said, the game is evolving. Thirty years ago, there used to be a bench-clearing brawl every week. Obviously now there isn't. We just have to keep looking at it."
The key is to keep the sport as physical as possible while making it as safe as possible. That seems counter-intuitive at times, because it's awfully difficult.
"My view? I'm old school, and I don't want to sound like a cold-hearted guy, but there's risk and reward for when you're an athlete," said Chelios, who then glanced over to Shanahan a few feet away.
"Their job is to protect the players, and they're trying to do the best they can. There has to be some type of responsibility and onus on the players to respect each other. But I like the North American style of hockey, I'll take will over skill any time, mostly because I didn't have the skill that
Scott Niedermayer
had, he was just so smooth."
Niedermayer would have fit in today's game just fine. The silky smooth blueliner did his damage with his skating and passing hands, not his fists or his elbows.
He was there in the 2003 Stanley Cup finals when Devils teammate
Scott Stevens
crushed Ducks winger
Paul Kariya
with an open-ice hit that today would likely have been a suspension.
"There's definitely more awareness, which is a great thing, and I think it's headed in the right direction," Niedermayer said of the league's work on concussions.
Kariya came back to play in those Cup finals. Today's concussion protocol would likely have prevented that, although
Jonathan Toews
admitted after last season's Cup finals that he played through a concussion against Boston.
More often than not, the player needs to be protected from himself.
"Certainly, there is life after hockey, whether a player can believe that or not," Niedermayer said.
October, 5, 2012
10/05/12
11:44
AM ET
October is upon us. For
Nicklas Lidstrom
, that's meant only one thing for 20 NHL seasons.
It's sinking in more than ever now for the longtime
Detroit Red Wings
captain that his life has begun a new chapter.
"I think it's [hit] home a little bit that I haven't prepared for a season like I'm used to, I haven't skated with the guys, we're not in Traverse City, I'm not doing the old routine," Lidstrom told ESPN.com over the phone Thursday from Sweden. "I think it's hit me now that I am retired."
Scott Niedermayer
, a fellow former superstar blueliner, remembers that first fall without hockey in October 2010 very well.
[+] Enlarge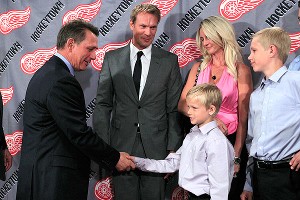 AP Photo/Carlos OsorioNicklas Lidstrom is excited to spend more time with his family in retirement.
"The first time that you're not on the ice in that environment with your teammates, it's a big change," Niedermayer told ESPN.com Thursday. "But for me, probably the hardest part was in the spring. Things had quieted down after the original excitement of being retired, maybe because it was playoff time, but that's when I missed it the most -- in the spring."
It might actually have hit Lidstrom a little more had he known old buddies
Niklas Kronwall
and
Henrik Zetterberg
were stepping onto the Joe Louis Arena ice next week for another season opener. The NHL lockout will ensure that won't happen in the near future.
"It might have been different, I guess, if I'd be turning on the TV and they'd be showing highlights of the preseason with the regular season just about to start," Lidstrom said. "Obviously that hasn't happened yet. But I was pretty content and very happy with my decision in late May when I made it. Lockout or no lockout, I had made up my mind that I was going to retire."
And he sounds like a man that has zero regrets about his decision. He's back home in Sweden, and he's spending more time with his kids.
"We're all going to a movie tonight, should be good," Lidstrom said with genuine excitement in his voice.
But he hasn't cut ties with the game. Far from it. He accepted a front office job from the Red Wings, one which could see him do a bit of everything -- scouting, player development, corporate events -- as he gets his feet wet in his post-playing career. It's the approach the Wings took with
Steve Yzerman
,
Kris Draper
and
Chris Chelios
, as well.
"It's all-encompassing," Red Wings GM Ken Holland told ESPN.com Thursday. "We want Nick to figure out what interests him the most, what fits the best for him."
"Kenny left it open for me," Lidstrom said. "It's like what they did with Stevie, Chelly and Drapes, the same format for me to just kind of feel my way around."
He's already started his coaching career, as well.
"I'm helping out with my 12-year-old's team, I'm an assistant coach," Lidstrom said. "It's been really nice. It's a first step for me to start with youth hockey. I'm not ready to step into the men's team yet here in Sweden. Because I know how much time you need to sacrifice to be a coach. It's a lot more time than a player."
No surprise, Lidstrom says a few Swedish teams gently inquired about whether he'd come out of retirement. Well, kind of.
"A couple of teams kind of threw that question out there, somewhat jokingly, but I haven't wavered yet," he chuckled. "I'm still holding strong. I'm happy with where I'm at now."
The Perfect Human has perfectly adjusted.
Niedermayer enjoying opportunity with Ducks
Scott Niedermayer is entering his third year of NHL retirement and plans to continue his work as a part-time consultant with the
Anaheim Ducks
.
He told ESPN.com Thursday he'll once again work with the team's prospects, including trips to AHL Norfolk.
"As of right now, I will continue what I've done," Niedermayer said.
He's yet to decide what exactly he's going to make his full-time focus.
"At a certain point, I'm probably going to have to make a real commitment to something, that would be my guess, going forward," Niedermayer said. "What that means? At this point, I can't tell you. I've enjoyed the opportunity they've given me and the flexibility it's given me. For instance, just last weekend I was out in Connecticut with my 11-year-old. They had a tournament there, I was on the bench and a part of that and really enjoyed that. I really enjoy to be able to do things like that."
October, 1, 2010
10/01/10
1:14
PM ET
It was Labor Day weekend at a squirts hockey tournament when Scott Niedermayer had a good chuckle.
Times have indeed changed, he thought to himself.
"I look across to the other bench and there's Rob Blake with his son," Niedermayer said. "I was behind the bench with mine, so that was kind of funny."
Niedermayer, like Blake, retired after last season, and while the NHL has lost him, the game has not.
"I'm at the rink as much as I've ever had, with our three boys who are all on different hockey teams," Niedermayer told ESPN.com on Thursday. "Doing a lot of driving and moving a lot of pucks around on the ice for them."
His hockey-playing sons are 11, 9 and 6 and there's a 2-year-old in the bullpen. Niedermayer is enjoying being a full-time dad again.
But he's also been working for the Ducks, or at least trying to figure out what his role could be with the organization. He took in the Ducks' rookie tournament in Penticton, British Columbia, last month, as well as a couple of preseason games for Anaheim. Ducks GM Bob Murray is eager to find Niedermayer a role with the organization.
"Bob Murray asked me if I could do things here and there," Niedermayer said. "He really wants to just expose me to every part of it. It's a good opportunity for me to answer the question, 'Do I want to do this for real, or not?'"
There's a trip in the works where Niedermayer would go down and work with the team's AHL defensemen.
"So I will be doing some work for the team, but you probably wouldn't call it a full-time position," Niedermayer said. "Hopefully I'll be able to help out and, at the same time, explore and experience that side of the game to see if it is something that I want to put time and effort into down the road. So hopefully it's good for both sides. I think it's a good opportunity."
He was scouting a game Tuesday night in Los Angeles when the Kings pummeled his former teammates 8-3. It's a good thing he didn't have his equipment with him right then and there.
"At a moment like that, your competitive nature kind of takes over and you wish you could be out there helping them," Niedermayer said. "I don't think that will ever go away."
He probably shouldn't even joke about that. After all, he retired in 2007 only to come back. But the 37-year-old sounds more resolute with his decision this time around. In fact, some NHL teams phoned his agent Kevin Epp of Titan Sports Management this summer wondering if Niedermayer would reconsider his decision. The answer was no.
"There were a few teams that just wanted to at least inquire," Niedermayer said. "But I told Kevin that I had made my decision. I appreciated the interest, but the decision had been made and wasn't going to change."
So, it's definite-definite this time?
"Well, yeah," Niedermayer said. "In '07, I was three years younger. It was a year after we won the Stanley Cup and I couldn't really see what the next challenge was. But as time went on, I started to see that again; where as this time, after playing three more years, it just feels like the right time. I feel that way right now."
There's certainly nothing left for him to play for. There has been no greater winner than Niedermayer: four Stanley Cups, two Olympics gold medals, world junior gold, men's world championships gold, a Memorial Cup (and tournament MVP), a World Cup of Hockey championship and a Norris Trophy and Conn Smythe Trophy to boot. He's got a big trophy case, and yet no big ego to with it. He's always been one of the most humble superstars I've ever been around.
He's on to the next chapter in his life. Niedermayer, wife Lisa and the four kids have remained in Newport Beach while he figures out whether a job in the Ducks organization is for him. He and Lisa are both from Cranbrook, British Columbia, and they still have a place there.
"The next big decision for us will be decided a lot by what I decide to do in the future," he said. "Do we stay here and call this home for a while or do we move back home, which is something we thought we would do. So we'll see."