Cross Checks:

Sergei Gonchar
January, 8, 2014
Jan 8
10:31
AM ET
BURNSIDE:
OK, has everyone in Canada exhaled yet after Tuesday's Olympic roster announcement? What was easy to ignore amid the drama that surrounded the Canadian announcement, at least a little bit, was that the rest of the field for the Sochi Olympics hockey tournament had also unveiled their respective 25-man rosters by the end of the day. No other team -- not even Sweden and Russia, two of the favorites to take home gold -- had the kinds of decisions Canada and the United States faced in making their roster decisions vis-à-vis excluding elite NHL players. That doesn't mean there weren't some curious decisions made along the way for the other hockey nations.
For instance, I remain more than a little perplexed at the Czech national team's opting to leave top NHL point producers
Jiri Hudler
,
Radim Vrbata
and
Tomas Fleischmann
off the roster. Hudler is tied with
Jaromir Jagr
with the second-most points among Czech NHLers, and Vrbata is fourth. Instead, the Czechs will ice a lineup that includes 42-year-old
Petr Nedved
. Seriously. I thought I saw him at one of the alumni games in Detroit during the lead-up to the Winter Classic.
Another interesting decision saw the Czechs leave
Michal Neuvirth
off the roster, leaving them with just one NHL netminder in
Ondrej Pavelec
, whose work can most charitably be described as up-and-down for the middle-of-the-road Jets. If there is a certain oddness to the Czech roster, let's not forget that it managed to snag a bronze medal the last time the Olympics were held outside North America, in 2006 in Torino, Italy. Nedved won't be the only graybeard plying his trade in Sochi, of course;
Teemu Selanne
is back for a record sixth Olympics, while Jagr is back for his fifth. Pretty cool, although you have to wonder about the effectiveness of 40-something players on the big ice in Sochi. Or do you?
LEBRUN:
Well, in terms of having a legend such as Selanne in the Finnish dressing room, that speaks for itself; it's all about his presence for the younger players in that room, where he is a godlike figure. I have no problem with that. Another Finnish legend,
Saku Koivu
, took himself out of the running for the team, feeling that he was still trying to find his game after missing so much time with a concussion. I respect that about Koivu because you know how much it would have meant to lace them up one last time for Suomi.
Where I disagree with you is that opting for a non-NHLer over an NHLer is necessarily a bad call. That's just North American bias, my friend. So the Czechs took two KHL netminders over Neuvirth. So what? Neuvirth has hardly played this season. In fact,
Alexander Salak
has a .935 save percentage for SKA St. Petersburg with a 15-8 record this season. There are some very good players in the KHL, which is why so many are spread on different Olympic rosters. I have no issue with that.
I also think what you're seeing is the odd player selected out of respect for playing in a domestic league, a nod to players returning home to play. Case in point,
Tomas Kaberle
on the Czech Olympic roster. Again, got no issue with that.
The only issue I have with the Czech roster is, like you, I cannot believe Vrbata and Hudler were left off. The word on the street is that both players don't get along well with Czech head coach Alois Hadamczik, and that might have played a part in his roster decisions. If that's the case, shame on the coach. If Steve Yzerman can make the ultra-difficult personal decision to leave
Martin St. Louis
off his roster, the Czech coach should put his country ahead of his personal feelings as well. It's absolutely ridiculous that Vrbata and Hudler aren't on the team.
BURNSIDE:
Whoa, whoa, there, partner. Didn't say that not taking NHL players over players from other leagues was a mistake. Merely noted that leaving off Neuvirth, who has significant NHL experience, including a couple of turns through the playoffs, was noteworthy, especially given that Pavelec has been inconsistent. So calm down, my friend.
One of the great things about the Olympic tournament is not just the guys who get snubbed -- although that's always the immediate focus -- but also the decisions of various hockey bodies in forming their teams. No other nation reflects this split between relying exclusively on NHL talent and opening the door to players who are playing at a high level at home than Russia. You knew the Kontinental Hockey League would be well-represented on the Russian team in Sochi, and to our earlier discussion of older players, the fact that a guy such as
Sergei Gonchar
wasn't named isn't all that surprising, but it does make it harder to handicap the Russian squad, especially given that young Edmonton defender
Anton Belov
was named along with KHLers Evgeny Medvedev and Ilya Nikulin. Up front, there are seven KHLers, including familiar names
Ilya Kovalchuk
and
Alexander Radulov
. (Wonder if the Russians will impose a curfew in Sochi?)
LEBRUN:
I'm sure the Russian team will remind Radulov he's in Sochi, not Scottsdale, so the curfew won't be needed. As for the Russian roster, which doesn't include that many surprises, I did raise an eyebrow at the inclusion of
Dallas Stars
rookie winger
Valeri Nichushkin
. Not because I don't think he's going to be a great player -- he sure is -- but because he's a teenager, it just seems like such a huge stage with the added pressure of being the host team. I mean, as much as Canada had incredible pressure to win on home soil in 2010, I think it's even more magnified in Russia with the political intrigue of the KHL influence on the roster (10 KHL players). Just seems like a powder keg waiting to happen, and I just wonder how an 18-year-old can handle that environment.
I totally agree with you that Gonchar should have been named to the Russian team, if for no other reason than the pressure noted above. He is a veteran who could have helped ease the tension that's invariably going to find that dressing room, just as it did midway through the 2010 tournament for host Canada.
BURNSIDE:
So, now that you've seen all the rosters, does your impression of how things might shake down in Sochi change at all? I know folks were surprised that defenseman
Victor Hedman
wasn't named to Team Sweden, but that's a stocked team assuming the vintage
Henrik Lundqvist
shows up for work. I have to say the team that continues to make me wonder is Switzerland. We know that it's had success on a relative scale in these tournaments, knocking off Canada in Torino 2-0 in 2006 and pushing Canada to a shootout in Vancouver. Its defense includes NHLers
Raphael Diaz
,
Mark Streit
and
Roman Josi
, and one of the NHL's hottest netminders in
Jonas Hiller
. Is it time to move the Swiss into what would be the Group of 8 with Canada, Russia, Sweden, Czech Republic, Slovakia, the United States and Finland as a team that shouldn't surprise anyone if it comes home with a medal? In some ways, given the uncertain health of
Marian Gaborik
and
Lubomir Visnovsky
, I might even slot the Swiss ahead of the Slovaks heading into what should be a terrific tournament.
LEBRUN:
Not only did the Swedes not pick Hedman, but they also passed on
Jonas Brodin
from the Wild, which surprised me. It speaks to their depth of choices as well. You're talking about an Olympic blue line consisting of
Alexander Edler
,
Oliver Ekman-Larsson
,
Jonathan Ericsson
,
Niklas Hjalmarsson
,
Erik Karlsson
,
Niklas Kronwall
,
Johnny Oduya
and
Henrik Tallinder
. Um, yeah, there's a little talent here.
As you know, I picked Sweden to win gold in Sochi in part because of the tournament is played overseas, and that always makes me nervous about the two North American teams. The wild card right now for Sweden, the Olympic champs the last time the tournament was played overseas, in 2006, has to be Lundqvist. Let's be blunt:
Jhonas Enroth
and
Jonas Gustavsson
are not real options if we're talking gold-medal run. The King in New York needs to have his A-game straightened out for the Swedes to contend.
Man, we could go on forever. What a tournament it's going to be. Can't wait to be there with you covering it, my friend.
June, 28, 2013
6/28/13
6:06
PM ET
NEWARK, N.J. -- It certainly didn't take long for freshly minted UFA
Vincent Lecavalier
to get some attention around the league.
While the 33-year-old center technically can't sign with anyone other than the
Tampa Bay Lightning
until July 5, league rules allow his camp to talk to other teams until then. And that process started in a hurry.
"We have been reached out to by a number of teams, easily a dozen or more," Kent Hughes, Lecavalier's agent, told ESPN.com Friday afternoon. "This is the beginning of the process in trying to understand the various situations and trying to narrow it down."
It was still way too early, Hughes said, to declare any potential front-runners. The process will need some time before that becomes clear.
But it's an important time for the Lecavalier camp. The ability to speak to teams right away gives him a leg up on regular UFAs, who have to wait until the July 3-4 window. Hughes will want to get a lot of the legwork done before getting ready to sign his client to a new team July 5.
In the meantime, Lecavalier is organizing his thoughts right now, trying to figure out what markets would best suit him, etc.
During a media call Thursday, Lecavalier mentioned the
Detroit Red Wings
as a team he liked growing up (along with the
Montreal Canadiens
). Well, the feeling is apparently mutual. A source Friday said that the Wings have interest in Lecavalier, although certainly not at any cost. It's going to have to make sense both in salary and term. And the Wings know they won't be alone in a courtship of Lecavalier.
Pending UFA
Stephen Weiss
is another potential option for the second-line center job in Detroit, but there will be lots of competition for his services as well.
The Wings are not approaching their buying season with any kind of desperation. They feel they're in good shape. They've got youth coming up, their AHL team just won the Calder Cup, and they're not going to go out of their way to overspend in free agency for the sake of it.
And if they can't find a center in free agency or via trade, they can always put
Henrik Zetterberg
in the No. 2 slot, separating him from
Pavel Datsyuk
.
This is all pending the expectation that
Valtteri Filppula
is headed to market. The pending UFA forward is not close to a new deal with Detroit, and while the Wings and his agent were slated to speak again this weekend, odds of a new deal don't seem great.
And that is why guys like Lecavalier and Weiss could be options in free agency.
Keep an eye on former Detroit assistant GM Jim Nill, by the way. I hear the new
Dallas Stars
GM also would like to add a veteran forward, and Lecavalier and Weiss are on his radar. He could be competing with his old pal Ken Holland for some of the same players.
The Stars have the long view of wanting to key on drafting and development, but in the short term they also want to shore up the roster with a few more veterans in order to contend for the playoffs next season. They already began that process by trading for and signing defenseman
Sergei Gonchar
.
Elsewhere
• In the wake of my report Thursday night that the
Kris Letang
camp had rejected a $56 million, eight-year offer from the
Pittsburgh Penguins
, both sides were mostly quiet Friday.
Penguins GM Ray Shero declined to comment on the situation when reached by ESPN.com Friday. His quiet demeanor leads you to believe that perhaps he has begun to look at the trade market on Letang. Mind you, it's also expected that Shero and Hughes, who is also Letang's agent, would speak this weekend at some point to see where they can take this after so far failing to find the right number for an extension.
"Our goal remains to see if there's a deal that can be worked out," Hughes told ESPN.com Friday afternoon.
• I'm not surprised the
New York Rangers
decided to not buy out
Brad Richards
. With a new coach in place, it behooves the Blueshirts to see if Alain Vigneault can get Richards back on track. (Vigneault and Richards met for a 90-minute chat recently.) Richards has been working out with
Martin St. Louis
in Connecticut lately, and in speaking to him the other day, Richards sounded like a man hell bent on proving to people he's still an elite player.
This was the right call by the Rangers. Besides, if Richards doesn't bounce back, the Rangers can use their last compliance buyout on him next summer.
• Hearing that goalie
Jonas Hiller
could be available for the right price. He's got one more year on his contract at $4.5 million, so this is the time to move him for maximum value. From talking to sources around the league, the sense is that the
Anaheim Ducks
are not really shopping Hiller, but given their depth in goal -- 19-year-old John Gibson is a highly rated prospect, plus
Viktor Fasth
proved himself this past season -- a good offer on Hiller would probably make the team think, at the very least.
• The
Ottawa Senators
got great news Friday with captain
Daniel Alfredsson
informing them he'd be returning for another season. And they got the news in a timely fashion, before the offseason really got going.
"He brings to the table not only talent, but the intangibles are just as important for the most part: leadership, character, the willingness to work with young players," veteran Sens GM Bryan Murray told ESPN.com Friday afternoon. "It's nice to hear that he wants to play. Now it's just a matter of getting a contract done with him."
Well, there is that. Alfredsson will be UFA July 5. His agent, J.P. Barry of CAA Sports, was slated to speak with Murray later Friday to get the ball rolling in talks.
It's funny. Most people view this as a formality given that Alfredsson has never played anywhere else. Thing is, even at his age, Alfredsson was third in team scoring this past season with 26 points (10-16) in 47 games, albeit on an injury-ravaged team. He's not going to sign for peanuts, is what I'm saying.
• The Senators, by the way, would like to move up in the draft from their current 17th overall spot. Murray has made a few calls to see if there's any possibility of ending up in the 5-10 range.
• The
Carolina Hurricanes
are taking calls on the No. 5 overall pick and are willing to move down for the right price. The Canes are on the lookout for a top-four blueliner this offseason.
• Bill Zito, agent for star goalie
Tuukka Rask
, expects to meet with
Boston Bruins
GM Peter Chiarelli on Saturday here during draft weekend. Rask, of course, is an RFA July 5 and is going to rake it in.
• Perhaps a hint of what's to come for
Thomas Vanek
? The
Buffalo Sabres
have yet to approach his camp with any word of a contract extension. With one year left on his deal, either you sign the player this summer or trade him. Makes no sense to let him enter next season on an expiring deal and have the asset diminish in value.
And I leave you with some food for thought:
One thing to look for over the next week, according to one NHL player agent: If talks break down between pending UFAs and their respective teams, the possibility exists of a sign-and-trade to take advantage of the CBA rule that allows teams to sign their free agents to eight-year deals, whereas players can get only seven years on the open market.
Both the player and team would have a potential gain. The former team could get more value in a trade if the player is signed, and the player gets an extra year in term with his new team.
March, 19, 2013
3/19/13
8:42
PM ET
TORONTO -- The NHL's 30 general managers gather here Wednesday, exactly two weeks before the trade deadline.
It's a chance to push along some conversations that need to go to the next level.
The signing of
Corey Perry
by the
Anaheim Ducks
certainly sent shock waves through the league in the sense that many teams figured he would hit the open market in July and therefore potentially be in play before April 3.
Not so, which means contenders who had their eye on Perry as a possibility must now scratch him off their short list.
The
Boston Bruins
were one of those teams that were going to inquire about Perry had he been put on the market. Another name believed to be on Boston's list, as I reported last month, is
Daniel Alfredsson
, but with the
Ottawa Senators
' miraculous refusal to fall out of the playoff race despite injuries to almost all their top players, the B's are likely going to have to scratch his name off the list -- unless Ottawa has a dramatic downfall in the next two weeks, which seems unlikely.
So, now what for Boston?
Jarome Iginla
is a possibility, depending on the price.
The Bruins aren't going to overpay before April 3 just to say they did something.
Jaromir Jagr
and
Brenden Morrow
are possibilities as well, depending on what the
Dallas Stars
decide to do with both UFAs-to-be. At this point, I would suggest there's a stronger chance Morrow moves than Jagr; the Stars, I hear, are undecided yet on what to do with No. 68 and lot will depend on the offers they get and where they are in the standings come April 3.
The Bruins have been tracking Morrow, a hard-nosed, character player who, while slowed down by age, is still a terrific add-on for a contender.
The Stars will tread carefully here with Morrow, the respected team captain who has played his heart out for them. Morrow has a no-trade clause, and this will be about seeing what he wants to do in the end, seeing if he wants to go join an elite contender or not.
In the end, I think the Bruins are content to do nothing if there isn't anything that makes sense for them. They like their team a lot, although adding a blueliner is also on the list of things to do.
More scuttlebutt from around the league:
• Speaking of the Stars,
Derek Roy
is another name to watch. Like Jagr and Morrow, he's UFA after the season. Contract talks between Roy and the Stars haven't gone anywhere at this point, so he's a possibility to move. Again, Dallas will need to weigh where it is in the standings before being willing to do that.
Crazy thought from one NHL team executive Tuesday: Would the Flyers make a pitch to bring Jagr back to Philadelphia to play with
Claude Giroux
? Seems odd for the Flyers -- who aren't in a playoff spot -- to make a play for a rental player. But Jagr was such a good fit for Giroux last season ... Stranger things have happened.
• With Perry signed, the Ducks can focus on adding a player before April 3. Anaheim, I'm told, is sniffing around for a No. 2 center. The Ducks would have been in the mix on
Stephen Weiss
had he not needed season-ending wrist surgery. Derek Roy is on Anaheim's radar, but it's not clear whether both Western Conference rivals would find the right match in a deal.
And you can forget those
Bobby Ryan
trade rumors that surfaced as soon as Perry signed Monday night. I'm told the Ducks have no intention of shopping Ryan and feel just fine carrying his $5.1 million salary into next season along with the new deals signed by Perry and
Ryan Getzlaf
.
• The
New York Rangers
have been on the lookout for a top-four, right-handed defenseman and a source told me Tuesday that the Blueshirts have interest in veteran
Dan Boyle
from the Sharks. There's an obvious connection there, with Rangers head coach John Tortorella having coached Boyle in Tampa Bay when the Lightning won the Stanley Cup in 2004.
• My TSN colleague Bob McKenzie reported Tuesday night during our Insider Trading segment on TSN in Canada that he believes the ball is now rolling on the Iginla trade discussion front, at least in terms of the team and the player communicating the possibility of moving him. Boston, Pittsburgh, L.A. and Detroit, to me, are the teams that make the most sense and are clubs I know that have interest in Iginla. But can the Flames find a fit that makes sense both for them as an organization and for Iginla to feel comfortable enough to waive his no-trade clause? We shall see. A Flames front office source declined comment even off-the-record Tuesday night, which tells you what a delicate situation this is.
• Word on the street is the
Calgary Flames
will move
Jay Bouwmeester
(who has one more year on his deal) only if they get blown away by a really strong offer. St. Louis and Detroit are among several teams with interest in Bouwmeester, but it doesn't appear like he's going to move unless a team really spends high.
• The Ottawa Senators had given thought to dealing
Sergei Gonchar
before the April 3 trade deadline because he's a UFA after the season and they thought they might be out of the running with all the injuries. Instead, the Sens have stuck around in the playoff race and Gonchar has played well, enough that Ottawa, I'm told, is thinking it might keep him around.
October, 12, 2012
10/12/12
2:58
PM ET
Sergei Gonchar
plans on returning to Ottawa if there's an NHL season, but he's not so sure about some fellow Russian stars.
A month after
Alex Ovechkin
raised eyebrows by saying he might stay and play in the KHL if he doesn't like the terms of the new CBA in the NHL, Gonchar said that kind of talk isn't far-fetched. He told ESPN.com Friday in an interview from Magnitogorsk, Russia, that in his opinion, it's a possibility.
"Yeah, why not? If you think about it, maybe you can put something in the new CBA," Gonchar said. "If the guys feel like it's not fair what's on the table, they might ask [NHLPA executive director] Don [Fehr] to put something in the new CBA to allow them to stay back home. I mean, why not? We don't know where it's going with that new CBA. Everything is possible. That's why I think there is a chance that a guy like Alex might stay back home."
Then again, this also could be the kind of talk meant to pressure owners into compromising in the labor talks.
Technically speaking, the KHL and the NHL have a memo of understanding, whereby each league promises to respect each other's contracts, meaning players under NHL contracts currently in the KHL would be returning to North America after the lockout ends.
In an interview Sept. 28 with ESPN.com, KHL vice president Ilya Kochevrin insisted his league would respect that agreement with the NHL.
"It's all going to be done on a professional basis, it's all going to be transparent and legal," Kochevrin said.
"Actually, I think it's going to be a success for the relationship between the KHL and the NHL," he later added. "We have an agreement and it's a great mechanism to solve any issue that we have between us."
Still, rumors persist that Ovechkin and the likes of
Ilya Kovalchuk
or
Pavel Datsyuk
might consider trying to stay in Russia, even after the lockout ends.
"Obviously, we would have to look at the new CBA and vote on it," Gonchar said. "I'm just saying if the guys don't like [it], especially now guys like Alex and Ilya like it so much here, maybe they would just ask [to stay]."
Gonchar, however, says he's headed back to Ottawa once the lockout ends.
"I still have one more year in Ottawa," the 38-year-old said. "So if it's going to be this year, I'm definitely coming back. And next year I would like to come back and play if I'm healthy and if there's interest in the NHL for me. I would definitely want to play over there. But at the same time, the KHL is better now than it was and I'm not taking that option off the table, either."
Like any NHL veteran, however, the lockout thing is getting old for Gonchar.
"Tell me who's out there who isn't tired of it?" he said. "It must be the same for the fans and media as well. It seems like the only thing the owners know to do to us is to lock us out. Nobody likes it."
In the meantime, Gonchar believes the KHL is taking important strides. He played in the old Russian super league during the previous lockout, in 2004-05, and says the KHL is a step up.
"Actually, it's really good, the league is much better than I remember last time when I played here seven years ago," he said. "The hockey is more competitive and we're playing at a higher level. I do wish that they made the ice rink a bit smaller, that would add more excitement to the game. Otherwise, I like it, I like it a lot."
Gonchar points to the hybrid rinks in Finland -- between international-size and NHL-size -- as the perfect solution.
Regardless, Gonchar believes the KHL increasingly will become a home for young Russian stars.
"More young players are wanting to stay here now. When I was young, everyone wanted to go to the NHL because back home the hockey wasn't that good and we wanted to play in the best league in the world," he said. "But now, the KHL is getting better and better, more young guys will want to stay because they're comfortable and playing in front of their own fans."
In Magnitogorsk, Gonchar has been reunited with Malkin, his old
Pittsburgh Penguins
buddy.
"It's something special," Gonchar said. "We had chemistory playing together in Pittsburgh. And now we're back together. It's exciting and it's nice to have that feeling again. Especially because you're not just playing with a great player, but you're playing with a great friend. Putting those two things together is something special."
September, 21, 2012
9/21/12
10:01
AM ET
By
Sarah Goldstein
| ESPN.com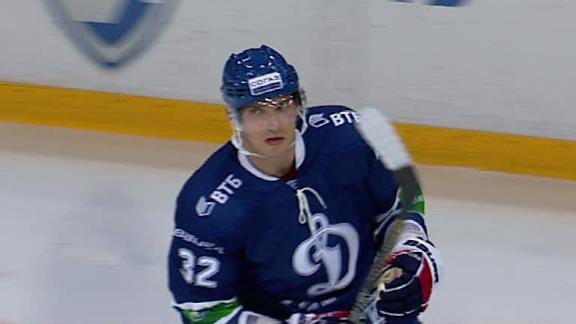 December, 3, 2010
12/03/10
12:02
PM ET

Stock up
Bobby Ryan, Anaheim Ducks: It's been a roller-coaster ride for the Ducks through the first quarter of the season, but, as of writing this, the Ducks were in the top eight in the Western Conference and Ryan has been doing his bit with six goals in his past six games. He's regularly logging more than 23 minutes of ice time a night and has taken over the team lead in goals with 13. His plus-10 rating is best among Ducks forwards.
Andrew Raycroft, Dallas Stars: Yes, Kari Lehtonen is "the man" in Dallas, but having an able backup is often the difference between making the playoffs and not. Right now the much-traveled Raycroft is giving the Pacific Division-leading Stars top-flight relief goaltending. Raycroft has won three of his past four starts, including stopping 37 of 38 shots in a 2-1 victory over Washington on Thursday night. He has stopped 89 of 91 in his past three wins, and one expects he will continue to get work with performances like that.

Stock down
Alex Ovechkin, Washington Capitals: Nine games without a goal ties Ovechkin's longest stretch without denting the twine since becoming an NHLer. He went nine games in 2008-09 without a goal, too. Now, the Caps' captain is still collecting points with eight assists over that period, and the Capitals remain near the top of the Eastern Conference standings, but his lack of goal production is troubling in a relative sort of way. It's worth noting that in 2009, Ovechkin rebounded to win the Hart Trophy and the Lester B. Pearson Award (now the Ted Lindsay Award) as league MVP.
Sergei Gonchar, Ottawa Senators: A lot of heat on Ottawa head coach Cory Clouston, but what about the Sens' big signing of the offseason, Sergei Gonchar? Well, not much going on there. Gonchar, so important to the Pittsburgh Penguins' success in the past four years, has not scored in 10 straight games and has added two lonely assists over that period as the Senators' descent in the Eastern Conference standings continues unabated. Between Gonchar and Alex Kovalev -- with two goals in his past 12 games -- that's a whole lot of money going down the drain. Kind of like the Sens' season.
November, 2, 2010
11/02/10
3:42
PM ET
TORONTO -- When the Ottawa Senators shelled out $16.5 million over three years to Sergei Gonchar last July 1, they got a lot more in return than those three seasons.
The player himself may only be contracted for three years, but his teachings and influence on young blueliner Erik Karlsson, in particular, could have 10-plus years of impact.
Now there's your real investment. Of course you may wonder just how effective Gonchar, 36, might actually be near the end of this deal, but if he can do for Karlsson what he did for Alex Goligoski and Kris Letang in Pittsburgh, then the Senators can definitely consider money well spent.
When you see the puck-moving and passing abilities of Goligoski and Letang in Pittsburgh, you see how they benefited from being around Gonchar when they entered the league.
Now it's Karlsson's turn to try and suck up all that knowledge. Because if you aspire to be among the better puck-moving defensemen in the NHL, Gonchar arguably takes a backseat to only Nicklas Lidstrom.
"He's an experienced guy and he knows how to talk to people to make them understand what needs to be done," Karlsson, 20, told ESPN.com Tuesday after the pre-game skate at Air Canada Centre. "For me having him on the team, it's been great so far and I think it's going to be even better."
Professor Gonchar said it's not like he's sitting at home and wondering what lessons he should draw up next for his pupil. But once the puck drops, he's in constant dialogue with Karlsson.
"We're on the same power-play unit so sometimes you see things that can be done a little differently," Gonchar said. "We always talk and he's a great listener. It just happens naturally. I've been around a bit longer so you know maybe how certain things should be done. When you have a guy like Erik who has all the skills in the world and can do things, you can tell him something and he can do it. It was the same with those two [Goligoski and Letang]. It's a natural process."
Karlsson, still a work in progress but carrying an offensive skill-set that screams 50-point potential one day, wouldn't divulge specifics but said many tips from Gonchar have already come into play.
"It's a bunch of little things, in different situations he tells you if you do this or that you're going to have more success," Karlsson said. "I try doing what he says and it works."
Imagine that. The man with eight seasons of 50-plus points knows what he's talking about.
Best piece of advice Gonchar can give to a young, puck-moving blueliner?
"Sometimes they try and do too much," Gonchar said. "They have all the skills in the world and they try to create things sometimes where it's not necessary; like in the defensive zone, or on the blueline. When you're young you have to be more careful in choosing your moment. You have to do things at the right time and in the right situation. It's probably the toughest part -- making the right read. Sometimes you think you have more time than you have or the opposite. To learn to do things at the right time is something you learn. As a young guy you're not recognizing it right away. That's something that in my opinion stands out."
As Gonchar and I stood in the hallway outside the visitors, dressing room Tuesday morning, I couldn,t help but ask him just how it is he ended up in a different uniform this season. Of all the high-profile players that were headed for unrestricted free agency last season, he was the one guy I was sure would not leave where he was. He was a perfect fit in Pittsburgh, where he won a Stanley Cup in 2008, a mentor to Evgeni Malkin on and off the ice as well as the catalyst on the blueline. He fit like a glove there. And he agreed with me, he didn't think he was going to leave either.
"Yeah, I thought that until the last moment," Gonchar said. "Right up to July 1, I was hoping the deal would get done. Unfortunately it didn't happen. I thought everyone was happy, both sides, I was happy to be there and I thought they were happy with my performance. But sometimes that's just how life turns out."
Ottawa was willing to go three years on a deal. Pittsburgh was not. And that was that. Because Gonchar was over 35 when he signed his deal, you understand the Penguins' reluctance. His deal counts against the cap regardless of whether he's able to play all three years. That's the risk.
He wasn't the only one who didn't want to leave Pittsburgh.
"A lot of people don't recognize that when you change teams and cities it's not just you moving, it's your wife and kids," said Gonchar, who has two children. "My oldest kid had to change schools, leave her old friends behind, she was scared how it was going to be. It was the first time in her life for her [moving[. But when we got to Ottawa, everyone was so friendly and the city is so beautiful, that side was an easy adjustment. I was surprised how easy it was. My family is happy. Now we just have to win some games."
For the first time in his NHL career, after previous stops in Washington, Boston and Pittsburgh, Gonchar finds himself in hockey-mad Canada. That has certainly lived up to billing.
"Even probably more in Ottawa because it's really the only pro team, there's no other sports really," he said. "So besides the fact you're playing in Canada where hockey means so much, you're also playing in a city where there's nothing besides hockey. The people come up to us and you see how much it matters to them. They know the schedule, they tell you all the stats -- it's kind of crazy. But it's just the way it is."
January, 21, 2010
1/21/10
2:08
PM ET
PITTSBURGH -- Tonight's big rematch between the Capitals and Penguins could be missing some big names.
Star blueliners Mike Green (undisclosed) of the Caps and Sergei Gonchar (lower body) of the Penguins are both game-time decisions.
Gonchar hasn't been the same since blocking a shot Dec. 30 at New Jersey.
"He'll be game-time, but it looks like he'll be ready to go as well," Pens coach Dan Bylsma said.
Green didn't practice Wednesday, although he did skate this morning at Mellon Arena.
"We'll see," Green said this morning when asked if he was playing tonight. "As far as right know, yeah [he's playing]. But we'll see."
Neither Green nor Caps coach Bruce Boudreau would say exactly what's ailing the stud blueliner. He gingerly took off his equipment after speaking to reporters. Washington Post beat writer Tarik El-Bashir believes Green was banged up after taking a big hit from Detroit's Todd Bertuzzi on Tuesday night.
Asked why he didn't practice Wednesday, Green smiled and said, "I don't know, I just didn't feel like it."
This game not only feels like a playoff matchup, but the players are hiding injuries like it's May, as well!
Star goalie Marc-Andre Fleury (fractured left ring finger) remains out and is day to day. Fleury took some shots before practice Thursday, using an enhanced catching glove. Brent Johnson gets the start in goal for Pittsburgh, facing his former team. Jose Theodore goes for the Caps. Neither goalie speaks to the media on game days, so we'll just assume they're both excited.
Also out for Pittsburgh are forwards Max Talbot (lower body) and Pascal Dupuis (face injury). For the Caps, defensemen John Erskine and Brian Pothier, both day to day with upper body injuries, are also out for tonight. World junior hero John Carlson was called up from the AHL. And, of course, rookie netminder Semyon Varlamov remains out and appears to have suffered a setback in his recovery.
"Well, it was originally his groin and then he hurt his knee, so that's two different injuries," Boudreau said. "It's exactly the same thing that happened last year, but I'm still thinking he'll be fine by the beginning of February."
January, 16, 2010
1/16/10
11:34
PM ET
We all knew Vancouver would generate headlines this season, with the Olympics being there and all. But this past week's entertainment was something else.
First, a fan uses a laser to try to blind Calgary Flames goalie Miikka Kiprusoff on Jan. 9 in Vancouver. Bizarre, to say the least. Then we've got the Stephane Auger/Alexandre Burrows brouhaha Monday night. And finally, Wednesday night's third-period fisticuffs in Minnesota, where Canucks tough guy Darcy Hordichuk reportedly told Wild enforcer Derek Boogaard that Vancouver coach Alain Vigneault told them to go out and fight. Later in the period, Vancouver's Alexandre Bolduc invited Minnesota goon John Scott to a fight that I thought would end the Canucks player's career it was so violently one-sided.
In any case, the allegation that the Canucks coach would have ordered some of his players to fight (denied by all involved in the following days) certainly touches a universal nerve given Vancouver's history with the Steve Moore incident less than six years ago.
A source told ESPN.com on Saturday that league disciplinarian Colin Campbell did phone Vigneault in the aftermath of those allegations. He got the obvious denial, and without any corroborating evidence, what else can the league do?
Meanwhile, on the Auger/Burrows front, Canucks fans won't see the veteran referee anytime soon. It just so happens the schedule didn't have Auger doing a Canucks game during the next two months (the schedule was already drawn up before the incident). But when the league draws up the schedule for the rest of the season, you can bet Auger won't be doing any Canucks games. It's called common sense.
And finally, NHL director of officiating Terry Gregson, who sends out a memo to his on-ice officials every Friday and Monday, had a timely message in Friday's e-mail. I'm told the theme was "communication," and essentially having a sense of the proper etiquette to deal with players and coaches, etc. You can read between the lines on that one.
Selling Souray

In the aftermath of Sheldon Souray's announcing that he would waive his no-trade clause if it helped the Edmonton Oilers and was a move that he could live with, the obvious question is, as one NHL GM told me this week, "But which team can afford him?"
The 33-year-old blueliner entered the weekend with 12 points (3-9) and a minus-14 rating in 30 games this season, not the kind of return you'd expect for a $5.4 million cap hit. On the other hand, he's surrounded by the 2009-10 Oilers, not the 1986-87 Oilers. A change of scenery could very well bring out the old Souray, not to mention the fact his actual salary goes down to $4.5 million for the last two years of his deal (starting next season).
One NHL team I believe has interest is the New York Rangers, a club that could certainly use his offensive touch from the back end. I also think Souray would welcome a move to New York. But to make it happen, the Rangers would need to create cap room by shedding the contracts of either Michal Rozsival ($5 million cap hit; will earn $4 million next season and $3 million in last year in 2011-12) or Wade Redden ($6.5 million cap hit; four more years left after this season at $6.5 million for 2010-11 and 2011-12 and $5 million per year in 2012-13 and 2013-14).
The only real option on Redden is to send him to the AHL and eat his contract. A buyout next summer doesn't solve anything because the Rangers would still carry a $2 million cap hit from him for the next eight years.
I guess if you're New York, there's also the hope that when the next collective-bargaining agreement is negotiated, whether that's after next season or the season after that (the NHL Players' Association has the option of extending it a seventh year), teams will once again get a one-time shot at buying out their worst contract without cap implications, which was the case in August 2005, when the last CBA started. That would be an opportune time for the Rangers to deal with Redden.
Pens update

Contract negotiations have recently resumed between the Pittsburgh Penguins and representatives for defensemen Kris Letang and Sergei Gonchar.
The team isn't close to a deal on either front at this point, but that can change in a heartbeat. Letang will be a restricted free agent July 1, while Gonchar will be unrestricted.
"We met with Kris and his agent [Kent Hughes] recently," Penguins GM Ray Shero told ESPN.com on Friday. "They know where we stand. Kris is a guy obviously we want to re-sign, but we're not there right now."
Gonchar turns 36 in April, so no matter what contract he signs, the entirety of it will count against the salary cap even if he retires before the end of it (according to the 35-and-over rule in the CBA). This makes the term the most significant item on that docket. Shero met with Gonchar's agent, J.P. Barry, over the past week in Calgary.
"We'll just keep the dialogue going," said Shero. "We just need to find a way to get it done hopefully."
There's going to have to be some give from these two players for the Pens to be able to keep both. Interesting situation to say the least.
As for the March 3 trade deadline, the Penguins have their pro scouting meetings this upcoming week. That conversation, along with thoughts from the coaching staff, will help crystallize Shero's deadline game plan. The Pens don't have too much cap room, so Pittsburgh fans shouldn't expect a huge addition.
Preds goalies

So, you're the Nashville Predators and you're having a terrific season as young players step into the lineup again and produce (can this team draft or what?). But you've got a major issue: the two people who wear a goalie mask on your team.
Pekka Rinne and Dan Ellis are both slated for unrestricted free agency.
"I'm going to talk to all our unrestricted guys during the Olympic break," Preds GM David Poile told ESPN.com on Friday. "Both are goaltenders who have been real good for us this year. We've been rotating them pretty much."
But in my mind, you won't see both back next season. The frugal Preds can only afford to keep one of them; and frankly, I don't think these two guys want to share the net again next season. They're both No. 1 material. The question is, will both still be with the team past the March 3 trade deadline? I think that's a question Poile himself hasn't answered yet in his own mind.
If he's able to re-sign one of the two goalies before March 3, then maybe he dangles the other in exchange for some offensive help. But if he's unable to get either one signed to an extension before then, he'd be wise to keep them both past March 3 and give himself time to talk contract with them right up to June 30 at midnight, when he still owns their rights.
Meanwhile, Poile confirmed what John Glennon first reported in The Tennessean on Friday: Coach Barry Trotz had his contract extended through next season.
Senators stuff

Somewhat under the radar is the fact that shutdown blueliner Anton Volchenkov is slated for unrestricted free agency. The Ottawa Senators can't afford to lose him, but contract talks haven't gone anywhere yet.
"I'm hoping this week to have some concrete discussions in that regard," Sens GM Bryan Murray told ESPN.com on Saturday.
Volchenkov, who is represented by Jay Grossman, is earning $3.2 million this season, but his cap number is $2.5 million. He's getting a raise, whether it's in Ottawa or elsewhere.
I've also noticed a few of my media colleagues suggested over the past few weeks that it might be time to look at moving Alexei Kovalev. But Murray told me that was a no-go.
"He's not going anywhere, Alex is a real good player for us," said Murray. "He's a talented player. That's why we signed him. He gives that dimension on the second line that we were looking for."
Kovalev has another year on his deal at $5 million for next season.
Stars goalies

Marty Turco will almost certainly be available come the trade deadline, as my colleague E.J. Hradek also speculated in his Friday blog. The veteran netminder is UFA July 1 and it's probable the Stars, as they continue to get younger, will go in a different direction in goal.
It'll be interesting to see what kind of traction the Stars get on Turco close to the deadline. His cap number is $5.7 million, which is a little rich even with that number being smaller come March 3, with just over a month left in the regular season. But on the flip side, this is a goalie who can bring it when he's dialed in, and he could be a great pickup in the right situation.
Meanwhile, who will play goal for Dallas next season? That will be GM Joe Nieuwendyk's top priority between now and July, to find his next goalie(s). I'm told the Stars did chat with Montreal earlier this season about Jaroslav Halak, but the price has gone up big time now with the Habs netminder putting together a great season. I'm not even sure why the Canadiens would want to move him anymore.
If I was the Stars GM, the goalie I'd look at is the oft-injured but talented Kari Lehtonen in Atlanta. He's a restricted free agent July 1 and he may have maximized the Thrashers' patience. He could be the ideal buy-low gamble for the Stars. Lehtonen (back) has been out pretty much all season, but he may return next weekend on a conditioning assignment with the AHL's Chicago Wolves.
Video review

In the wake of the Pittsburgh TV replay scandal, which cost Philadelphia a goal in a Jan. 7 game and resulted in the suspension of an FSN Pittsburgh producer, the NHL sent out this memo late in the week to all 30 markets:
To All Rightsholders:

The NHL's Video Review process was established to assist in determining the validity of all potential goals. In establishing this process, the Member Clubs have given their support and resources to the League's Hockey Operations Department to ensure that all goals are properly reviewed.

One of the primary resources in the review process is the game telecast. In support of the mandate from the Clubs for video review, it is required that replays from all camera angles be shown in a timely sequence so as to provide the Hockey Operations Department with the best opportunity to review the situation and make a ruling.

In the case of video review, producers and their crews have an obligation to the game, the teams and our fans to provide any and all replays of the play in question. Obviously, under no circumstances should a replay be withheld as to be selective with any sense of prejudice toward one outcome or another.

As television rightsholders to the NHL and its Member Clubs, your understanding of this responsibility is imperative. We appreciate your continued partnership."