July, 2, 2013
7/02/13
2:15
PM ET
It is very possible, although not quite a guarantee, that
Vincent Lecavalier
will choose his next team by the end of the day Wednesday.
The UFA center, who is allowed to speak with teams earlier than other UFAs because his contract was bought out, has been deliberating with family where the best fit might be for him to continue this career.
The likes of the
Dallas Stars
,
Detroit Red Wings
,
Montreal Canadiens
,
Toronto Maple Leafs
,
Boston Bruins
,
St. Louis Blues
,
Washington Capitals
,
Philadelphia Flyers
,
Anaheim Ducks
,
Vancouver Canucks
and
Calgary Flames
are among the teams that have shown interest.
The decision for Lecavalier begins with Montreal. He has to decide whether he wants to go home and deal with both the perks and detriments of playing in his native town. And if he goes home, it's not going to be for the same kind of money or term other clubs would have offered. If he's a Hab, it's more because he really, really wants to be one. Montreal definitely has interest in signing him, but it's going to have to be on a reasonable deal that fits within its cap and payroll structure.
But no one should fault Lecavalier if he decides to avoid that situation; that's his choice as a UFA.
I still think Dallas is a solid possibility for Lecavalier if he wants to remain in a quiet, nontraditional hockey place such as the environment he has experienced his entire career with the
Tampa Bay Lightning
. And I think the Stars are willing to go five years on a deal.
While it's true to a degree, as
Nashville Predators
GM David Poile suggested to his local media Tuesday, that Lecavalier would prefer to stay in the East, it does not preclude him from playing in Dallas, I can tell you that.
Detroit is a great fit, too, and so is Boston. We'll know soon enough.
As a reminder, beginning at 12:01 a.m. ET Wednesday (so basically Tuesday night), a wrinkle in the new CBA kicks in that NHL fans haven't seen before: Free agents have the right to speak with other teams in the 48-hour lead-up to the opening of the market Friday.
So for teams trying to re-sign their free agents, Tuesday was their last day of exclusivity to do so. For example, it was the last day for
New Jersey Devils
GM Lou Lamoriello to be the only voice in
David Clarkson
's ear. Clarkson recently turned down an offer from the Devils and most likely is headed to the market. Then again, maybe Uncle Lou has
another
last trick up his sleeve.
Elsewhere
• Traded texts Tuesday morning with UFA forward
Danny Briere
. He says he's talking to teams as he's narrowing his focus. We should know more Wednesday.
• The Devils and pending UFA center
Patrik Elias
were close to a deal, but it wasn't done as of noon ET Tuesday, agent Allan Walsh said. Walsh also represents winger
Pascal Dupuis
, another pending UFA, and the agent said talks with the
Pittsburgh Penguins
were continuing.
• Pending UFA winger
Damien Brunner
was a day away from being able to speak with the 29 other teams. His agent, Neil Sheehy, told ESPN.com via email Tuesday morning that he planned to talk again with Detroit but wasn't sure where it was all headed.
• The Predators put veteran blueliner
Hal Gill
on waivers. He has one year left on his deal at $2 million. GM David Poile said via text that the blue line is a little crowded given the drafting of
Seth Jones
, and the hope is to find a new home for Gill. If no one claims him on waivers, another possibility would be to buy him out.
June, 27, 2013
6/27/13
9:04
PM ET
By
Greg Newman
| ESPN.com
NEW YORK -- Born in a family of football stars, Darnell Nurse ended up playing hockey.
"I tried [to persuade my parents to let me play football] couple of years in a row to get them to budge, but they wouldn't," said Nurse, whose uncle is former NFL quarterback
Donovan McNabb
. "They said, 'Just stick to hockey.' I look at it now and I'm real thankful for that decision."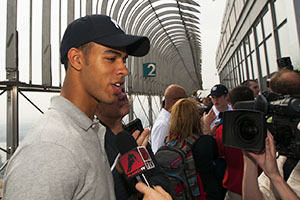 Jeff Skopin/ESPN New YorkDarnell Nurse, an admitted Blue Jays fan, wore a Yankees hat in New York.
Nurse went on to say that his father, a college and former CFL player, was the most adamant about Nurse staying on the ice.
But even in a different sport, Nurse got plenty of help and advice from "Uncle Donovan."
"I started working out with him when I was in grade eight," Nurse told reporters at a pre-draft meeting at the observation deck of the Empire State Building. "The way he took me in and showed me the ropes, it doesn't get much better. ... His basic advice was enjoy it all. This is the fun part."
Nurse shared the stage with Jonathan Drouin, Nathan MacKinnon and Seth Jones, son of former NBA player and
Brooklyn Nets
assistant coach Ronald "Popeye" Jones.
In the
latest mock draft
, Grant Sonier predicts MacKinnon will be picked by the
Colorado Avalanche
with the overall No. 1 pick. He has Drouin going second to the
Florida Panthers
, Jones falling to No. 4 to the
Nashville Predators
and Nurse at No. 11 to the
Philadelphia Flyers
.
Jones, a potential top pick, said he would not begrudge the Avalanche if they did not select him with the No. 1 pick.
"I didn't have it in my mind that I was for sure going No. 1. I'm not going to take it personal," Jones said. "I'll be happy wherever I go."
How did the prospects enjoy New York?
"I have never been to New York City, so it's obviously a pretty new experience for me here, seeing all the people, constant traffic, the taxis everywhere," Jones said. "It's just like the movies."
Added Nurse: "This is an unbelievable experience, something we all dream about as kids. This is the fun part, all the media stuff. But it comes down to putting in the work; the real work starts July 1. It really sunk in today, even just coming up in the elevator -- I'm in New York now."
June, 20, 2013
6/20/13
8:26
PM ET
Joe Sakic
didn't change his tune Thursday when interviewed by ESPN.com, the
Colorado Avalanche
executive confirming he meant what he said when telling the Denver Post that the club's intention is to select one of the top three forwards available with the first-overall pick in the June 30 draft.
Which means passing on blueliner Seth Jones, a Denver native.
"He's a great player, he's going to be good," Sakic said over the phone from Denver. "But after we had our internal meetings we came up with these three forwards, (Nathan) McKinnon, (Jonathan) Drouin and (Alexander) Barkov. We're really leaning towards one of those three forwards."
So to be clear, you'll pick one of those three players? Sakic was asked.
"If we're picking first overall, yes," he said firmly.
To which some people are responding, "Why tell the world?"
"It was more really for our fans here, to let our fans know what we're thinking going into the draft," said Sakic, the Avs' vice president of hockey operations. "That's really what the purpose was, let them know where we're leaning. What I said is that we're picking first overall and this is what we're doing."
Sakic has been a straight shooter all his life. He's not the kind of guy to say something and mean the opposite. Still, the impact of his comments could be construed to help the teams with the second and third picks, the
Florida Panthers
and
Tampa Bay Lightning
, feel more anxious now to perhaps pick up the phone and offer a package to Colorado to move up.
"Honestly, I don't know what to expect," Sakic said of possible offers for the first pick. "We'll see when we get there. We're going to do what we feel is best for our organization. If somebody calls, we'll obviously listen. We'll do what's right."
Sakic and old pal
Patrick Roy
are now running the front office, in charge of trades, etc. So far it's been a blast, Sakic said.
"It's exciting," he said. "It's a challenge. It's been great and it's something I'm really looking forward to."
April, 29, 2013
4/29/13
9:23
PM ET
Playoffs, schmayoffs. Let's talk draft lottery, people! Scott Burnside and Pierre LeBrun, take it away.
BURNSIDE:
Good evening from Pittsburgh, my friend. Hope you are enjoying St. Louis, where you will open the 2013 NHL playoffs. While most of the hockey world was focused on matchups and predictions, for those teams that failed to qualify for the playoffs, Monday night loomed as a potentially franchise-altering evening with the annual draft lottery. For the first time, all 14 non-playoff teams had at least a mathematical chance of snaring the No. 1 pick in the draft that will be held this June in Newark. In what is considered a deep and top-heavy draft, teams that ended up with one of the top five picks were looking at the possibility of drafting an NHL-ready player. While the first 12 teams stayed in the draft position determined by their finish, the real drama came with the final two draft positions. And, as was the case last year, the league's worst team, in this case the
Florida Panthers
, was denied the first-overall pick as the
Colorado Avalanche
, the 29th team, ended up with what a first overall pick that could dramatically change the fortunes of this once-proud franchise that has gone adrift in recent years. How long after Monday's draft lottery do you think the first Seth Jones Avs jerseys hit the streets of Denver?
LEBRUN:
Talk about a script written in Hollywood, as Jones -- son of former NBA player Popeye Jones -- grew up skating in Denver. Even the Avs can't screw this up. And he's exactly what they need. Colorado has a nice young cast of forwards up front, led by
Gabriel Landeskog
, Ryan O'Reilly and
Matt Duchene
, but what they need is a sure-fire stud on defense and that's what they would get in Jones, rated first overall by many draft forecasters. I feel bad for Panthers GM Dale Tallon because Jones would also have been a perfect fit in South Florida, a nice compliment to impressive Panthers rookie center
Jonathan Huberdeau
. But as far as consolation prizes go, if the Avs do indeed take Jones first overall, having to choose between Canadian forwards Nathan MacKinnon or Jonathan Drouin isn't a bad choice at all.
BURNSIDE:
You're right, this is as good as it gets for an Avs franchise that needs a significant shot in the arm after missing the playoffs in four of the past five seasons. I think the bigger question is: Who stands at the podium at The Rock in Newark on June 30 and calls Seth Jones' name? Will it be GM Greg Sherman? Or maybe someone more recognizable? After the Avs fired head coach Joe Sacco after the end of the regular season, all the buzz was whether this opened the door for a return of iconic Hall of Fame netminder
Patrick Roy
to the Avs fold. Interesting times ahead in Denver for sure, and it couldn't come at a better time for a team that is all but forgotten in that terrific sports town. I agree with you that it seems a bit unfair that Florida won't have the first-overall pick, but they'll get a good one. The team I feel a bit bad for is Nashville, which will have the fourth pick behind the Avs, Panthers and the
Tampa Bay Lightning
. If, as you noted, MacKinnon and Drouin go behind Jones, that will leave a difficult decision for GM David Poile and his staff. Aleksander Barkov, a talented Finnish pivot, is considered next in the pecking order, although dynamic Russian Valeri Nichushkin is also very much in the discussion. The Preds have a desperate need for an offensive sparkplug, preferably one that could step right into the NHL with recently acquired
Filip Forsberg
, and on this night the Preds are one team that could have used some mathematical karma to jump into the top three.
LEBRUN:
Yes, I was thinking the same thing about the offensively starved Predators, who would have loved no doubt to get their hands on Drouin or MacKinnon. We should also note that the
Edmonton Oilers
hold the seventh overall pick heading into the June 30 draft. I think new GM Craig MacTavish will shop that pick hard. It's no longer about draft picks for the Oil, it's time to win. If they can package that seventh overall pick for help on defense, I believe they will do so.
In any case, my friend, the draft is a long time away. Now it's time for two months of playoff hockey. Drop the puck. I'm ready.
December, 21, 2011
12/21/11
2:15
PM ET
The 2012 World Junior Championships begin in Alberta on December 26th. But Team USA will now be without defenseman Seth Jones, who was ridden into the boards after driving to the net in the second period and left the rink wearing a sling. The 17-year-old defenseman is projected as a potential No. 1 pick in the 2013 entry draft and was poised to be the youngest member of the team. Jones will miss the remainder of the tournament with an unspecified upper-body injury sustained in Team USA's exhibition opener against Russia on Tuesday night.
"It's nothing very serious, but he is unable to play," said USA Hockey Communications Manager Alex Clark. "He will be reevaluated in a few weeks."
Jones, the 6-3, 195-pound son of former NBA player Popeye Jones, was paired with New Jersey Devils draft pick Jon Merrill in Team USA's 6-3 loss to the Russians. Jones is a slick-skating, physical defenseman, excellent on both sides of the puck and very mature for his tender age. His skills will be sorely missed on Team USA's blue line, though with Merrill, Adam Clendening, Derek Forbert, Jarred Tinordi, Stephen Johns and Jacob Trouba, the Americans still have one of the best defensive groups in the tournament.
Team USA is hoping to medal at the World Juniors for the third consecutive year,
read more about it here
:
And also check out the lofty expectations for Team USA.