Cross Checks:

Stanley Cup playoffs 2013
May, 22, 2013
5/22/13
4:41
PM ET
GREENBURGH, N.Y. -- The
New York Rangers
face a daunting 3-0 series hole with the knowledge that never in franchise history has the team overcome such a deficit.
Heading into Game 4 against the
Boston Bruins
on Thursday, the Rangers are trying to avoid the statistics and the past, instead narrowing their focus on the most immediate need.
"Obviously, it is a tall task, but you can't look at the big picture," defenseman
Ryan McDonagh
said Wednesday. "You take it day by day here, trying to get yourself better, as close to 100 percent as you can going into the game, and you've gotta use the home crowd again tomorrow and try to thrive off that."
[+] Enlarge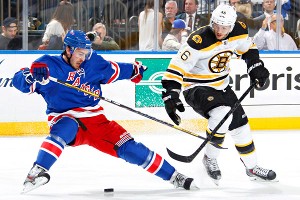 Scott Levy/Getty ImagesRyan McDonagh says the Rangers need to focus on Game 4, not winning four in a row.
The Rangers had won nine straight at Madison Square Garden before letting a third-period lead against Boston disappear in Tuesday's 2-1 loss.
With the Bruins eager to erase the past -- a blown 3-0 series lead to Philadelphia in the 2010 playoffs plus a shaky first-round series this year against Toronto in which they allowed the Leafs to force a Game 7 -- they'll be looking to channel the confidence gained from their past four wins to complete the sweep.
The Rangers have not been swept since 2006, when the
New Jersey Devils
beat them in four consecutive games.
Unfortunately for the Rangers, they will likely try to avoid elimination without the help of top-four defenseman
Anton Stralman
, who was forced from Game 3 with a suspected shoulder injury after absorbing a thunderous hit from Boston's
Milan Lucic
in the second period.
Rangers coach John Tortorella, both after the game Tuesday and the team's practice Wednesday, seemed to be prepared for Stralman's absence from the lineup.
"Losing Stralsy is a big blow," Tortorella said Wednesday. "To a defense that is lacking a little depth right now, it hurts us. But, again, it just comes down to, listen, we're down 0-3, there's no sense in feeling pressure."
Stralman has quietly been a strong and steady presence on the team's back end, which is already ailing without cornerstone defenseman
Marc Staal
. Stralman has provided the Rangers mobility and toughness and will be missed against a deep, balanced Bruins squad.
"He's been huge in this series," McDonagh said. "He's such a mobile skater, and that's huge as a defenseman. He's able to get a step on a guy, create some space and find a passing lane to get it up to our forwards. He's been exceptional in the playoffs, and we really hope he's back."
Assuming Stralman does not play, it will be either
Matt Gilroy
or veteran
Roman Hamrlik
who joins the lineup.
That also means that either
Steve Eminger
or
John Moore
will be thrust into a top-four role, playing alongside young defenseman
Michael Del Zotto
.
"Players that get to play tomorrow and play more minutes than maybe they're used to? Grab ahold of it and let it happen," Tortorella advised. "I mean, crap, you lose and you're done."
May, 12, 2013
5/12/13
1:46
PM ET
AT A GLANCE:
One New York hockey team, the Islanders, was eliminated from the Stanley Cup playoffs Saturday night. The Rangers are desperate to avoid becoming the second.
The Rangers face the
Washington Capitals
in a must-win Game 6 at Madison Square Garden on Sunday afternoon (4:30 ET). The Rangers held serve with home wins in both Games 3 and 4 and will need to do so again to keep their hopes of advancing alive.
HANK NEEDS HELP:
Another terrific performance from goaltender
Henrik Lundqvist
was spoiled Friday night in D.C. when the Rangers dropped Game 5 in overtime, 2-1. Washington's
Mike Ribeiro
tallied the game winner -- his first goal of the series -- to force an elimination game in Game 6.
Lundqvist, who turned away 33 shots in Friday's loss, has made no fewer than 27 saves in a game this series. The reigning Vezina Trophy winner has posted an impressive .927 save percentage through five games.
STARS NEED TO STEP UP:
If the Rangers are to force a winner-takes-all Game 7 in D.C. on Monday, they'll need their star players to step up.
Rick Nash
, who led the team with 21 goals during the regular season, has been held off the score sheet in four of five games this series. Despite a goal in Game 4, alternate captain and veteran center
Brad Richards
has been ineffective, taking turns on the team's fourth line.
Team captain
Ryan Callahan
cannot be absolved, either. Though his heart and grit are always on full display, Callahan has managed only two assists in five games.
LOOKING TO BREAK THROUGH:
Washington star forward
Alex Ovechkin
has been limited of late as well. The Hart Trophy finalist has been held off the score sheet for the past three games, a first in his playoffs career. The task becomes even tougher with the Caps in hostile territory at MSG, with the home team's ability to make the last change. Rangers coach John Tortorella will do everything he can to get his top defensive pairing of
Dan Girardi
and
Ryan McDonagh
out there against No. 8 and his linemates,
Marcus Johansson
and
Nicklas Backstrom
.
NO CLOWE:
The Rangers will be without rugged winger
Ryane Clowe
, who was forced from Game 5 with an undisclosed injury sustained on a hit from Washington's
Jason Chimera
in the first period. It is not immediately clear who will replace Clowe, though it is possible
Chris Kreider
returns to the lineup after being scratched the past four games.
May, 9, 2013
5/09/13
12:09
PM ET
According to reports out of the Rangers' practice facility in Greenburgh, N.Y., defenseman
Marc Staal
is not taking part in the team's optional practice Thursday.
Staal, 26, did not play Wednesday night, just two days after making his anticipated return to the lineup for Game 3.
Staal missed two months after a harrowing injury to his right eye. He skated with the team for several weeks before making his comeback, but was forced to deal with blurry vision as a lingering effect from taking
Kimmo Timonen
's shot to the eye during a game on March 5.
After Game 3, Staal alluded to some issues with his eye that had cropped up the previous week; it is unclear whether those issues resurfaced prior to Game 4.
Staal has previously said he did not want to play and jeopardize the team if he wasn't feeling fully comfortable on the ice and able to contribute.
May, 8, 2013
5/08/13
2:48
PM ET
AT A GLANCE:
The Rangers, who won Game 3 on Monday, have a chance to even their first-round series against the
Washington Capitals
on Wednesday night at Madison Square Garden.
With
Marc Staal
adding a big boost to their back end, the Rangers were able to keep
Alex Ovechkin
off the score sheet in Game 3. But the dynamic No. 8 will likely have a better chance to get involved Wednesday, assuming the Caps stay out of the penalty box. The Rangers took advantage of six power plays Monday night, converting on one and cashing in right at the expiration of another to edge the Caps 4-3.
The game starts at 7:30 p.m. Here is what to watch for:
FRESH LEGS:
While the Rangers practiced Tuesday, Capitals coach
Adam Oates
opted to give his team a day off to rest, recover and regroup before Game 4. The result? A pretty business-like morning skate at MSG on Wednesday. "Guys were feeling pretty focused," said Caps defenseman
Karl Alzner
.
CLOWE POSSIBLE:
Yet to make his postseason debut with the Rangers, gritty forward
Ryane Clowe
said Wednesday there is a "good chance" he will return for Game 4. Clowe, who has been sidelined since suffering an apparent head injury in the final week of the regular season, has been skating with the team since last week. The 30-year-old winger, who was acquired from San Jose before the trade deadline in April, adds size and experience to the team's roster. Clowe, who played for the Sharks from 2006-13, has 68 playoff games under his belt.
PENALTY PARADE:
You can guarantee that discipline will be a main point of the Capitals' emphasis heading into Game 4. Washington took six penalties within the first 27 minutes of Game 3, essentially negating any and all momentum. Alzner said the Caps will try to stay out of the box while trying to get a gauge on the officiating as the game progresses.
"If they're gonna call it tight, we have to be careful," he said. "If they're gonna let us play, we have to take advantage of that."
POWE OUT:
Rangers forward
Darroll Powe
is not expected to play Wednesday after leaving Game 3 with an injury that appeared to be a possible concussion. Powe laid a hard hit on Washington's
Joel Ward
but caught an elbow to the head upon contact, leaving him woozy as he left the ice. He did not return to the game and did not practice with the team Tuesday.
NOT QUITE YET:
Veteran Capitals forward
Brooks Laich
skated with the team for the first time since undergoing sports-hernia surgery before the playoffs began. Oates said Laich is still "a ways away" from returning, however.
Considering Laich was hampered with a nagging groin injury that limited him to just nine games this season, the Caps want to exercise caution with him. "Obviously, we've set ourselves back a couple of times," Oates said. "We don't want that to happen again, so we're conscious of that."
May, 6, 2013
5/06/13
11:12
PM ET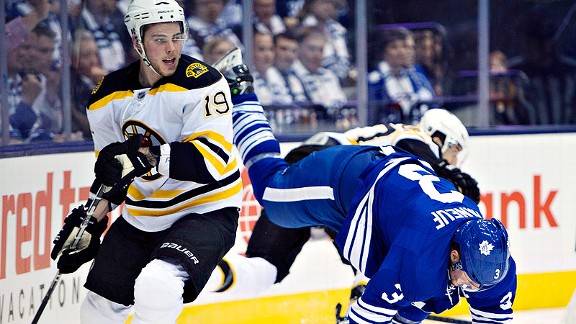 AP Photo/The Canadian Press, Frank GunnWhen the Maple Leafs had the momentum Monday, the Bruins quickly flipped the script.
TORONTO -- The
Boston Bruins
barely allowed the NHL's most pent-up playoff crowd to party.
The visitors scored first, and then when the
Toronto Maple Leafs
gave their fans reason to shake the building with a goal that cut the lead to 2-1 in the second period, Boston tallied right back just 50 seconds later to end the fun.
That was it. About 50 seconds of ear-splitting adrenaline for the locals who have dreamed for nearly a decade of what playoff hockey felt like in their home barn.
"It was a 2-1 hockey game and we had the building going our way, and there was a lot of energy and momentum going," Leafs head coach
Randy Carlyle
said after the 5-2 Game 3 loss. "We made a mistake and gave them a goal, I think, the very next shift. That takes the wind out of our sails."
On a night that was nine years and two days in the making, an electric pregame atmosphere basically fizzled out thanks to a textbook road game by the 2011 Stanley Cup champions.
And the Leafs didn't even play badly.
No, Game 3 of this Eastern Conference quarterfinals series was actually, perhaps, finally demonstrative of the true reality of these two teams.
The Leafs were brutal in Game 1, the Bruins not very good in Game 2.
Monday night, both teams put a good foot forward but in what is an accurate measure of where both teams stand: the Bruins deeper and more experienced, they made fewer mistakes and capitalized on their opportunities for a well-earned victory to seize a 2-1 series lead.
"You have to give the opposition credit. They came in, they played hard, they forced us to make mistakes and, consequently, they won the hockey game," Carlyle said. "That's really it -- they made less mistakes than we did, and their execution level was beyond ours."
Which is often the difference between experienced teams and clubs working to gain that type of playoff knowledge.
"You can say they're a veteran team and that their lineup has been through more wars than ours," Carlyle said. "You explain to your team that every game is a test, every shift is a test. This is a war of attrition. There's skill involved in it, there's will involved in it, and there's luck involved in it. But you have to earn every one of them. We didn't do enough and we made too many mistakes to give ourselves the proper chance to win."
Toronto had its chances, and there were moments in the game when its speed and transition gave the Bruins fits and led to good zone time.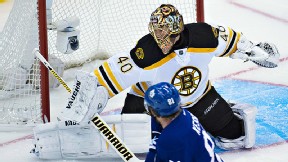 AP Photo/Nathan DenetteTuukka Rask turned aside 45 of the 47 shots he faced Monday.
When the Leafs threatened, a confident
Tuukka Rask
of the Bruins was up to the task, aggressively challenging and doing well to find the puck through screens. He pushed away 45 of 47 shots.
The real difference on this night, though? Mistakes, as in the number committed by a game-yet-still-green Leafs squad finding its playoff wings.
Ryan O'Byrne
's giveaway behind his own net to none other than future Hall of Famer
Jaromir Jagr
set up
Rich Peverly
's 2-0 goal 5:57 into the second period.
Then, after
Jake Gardiner
had given the game some life with a power-play goal at 13:45 of the middle period to cut the lead at 2-1, the Bruins stopped that Toronto momentum after
Nathan Horton
was left unguarded by Leafs forward
Leo Komarov
in the slot, and the Bruins forward didn't miss at 14:35.
"I think that was probably the biggest goal for us so far in the series," said winger
Milan Lucic
, who was a force with three assists and three hits. "We talked about the crowd, the way the fans were going, it seemed they were creating a lot of momentum. I was just hunting down the puck, got a good bounce and Horty did a good job roofing it when I gave him the pass."
Once again, a quiet Air Canada Centre.
"When they got that first goal they got the momentum a bit, and it helped us a lot when we got that [third] goal right away after it," Rask said. "It's a big thing when you play on the road and try to break their momentum, and today, for the most part, we did a pretty good job of that."
Then,
Phil Kessel
, coming out of his own zone on a power play, tried to give the puck right back to Leafs captain
Dion Phaneuf
but instead found the stick of
Daniel Paille
, who skated in alone to beat
James Reimer
. A brutal giveaway, and a 4-1 goal by the Bruins with 3:23 left in the second which planted the dagger on the Leafs.
Game over.
Those are mistakes you just can't make in the playoffs and still expect to win.
"We fought the puck pretty good tonight, it was jumping pretty good tonight," Leafs defenseman
Cody Franson
said. "Just a little bit soft on the puck. The mistakes we made we ended up playing a lot of defense or they were scoring because of them. …
"We can't do that in the playoffs, we have to be better than that."
I believe the Leafs will be better. They've more often than not picked themselves up this season after a tough loss. And it would not surprise me at all if Toronto tied this series Wednesday night.
Toronto outshot Boston 47-38 Monday night, including 18-6 in the third period, the Leafs showing no signs of rolling over in this series.
But over the course of six or seven games, I think what you saw Monday night will play out as the storyline.
The Bruins are just that much better right now where it matters. Not a lot, but enough.
May, 6, 2013
5/06/13
1:43
PM ET
At a glance:
Down two games in their first-round matchup against the
Washington Capitals
, the Rangers are desperate to win a game at home as the series shifts to New York on Monday night at 7:30.
Looking to avoid that dreaded 3-0 hole, the Rangers hope to get a lift from the crowd at Madison Square Garden as they try to stop
Alex Ovechkin
and the Caps' venerable power play from striking again.
Here is what to watch for:
Special teams:
In a tight battle projected to come down to special teams, the Capitals have had the distinct edge. Washington has tallied a power-play goal in each of the first two games -- that unit was ranked first overall in the league during the regular season -- and boasts a stout penalty kill that has held the Rangers without a man-up goal this series. The Blueshirts' ailing power play failed to even register a shot on goal during two critical opportunities late in Saturday's 1-0 overtime loss in D.C.
On the mend:
Both
Derek Dorsett
(collarbone) and
Brian Boyle
(lower body) returned to action on Saturday, providing the Rangers some added size and grit. They have two other players who are inching toward a return, as
Ryane Clowe
(believed to be a concussion) and defenseman
Marc Staal
(eye) appear to be making progress.
Staal's presence would be a massive boost for the Rangers' blue line as it tries to contain Ovechkin,
Nicklas Backstrom
,
Mike Ribeiro
and
Troy Brouwer
.
Holt up:
With the reigning Vezina Trophy winner in net, the Rangers enjoy a clear advantage in the goaltending department. But New York wasted a sensational 37-save performance by
Henrik Lundqvist
on Saturday, while 23-year-old Capitals counterpart
Braden Holtby
recorded the shutout. Holtby hasn't had to face the same pressure as Lundqvist, but he has been stellar for the Capitals in limiting the Rangers to only one goal combined over the first two games.
May, 5, 2013
5/05/13
7:46
PM ET
UNIONDALE, N.Y. – Nassau Coliseum has earned many pejoratives in its slow, stagnant march into antiquity, but Sunday's matinee was a glimpse into just how electric an atmosphere the
New York Islanders
' home can still provide.
Yes, it's decrepit, outdated and in shambles, but the old barn was rocking Sunday in hosting the Islanders in
Pittsburgh Penguins
in a riveting Game 3 of their first-round series.
Legions of Islanders loyalists packed the concrete corners of the parking lot, tailgating from the early morning until puck drop. A hearty showing of fans was on hand more than an hour before the game began, starting enthusiastic if not erratic chants, and booing even the Penguins' staff members who dared to venture out to the visiting bench before warmups.
[+] Enlarge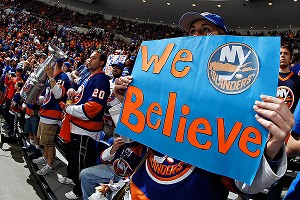 Bruce Bennett/Getty ImagesIslanders fans aren't just glad to be in the playoffs. They believe their team to win.
When the Islanders finally took the ice, shortly before noon, the noise was overpowering in welcoming the team back after a trip to Pittsburgh that left the series split 1-1.
It was an experience unlike any other for many of the Islanders, despite the disappointing 5-4 overtime loss.
Islanders forward
Colin McDonald
said he could sense the intensity in the bulding even before the team emerged from the locker room.
"We're sitting here in the locker room before the game, before warmups, and we could hear 'em through the walls. I felt like I was 10 years old, just getting the goosebumps, just so excited to get out there," McDonald said. "I really did feel like I was a kid."
"It [was] a pretty special moment," McDonald continued. "To be honest, I'm trying to enjoy this as much as possible, but at the same time we have a job to do and I have a job to do. But you never know when you'll get an opportunity like this again. It really was a fun night, despite the game."
Even Penguins head coach
Dan Bylsma
, familiar with the place from his days as an Islanders assistant coach, tipped his hat to the crowd as factor the Penguins were forced to neutralize.
"The building was crazy. They got a lot of momentum," Bylsma said. "We wanted to settle the game down."
He was, of course, talking about the way the Islanders harnessed that energy from the 16,170 in attendance to jump out to a 2-0 lead 5:41 into play. It was a captivating stretch for the crowd, which took turns lauding the efforts of the Islanders and jeering Penguins netminder
Marc-Andre Fleury
.
"Look at the way we started. I think it was pretty obvious there." said McDonald, who spent five-plus seasons in the AHL before earning a two-year contract extension from the Islanders with his impressive 2013 season. "It's hard to maintain that pace for a full 60 minutes. I think we've been looking forward to this for a while, even going back to the regular season. Obviously, the fans deserve this. They've waited a long time for this.
"We knew it was gonna be a great atmosphere. As a player, you really do appreciate this. It's such a humbling experience. You're thankful to be part of it."
And with the Islanders aiming to tie the series again, they know they'll be able to count on that crowd again on Tuesday.
"It was great. You feed off that type of energy. It was an unbelievable experience to get our first playoff game in here," said
Matt Moulson
. "And I'm sure the crowd will be just as good next game."
May, 5, 2013
5/05/13
7:46
PM ET
UNIONDALE, N.Y. -- A deafening crowd at Nassau Coliseum, frenzied by a late-game comeback and bolstered at the prospect of an upset, was a veritable seventh man for the
New York Islanders
in Game 3, but the home team couldn't hold off the Penguins and their dominant power play Sunday.
Picking up his third assist of the game,
Sidney Crosby
set up
Chris Kunitz
in the slot for the power-play game winner 8:34 into overtime as the Penguins edged the Islanders 5-4 to take a 2-1 lead in their first-round playoff series.
It was a wild, wide-open game filled with end-to-end action and a dizzying sense of intensity, but the veteran group from Pittsburgh managed the momentum swings and exploited its strength with one of the most formidable special-teams units in the league.
Boasting the likes of Crosby, Kunitz,
Kris Letang
,
Jarome Iginla
and
Evgeni Malkin
on the first unit, Pittsburgh's power play was the difference in the game. The Penguins were 3-for-5 on the man-advantage to swing the series in their favor.
[+] Enlarge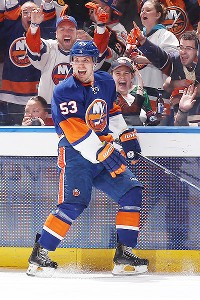 Mike Stobe/NHLI/Getty ImagesCasey Cizikas' first-period goal had Islanders fans on their feet.
"They're lethal," said Islanders star
John Tavares
, who tied the game late in the third. "They have a lot of weapons."
It was Crosby, in his second game back after missing more than a month with a fractured jaw, who drew the penalty in the overtime period, a holding call against Islanders defenseman
Brian Strait
.
Asked which of Crosby's three assists was the most impressive, Penguins coach Dan Bylsma referenced that play as his best contribution.
"The best setup he had was drawing the penalty," Bylsma said. "That's kind of typical of what Sidney Crosby can do."
Islanders coach Jack Capuano was not thrilled over that call, but the fact that Crosby was supremely effective for the Penguins was not debatable. That much was apparent when he powered past Islanders defenseman
Lubomir Visnovsky
to seamlessly set up
Pascal Dupuis
in the first period for the Penguins' third straight goal after the Islanders took an early 2-0 lead.
But even against arguably the world's best player, the Islanders threatened throughout the game, outplaying the Penguins five-on-five for significant stretches as the crowd lifted the team and provided the jolt of energy needed to sustain pressure against Pens goaltender
Marc-Andre Fleury
.
The Islanders did their best to rattle Fleury early in the game, tallying twice within the first six minutes of play -- first on a goal by
Matt Moulson
after a scramble in front, then on
Casey Cizikas
' shot from the left circle at 5:41.
The teeth-rattling din that resulted from the early lead was silenced quickly by the Penguins' resilient response later in the frame.
Iginla got a piece of Letang's one-timer with the Penguins on the 5-on-3, and Kunitz snuck behind the Islanders' defense for a breakaway for another power-play goal just 19 seconds later.
"Obviously, they're pretty dynamic," said Islanders defenseman
Andrew MacDonald
. "It's frustrating to give up that many [power-play] goals. That's the game right there."
"You know going into the series that special teams are gonna play huge, as they always do," MacDonald continued. "Right now, they have the upper hand on the power play. It's something for us that we're going to have to address on the penalty kill."
In the second period, the Islanders fell behind down 4-2 before a third-period surge in which they notched two goals to push the game into overtime. Power forward
Kyle Okposo
made a sensational move to handle a pass from
Frans Nielsen
, stay onside, and unleash a wicked wrister to beat Fleury on a short-handed breakaway 5:31 into the final frame. Then Tavares sizzled one past Fleury from the right circle to knot the game at 4 as the crowd erupted into chants of "M-V-P!"
That spirited rally was snuffed out with Kunitz's game-winner 8:44 into overtime, but the Islanders have weathered enough to know this series is not over.
An embarrassing 5-0 loss in Game 1 was the Islanders' welcome to the 2013 playoffs, their first postseason appearance since 2007, but they did not allow that to stifle their hopes. A come-from-behind, 4-3 win in Game 2 affirmed their confidence in competing against the top-seeded Penguins. New York's performance in Game 3 only furthers that belief, which has always existed in the Islanders' dressing room but has been absent pretty much everywhere else.
They are still in this thing. And they have another game at home on Tuesday, when they'll try to even the series at two games apiece.
"We're right there," Tavares said. "We've just got to get our work boots back on tomorrow, refocus, and Game 4 [is] a big game for us. We believe in ourselves in here and I think we've proven that all year. We've battled a lot of adversity, a lot of ups and downs. This is part of playoff hockey."
April, 30, 2013
4/30/13
9:26
PM ET
GREENBURGH, N.Y. -- There were times during the first half of this season that Rangers coach John Tortorella wondered if
Derek Stepan
was fit to handle the responsibilities of the team's second-line center.
Now?
The 22-year-old pivot is the unequivocal choice to center the team's top line between speedy winger
Carl Hagelin
and captain
Ryan Callahan
.
"He's a 22-year-old guy that I use in every freaking situation," Tortorella said of Stepan. "He has proven to all of us that he has taken a huge step this year."
[+] Enlarge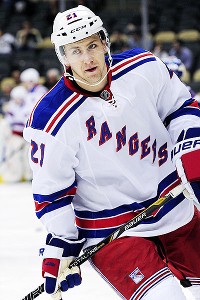 Icon/SMIDerek Stepan delivered eight goals and 11 assists during a big April.
Goaltender
Henrik Lundqvist
was voted the team's MVP of the regular season, but among forwards, Stepan has been the team's most dynamic and consistent performer.
The Rangers, and Stepan, hope that continues once the playoffs begin with a first-round matchup against the Capitals on Thursday.
"That's what we'd like to do, obviously," Stepan said. "The way we're playing as a team, we'd like to carry that over. As a team, we've gotten better. You can just see it. We control games more."
In his third year as a pro, Stepan finished the regular season strong with eight goals (including three game-winners), 19 points and a plus-14 rating in the month of April, good enough to earn him accolades as the NHL's third star.
The Rangers will need him to sustain a high level of production if they are to contend with a supremely talented cast of offensive players for the Capitals in Round 1 of the playoffs.
"I am totally confident that he's going to be able to handle the things going into this playoff series," Tortorella said.
Stepan finished with one goal and nine points in 20 playoff games for the Rangers last spring. He recorded four assists in the team's second-round series against the Capitals.
But this year he plays a decidedly more important role as the catalyst to the team's offense, which heads into the postseason with an improved 2.62 goals per game (15th, NHL) following a stretch in which the Rangers were ranked dead last.
Beyond his versatility -- Stepan kills penalties and plays up front on the team's first power-play unit -- his greatest asset may be that he makes those around him better.
Linemate Ryan Callahan is riding a seven-game points streak (five goals, six assists) heading into the playoffs, while
Rick Nash
(now on a line with
Mats Zuccarello
and
Brad Richards
) played some of his best hockey to date while flanking Stepan on the right.
"I definitely had a good month. I felt good going into games. I was playing with a good confidence level," Stepan said. "Whoever I was playing with, I seem to develop chemistry with quick and those guys seemed to help quite a bit wherever I was. When you build chemistry like that it, helps your game."
Despite his youth, Stepan is practically a grizzled vet in the sense that he is preparing to face the Capitals for the third consecutive postseason.
He'll draw upon that experience but he knows that, once playoffs come, it's hard to know what to expect.
"You've been through it now and you get that aspect of it, but every playoffs is gonna be new and it's gonna be exciting," Stepan said. "It's gonna have a different feel to it."
April, 29, 2013
4/29/13
8:55
PM ET
GREENBURGH, N.Y. -- In matching up against the
Washington Capitals
for the third straight year, beginning Thursday night in D.C., the Rangers face a familiar foe with an understanding of what to expect in a series between the two clubs.
Four times in the past five years the Rangers and Caps have met in the Stanley Cup playoffs. Coaches, personnel and system structures have changed, but the enmity has not.
"It's always a battle," Rangers captain
Ryan Callahan
said. "It seems like it usually goes the length or close to it. I think we match up against each other pretty evenly."
Last April was a prime example, when the teams met in Round 2. The top-seeded Rangers prevailed, but it took seven grueling games to do it.
No game was more indicative of the grit, passion and intensity level that characterized that series than Game 3 -- a triple-OT match that went on well past midnight in a true war of attrition until
Marian Gaborik
's game-winner ended it after 114 minutes of play.
"That was a really hard-fought series and that game pretty much summed it up," said defenseman
Dan Girardi
, who logged 44:26 minutes on the Rangers' back end that night. "Overall, I just think it's going to be a really big battle. I think in front of both nets is gonna be key, what team can establish the forecheck and control the tempo there."
Girardi has drawn the unenviable task of matching up against
Alex Ovechkin
throughout the years, and that duty is not bound to get any easier with Ovechkin entering the postseason on a stunning clip.
Capturing the Rocket Richard Trophy as the NHL's top goal-scorer for the third time in his NHL career, Ovechkin finished the regular season at a scorching pace. Earning the NHL's first star of the month, Ovechkin notched 14 goals and 22 points in the month of April while leading his team to yet another Southeast Divison title.
No. 8 may have gotten off to a sluggish start, in part because of a transition from his natural wing, but he has since proven that he can still electrify and dominate a game.
"He's dynamic whatever side he's on," Girardi said. "He never really stays on one side for long… so we'll have our hands full with him. He's playing really well right now. We've got to be sharp against that line and their second, third, and fourth lines. They have four solid lines that can fore-check and score some goals. We're going to have to be very strong defensively."
The Rangers will likely have to do so without cornerstone defenseman
Marc Staal
, who has yet to play since suffering a frightening eye injury March 5.
Staal continued to practice with the team Monday, but does not appear to be nearing a return.
"I haven't written myself off, obviously," Staal said. "So far, every day I try to improve and get more work in and get more comfortable and confident with the puck in situations I'm going to be in on the ice."
With that gaping hole on their back end, the Rangers will have to rely on reigning Vezina Trophy winner
Henrik Lundqvist
in net.
Though 23-year-old
Braden Holtby
has been impressive of late for the Caps, Lundqvist gives the Rangers a distinct edge in goal.
Lundqvist has plenty of experience playing against Washington in the playoffs, but this year's team is a decidedly new look than previous years, he said.
"It's the same team name but it's a different look, especially when I look at them over the last four, five years here," Lundqvist said. "It was all about offense, then all about defense, now it's in the middle. They're a team where you have to respect a lot of things about their game, especially their offensive, top guys."
Fortunately for the Rangers, they'll have three full days to prepare for the new-look Caps under rookie head coach Adam Oates' direction. That's a luxury afforded them with an unusual schedule that doesn't have the teams meeting until Thursday for Game 1.
That would be a blessing for the Rangers, especially if it allowed injured players like Staal,
Ryane Clowe
and
Brian Boyle
to return to action, but none seem to be on the immediate horizon.
Plus, the series ends in unusual fashion with Games 6 and 7 slated to be played on back-to-back nights Sunday May 12 and Monday May 13.
The schedule won't make much difference, Girardi said. After all, both teams know what they're in for in Round 1.
"Both teams know each other really well and I think both teams are raring to get going," Girardi said. "I think we both wish we were starting earlier, but both teams will be ready come Thursday."