Cross Checks:

Stephane Robidas
September, 10, 2014
Sep 10
7:54
PM ET
After a dramatic, late-season tailspin that transfixed hockey's biggest market, the
Toronto Maple Leafs
made some sweeping changes over the summer.
Surprisingly, the move many people expected -- the dismissal of coach Randy Carlyle -- didn't happen. Instead, the Leafs brought in Hall of Famer
Brendan Shanahan
as team president, axed Carlyle's assistants and added to their front office with analytics wunderkind Kyle Dubas, who will serve as an assistant GM following a devastating season during which the team was constantly hammered for its poor puck-possession statistics.
How does that all add up? Former Leafs goaltender
Glenn Healy
said the team appears primed for a culture change, starting with the added personnel that includes a crop of players who come with a hard-nosed, Western Conference pedigree.
The Leafs signed forwards
Mike Santorelli
,
Daniel Winnik
,
David Booth
,
Matt Frattin
and
Leo Komarov
(the latter two on their second tour as Leafs) in free agency this summer.
[+] Enlarge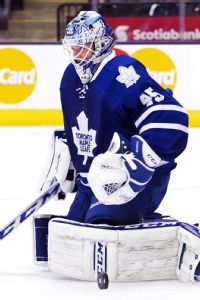 AP Photo/The Canadian Press/Nathan DenetteJonathan Bernier should give the Leafs a steady presence in goal this season.
"I think they have certainly reshaped their team in a huge way," Healy told ESPN.com in a recent phone conversation. "They've added some players, particularly in the bottom-six position, to give them more balance and more depth. The players they picked up are Western Conference players. They've reshaped their focus."
Healy thinks they've also bolstered their defense -- the Leafs acquired
Roman Polak
via trade and added
Stephane Robidas
in free agency -- a necessity given the fact they spent too much time in their own end "whether that was systems [related] or execution."
Healy thinks they have more mobile, puck-moving players who should help in terms of lessening the load on captain
Dion Phaneuf
and star forward
Phil Kessel
, who played monster minutes throughout the season only to see their productivity decline when they needed it most.
That drop-off wasn't exclusive to those two, considering the entire team seemed to wilt down the stretch to fall in stunning fashion out of a playoff spot.
"Look at their season. The first 60 games is a glorious dance. The last bunch of games, the club falls right off the cliff. Whether or not there's not enough depth or too many minutes, or an inability to compete when games really matter, that is their focus," Healy said of the team's need to maintain some semblance of consistency.
Should the Leafs falter and get off to a slow start, Carlyle might be on a short leash.
"[Shanahan] brought in a guy like Steve Spott -- he's going to be an NHL coach," Healy said. "Randy's got some heat on him a little bit. He looks 10 feet to the right and there's an NHL coach. That's a big difference."
That said, Healy thinks Carlyle can be successful if those around him can reinforce his message with a different mode of delivery.
"I think Randy is a good coach. You don't win a Stanley Cup without having that ability to get it. He gets it. The shortfall he had was the other assistant coaches were the same voice as Randy," said Healy, who spent 15 years in the NHL, four with the Leafs.
"Any time a player comes off the ice, the message has to put him in a good spot mentally so he can affect the game on the next shift. If there's that constant yelling, constant overcorrection, at some point, as a player, you throw your hands in the air."
Healy thinks Shanahan's influence can be a steadying one and that his addition will pay dividends for the club.
"Brendan is a guy who is a proven winner," said Healy, who has worked as a successful broadcaster for both the CBC and TSN since retirement. "He's seen great organizations and how they were built. This isn't new to him. He has spent the past number of years watching hockey games as the league's discipline chief."
Beyond the front-office fortification, Healy thinks having the goaltending position solidified heading into camp should be a huge plus. Though the team has been plagued by goaltending controversy in recent years, the Leafs will enter this season with a clear-cut No. 1 goaltender in
Jonathan Bernier
.
Bernier had an impressive 2013-14 season, posting a 26-19-7 record with a .922 save percentage, though he was hampered by injury in the last month of the regular season.
"He's a quality goaltender for sure," Healy said. "I think what the Leafs need from him is that same level of quality, and he can't have an injury."
Should that happen, the Leafs should be able to earn a postseason berth. But in order for the club to make significant strides, that cannot be enough. Healy insists the standard must be much higher in Toronto.
"Making the playoffs, that's lovely, but that truly can't be your goal," Healy said. "Good teams expect to make the playoffs. Boston is not thinking about making the playoffs. They're thinking about lifting the Stanley Cup."
April, 21, 2014
Apr 21
11:31
PM ET
By
Richard Durrett
| ESPN.com
DALLAS -- The
Dallas Stars
earned their first playoff victory since 2008, beating the
Anaheim Ducks
, 3-0. It was the Stars' first home game of the series, played in front of a sellout crowd of 19,120.
Some quick thoughts:
How it happened:
The Stars got goals late in both the first and second periods.
Jamie Benn
, the Stars' second-leading goal scorer in the regular season, scored after
Shawn Horcoff
's shot from the left circle hit the pads of Ducks goalie
Frederik Andersen
and came right out to Benn on the right circle and he deposited it in the net. The goal was scored with 35 seconds left in the first period, allowing Dallas to take some momentum into the dressing room.
The teams were physical in the second period and both had some scoring chances. But it wasn't until the clock got under three minutes left that the Stars expanded their lead.
Tyler Seguin
's speed and puck-handling created the opportunity. He skated into the zone and left it for Valeri Nichuskin, who managed to get the puck through Andersen.
Dallas added another insurance goal midway through the third period.
What it means:
The Stars earned their first shutout since April 10, 2008, at Anaheim in Game 1 of the first-round and in the process are back in the series. It was an opportunity lost for the Ducks to take a stranglehold in the series. The result also guarantees that the series will go back to Anaheim for Game 5 on Friday.
Player of the game:
Kari Lehtonen
was terrific when it mattered most. He made several key saves on some point-blank chances, including
Saku Koivu
and
Nick Bonino
early in the second period. That kept it a 1-0 game and the Stars were able to add to it later in the period. Lehtonen was in a good rhythm and not afraid to come out and challenge shots. And he saw a lot of them. The Ducks vastly outshot the Stars, but just couldn't get anything past Lehtonen, even when they got some traffic in front of him. He made 37 saves, earned his first playoff victory and did so in a shutout.
Stat of the game:
The Stars' penalty kill was 5-for-5 and became a big momentum-booster for Stars goals late in the first and second periods. The Stars didn't allow rebound chances, blocked shots and Lehtonen was able to keep everything out. The Ducks haven't had a power-play goal since Game 1.
Injured defenseman:
Stephane Robidas
fractured his right leg early in the second period after getting tangled up with
Ryan Garbutt
in front of the Ducks' net. It's the same leg Robidas fractured in November when he was with Dallas, causing him to miss four months.
What's next:
Game 4 is Wednesday at 8 p.m. ET at American Airlines Center before the series shifts back to Anaheim for Game 5 on Friday.
March, 6, 2014
Mar 6
2:48
PM ET
The
St. Louis Blues
,
Montreal Canadiens
and
Minnesota Wild
tallied the most mentions in an unscientific poll of NHL general managers who were asked which clubs impressed them the most with their trade deadline moves.
The Blues were the most cited among responses from 10 GMs on Thursday, their blockbuster acquisition of netminder
Ryan Miller
and gritty forward
Steve Ott
solidifying St. Louis as a Cup contender. Blues GM Doug Armstrong got lots of kudos from his peers in our little survey Thursday.
"[Armstrong] gave up a lot, but he got the goalie he needed," said a Western Conference GM. "He's got conviction. He went for it. I admire him for that."
Added an Eastern Conference GM: "St. Louis for sure got better. Ott is a bit overrated, but [coach Ken Hitchcock] has had him before and will get the best out of him. Miller obviously is the key guy there, a huge upgrade in goal."
The Habs and Wild were tied for the second-most mentions after Montreal nabbed
Thomas Vanek
and Minnesota got busy over a 48-hour period, adding goalie
Ilya Bryzgalov
and scorer
Matt Moulson
.
[+] Enlarge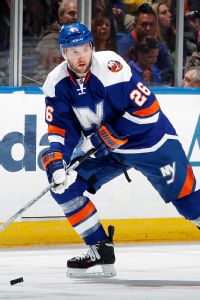 Paul Bereswill/Getty ImagesGetting Thomas Vanek for a bargain price earned praise for Marc Bergevin.
Montreal GM
Marc Bergevin
got high marks from his peers for getting Vanek at a discount rate from the
New York Islanders
, while Minnesota GM Chuck Fletcher got praise for his industrious few days.
"Bergevin did a really good job on Vanek," said a Western Conference GM in a comment that was repeated by many.
The two Florida teams also got a few mentions and for the purpose of this survey would rank tied for third.
Tampa Bay Lightning
GM
Steve Yzerman
had only one team to deal with in meeting the trade demand of his captain,
Martin St. Louis
, but Yzerman still got a decent deal out of it from the
New York Rangers
.
"I thought Steve did an excellent job managing that situation. He got a nice return," said a Western Conference GM.
Said another Western Conference GM via email: "To me, Steve Yzerman did the best job. He was dealt a bad hand. And nobody could have played that hand any better. Plus he did it with class (as always)."
Panthers GM Dale Tallon also got some attention for stunningly getting
Roberto Luongo
out of Vancouver. "Dale Tallon had the best deadline of all," said one Eastern Conference GM.
The Penguins were mentioned by one Western Conference GM, with Pittsburgh adding forward
Marcel Goc
and
Lee Stempniak
. "Pitt was strong with quality, under-the-radar players," a GM said via email.
Buffalo Sabres
rookie GM Tim Murray has been busy over the past week, beginning a rebuild and getting a vote from one Western Conference GM for his efforts.
"Tim Murray certainly added a lot of long-term assets," said the GM.
The
Anaheim Ducks
struck out on Canucks center
Ryan Kesler
but did add veteran blueliner
Stephane Robidas
. Ducks GM Bob Murray got a vote from a fellow Western Conference GM.
"[Murray] always sees the big picture. He is two steps ahead of what is in front of him," said the GM. "No one has come close to doing the job he has done the last five years. He inherited a very difficult situation and executed flawlessly."
Other post-deadline notes and thoughts:
• Interesting to find out from a source Wednesday night that Toronto was among the teams that inquired about Vanek. Imagine the Leafs' reaction when rival Montreal got him, especially given the modest price the Canadiens paid.
• Needless to say, the Canadiens were never going to get Vanek if the Islanders' asking price continued to include a first-round pick, which it did for quite some time. Once the first-round pick was eliminated from the equation, the Habs jumped in with both feet.
• Vanek is on record saying he's going to the free-agent market on July 1, and at this point there's no reason to think that won't happen. Still, in the back of my mind I wonder whether this is a repeat of the Alexei Kovalev situation, with a presumed rental player ending up staying around because he falls in love with the electric market that is Montreal. Food for thought ...
• The Penguins made an effort on Kesler and also had a line in the water on
Ales Hemsky
, the
Edmonton Oilers
forward who went to Ottawa instead. I thought Hemsky would have been a nice fit in Pittsburgh, but Goc and Stempniak are solid additions. Goc is versatile and provides depth at center while Stempniak could surprise some people after being given a fresh start, like
Jussi Jokinen
has done since joining the Pens at last year's trade deadline.
And this, from our friends at Bovada:
March, 4, 2014
Mar 4
3:23
PM ET
Is there an NHL GM who goes about his business more quietly than Anaheim's Bob Murray?
The architect of the NHL's top team at the quarter pole this season was at it again Tuesday, sending big winger
Dustin Penner
to Washington for a fourth-round pick, which the Ducks then turned around and sent to Dallas in exchange for veteran defenseman
Stephane Robidas
. (The pick sent to Dallas could become a third-rounder if Robidas plays 50 percent of the team's playoff games and the Ducks reach the Western Conference finals.)
The Ducks are awash in forwards but were in need of some defensive depth.
Robidas is a calculated risk.
The veteran defender broke his leg in a grisly incident in a game against the
Chicago Blackhawks
in late November and is just now back taking full practice. But assuming Robidas, who turned 37 on Monday, can stay healthy, he adds a nice element to a blue line that features emerging young stars
Cam Fowler
and
Hampus Lindholm
, along with veterans
Francois Beauchemin
and solid
Ben Lovejoy
.
The Ducks began play Tuesday with the best record in the NHL. If there was a perceived weaknesses in terms of being able to translate their regular-season success into a long playoff run in the spring, it was in terms of their experience and defensive depth.
With
Sheldon Souray
gone for the season with a wrist injury, Robidas has the potential to be a difference-maker as the playoffs move along.
Originally a Montreal draft pick, Robidas has been the poster boy for perseverance. He is among the NHL's toughest players and has routinely played through significant injuries. Since coming to Dallas in 2005-06, Robidas has been one of the most popular players in the Stars' dressing room. Robidas will skate with the team in Anaheim on Thursday and is expected to play within one or two weeks.
He will no doubt fit seamlessly into the Ducks' locker room.
The Ducks were a busy team Tuesday, as they also alleviated some of the logjam that had developed at the goaltender position by sending
Viktor Fasth
to the
Edmonton Oilers
for a fifth-round pick in 2014 and a third-round pick in 2015, which is an excellent return for a goaltender who has played little this season due to injury.
On the other side of the Robidas trade is Dallas GM Jim Nill, who is in his first year behind the helm of the Stars. His squad has played extremely well of late and as of Tuesday afternoon occupied the second wild-card spot in the Western Conference.
A playoff spot is by no means secure, however, and Nill's decision to move Robidas, who can become an unrestricted free agent in July, suggests that as much as making the playoffs is a priority for Nill so, too, is making sure the team is well-positioned moving forward.
The Stars have missed the playoffs five straight seasons. In some of those seasons, the Stars have come achingly close to qualifying for the postseason, only to fall out of it in the final days of the regular season. In 2011, for instance, they lost their final regular-season game, which cost them a playoff berth. A year later, they slumped down the stretch and lost control of the Pacific Division and a playoff spot. In the lockout-shortened 2013 season, they were winless in their final five games of the season to see any shot at a postseason berth disappear.
Could the same thing happen this season?
Sure.
Would Robidas have helped secure a postseason spot? Sure. But it seems clear Nill does not want to find himself on the outside of the playoff bubble and then watch as assets walk out the door.
Does this suggest then that Nill be looking to move Ray Whitney or Vernon Fiddler, both of whom can become unrestricted free agents this summer?
Perhaps, especially if Nill might be able to land a player with some term on his contract in exchange or in a separate deal.