Cross Checks:

Steve Downie
November, 22, 2013
11/22/13
4:29
PM ET
Ramblings from observations of around the NHL:
Are Flyers For Real?:
The
Philadelphia Flyers
are an impressive 5-0-1 in their past six games and have dragged themselves from the depths of the Eastern Conference to being just four points back of the second wild-card spot as of Friday morning and with a game in hand. But a cautionary note: The Flyers' streak has included two wins over a struggling Ottawa team that might be among the worst teams in the league right now and a win over a Buffalo team that is without peer in its awfulness, while losing the extra point in a shootout to the ordinary
Winnipeg Jets
. The only legitimate team beaten during this stretch was with a 2-1 win over archrival Pittsburgh at a time when the Pens' offense had curiously gone dry. Points are points and kudos to head coach
Craig Berube
for getting his team into a position where it is picking up points, regardless of the opponent. The rest of the month suggests a similar path, with dates against the
New York Islanders
, Florida, slumping Tampa, the Jets again and Nashville. Only Tampa currently owns a playoff berth and the Lightning are riding a three-game losing streak in the absence of top player
Steven Stamkos
. In short, time for the Flyers to continue to make hay while the sun shines on their schedule, if indeed they've turned a corner.
The Ups With Downie:
ESPN colleague Barry Melrose has repeatedly pointed to the much-ballyhooed scrap with the
Washington Capitals
(you remember,
Ray Emery
pounding on
Braden Holtby
) as the catalyst to the Flyers' turnaround. With all due respect to Coach, the more likely the catalyst to the turnaround has been the arrival of
Steve Downie
from Colorado. The deal that saw Downie return to the team that drafted him in exchange for Max Talbot still smacks of an untold back story (it has been reported a preseason feud with captain
Gabriel Landeskog
was the impetus) but good on GM Paul Holmgren for getting a tough, skilled player to help a team that lacked both those qualities in the early going. Downie's first game after the trade was in that Washington debacle and saw him leave with an injury. But since returning to the Flyer lineup, Downie has collected five assists in five games, none of which the Flyers have lost (4-0-1).
Brind'Amour Is Hall-Worthy:
During my recent trip to Raleigh, N.C., I ran into former captain
Rod Brind'Amour
, who is, along with Dave Lewis and
John MacLean
, part of head coach
Kirk Muller
's staff. Someone wondered aloud why Brind'Amour's name rarely comes up during conversations about the Hall of Fame. It's a fair question, and a closer look at Brind'Amour's accomplishments suggests he should be in the mix. The hard-nosed center was for a long period one of the game's premier two-way forwards in the game, twice winning the Frank J. Selke Trophy as the best defensive forward in the league. He was no slouch with the puck either, collecting 1,184 points in 1,484 games, scoring 452 goals. In the postseason, Brind'Amour brought game as well, with 51 goals and 111 points in 159 games. Perhaps more notably, Brind'Amour was the glue guy in Carolina, helping transform a struggling team in a non-traditional market into a powerhouse, guiding the team as captain to their only Stanley Cup championship, in 2006. If intangibles are part of the mix when defining the line between outstanding and Hall of Fame, Brind'Amour deserves to be in the Hall.
Faulk's Making a Case:
One of the interesting battles shaping up for the U.S. Olympic team is along the blue line with a bevy of young, talented puck-movers looking to secure a trip to Sochi. Among the players whose stock continues to rise is Carolina defenseman
Justin Faulk
, who is a product of the U.S. National Team development program in Ann Arbor, Mich., and who was a member of the all-rookie team in 2012. Like all of those in contention, especially those who weren't part of the U.S. effort in Vancouver, Faulk is trying to ignore the external buzz about where his stock might or might not be. "You'd be lying if you said it doesn't go through anyone's head," the St. Paul, Minn., native told ESPN.com this week. "Turn on NHL Network and some nights and it's Olympics, Olympics, Sochi. So, obviously, it's there, people talk about it and it is what it is. If I go out there and can play my game and can put myself in a position to make the team, that's all that matters, not what he or she says on TV. That's all I can control, so that's really the extent of my thinking about it I guess." Does he worry about who's watching when he has an off night? "Just hope all of your good nights are against Pittsburgh or something, right?" Faulk said, jokingly referring to the fact head coach
Dan Bylsma
, assistant coach Tony Granato and GM Ray Shero are all integrally involved in the selection process of the U.S. team.
Left Wondering About Booth:
Hard not to watch what's happening with
David Booth
in Vancouver and wonder, what if? Booth has been a healthy scratch for the Canucks and has managed just one goal this season to go along with the single goal he delivered last season, in spite of the fact his six-year contract comes with an annual cap hit of $4.25 million. He's been sent to the Canucks' American Hockey League affiliate for conditioning as he tries to recover from ankle and groin issues, but nothing seems to have worked and his return to the big club seems in doubt with both head coach John Tortorella and GM Mike Gillis suggesting this week nothing is imminent. Still, you wonder what might have been for Booth had he not been the subject of a devastating blindside hit courtesy of
Mike Richards
, then of the Philadelphia Flyers, when Booth was skating for the
Florida Panthers
early in the 2009-10 season. The head-hunting blow on Oct. 24, 2009, saw Booth removed from the ice on a stretcher and his career thrown into disarray. A shoo-in to make the U.S. Olympic team in Vancouver, Booth was never in the hunt after the hit. He rebounded to score 23 times in 2010-11 but following his trade to Vancouver in October 2011, Booth's productivity continued to decline as other injuries mounted. Maybe you can't draw a direct line from the Richards' hit to Booth's current status as a player in limbo, but it's hard not to wonder how his career might have gone had he not been the target of the kind of hit that led directly to the NHL changing rules regarding hits on unsuspecting players.
Outdoor Wonderland:
We have never lined up with the throngs that have hammered the NHL for allowing its outdoor games to multiply like so many rabbits. Yes, six outdoor games, starting with the Winter Classic between Detroit and Toronto on Jan. 1 at the Big House in Ann Arbor, Mich., is a lot. But we've bought the league's rationale that each of these games represents something unique in widely diverse markets from Detroit to New York, where all three local teams will get a chance to play at Yankee Stadium during Super Bowl week, to the highly anticipated game at Dodger Stadium, not to mention games at Soldier Field and B.C. Place. Now, we trust the NHL will scale these events back next season, but as long as the tickets go like hotcakes -- and there is no evidence thus far that they won't -- we don't buy the "Oh, it'll water down the product" argument for this season. That said, we arched our eyebrows when the NHL announced this week it will pump these outdoor games up with a seven-part series of documentaries focusing on star players taking part in the so-called Stadium Series (those outside the Winter Classic). For us, the marriage between HBO's "24/7" documentary series and the Winter Classic, one that continues with a series focused on the Red Wings and Leafs, has been magical because it has captured the sometimes raw, sometimes comical, often emotional inner workings of the game in a pure, unadulterated presentation. Much of the magic was in not having the interplay between coaches and players, players and opponents, on-ice officials and team officials bleeped out or censored. Given the different standards for obscenity that NBC Sports and its Canadian partners in this enterprise bring to the table, it's hard to imagine the product won't be any different than the many in-house "documentaries" produced by teams around the NHL that show players in their kitchens or going out to dinner. If so, these offerings will be easy to ignore, which will only add to the widely held belief the NHL has killed the outdoor goose.
Emotional Moments:
As an aside, the one element of this multipronged documentary project that we love is that the series will follow players on an arc that takes us through the Sochi Olympic Games, including intimate looks at the dynamic that exists between teammates in the NHL, such as
Jonathan Toews
and
Patrick Kane
of the
Chicago Blackhawks
, who will face each other with medals on the line in Sochi. It's hard for people to get a handle on how much the Olympic experience means to these players, regardless of which country's jersey they wear, and a series like this might bring home that emotion in an unprecedented fashion. Given the ambiguity with which the NHL as a whole views the Olympic experience (OK, most owners hate with a deep and powerful passion that the league shuts down to take part every four years ), this kind of exposure might soften that view and help pave the way for continued participation.
October, 31, 2013
10/31/13
6:07
PM ET
Before the start of the regular season,
Steve Downie
was chatting with great enthusiasm about being back in NHL competition after a couple of years marked by bad luck and injury. He was on a line with
Matt Duchene
-- maybe the player who has made the most dramatic steps in his evolution through the first month of the regular season -- and
Ryan O'Reilly
.
Through 11 games for the surprising 10-1-0 Avs, Downie collected a goal and six assists. He averaged 16:43 a night in ice time, including 2:43 a night, on average, on the Avs' power play.
So it was more than a bit of a surprise that on Thursday afternoon the Avs announced they had traded Downie to Philadelphia for
Maxime Talbot
.
Given the growing up that Downie has done in recent years, he'll surprise folks in Philadelphia -- the team that drafted the rough-around-the-edges winger with the 29th overall pick in 2005 and later shipped him off to Tampa. In fact, Downie may be just the tonic for a Flyers team that has sleepwalked through the first month of the season with an embarrassing 3-8-0 record heading into action Thursday.
Downie, 26, is in the final year of a deal that carries a $2.65 million cap hit and can become an unrestricted free agent at the end of the season, so that was a factor in the decision to send him packing by Colorado hockey boss Joe Sakic and coach Patrick Roy.
Talbot, 29, has two more years on his deal with a cap hit of $1.75 million annually. Surely the Avs aren't thinking about shaving a little money off the bottom line while the team is finally creating some positive buzz after years of being a nonfactor in that market. Surely ownership wouldn't be that shortsighted.
This isn't to suggest Talbot isn't a useful player. In fact, he is exactly the kind of player an emerging team would covet. He was part of a
Pittsburgh Penguins
team that accelerated through the learning curve to advance to Stanley Cup finals in 2008 and 2009, playing inspired minutes on the third and fourth line and chipping in on the penalty kill. In 2009, Talbot scored the Cup winner in Game 7 in Detroit.
But he seems like the kind of player a team would add as a complementary player, someone to augment a lineup as opposed to swapping out a younger, more talented player like Downie.
"He's a character player. He will help our penalty killing," Roy told ESPN.com's Pierre LeBrun before boarding a team flight Thursday. "It also gives us some lineup flexibility as a guy that can play both center or wing. And he's a guy that's performed well in the playoffs. He's won a Stanley Cup. I really think he's going to help us.
"We like the fact that he's got this year plus two more seasons on his contract. That was also a factor."
Bottom line, unless there's an unknown backstory, this one is a bit of a puzzler.
October, 2, 2013
10/02/13
3:30
PM ET
DENVER --
Steve Downie
is vibrating with excitement at the prospect of opening night here in Denver.
You'd think the rugged winger was a wide-eyed rookie with his grin and anticipation.
And given that injuries have derailed parts of his past two seasons, he said it's an apt comparison.
"It's been awhile since I got in a regular-season game," Downie told ESPN.com on the eve of the Avalanche's season opener against the
Anaheim Ducks
on Wednesday.
"So it's definitely going to be exciting, emotional. It almost feels like my rookie year again, so hopefully we can play hard," he said.
Downie's career has been marked by twists and turns from his start with the Philadelphia Flyers, who selected him in the first round of the 2005 draft. After a controversial junior career, he developed a reputation as a loose cannon with the Flyers, at one point earning a 20-game suspension for a hit on Ottawa's
Dean McAmmond
during a preseason game. But Downie matured and grew, settling into a groove while in Tampa, becoming fast friends and often linemates with
Steven Stamkos
. Downie shed the bad-boy image and established himself as a skilled but gritty winger who could play up and down the lineup.
He was a key part of the Lightning's surprise run to the 2011 Eastern Conference finals, chipping in 14 points in 17 postseason games. He was traded to the Avs at the 2012 trade deadline; in Colorado that season, he collected 13 points in 20 games despite a nagging shoulder injury that ultimately required surgery. Earlier this year, in just his second game after the lockout, Downie suffered a season-ending knee injury that required surgery to repair a torn ACL.
"It's been, what's the right word? Awful? I mean, think about it. I came here, I had my shoulder done, and one game later I get my knee done. It's been a struggle, but I've been looking forward to this. It's going to be exciting," Downie said.
Downie is ready to roll, and rookie head coach
Patrick Roy
has entrusted him with a spot on a line with
Matt Duchene
and Ryan O'Reilly. The Avs have the potential to be one of the most explosive offenses in the Western Conference.
"Right now he brings a lot to that line," Roy said. "He creates space for Dutchie and Ryan. He's going to the net. He's playing the hard way. On every line, we feel that we have a guy that plays the hard way. And Stevie is one of them on that line."
Roy, the Hall of Fame netminder who will be coaching his first NHL game Wednesday night, praised Downie's work at both ends of the ice.
"Finishes his check and playing really well defensively. He's become a really important player on that line, there's no doubt about it, and I think that Ryan and Matt seem to enjoy it a lot playing with him right now," Roy said.
Duchene agreed, saying that getting Downie back in the lineup after his injury woes was like trading for a key player, even if he is a bit of a "goofball" in the dressing room.
"He's a gritty player," Duchene said. "He keeps things simple, he's easy to read. He's kind of the mucker on the line, probably, but he can put the puck in the net and make great plays when he has the puck, as well."
In the Avs' locker room at their practice facility, Downie and defenseman
Erik Johnson
yell good-naturedly at each other across the room. Downie said there is a much different vibe in the room with Roy coming on as coach.
"It's exciting. We've got a coach here with a lot of energy and he won't accept not winning. It's a new attitude in here and guys are excited. Guys want to do this. Guys are working hard. It's a lot different than when I came here," Downie said. "We're growing together and that's a good thing."
Indeed, while there are veterans like
Alex Tanguay
and netminder
Jean-Sebastien Giguere
, Downie suddenly finds himself being counted on to set the tone in the dressing room.
"I just bring my energy. I'm not going to change anything from the last six years of my career. I'm an energy player and that's what I focus my game on. I don't really see me changing as a player," Downie said.
February, 21, 2012
2/21/12
5:56
PM ET
Scott Burnside and Pierre LeBrun discuss the three-team trade that sent Steve Downie to Colorado, Kyle Quincey to Detroit and prospect Sebastien Piche and a 2012 first-round pick to Tampa.
Burnside:
Hello, my friend. Or should I say bonjour, given that you're in Montreal ready to take in the
Montreal Canadiens
-
Dallas Stars
tilt tonight. But let's talk about a pretty interesting deal that went down this afternoon. One of the best parts of the trade deadline are the deals that no one saw coming (or at least none of us in the media). The
Tampa Bay Lightning
, clearly in sell-off mode, dealt agitating forward Steve Downie to the
Colorado Avalanche
on Tuesday afternoon for defenseman Kyle Quincey. The Lightning then flipped Quincey to the
Detroit Red Wings
for a first-round pick in 2012 and defensive prospect Sebastien Piche.
The move looks to strengthen the Avs, who have some depth along the blue line but need more sand up front, and the Red Wings, like many contending teams, wanted to bulk up along the blue line for what they hope is a long playoff run. The move also suggests Lightning GM
Steve Yzerman
is already looking ahead to restocking the team's shelves as the Bolts now have two first-round picks this June and could have as many as four second-round picks. And Yzerman already knows the 6-foot, 202-pound Piche from Yzerman's days as an executive with the Red Wings. Piche signed as a free agent with the Wings in April 2009.
LeBrun:
OK, let's start with the Red Wings. I think this deal helps them both in the short term and long term. Not only do you always want to add depth on defense, and this case a bona-fide No. 3/No. 4 blueliner in Quincey, but there's also some protection here moving forward in case either
Nicklas Lidstrom
and/or
Brad Stuart
are gone next season. Lidstrom, of course, may retire, although that's not decided yet. Stuart is an unrestricted free agent, and there's talk he may head back to California for family reasons. Now, I'm not pretending that Quincey can fill the shoes of either one of those players, but he's a capable player and the Wings now can head into the offseason not needing to do quite as much work on the blue line.
As for the Lightning, they've got a bevy of draft picks now and my sense is that they can use some of those picks to make a play for a goaltender, whether that's before Monday's deadline or more likely in the offseason.
Burnside:
One thing about the accelerated success of the Tampa Bay Lightning last season is that it likely kept Yzerman from making moves he otherwise might have, given his new position of GM. I think that is what you're seeing now with the trading of
Dominic Moore
and
Pavel Kubina
last week and this move on Tuesday. It wasn't so much that Yzerman wasn't enamored with Downie. Downie has shown he has the chops to play with the big boys, such as
Martin St. Louis
and
Steven Stamkos
(with whom he is exceedingly tight), but still has the power to annoy opponents. But Downie has arbitration rights as a restricted free agent and so did Quincey. These moves give Yzerman significant flexibility moving forward, as he has a number of holes to fill in his lineup, most notably finding a No. 1 goaltender.
LeBrun:
I would think
Cory Schneider
of the
Vancouver Canucks
,
Jonathan Bernier
of the
Los Angeles Kings
or
Ben Bishop
of the
St. Louis Blues
would all be on Tampa's wish list for a goalie, among others. Schneider isn't moving before the deadline, however, so he would have to wait until the summer.
Finally, we should touch on Colorado. The Avalanche, one NHL GM told me Tuesday, could be a very busy team over the next week. He believed there was some desire on GM Greg Sherman's part to move some parts around and that certainly began with the acquisition of Downie. The Avs have 16 expiring contracts on their current NHL roster -- eight RFAs, eight UFAs -- so there's some big decisions to make both this week and in the offseason. I don't think the Avs have made their last move before Monday's deadline. But one thing you have to keep in mind: Colorado is still in the playoff race and, even if the it wasn't, it can't afford to tank the season because its first-round pick belongs to Washington from the
Semyon Varlamov
deal. Still, if there's some hockey deals to be had, player-for-player like you saw Tuesday with Downie coming on board, I'm told Colorado is interested in being active.
Burnside:
Sherman said it's rare to find a deal that works on both the hockey level and the business level these days but this was one of those deals.
"In this case it certainly worked out for us," Sherman told ESPN.com Tuesday evening.
Given Downie's experience playing with top end talent and his success during the Lightning's run to the Eastern Conference final last spring, Sherman is expecting Downie to fit in nicely with a group of young forwards that includes skilled players like
Gabriel Landeskog
,
Matt Duchene
and Ryan O'Reilly.
The Avalanche are just three points out of eighth place in the Western Conference and Sherman, who said he was able to part with Quincey because of the team's depth along the blue line, said this was a deal that he hopes will have an immediate impact in terms of the playoff race and long-term given Downie's youth.
"His versatility was definitely attractive to us," Sherman said.
The Avs aren't all that dissimilar to the Lightning in that two years ago they surprised everyone by accelerating their evolution and making the playoffs behind the stellar netminding of
Craig Anderson
. They took a big step back last season and now are in the hunt with a very young team. It was a year ago that Sherman rocked the franchise, not to mention the NHL world, by trading power forward
Chris Stewart
and emerging young defenseman
Kevin Shattenkirk
for former No. 1 overall pick
Erik Johnson
,
Jay McClement
and a swap of draft picks. So clearly Sherman isn't one to sit idly by if he thinks he can move his team forward. Not sure he's got the goaltending a young team needs, with Varlamov, although
Jean-Sebastien Giguere
has probably given him more than he expected. I got a chance to sit down with Downie last season and was impressed with his maturity and his desire to be a good teammate as well as a good player. This is going to be an interesting adjustment for him after really finding a comfort zone in Tampa.
LeBrun:
Well, after being bored in January and the first half of February, the NHL trade market has really heated up with
Nicklas Grossman
, Dominic Moore,
Hal Gill
, Pavel Kubina, and now Quincey and Downie all changing teams. We could very well have a trade a day from here on in.
The domino effect is officially on.
Until tomorrow, my friend.
April, 30, 2011
4/30/11
7:57
PM ET
WASHINGTON --
Sean Bergenheim
is describing
Tampa Bay Lightning
linemate
Steve Downie
and he is using the term "calm."
We pause to consider not just the incongruousness of the description but also the ability of people to defy our expectations, to redefine themselves, to change.
You see, Bergenheim isn't being ironic, it's not until a reporter suggests the term "calm" is rarely used in conjunction with the combustible Tampa forward that Bergenheim sees anything remotely curious about his description.
[+] Enlarge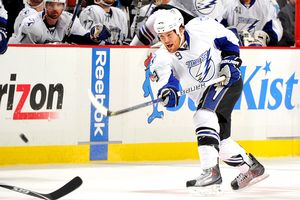 Jamie Sabau/Getty Images Eight of Steve Downie's nine points have come in his last four games, all Lightning victories.
"He's one helluva a player. He's an aggressive player. He's in on the forecheck and he hits but I think with the puck, excellent passes," said Bergenheim, who has formed a dynamic trio this spring with Downie and center
Dominic Moore
.
"I really enjoy playing with him. I definitely see a calmness. I understand people who think like that, but he is one heck of a hockey player," Bergenheim added.
Eight games into this playoff season and Downie, often the lightning rod for controversy deserved or not over the years, is leading Tampa in scoring with nine points, second-most among all NHL players thus far this spring in spite of the fact he is averaging about half the ice-time that other top players are receiving.
"His hockey sense is a lot better than people think," coach Guy Boucher said. "He makes plays. He doesn't panic when he's got the puck and he's being pressured. I think that's his biggest asset. He can make plays under pressure and that's not everybody. That's a quality that not a lot of guys have."
Not only has Downie contributed, he has contributed in a timely fashion. He has one game winner and in Game 1 of the Lightning's Eastern Conference semifinal series against Washington, he scored a critical tying goal late in the second period when it looked like the Capitals were going to break the game open.
Eight of his nine points have come in his last four games, all Lightning victories. Three of those victories came while facing elimination at the hands of the
Pittsburgh Penguins
in the first round.
"It's not a surprise if you ask the guys in our room. A lot of the time, the attention gets swirled around about his past ... the anger part of it, the suspension part of it and all that crap. But he's a great player," explained Downie's close friend and teammate
Steven Stamkos
.
"Playing against him in juniors, he was always leading his team in scoring. People don't realize the offensive smarts that he has. He's one of the smartest guys on his team when it comes to controlling the puck and making plays and knowing where to be. He's played great for us and stepped up when we needed him. That's why we've been successful thus far in the playoffs. We have everyone stepping up and leaning on each other -- not just leaning toward one or two guys."
It is one thing to try to escape your past but Downie has also had to battle more tangible foes this season in the form of injury.
A high ankle sprain limited Downie to 57 regular-season games and his goal totals dropped from 22 a year ago when he enjoyed a dramatic renaissance as a player to 10 this season.
"Definitely a frustrating year, there's no doubt about it," Downie told a small group of reporters Saturday.
"Going through that injury was tough but this is playoff time, there's no time for hurting. You just got to find a way to put that in the back of your head."
Although Downie did appear in six playoff games with Philadelphia in 2008, his role was vastly different, which makes his performance thus far this playoff year all the more impressive.
"I think my time Philly was a learning experience. I wasn't in the lineup every night so I was there more as an observer and a learner and learned from the guys they had there like [Simon] Gagne. I just took it as an experience and learned a lot from it," Downie said.
As for being the team's leading scorer, Downie downplayed his offensive impact thus far.
"I haven't really thought about production myself. It's about doing the little things. Playing a team game. That's what I've been focusing on and that's what I've been trying to do. I haven't really focused on the points. I try not to," he said. "I wouldn't read too much into me leading the team. I mean might be done tomorrow. We've got too much firepower on this team, I'm not looking to do that."
The transformation from a player often over the line to the one we have seen this spring may be startling, but it does not come without work and it does not come overnight.
"I'll be honest with you, it's been an on-going process since last August. So it's not something that's new. It's something that's progressed in the right direction. Everybody says he's night and day from last year," Boucher said Saturday.
"Everybody says this guy's really gotten a lot better at controlling his emotions. I'm real proud of him. He's not perfect, obviously, because emotional guys sometimes will get out of line and it's normal. Guys like that, you've got to be able to take some of the bad side. It's the same as a skilled player. You love to have those guys but sometimes defensively they aren't exactly what you want and you've got to take the bad side."
"There's very little downside. It's been extremely positive for him personally and it's been very positive for the team. I'm proud of his progress as an individual throughout the course of this year."
April, 19, 2011
4/19/11
4:29
PM ET
Just once, it would be nice if the NHL followed up its best intentions with actions that didn't immediately generate ridicule, outrage and a collective throwing up of one's arms in disgust.
Just once that would be nice.
It would have been nice, in the wake of two more reckless, dangerous, on-ice plays that targeted players' heads, to be able to sit down and laud the NHL for having come out and proven with action that it really does care about what happens to the game's most important assets.
Just once.
[+] Enlarge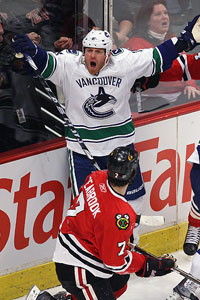 Jonathan Daniel/Getty ImagesVancouver's Raffi Torres did not receive any further NHL discipline after hitting Chicago's Brent Seabrook in Sunday's Game 3.
In a week in which we heard the NHL refer to some mysterious video that apparently legitimizes knocking a player's block off as long as it's somewhere behind the net (not sure if they call it the "kill zone" on this apparently rarely seen video, but they could) to explain why it didn't suspend
Raffi Torres
(again), the NHL announced Tuesday afternoon
Chris Kunitz
and
Steve Downie
were each suspended for one game in the playoffs for plays in Monday's game in Tampa.
One game. Sixty minutes, give or take time for overtime. About three hours. Less time than the NHL GMs met in one session talking about the need to make the game safer and come down harder on players who don't follow the rules.
Now, if the whole hockey world wasn't being bombarded by the NHL's assertions that it is all about reducing blows to the head and making the game safer and punishing repeat offenders, maybe one game would have been enough.
But Kunitz's sneaky elbow to the head of an unsuspecting
Simon Gagne
and Downie's leaping into the air to destroy
Ben Lovejoy
along the end boards are merely the latest examples that the players don't get it.
Respect? It's the playoffs; what do you expect? You think players will hold up when they see a guy with his head down? The playoffs are a time of maim or be maimed, and the NHL seems pretty cool with that, or else surely Kunitz and Downie could have waited until the end of the first round to get back into the ring.
Remember when
Matt Cooke
got 10 games and the first round of the playoffs off for his elbow to the noggin of Rangers defenseman
Ryan McDonagh
?
Seems like a different world altogether, which isn't surprising given the multiple personality disorder from which the NHL's supplemental discipline process suffers. Sybil? She was single-minded and on task compared to the league's handling of arguably the most important issue it has faced since the lockout.
Cooke was supposed to be the reminder that if you cannot control your actions, you're history.
And when the Cooke suspension was followed not so long after by Torres getting the final two games of the regular season and the first two games of the playoffs, well, that seemed almost like a pattern.
Almost.
Then Torres came back and put one of Chicago's top defensemen out of action with a hit that, in spite of the gobbledygook the league put out to explain why it didn't suspend Torres, plainly runs against all the stuff GMs and league executives were talking about in Florida at meetings that at the time seemed as if they might actually make a difference.
Seabrook wasn't scheduled to play in Tuesday's potentially season-ending game against Vancouver. Torres? Sure, get on out there Raffi and just remember, if you're going to decapitate someone, make sure it's in the "magic" zone. Wherever that is.
That returns us to a point we made during those GMs meetings -- that it's time for a change at the top.
No matter how good a guy Colin Campbell is, no matter how much he cares, the past few days have once again revealed the NHL's office of discipline to be unable to stay on topic, sending mixed messages to the fans who pay the freight and the players, coaches and GMs that are trying to figure out just where the lines in the sand are.
Good intentions be damned. Find someone who can come in and, without worrying himself into a knot over the minutiae of every single hit, simply employ the mantra: "If in doubt, throw the book at him."
How could that be any worse than the spectacle this week of a league once again seeing the gap between what it says and what it does grow ever wider?
It's something called credibility, and you'd think the NHL might want to consider getting some when it comes to this issue.
We have been covering the
Washington Capitals
-
New York Rangers
series.
The two teams have combined for 219 hits in three games. There hasn't been an incident that's come close to warranting supplemental discipline. So all those hand wringers, who worry that having the gumption to levy significant suspensions will lead to a more genteel game, need to watch a little bit more closely.
If the league had done the right thing and suspended Torres (again), then given a three or four playoff-game suspension to Kunitz and Downie, maybe we'd be onto something here.
Just once that would have been something to write about.