Cross Checks:

Steve Mason
November, 29, 2013
Nov 29
7:38
PM ET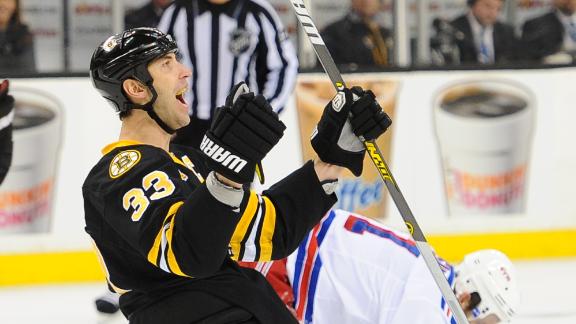 Nothing like some Black Friday afternoon hockey, eh? Some observations and thoughts from some of the games:
SHARKS 6, BLUES 3
This was really the best game of the day, at least on paper. In what could be a potential Western Conference finals matchup, the Sharks scored four goals in the opening 11 minutes, 27 seconds of the first period before a deliriously thrilled Shark Tank.
(OK, it's really called the SAP Center, but it's always going to be the Shark Tank to me, one of my favorite stops on the NHL circuit.)
Blues backup goalie
Brian Elliott
was the victim in this one, and while he didn't look very good -- pulled at the first intermission -- that doesn't take away from the Sharks' ferocious attack in the opening period. They were coming in waves.
With
Jaroslav Halak
in goal to start the second period, the Blues tallied three unanswered goals to make it interesting at 4-3 after
Jaden Schwartz
scored at 11:19 of the third period, but
Brent Burns
lit the lamp just one minute later to seal both the game and the power forward's first career hat trick.
It's interesting that when the Sharks moved Burns to forward from defense last March, it was seen as a short-term move to help spark a struggling team, but now you can't even imagine Burns not playing wing, given the impact he's had up front.
Were the Sharks, meanwhile, motivated by what happened in their previous meeting with the Blues, in which
Max Lapierre
hit
Dan Boyle
from behind into the boards and was suspended? Given how popular the veteran Boyle is within that Sharks dressing room, and regardless of what the Sharks say, the answer to that question is an emphatic yes.
This would be one heck of a playoff series. Both teams are similarly deep up front and are solid defensively. Sign me up if the Blues and Sharks cross paths in the spring.
DUCKS 5, FLAMES 2
Dustin Penner
is making Ducks general manager Bob Murray look good.
The veteran winger, signed last summer to a one-year, $2 million deal, is arguably playing his best hockey since the 2012 Stanley Cup run with the
Los Angeles Kings
. Penner scored twice Friday in the 5-2 win over the visiting Flames, his first tally a redirect of a gorgeous slap pass from
Ryan Getzlaf
on a Ducks power play in the second period that gave Anaheim a 3-0 lead. Penner now has nine goals and 20 points overall in 21 games this season; compare that to two goals and 14 points overall last season in 33 games, and just 17 points (7-10) in 65 games in 2011-12.
Now, it obviously doesn't hurt playing alongside Getzlaf and
Corey Perry
on the top line, but believe me, if Penner wasn't playing well enough to be there, Anaheim coach Bruce Boudreau would not have him there. Things didn't start all that well this season, with Penner producing a tepid training camp and being put on notice by Boudreau. But give Penner a lot of credit -- he's responded with some terrific hockey, even leading the team with a plus-18.
Pretty good story, I'd say.
BRUINS 3, RANGERS 2
Zdeno Chara
, for my money, is the most feared player in the NHL.
Intimidation is a part of the game, and nobody scares the opposition more in this league than the towering Bruins captain. Whether it's a hit or a crosscheck or a fight, whether it's dirty or clean, the Slovak star can single-handedly dominate a game.
And he did on Friday afternoon with a Gordie Howe hat trick -- a goal, an assist and a fight -- in Boston's 3-2 comeback victory over the visiting Rangers. According to TSN statistician Kevin Gibson, it's Chara's fifth career Gordie Howe hat trick.
His goal was a Chara special, an absolute rocket from the point at 11:05 of third period that simply went right through
Henrik Lundqvist
and gave the Bruins a 3-2 lead they would never relinquish. It was the kind of response the Bruins wanted after being embarrassed 6-1 in Detroit on Wednesday night.
Boston's 36 points lead the Atlantic Division. And get used to seeing the B's in that spot for most of this season.
For the Rangers, it was a decent road effort but a loss nonetheless, and they've got little time to mope. They have regroup quickly for Saturday afternoon's A.V.-Torts Bowl: John Tortorella making his return to Madison Square Garden with the visiting Canucks while Alain Vigneault coaches his first regular-season game against his old Vancouver squad.
Money on the board before the game in each dressing room? You'd better believe it. Shhhh, that's against NHL rules ...
FLYERS 2, JETS 1
The Jets killed off a 5-on-3 Flyers power play early in the second period that kept the game at 1-0 and seemed to give them momentum. But a mistake minutes later during a Winnipeg power play by
Dustin Byfuglien
allowed
Sean Couturier
to intercept his blue-line pass and skate in alone on
Ondrej Pavelec
; the Flyers forward didn't miss, scoring a back-breaking shorthanded goal that would stand up as the winner. Byfuglien is in the mix, of course, for a spot on the U.S. Olympic team, but it's those kinds of defensive mistakes that give Team USA management pause for thought. I'm not saying Byfuglien's not going to make the team, but don't be surprised if he doesn't.
Meanwhile,
Steve Mason
had another solid outing for the Flyers, and if you were naming a Flyers MVP through the opening two months, it would be Mason in a landslide. It should be noted, too, that so far this season he's easily outplayed Blue Jackets netminder
Sergei Bobrovsky
, who caused no shortage of grief in Philadelphia when he won the Vezina Trophy last season after being dealt away by the Flyers the year before.
Right now, those transactions don't look so bad for the Flyers, who got a second-round pick and a pair of fourth-round picks for Bobrovsky in June 2012, then got Mason from the Jackets last April for journeyman goalie
Michael Leighton
plus a third-round pick in 2015. If Mason can continue his current form all season long, Flyers GM Paul Holmgren will have perhaps garnered apologies from many a critic who didn't think Mason was worthy of a pickup.
RED WINGS 5, ISLANDERS 0
Was this Alfie getting warmed up for the big one?
Veteran winger
Daniel Alfredsson
scored twice and added an assist in Detroit's whitewash Friday of the Islanders. His next game, of course, is Sunday in Ottawa -- his first game back in Canada's capital after his controversial exit last summer. (I'll be there to chronicle things.)
The Wings have won three straight and outscored the opposition (Buffalo, Boston and the Isles) 14-2 during that span, getting back on track after a difficult November.
But perhaps the real story here is the continued malaise of the Isles, who have dropped five straight and are 2-10-0 in their past dozen games. Something's got to give on Long Island. Sources from other teams suggest GM
Garth Snow
has been phoning around trying to find a match on the trade front. This is a team that needs upgrades on defense and in goal.
April, 4, 2013
Apr 4
2:48
PM ET
The day after the trade deadline is often like the day after a big family wedding. Lots of stuff to sift through. Maybe you'll find an unexpected and unopened gift, or maybe you'll be reminded that the gift you thought stunk the day before still stinks today.
Speaking of gifts, could the
New York Rangers
have scripted their big day any better? After unloading their top pure scorer in
Marian Gaborik
to the
Columbus Blue Jackets
in an effort to redefine their personality, the goal-starved Rangers poured six past the
Pittsburgh Penguins
en route to a 6-1 shellacking of the Eastern Conference leaders. And wouldn't you know it: Three newcomers,
Ryane Clowe
,
Derick Brassard
and
John Moore
, figured prominently in the win by combining for four goals and four assists -- and this after racing from Columbus and, in Clowe's case, San Jose to join their new team.
The goals were the first two of the season for Clowe, who illustrated the sometimes bizarre nature of the trade-deadline period as he became one of the hottest properties available in spite of the goose egg in the goal column. No more. And now the Rangers hope this makeover in midstream will carry them not just to the postseason but to something more grand come playoff time. Certainly the earliest returns are sparkling, as they jumped into seventh in the conference, although they have same number of points as the eighth-place
New Jersey Devils
and ninth-place
New York Islanders
.
Speaking of the Penguins, that's two lopsided losses in a row for a team that began the week on a 15-game winning streak and with an eye toward making history. Didn't happen, of course, as they were whipped 4-1 by the
Buffalo Sabres
at home Tuesday, then were spanked at Madison Square Garden after GM Ray Shero added another piece to the Pens' arsenal in the form of veteran forward
Jussi Jokinen
.
Probably not a bad thing to have a few stinkers down the stretch, just in case anyone in that locker room was thinking the 15-game win streak meant they could just throw their sticks on the ice and come away with a W. We were in Chicago recently and talked to some there who weren't all that disappointed to see the
Blackhawks
' record 24-game point streak come to an end, what with all the media attention.
Sometimes it's easier for a coach to get his team's attention when it's facing a little adversity. But the twin Pittsburgh losses also highlight the challenges in integrating a handful of new, prominent faces into your lineup with a dozen or so games left in the season. The Pens are also battling the injury bug, with captain
Sidney Crosby
out indefinitely with a broken jaw,
Kris Letang
recuperating from a toe injury and defenseman
Paul Martin
out until playoff time or longer with a hand injury.
Lots of moving parts for coach
Dan Bylsma
to figure out in the next 3½ weeks.
The curious case of Steve Mason
It wasn't the classic Paul Holmgren "holy cow" move, a la obtaining
Chris Pronger
or moving
Mike Richards
or
Jeff Carter
, but the
Philadelphia Flyers
GM did not disappoint Wednesday, even if the move he made was a little more subtle. The acquisition of former rookie of the year
Steve Mason
from the Blue Jackets for
Michael Leighton
(remember him from Game 6 of the '10 Stanley Cup final?) and a third-round pick has the potential to create an interesting ripple effect in Philly.
Never mind the roller-coaster Mason has been on since bursting onto the scene with 10 shutouts in his first season (2008-09). In fact, if you're a fan of irony, one of the reasons the Blue Jackets were surprise buyers Wednesday was the play of former Flyers netminder
Sergei Bobrovsky
, who was dealt to Columbus in the offseason. Bobrovsky may win the Vezina Trophy and the Blue Jackets may make the playoffs, so Mason was deemed expendable. Go figure.
Now Holmgren is going to give Mason a look in the final weeks of the season as he wrestles with a rather huge decision regarding
Ilya Bryzgalov
, who has been OK this season. With two amnesty buyouts available to him, Holmgren will have to look hard at what remains on Bryzgalov's nine-year, $51 million contract. There were multiple reports Thursday that Mason was on the verge of signing a new deal with the Flyers, which means Holmgren's plan is to give Mason a chance -- if not as a starter than certainly to replace the depth that went out the door with the Bobrovsky deal.
If Mason impresses, does it change Holmgren's mind about Bryzgalov?
For the record, Bryzgalov got the win over the
Montreal Canadiens
on Wednesday night, as the Flyers kept their playoff heart beating faintly. They were four points out of eighth place with 12 games remaining heading into play Thursday.
Kudos to Sharks GM Wilson
We have often been critical of the
San Jose Sharks
for their inability to capitalize on what is a perennially talent-laden lineup. But you have to tip your hat to GM Doug Wilson, who appears to have navigated the competing waters of trimming fat and maintaining a competitive team with great skill. The Sharks are the hottest team in the NHL with six wins in a row, the latest coming Wednesday night over the
Minnesota Wild
. The win moved them into a tie with the Wild and
Vancouver Canucks
with 44 points and gave the Sharks a good shot at getting home-ice advantage in the first round as the conference's fourth seed, something that seemed implausible even a month ago.
Meanwhile, Wilson got good return for Clowe: a second-, a third- and a conditional second-round pick from the Rangers. He also obtained a fourth-round pick from Chicago for
Michal Handzus
, and got two more second-round picks from Pittsburgh for
Douglas Murray
(the second of which is conditional). And then Wilson added some grit and tenacity in the form of
Raffi Torres
.
The moves give Wilson all kinds of options in terms of assets with which to help restock a barren prospects cupboard, as well as additional cap space. That doesn't even take into account the potential for a long playoff run. That's a pretty good bit of work.
Can Sullivan restart Devils?
If ever there was a team that's all about bringing things full circle, it's the Devils. And so it was that GM Lou Lamoriello brought home veteran winger
Steve Sullivan
almost 19 years after the team selected him with the 233rd pick in the 1994 draft. Sullivan played in 16 games for the Devils in 1995-96 and 33 the next season before he was dealt to the
Toronto Maple Leafs
in a trade that would see iconic Leafs captain
Doug Gilmour
and defenseman
Dave Ellett
go to the Devils. Gilmour would go on to finish a Hall of Fame career while Sullivan, 38, continues his hockey odyssey after being dealt for a seventh-round pick by the
Phoenix Coyotes
on Wednesday.
We've had the opportunity to catch up with the Timmins, Ontario, native (dubbed by some the "Timmins Tornado") at various stops along the way, and he has proved to be unfailingly upbeat even in the face of injuries that threatened his career a few years back. Although it hasn't been a banner year for Sullivan, who signed with the Coyotes after a one-season stop in Pittsburgh and had just five goals in 33 games, there's something about the Devils' culture that allows guys like Sullivan to thrive. He'll need to, as the Devils are sliding their way out of the playoff picture without the injured
Ilya Kovalchuk
.
No easy answers in Buffalo
Say what you will about the state of the Sabres, but GM Darcy Regier did well to maximize his return for captain
Jason Pominville
on Wednesday. He coaxed a first- and a second-round draft pick and two prospects out of Minnesota (the Wild also got a fourth-round pick from the Sabres). That's two years in a row Regier has done a nice job in making the most of what has become an unsightly mess in Buffalo by bringing in young players and draft picks.
But there's the rub, no? Who made the mess?
It's not just Regier; every year, a GM of an underachieving team sets about trying to restock the shelves with picks and assets after plans go awry. If it's a blip on the radar kind of thing -- as we saw with playoff bubble teams Phoenix and Nashville shedding assets in recent days after being competitive playoff teams the past few years -- that's one thing. But what if it's a systemic kind of thing?
Given that the Sabres fired longtime coach Lindy Ruff already this season and look likely to miss the playoffs for a second straight season, there is an expectation that owner Terry Pegula will finish the top-end makeover by relieving Regier of his duties after the season. If that's the plan, then where is the logic in having Regier make these kinds of significant moves (he also traded
Robyn Regehr
to the
Los Angeles Kings
)? It's not easy to replace a GM in midseason, although the Blue Jackets showed it can be done with impressive results.
Buffalo is not unique in dealing with this dynamic, and there are certainly lots of problems that will be left over for a new GM to deal with if a change is made. But it remains an annual curiosity in the NHL as some GMs' final moves may end up having significant long-term impacts on teams they're about to part company with.
November, 8, 2011
11/08/11
1:01
PM ET
No fans deserve more to rant than the loyal souls in Columbus. And we start there this week with a couple of beleaguered Blue Jacket fans.
osufanatic64: Ok, I'm going to try to be as calm about this as possible...you know what never mind. WHAT IS SCOTT HOWSON THINKING?!?!?! First of all, why Steve Mason still is in net for the Jackets is baffling to me. Clearly his rookie year was an anomaly. I'm not saying Mason is the ONLY reason for the Jackets horrendous start to the season...but 4 goals in 11 shots against St. Louis and then 7 goals against Philly? On top of that, our brilliant GM decided not to get any sort of backup goalie for security. At least last year we had Matty Garon to steady the ship (until he ultimately sank with the team). And last, but certainly not least, is Arneil even trying anymore? There is no reason we should still be so bad with a man advantage, not to mention how bad we are on the PK. I won't say this season is lost (yet...I still want to see Jeff Carter play more than 5 games), but this is a joke. Thanks for making an optimistic Jackets fan dread checking the score every night...

AND STEVE MASON?!?!?!?!?

artmabrey: Pierre, pretend you're a Blue Jackets sales person trying to get me to renew my season tickets, how do you ask me to renew? I have seen some terrible play over the years, but just when I think they have hit the bottom out comes Saturdays 9-2 loss. Give me a few reasons why I should renew next year.
My take:
Well, I'm not sure I'm that good a sales man. There's ugly, and there's the Jackets right now. I would like to see what this team can do once Jeff Carter is finally healthy. I'd also like to see what they could do with a goalie than can make some saves. Steve Mason won't be the starting goalie next season when you renew your season tickets. That much I can tell you.
---
jmcleod512: What's with the Blackhawks PP? They have one of the best 5-on-5 offenses in the league. Kane and Hossa are red hot, and Toews, Sharp, Brunette, and Bolland cap off an offensively loaded team. But they have an atrocious power play which, among many other things, cost them dearly against Vancouver on Sunday. Why can't they get it together, a top-5 PP last year?
My take:
It is stunning to be sure, but I think the numbers are a little deceiving as of late. I think there have been better looks on the Hawks PP lately, which usually precedes a breakthrough. I'd be shocked if this was a long-term issue.
---
bjmiller12: why can't the avalanche win at home. please tell me why we can't do it. we score and play great on the road but can't do crap in our Pepsi can. are we just tired of the air or what? i am going nuts trying to figure this out. the entire avs fanbase is trying to figure this out.
My take:
When teams struggle at home, I turn to this answer the most often because it's what coaches have always passed on to me, especially for young teams: They deviate from the game plan and try to put on a show at home. What works on the road, staying within the game plan, playing a more patient game, etc. often goes out the window at home when younger teams sometimes feel the pressure to put on a show for the fans.
---
[+] Enlarge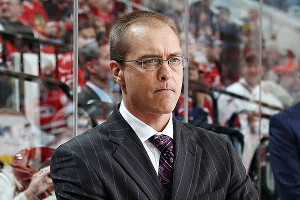 Gregg Forwerck/NHLI/Getty ImagesCan Paul Maurice and the Hurricanes turn their season around?
Heirarch: I'm a Carolina Hurricanes fan, and frankly I'm tired of a decently talented roster struggling to perform and not offering any solutions or changes that would benefit our team. Paul Maurice is a below-average coach who focuses way too much on dumping and chasing the puck instead of moving it the right way. I suggested Sheldon Souray at a discounted price last season and everyone jumped down my throat; now he's doing well. Eric Staal has been playing atrociously, and the only people who seem to show up to play hockey are Ward, Skinner and LaRose. We need to rectify our hockey team and play like we want to win, instead of playing with no heart.

LegitSportsGuy: Pierre, after being at the Stars vs. Canes game on Sunday, I am personally discouraged right now to be a Canes fan. Our G.M. has still yet to make a move after seeing us drop 3 out of 4 and give up 10 goals in 2 games while only scoring 2 goals in those 2 games. What needs to give, Pierre? Fire Paul Maurice? He consistently uses the dump and chase method and it's not working. I heard rumors about trading offense for defense but right now we could use that offensive weapon now more than ever. Especially a winger for Eric Staal! So tell me Pierre what has to give to turn my Canes around?
My take:
Well, my friend, my sources indicate your GM is trying to help your team as we speak. The Hurricanes have been chatting up the trade phone lines. I think Jim Rutherford is trying to get something done. I think Paul Maurice is OK for now, but that leash won't last all season long if the Hurricanes continue to struggle.
---
CDiercksen: Pierre, what is so hard to understand about your proposed (and oft dismissed) point system? 3 for a reg. win; 2 for an OT win; 1 for an OT loss; 0 for a reg. loss.

HOW IS IT MORE CONFUSING THAN EVERYONE BEING at or around .500? I don't know who's bad anymore (except Columbus, bless their hearts)!

Now I love me some Brian Burke, but his whole "that's confusing" comment makes me want to hunt down his elementary school math teacher and staple headphones playing banjos covering Nickelback on repeat to his/her ears. Hockey is about EARNING what you get, and I don't see how this current system that rewards teams for almost winning fits into that landscape. at least with your system it's balanced.
My take:
Thank you, my friend. I've been pushing for that point system for a long time, ever since it first came up at a GMs meeting in Henderson, Nev., in February 2004 (which I covered). It just makes so much sense. Three points for a 60-minute win would reward the better teams in this league and help the cream rise to the top as it deservedly should. That's my opinion, and I won't change it.
---
woobx: Pierre, can you please explain to me what exactly is going wrong with the Anaheim Ducks, because it seems like they have the perfect combination of veterans and young talent. Watching this 7-game road trip was so demoralizing then they put the cherry on top by not even showing up in Detroit. You can tell that frustrations are starting to set in with Selanne getting a game misconduct in Detroit. I'm starting to feel bad for the guy now because it seems like he's the only person on that team that wants to win and shows up every night.
My take:
I know the Ducks are privately disappointed in
Jonas Hiller
this season (.902 save percentage), but to me, it runs deeper than that.
Teemu Selanne
is a sure-bet Hall of Famer and one of my favorite people to ever play the game. But at 41, it's not a good sign when he's far and away leading your team in scoring with 14 points with Correy Perry, last season's NHL MVP, five points back for second and
Ryan Getzlaf
six back.
Bobby Ryan
has only six points, and that's fourth in team scoring. The big boys have to wake up.
---
awoundedzebra: While the Lightning have shown resiliency the past couple of games by coming back from 2 and 3 down, I don't like how they are giving the other team the lead so early in the game. How can they fix this, especially since two of their top d-men are getting hurt (Ohlund and Hedman), does Stevie Y need to look outside the organization or can they turn this around? I fear that they won't be able to comeback for a lot of the games this season.
My take:
Well as I reported earlier this season in one of my Rumblings blogs,
Steve Yzerman
has been working the phones in the search of help on defense. It may take a while because Yzerman wants to add a top-four type -- that's a major transaction. But that's his goal, whether it happens before Feb. 27 or waits until the offseason. They need help on the blue line; they give up way too many chances.
---
ssawas47: The Dallas Stars have been riding high and have been overlooked by many because of the loss of Brad Richards. They have shown everything you want in a championship contender with their strong physical play, outstanding goaltending, and new life on the blueline (post Zubov). Let's not forget that the Stars have new ownership on the way. So what do the Dallas Stars have to do get some credibility in their play as of late? Would you consider the Benn-Erikkson combo being one of the most underrated top line players in the NHL? Where is the love, LeBrun??
My take:
Well, my friend, I ranked them second overall in the Power Rankings on Monday. Is that not love? I remember talking to GM
Joe Nieuwendyk
during training camp and he told me point blank people were vastly underrated his team. It wasn't the usual spin you get from a GM about his team. It was matter of fact. He was surprised people were overreacting so much to the loss of Brad Richards. The Stars added seven players in the offseason and have more depth than last year. They may dip a little at some point, but I think they're playoff-bound.
---
CAR2687: So with the Blues making the move to release Payne from his coaching duties, and hiring Hitchcock, it seems that the organization isn't happy with the way things are going. As a fan, I'm extremely frustrated. I felt with a full season of Stewart, Perron hopeful to return by Jan 1, and the new veteran leadership that STL would make a strong push not only to the playoffs, but a sleeper in the Central. Special teams and a bad Halak have hurt that cause. Do the Blues need to make a move? Will Hitchcock light a fire under the guys, especially Halak? I love how Elliot is playing, but I don't know if I can rely on him to be this way for the full season. It's frustrating to have really good games against good teams like Van and Phi but then stink out the joint against Calgary.
My take:
Know this: The whip is coming out in the form of Ken Hitchcock. The young core on this Blues team doesn't know what's coming at them. Hitch will be tough on them and make them accountable. If that doesn't work, expect GM Doug Armstrong to make a trade or two. They won't sit on their hands this season and allow the core to disappoint.
January, 6, 2011
1/06/11
4:36
PM ET
Call this the anti-Vezina list.
Next week, we at ESPN.com will hand out our midseason awards. Today, we bring you what we believe are the five most disappointing goaltenders at the halfway point given their pedigree and expectations. In no particular order:

It seems like years ago when he put up 33 wins and a 2.29 goals-against average and won the Calder Trophy as NHL rookie of the year. Well, it was just two seasons ago. Since then, the sophomore slump has extended into a Year 3 malaise. As of Thursday morning, his 3.20 GAA was 40th among NHL goalies, and his .902 save percentage was 32nd. He's played better of late, which is good, because the Jackets need him to turn things around. He's only 22, so I suspect everything will be fine. It had better be after the Jackets extended his contract, a two-year, $5.8 million deal that kicks in next season.

When the Thrashers signed him to a two-year, $3.7 million deal this past summer, it was with the idea that he would be their starter or at least compete with young Ondrej Pavelec for starts. Neither has happened. His .896 save percentage is 39th in the league, and his 3.66 GAA is dead last in the NHL. Luckily for the Thrashers, it hasn't mattered because Pavelec is having a Vezina-worthy season.

No wonder Lightning GM Steve Yzerman felt compelled to bring in Dwayne Roloson via trade. Smith's .883 save percentage is second-to-last in the NHL, and his 3.20 GAA is 41st. Dan Ellis hasn't been much better, but Smith is the guy long viewed as a possible starter after his trade from Dallas. The consistency has never come. He'll be an unrestricted free agent July 1 and won't be in Tampa next season.

How the mighty have fallen. Nominated for the Vezina last season after a sensational campaign, Anderson has the 38th-ranked GAA (3.13) and 33rd-ranked save percentage (.901) in the NHL. Granted, the Avs' blue line isn't Detroit's, so there's plenty of rubber coming his way, but it was the same when he stood on his head last season. Talk about bad timing, especially with Anderson set to be a UFA on July 1. There is plenty of time to turn things around, but if he doesn't, it will be a costly season for him.

It's safe to say we never thought the day would come when we would put his name on this list. We tremble just doing it. But the numbers don't lie -- a .882 save percentage (44th and dead last among all goalies) and 3.15 GAA (39th). Nothing from this season will take anything away from what is arguably the greatest goaltending career in NHL history. And to be fair, it's not as though the team in front of him has been any help. (Still, a bit surprising to see the Devils actually ranked first in the NHL in fewest shots allowed per game as of Thursday morning.) Brodeur has one more year left on his deal at $5.2 million. Let's hope next season is a bounce-back one and he can go out in style.
(Dis)honorable mentions: Pascal Leclaire, Ottawa; Rick DiPietro, N.Y. Islanders; Nikolai Khabibulin, Edmonton; Jonas Gustavsson, Toronto.
December, 18, 2010
12/18/10
9:00
PM ET
Donald Fehr was finally introduced as the new executive director of the NHL Players' Association on Saturday, aka the worst-kept secret in hockey.
Pretty much the only thing the average hockey fan cares about in all this is whether the NHL can avoid another work stoppage when the CBA expires in September 2012 and what role Fehr, the longtime leader of the baseball players' union, will have in that.
"We treat a work stoppage -- a strike -- as a last resort," Fehr told us media folk on a call Saturday. "It's something you consider only when you believe that all alternatives have failed. We certainly hope, and I certainly believe, that the owners will treat it as a last resort.
"So if you were to ask me, 'Do I anticipate a stoppage?' The answer is 'no.' And I certainly don't hope that we have one."
No one is going to tip his hand in labor talks this far out, anyway, so this doesn't mean he's not going to be just as tough of a negotiator as he was in baseball. Having said that, I think Fehr knows this isn't America's pastime he's dealing with and genuinely doesn't believe a work stoppage is any way to go for this sport.
The more I talk to people around the industry, the more complaints I hear about the current system from the ownership side of things. Some owners have been in the ear of commissioner Gary Bettman about fixing certain things. As one NHL executive told ESPN.com Saturday, "My owner told me in no uncertain terms that if certain things aren't fixed, he's out. He'll sell the team."
So while the Fehr/Bettman dynamic will be one to watch in the next round of CBA talks, I think the potential in-fighting among team owners who have vastly different agendas will be just as important a factor.
Fehr was asked on the media call Saturday about a timeline for the beginning of CBA talks with the league.
"If I had to throw a target date out, I would probably say sometime a year from this spring," Fehr said. "Maybe a little sooner than that, but that's only a target date. Down the road a few months, I expect to have a much better idea of when it might make sense."
I also asked him about the possible staff hiring of former player Mathieu Schneider, who has been a long-time, staunch union guy and was part of the search committee that recommended the hiring of Fehr. Rumblings persist that Schneider will be one of Fehr's first hirings.
"I know Mathieu reasonably well at this point, I've talked to him any number of times and he seems to me to be a first-rate and extraordinary individual," Fehr said. "He certainly has an enormous amount of experience in the game and as far as I can tell has the respect of the players. He's the kind of individual that makes sense for that kind of a role. I'm not in a position today to discuss any specific hires or roles that any given individual might fill."
Other Fehr nuggets:
Fehr, I'm told, phoned Bettman on Friday to give him a heads up on his announcement. Classy thing to do and perhaps a sign that the two can get along? Well, let's not hold our breath.
Also, I was told that Fehr last Monday took in a meeting with Bettman and NHL deputy commissioner Bill Daly to discuss the future of the NHL's Premiere Games in Europe. The league and players haven't yet confirmed their participation for next year in Europe. The league has held regular-season games overseas in London, Prague, Helsinki and Stockholm over the past four seasons.
Fehr was the runaway favorite to get the job all along, but a union source did tell ESPN.com Saturday that "a bunch'" of candidates were interviewed for the job.

Nabokov's next stop
Veteran goalie
Evgeni Nabokov
touched down Friday in San Jose, where he's kept a home. Now what? Several NHL teams have called about him, I was told Saturday, although Tampa is the only one I've been able to confirm. I'm told Washington is not in the mix.
It's not clear at this point whether the Lightning are totally sold on the idea of signing Nabokov. I have the feeling this could go either way at this point. For starters, the team is on a budget and doesn't have a lot of cash to dole out. Also, remember that Nabokov must clear waivers with whatever team he joins.
Here's the dilemma if you're Tampa GM Steve Yzerman: you don't have a lot of money to spend, so if you sign Nabokov to a cheap contract, you risk losing him to another team on waivers that sees him as a good backup at that price. That's the risk for any team that signs him. It's possible some teams haven't even bothered calling Nabokov's agent, Don Meehan, about their interest because they're lying in the weeds waiting to snap him up on waivers.
I also think Tampa is hesitant right now because its two goalies, Dan Ellis and Mike Smith, are popular teammates. You don't want to rock the room. On the flip side, the Bolts are dead last in the league in goals against, and Nabokov is an upgrade. I think Yzerman is hoping the decision is made for him in the short term by Ellis and Smith playing better. But he may be eventually forced into looking hard at Nabokov if things don't change.

Rumors of Salo's return to Canucks
There have been rumblings recently that
Sami Salo
is getting close to returning from injury, but a team source told ESPN.com Saturday that is not true. He's still a ways away, the source said.
The reason that's incredibly important is that once Salo returns, the Canucks will be under a cap crunch. Other NHL teams are waiting to pounce on Vancouver. But when Salo does return, the Canucks feel they're dealing from a position of strength -- lots of teams want a D-man -- so they don't think they'll be forced into a bad deal. I think they're right. Judging from the other teams I talk to, there's a demand for defensemen. Vancouver can exploit that when the time is right.

Spotlight on Capitals
Interesting story I heard from a source in Washington: Some Caps players were reticent to wear the HBO mics heading into last Sunday's game at New York. GM George McPhee apparently got involved and told them to wear the mics. Basically, he told his players to man up. It reminds me of when Pat Burns was in Toronto during my first year covering the NHL in 1995-96, and the Leafs coach used to pull the players out of the showers after a bad game and force them to come and talk to us, to face the music. So kudos to McPhee for taking that stance with his players.

Thrashers want to move Bergfors
Atlanta recently sent a memo to other teams saying to give it a call if they wanted a forward. I was told Saturday that
Niclas Bergfors
is the guy the Thrashers would really like to move. He was part of the
Ilya Kovalchuk
deal last February but has fallen out of favor.

Devils' Lamoriello searching for answers
Chatted with Devils GM Lou Lamoriello on Saturday. It gets to a point where it's like, what can you say?
"This is new territory, certainly, for us," Lamoriello told said. "It's very simplistic: Your best players have to be your best players. When you look at the people that have goals and you look at the history is of goals; and then our role players, who usually always chip in different types of goals and different times -- they haven't been able to do that. So you're pressing every night. And then you get injuries to key people. These are not excuses, you just look at it because you look at the variables prior to making a decision. You have to ask the question why and quite frankly, those answers haven't come yet."
Lamoriello put veteran forward Brian Rolston on waivers this week, but there were no takers. He's earning $5 million this year and next, and he's 37 years old.
"I just wanted to see if there was anybody interested in him," Lamoriello said. "Maybe it's the beginning for something, we'll see."
Some teams have told Lamoriello that they have some level of interest but more so if they don't have to take the full brunt of Rolston's salary. In other words, re-entry waivers (half the price) or the Devils take a player back in a trade.
"This is a fantastic individual and the part of the business where your heart and the head gets in the way," Lamoriello said. "He's not the reason [they're losing]. But I made the decision to sign him and I take the responsibility. But the unfortunate part about it is that it is money."
So what now?
"He has cleared waivers, he's still with our team," Lamoriello said. "Not saying what the next step is but there are different steps and processes. We'll see how things transpire."

Jackets' Mason struggling
Steve Mason
had dinner with Blue Jackets goalie coach Dave Rook on Friday night, and the Columbus netminder is in dire need of counsel these days.
The third-year NHL goalie, the league's Calder Tropher winner in 2008-09, has been pulled a league-high 12 times this season and his numbers reflect it: a 3.29 goals-against average (44th in league) and .901 save percentage (36th in league).
Veteran Mathieu Garon got the start Saturday night and will likely continue to do so until Mason can shake it off.
"We're lucky we have Garon playing as well as he has," Jackets GM Scott Howson told ESPN.com Saturday. "But Steve will work his way through this. We're confident of that."
The Jackets had hoped that Mason had left his struggles behind last season in his sophomore year. But they've come back. Right now, he's lost his confidence.
Maybe it's just me, but I think this is an example of a guy that should have gotten at least one year of seasoning in the AHL before making the jump. I know he was spectacular in his NHL rookie season, but now I think you're seeing that lack of development come to the forefront.

Kings lose Mitchell
The Kings have lost top blueliner
Willie Mitchell
, yet again. This time, he's out two-to-three weeks with a lower body injury.
The gamble on Mitchell in the offseason was that he could stay healthy and partner with Drew Doughty on the team's top unit. Now, he's gone down twice. All the Kings care about, however, is to have him healthy for the playoffs.
December, 17, 2010
12/17/10
4:54
PM ET

Stock up
Matt Duchene, Colorado Avalanche
The Avalanche continue to lose key personnel at an alarming rate yet continue to score goals by the bushel (they lead the NHL in goals per game). As of Friday morning, the hard-luck Avs were riding a four-game winning streak, including back-to-back wins over the defending Stanley Cup champs from Chicago this week. Sophomore Matt Duchene has been doing yeoman work in the face of an injury-depleted forward corps with 15 points in his past 11 games. He has eight goals over that stretch.
Sergei Kostitsyn, Nashville Predators
The Preds are streaking once again with points in nine straight games (7-0-2). Surprisingly, it's the forgotten Kostitsyn who has picked up his game over this period. After being essentially ridden out of Montreal at the end of last season, the younger of the two Kostitsyns (brother Andrei is still with the Habs) is starting to find a comfort zone with the Preds, playing mostly with Martin Erat and Marcel Goc. Kostitsyn has points in seven straight games (nine points over that period), and the Predators have jumped back into the Western Conference playoff fray thanks in large part to the trio's play.

Stock down
Steve Mason, Columbus Blue Jackets
Once again, the bottom has fallen out on the former rookie of the year and Vezina Trophy nominee. Mason was shelled by Edmonton on Thursday night, allowing six goals on 27 shots through two periods. He was then yanked for the third time in four games. Mason has just one win in his past seven outings, and the Blue Jackets have fallen like a stone through the Western Conference standings as a result.
Patrick Marleau, San Jose Sharks
Wonder why the talent-laden Sharks are such a befuddling team, flirting with the lower end of the West playoff bracket? Well, take a look at former captain Patrick Marleau, who has somehow managed to amass a minus-17 rating. Yes, plus/minus is a sometimes misleading (if not meaningless) stat, but the fact Marleau has one assist in his past eight games isn't. It's just plain shocking. So is the fact he's managed to score just once in his past 12 games.
November, 29, 2010
11/29/10
1:32
PM ET
1. Model for stopping staged fights
Funny how sometimes it's the kids that get it right while the NHL dawdles. And once again it is major junior hockey that provided what should be a model for the NHL by moving to eliminate so-called staged fights. The Ontario Hockey League has introduced a midseason rule change to punish fights at the start of a period or before the start of a game that calls for offending players to be tossed out of the game in question and be suspended automatically for the next game. Teams are also subject to a $500 fine with increased sanctions for repeat offenders. The Western Hockey League has had a similar rule for the past two seasons and has practically eliminated the so-called staged bouts.
The NHL's GMs tried to stamp out this nonsense that regularly drags out NHL games and has zero impact on the outcome of contests. But the NHLPA, after impassioned pleas from thugs like Georges Laraque (now out of the game and deputy leader of the Green Party in Canada), balked at the change and the competition committee squashed the idea. How forward-thinking. No wonder NHL GMs in general believe the competition committee is irrelevant. Speaking of fighting, wonder how the Colorado Avalanche like the age-old manner of resolving a dispute now that star forward Chris Stewart is out indefinitely with a fractured hand thanks to a pointless fight in Saturday's 7-4 rout of Minnesota.

2. Howard still providing quality starts
Not so fast for those who were prepared to anoint the
Columbus Blue Jackets
this year's dark horse contender a la last year's
Phoenix Coyotes
. The Blue Jackets have been impressive, no doubt, but the
Detroit Red Wings
served notice that the old dogs can still hunt by sweeping a home-and-home affair from Columbus over the weekend.
It was an interesting clash given some of the parallels between the two teams.
Two years ago, Columbus netminder Steve Mason jumped from junior hockey to NHL stardom, winning the Calder Trophy as rookie of the year and adding a Vezina Trophy nomination to his youthful resume. Last season, Mason imploded and the Blue Jackets faded back into obscurity.
Last season, Detroit netminder Jimmy Howard emerged from a four-year apprenticeship in the AHL and shocked many by leading the injury-plagued Red Wings from deep in the standings into the playoffs for the 19th straight season. Howard was nominated for the Calder Trophy and received our top vote, although he was bested by Buffalo defenseman Tyler Myers (by the way, how's that sophomore season going, Tyler?).
Unlike Mason, though, Howard has continued to provide both consistency and quality between the Detroit pipes in his sophomore campaign.
Although peers Carey Price, Michal Neuvirth, Tim Thomas and Sergei Bobrovsky have received most of the goaltending attention through the first quarter of the season, Howard has quietly compiled a sparkling 13-2-2 record and the Wings are considered by most to be the best team in the Western Conference at the quarter pole (and among the top two or three teams in the league).
"He's earned the right to feel confident about himself," head coach Mike Babcock said recently.
Now, there is a fine line between confident and cocky, something Mason learned the hard way last season.
Howard, perhaps because he is older at 26, is quick to deflect praise for his play and just as quick to accept responsibility when he doesn't play well.
Babcock said that when he meets with the media after a game, "if he [Howard] hasn't played well he's already told the press he wasn't very good."
"He's accountable," the coach said.
For his part, Howard said it's easy not to become complacent in a dressing room with guys like Nicklas Lidstrom, having a Hart Trophy kind of season at age 40, and hard-working stars like Pavel Datsyuk and Henrik Zetterberg.
But here's the dilemma for the Wings: With Chris Osgood trying to rehab a lingering groin issue and not having played well when he was healthy, there are issues about the team's goaltending depth.
"He can't play every night," Babcock said of Howard.
With the Wings hard against the salary cap, it's going to present a dilemma for GM Ken Holland moving forward. That's to say nothing of the fact that Howard can become an unrestricted free agent at season's end. Stay tuned.
3. West remains the best
It is generally accepted that once again the Western Conference boasts the greatest concentration of talent in the NHL. While teams like Pittsburgh, Washington and Philadelphia have established themselves as the crème de la crème in the Eastern Conference, it's fair to ask whether their records are skewed by regularly beating up on some of the worst teams in the league like the
New York Islanders
,
New Jersey Devils
and
Toronto Maple Leafs
.
In the Western Conference, there are far fewer patsies as just nine points separated first-place Detroit and 13th place Nashville as of Monday morning.
The Western Conference is dominating inter-conference play, as well, with a 150-127-37 record as of Monday. Only Edmonton and Calgary have managed to compile a losing record against the 15 Eastern Conference teams.
Meanwhile, almost half of Eastern Conference teams (seven) had a losing record or were .500 when playing their western confreres.
What does it mean?
In general, it means teams in the West can expect to pay more dearly for losing streaks and inconsistent play.
As of Monday, the San Jose Sharks, considered by most a Cup contender at the start of the season, were in 10th place even though they were 5-2-3 through their past 10 games.
Disappointing? Yes. But the Sharks were also just one point out of the Pacific Division lead heading into play Monday.
4. Top eight tough to crack
The first quarter of the NHL season is in the books and the consensus among many hockey folk is that cracking the top eight in either conference becomes increasingly difficult through the balance of the season with the number of three-point games going up as the season moves along. Interesting to compare the standings on Dec. 1 last year to how things looked when the dust cleared last April 11 at the end of the regular season.
Over that period of time, just two teams per conference shuffled out of the top eight over the last 4½ months of the regular season.
In the Eastern Conference, the Atlanta Thrashers (fifth place as of Dec. 1) and the Tampa Bay Lightning (eighth) were the two interlopers who could not hang onto a postseason berth through the final three-quarters of the schedule. Atlanta and Tampa were replaced by the Montreal Canadiens, mired in 12th place in the conference at the start of December, and the Philadelphia Flyers, who were on the verge of making a coaching change (Peter Laviolette was named to the post on Dec. 4).
Of course, the Canadiens and the Flyers didn't just qualify for the playoffs, they ended up facing off in the Eastern Conference final.
In the Western Conference, the Calgary Flames were actually leading the Northwest Division on Dec. 1 before free-falling out of the playoff picture altogether. And the Columbus Blue Jackets were holding onto the eighth and final playoff spot at the start of December 2009. Detroit, which hit December in 10th place in the conference, and Vancouver (11th) supplanted those two teams.
What of this season?
Given the tightness of the standings (see above) it's not hard to imagine even more fluidity in the Western Conference standings between now and April. It would be shocking if the Sharks don't right the ship and make the playoffs. Likewise, the Los Angeles Kings, surprisingly in ninth place as of Monday, should be a playoff team given their talent.
Who would fall out?
We'll fall back on our preseason predictions and suggest that Dallas and Columbus may have the most difficulty sticking with the top eight in spite of impressive first-quarter starts.
In the Eastern Conference, we're not sure there will be any movement whatsoever given the inconsistency that has plagued New Jersey, Ottawa and Buffalo, three playoff teams from last season. Boston is currently in eighth place but has played fewer games than any other team in the conference, so that skews its current placing. In the end, it will come as little surprise if the current eight are the final eight come April in the East.

5. Hawks hope to rewind last season
Fans of the
Chicago Blackhawks
are hoping there is a sequel in the making as far as the team's goaltending situation goes.
After an up-and-down start to the season, the defending Stanley Cup champs are starting to round into form, but they are doing so with rookie netminder Corey Crawford backstopping the club instead of veteran free-agent acquisition Marty Turco.
Crawford was riding a four-game winning streak as the week began and has played in three of the past four games for the Hawks, including back-to-back victories over Los Angeles and Anaheim last week. Crawford, who started the season 1-4, has allowed just five goals in his past four starts and has stopped 98 of the past 103 shots he's faced.
Turco, meanwhile, has failed to find a groove since coming over from Dallas in the offseason. The veteran netminder has just one win in his past five starts and overall has a pedestrian 2.90 GAA and .904 save percentage.
Of course, Blackhawk fans have seen this movie before, and everything certainly turned out OK in the final reel last season.
Last season, Antti Niemi nudged Crawford out of the backup role during training camp and then supplanted veteran starter Cristobal Huet as the go-to guy for the Hawks midway through the season. Niemi and the Hawks, of course, ended up carting off Stanley Cup rings. Niemi signed with San Jose when the Blackhawks wouldn't agree to an arbitrator's ruling on salary, and Crawford, a 25-year-old Montreal native, was handed what was expected to be a supporting role behind Turco.