July, 2, 2014
Jul 2
2:23
PM ET
The West was best yet again this past season, and it just got even tougher.
"It's crazy, really," one Western Conference GM mused Tuesday night as we talked about all the moves strengthening Western clubs.
Jason Spezza
,
Jarome Iginla
,
Brad Richards
,
Ales Hemsky
and
Thomas Vanek
are just some of the notables who switched from the East to the West on Tuesday.
The arms race to stay competitive in the Western Conference is mind-blowing.
The
Anaheim Ducks
filled the No. 2 center hole with
Ryan Kesler
last week, a major add-on. The
Dallas Stars
, playoff participants this past season and hoping to climb even more in the tough Western Conference, responded by adding Spezza and Hemsky.
The
St. Louis Blues
added
Paul Stastny
. The rising darlings from Colorado lost said Stastny, but they added veterans Iginla and
Brad Stuart
a day after trading for
Daniel Briere
. The Wild -- who reached the second round of the playoffs this past season -- added goal-scoring machine Vanek. And the perennial powerhouse Blackhawks signed Richards.
The Cup champion Kings? Well, they had already made their most important move of the offseason last week when the re-signed playoff sniper
Marian Gaborik
long-term. Otherwise their team is largely intact and ready to contend for years.
The Western Conference hierarchy is not for the faint of heart.
Los Angeles, Chicago, Anaheim and St. Louis are the dominant four teams at the top; Colorado, Dallas and Minnesota are pushing hard; and it's too early to know exactly what to make of San Jose as the Sharks begin rebuilding -- they traded away Stuart on Tuesday and await
Joe Thornton
and
Patrick Marleau
to decide their own futures over the next few months.
Either way, you've got four teams at the top guaranteed to get back into the playoffs next season, three more that seem like good bets, and the Sharks should still be competitive despite their rebuild.
That's seven or eight teams trying to keep those eight playoff spots. It just shows you how daunting the task is for Nashville (which at least got better with
James Neal
last weekend), Phoenix, Vancouver, Edmonton, Winnipeg and Calgary to make their way up next season.
RED WINGS SWING AND MISS
Detroit went aggressively after UFAs such as
Matt Niskanen
and
Dan Boyle
, but it didn't pan out.
[+] Enlarge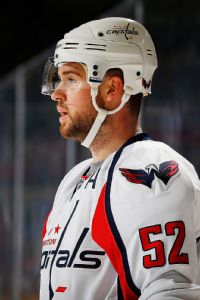 Mike Stobe/NHLI/Getty ImagesIs Mike Green on his way out of Washington after the Capitals picked up two top defensemen in free agency?
In Boyle's case, they offered more money than what he agreed to in New York. And word is they certainly made a strong offer to Niskanen, who opted to take a bit more in Washington.
So now what?
For starters, this isn't a team that needs that much. Just being healthier after the incredible injury losses this past season would be one way to add about three or four wins next season. The team should also benefit from itsr younger players such as
Gustav Nyquist
,
Riley Sheahan
,
Tomas Jurco
,
Tomas Tatar
and
Danny DeKeyser
getting some of their initial NHL experience under their belts. Just those two factors alone make Detroit a better team for next season in a division and conference that are as wide open as ever.
But there remains a glaring hole for sure: a right-handed, puck-moving, power-play defenseman.
That's why either Boyle or Niskanen would have fit the bill.
So I bring you the name of
Mike Green
. The
Washington Capitals
spent some major dough bringing in Niskanen and
Brooks Orpik
on Tuesday. It screams of perhaps needing to trade out a body now.
Could it be Green? It's interesting in talking to team execs around the league on Wednesday that there was a mixed response. Some believed he was available, some didn't.
But if the Caps do try to move him, I would suspect the Wings would at least look at him. He fits the criteria listed above.
Now, he's coming off a couple of less than impressive seasons, especially at a $6.08 million cap hit.
On the other hand, he's heading into the last year of his deal. He's got a modified no-trade clause in which every offseason he lists seven teams he can't get traded to, which leaves 22 open for trade.
Again, we're not 100 percent sure Green is available, but if he is, one would think Detroit would perhaps take a look ...
Tyler Myers
of the
Buffalo Sabres
could be another possibility. His name has been out there for a bit as well as trade bait.
THE OTTER
UFA center
Steve Ott
would be a valuable addition for almost any team, a young team needing leadership or a contender adding more character. He's a solid faceoff guy, penalty killer and gritty player all-around.
Word is about four or five teams are in the mix for the 31-year-old, who finished the season in St. Louis. Ott didn't re-sign with the Blues at first because he wanted more term than St. Louis was offering, but we'll see in the end whether or not he circles back to them or not. Minnesota is another team that we think has some level of interest but may not have the cap room to do it.
HABS, AVS GOOD PARTNERS?
Sometimes you have teams that start to become regular trading partners, usually teams in different conferences. Take Anaheim and Toronto, for example. They've done a number of deals over the past several years.
Do Montreal and Colorado have the potential to become good partners? They made Monday's trade in which Daniel Briere and
P.A. Parenteau
swapped teams. Then a source told ESPN.com that on Tuesday there was talk between both clubs about defenseman
Josh Gorges
. By then the Avs had already zeroed in on blueliner Brad Stuart from San Jose, so they passed, and Montreal sent Gorges to Buffalo.
BOYLE A ROADIE
Well, we knew Dan Boyle was somewhere in Europe on the first day of free agency when he signed his two-year deal with the
New York Rangers
.
Exactly where he was and what he was doing there, well, that's a whole other story.
The veteran blueliner is in England this week, hanging out with his favorite band, Faith No More, who are on tour.
"Yes, I planned this a LONG time ago," Boyle told ESPN.com via text message Wednesday. "My summer workouts have a one-week transition period that allows me to rest and recover [for seven days], so I took advantage and came with them for a couple of shows. Back on Sunday."
Cool, just very cool.
CANADA'S TEAM?
The
Los Angeles Kings
have a predominantly Canadian-based roster, so the front office got to thinking lately, why not include Canadian Prime Minister Stephen Harper in the championship celebration festivities next season and not just the annual White House visit.
So plans are afoot, although far from official at this point, to try to visit with the Canadian PM in Ottawa, Ontario, when the Kings are there in December. Neat.
HAVE A GOOD SUMMER!
And with that, I'm off for the summer, folks. It's been a long but fun season, to be sure, including the trip to Sochi and a tremendous playoff run I mostly spent in California.
There is still lots of terrific content on the site, so continue to make this your favorite page.
But until then, talk in September!
March, 6, 2014
Mar 6
2:48
PM ET
The
St. Louis Blues
,
Montreal Canadiens
and
Minnesota Wild
tallied the most mentions in an unscientific poll of NHL general managers who were asked which clubs impressed them the most with their trade deadline moves.
The Blues were the most cited among responses from 10 GMs on Thursday, their blockbuster acquisition of netminder
Ryan Miller
and gritty forward
Steve Ott
solidifying St. Louis as a Cup contender. Blues GM Doug Armstrong got lots of kudos from his peers in our little survey Thursday.
"[Armstrong] gave up a lot, but he got the goalie he needed," said a Western Conference GM. "He's got conviction. He went for it. I admire him for that."
Added an Eastern Conference GM: "St. Louis for sure got better. Ott is a bit overrated, but [coach Ken Hitchcock] has had him before and will get the best out of him. Miller obviously is the key guy there, a huge upgrade in goal."
The Habs and Wild were tied for the second-most mentions after Montreal nabbed
Thomas Vanek
and Minnesota got busy over a 48-hour period, adding goalie
Ilya Bryzgalov
and scorer
Matt Moulson
.
[+] Enlarge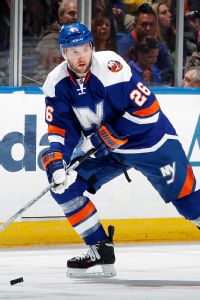 Paul Bereswill/Getty ImagesGetting Thomas Vanek for a bargain price earned praise for Marc Bergevin.
Montreal GM
Marc Bergevin
got high marks from his peers for getting Vanek at a discount rate from the
New York Islanders
, while Minnesota GM Chuck Fletcher got praise for his industrious few days.
"Bergevin did a really good job on Vanek," said a Western Conference GM in a comment that was repeated by many.
The two Florida teams also got a few mentions and for the purpose of this survey would rank tied for third.
Tampa Bay Lightning
GM
Steve Yzerman
had only one team to deal with in meeting the trade demand of his captain,
Martin St. Louis
, but Yzerman still got a decent deal out of it from the
New York Rangers
.
"I thought Steve did an excellent job managing that situation. He got a nice return," said a Western Conference GM.
Said another Western Conference GM via email: "To me, Steve Yzerman did the best job. He was dealt a bad hand. And nobody could have played that hand any better. Plus he did it with class (as always)."
Panthers GM Dale Tallon also got some attention for stunningly getting
Roberto Luongo
out of Vancouver. "Dale Tallon had the best deadline of all," said one Eastern Conference GM.
The Penguins were mentioned by one Western Conference GM, with Pittsburgh adding forward
Marcel Goc
and
Lee Stempniak
. "Pitt was strong with quality, under-the-radar players," a GM said via email.
Buffalo Sabres
rookie GM Tim Murray has been busy over the past week, beginning a rebuild and getting a vote from one Western Conference GM for his efforts.
"Tim Murray certainly added a lot of long-term assets," said the GM.
The
Anaheim Ducks
struck out on Canucks center
Ryan Kesler
but did add veteran blueliner
Stephane Robidas
. Ducks GM Bob Murray got a vote from a fellow Western Conference GM.
"[Murray] always sees the big picture. He is two steps ahead of what is in front of him," said the GM. "No one has come close to doing the job he has done the last five years. He inherited a very difficult situation and executed flawlessly."
Other post-deadline notes and thoughts:
• Interesting to find out from a source Wednesday night that Toronto was among the teams that inquired about Vanek. Imagine the Leafs' reaction when rival Montreal got him, especially given the modest price the Canadiens paid.
• Needless to say, the Canadiens were never going to get Vanek if the Islanders' asking price continued to include a first-round pick, which it did for quite some time. Once the first-round pick was eliminated from the equation, the Habs jumped in with both feet.
• Vanek is on record saying he's going to the free-agent market on July 1, and at this point there's no reason to think that won't happen. Still, in the back of my mind I wonder whether this is a repeat of the Alexei Kovalev situation, with a presumed rental player ending up staying around because he falls in love with the electric market that is Montreal. Food for thought ...
• The Penguins made an effort on Kesler and also had a line in the water on
Ales Hemsky
, the
Edmonton Oilers
forward who went to Ottawa instead. I thought Hemsky would have been a nice fit in Pittsburgh, but Goc and Stempniak are solid additions. Goc is versatile and provides depth at center while Stempniak could surprise some people after being given a fresh start, like
Jussi Jokinen
has done since joining the Pens at last year's trade deadline.
And this, from our friends at Bovada:
February, 28, 2014
Feb 28
9:43
PM ET
Scott Burnside and Craig Custance break down what the Ryan Miller trade means for St. Louis and Buffalo.
BURNSIDE:
Craig, well, that didn't take long. Just nicely back in the NHL groove after the Olympic break and
St. Louis Blues
GM Doug Armstrong pulls off what can rightfully be called a blockbuster deal, acquiring
Ryan Miller
and
Steve Ott
from Buffalo for a first-round pick in 2015, a third-round pick in 2016, prospect William Carrier, underachieving power forward
Chris Stewart
and suddenly superfluous netminder
Jaroslav Halak
. Wow!
I think a lot of us figured there was a match to be made between the Sabres and Blues for Miller. As well as the Blues had played defensively this season -- they are third in goals allowed per game -- there was a distinct feeling that the tandem of Halak and
Brian Elliott
simply wasn't capable of getting the Blues over the hump in the Western Conference. History suggested that was true and obviously Armstrong felt the same way as he went after a goaltender with a top pedigree in Miller. So, does the former Vezina Trophy winner tip the scales in your eyes? Are the Blues now as good as the rest -- or better -- in the tough, tough West?
CUSTANCE:
For my money, the Blues already stacked up as one of the best teams in the West. They're deep up and down the lineup. In listening to Armstrong explain the trade Friday night, I think you can give one player in particular credit for inspiring this move:
Jonathan Quick
. The Blues ran into Quick and the Kings the past two seasons in the playoffs and he was a huge reason the Blues were sent home early.
"I saw that again in the Olympics for Team USA," Armstrong said during his Friday evening conference call.
Now, in Miller, he has a goalie who can go toe-to-toe with Quick -- if that's the matchup at some point -- in the playoffs. The way those two teams are built, it almost seems inevitable.
Love the aggressiveness, but boy, that's a lot to give up for two players who can hit free agency in a few months, no?
BURNSIDE:
Agreed that the Blues gave up a lot, although part of what they gave up was salary, which is no small thing for a team on a budget like the Blues. And it will be interesting to see how other teams in the West, like, say, Los Angeles, Chicago and Minnesota, react to the Blues' move. I know GMs don't like to acknowledge making moves because their neighbor does, but I think it's the reality especially with Chicago and the Blues seemingly on a collision course for a second-round matchup (I know, a ton of hockey to be played before then, just saying, it's going to happen).
But let's talk about the Sabres for a minute. Is it possible new GM Tim Murray may make a hundred trades before 3 p.m. Wednesday? For instance, is it beyond the realm of possibility that both Stewart, who has one more year left on his deal at a $4.15 million cap hit, and Halak, who will be an unrestricted free agent in July, could be dealt again before the deadline? And let's just think of this: What if Halak ended up going back to the Western Conference to, say, Minnesota or even Chicago as a backup to
Corey Crawford
? I think it's more than a little possible. Murray also has other assets he might end up dealing, including
Matt Moulson
and defenseman
Christian Ehrhoff
.
CUSTANCE:
I could also see a guy like defenseman
Henrik Tallinder
being an attractive addition for a contending team looking to add depth like the
Boston Bruins
. When I spoke with Murray on Thursday, he said there were four or five guys beyond Miller, Ott and Moulson drawing interest from NHL teams. I wondered if former GM Darcy Regier raised the expectations in Buffalo too high with the return he got for
Jason Pominville
and
Thomas Vanek
, but that's clearly not a concern any longer. Murray did just as well in this deal and could potentially have three first-round picks in a stacked 2015 draft. Other teams around the league should take note of the Sabres' strategy. The Sabres wisely started the rebuild while their best players still could get a premium return rather than wait too long like the
Calgary Flames
. Teams considering big changes, like the
Vancouver Canucks
, might want to follow suit. So what does this leave us to look forward to with
Dan Girardi
signing an extension in New York and Ryan Miller already traded?
BURNSIDE:
Oh, I think there will be a few more surprises before Wednesday.
OK, before we close, let's go back to the Blues. You referenced a couple of hard-fought but ultimately disappointing playoff losses to the Kings the past two years. They got swept in 2012 and then blew a 2-0 series lead against the Kings by losing four straight in the first round last spring. Yes, the goaltending wasn't great in either of those series and it certainly didn't match up to Quick's performance. Do you think Miller gives them at least a saw-off in that department if the two teams do end up meeting? Part of the Blues' problems the past two playoff years has been a lack of offensive production. I love the addition of Steve Ott. Hey, he's got Windsor connections so what's not to love. But do you think this Blues team is capable of keeping up offensively with, say, the Blackhawks or the Ducks? I love these additions for the Blues, but boy the West is a hard, hard place for anyone wanting to get to the top.
CUSTANCE:
It certainly levels the playing field for the Blues in having Miller in goal. But even so -- if they face the Kings, it's against a goalie in Quick who has owned them. If they face the Blackhawks or Sharks, it's against starting goalies who have both won Stanley Cups. The Ducks? All they have is a goalie in
Jonas Hiller
who currently owns a career save percentage of .935. This trade certainly removes the one question everybody had about the Blues and puts them on a level with the West's elite. Now we wait to see what the rest of the West does to counter.
February, 4, 2014
Feb 4
6:42
PM ET
The
New York Islanders
have fielded a number of calls on
Thomas Vanek
in the past day or so and it's possible the star winger could be dealt by Friday's Olympic roster freeze.
Far from certain, but possible, a source close to the situation told ESPN.com Tuesday.
Once news got out Monday via Arthur Staple of Newsday that Vanek had rejected a contract offer from the Islanders -- and Vanek's agent, Stephen Bartlett, confirmed to ESPN.com that his client was very likely going to the July 1 UFA market -- Isles GM
Garth Snow
's phone began to light up.
The early word around the league is that the cost to snag Vanek would be a three-asset haul, whether those assets are first-round picks or prospects or a player. It could be any combination. And if one of the assets is high-end enough, perhaps a two-asset package could do it.
Reached by ESPN.com Tuesday, all Snow would say is that he valued Vanek's presence on Long Island.
"I hope Thomas Vanek retires an Islander," Snow said. "I still hope to re-sign him."
Bartlett indicated the Islanders no doubt would be among the options his client would look at come July 1. But in the meantime, Snow has to protect himself, which is why he's fielding trade calls.
Among the teams keeping tabs on the Vanek situation are the
Los Angeles Kings
, although a source Tuesday suggested he might not be their top target. My guess is that would be
Matt Moulson
, although as reported before,
Sam Gagner
and
Mike Cammalleri
are also options for L.A.
Still, Vanek is on L.A.'s shopping list to some degree, no question.
But whether the interest comes from L.A. or any other contender, the salary cap is an issue for all those teams and Vanek's $5.75 million cap number is large. Which is why his trade could wait until closer to March 5, even if, in a perfect world, the Islanders would like to ship him off by Friday's Olympic freeze.
Seguin's brush with the Sabres
Speaking of Vanek, there's an
interesting story
in Tuesday's Buffalo News from John Vogl reporting that the Sabres and Bruins had talks last June about a Vanek-
Tyler Seguin
package.
A source close to those talks told ESPN.com Tuesday that a trade between Buffalo and Boston never really came that close but, yes, there had been discussions.
It's always fun to look back at the deals that didn't materialize, those can be just as interesting as the ones that actually happen.
While Seguin -- who was dealt to Dallas with Rich Peverly and Ryan Button for Loui Erkisson, Joe Morrow,
Matt Fraser
and
Reilly Smith
-- would have been a stellar acquisition in Buffalo, don't discount the haul from Vanek that might yet end up benefiting the Sabres. They got Matt Moulson and a first-round pick in the fall, and when Moulson is dealt he'll yield another package of assets. It certainly could all work out nicely, thank you, on the overall Vanek yield for Buffalo.
Steve Ott generating trade buzz
There has been so much focus on Matt Moulson that you forget the
Buffalo Sabres
have a long list of pending UFAs, and another forward generating lots of interest is Steve Ott.
"Perhaps more than Moulson," said one NHL team executive on Tuesday.
Ott is the kind of grinding center that playoff-bound teams would love to add and it sounds like he's going to be moved before March 5.
Koivu, Stamkos updates
The
Steven Stamkos
decision is going down to the wire, to use his own words, in terms of going to Sochi.
But another situation that's just as intriguing but is getting less fanfare is that of
Mikko Koivu
.
It's been four weeks since his ankle surgery and it doesn't appear as though he'll get a game in before the break this week. Will he get medical clearance to go to Sochi?
Talk about a devastating blow to Finland if the Finns don't get their top forward for the Olympics. As it is, it's a team that doesn't have much offensive punch. Losing Koivu would be brutal. You know he's going to do everything he can to be there, but at the end of the day, the word of the team doctors, one assumes, will rule the day.
Speaking of Stamkos, he's due to have important medical tests done in Tampa on Wednesday, which if all goes well, will give him the green light to play Saturday night. Then, he needs to see how he feels after that game before conferring with
Steve Yzerman
and Lightning doctors on whether he's a go for Sochi. First things first, though, those medical tests Wednesday will be very important.
Legwand on the block?
David Legwand
's name is making the rounds more and more in the trade rumor mill, with two team execs mentioning his name to me Tuesday.
The pending UFA center has a full no-trade clause, so he controls his fate to some degree.
But he's also one of the very few centers on the trade market, which might net Nashville a decent return. On the other hand, the Predators are still very much in the playoff race. Sounds like this one goes down to the wire closer to March 5.
Canucks' future adrift
On Dec. 29, the
Vancouver Canucks
won 2-0 in Calgary to improve to 23-11-7 on the season. They've since gone 4-10-2 heading into Tuesday night's big game at Boston.
Ouch, indeed.
Some of it is injury-related to be sure, but the decline in play and performance has made Canucks management reflect on where this team needs to go moving forward.
So I suspect any moves you see the Canucks make from here on in will have a bigger-picture feel, the organization realizing it is no longer among the elite clubs in the league after knocking at the door for a half decade, understanding that it needs to inject more youth into its lineup to remain on the right track.
So, forget any trades for a rental player to help get a few more wins this season. While the Canucks still hope to get healthy and win a round or two this season, management's focus between now and the March 5 trade deadline, but probably especially in the offseason, will be to move some veteran bodies out the door and get a bit younger. It's the smart thing to do.
The Sedin twins aren't going anywhere, but I would surmise that other than them over the next year, almost any other veteran player could be moved if it's a deal that makes sense for the Canucks.
January, 21, 2013
1/21/13
3:08
PM ET
TORONTO -- The
Buffalo Sabres
needed just one game of this new, shortened season to send a message to the rest of the league.
They intend on not getting pushed around anymore.
And the guy sending the message wasn't who you'd expect. Which is exactly the point.
When
Scott Hartnell
of the
Philadelphia Flyers
hammered Sabres center
Tyler Ennis
from behind Sunday,
Drew Stafford
went after the rugged winger, and while he took the worst of it, that moment can do wonders for a team whose toughness has been questioned in recent years.
"A guy like Drew Stafford stepped up and fought a tough guy like Hartsy," new Sabres forward
Steve Ott
told ESPN.com before Monday night's game in Toronto. "It not's his usual thing to do that but Drew showed that we're in this together, we're going to stick up for each other. He's got an 'A' on his chest and I was personally really proud and really excited for Drew."
I'm not a big proponent of fighting, but as long as it still exists in this game, you can't ignore its influence. For skilled players to feel comfortable, they have to feel like someone has their back.
The additions of Ott and tough guy
John Scott
in the offseason signaled that the Sabres understood the need to beef up.
The Sabres appeared rattled last season in the wake of the
Milan Lucic
-
Ryan Miller
incident in which, the Sabres essentially never pushed back after the
Boston Bruins
winger ran over Buffalo's franchise goalie.
"Last year that whole Lucic thing sent this team for a tailspin, big-time," former Sabres tough guy and now TV color analyst
Rob Ray
said Monday. "I think just adding those guys was important."
Ott, Scott,
Patrick Kaleta
and
Marcus Foligno
are willing fisticuff participants, but the point of this season for the Sabres is to prove that there exists team toughness throughout; that nobody will get intimidated.
"It doesn't matter who it is but we have to stick up for each other," Stafford said after the morning skate at Air Canada Centre. "It's part of the game. If guys are going to run around, we just need to respond. In years past, obviously we were criticized for not responding. It's something we wanted to take care right away this season. And it's something we're going to continue to do."
Stafford's rare fight fueled his team, with the Sabres scoring three unanswered goals in the third period Sunday for a 5-2 win over the Flyers.
"I think those plays all really add to team toughness," agreed head coach Lindy Ruff. "We've had some good moments, also some tough moments as a team, but that was a real good moment. It was a shot from behind against his linemate and it was great to see him step in."
It all starts with Ott, who scored on a beauty of a shot Sunday, and his willingness to hit anybody that breathes has an effect on the rest of his teammates. That's why they traded for him.
"He definitely adds energy, physicality, intensity, he's been in the league a while so he adds that veteran presence," said Stafford. "We also added John Scott and that's something we wanted to address in the summertime. We want to play harder to play against this. And we wanted to establish that right away."
Ott fully understands why he was brought in.
"For me personally, I want to bring sandpaper and compete to our team," he said. "You try to drag other guys into battle. By going out there and playing hard, you hope that other guys follow. It works like a chain reaction."
It won't take fans long in Toronto, Boston, Montreal and Ottawa to find out Ott is now a Sabre. He will aggravate the entire Northeast Division and make opposing star players aware of his presence as well.
"For my myself, there's nothing better than competing against the top-end guys," said Ott. "Some people may say it's unfair to run the top-end guys, but you know what? It's the NHL and nothing is fair and nothing is easy. You have to make it hard on them. If you don't play them tight and hard, they'll make you look silly in a hurry."
Oh, and he knows all about last season's Bruins-Sabres history and has already looked to the schedule for his team's first game in Boston.
"I saw it was Jan. 31," Ott said with a smile. "It's great. The rivalries in this division are so much fun. I live for these type of games."
December, 5, 2012
12/05/12
12:07
PM ET
One of the interesting phenomena to grow out of the ongoing NHL lockout has been what might be dubbed the "flash camp."
With relatively short notice, groups of NHL players have descended on a variety of locations like Dallas and Phoenix this fall to hold impromptu camps featuring some of the top names in the game.
Unlike places like Minnesota where there is a large group of NHLers who make the so-called State of Hockey home or are Wild players to provide a ready-made group for ongoing workouts and scrimmages, these flash camps involve significant travel for many of the participants.
In Phoenix, for instance, players like
Sidney Crosby
,
Ryan Miller
,
Ryan Whitney
and others joined a regular group of
Phoenix Coyotes
players for workouts and scrimmages last week, much to the delight of hockey-starved Arizona fans.
"It's basically an NHL training camp," explained
Buffalo Sabres
forward
Steve Ott
, who attended gatherings in Dallas and Phoenix.
The camps include trainers, coaches and officials to give the proceedings a professional feel.
"It's what we're trying to accomplish. These camps have been phenomenal," Ott said as the Phoenix camp was preparing to break late last week.
In Dallas, Crosby and Edmonton captain
Shawn Horcoff
divided up the squads in an informal draft so that goaltenders, defensemen and forwards were equitably distributed, Ott said. In Phoenix, given the large group of Phoenix-based players already working out, the newcomers more or less formed their own team for scrimmage purposes.
The camps, along with a variety of charity games, have given those NHL players who have not yet or have no plans to pursue work in Europe a chance to keep their skills sharp and to bond with players going through the shared experience of being without the game that is their livelihood.
"We're ready to go. That's the tough part," Ott said.
It can make for some interesting times if you're a player like Ott, whose stock in trade is to agitate and annoy opposing players while mixing in a healthy dose of skill.
He acknowledged there might have been an awkward moment in the locker room when a memory of a play or a comment bubbled to the surface.
But those moments pass quickly, he said.
"Guys might be a little hesitant. I'm used to battling against a lot of these guys," Ott conceded.
"But once you're in the dressing room with a guy it doesn't take very long to find out what kind of person he is. Pretty soon you're laughing about something I've done or they've done to me."
Although there has been talk of returning to Phoenix in a week's time pending negotiations, Ott has his plate full organizing a charity event in his hometown of Winsor, Ontario, with Detroit Red Wing
Danny Cleary
and Horcoff.
"We're all sitting here waiting to play. So hopefully we can do some good for a great charity," Ott said.
The game is set for Saturday night at the home of the Ontario Hockey League's Windsor Spitfires, where Ott played before Dallas made him the 25th overall pick in 2000.
Close to 40 players are expected to take part in the game that will raise money to help fight children's cancer as well as other local charities. The NHLPA will also be donating 25 sets of equipment to needy kids in the area as part of their successful Goals and Dreams foundation.
Traded in the offseason to Buffalo, Ott worked out for a short time with his new Sabres teammates in Buffalo. So he was grateful for the response from all those contacted about playing in the charity game, especially his new teammates, including
Jordan Leopold
,
Drew Stafford
,
Thomas Vanek
and
Matt Ellis
.
"Every single guy that I called pretty much committed," Ott said.
Like most NHLers, Ott feels the twin pulls of wanting a deal that works for the players, not just now but down the road, and the desire to get back to work as quickly as possible.
For Ott that desire to play is ramped up given that he has a new team for whom he wants to make an impression and prove that their acquisition of him for popular center
Derek Roy
was the right move.
"I'm excited. I'm ready to chomp on the bit," Ott said.
August, 2, 2012
8/02/12
9:28
AM ET
July, 2, 2012
7/02/12
8:48
PM ET
Maybe the surprising swap of skilled center
Derek Roy
for agitating forward
Steve Ott
and defenseman
Adam Pardy
is one of those "this should work out for both teams" kind of deals.
But the deal involves such disparate styles of player and personality that one has the feeling that this might turn out to be a win-or-lose proposition for one of these squads.
From the Stars' perspective, the deal makes sense on a very elementary level: They traded away a top-six center in
Mike Ribeiro
at the draft and needed to fill that hole. Bingo. Roy is a top-six center whom GM
Joe Nieuwendyk
can claim as his own as he continues to put his stamp on the Stars' franchise.
The
Buffalo Sabres
? Well that's a little trickier.
A team that went crazy a year ago during free agency still seems like a team very much in search of itself.
Maybe Ott, who has two years left on his contract at $2.95 million annually, will help establish some sort of identity with a Sabres squad that under new owner Terry Pegula paid big bucks a year ago to bring in
Ville Leino
,
Christian Ehrhoff
and
Robyn Regehr
to go with a solid core of players, including former Vezina Trophy winner
Ryan Miller
, then missed the playoffs entirely.
Ott was a gritty presence for the Stars, playing center and wing and ranking among the league leaders in hits and epithets hurled by opposing players and coaches.
The 29-year-old will be expected to provide some offense as well as a strong two-way game for a team that has been searching for a sense of purpose, an identity, since losing co-captains
Chris Drury
and Daniel Briere after the 2007 season.
After advancing to two straight Eastern Conference finals coming out of the lockout, the Sabres have missed the playoffs three times and been bounced in the first round two other times.
Last season was a harsh reminder that money buys players, not wins, and Ott is clearly expected to help change the culture in the Sabres' dressing room while mixing it up on the ice.
In talking about the trade to reporters in Buffalo, GM Darcy Regier talked about needing to alter the balance of skill and physicality among his forward contingent. He believes he has created a better balance with the addition of Ott.
But the Sabres paid a steep price to bring in Ott, who had 22 goals in 2009-10 but saw those totals dip to 12 and 11 the past two seasons.
In Roy they gave up a proven center who four times has hit the 20-goal plateau and once topped 30. He slumped last season to 17 and a season earlier was slowed by injury and had just 10 goals in 35 games. But Roy was so highly regarded in the Canadian hockey community that he was invited to the Canadian Olympic orientation camp in the fall of 2009 prior to the Vancouver Olympic Games.
True Roy did manage to score just two goals in his last 19 games last season, but he seems like a good fit for a Dallas team that was looking to fill the void created down the middle when Ribeiro was dealt to Washington at the draft.
Roy, who has one year left on his contract that will pay him $4 million, will be a nice fit especially after the Stars signed veteran winger
Ray Whitney
to a two-year deal on Sunday.
"We've changed the look of our hockey club. We have two center men we're confident in in
Jamie Benn
and Derek Roy," Nieuwendyk said Monday afternoon.
It's believed the two teams had discussed a deal last season and certainly the Stars had contemplated moving both Ott and Ribeiro at the trade deadline last season.
Now both have been moved in a matter of weeks.
June, 21, 2012
6/21/12
4:42
PM ET
PITTSBURGH --
Bobby Ryan
's name has resurfaced in trade talks, and one team that has some interest is the
Philadelphia Flyers
. This is nothing new. They've liked the player for a long time.
The
Anaheim Ducks
aren't shopping Ryan as much as teams are calling on him, circling back to them after he was on the market for a while last November.
Ryan could be a good Plan B for the Flyers if they don't get anywhere on
Rick Nash
.
Any deal with the Flyers from the Ducks' perspective would have to center around
Brayden Schenn
, a source told ESPN.com Thursday, as Anaheim is desperate to find an upgrade at the No. 2 center position. My sense is that the Flyers have very little interest in moving Schenn. They view him as way too valuable to do that. Winger
James van Riemsdyk
is the player more likely to move out of Philadelphia if the Flyers make any splash over the next few weeks.
Whatever ends up developing with Ryan, and the Ducks don't feel they have to necessarily move him, it certainly has ties to the Nash situation.
Whichever teams have interest in Nash can't ignore the cheaper version available in Ryan.
Nash's agent, Joe Resnick, met Thursday afternoon here in Pittsburgh with Blue Jackets GM Scott Howson. It's no secret Nash would love for this to be over as soon as possible.
The debate for the Jackets is whether they take the best possible offer this week or wait until the first week of July and capitalize on the teams that struck out on UFA
Zach Parise
.
What will Oilers do with No. 1 pick?
No matter what the Oilers say, I think they'd love to move down from the No. 1 spot in the draft and get something tangible in return while still picking a defenseman they covet.
The Oilers, I believe, love blueliner Ryan Murray, as well as defenseman Griffin Reinhart. Either would satisfy their top need: defense.
But if they're still picking first overall come Friday night, can they really afford not to take forward Nail Yakupov, considered by most the most dynamic player in the draft?
"They're in a pickle, if they move down to get their defenseman, they have to make sure they get him, there's still a risk there," said one NHL team executive. "I think they'd really have to get something good in return for moving down to make it worthwhile."
Kane not in play
The speculation that won't go away surrounding
Patrick Kane
being in play is simply not true, as far I'm told.
The
Chicago Blackhawks
' front office has not brought up that possibility even once, a source told ESPN.com, despite rumors to the contrary ever since Kane's well-publicized trip to Wisconsin. And they've not once brought up his name with other teams.
"He's not available," a rival GM told ESPN.com Thursday.
Speaking of the Blackhawks, you can forget rumors also linking
Roberto Luongo
to the Windy City. The Blackhawks can't take on that monster contract. They're not a player in those talks.
But one player the Blackhawks are willing to move, according to rival team executives, is defenseman
Niklas Hjalmarsson
. The 25-year-old Swede has two more years on his deal at $3.5 million per.
Ott, Ribeiro getting attention
The
Dallas Stars
are getting calls from other teams on two players who garnered attention before the trade deadline:
Steve Ott
and
Mike Ribeiro
.
Ott especially got traction before the deadline, but the Stars ultimately decided to hold on to him as they were sitting in a playoff spot at the time. The rugged winger, who can pot some goals, has two more years left on his deal paying him $3.2 million a year in salary but with a $2.95 million cap hit.
He'd be a good addition for a team looking to bulk up in a second-line role.
Ribeiro, deeply talented but somewhat inconsistent, has one year left on his deal paying him $5 million.
If the Stars move one or both of these two players, it's with the big picture in mind, which is to get their core a bit younger and build the team around
Jamie Benn
and
Loui Eriksson
.
Futures of Alfredsson and Selanne cloudy
The Senators hope to know soon one way or the other about the future of captain
Daniel Alfredsson
.
"I'm hoping to talk with him in a couple of days," Sens GM Bryan Murray told ESPN.com Thursday. "We'll see where he's at when we talk. Hopefully by Saturday or Sunday, we'll have had a chance to talk."
The Anaheim Ducks, meanwhile, expect to hear back from
Teemu Selanne
regarding his future around July 1.
Jagr update
Jaromir Jagr
's future remains unanswered. The Flyers winger will be UFA July 1, and while his agent has kept close contact with Flyers GM Paul Holmgren, it's not clear at this point whether he'll stay put or fly the coup.
"I talked to Paul a couple of days, and we had a great conversation," Jagr's agent Petr Svoboda told ESPN.com Thursday. "We'll wait to see where the salary cap goes and then we'll talk again. We're planning on talking again early next week."
Jagr earned $3.3 million this past season and was productive for a 40-year-old.
"It's not about money, it's about the situation," Svoboda said. "He really enjoyed Philly. Nothing has changed. Both sides like each other a lot. We'll see where it goes. We'll see what happens between now and July 1. We're not in any rush."
Blues' wish list
The
St. Louis Blues
have stabilized their ownership situation, but it doesn't mean they're going to spend like crazy like the
Buffalo Sabres
did a year ago when they got new ownership.
So forget any of those Rick Nash trade rumors. The Blues aren't in on that.
Instead, the Blues are focused on trying to acquire a left-handed, second-pair defenseman and hope to do so before the weekend is out here in Pittsburgh.
Jason Garrison
of the
Florida Panthers
and
Matt Carle
of the Flyers -- both slated to be UFAs July 1 -- come to mind.
Jets talks with Pavelec
The Jets met Thursday morning here in Pittsburgh with agent Allan Walsh to try and find common ground in contract talks regarding starting goalie
Ondrej Pavelec
.
An RFA July 1, the 24-year-old Pavelec remains unsigned, and he's threatening to play in the KHL, where a source confirms he has an offer worth north of $5 million a year (tax-free) to play in St. Petersburg.
The Jets' offers so far have obviously been much lower than that.
The two sides will try to iron things out this weekend in Pittsburgh.
"We're going back and forth, and we're hoping it's going to get done," Jets GM Kevin Chevelldayoff said Thursday.
The Jets GM also met with
Evander Kane
's camp from Newport Sports on Wednesday. Kane is also RFA July 1.
February, 27, 2012
2/27/12
7:17
PM ET
In the end, the trades that weren't pulled off had sexier overtones than the ones that were actually registered Monday.
And unless there are dramatic changes in the next collective bargaining agreement, we're going to have to get used to that.
The current system has produced bigger-than-ever parity, which has clogged the standings and minimized the true sellers. And because teams cannot retain salary in trades in this CBA, eating up part of a player contract like in other sports, it makes it that much more difficult to move big salaries.
It certainly wasn't for a lack of trying Monday.
The
San Jose Sharks
like their team, especially with
Douglas Murray
and
Martin Havlat
coming back before the playoffs, plus Monday's solid acquisitions of forwards
Daniel Winnik
and T.J. Galiardi, but, oh, there could have been a bigger move.
Sources tell ESPN.com there was renewed dialogue between the Sharks and
Columbus Blue Jackets
regarding our favorite headline-grabbing, non-traded player,
Rick Nash
. And why not? Nash has listed San Jose as go-to team for him, based on the desire to play with his buddy
Joe Thornton
.
But the talks hit the same roadblock they did over the past weeks:
Logan Couture
. The Jackets demanded him in any deal right to the end. The Sharks were never, ever, going to pay that price.
Another player the Sharks inquired about was winger
James van Riemsdyk
in Philadelphia. Like the Jackets, the Flyers wanted a lot for JVR, and the two sides could not find a fit.
Still, it's why Doug Wilson is one of my favorite GMs in the NHL. He ain't scared of the big deal. But it doesn't mean he's going to do something stupid. The price has to be right.
Rick Nash was the most talented player on the market, but wasn't the most sought-after player. That would be
Steve Ott
, who, when the clock struck 3 p.m. ET, was still where it all began for him in his NHL career. The
Dallas Stars
, a source told ESPN.com, fielded calls from "12 to 14 teams" over the past few weeks, including several on Monday. The
Vancouver Canucks
were hot and heavy for the agitator, but offering
Mason Raymond
wasn't good enough for Dallas. And I don't think
Cody Hodgson
was ever offered to the Stars, even though he ended up in the biggest trade of the day between the Canucks and Sabres.
For the Stars, despite the massive interest in Ott, all along it needed to be a home run deal. They needed to help themselves this season and beyond in any deal. Sitting in a playoff spot in the Western Conference, the Stars were not going to sell off Ott for picks or prospects. They wanted a hockey deal that made them a better team. They wanted a young top-six forward in return who would have upgraded their skill. It didn't materialize.
They also held on to veteran blueliner
Sheldon Souray
, slated to be a UFA July 1. There was much debate about whether or not to move him, but the Stars balanced the fact they were possibly playoff-bound with the knowledge that Souray was a tremendously popular player in the room.
The
Toronto Maple Leafs
also stayed clear of any major NHL trade, although I like the acquisition of prospect Carter Ashton from Tampa.
In the end, the Leafs didn't get the top-six forward (they were never that close on Nash) or goalie upgrade (no, thanks, was the answer to the offer to Edmonton for
Nikolai Khabibulin
) they had hoped for, refusing to overpay in young assets they had worked so hard to stockpile over the past few years. They also refused to sell off assets from their NHL roster, despite attractive offers. Notably, a Leafs source told ESPN.com that they were offered first-round draft picks for each of
Luke Schenn
,
Nikolai Kulemin
, Clarke MacArthur and Mikhail Grabovski. GM Brian Burke said no, not wanting to send a message to his dressing room that the Leafs were giving up at all on their struggling playoff chase. I give Burke a ton of credit. The easy thing here would have been to make a panic move that would destroy your long-term chances. Yes, Leafs fans would love to make the playoffs for the first time in eight years, but Burke has a high standard he's trying to get to: building a contender.
Similarly, kudos to
Washington Capitals
GM George McPhee. I know what you're saying, why exactly? Because he took a knee. That's why. This just isn't their year. One big trade isn't going to put the Caps over the top and make them contenders. One big trade isn't going to clear star center
Nicklas Backstrom
of his concussion symptoms. McPhee did the hardest thing of all, resist the short-term fix. That takes guts.
Sure, McPhee took calls on veteran blueliner
Roman Hamrlik
, but couldn't find the right fit. He wanted a young forward in return. The teams that were interested in Hamrlik couldn't afford him that. He wasn't interested in just getting futures for Hamrlik because he didn't want to just get rid of a salary. He was trying to make a hockey deal, player for player. He toed the line of a team that hasn't given up on the season because the playoffs are a possibility, and that of a team that wasn't a move or two away from winning the Cup.
In other words, McPhee made the right call to stay quiet.
The
Detroit Red Wings
are a big-time Cup contender. Again. They added defenseman
Kyle Quincey
last week in what was a solid addition, but weren't able to fill their other need, bottom-six forward size and grit. They tried on
Paul Gaustad
but didn't have what it took to make the deal: a first-round pick, which they dealt for Quincey. They checked on
Samuel Pahlsson
but didn't have the pair of fourth-round picks the Jackets wanted. Such is life. I'm not too concerned for the Wings, they're still a big-time powerhouse and now have all kinds of cap room ($20 million-plus) for the offseason.
Did I really just write 1,000 words on trades that didn't happen? Heck, it was more interesting than the alternative.
February, 21, 2012
2/21/12
3:02
PM ET
MONTREAL --
Vernon Fiddler
caught the attention of the assembled media in the visitors' dressing room Tuesday.
"Hey, did you hear about the trade?" the
Dallas Stars
center jested.
A dozen heads immediately turned his way. And then he smirked, satisfied his little prank had gotten the necessary mileage.
Ah yes, less than a week removed from the NHL's trade deadline, everyone is on edge.
None more so in the Stars' dressing room than
Steve Ott
and
Mike Ribeiro
, both of whom have heard their names in the rumor mill. And indeed, sources confirmed to ESPN.com that the Stars have gotten calls on both and would consider moving them for the right deal.
"It obviously makes you a little nervous," Ott told ESPN.com after the morning skate. "I've been with the Stars since I was drafted. When your name gets mentioned in the rumors, it gets to you a little and you think about it. But truthfully, I do take it as a huge compliment. Obviously if there's playoff contending teams that think I'm a puzzle piece, I take that as a compliment. But I want to stay here. I want to be part of the solution. But I can only control what I can control."
Ribeiro, who has another year on his contract next season at $5 million, is taking the rumors in stride.
"If I'm traded, I'm traded, not much I can do about it," Ribeiro said Tuesday. "Obviously I'd like to be here with the Stars. I want to re-sign here and stay with Dallas for the rest of my career. But you can't control that. There's a few more days and we'll see after the 27th if I'm still here."
Ribeiro's limited no-trade clause allows him to select 10 teams he doesn't want to get traded to, leaving 19 teams for the Stars to deal him to if they chose to do so. Ribeiro, and we're not sure if he was joking or not, said he'd welcome a trade back to Montreal if the Stars were to move him, although I don't think the Habs are interested.
With tremendous offensive ability, Ribeiro could be an intriguing option for a team looking for top-six offensive impact. But the other year on his deal will scare off some teams that would rather trade for a rental.
Ott, meanwhile, has two years left on his deal after this season which carries at $2.95 million cap hit but pays him $3.2 million in salary. The agitator concedes he likes to follow some of the trade rumor coverage that's out there.
"Yeah I do," Ott smiled. "I love the media stuff and I find it interesting what people have to say. You also have all your friends and family that are texting you asking you about some of these rumors. It's nerve-wracking in the sense that Dallas is my base. I've been there so long that I can't really fathom anything else."
The Stars will be an interesting team to watch over the next week. While they could easily be a playoff team this season, I get the sense from talking to sources around the league that GM
Joe Nieuwendyk
has his eye on the big picture and wants to help improve his team with the long view in mind. He could make a move or two over the next week that surprises people.
February, 4, 2011
2/04/11
11:01
AM ET
A day after goalie fights took center stage, Scott Burnside and Pierre LeBrun break down Thursday's fight night in the NHL:
Burnside: Well, Thursday night was Bad Blood Night in the NHL. Three fights in the first four seconds of the Boston/Dallas game was the result of lingering bad blood between a number of players from both teams, including Steve Ott and Gregory Campbell, son of the NHL's lord of discipline. That means Colin Campbell won't be ruling on the devastating hit to the head Boston's Daniel Paille put on Raymond Sawada that sparked even more ugliness in a game won by the Bruins. Then there was Jay Rosehill, interim Toronto tough guy, taking on Carolina's Tim Gleason after Gleason's mildly controversial punchout of Nikolai Kulemin before the All-Star break. Perhaps even more surprising: the Leafs' second win since the break, prompting whispers of a run to the playoffs!
LeBrun: Scotty, the 1970s called and wanted back the first four seconds of that Stars-Bruins tilt. I used that line on Twitter last night; I love it so much, I had to use it again. Hockey players have the memories of elephants. Campbell was nailed by an Ott blindside hit in March 2009 when he was still playing for Florida. When the Panthers and Stars hooked up last season, Ott was already suspended for a separate incident and missed the game. Rain check, Campbell thought. And then, last night, they went at it, with Campbell even leaving his natural center position to line up on the wing beside Ott to drop the gloves. Love it.
Campbell got the worst of it, but good on him for doing the manly thing and defending his honor. Some things aren't lost in this game, after all. But really, Toronto's win aside, the real news of the night belonged to Paille, whose blindside hit cost him a match penalty under the new head shot rule. Paille is not a dirty player, but that was a dirty play. And yes, the NHL's Mike Murphy handled the Paille hearing Friday morning and the Bruins forward was suspended four games for that hit.
Burnside: Yes, Pierre, the Paille hit seemed to be a classic Rule 48 hit, and I thought it would be in the 6-10 game range. Of course, the league's handling of supplemental discipline often leaves me shocked, flabbergasted, aghast and weary.
Beyond the hits and fights, the Boston/Dallas game also revealed a Stars team that seems to be on the verge of freefall. Dallas is 1-4-0 in its past five games and has given up 24 goals in those four losses. Dallas still leads San Jose by five points, but the Sharks are coming.
As for the Bruins, they just keep winning, although there is more than a little irony at play here given that their top center, Marc Savard, has never been right since being blindsided by Matt Cooke almost a year ago. A few weeks back, he was taken hard into the boards by former teammate Matt Hunwick on a clean play, but that was enough to sideline Savard again, and there are real concerns he may not play again this season.
LeBrun: Wow, six to 10? I think you're being a little harsh. My guess was 3-4 games.
Savard is being evaluated by doctors Friday and all the armchair quarterbacks expect his season will be shut down. Sad. And yes, you can't discount the irony. Credit Bruins defenseman Andrew Ference for telling it like it is, even though it involved a teammate.
"It's a bad hit, right? That's what they're trying to get rid of and you can't be hypocritical about it when it happens to you and say it's fine when your teammate does it," Ference told reporters after the game. "You hear it from every player after they do it; they feel bad. I talked to Danny and he feels bad. It's tough, that back-checking forward, to make those kind of hits. It's so hard to do it in a clean fashion with the new rules."
You can't have it both ways. Everyone and their mother in Boston wanted Cooke banned last season. Now, the shoe's on the other foot. Speaking of the shoe being on the other foot, Gleason is the one who got pounded after he KO'd Kulemin a couple of weeks ago. Gleason called Kulemin to apologize, but I guess that wasn't good enough. Give him credit for standing in there and doing his best against a tough guy like Rosehill. I texted Canes GM Jim Rutherford this morning and asked about it, but he said he wasn't angry. "No, that is the way it works," Rutherford said.
Burnside: Pierre, you are right on about Ference telling it like it is. It is the natural order in the NHL to defend your own and whine and complain when something bad happens to your guys. Think about the whining the Sharks did when Joe Thornton was suspended for two games for clipping David Perron as Thornton was coming out of the penalty box. Perron hasn't played since, and the Blues are going to miss the playoffs. So it's refreshing to hear Ference be honest about what was a dangerous play.
As for the suspension, that's the problem with the league handling its discipline like Forrest Gump's box of chocolates, a surprise in every bite. As for Gleason and the Canes, two tough losses after all the positive buzz emanating from Raleigh during All-Star weekend. Even though the Thrashers can't win, they still hold onto eighth place in the Eastern Conference despite giving up a late goal and losing 4-2 to red-hot Calgary. You mentioned this last night, as well, but look at the Sabres! They have five games in hand on Atlanta (how does that happen, by the way?) and trail them by only six points. Wow.
LeBrun: Scotty, regarding the NHL's hockey ops and handling of discipline, it doesn't seem to matter what they do, people will criticize regardless. It's the toughest job in the game, and while I often disagree with their rulings, that doesn't mean I don't realize how hard a task they have. I know for a fact GMs and sometimes owners call them and scream murder when they're unhappy when one of their players gets suspended. I would not want that job.
Meanwhile, the Hurricanes and Thrashers seem to be in a turtle race right now for the No. 8 slot, and that's opening the door for the Sabres. Buffalo is 7-3-0 in its past 10 games, and you can just feel the Sabres coming. Should be fun to watch. Unlike Paille's hit last night.