Cross Checks:

Steve Yzerman
March, 6, 2014
Mar 6
2:48
PM ET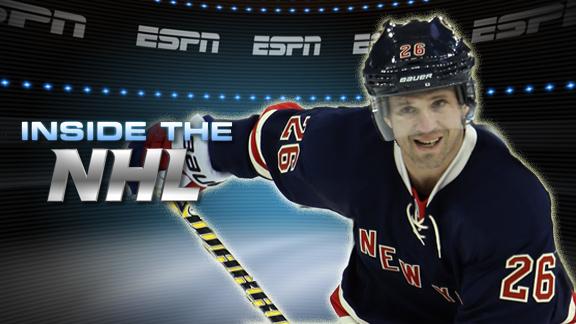 The
St. Louis Blues
,
Montreal Canadiens
and
Minnesota Wild
tallied the most mentions in an unscientific poll of NHL general managers who were asked which clubs impressed them the most with their trade deadline moves.
The Blues were the most cited among responses from 10 GMs on Thursday, their blockbuster acquisition of netminder
Ryan Miller
and gritty forward
Steve Ott
solidifying St. Louis as a Cup contender. Blues GM Doug Armstrong got lots of kudos from his peers in our little survey Thursday.
"[Armstrong] gave up a lot, but he got the goalie he needed," said a Western Conference GM. "He's got conviction. He went for it. I admire him for that."
Added an Eastern Conference GM: "St. Louis for sure got better. Ott is a bit overrated, but [coach Ken Hitchcock] has had him before and will get the best out of him. Miller obviously is the key guy there, a huge upgrade in goal."
The Habs and Wild were tied for the second-most mentions after Montreal nabbed
Thomas Vanek
and Minnesota got busy over a 48-hour period, adding goalie
Ilya Bryzgalov
and scorer
Matt Moulson
.
[+] Enlarge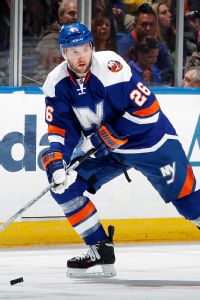 Paul Bereswill/Getty ImagesGetting Thomas Vanek for a bargain price earned praise for Marc Bergevin.
Montreal GM
Marc Bergevin
got high marks from his peers for getting Vanek at a discount rate from the
New York Islanders
, while Minnesota GM Chuck Fletcher got praise for his industrious few days.
"Bergevin did a really good job on Vanek," said a Western Conference GM in a comment that was repeated by many.
The two Florida teams also got a few mentions and for the purpose of this survey would rank tied for third.
Tampa Bay Lightning
GM
Steve Yzerman
had only one team to deal with in meeting the trade demand of his captain,
Martin St. Louis
, but Yzerman still got a decent deal out of it from the
New York Rangers
.
"I thought Steve did an excellent job managing that situation. He got a nice return," said a Western Conference GM.
Said another Western Conference GM via email: "To me, Steve Yzerman did the best job. He was dealt a bad hand. And nobody could have played that hand any better. Plus he did it with class (as always)."
Panthers GM Dale Tallon also got some attention for stunningly getting
Roberto Luongo
out of Vancouver. "Dale Tallon had the best deadline of all," said one Eastern Conference GM.
The Penguins were mentioned by one Western Conference GM, with Pittsburgh adding forward
Marcel Goc
and
Lee Stempniak
. "Pitt was strong with quality, under-the-radar players," a GM said via email.
Buffalo Sabres
rookie GM Tim Murray has been busy over the past week, beginning a rebuild and getting a vote from one Western Conference GM for his efforts.
"Tim Murray certainly added a lot of long-term assets," said the GM.
The
Anaheim Ducks
struck out on Canucks center
Ryan Kesler
but did add veteran blueliner
Stephane Robidas
. Ducks GM Bob Murray got a vote from a fellow Western Conference GM.
"[Murray] always sees the big picture. He is two steps ahead of what is in front of him," said the GM. "No one has come close to doing the job he has done the last five years. He inherited a very difficult situation and executed flawlessly."
Other post-deadline notes and thoughts:
• Interesting to find out from a source Wednesday night that Toronto was among the teams that inquired about Vanek. Imagine the Leafs' reaction when rival Montreal got him, especially given the modest price the Canadiens paid.
• Needless to say, the Canadiens were never going to get Vanek if the Islanders' asking price continued to include a first-round pick, which it did for quite some time. Once the first-round pick was eliminated from the equation, the Habs jumped in with both feet.
• Vanek is on record saying he's going to the free-agent market on July 1, and at this point there's no reason to think that won't happen. Still, in the back of my mind I wonder whether this is a repeat of the Alexei Kovalev situation, with a presumed rental player ending up staying around because he falls in love with the electric market that is Montreal. Food for thought ...
• The Penguins made an effort on Kesler and also had a line in the water on
Ales Hemsky
, the
Edmonton Oilers
forward who went to Ottawa instead. I thought Hemsky would have been a nice fit in Pittsburgh, but Goc and Stempniak are solid additions. Goc is versatile and provides depth at center while Stempniak could surprise some people after being given a fresh start, like
Jussi Jokinen
has done since joining the Pens at last year's trade deadline.
And this, from our friends at Bovada:
December, 31, 2013
12/31/13
9:05
PM ET
DETROIT -- A crowd of reporters surrounded
Sergei Fedorov
, who was still trying to take in what just happened.
Igor Larionov
was next to him, sitting on a stool and patiently taking off his equipment.
Slava Kozlov
was a few feet away, doing an interview in Russian. His old coach Scotty Bowman stood next to couches nearby, chatting with those hanging out in the Comerica Park clubhouse.
It was shortly after the second Winter Classic alumni game, one in which the Russian Five was reunited, and the emotions of everything that happened were still settling in. It was a game in which
Vladimir Konstantinov
stole the show before it even began, standing up with his former teammates, swinging a stick on the ice.
"It's a lot of emotions," Fedorov said, trying to put it in words. "I think I've got to sit on it for a week or two just to remember everything about it. Every guy, every friend, every colleague I saw today ... It remind[s] you of a lot of emotions."
After a warm-up alumni game, the main event delivered everything the chilled Red Wings fans could have hoped for as 33,425 Leafs and Red Wings fans braved the cold to relive some of the glory days.
Joey Kocur came out in a
Bob Probert
sweater, a fitting tribute to his fellow bruise brother. Kozlov, a shootout master in the early days of the skills competition, got a crack at a penalty shot.
"I just didn't know what to do," he said, explaining his rare miss.
And, of course, there was the return of No. 19.
Steve Yzerman
's return to the ice in Detroit was one of the biggest selling points, some fans waiting until he committed to the alumni game before buying tickets.
"They get no refunds," he said, joking afterward.
Yzerman got huge cheers during his few hours away from two full-time jobs running the Lightning and picking a Team Canada roster that is expected to win gold in the Winter Olympics.
"It's a nice little distraction," Yzerman said of the alumni game, a 6-5 shootout win for the home team. "Some of these guys I haven't seen since I retired, since I was traded. You come in the locker room and you kind of pick up where you left off. The humor is the same."
Fans wanted to see an Yzerman appearance in the shootout, calling his name when each Red Wings player made his attempt. His chance never came, a coach's decision.
"Scotty was calling out the names. I have mixed emotions," Yzerman said. "I'm not really sure I wanted to go. Eventually I would have got there, I guess."
In an afternoon filled with moments, the best might have been at the beginning. Detroit hockey legends Gordie Howe and Ted Lindsay walked to center ice for the ceremonial drop of the puck.
Wearing khakis, a black fedora and red Detroit jersey, Howe returned to Detroit ice to chants of his name, dropping a puck for Yzerman and Darryl Sittler, something for all generations of hockey fans.
His son Mark watched with a mix of trepidation and appreciation.
"I didn't want him to fall,"
Mark Howe
told ESPN The Magazine. "How can you have a game like this and not have Ted Lindsay and Gordie Howe? They're a couple of guys who are a major part of the tradition in the '40s and '50s, and Dad kept going beyond that. That's what it's all about. The history of these two franchises is incredible."
December, 2, 2013
12/02/13
12:36
PM ET
OTTAWA, Ontario -- And just like that, we enter the final month of Olympic auditioning.
"All of a sudden it's December. I thought of that today; I was texting with the coaches, a bunch of stuff today, we were going back and forth," Detroit Red Wings coach (and Team Canada coach) Mike Babcock told ESPN.com Sunday before Detroit's game against the
Ottawa Senators
.
"It's getting closer, but I really like the fact they moved the date."
It's ironic, really, that while Russia, Sweden, Finland and the Czech Republic pushed the IIHF last week to extend the Olympic roster announcement deadline, no country will likely benefit more than Canada, which has the deepest talent pool to choose from and the harder decisions that come with it.
So with the IIHF, NHL and NHLPA agreeing to push the date from Dec. 31 to Jan. 7, Team Canada has another week to evaluate some of the players battling for those final few spots. Team USA is sticking with its Jan. 1 announcement at the conclusion of the Winter Classic.
[+] Enlarge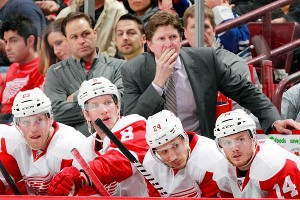 Jeff Vinnick/NHLI via Getty ImagesMike Babcock has plenty to consider as he watches Team Canada hopefuls play against his Red Wings.
"What it does is that it gives the players more time to decide who is on the team," Babcock said. "To me, that's what it's all about. We just watch them, but they decide [with their play]."
Hockey Canada has yet to officially decide its roster announcement date, but it seems crazy not to think the Canadians won't take advantage of the extra week.
It's another week to see how
Steven Stamkos
is recovering from his broken leg. It's another week for the battles on left wing and left defense to play themselves out. All the while, Babcock is in constant communication with the rest of his coaching staff: Claude Julien, Ken Hitchcock, Lindy Ruff and Ralph Krueger.
"Lots of texting, we were talking about left-handed D today," said Babcock.
"And what we're talking about is, one coach says, 'I just saw him, he was good'; or, 'Just saw him, wasn't any good'; or, 'Going to see him this week.'"
Babcock had the coaches fill out their respective Team Canada rosters at about the 18-game mark in early to mid-November, to compare notes on their different picks, "and I've asked them to do it again by tomorrow [Monday]," Babcock said.
Just like his Team USA counterpart Dan Bylsma of Pittsburgh, Babcock benefits from the fact that Olympic hopefuls on the opposing team tend to bring out their best when playing the Red Wings.
"There's something wrong with you if you don't," Babcock said. "I mean, Tampa gets it, too [with GM Steve Yzerman]. It's a pretty good opportunity for a player. I thought the Smith kid for Phoenix was the first star both games we played them. Good idea. Why wouldn't you help yourself? To me, that's what it's all about."
Coyotes netminder
Mike Smith
stopped 59 of the 63 Detroit shots he faced in a pair of Phoenix wins this season over Babcock's Red Wings.
One thing that hasn't changed since August is Babcock's desire for a lot of team speed on the larger international ice surface, but that's not the only key ingredient.
"We want skaters, the most we can possibly have," said Babcock. "We want high hockey IQ. But the most important thing is trust. No sense taking somebody you don't trust, because they're all going to be one-goal games, and in the end you have to defend.
"People think the big ice is about offense. No, it's about defending. So you got to be able to play without the puck. Can you do that or can you not do that? To me, it's really simple. But the longer we get to watch, the better opportunity we have to make the right decision."
October, 23, 2013
10/23/13
1:57
PM ET
Watch a game at the Bell Centre with a blindfold on and you'll know who has the puck by the buzz in the crowd. As the sense of anticipation grows, you picture people getting out of their seats, waiting to see what happens next.
By then, you know that defenseman
P.K. Subban
is on one of those rushes up the ice. It's one thing to watch on TV, but it's a different sensory experience to be in the rink itself.
When it's one of the better rushes that electrifies the crowd, the chants of "P.K., P.K., P.K." come cascading down from the rafters of the Bell Centre.
The reigning Norris Trophy winner, who once again leads all NHL defensemen in scoring early this season with 11 points (2-9) in nine games, has tried to tone down some of the antics that aggravated traditional hockey people when he entered the league. But at the end of the day, he only knows how to play the game one way.
[+] Enlarge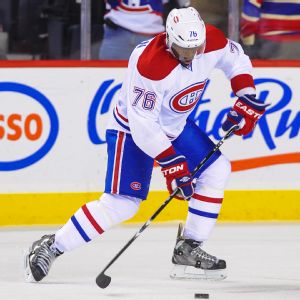 Derek Leung/Getty ImagesP.K. Subban's work with the puck excites Montreal fans, but his style rubs some others the wrong way.
"I still play the same game that I played when I was 16 years old in Belleville [OHL]," Subban told ESPN.com this week. "The difference now is that I'm 24, not 16; I'm into my fourth NHL season, I have some experience under my belt, I've played for multiple coaches now, I'm just a little bit older and that helps you.
"But in terms of how I play my game, I haven't changed much. I've grown as a person, I think I've matured a little bit, and I still have more maturing to do just like most players, especially young players. But I still play the game like I always have."
He's a polarizing figure, to be sure. Bring up his name with hockey people around the league and you get two extremes in opinions. Some absolutely love his explosive game and the way he backs up opposing teams and impacts games, while some old-school folks don't appreciate what they believe is an over-the-top, "flamboyant" demeanor on the ice, as one scout put it to ESPN.com.
His Norris Trophy nod last season created mixed reactions around the league. There are people who believe
Ryan Suter
should have won, pointing out in particular that Subban didn't kill a lot of penalties last season and didn't have the kind of all-around season that Suter had in Minnesota.
On the other hand, it's hardly new territory that a blueliner with a big offensive season won the Norris; that's often been the case in the past. But there's no question the last thing Subban himself expected was a Norris Trophy so early in his career.
"You know what, I didn't [expect it], I have to be honest with you," 24-year-old Subban said. "Especially last year, the first game of the year comes and I'm sitting on my couch without a contract. The last thing on my mind was that I was going to come back and win the Norris. But when I look at it, and look at my preparation for last season, I believe I prepared better than most players.
"Even though I missed the first two weeks of the season, I was in tip-top shape," Subban continued. "I worked out twice a day, skating every day, throughout the whole lockout. I was in peak condition. When I hit the ice, I'm sure a lot of people thought I would be coming in out of shape because I was sitting at home waiting for my contract and that I wouldn't be sharp; they were wrong, I was sharp and I was ready and I was in good shape."
Subban tied for the NHL lead among defensemen with 38 points (11-27) in 42 games while sporting a plus-12 rating and playing 23:14 a game. He missed the first six games of the season because of a contract dispute with the Habs, one in which the dividing line was Subban wanting a long-term deal and general manager Marc Bergevin standing firm that Subban's second contract would be a short one, just like
Carey Price
and
Max Pacioretty
.
Both Price and Pacioretty signed two-year deals out of their entry-level years before getting longer-term security with their third contracts. In the end, Subban also submitted.
The flip side now is that Subban and powerful agent Don Meehan of Newport Sports will have a Norris Trophy under their belt when the two-year deal expires after this season. The Newport firm has negotiated long-term deals for other young blueliners such as
Drew Doughty
($7 million per year),
Erik Karlsson
($6.5 million) and
Alex Pietrangelo
($6.5 million), so you can imagine where the conversation will begin when the two sides get serious in talks.
[+] Enlarge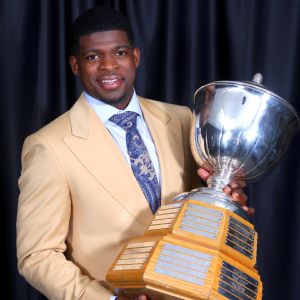 Tasos Katopodis/Getty ImagesWinning the Norris Trophy could soon give Subban millions more reasons to smile.
"To be honest with you, I'm just focused on playing hockey and not worrying about anything," Subban said. "I don't know what the plan is from the hockey team's perspective, I haven't heard much. But at the end of the day, it's something I don't really think about too much. I have more than enough trust in Donnie to make sure something is put in place that we're comfortable with.
"But we've got lots of time for that. At the end of the day, my focus has to be on hockey. If Montreal comes to me with something, then we'll sit and talk. As of right now, I'm just focused on hockey and I haven't heard much. And this is probably the most I've said about it all year. I'm just going to continue to play."
There's another debate percolating around Subban, too, involving his potential place on Team Canada.
"Geez, he's an awful good player. I don't know how he's not on that team," one Western Conference team executive said.
On one hand, how can you not want a player with his dynamic skating ability on the larger international ice? On the flip side, there's concern among some about Subban's high-risk style of play in a tournament where the smallest mistakes can be the difference between winning and losing.
At play as well is the ridiculous depth Team Canada has to choose from when it comes to right-handed defensemen: Dougthy, Pietrangelo and
Shea Weber
to start with, then
Kris Letang
,
Dan Boyle
,
Brent Seabrook
and
Mike Green
, among others.
Certainly, Subban fits right in that discussion near the top choices.
"It's a good problem to have if you're Team Canada," Subban said. "They have so many players to pick from. Obviously I want to be on the team, I've won gold medals while playing for my country before [world juniors], all I can do is hope for it. But there's a lot of great players to choose from."
All things being equal, it seems hard to imagine that if Subban is leading all NHL blueliners in scoring, or close to it, come mid-December, that he won't somehow be among the eight D-men in Sochi for Canada.
"At the end of the day, Steve Yzerman has played a long time in the NHL, he's one of the most respected players to play the game, he's had a great career, and he's a very smart and intelligent individual," Subban said. "All I can do is play my game, do the best that I can, and hope that I get the opportunity to represent my country.
"A lot of people will say to me, 'Well, P.K., you won the Norris Trophy, there's no way you can't be on the team.' Well, at the end of the day, I don't make those decisions, I don't look into those things. All I can do is help my team win every night and hopefully I get noticed. I don't pick the team."
And Subban insists it won't affect his play one iota.
"I don't have many distractions," Subban said. "Would there have been a bigger distraction last year than coming in six games late with our team 5-1 and I'm back from a contract negotiation? I'm sure you can imagine what the distractions would have been in Montreal at that point. But it never bothered me.
"I highly doubt that the selection of Team Canada will bother me, either."
Subban does know for sure that there's nowhere else he'd rather be.
"It's a very special place playing in Montreal," he said. "It doesn't matter how my day went or how I felt coming to the rink. The moment we come out to start the game, it's like you're in a different world. It's unbelievable. It's a feeling you can only experience playing in Montreal. Every time I step on that ice it gives me energy."
April, 5, 2013
4/05/13
10:23
AM ET
My favorite trade of the deadline was easily the
Ben Bishop
deal.
It was a win-win for both teams, with the
Ottawa Senators
getting a young top-six forward in
Cory Conacher
, and the
Tampa Bay Lightning
making a huge gain by adding another potential starting goaltender.
This isn't about ending the
Anders Lindback
project, as some of the knee-jerk reaction on social media suggested Wednesday.
This is about doubling your chances that between two young, promising goaltenders, one of them emerges as a 1A.
And who knows, maybe both do. Or maybe neither does.
But why not improve your odds twofold?
"Good move, with good potential," a Western Conference team executive told ESPN.com Thursday, requesting anonymity. "The big test is if one of them can grab the job and become a legit No. 1 starter. Looks like Lindback isn't there yet; now it's up to Bishop to be that guy."
They'll both get a shot.
"By no means am I giving up on Anders Lindback, not a chance," Lightning GM
Steve Yzerman
told ESPN.com Thursday. "He's a good young goalie. And I made a commitment by trading for Anders Lindback, and I believe Anders Lindback has the ability to become a good starter in this league.
"I want to provide him with the support he needs, and part of that support is having a good partner. I want the best possible tandem I can put together moving forward."
In Lindback, 24, and Bishop, 26, Tampa has a young 1-2 punch in goal heading into next season, giving the team a shot at finally rising up the ranks in goals against.
"Both of them will get a great opportunity to play," Yzerman said. "I'm not going to sit here and designate who the starter is next year. They'll both get a chance to play and play a lot, and it'll work itself out."
Veteran
Mathieu Garon
has been a pro as the backup, but with his contract up after this season, Yzerman began to look ahead. Garon is a solid backup on a team whose starter is more solidified, like a
Carey Price
or
Pekka Rinne
.
But with Lindback still finding his way, I think Yzerman felt he needed to give him more protection moving forward.
"If I had one of these guys who plays 70 games a year, then I can be a little more conservative with the second goalie. But I've got a really young goaltender in Lindback that we think has a lot of promise, and I don't want to put him in a position where he has to play 70 games. Ben Bishop provides that support and Ben Bishop has a tremendous upside as well.
"I'm not designating either one the starter. They'll both get tremendous opportunity to play."
I suspect, though I can't confirm it, that Tampa also kicked the
Los Angeles Kings
' tires on
Jonathan Bernier
before the deadline and that the price was too high.
Frankly, given
Jonathan Quick
's up-and-down season, it made more sense for the Kings to keep Bernier as insurance for another Cup run, then figure out what to do with him this summer.
In the end, Yzerman got a guy in Bishop who has starter potential written all over him, just as Lindback still does.
It's a win-win in my mind.
February, 28, 2013
2/28/13
2:48
PM ET
NEW YORK -- Watching his
Tampa Bay Lightning
players go through their morning skate drills Thursday at Madison Square Garden, general manager
Steve Yzerman
was puzzled at first when this ESPN.com hockey writer wished him a happy third anniversary.
Reminded of a certain gold-medal game on this very day in 2010, the Team Canada Olympic GM figured it out.
"It seems like forever ago," Yzerman said. "A lot has happened in three years. You're totally engrossed with your [NHL] team. I didn't realize that about today."
But with that, Yzerman took a few minutes to reminisce on that overtime victory over Team USA, a game as memorable for the young American team's refusal to die -- tying the game late on
Zach Parise
's goal -- to of course the host Olympic country partying all night after
Sidney Crosby
found a hole and beat
Ryan Miller
.
[+] Enlarge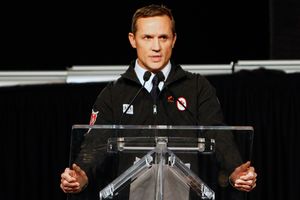 Richard Wolowicz/Getty Images "It seems like forever ago," Steve Yzerman said of winning gold in 2010. "A lot has happened in three years."
"It was an incredible experience." Yzerman said. "It was like nothing I had been through throughout my entire career."
Truth be told, though, he most remembers one thing from that day in Vancouver.
"At the end of it, it was really about relief," he said, chuckling. "As much as you enjoyed the whole process, it was just a sense of huge relief."
Now that pressure is about to get ratcheted up again as Yzerman in the next 10 months figures out his Canadian roster for the Sochi Olympics (if indeed NHL players are going, which at this point appears more likely than not.)
"This is the fun part, you're watching games, you're watching players, you sit and debate it," Yzerman said. "The whole process is real enjoyable. Obviously, if you win it, it makes it all worthwhile."
Yzerman figures his management staff, which includes Detroit GM Ken Holland, St. Louis GM Doug Armstrong and Edmonton president
Kevin Lowe
, will get together around the March 20 GM meetings in Toronto to further discuss the process and their thoughts on players.
As we speak about the Olympics,
Martin St. Louis
and
Steven Stamkos
are among the last two players off the ice at Tampa's morning skate, which is nothing new. Work, work, work.
It's obviously a foregone conclusion that Stamkos -- the NHL's leading scorer as of Thursday morning -- will make his Olympic debut, but what will be intriguing is where St. Louis, 37, fits into that.
No one should ever be second-guessed when they deliver a gold medal, but Yzerman was criticized by some for not picking St. Louis three years ago.
Ironically, just three months after winning Olympic gold, Yzerman become Tampa's GM. One of the first things he did was deal with the elephant in the room and talk to St. Louis about the Olympic snub.
It was a smart thing to do. The two haven't talked about it since.
"No, we haven't," St. Louis told ESPN.com Thursday. "I didn't tell him he made a mistake, but I told him it didn't matter what he told me, I'll still be disappointed forever. He was put in a position to make big decisions and there were a lot of guys who weren't happy that didn't make it, not just me. But it was a tough time for me at that time for sure."
One thing's for sure: Whether St. Louis makes it or not in 2014, Yzerman has grown to know him better being around him every day.
"He's playing extremely well, he's one of the leading scorers in the league, he continues to be a good player," Yzerman said. "What he's doing is not being ignored."
Some will point to St. Louis turning 38 in June, but to me he's like a younger
Teemu Selanne
, and he's kept his game at a world-class level despite his age. With the bigger ice in Sochi, St. Louis has a real good shot at making it.
And needless to say, Sochi is a goal for St. Louis.
"For sure, I think as a player when you stop being hungry for things like that or stop trying to get better, you're in a fading process," St. Louis said. "As you get older, some people expect that any day. So you're fighting that every day. I'm doing everything I can to put myself in a position to be on that team."
There obviously will be new faces on Team Canada given that
Scott Niedermayer
and
Chris Pronger
are no longer around, plus the obvious evolution of young stars.
"It's not only the young faces that are coming up but also the veteran guys that play extremely well that were in consideration last time and maybe they're the right fit this time," Yzerman said. "It makes it really interesting. But I also like following the young players and seeing their development. When the decision comes, are they ready to step in and do a better job than some of the older guys?"
Yzerman needs to balance and blend youth and experience on his roster.
"Everybody wants to put the young guys in there, but the end of the day, the older guys have been through it and know how to win," he said. "You don't necessarily need them all but you need some of them."
January, 22, 2013
1/22/13
4:17
PM ET
Jamie Benn
,
P.K. Subban
and Ryan O'Reilly remained unsigned Tuesday as the season hurled itself into warp speed, thanks to a compressed schedule.
Of the three RFAs, my gut feeling says Benn will be the first of the three to sign. But that's not sure thing.
I just don't think they're that far apart.
Look no further than the obvious comparables to see which deals are influencing this negotiation:
•
John Tavares
, six years, $33 million ($5.5 million average)
•
Evander Kane
, six years, $31.5 million ($5.25 million cap hit)
•
Phil Kessel
, five years, $27 million ($5.4 million cap hit)
Those are good comparisons because Benn is also coming off an entry-level contract and is a key offensive force on his team, just like those three players.
First off, the Benn camp won't do six years. So there's that. Benn has moved though from wanting three years to now being willing do to five years.
My guess is if the Stars were willing to sign off on something just north financially of the Kessel deal, then a deal will be done.
Also keep in mind, Benn's entry-level deal didn't have any bonus money. So you can understand his desire to get paid now.
Meanwhile, the Subban and O'Reilly fronts are still very much in stalemate.
Colorado, I believe, has offered a two-year, $7 million deal to O'Reilly, which is the same deal teammate
Matt Duchene
signed. But O'Reilly led the team in scoring last season and that offer won't cut it. He remains in the KHL, where he's making good money, tax-free, so he's got that leverage.
In Montreal, meanwhile, status quo on the Subban situation. There has been nothing there for a while between both sides. The offensive blue-liner wants a long-term deal while the Habs want to do a two-year contract. So until that philosophical divide is overcome, this thing isn't going anywhere.
Leverage points: the Habs power play on opening night was brutal, which helped P.K.'s case.
However, the recent two-year deals signed by offensive blue-liners, also RFAs,
Michael Del Zotto
and
Dmitry Kulikov
help GM Marc Bergevin's case.
Bergevin insists he's not going to trade Subban but one can't help but wonder if this thing drags on too long if he'll have to reconsider.
One thing is clear, Montreal's insistence on doing a short-term deal signals that the Habs just aren't sure about what they have in Subban just quite yet.
As Luongo Waits
Eyebrows were raised Tuesday when veteran Vancouver Sun columnist Cam Cole quoted Canucks GM Mike Gillis saying there's essentially a trade that could happen with an unidentified NHL team, but it depends on that team being able to move a player first.
Gillis confirmed the same in an email to ESPN.com Tuesday.
All I know is that that team is not Toronto, which remains the most logical destination, no matter what anybody says, given Toronto's goalie issues. The Leafs and Canucks have had on-again, off-again dialogue since last June, although there's been a detente in talks of late as both teams wait out the other early in this season, hoping wins and losses will change the leverage in that conversation.
And what of Philadelphia? My guess is that the Flyers' only interest in Luongo would come in the summer and that's only if A) Luongo is still in Vancouver and B)
Ilya Bryzgalov
had another brutal season. If Bryzgalov hasn't rebounded, it wouldn't shock me to see Philly use a compliance buyout on the goalie (which doesn't count vs. the cap) and then try to trade for Luongo. A lot of ifs there and we're talking about months from now. So much can happen in between, not the least of which is Bryzgalov having a good season and staying in Philadelphia, and Vancouver moving Luongo elsewhere during the season.
In the meantime, Luongo has been the ultimate pro about it all, waiting patiently for this to figure itself out.
For the Canucks, they are trying to get something in return that helps further their cause as a contender right now. And Canucks management shared that sentiment with Luongo last weekend, explaining that they're trying to get something in return for him that will help his teammates in Vancouver take another run at the Cup.
So far, the Canucks have been offered good pieces, just not the right ones.
And so the waiting continues. This is a deal that could honestly get done this week, next week, next month or next summer. Be ready for anything.
Team Canada For Sochi
I traded emails with Team Canada GM
Steve Yzerman
on Tuesday, wondering about when he would announce his coaching staff for the Sochi Games.
Yzerman said he would wait until the NHL commits players to Sochi 2014 before announcing his coaching staff. Makes sense, of course.
Another source told ESPN.com that the Team Canada management staff hasn't decided yet who for sure would be part of the staff. There has been internal discussion but no final decisions made.
Certainly, reigning Olympic gold medal coach Mike Babcock remains the favorite.
But there are certainly a lot of names you can throw in the mix as you figure out who could be part of the staff.
Dave Tippett, Claude Julien, Barry Trotz, Alain Vigneault, Todd McLellan, Ken Hitchcock and the list goes on an on, Canada has no shortage of quality coaches to choose from.
Senators Still Looking
Off to a quick 2-0 start, the Senators still feel they need more depth on the blue-line despite the solid play of rookie defensemen
Patrick Wiercioch
and
Andre Benoit
, who have dressed as the third pairing.
The broken finger to
Mike Lundin
and the season-ending hip surgery to
Jared Cowen
opened the door for the two AHL grads to make Ottawa's roster.
But veteran GM Bryan Murray says he'll continue to make phone calls, even if so far those calls have produced very little.
"Not much has presented itself. I've talked to a number of teams and I hear the same story from a number of general managers -- everybody is looking for depth on the blue-line," Murray told ESPN.com Tuesday. "I don't know that there will be many quick deals made at this point. But that's not to say we're not talking. We'll look and if we can find somebody that upgrades us, we will. We'd got Lundin coming back at some point, so we're not in a panic, but if we can get a more experienced guy, we're certainly going to pursue it."
Lundin is getting the pins removed from his finger later this week.
"And he needs a couple of weeks after that, I think," said Murray.
Out in Los Angeles, the Kings are also one of the many teams on the lookout for help on defense and that was even before losing
Matt Greene
to a long-term injury.
L.A. was among the teams that pressed hard in an effort to land
Wade Redden
last week but lost out to St. Louis.
If the Kings ever trade
Jonathan Bernier
, and there's no guarantee they will, they'll be getting a defenseman as part of the deal.
Escrow Protection
Two early-season contract extensions tell you that some agents are wisely weary of what next season might have in store for players in the form of escrow payments.
Each of the new extensions for
Alexander Edler
and
Travis Zajac
have compensation in the first season of the deal (2013-14), the lowest of any in the contract. This is because there's fear escrow might be at its highest next season as the salary cap drops to $64.3 million, down from the $70.2 million teams can spend this season.
Edler's new deal is worth an average of $5 million per season but his actual compensation next season is $3.25 million. It jumps to $6 million from 2015-16 through 2017-18 before dropping to $4.5 million in the last season.
Zajac, as I wrote last week, begins at $3.5 million next season in a deal that pays him an average of $5.75 million per season.
Smart moves by the agents in question, Kurt Overhardt (Zajac) and Mark Stowe (Edler).
Power UFAs
Two names to keep an eye on:
Ryane Clowe
and
David Clarkson
.
Both are valued power forwards in the NHL and both are slated to be UFAs July 5.
The Sharks, I hear, have had preliminary talks with Clowe. Nothing yet between Clarkson and the Devils.
March, 5, 2012
3/05/12
7:31
PM ET
My first thought after Hockey Canada announced
Steve Yzerman
was returning to run the 2014 Canadian Olympic hockey team?
What his wife said to him after he told her he wanted to do this again. Which likely went along the lines of, "Are you freakin' crazy?"
"Initially after Vancouver it was like, `You're not going to do that again, are you?,"' Yzerman said Monday on a media call.
"As we get closer to this, though, and we starting talking about it and start thinking about it, we all want to be involved," he added.
Having had the chance to chat with Yzerman on a number of occasions in the lead-up to Vancouver 2010, not to mention cover the Olympics that year and see the stress in his face on a daily basis, I have to wonder if that kind of torture, the weight of a hockey-crazed nation on your shoulders, is really worth it.
But of course it is and then some.
Like Wayne Gretzky before him, Yzerman couldn't resist back-to-back Olympic assignments as Team Canada executive director, because the thrill of running that squad in the greatest tournament in the world is just too good to turn down.
"First of all, it's a lot of fun," said Yzerman. "The fact that it is in Russia and that we're the defending gold medalists, it's too good of an opportunity to pass up on."
"The right guy for the job, great choice," Gretzky told ESPN.com via text about the Yzerman announcement.
The question is, will the NHL players be there?
Know this, it's no coincidence at all that Hockey Canada was brazen enough to announce Yzerman and the rest of his Olympic management staff (which includes the likes of Ken Holland,
Kevin Lowe
and Doug Amstrong) despite not knowing whether the NHL will send its players.
This is a bit of a power play. Hockey Canada, just like all the national federations, wants the best players in the world to be there. Just like all hockey fans do, too. Announcing Yzerman before anything is even close to being decided on that front adds a little pressure on the NHL to commit for a fifth straight Olympics. For the players, it's a no-brainer. They want back in.
The league and owners are wary of Olympic participation, and on some level are absolutely correct in feeling that way given how the International Olympic Committee treats the league. How is it even possible that the NHL Network couldn't show game highlights of Vancouver 2010 during the tournament when it's the NHL and NHLPA supplying to product? That's just one of several issues that irritate the league.
A senior league official told ESPN.com on Monday that there was absolutely nothing new to report on the Olympic front. The fact remains that Olympic participation will need to be ironed out with the players in collective bargaining, not to mention agreements reached with the IOC and the International Ice Hockey Federation.
In the end, even if it's with feet dragging, I believe the NHL will ultimately end up in Sochi. But it's far from a sure thing.
I asked Yzerman on the media call Monday whether his role as Team Canada executive director hinges on having NHL players in Sochi.
"If the NHL players in fact aren't involved, we'll figure out a solution," said Yzerman. "We don't know if NHL players aren't involved just what player will be involved, even who qualifies or if there's age limits or whatnot like in [Olympic soccer]. We'll figure out a Plan B when we find that out."
As a follow-up, I asked Yzerman whether it was possible he'd be involved even with no NHL players in Sochi?
"It's possible. We'll be involved in some form or another," said Yzerman.
If the NHLers are in Sochi, Yzerman once again will have incredibly difficult choices to make with his roster, as Canada always does with its depth. The Olympic champs could have quite the turnover. Imagine that the likes of
Steven Stamkos
,
Claude Giroux
,
John Tavares
,
James Neal
,
Logan Couture
,
Jamie Benn
and
Alex Pietrangelo
were not in Vancouver two years ago.
"There will be some change," said Yzerman. "Scott Niedermayer is retired. I'm not sure who else will be back. This is two years away. You'll see a lot of change. We don't have to make any determination now, but some of these young guys are getting better and better and they will be on that team."
And every decision will be closely scrutinized by a 35 million hockey fanatics. Yzerman would have it no other way.
December, 1, 2011
12/01/11
12:20
AM ET
Steve Yzerman
returned to Detroit for a game for the first time since becoming general manager of the Lightning. The Red Wings showed a video tribute to their former captain during a stoppage of play in the first period. Yzerman was then shown on the videoboard as fans gave him a standing ovation.
Video courtesy of NHL.com
November, 11, 2011
11/11/11
3:57
PM ET
It should surprise no one that the New York Rangers have reached out to Wayne Gretzky in an effort to change his mind about participating the Winter Classic alumni game Dec. 31 in Philadelphia.
Gretzky told ESPN.com two weeks ago he didn't think he would play, citing previous family plans for the holidays and adding that no one wanted to watch a 50-year-old on skates.
But the New York Rangers have lobbied The Great One in the form of veteran GM Glen Sather, Gretzky's old boss from their Edmonton Oilers days.
"Glen called and we talked for 45 minutes," Gretzky told ESPN.com on Wednesday night. "I really respect the Rangers doing that. That's classy of Salts, Mike Keenan [who is coaching the Rangers' alumni team] and the Dolan family. So I told Glen I would think about it."
We're not betting on Gretzky changing his mind, but stranger things have happened.
More 1-3-1 fallout
The Tampa Bay Lightning aren't apologizing for what happened Wednesday night in their 2-1 overtime win against the Philadelphia Flyers. The hockey world was set abuzz with the Bolts' 1-3-1 defensive system and the way the Philadelphia Flyers reacted.
"We're trying to win games," Tampa GM Steve Yzerman told ESPN.com on Thursday. "Our coach [Guy Boucher] is going to make his decisions based on our personnel and our performance. We're not going to be influenced, he's not going to be influenced by the media or anybody. He's going to coach the way he has to do to win games."
Besides, why the fuss all of sudden, wondered Yzerman?
"We've been playing that since Day 1 last year. It's nothing different. We didn't do anything different," Yzerman said. "Honestly, 29 other teams in the league play the 1-2-2. We could have sat back playing a 1-2-2, as well, and the Flyers could have sat back like they did [Wednesday] night. They chose a strategy. ... Every other team plays a 1-2-2.
"It's the same philosophy as us: if you can get in on the forecheck, get in and go and put pressure. If you can't get in, then retreat into the 1-2-2. We retreat into a 1-3-1. That's the only difference between us and the other teams in the league. Philadelphia chose to sit back and try something different. I'm not criticizing them for it, and I don't think we should be criticized for the way we play."
The Flyers entered the game as the league's highest-scoring team, led by Claude Giroux and Jaromir Jagr. The Lightning have been hammered by injuries on the blue line and needed to tighten up.
"We were worried they were going to come in and run-n-gun and we weren't going to be able to keep up with our guys that our out and the fact we haven't played particularly well defensively," Yzerman said. "We were worried that Jagr and Giroux were going to tear us to shreds, so it was almost a relief for us."
Agenda for GMs meeting
The reaction around the hockey world to Wednesday night's controversy in Tampa was enough that the NHL's 30 GMs will discuss it Tuesday at their meeting in Toronto, a league source confirmed.
"I think it's worthy of discussion. I look forward to it," said Yzerman.
My TSN colleague Bob McKenzie polled GMs around the league and asked them which team they blamed for Wednesday's controversy. As of 7 pm ET Thursday, 18 GMs responded; 13 blamed Tampa, three blamed Philadelphia and two stayed neutral. Eight of the 13 who said it was Tampa Bay's fault said they were in favor of instituting new rules or penalties to combat the 1-3-1 trap.
But don't expect any rule changes or anything concrete to come out of that GMs discussion. A source told ESPN.com the discussion would be more along the lines of a big-picture conversation relating to the state of the game, using Wednesday night's controversy as a spring board to discuss the health of the sport and how everyone feels about trapping in today's game.
One executive shared this concept of a new rule with ESPN.com on Thursday when specifically referring to Tampa Bay's 1-3-1 trap: once a player reaches the top of the faceoff circle in the defensive zone, coming out of his own end, he can clear the puck all the way to the other end of the ice and it's no longer icing. The thought is it would ignite his team's forecheck and force the trapping team to react.
Not a bad idea. It's believed legendary coach Scotty Bowman first thought of this years ago. But again, don't expect any actual rule changes Tuesday. With the expiry of the collective-bargaining agreement in September, the prevailing thought is any changes will be put on hold until a new CBA is in place.
The GMs will also get a report from the league on the current state of realignment talks. The GMs will be free to express their opinions on the subject; but, ultimately, as a source said Thursday, it's a board of governors matter. The owners will discuss and vote on it during their meetings Dec. 5-6 in Pebble Beach, Calif.
Privately, the league espouses a four-conference set-up, which would be a drastic remake of the league. Some governors and GMs remain unconvinced, so Tuesday might provide a lively discussion on the matter, even if the GMs don't have the final say.
Another important agenda item: Brendan Shanahan will address the GMs on how supplemental discipline has gone so far this season. The GMs will be free to ask questions, so this could lead to an interesting conversation.
Stars' new owner almost in place
If all goes swimmingly in the next little while, Tom Gaglardi could be sitting in the owners' box as soon as a Nov. 21 game in Dallas. That's if everything goes well. So far, so good.
A source told ESPN.com the Vancouver businessman has already been successfully vetted by the executive committee of the board of governors. That's a huge step. Next, as reported by Mark Stepneski of ESPNDallas.com on Thursday, the bankruptcy court hearing to award the team to Gaglardi has been moved up to Nov. 18.


The final step is for the full board of governors to approve him as owner, a process that is currently happening via fax vote.
Again, unless there are any unforeseen delays, he should be the new Stars owner within the next two weeks.
November, 8, 2011
11/08/11
1:01
PM ET
No fans deserve more to rant than the loyal souls in Columbus. And we start there this week with a couple of beleaguered Blue Jacket fans.
osufanatic64: Ok, I'm going to try to be as calm about this as possible...you know what never mind. WHAT IS SCOTT HOWSON THINKING?!?!?! First of all, why Steve Mason still is in net for the Jackets is baffling to me. Clearly his rookie year was an anomaly. I'm not saying Mason is the ONLY reason for the Jackets horrendous start to the season...but 4 goals in 11 shots against St. Louis and then 7 goals against Philly? On top of that, our brilliant GM decided not to get any sort of backup goalie for security. At least last year we had Matty Garon to steady the ship (until he ultimately sank with the team). And last, but certainly not least, is Arneil even trying anymore? There is no reason we should still be so bad with a man advantage, not to mention how bad we are on the PK. I won't say this season is lost (yet...I still want to see Jeff Carter play more than 5 games), but this is a joke. Thanks for making an optimistic Jackets fan dread checking the score every night...

AND STEVE MASON?!?!?!?!?

artmabrey: Pierre, pretend you're a Blue Jackets sales person trying to get me to renew my season tickets, how do you ask me to renew? I have seen some terrible play over the years, but just when I think they have hit the bottom out comes Saturdays 9-2 loss. Give me a few reasons why I should renew next year.
My take:
Well, I'm not sure I'm that good a sales man. There's ugly, and there's the Jackets right now. I would like to see what this team can do once Jeff Carter is finally healthy. I'd also like to see what they could do with a goalie than can make some saves. Steve Mason won't be the starting goalie next season when you renew your season tickets. That much I can tell you.
---
jmcleod512: What's with the Blackhawks PP? They have one of the best 5-on-5 offenses in the league. Kane and Hossa are red hot, and Toews, Sharp, Brunette, and Bolland cap off an offensively loaded team. But they have an atrocious power play which, among many other things, cost them dearly against Vancouver on Sunday. Why can't they get it together, a top-5 PP last year?
My take:
It is stunning to be sure, but I think the numbers are a little deceiving as of late. I think there have been better looks on the Hawks PP lately, which usually precedes a breakthrough. I'd be shocked if this was a long-term issue.
---
bjmiller12: why can't the avalanche win at home. please tell me why we can't do it. we score and play great on the road but can't do crap in our Pepsi can. are we just tired of the air or what? i am going nuts trying to figure this out. the entire avs fanbase is trying to figure this out.
My take:
When teams struggle at home, I turn to this answer the most often because it's what coaches have always passed on to me, especially for young teams: They deviate from the game plan and try to put on a show at home. What works on the road, staying within the game plan, playing a more patient game, etc. often goes out the window at home when younger teams sometimes feel the pressure to put on a show for the fans.
---
[+] Enlarge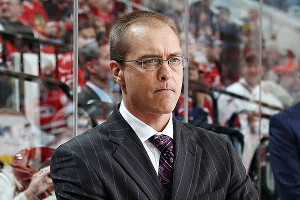 Gregg Forwerck/NHLI/Getty ImagesCan Paul Maurice and the Hurricanes turn their season around?
Heirarch: I'm a Carolina Hurricanes fan, and frankly I'm tired of a decently talented roster struggling to perform and not offering any solutions or changes that would benefit our team. Paul Maurice is a below-average coach who focuses way too much on dumping and chasing the puck instead of moving it the right way. I suggested Sheldon Souray at a discounted price last season and everyone jumped down my throat; now he's doing well. Eric Staal has been playing atrociously, and the only people who seem to show up to play hockey are Ward, Skinner and LaRose. We need to rectify our hockey team and play like we want to win, instead of playing with no heart.

LegitSportsGuy: Pierre, after being at the Stars vs. Canes game on Sunday, I am personally discouraged right now to be a Canes fan. Our G.M. has still yet to make a move after seeing us drop 3 out of 4 and give up 10 goals in 2 games while only scoring 2 goals in those 2 games. What needs to give, Pierre? Fire Paul Maurice? He consistently uses the dump and chase method and it's not working. I heard rumors about trading offense for defense but right now we could use that offensive weapon now more than ever. Especially a winger for Eric Staal! So tell me Pierre what has to give to turn my Canes around?
My take:
Well, my friend, my sources indicate your GM is trying to help your team as we speak. The Hurricanes have been chatting up the trade phone lines. I think Jim Rutherford is trying to get something done. I think Paul Maurice is OK for now, but that leash won't last all season long if the Hurricanes continue to struggle.
---
CDiercksen: Pierre, what is so hard to understand about your proposed (and oft dismissed) point system? 3 for a reg. win; 2 for an OT win; 1 for an OT loss; 0 for a reg. loss.

HOW IS IT MORE CONFUSING THAN EVERYONE BEING at or around .500? I don't know who's bad anymore (except Columbus, bless their hearts)!

Now I love me some Brian Burke, but his whole "that's confusing" comment makes me want to hunt down his elementary school math teacher and staple headphones playing banjos covering Nickelback on repeat to his/her ears. Hockey is about EARNING what you get, and I don't see how this current system that rewards teams for almost winning fits into that landscape. at least with your system it's balanced.
My take:
Thank you, my friend. I've been pushing for that point system for a long time, ever since it first came up at a GMs meeting in Henderson, Nev., in February 2004 (which I covered). It just makes so much sense. Three points for a 60-minute win would reward the better teams in this league and help the cream rise to the top as it deservedly should. That's my opinion, and I won't change it.
---
woobx: Pierre, can you please explain to me what exactly is going wrong with the Anaheim Ducks, because it seems like they have the perfect combination of veterans and young talent. Watching this 7-game road trip was so demoralizing then they put the cherry on top by not even showing up in Detroit. You can tell that frustrations are starting to set in with Selanne getting a game misconduct in Detroit. I'm starting to feel bad for the guy now because it seems like he's the only person on that team that wants to win and shows up every night.
My take:
I know the Ducks are privately disappointed in
Jonas Hiller
this season (.902 save percentage), but to me, it runs deeper than that.
Teemu Selanne
is a sure-bet Hall of Famer and one of my favorite people to ever play the game. But at 41, it's not a good sign when he's far and away leading your team in scoring with 14 points with Correy Perry, last season's NHL MVP, five points back for second and
Ryan Getzlaf
six back.
Bobby Ryan
has only six points, and that's fourth in team scoring. The big boys have to wake up.
---
awoundedzebra: While the Lightning have shown resiliency the past couple of games by coming back from 2 and 3 down, I don't like how they are giving the other team the lead so early in the game. How can they fix this, especially since two of their top d-men are getting hurt (Ohlund and Hedman), does Stevie Y need to look outside the organization or can they turn this around? I fear that they won't be able to comeback for a lot of the games this season.
My take:
Well as I reported earlier this season in one of my Rumblings blogs,
Steve Yzerman
has been working the phones in the search of help on defense. It may take a while because Yzerman wants to add a top-four type -- that's a major transaction. But that's his goal, whether it happens before Feb. 27 or waits until the offseason. They need help on the blue line; they give up way too many chances.
---
ssawas47: The Dallas Stars have been riding high and have been overlooked by many because of the loss of Brad Richards. They have shown everything you want in a championship contender with their strong physical play, outstanding goaltending, and new life on the blueline (post Zubov). Let's not forget that the Stars have new ownership on the way. So what do the Dallas Stars have to do get some credibility in their play as of late? Would you consider the Benn-Erikkson combo being one of the most underrated top line players in the NHL? Where is the love, LeBrun??
My take:
Well, my friend, I ranked them second overall in the Power Rankings on Monday. Is that not love? I remember talking to GM
Joe Nieuwendyk
during training camp and he told me point blank people were vastly underrated his team. It wasn't the usual spin you get from a GM about his team. It was matter of fact. He was surprised people were overreacting so much to the loss of Brad Richards. The Stars added seven players in the offseason and have more depth than last year. They may dip a little at some point, but I think they're playoff-bound.
---
CAR2687: So with the Blues making the move to release Payne from his coaching duties, and hiring Hitchcock, it seems that the organization isn't happy with the way things are going. As a fan, I'm extremely frustrated. I felt with a full season of Stewart, Perron hopeful to return by Jan 1, and the new veteran leadership that STL would make a strong push not only to the playoffs, but a sleeper in the Central. Special teams and a bad Halak have hurt that cause. Do the Blues need to make a move? Will Hitchcock light a fire under the guys, especially Halak? I love how Elliot is playing, but I don't know if I can rely on him to be this way for the full season. It's frustrating to have really good games against good teams like Van and Phi but then stink out the joint against Calgary.
My take:
Know this: The whip is coming out in the form of Ken Hitchcock. The young core on this Blues team doesn't know what's coming at them. Hitch will be tough on them and make them accountable. If that doesn't work, expect GM Doug Armstrong to make a trade or two. They won't sit on their hands this season and allow the core to disappoint.
April, 5, 2011
4/05/11
11:03
PM ET
Within days of Tampa Bay captain Vincent Lecavalier being hit in the eye with a stick blade, Lightning GM Steve Yzerman said he'll ask players to consider wearing visors next season.
"We don't want people getting injured," Yzerman told The St. Petersburg Times on Tuesday. "We want to keep their eyesight and noses in place, so it's something we would like to push moving forward."
Lecavalier returned to the lineup Tuesday night and wore a visor against Buffalo. He was accidentally high-sticked by Chicago's Michael Frolik early in the second period of Tampa Bay's 2-0 win Sunday. He needed three stitches to close the cut over his eye and had trouble seeing. He also scratched and bruised his cornea, but there was no structural damage.
You can read more on Yzerman's comments here (via St. Petersburg Times).
February, 17, 2011
2/17/11
1:31
PM ET
TAMPA, Fla. -- There may just be that awkward little moment or two Thursday night, when the professor and the pupil cross paths as they sit down, at different tables, for their pregame meal at the St. Pete Times Forum.
Oh sure, they had dinner together the night before, just like good pals do, but the friendship will be on hold Thursday.
"It's going to be strange to see him in the press room maybe before the game, knowing that we're on opposite sides," Detroit GM Ken Holland told ESPN.com this week. "But other than Thursday night, I'm rooting for his team the rest of the year. I'm a big Stevie Y fan."
Steve Yzerman is on the opposing side against the Red Wings for the first time in his life. It's just weird.
[+] Enlarge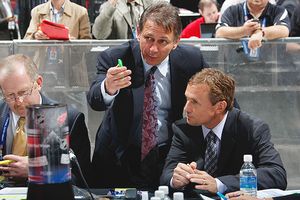 Dave Sandford/NHLI/Getty ImagesAfter retiring in 2006, Steve Yzerman, right, worked closely with GM Ken Holland in the Wings' front office for four years.
"Personally, I just want to get the game over with," the Tampa Bay Lightning GM said this week. "It's not about me. This isn't Steve against the Red Wings by any means."
Good luck trying to spin that one, Mr. Yzerman. You were an 18-year-old rookie with the Winged Wheel in the fall of 1983 and spent your entire NHL career in Detroit. After retiring in 2006, you spent the next few years in the Wings' front office learning your current trade. All you've known until this season is Hockeytown, USA.
So Thursday night's game is a big deal.
"It would be different if I was a player or standing behind the bench as a coach," Yzerman insisted. "But I look at this game for our club as getting a chance to play against one of the better teams in the league, against some of the best players and see how our players and our system can hold up against them."
Fittingly enough, their teams both have 74 points and sit in second place of their respective conferences.
"It's an important game for us in the standings," Yzerman said.
How quickly the student has figured things out given his impressive work in Tampa Bay this season. Stevie Y went to Red Wings U and got his four-year Holland degree.
"Get good players and keep them," Yzerman said with a smile, when asked what he learned working alongside Holland, assistant GM Jim Nill and senior vice president Jimmy Devellano. "Every day, I would go in and mostly listen. I watched how Kenny ran the organization, how he went about making the decisions he made, how he interacted with his coaching staff. Every part of it I found interesting."
Good pupil?
"He came to work every day. He put his time in, both in terms of years and in terms of commitment," Holland said. "And I think his time managing Canada at the World Championships and the Olympics -- those were tremendous experiences to help prepare him to be an everyday manager in Tampa."
And what didn't go unnoticed? Yzerman didn't muscle his way to the top in Detroit. He certainly had the power to do so if he wanted.
"Most people of his stature, either right off the bat or in short order, they come in and they're the boss," Holland said. "He accepted his role. He was comfortable coming in and working with Jimmy D, Jimmy Nill and myself."
Yzerman also left Detroit to chase his dream of becoming a GM. He had too much respect for Holland to do otherwise. Instead, Yzerman came to Tampa to cut his teeth in the GM profession.
"In a real short time in Tampa, I think he's put a tremendous stamp on that franchise and that organization," Holland said. "I just think in time, he's going to build a very, very strong organization that the people in Tampa are going to be very proud of. He's a fierce competitor and a hard worker."
Home is now Tampa, but Yzerman will never forget his NHL roots.
"I came there as an 18-year-old, as a kid. I grew up there," Yzerman said. "Throughout my entire career there, we had a passionate fan base which lived and died through it all with me. We went through it all together, as a city and a state. It'll be the same with Nicklas Lidstrom. ... You're tied to the city."
Holland went one step further.
"You think about the Detroit Red Wings, we've been around 90 years or so, I think of three players: Gordie Howe, Steve Yzerman and Nick Lidstrom," Holland said. "We had other, great, great players, but I think those three are the head of the class. Steve has meant so much to our organization and to the city of Detroit, it's going to be strange [Thursday night], no question."