February, 16, 2014
Feb 16
6:50
AM ET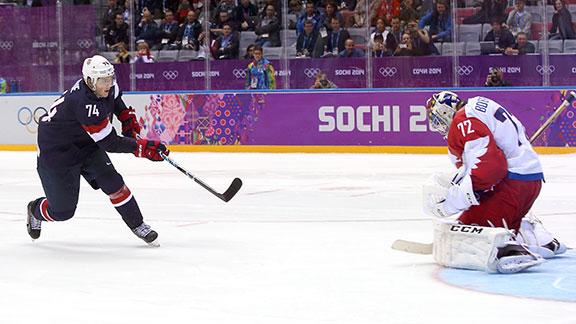 SOCHI, Russia -- It didn't matter the country or the venue -- the T.J. Oshie shootout spectacle was the talk of the hockey world, if not the entire Olympics.
Oshie's stunning performance in the Americans' 3-2 shootout win against host Russia on Saturday, when he scored on four of six shootout attempts, saw his Twitter followers explode from 90,000 to 167,000. He also did an interview with Al Michaels ("Do you believe in miracles?!").
Oshie's performance also brought back memories for Team Canada center Jonathan Toews.
The Chicago Blackhawks captain once upon a time scored three shootout goals for Canada in a World Junior Championships against the United States in a semifinal game in Sweden.
"Yeah, he put on a show. That was pretty cool to watch him" Toews told reporters after Team Canada's morning skate Sunday. "Not only scoring four out of six and probably could have gone six for six had he gotten a bounce on the two that he missed. But just watching him with a smile on his face and how relaxed he looked, I think he was almost 100-percent sure every time that he was going to score.
"Pretty amazing with that pressure to send that same guy out six times in a row. Even if the guy's automatic, it takes a lot of confidence from the coaches to put a guy like that over the boards that many times. He's a great kid and a pretty cool moment in his career, I'm sure."
Some of the Canadian players attended a curling match Saturday and then watched the U.S.-Russia game from the lounge in the athletes' village. Watching the tension-filled game made Toews and his teammates wonder how they would react should the same circumstances present themselves at some point in the tournament.
"It's scary to think about, but who knows? I'll be ready for whatever," Toews said. "I know I've had a lot of confidence in the shootouts this year and in the past as well, so if I'm called upon, you just got to go down there thinking -- find any way you can to score. If we happen to find ourselves in that situation, I think a lot of guys would be ready for that chance.
"I think for us to watch that, we know we might have to go something like that pretty soon so we've got to be ready for
that challenge, ready for that excitement. You can't win a gold medal without going through a few nail-biters like that, so we've got to be ready for it. That's what it's all about."
So, just how deep is Toews' bag of tricks if he does get pressed into shootout duty? The two-time Stanley Cup winner and member of Canada's gold-medal team four years ago wasn't tipping his hand.
"I can't comment on that now," he said. "You'll have to wait and find out I guess."
February, 15, 2014
Feb 15
1:44
PM ET
By
ESPN.com staff
| ESPN.com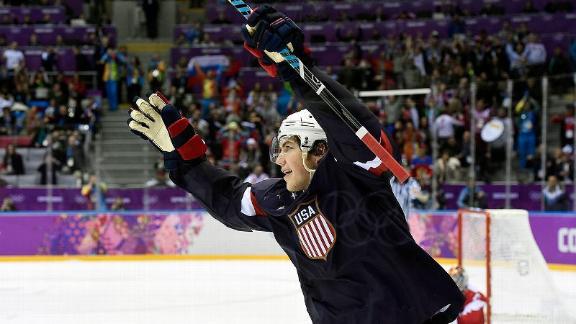 T.J. Oshie
, the hero of Team USA's thrilling
shootout win over Russia
, might not have been in Sochi at all had it not been for his skill in the shootout.
Oshie was one of a handful of players, including
Brandon Saad
of the
Chicago Blackhawks
, who fought for the final forward spots on Team USA leading up to the Olympics.
ESPN.com's Scott Burnside was embedded with GM David Poile and the other American decision makers throughout the selection process, and
his report from inside
contains a prophetic statement from Poile:
As he has throughout, (Blackhawks GM Stan) Bowman speaks on behalf of his player, Saad.

"I think he's a more versatile player than Oshie," Bowman says.

"I think he's got more to his game than Oshie. He's like a young version of [Marian] Hossa. He's such a strong guy. He's just hard to handle. He's smart. He's a guy the coaches would love," the Chicago GM says.

Poile, meanwhile, knows Oshie and likes his personality.

"Oshie's got that shootout move," he adds.
Burnside also reported that the Team USA coaching staff wanted Oshie, in part for his versatility and chemistry with
David Backes
, as well as his shootout skills.
It appears they put their faith in the right player.
April, 30, 2013
4/30/13
1:54
PM ET
ST. LOUIS --
T.J. Oshie
is in for the Blues, rookie
Vladimir Tarasenko
is out for Game 1 on Tuesday night.
Oshie hasn't played since March 28 while recovering from an ankle injury. Blues head coach Ken Hitchcock wanted to see how Oshie felt Tuesday morning after going hard in practice the day before and saw enough to make the decision to bring him back into the fold on a line with
Patrik Berglund
and
David Perron
.
That makes Tarasenko the odd man out, the coach confirmed after the morning skate.
"I've always believed that the first kick in the can in playoffs is for veteran players. You give them a go," Hitchcock said. "Tarasenko will probably get some time during the playoffs. But you want to give the veterans a chance -- unless they've really underperformed -- to prove that they want to take the ball and run with it. That's what we're going to do. And if somebody underperforms, we won't hesitate to replace them and move on from there."
Tarasenko, who had 19 points (8-11) in 38 games this season, has electrifying talent but hasn't been quite the same player since returning from a concussion earlier this season.
"In reality, this has been a very difficult season for him," Hitchcock said. "Not from the competition side of things but from intensity, games played, no practice, no rest -- I think he's found this season, at times, overwhelming. …
"He's played his best hockey when he's rested. We expect him to come into the series and be a rested player."
Greene might get the red light
Kings head coach Darryl Sutter wouldn't confirm on Tuesday morning his lineup for Game 1 but given that
Matt Greene
put in more time during the morning skate, it's likely he's out for Game 1 and
Keaton Ellerby
would replace him.
Greene was held out of the regular-season finale with an undisclosed injury. He had just come back and played four games after missing two months recovering from back surgery.
Showing their stripes
The series supervisor for the Kings-Blues series is Rob Shick, who met Tuesday morning with both head coaches.
It's pretty clear what Hitchcock said to Shick.
"Message to the referees was, 'Stand on the third row, just get the hell out of the way, let us play,'" Hitchcock told reporters after the morning skate when asked about his meeting with Shick. "Because there's two teams that know what's at stake, two teams that play the game the right way, two teams that know how to play; this is a series that deserves to be played five-on-five.
"And I think the referees will act accordingly. I think they're very good at understanding that these are two teams that really pride themselves on discipline and play with emotional control most of the time. Sure, we've got guys that take it over the edge, they've got guys that take it over the edge. But organizationally, [the Kings are] a team that gets on their players -- just like we do -- about taking bad penalties. I think if they just let us play, these teams will decide it five-on-five which is what we all want in the playoffs."
The refs for Tuesday night are Marc Joannette and Brian Pochmara.
Fourth-line finesse
The fourth line of
Chris Porter
,
Adam Cracknell
and
Ryan Reaves
remains intact for Game 1 -- a unit that Hitchcock has grown fond of.
"They're more than our fourth line," Hitchcock said. "They score. Fourth line as an energy line, those days are gone. Those are dinosaur lines, they don't work anymore in the league. The hockey is too good and your fourth line needs to contribute. And, boy, ours has come through in spades. They've scored, they've pressured on the forecheck, they've been able to play against top-six forwards, they're a lot more than a fourth line."
Probable lineups
BLUES
Forwards
Scwhartz-Backes-Steen
Sobotka-McDonald-Stewart
Perron-Berglund-Oshie
Porter-Cracknell-Reaves
Defense
Bouwmeester-Pietrangelo
Leopold-Shattenkirk
Jackman-Polak
KINGS
Forwards
Clifford-Kopitar-Carter
Brown-Richards-Williams
King-Stoll-Lewis
Penner-Richardson-Nolan
Defense
Regehr-Doughty
Scuderi-Voynov
Muzzin-Ellerby
July, 17, 2012
7/17/12
10:00
AM ET
Shane Doan is still waiting to see if the ownership saga in Phoenix will finally end, but teams around the league are clamoring to sign the 35-year-old forward. The Pittsburgh Penguins are the latest to reportedly make an offer to Doan, according to the Pittsburgh Post-Gazette. The San Jose Sharks, Los Angeles Kings and Vancouver Cancuks are also believed to be in the running.
Canucks goalie Cory Schneider said it is too early to panic over the owners' first proposal in negotiations for a new collective bargaining agreement, according to The Vancouver Sun. The proposal asked players to reduce their revenue share from 57 percent to 46, increase the years of service towards unrestricted free agency from seven to 10, restrict long-term deals to five years and eliminate signing bonuses.

"It's a starting point," Schneider told the paper. "We're going to consider it and figure out what our counter proposal is going to be. Yes, it is a little shocking when you first look at it but, again, that's how negotiations work. You aim high and then try to move back from there."
The St. Louis Blues don't appear to be close to reaching a deal with forward T.J. Oshie and are preparing for arbitration, according to the St. Louis Post-Dispatch. GM Doug Armstrong is headed to Toronto three days before the hearing to work with counsel on the case, the paper said.
November, 11, 2010
11/11/10
8:17
PM ET
Now we find out if the St. Louis Blues, one the best stories in the NHL early this season, truly are the sum of their parts and not just a team relying on a few key parts.
Because right now, they're missing a number of them.
T.J. Oshie is the latest key component to go down, and talk about a body blow. The Blues found out he'd be out a minimum of three months after undergoing surgery Thursday afternoon to repair a fractured left ankle.
"You're hoping for the best news, but when they said they had to have the surgery and came out and said three months ... you dust yourself off and you get ready," Blues GM Doug Armstrong told ESPN.com Thursday night before his team's game against the Nashville Predators.
The Blues are now missing two-thirds of their top forward line with top center David Perron still out with concussion-like symptoms he suffered from a hit by San Jose Sharks star center Joe Thornton on Nov. 4.
"The headaches are still there and he's not scheduled to travel with us on this [three-game] road trip," Armstrong said, meaning Perron is out at least until a Nov. 19 home game with Ottawa.
The blue line is also hammered with injuries as Roman Polak (wrist laceration), Barret Jackman (sprained knee) and Carlo Colaiacovo (concussion symptoms) remain out.
But losing Oshie, arguably the team's most dynamic player, is the biggest blow of all.
"So now we have to find a way to produce offense without him in there," Armstrong said. "And I think now it's time for players like Andy McDonald, Brad Boyes and David Backes to step up and provide the leadership that we know they have."
The same test awaits on the blue line, although Colaiacovo skated "full-bore" Thursday and Armstrong said he would likely join the team on the road trip, which goes through Phoenix, Colorado and Detroit.
"We're tested back there obviously with three players out in Colaiacovo, Jackman and Polak, but we're asking younger players to step in there," Armstrong said. "And we're also asking Erik Johnson and Alex Pietrangelo to take on a much bigger role defensively than maybe they thought they would have to take. And I'm excited to see how they'll progress through that."
The Blues aren't dependent on one or two superstars up front like other top teams. There's no Alex Ovechkin, Sidney Crosby or Steven Stamkos on this club. The belief, at least, is that the talent is more spread around, which will hopefully help in surviving this injury crisis.
"Going into the season that's why we felt we were going to be -- that we didn't have one alpha male that was sort of going to be targeted by every team," Armstrong said. "I thought what we had was a good collection of forwards who all could play the game and would all be asked to contribute."