Cross Checks:

Tim Gleason
November, 26, 2013
11/26/13
6:54
PM ET
IIHF President Rene Fasel stood firm during an IIHF council meeting Tuesday in Zurich that the Dec. 31 Olympic roster deadline would not be altered, a source told ESPN.com.
Top European countries such as Russia, Sweden, Finland and the Czech Republic have been pushing to change the rule to allow only a partial roster to be named by Dec. 31 and the rest of the players to be named closer to the Olympics.
I'm sure it's not the last we've heard of this, but Fasel indicated to all the countries in Tuesday's meeting that the rule won't be changed. The IIHF meeting continues Wednesday, so perhaps this isn't quite over yet.
The United States was given an exception to announce its roster at the Winter Classic on Jan. 1.
CAROLINA TRADE TALK
The
Carolina Hurricanes
are working the phones diligently, with the likes of defenseman
Tim Gleason
and forward
Tuomo Ruutu
being discussed with other teams.
Sources around the league suggest Gleason is getting more traction at this point.
Both players have no-movement clauses and have two more years on their respective contracts past this season, Ruutu for $4.75 million a year and Gleason for $4 million per season.
One source suggested that, if the Hurricanes move Gleason, they'd be perhaps willing to take on
John-Michael Liles
from the Leafs in return for Ruutu. But another source pointed to Ruutu's cap hit being too much for Toronto to take on.
PACIORETTY TRADE TALK
TSN's Bob McKenzie dropped a real interesting nugget Tuesday evening, reporting that
Montreal Canadiens
winger
Max Pacioretty
's name has been mentioned in trade talks.
A Habs source forcibly told ESPN.com that Pacioretty is not being shopped, but that obviously the team can't prevent other clubs from calling. And teams have.
Pacioretty, a Team USA Olympic hopeful, recently fired his agent, which raised eyebrows given that he's in the first year of a six-year deal paying him on average $4.5 million a year. That might have been the impetus for other teams calling Montreal.
ERAT ASKS FOR TRADE
Martin Erat
wants out of Washington. The veteran Czech winger never really found his niche with the Capitals after coming over last April 5 in the deal that sent prospect
Filip Forsberg
to Nashville.
Erat, in fact, asked Caps GM George McPhee for a trade in the first week of this season, both McPhee and Erat's camp confirmed to ESPN.com; then Erat asked McPhee once again for a trade late last week.
So the Caps are trying to accommodate him. The
Vancouver Canucks
are among the teams that have shown mild interest so far, one source said Tuesday.
With no goals in 23 games, he's hardly a hot asset, but the belief with some teams is that he'll be a motivated player who has a track record of performing in Nashville.
His contract is also alluring for some teams; while his cap hit is $4.5 million, his actual salary is $3.75 million this season and lowers again to $2.25 million next year.
PHANEUF CONTRACT TALKS
Dion Phaneuf
's representation from Newport Spots made the opening presentation in contract talks (ballpark offer) about two weeks ago, and word is the Leafs will counter in the next week. While term may be a sticking point, I'm guessing the dollar amount in the end will actually be the biggest obstacle. The next three to four weeks in this negotiation are going to be important. I don't think Phaneuf wants this negotiation to drag on all season long.
BACKLUND ON MARKET
The
Calgary Flames
are listening to offers for 24-year-old center
Mikael Backlund
, a former first-round pick (24th overall in 2007) who hasn't found his stride.
The Flames already turned down an offer, a source told ESPN.com, and won't move him for the sake of it.
Backlund has one more year on his deal at $1.5 million.
RINNE UPDATE
The original plan was to have
Pekka Rinne
undergo an MRI this week, but that's now been pushed back to Dec. 5. Nothing to read into it, a team source said, just a scheduling thing.
What doesn't change is how important that MRI will be. If it's good news and his recovery is on target, I don't think the Preds need to trade for a netminder. But if it's horrible news, that might change things.
Having said that, rookie
Marek Mazanec
-- he's 3-1-0 with a 1.61 GAA in his past four starts -- is certainly doing his best to suggest the answer lies within.
As I've reported before, the Ducks and Predators have talked, but
Viktor Fasth
's injury makes it unlikely anything will happen for the time being. The plan in Anaheim now would be to hold tight to
Jonas Hiller
until further notice.
CANADIAN TV DEAL
The NHL's new Canadian TV deal with Rogers will help raise the salary cap.
The 12-year deal, announced Tuesday morning, is worth $436 million per year for the league and its 30 teams.
Divided by the 30 clubs, that's an average of $175 million over 12 years per team ($14.5 million per year), although not every team will get the same share, a source said. The seven Canadian NHL teams will get a bigger share of the TV pie due to "invasion fees."
Invasion fees are designed to compensate the Canadian teams for the local inventory lost to the national TV deals.
February, 3, 2012
2/03/12
11:42
AM ET
Tim Gleason
was a man in demand.
Philadelphia, Boston, Chicago, Nashville and Detroit were just some on a long list of the teams that were believed to have some level of interest in the rugged defenseman.
Slated for unrestricted free agency on July 1, he was an obvious target for playoff-bound contenders, and the trade rumors were hard to ignore.
"I was pretty much going somewhere every day," Gleason laughed Thursday night in a chat with ESPN.com.
Hurricanes GM Jim Rutherford knew he could get very good value for Gleason, but he wrestled with the thought of having to replace him next year.
[+] Enlarge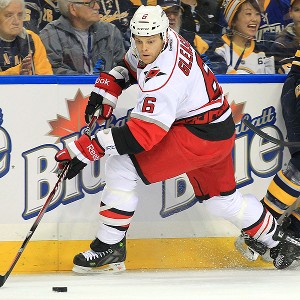 Kevin Hoffman/US Presswire "The last 10-15 games, we're moving in the right direction," Tim Gleason says of his decision to stay in Carolina. "We're in every game. It's only going to get better I believe."
"Despite what the rumors were, I don't think at any time we had made a decision we definitely wouldn't keep him," Rutherford told ESPN.com Thursday night. "As we studied it, we just felt if we let him go that he'd be hard to replace. So we met during the All-Star break and we're able to get something done."
Said Gleason of the four-year, $16 million extension announced Monday: "It got done pretty quickly."
The deal includes a no-trade clause for the first two seasons of the deal, but it doesn't kick in until July 1. Because of that, Gleason's veteran agent, Pat Morris of Newport Sports, protected his client by getting in writing Rutherford's assurance that he wouldn't move Gleason between now and July 1.
Rutherford looked Gleason right in the eye and promised him as much.
"I shook Jimmy's hand, it was a promise," Gleason said. "You have to respect that, obviously. Jim is well respected by myself and my family. We were happy to get the negotiations finished."
The grass can often look greener in pro sports. Gleason knew some of the teams rumored to want his services had a serious shot at winning a Cup. But he said he the Canes are turning things around, and he wants to stick around for it.
"The last 10-15 games, we're moving in the right direction," Gleason said. "We're in every game. It's only going to get better I believe. That was part of my decision."
The other part? Gleason and his family have been in Raleigh since 2006. It's home now.
"I've been here for a while and you get to know people inside and outside of hockey," he said. "Friendships are hard to find here and there around the hockey world. We're happy here."
Red Wings' shopping list
The
Detroit Red Wings
remain on the hunt for a top-six forward, but I'm not so sure they're as keen on Oilers winger
Ales Hemsky
as they were earlier this season.
I was told Friday that now they're more inclined to try to pick up a forward who has more edge to his game.
Forward
Tuomo Ruutu
of the
Carolina Hurricanes
is one of several names on the Wings' short list. But, will he be available in the end? The Hurricanes could always pull a Gleason with Ruutu and talk extension with the forward before deciding whether to trade him.
The Wings are like many of the contenders right now, they haven't done anything because the buyers outnumber the sellers on the trade market.
As for Hemsky (UFA on July 1), I believe Los Angeles and Nashville still have interest in him.
I wrote earlier Friday that perhaps
Dominic Moore
would be another name the Wings were interested in, completely forgetting
the history between the Moore family
and
Todd Bertuzzi
. Scratch that idea.
Schneider's future
Cory Schneider
's trade value continues to soar with each and every impressive performance.
But judging from what sources around the league are telling ESPN.com, I would be stunned if the
Vancouver Canucks
moved him before Feb. 27.
It's not impossible, but my understanding is that the Canucks would have to be absolutely blown away by an offer.
My sense is that the Canucks are more than happy to have a 1-A and 1-B situation in goal with
Roberto Luongo
and Schneider entering the playoffs, giving themselves tremendous insurance should Luongo either get injured or struggle.
Come summer, the Canucks can revisit their situation in goal and capitalize on their depth on the trade market.
I also think it's brilliant that coach Alain Vigneault started Schneider for a key game in Boston earlier this season, as well as in this past week's win over the rival Blackhawks. It gives Vigneault the necessary confidence to know that if he has to go to Schneider in a playoff game, he can do so without worry.
Jagr's extension talks
The Flyers and Jaromir Jagr's agent, Petr Svoboda, had preliminary conversations last month about a possible extension.
Jagr wanted some time to think about things before getting back to the Flyers.
"I'll be talking to [Flyers GM] Paul Holmgren again within a week probably," Svoboda told ESPN.com Wednesday.
Jagr, who turns 40 on Feb. 15, signed a one-year, $3.3 million deal last summer. He'll be an unrestricted free agent on July 1, but there's obvious interest in staying in Philadelphia if both sides can come to agreement.
"It's a good situation for him there," Svoboda said.
Blackhawks not done
Chicago's acquisition of veteran center
Brendan Morrison
doesn't mean the Blackhawks are done before the trade deadline.
The Hawks, I'm told, would like to acquire a defenseman to play on their third pairing. After allowing eight goals in Edmonton on Thursday night to sit 25th in goals against in the league entering the weekend, help on defense should indeed be a priority.
And despite getting Morrison, they'd still be willing to add a forward, one with grit. With the rugged
Daniel Carcillo
out for the season, they'd like a little sandpaper in any forward they acquire.
Predators' recent success
One of the reasons for Nashville's torrid run of late might surprise some, given that people assume defense to be the team's top priority. Fact is, the Preds were middle of the pack in early January in goals against but have really tightened up over the past month.
"Defensively we've been much better than we were earlier in the year," Preds coach Barry Trotz told ESPN.com this week.
Trotz also pointed to the leadership on the team as a major contributing factor.
"The young guys are playing more like poised veterans, and the veterans are doing a really [good] job in terms of helping them out," Trotz said.
"Our core of leaders is as strong as it's ever been here in terms of character and work ethic. Also in terms of accountability to teach others, they don't take any days off; they're very professional."