March, 6, 2014
Mar 6
2:48
PM ET
The
St. Louis Blues
,
Montreal Canadiens
and
Minnesota Wild
tallied the most mentions in an unscientific poll of NHL general managers who were asked which clubs impressed them the most with their trade deadline moves.
The Blues were the most cited among responses from 10 GMs on Thursday, their blockbuster acquisition of netminder
Ryan Miller
and gritty forward
Steve Ott
solidifying St. Louis as a Cup contender. Blues GM Doug Armstrong got lots of kudos from his peers in our little survey Thursday.
"[Armstrong] gave up a lot, but he got the goalie he needed," said a Western Conference GM. "He's got conviction. He went for it. I admire him for that."
Added an Eastern Conference GM: "St. Louis for sure got better. Ott is a bit overrated, but [coach Ken Hitchcock] has had him before and will get the best out of him. Miller obviously is the key guy there, a huge upgrade in goal."
The Habs and Wild were tied for the second-most mentions after Montreal nabbed
Thomas Vanek
and Minnesota got busy over a 48-hour period, adding goalie
Ilya Bryzgalov
and scorer
Matt Moulson
.
[+] Enlarge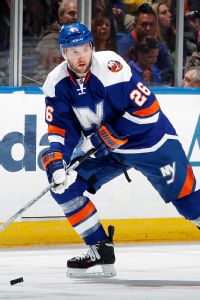 Paul Bereswill/Getty ImagesGetting Thomas Vanek for a bargain price earned praise for Marc Bergevin.
Montreal GM
Marc Bergevin
got high marks from his peers for getting Vanek at a discount rate from the
New York Islanders
, while Minnesota GM Chuck Fletcher got praise for his industrious few days.
"Bergevin did a really good job on Vanek," said a Western Conference GM in a comment that was repeated by many.
The two Florida teams also got a few mentions and for the purpose of this survey would rank tied for third.
Tampa Bay Lightning
GM
Steve Yzerman
had only one team to deal with in meeting the trade demand of his captain,
Martin St. Louis
, but Yzerman still got a decent deal out of it from the
New York Rangers
.
"I thought Steve did an excellent job managing that situation. He got a nice return," said a Western Conference GM.
Said another Western Conference GM via email: "To me, Steve Yzerman did the best job. He was dealt a bad hand. And nobody could have played that hand any better. Plus he did it with class (as always)."
Panthers GM Dale Tallon also got some attention for stunningly getting
Roberto Luongo
out of Vancouver. "Dale Tallon had the best deadline of all," said one Eastern Conference GM.
The Penguins were mentioned by one Western Conference GM, with Pittsburgh adding forward
Marcel Goc
and
Lee Stempniak
. "Pitt was strong with quality, under-the-radar players," a GM said via email.
Buffalo Sabres
rookie GM Tim Murray has been busy over the past week, beginning a rebuild and getting a vote from one Western Conference GM for his efforts.
"Tim Murray certainly added a lot of long-term assets," said the GM.
The
Anaheim Ducks
struck out on Canucks center
Ryan Kesler
but did add veteran blueliner
Stephane Robidas
. Ducks GM Bob Murray got a vote from a fellow Western Conference GM.
"[Murray] always sees the big picture. He is two steps ahead of what is in front of him," said the GM. "No one has come close to doing the job he has done the last five years. He inherited a very difficult situation and executed flawlessly."
Other post-deadline notes and thoughts:
• Interesting to find out from a source Wednesday night that Toronto was among the teams that inquired about Vanek. Imagine the Leafs' reaction when rival Montreal got him, especially given the modest price the Canadiens paid.
• Needless to say, the Canadiens were never going to get Vanek if the Islanders' asking price continued to include a first-round pick, which it did for quite some time. Once the first-round pick was eliminated from the equation, the Habs jumped in with both feet.
• Vanek is on record saying he's going to the free-agent market on July 1, and at this point there's no reason to think that won't happen. Still, in the back of my mind I wonder whether this is a repeat of the Alexei Kovalev situation, with a presumed rental player ending up staying around because he falls in love with the electric market that is Montreal. Food for thought ...
• The Penguins made an effort on Kesler and also had a line in the water on
Ales Hemsky
, the
Edmonton Oilers
forward who went to Ottawa instead. I thought Hemsky would have been a nice fit in Pittsburgh, but Goc and Stempniak are solid additions. Goc is versatile and provides depth at center while Stempniak could surprise some people after being given a fresh start, like
Jussi Jokinen
has done since joining the Pens at last year's trade deadline.
And this, from our friends at Bovada:
January, 22, 2014
Jan 22
9:34
PM ET
The word "whirlwind" pretty much sums up Tim Murray's first two weeks at the helm of the
Buffalo Sabres
. The new general manager has been criss-crossing the continent scouting prospects, meeting staff and just getting a handle on the operation he's taken over.
Oh, and he finally moved to Buffalo.
"I drove down from Shawville [Quebec] on Tuesday with my truck loaded up and moved in," Murray told ESPN.com on Wednesday night. "So now I'm here."
Oh, but the work is just getting started, beginning with what he's going to do with his pending free agents, led by the likes of winger
Matt Moulson
and star netminder
Ryan Miller
among the 11 unrestricted free agents on the club.
"When the concrete offers start coming in, and if the offers are legit offers that improve the franchise going forward, I have to listen," Murray said. "I think that all the pending UFAs are probably expecting to be moved; I'm not going to say they're definitely going to be moved, there has to be a market."
The reality is that Murray has just begun the process of establishing what deals are out there for some of his UFAs.
"We're just starting to explore the market the last day or two," Murray said. "I've had some calls, and most of the calls are just generalities: 'If I can meet your demand, would you be willing to move him?' So you have teams calling, for sure, and they're asking about different players. Every team has a different need; the same names come up, obviously, as far as the forwards go. My mandate here is to get better. I don't want a five-year rebuild, that's not what I'm about. It's about getting better, and if that means trading guys and getting assets for them, then that's the way it will be."
Murray also said he's open-minded to whether or not players want to stay to be part of the rebuild, but, obviously, the price has to be right.
I asked a Western Conference GM to ponder what he would do if he were taking over the Sabres, most notably in terms of the pending UFAs on the roster and the rebuilding decisions ahead.
"Miller has been outstanding, so I would keep him for sure," the GM said via text message Wednesday. "Not that many goaltending options and the one you know [is] better than someone you don't know. I have always believed that you need some good veteran players to help [the young] ones along. You don't need tons more draft picks when you have as many as they already do. There comes a point when you could have too many young players [and] picks. I can't speak to how good or valuable [Steve] Ott and Moulson are since I don't know them that well or follow their contribution that closely. If they decide to move them, I would personally not just get more picks and prospects back since they have lot of those already. I would look for players that can play so you don't rely on rookies so much."
Miller is an intriguing situation. He's easily Murray's most valuable trade asset and yet there likely won't be as many teams lining up for the star goalie compared to Moulson, for example. There are just more teams every year looking to add a rental forward or rental defenseman, whereas trading a top goalie midseason is always a tricky proposition because there aren't as many openings around the league at that position.
And while Murray hasn't closed the door on any scenario, it seems highly likely that dealing Miller is the most logical play.
"There's two lines of thoughts on that," said Murray, a key cog in the Ottawa and Anaheim front offices in his past two NHL stops before Buffalo. "I think if Ryan thinks that we're three years away from being competitive, at his age ... he's not going to come out and ask for a trade, and I know that -- he's been here a long time, and I wouldn't expect that. But you do have to be fair to a guy that has put his time in here and be realistic on what's left and how much time it's going to take. We were fair to guys in Anaheim and in Ottawa in the past. We traded
Mike Fisher
to Nashville. It's not the best scenario, but I think I can figure out what deep down Ryan really wants and what's fair to him. And maybe what's fair to him is a chance to win a Cup."
But Murray was quick to add that he's not trading Miller for sure.
"It depends on the market," he said.
In other words, teams better step up; Murray won't give his goaltender away.
In the meantime, there are so many other things to think about when you're taking over an organization. Perhaps something fans wouldn't think about is that a priority for Murray was getting his scouting staff working on the Rinknet scouting computer system he used in Ottawa -- a different system than they had been using in Buffalo.
"The day after I got hired, I wanted to bring in my own scouting system, as far as Rinknet and rating system," Murray said. "We got that done about a week ago. Now our guys have to learn that, and I know the numbers aren't going to jive with my numbers right off the bat, but I told them that we're going to be talking numbers: 'If you told me you went to watch Pierre play last night, is he a five or a four-plus?' That's going to be the lingo and the culture here. So it's going to take them time to get on to the system, but I think that was important to get everyone on the same page right off the bat and let them run with it. Scouting is everything. Scouting is where it's at. You can't improve unless you evaluate well, whether it's pro, whether it's amateur, whether it's staff -- they say you're not supposed to judge, but that's all we do."
You just get the feeling that the Sabres have hired well here.
December, 10, 2013
12/10/13
1:10
PM ET
While we await word on just how big a whack Boston's
Shawn Thornton
will get for hunting down and pummeling unsuspecting Penguin
Brooks Orpik
(the guess is a dozen games for sending Orpik to the hospital with a concussion and to the injured reserve list), league disciplinarian
Brendan Shanahan
got it just about right with the five-game suspension handed down to
James Neal
for kneeing
Brad Marchand
in the head in the same game.
In a game with plenty of ugliness, Neal's cheap shot to an equally unsuspecting Marchand was the most senselessly bizarre. One wonders how the suspension will effect Neal's standing with the Canadian Olympic group. It's not just the five games he'll miss, but the question of whether in a tournament in which special teams will play a prominent role, you can afford to have someone on your team who has so little self-control.
[+] Enlarge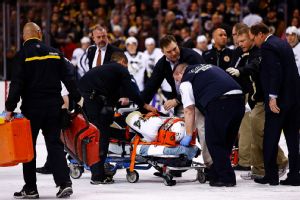 Jared Wickerham/Getty ImagesThe notion that Brooks Orpik should have to defend himself or risk getting injured after a legal play is part of the problem in today's game.
Finally, the Bruins not only lost
Loui Eriksson
to a hit from Orpik in that game, but also
Chris Kelly
to a broken leg courtesy of
Pascal Dupuis
. The replay of Kelly's injury shows that Dupuis isn't even looking at Kelly but is instead trying to make contact with a bouncing puck, but that won't make Kelly or the Bruins feel any better.
One NHL executive at the board of governors' meetings in California suggested that if Orpik had simply fought Thornton -- as Thornton had wanted after Orpik's heavy hit on Eriksson -- none of this would have happened. Oy.
If there is a problem the league's GMs and competition committee need to address, it's the notion that players should have to fight after delivering a legal body check. Whatever happened to simply taking a hit?
The sooner the league moves to punish players who go looking for fights in the aftermath of clean hockey hits -– there was no penalty assessed on the Orpik hit on Eriksson –- the sooner we have fewer incidents like the debacle in Boston on Saturday.
Lightning bitten by injury bug
While the Bruins deal with several injuries and the loss of Thornton (and continue winning, by the way), no team has it quite as bad as the
Tampa Bay Lightning
.
After being relatively injury-free through the first six weeks of the regular season, Tampa Bay lost
Steven Stamkos
to a broken leg in November and has been besieged by other key injuries since.
"It was exactly like the injury dam broke," head coach Jon Cooper told ESPN.com Monday.
The Lightning have piled up 101 man-games lost to injury, and at one point last week had 13 players in the lineup with fewer than 100 NHL games to their credit, and eight with fewer than 50 games.
On the night the Lightning got defensemen
Eric Brewer
and
Radko Gudas
back from injury,
Keith Aulie
and
Victor Hedman
both went down with long-term injuries. The two defensemen join Stamkos and veteran winger
Ryan Malone
among those with significant injuries.
One of the first things Cooper did when talking to his players about the spate of injuries is to make it clear they weren't going to use them as an excuse for on-ice performance.
"The one thing we'll never do is use injuries as an excuse because once you do that, we're done as a team," Cooper said. "The mindset has been, 'These are the 20 guys we're going with on any given night, now how do we get the most out of them?'"
But the rash of injuries that totaled more than 2,800 games of NHL experience has tested the team's organizational depth and forced players to play out of their comfort zone.
Valtteri Filppula
, for instance, is now the team's No. 1 center and
Tyler Johnson
is in Filppula's normal spot on the second line, meaning both are playing against a class of players they're not used to seeing.
Overall, Tampa has four rookies among in the top 30 in scoring among first-year players.
The team has held its own since Stamkos went down, going 5-5-2 overall and 4-1-1 at home. The team defense and goaltending have been excellent, but the team's offense has, perhaps predictably, gone south.
"The problem is we're really struggling to score," Cooper said.
Surprise for Sabres?
Among the interesting names being bandied about for the vacant
Buffalo Sabres
GM job is that of Tim Murray. The current assistant GM in Ottawa, Murray had a hand in building the Anaheim Ducks' Stanley Cup winner in 2007 as director of player personnel responsible for college free agents.
He has also served with the
New York Rangers
and
Florida Panthers
in various scouting capacities. Bloodlines don't hurt, either, and Murray is the nephew of current Ottawa GM Bryan Murray and former NHL head coach Terry Murray.
Fisher making a Selke case
Of all the trophies hockey writers vote on, the one that gives us most pause is narrowing the field for the Frank J. Selke Trophy as the league's best two-way forward. It is always difficult to balance the offensive side of the game with the work a player does killing penalties, taking key draws and shutting down the opposing team's top players.
So we listened with interest as Nashville head coach Barry Trotz talked about his top shutdown center,
Mike Fisher
. The team has struggled and Fisher's offensive numbers (seven goals, 12 points) aren't what he or the team hoped for, but he remains a key figure even though his work goes largely unnoticed.
"He's always been a guy, top centerman in the league, he ends up playing a lot of times head-to-head [against opposing stars] and I think he hasn't got any credit for that here the last couple of years," Trotz said in a recent interview. "He's scored and all that, but he's sort of under the radar and I think this year, especially this year, he's played really back to the level that I think has made him a real hard player, a Selke candidate.
"His numbers are modest, but they're solid for our team. He plays against the top guys almost every night. He plays heavy minutes and he plays a heavy game. He doesn't play a light, shadowy game.
"At the end of the night, you know you played Mike Fisher. At the same time he still operates on the penalty kill, still operates on our power play," Trotz continued. "Plays head-to-head against people, plays in all the key situations, takes key faceoffs, him and
Paul Gaustad
. He really is a guy who is very important to their team, but at the same time contributes on both sides of the puck.
"He's not a pure shutdown guy; that's why I don't think he gets the credit that he deserves. It's a hard league and he's a hard guy to play against."