Cross Checks:

Tomas Plekanec
October, 13, 2014
10/13/14
12:11
PM ET
By
From the NHL
| ESPN.com
Montreal Canadiens
center
Tomas Plekanec
,
Minnesota Wild
goaltender
Darcy Kuemper
and
Pittsburgh Penguins
center
Sidney Crosby
have been named the NHL's "Three Stars" for the week ending Oct. 12.
FIRST STAR – TOMAS PLEKANEC, C, MONTREAL CANADIENS
Plekanec tied for the League lead with four goals (4-1—5), helping the Canadiens pick up a trio of road wins to open the season with a 3-0-0 record for the first time since 2005-06. He began the season with two goals, including the game-winner with 42.9 seconds remaining in regulation, in a 4-3 victory over the
Toronto Maple Leafs
Oct. 8. Plekanec then scored Montreal's lone regulation goal in a 2-1 shootout win over the
Washington Capitals
Oct. 9. He closed the week with 1-1—2 in a 4-3 shootout victory over the
Philadelphia Flyers
Oct. 11, marking his first three-game goal streak since Oct. 25-29, 2010 (3-1—4). The 31-year-old Kladno, Czech Republic, native is playing in his 10th full NHL season and has compiled 180-264—444 over 682 regular-season games.
SECOND STAR – DARCY KUEMPER, G, MINNESOTA WILD
Kuemper stopped all 46 shots he faced in helping the Wild become the fifth team since 1943-44 to begin a season with consecutive shutouts (a feat also accomplished last week by the
San Jose Sharks
). He recorded 16 saves in a 5-0 triumph over the
Colorado Avalanche
Oct. 9 and then completed the home-and-home sweep with 30 stops in a 3-0 win Oct. 11. According to the Elias Sports Bureau, the 24-year-old Saskatoon, Sask., native is the youngest goaltender in NHL history to post shutouts in each of his team's first two games of a season. A sixth-round pick (161st overall) by the Wild in the 2009 NHL Draft, Kuemper has a 15-10-4 record with a 2.22 goals-against average, .919 save percentage and four shutouts in 34 career regular-season appearances.
THIRD STAR – SIDNEY CROSBY, C, PITTSBURGH PENGUINS
Crosby shared the League lead with six points (3-3—6) and four power-play points (2-2—4) in lifting the Penguins to a pair of victories to open the season. He posted 2-1—3 in a 6-4 win over the
Anaheim Ducks
Oct. 9, marking his third consecutive home opener with a goal and stretching his career totals in home openers to 7-6—13 (9 GP). Crosby then added 1-2—3 in a 5-2 triumph over the Toronto Maple Leafs Oct. 11. According to the Elias Sports Bureau, he is the first Penguins player to record at least three points in each of the team's first two games of a season since 1995-96, when
Ron Francis
,
Jaromir Jagr
and
Mario Lemieux
each did so. The reigning Hart and Art Ross Trophy winner, Crosby has compiled 277-498—775 in 552 regular-season games since being selected first overall by the Penguins in the 2005 NHL Draft.
October, 9, 2014
10/09/14
9:06
AM ET
TORONTO -- If you believe in symbolism on opening night, the
Montreal Canadiens
couldn't have scripted any better.
All four goals were scored by alternate captains -- the sport's most iconic franchise going without an actual captain this season, a decision that wasn't universally well-received in the hockey-crazed market.
It fueled a common talking point all training camp long: with the offseason departures of captain
Brian Gionta
, vocal assistant
Josh Gorges
and respected veteran
Daniel Briere
, among others, would the young Habs overcome the leadership void?
It's only one night, of course, but the alternate captains made one heck of a statement in Wednesday's 4-3 thriller over the host
Toronto Maple Leafs
:
Max Pacioretty
scored 4:42 into the season on a beauty of a rush that left Leafs captain
Dion Phaneuf
in his wake;
Tomas Plekanec
had a pair of goals on a night where he was an absolute beast, from the penalty kill to his 59 percent success rate in the faceoff circle; and
P.K. Subban
scored a big third-period goal and was electric all night long.
The fourth alternate captain, veteran
Andrei Markov
, was solid as well in leading the team with a game-high 26:17 minutes while helping to shut down
Phil Kessel
.
Who needs a captain when your four alternates play like that, right?
"Good call by the coaches, I guess, by management," smiled Plekanec, whose bank-shot goal with 43 seconds left gave Montreal the win.
Plekanec was a man possessed, easily the best player on either team, as reflected by being named the game's first star. The Leafs could barely touch the puck when his line with
Alex Galchenyuk
and
Brendan Gallagher
was on the ice.
[+] Enlarge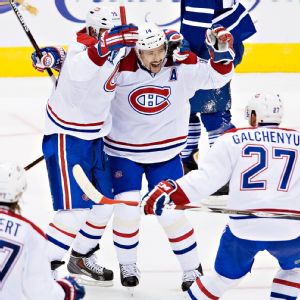 AP Photo/Darren CalabreseThe Canadiens, led by Tomas Plekanec, didn't seem to have a leadership void on opening night.
It's a reminder of just how important Plekanec remains on this team, despite the obvious growth plan of this team around the younger core.
The 31-year-old Czech center could easily have deserved the captaincy on his own. But he'd be the last guy to complain.
"Obviously, it's a great honor when you're talking about the captain of the Montreal Canadiens," said Plekanec. "Being in Montreal so long, I guess, a lot of people saw me as a top candidate. But I think they made a good call by going with the four A's. We'll figure it out next year."
Another key leader on this team, stud goalie
Carey Price
, had an interesting answer when asked by ESPN.com after his media scrum following Wednesday's game who was one of the more vocal players in the room between periods in the opening game.
"Manny, for sure,
Manny Malhotra
," said the Olympic champion goaltender.
The 34-year-old newcomer didn't get an "A" on his uniform, but it's clear from Price's comments that Malhotra will also have a major role to play in helping feel that leadership void.
But the most pleasing sight for the head coach? Michel Therrien, when asked about his alternate captains, directed his heaviest praise for one particular player.
"I thought P.K. was really good. He [made the] right decisions, jumped in the play at the right time. That's a good sign of maturity," Therrien said. "This is what we're looking for with his game. He looked like a real quarterback for us tonight."
Playing in his first game since signing an eight-year, $72 million contract during the offseason, Subban looked carefree and
confident as he dangled in and out of traffic and controlled large moments of the game.
Looks like the $9 million man is going to be all right.
"Our attention to detail, just paying attention to the details in our structure, I thought guys did it well," Subban said of his team's game, deflecting individual praise. "And the times we didn't do it, there were guys on the bench letting guys know, saying, 'Hey, you've got to be better.' I said it at the start of the year: We need 22 leaders, not four. Today it seemed like there was no passengers on our team. Everybody was held accountable, and everybody was holding themselves accountable and doing what they're supposed to do."
If you're looking for signs of a young team responding to adversity, what better example than the Canadiens coming right back 96 seconds after the Leafs tied the game 3-3 on a fluky goal by getting one of their own bank goals to win it.
There were no evident signs of panic, despite the bedlam at Air Canada Centre when
Morgan Rielly
's goal tied it late for the Leafs.
"We're a resilient group in here," Subban said. "It doesn't surprise me that we came right back. We know how important the first shift is after you score a goal and after you give up a goal. I'm happy with the way our team played today."
Kozun, Percy impress
Leafs rookie
Brandon Kozun
did not look out of place in his first NHL game, using his speed and getting his first NHL point when his shot from the slot was redirected by
Nazem Kadri
.
"I would've felt better if we won the game," Kozun said of getting his first NHL point. "I think I can be better," he added of his overall game.
"I don't know, I just don't think I had as much jump as I usually have."
The kid's being hard on himself; I didn't think he was too bad at all.
Blueliner
Stuart Percy
also looked good in his first NHL game, showing poise with the puck. He's not flashy, but he makes good decisions.
"I thought Percy was very good," Leafs captain Dion Phaneuf said. "He plays well above his age. I thought that he, not only on the goal, but the way that he moves the puck out of our zone, the patience that he has ... he's a really good player for a young guy coming into the league. I think he showed that he's a very mature player, especially coming out of the defensive zone moving the puck and having the patience to do that. It's not easy to do that in this league."
Tokarski goes Thursday
Therrien said backup netminder
Dustin Tokarski
would start Thursday night's game in Washington as the Habs open with back-to-back games.
October, 4, 2012
10/04/12
10:43
AM ET
By
Sarah Goldstein
| ESPN.com
February, 26, 2012
2/26/12
2:33
PM ET
Some quick notes on a quiet Sunday before the deadline on which
Ben Bishop
was traded to Ottawa:
February, 25, 2011
2/25/11
12:43
PM ET

Stock Up
Ales Hemsky, Edmonton Oilers:
Is the talented Hemsky heating up at just the right time for the Oil to cash him in for some more assets moving forward? Hemsky, who has skill to burn but has had trouble staying healthy, has four goals and six assists in his last seven games. Hmmm. Think L.A. GM Dean Lombardi has noticed? What about Pierre Gauthier in Montreal?
Matt Moulson, New York Islanders:
We spend a lot of time hammering the Islanders for their various faux pas, but there are lots of interesting things happening on Long Island, including the high-end work of big forward Moulson. Kudos to GM
Garth Snow
for getting Moulson under contract as opposed to trading him -- something that had been rumored earlier in the season. Moulson has rewarded the Isles' faith in the form of a three-year contract extension with eight goals and three assists in his last eight games.

Stock Down
Brian Boyle, New York Rangers:
Boyle has been one of the surprising bright lights for the Rangers this season, chipping in 19 goals from the center position, a thin spot for the boys from Gotham. But Boyle's production has slowed of late with just one goal in his last 10 games. No coincidence that the Rangers have also found points hard to come by in the standings.
Tomas Plekanec, Montreal Canadiens:
Plekanec remains the Habs' leading scorer by a wide margin but will need to get back on track to keep the Canadiens pointed in the right direction. Plekanec has just one goal and three assists in his last nine games. Lack of production from him and the team's top line puts additional pressure on a banged-up defense and netminder
Carey Price
.
October, 27, 2010
10/27/10
11:10
PM ET
February, 9, 2010
2/09/10
11:22
AM ET
Editor's note: There's the March 3 trade deadline, and then there's the Olympic roster freeze that runs from Feb. 12-28. Between now and Feb. 12, ESPN.com's Scott Burnside and Pierre LeBrun will look at 10 potential trade baits and which teams have a chance to land some much-needed help.
Halak, Price and Plekanec
Scott Burnside: Hello, Pierre. Big news out of Montreal on Monday, with general manager Bob Gainey stepping down and Pierre Gauthier taking over immediately while Gainey stays on as an adviser. Gauthier has a few issues right away, including what to do with his goaltending situation. Jaroslav Halak, the current if nominal starter, could be a restricted free agent in July. And then there's Tomas Plekanec, one of the team's top forwards, who can become an unrestricted free agent July 1. So, what do you do? Swing a deal? Add talent in the hopes you can go on a long playoff run? Never easy answers in Montreal.
Pierre LeBrun: Well, I think Gauthier showed his hand when it came to his two goalies, Halak and Carey Price.
"We have two very strong, young goaltenders, and they've been a very big part of our team this year," Gauthier said at his news conference Monday. "They give us a chance to win every night. That's a very important thing in a very close league.
"We believe that we can go forward with these two young men, and that's our best chance to get into the playoffs this year. That's a strong position, and we'd like to keep it strong."
So the Habs' plan would seem fairly straightforward for now, unless of course someone knocks their socks off for either goalie. And let's remember the history here. From what a source close to the situation told me, it's not so much that Halak asked for a trade per se earlier this season; he wanted a chance to become a No. 1 goalie, whether it was in Montreal or elsewhere. Gainey, at the time, would have told Halak's agent, Allan Walsh, that Price was the team's No. 1 goalie. So, it left the Halak camp feeling as if the Czech netminder needed to be traded. That's all history for now, with Halak taking over the No. 1 job at this point. I can't imagine how Montreal could deal him now. He has saved the Habs' season.
Burnside: True. I guess the issue moving forward is how you resolve the issue if you really believe Price is the goalie of the future. I'm sure Gauthier will be loath to see Halak walk away July 1 (offer sheet?) and then win 40 games in Dallas or somewhere else, especially if Price continues to struggle with his development. Not suggesting he should move either one, but it's an issue that isn't going away.
Now, if you're Gauthier and you want to put your imprint on the team, do you add a big body up front for a playoff run or shore up the blue line? Or do you look at this team and accept it's likely a seventh or eighth seed, hang on to your young assets and see what happens in the offseason? You know how impatient Montreal fans are, especially after getting waxed by Boston in the first round last season.
LeBrun: What's also interesting in the goalie debate, which is all the rage in Montreal, is what impact a new sheriff will have. Gainey was a huge Price backer. Gauthier? It remains to be seen. I know Price was on the phone with his agent, Gerry Johannson, in the wake of Monday's news. But as Johannson relayed to me Monday night, the kid was cool as a cucumber, as usual. He doesn't get too rattled, and despite not playing much lately, he's not in a snit over it.
"Carey is really happy in Montreal," Johannson told me. "We respect that the Canadiens have smart guys running things, and we know that there's a time and a place for us to have a discussion, and that's in the offseason. Right now, they're doing what they think they need to do to win, and that's OK."
There have been no contract talks with the camps of either goalie. That will be a summer issue. And what a big one. They're both in for raises. That's when I think you'll see a trade.
Burnside: So, if you keep both goalies through the March 3 deadline -- and I agree, it seems like the prudent thing to do -- what do you do with Plekanec? He's a good player and leads the Habs with 58 points. But can you realistically sign him long-term with big contracts already in place for Brian Gionta, Scott Gomez and Mike Cammalleri? And if you can't keep him, do you move him knowing he'd be a top rental before March 3? Ultimately, in terms of an asset like Plekanec, I guess Gauthier has to decide what the probability is for the Habs to go on a deep playoff run (modest at best, I think). What would you do, my friend?
LeBrun: Well, I know there was a meeting, very quietly, in late January between Gauthier and Plekanec's agent, Rick Curran.
"We had a lengthy discussion, at which time they expressed a desire to keep Tomas, and our response was that Tomas would be interested in that as well," Curran told me Tuesday morning. "We have a mutual interest in Tomas' staying in Montreal. He was drafted by them, and that would be his preference, to stay in Montreal."
But it won't be easy. There's not a lot of cap room to play with. That $7.3 million cap hit for Gomez over the next four-and-a-half years ... mercy. The wrong center is making money in Montreal. And that's why in the end, Scotty, moving Halak or Price makes sense not only because both of them want to be No. 1 goalies but also because they can't afford raises for both goalies and keep Plekanec. Until tomorrow, my friend.
• You also can get up-to-the-minute trade discussion in Rumor Central.