Cross Checks:

Trophy Tracker
February, 29, 2012
2/29/12
6:01
PM ET
Here's a look at where the General Manager of the Year award stands post-trade deadline as we head into the final quarter of the NHL season:
Gillis' Canucks have moved past a rocky start to the season and a potential goaltending controversy to re-emerge as the NHL's best, deepest club. They had it all and then Gillis made the bold move of sending emerging young center
Cody Hodgson
to the
Buffalo Sabres
for
Zack Kassian
, a bruising winger with good offensive upside.
Samuel Pahlsson
, a Cup winner in Anaheim, should also add defensive depth up front as the Canucks look ready to embark on another long playoff run.
Was there a GM that faced more pressure at the deadline than Poile, since he must not only ensure he's building properly for the future but also do enough to keep two major components of that future,
Shea Weber
and
Ryan Suter
? After bolstering the blue line with veteran
Hal Gill
, he added two important pieces up front on Monday in
Andrei Kostitsyn
and
Paul Gaustad
. The incoming pieces should blend nicely with a speedy, mostly homegrown team that is thinking Stanley Cup.
We admit it still seems strange to be considering the reclusive Rangers GM in this category, but there is no denying the admirable work Sather has done in building a gritty, defensively stellar Ranger team that remains the cream of the Eastern Conference crop. He did not add the offensive piece he would have liked at the deadline and time will tell whether that ultimately costs the Rangers a shot at a Cup, but we applaud what must have been a significant temptation to tear part of that roster apart to nab Columbus captain
Rick Nash
. In our view that would have been a colossal mistake and one that Sather might have made in the past but avoided this year.
Holland would have liked a shot at Gaustad, but he did his pre-deadline shopping early and got a terrific piece in defenseman
Kyle Quincey
, whom he acquired from Tampa Bay for a first-round draft pick. Quincey has emerged as a talented puck-mover, and the former-Wings prospect should help the team on what they hope will be another significant playoff run. Bigger picture, Quincey is a nice fit moving forward given the expected departure this summer of
Brad Stuart
and the retirement -- he really will retire one of these years -- of
Nicklas Lidstrom
. A lot of people are looking forward to what the Wings will be doing on the free agent market this summer given the cap room they're going to have, but Holland's shrewd drafting and player acquisition has the Wings in the hunt for the top seed in the Western Conference and the Stanley Cup once again.
A year ago there was discussion about whether Murray was going to retire or be pushed out of his job with the Senators. Now his team is on a 7-1-1 tear, challenging the defending Stanley Cup champions for first place in the Northeast Division and looking at possibly securing home ice advantage in the first round of the playoffs, something that would have been unthinkable at the start of the season. Yes, Murray's drafting of
Erik Karlsson
was a stroke of genius; the kid is a point machine. And there are lots of young players making important contributions, like
Kyle Turris
, whom Murray acquired from Phoenix earlier this year. But Murray's most important move over the past year was hiring head coach Paul MacLean away from Detroit, where he was an assistant to Mike Babcock. The Sens aren't there just yet, but they're a heck of a lot closer than anyone had a right to imagine at this point in time.
Honorable Mentions:
Don Maloney,
Phoenix Coyotes
; Peter Chiarelli,
Boston Bruins
; Dale Tallon,
Florida Panthers
; Greg Sherman,
Colorado Avalanche
; Dean Lombardi,
Los Angeles Kings
.
December, 7, 2011
12/07/11
1:17
PM ET
The NHL's GM Award enters its third season of existence. Don Maloney of the Phoenix Coyotes won the inaugural award in June 2010, followed by Mike Gillis of the Vancouver Canucks in 2011. What makes this award unique is that you can't look only at a 12-month period in evaluating a GM. I believe Gillis, for example, was rewarded for the work he did in building a contender -- work that took a few years. With that in mind, this week in ESPN.com's Trophy Tracker installment, I take a look at the early candidates through the 10 opening weeks of 2011-12 while incorporating moves over the past few years that have made these GMs candidates:

After three straight seasons out of the playoffs, Fletcher acted with gusto. He made a coaching change and a few blockbuster trades to give the franchise the kind of bolt it needed. He has also patiently overseen the restocking of prospects to restore the organization's depth. The surprising Wild are first in the overall NHL standings one week into December, and the GM is a big reason why. His bold moves in the offseason are paying off.

Someone has to tell Tallon he doesn't get paid by the transaction. He's turned over more than two-thirds of his entire roster since taking the helm of the Panthers in May 2010. This includes another busy offseason over the summer when he changed half his team. Among his inspiring moves, he signed Tomas Fleischmann and acquired Kris Versteeg -- and both are flourishing on the top line this season. But the big picture is Tallon's loading up with draft picks over the past two years. The future is bright in South Florida, both short term and long term. Almost nobody envisioned this team leading the Southeast Division come Dec. 7, let alone sitting just two points out of the conference lead.

This Stanley Cup champion GM did not have to blow up his roster after winning it all. That's because he carefully planned ahead and deftly handled his salary-cap situation to ensure that his team could contend again not only this season but also for years to come. The Bruins have more than $3 million in cap room that they can still use this season, and that's with Marc Savard's $4 million salary still counting against the cap. Chiarelli didn't get nearly as much credit as he should have for winning the Cup last spring. Maybe he'll get it this season in the form of the NHL's GM Award.
Like Tallon in Florida, Burke and his right-hand man, Dave Nonis, have been busy making wholesale changes to this roster since taking over three years ago. Some of those moves are beginning to bear fruit, particularly getting Joffrey Lupul and Jake Gardiner from Anaheim last February. And, of course, the Dion Phaneuf and Keith Aulie acquisitions from Calgary in January 2010 remain one of the biggest fleece jobs of the past several years. All those moves are finally having an impact this season. The surprising Leafs are two points out of the Northeast Division lead one week into December, and few people foresaw that.

Armstrong's decision to bring in Ken Hitchcock less than a month into the season has proven to be pure brilliance so far -- the Blues have surged to a 9-2-3 record since the coaching change. But Armstrong also had a terrific offseason that helped the Blues get to where they are now. This includes the under-the-radar signing of goalie Brian Elliott, whose superb play is giving the club a terrific 1-2 punch with Jaroslav Halak. I also liked Armstrong's decision to bring in some experience with the July signings of Scott Nichol, Jason Arnott and Jamie Langenbrunner.
Honorable mention: Paul Holmgren, Philadelphia; Ken Holland, Detroit; Don Maloney, Phoenix; Ray Shero, Pittsburgh; Joe Nieuwendyk, Dallas.
November, 23, 2011
11/23/11
12:32
PM ET
There's been a lot of see-sawing through the first quarter of the NHL season when it comes to the top rookies in the NHL and there are lots of exciting first-year players making significant impacts throughout the league. Don't doubt there will continue to be ebb and flow as that's the nature of rookie play, but here's a look at our top five rookies and some honorable mentions.
Really didn't have much trouble assigning the first overall pick in June's draft with the top spot in our Trophy Tracker, given the tear Nugent-Hopkins has been on. With eight points in his past three games, Nugent-Hopkins has opened up a seven-point lead over Craig Smith of the Nashville Predators with 22 points in 21 games. Pretty impressive for the 18-year-old phenom.
Nugent-Hopkins is in a unique position in that the Oilers continue to lean heavily on their cadre of young players as opposed to having their youngsters learn the ropes while veterans do the bulk of the heavy lifting. When it looked like the Oilers had hit a significant wall during a recent road trip, it was the kids and especially Nugent-Hopkins, who answered the bell, and that bodes well for an Oilers team that continues to enjoy an unexpected place in the middle of the Western Conference playoff mix.
A little older at age 25, Read is part of a promising group of youngsters playing significant roles with the Flyers. Read has scored in five straight games and now leads all rookies with nine goals. He has 14 points in 17 games and is plus-7. Perhaps as impressive is that head coach Peter Laviolette trusts Read in important situations, including the penalty kill, where he is averaging almost three minutes a game. Talk about a confidence-booster for the undrafted native of Ilderton, Ontario.
No first-year defenseman has had the impact Larsson has had with the Devils. He leads all first-year players in average ice time by a significant margin. Head coach Pete DeBoer employs him on average 23:02 a night. No other rookie exceed 21 minutes a night in ice time. Larsson leads all rookies in even-strength time on ice and all rookies in power-play time per game. Pretty impressive for the 19-year-old who was the fourth overall pick and is playing in his first season in North America.

Although Henrique is somewhat overshadowed by Larsson in New Jersey, the 21-year-old already has had point streaks of three and four games for a Devils team that was desperate for scoring punch down the middle with the injury to Travis Zajac. In just 16 games, Henrique has 11 points on four goals and seven assists, good for fifth in rookie scoring. He has scored two game winners.
5. Craig Smith, Nashville Predators
Smith has hit a bit of a dry patch with just one assist in his past five games and still he ranks second among all rookies with 15 points. His three power-play goals is first among rookies. We recently spoke with GM David Poile and head coach Barry Trotz about Smith's rapid evolution as a player and they credit his experience at the University of Wisconsin under head coach Mike Eaves as a major factor.
Honorable mentions: Sean Couturier, Philadelphia; Slava Voynov, Los Angeles; Justin Faulk, Minnesota; Colin Greening, Ottawa; Gabriel Landeskog, Colorado.
November, 9, 2011
11/09/11
3:32
PM ET
The familiar Vezina Trophy candidates are far from the pack and, in some cases, have been left in the dust early this season. Instead, some old-timers and fresh young faces are dominating the pipes as the NHL moves into its second month. Here's a look at our top five contenders and some honorable mentions:

Another nice turn by Kari Lehtonen in a big road game against Washington on Tuesday night led the Stars to a 5-2 victory. Lehtonen earned his league-best 11th win, and his 11-1-0 record leads all other netminders by at least three victories. His .936 save percentage is pretty darn good, too. It's been almost a decade since the Atlanta Thrashers made Lehtonen the second overall pick in the 2002 draft. A month into this season, he looks like he is finally ready to make good on the "franchise netminder" label that has thus far eluded him.

The Oilers needed a solid turn in net to keep their confidence going during an arduous road schedule (they are playing 10 of 12 away from home). No problem. Khabibulin turned aside 28 of 29 shots in Tuesday's 3-1 win against Montreal and remains unbeaten in regulation with a 7-0-2 record. Khabibulin's 0.98 goals-against average and .964 save percentage both rank second overall in the NHL. Khabibulin's career looked to be on the rocks due to injuries and off-ice legal problems; the fact Edmonton remains one of the surprise teams in the league (9-3-2, second overall in the tough Western Conference) is a testament to the goalie's resilience.

The owner of a new seven-year, $49 million contract showed right away he is worth the big bucks. He is 4-0-1 in his past five starts, has made the second-most saves in the NHL and his three shutouts are tied for the league lead. A Vezina Trophy finalist last season, Rinne is well on his way to earning another trip to Las Vegas in June for the NHL awards show.

Despite the absence of many of their top players, including captain Sidney Crosby, the Penguins have proved to be one of the most resilient teams in the NHL. That resiliency starts in goal. Fleury, 8-2-1 with a .931 save percentage and an impressive 1.95 GAA, has been a rock. Building on his strong second half last season, Fleury looks like he's ready to ascend to the top of the goaltending charts.

Although the sample is smaller than other NHL netminders, Harding has almost single-handedly dragged the Wild into the playoff picture in the Western Conference. With starter Niklas Backstrom struggling (pitching a shutout Tuesday night against Calgary notwithstanding), Harding has come off the bench to post four straight victories, has a 4-0-1 record and a league-best .965 save percentage. After missing all of last season with a knee injury, Harding's play makes for an interesting goaltending situation in Minnesota.
Honorable mentions: Mike Smith, Phoenix; Jonathan Quick, Los Angeles; Tomas Vokoun, Washington; Jimmy Howard, Detroit.
Trophy Tracker: Vezina Trophy
---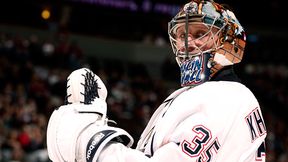 Khabibulin's 0.98 goals-against average and .964 save percentage both rank second overall in the NHL.
October, 26, 2011
10/26/11
5:31
PM ET
For this week's latest Trophy Tracker, we take our first look at the top coaching candidates for the Jack Adams Award:
Any early look at the coach of the year contenders has to start with the only undefeated team in the NHL, the 7-0-0 Washington Capitals. Boudreau, who has been under fire since a disappointing end to the playoffs this past spring, has his team cooking on both ends of the ice with an impressive plus-16 goal differential. Pittsburgh (see below) is the only other team with a double-digit plus goal differential. Even without Alex Ovechkin pouring in goals, Boudreau's Caps are as good a team as there is right now.
No Sidney Crosby yet this season, and no Evgeni Malkin, Brooks Orpik or Zbynek Michalek for periods early on ... no problem for the Pens. Bylsma's squad continues to contend with adversity without missing a beat, compiling a 7-2-2 record. The Penguins' penalty-kill unit continues to be a thing of wonder, leading the NHL with a 97.1 percent efficiency rating. The power play isn't too shabby, either, tied for seventh overall. If Bylsma's squad keeps this up, he will be in line for what would be a rare back-to-back Jack Adams win.
Never mind those preseason predictions that said the Avs would be a lottery team or Sacco was on the hot seat in Denver. The Avs are 6-0-0 on the road and 6-2-0 overall. After a miserable 2010-11 season, Sacco not only kept his job in the face of criticism but also has his young, talented team playing top-notch hockey with the third-best power play and the eighth-best penalty-killing unit in the league. Those kinds of numbers will get you noticed in a hurry.
The Stars' rookie coach also had to persuade his team not to pay any attention to preseason predictions, most of which had Dallas buried in the Western Conference. Looks like whatever Gulutzan said is working -- the Stars are perfect (4-0-0) at home and a conference-best 7-2-0. The Stars also have given up only 17 goals in nine games.
There are high expectations in Los Angeles this season, as the Kings appear poised to follow in the footsteps of young teams like Pittsburgh and Chicago that have quickly matured into champions. The Kings' 5-2-1 start is certainly good news for Murray, who has been without defensive anchor Drew Doughty because of an upper-body injury. Doughty also missed training camp while he worked out his new contract.
Honorable mentions: Kevin Dineen, Florida; Tom Renney, Edmonton; Ron Wilson, Toronto; Peter Laviolette, Philadelphia.
Trophy Tracker: Jack Adams Award
---
Bruce Boudreau and the Washington Capitals are off to a 7-0-0 start.
October, 19, 2011
10/19/11
4:35
PM ET
Is two weeks into the season too early to discuss the Calder Trophy race? Not at ESPN.com! We're a little crazy that way. So let's take a look at the early race as we see it with our top five contenders as of Wednesday afternoon (Oct. 18):

The 21-year-old native of St. John's, Newfoundland, is tied for the NHL rookie scoring lead with six points (3-3) in five games. The second-round pick (44th overall in 2008) has begun the season centering the top line between Thomas Vanek and Jason Pominville. Not bad at all. At 6-foot-2 and 203 pounds, Adam has the size and strength to stand the rigors of an NHL season.

The Swedish blueliner, drafted fourth overall this past June, doesn't have a point yet, but so what? At 18, he leads all NHL rookies in ice time at a whopping 24:14 per game. That's unreal. He's got tremendous vision and is going to be a star in this league for a long, long time.

The native of Burnaby, B.C., of course, was taken first overall in June. The Oilers haven't officially announced he is here to stay, but we'd be shocked otherwise. He already has a hat trick under his belt (as of Wednesday afternoon he led all rookies with four goals) and is showing terrific chemistry with second-year winger Taylor Hall.

At 25, he's certainly the elder statesman of the freshman NHL class this season, but he's still a rookie. A free-agent signing by the Flyers out of Bemidji State University, Read is tied for the NHL lead with six points (2-4) in five games. He's also plus-4 on the season.

The 18-year-old Swede was taken second overall in June and doesn't look out of place at all despite his age. Playing the wing on a third line with Ryan O'Reilly and Daniel Winnik, Landeskog has displayed a solid, two-way game and his hockey smarts are obvious. He's got three points (2-1) in six games, but his game is more than offense.
Honorable mentions: Sean Couturier, Flyers; Jonathan Blum, Predators; Cody Hodgson, Canucks; Craig Smith, Predators.
Trophy Tracker: Calder Trophy
---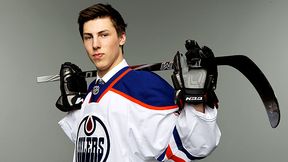 The Oilers must decide whether to keep Ryan Nugent-Hopkins with the big club or send him down to junior before the nine-game mark.