Cross Checks:

Troy Brouwer
October, 11, 2011
10/11/11
12:00
AM ET
WASHINGTON, D.C. -- George McPhee sat back after yet another playoff heartbreaker this past spring and thought about the next step.
What the Washington Capitals GM came up with was surrounding his talented core with more character and grit, especially up front.
Enter forwards Troy Brouwer, Joel Ward and Jeff Halpern.
"We thought that it was a dynamic our team could use, really well-rounded, two-way players, but experienced, character guys," McPhee told ESPN.com on Monday night. "The longer you're in the business, the more you realize that the talent is one thing, but the character and those intangibles that are so important are the things that really win the games for you late in the season and in the playoffs."
The idea was to solidify the bottom-nine forward group behind the star-studded pairing of Alex Ovechkin and Nicklas Backstrom.
Two games hardly make for enough evidence -- talk to us in the spring -- but the early results have been promising when it comes to the supporting cast.
Brouwer, playing on the second line, scored his first goal with the Capitals on Monday night, third-liner Ward posted an assist and fourth-line center Halpern added a helper, as well.
On a night when Ovechkin's top line was shut down in a wild 6-5 shootout win over Tampa Bay, Washington's bottom-nine forward group scored all five goals in regulation, led by Jason Chimera's two goals off the third line and capped by a shootout winner from fourth-line winger Matt Hendricks (Alexander Semin also scored in the shootout).
"We're pretty deep," said Chimera, who was outstanding in collecting career goals 100 and 101. "We've got a lot of guys that can play hockey. All our lines can get it done."
[+] Enlarge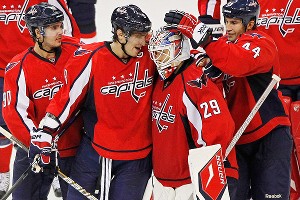 Geoff Burke/US PresswireDespite two too-many-men-on-the-ice penalties, the Capitals rallied to beat the Lightning 6-5 in a shootout Monday night.
And that's the idea. If Semin decides to disappear in the spring, the Caps' hope is that they have a bottom-six group that can answer the bell. Brooks Laich is centering a third line between Ward and Chimera, a unit that has already produced four goals in two games. On Monday night, Laich's line was matched up against Martin St. Louis and Steven Stamkos and held them both off the score sheet while inflicting its own offensive damage.
"They [Laich, Ward and Chimera] were totally the better line in that matchup," said Caps coach Bruce Boudreau.
Halpern, meanwhile, centered the fourth line between Hendricks and Mathieu Perreault. Halpern, who played solid minutes for Montreal last season, is a luxury to have on your fourth line. It's called depth.
"The bottom-six forwards in the two games, I think, have been the key," Boudreau said. "Eventually, the top six are going to start doing what they're supposed to be doing. Right now, it's the bottom six."
Ovechkin has one assist in his two opening games. He showed flashes of his brilliant self Monday night, although he was limited to three shots while posting a minus-2 rating.
"I think he's got a long way to go to get to where he wants to be, to be as good as he should be," Boudreau said matter-of-factly. "He's our No. 1 player, but he can be better. There's no doubt about it."
Tomas Vokoun needs to be better, too. No one has to tell the veteran Czech netminder that after he was lit up for five goals on 28 shots in his first start of the season. The performance came a couple of days after Vokoun publicly expressed his disappointment in not starting Game No. 1 (Michal Neuvirth got the nod).
This, along with some shoddy team defense, was the disappointing part of the night for the Caps. They've got 80 more games to tighten things up before it's go time, and the look on Boudreau's face after the game suggested it will indeed be a priority. He's 2-0-0 on the season, but far from satisfied.
To his credit, meanwhile, Vokoun didn't pull any punches with his own play Monday night, and that's a sure way to win the respect of your new teammates.
"They literally won today without goaltending," Vokoun said of his teammates. "What can I say? The guys played hard. It was a great game from our side and it should've been 5-2 at the worst. ... It was just an ugly, ugly, ugly game for me."
When Brett Clark's goal made it 5-4 for the visitors 12:56 into the third period, Vokoun got a Bronx cheer from the Verizon Center faithful when he stopped the next shot on the next shift. Ouch.
"It's the first game and you want to leave a good impression with the fans and everything," said Vokoun. "I can't tell you the last time I remember having as bad a game as tonight. But we won the game, certainly no thanks to me."
Those jeers turned to cheers when Vokoun stopped five shots in overtime as the Lighting pressed on a power play, and also blanked Tampa in the shootout.
"If you're trying to look at the big picture, it takes a guy with a lot of mental toughness to play like that and then in overtime when we're down 4-on-3 to make those three or four huge saves," said Boudreau. "You touch the puck and the crowd is booing you, it's your first game in there and you want to make an impression. ... And he comes up and makes those big saves and makes the saves in the shootout. It told me a lot about his character. It ends up being a positive thing even if he didn't have a positive game."
Bolts let down
The Lightning are 1-1-1 on the season after dropping their second straight game.
"I thought we were awful against Boston [on Saturday]," Tampa winger Nate Thompson, who tied the score at 7:42 into the third period, said after the game. "I thought tonight we really bounced back, guys really stepped up. It wasn't a matter of us not working hard today. We worked hard, we just didn't work smart."
June, 25, 2011
6/25/11
1:39
AM ET
ST. PAUL, Minn. -- Almost from the moment the Chicago Blackhawks won the Stanley Cup in 2010, they were up against the salary-cap wall.
They were forced to jettison key pieces of their team literally days after defeating Philadelphia and spent all this past season with little cap room with which to maneuver.
GM Stan Bowman appears determined to chart a much different course this upcoming season. He traded forward Troy Brouwer, a restricted free agent with arbitration rights, to the Washington Capitals for a first-round pick (26th overall) in Friday night's first round of the NHL draft. Then, the GM sent high-priced defenseman Brian Campbell to the Florida Panthers for forward Rostislav Olesz. A source told ESPN.com that Campbell had agreed to waive his no-trade clause to facilitate the deal.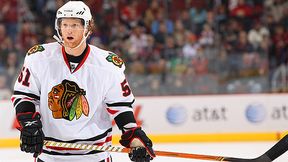 Christian Petersen/Getty ImagesBrian Campbell still has five years remaining on his deal with a $7.142 million annual cap hit.
That move makes sense on a number of levels. Florida GM Dale Tallon was the man who signed Campbell to the whopper eight-year deal worth slightly more than $57 million when Tallon was GM in Chicago. Campbell still has five years remaining with an annual cap hit of $7.142 million. Olesz still has three years remaining on a contract with a $3.125 million annual cap hit, so the net gain against the cap is significant for Bowman.
"It gives us the option to do different things, whether it's through the trade market or through free agency, and I think certainly it's going to be a departure from the last year when we really were kind of [in a] stranglehold all year in terms of being able to do things," Bowman said after the first round was completed. "It's not the worst thing in the world to go into the season with some cap room, as well.
"There are always opportunities throughout the year if you've got some space in your cap," he added. "We didn't have that luxury last year. It'll give a lot of options for us. Once we sort it out, we can figure out how we're going to allocate the money better."
In giving up Brouwer, Bowman said it would create space for some of the team's promising young forwards, such as Kyle Beach and Jeremy Morin.
"We're fortunate in our situation. We've got a lot of young players we need to find spots for," Bowman said. "The time comes sometimes where you've got to make room for players, whether it's Beach or Morin or a lot of other guys in our system that play kind of a similar game as Troy."
Brouwer scored 22 goals during the Hawks' Cup-winning season and was the subject of much interest from a variety of teams, Bowman said.
"He's a player obviously a lot of teams were interested in. We certainly wish him well. He's been a great Blackhawk," Bowman said.
That Brouwer didn't fit the Hawks' long-term plans might be a boon for the Washington Capitals.
Blessed with terrific talent, the Capitals have struggled to get over the playoff hump and were swept in the second round by Tampa Bay this spring. In 2010, they won the Presidents' Trophy and were stunned by Montreal in the first round.
Brouwer's postseason experience should help.
"We like that he's a power forward that plays hard and has played a lot of playoff games and has won a Cup," Washington GM George McPhee told ESPN.com on Friday night. "He's capable of getting 20 goals and can play up and down the lineup, on either left wing or right wing, and seems to be a terrific person and a real good leader."
More notes from Day 1
• Paying tribute: There was a terrific tribute to the late director of NHL's Central Scouting, E.J. McGuire, who died of cancer this spring.
McGuire, whose passion was scouting and the NHL draft, was honored with a video montage before his widow, Terry, and the couple's daughters, Jacqueline and Erin, were introduced and announced the Edmonton Oilers as having the first pick in the 2011 draft.
Likewise, kudos to the New York Rangers, who honored Derek Boogaard by inviting his brother, Aaron, on stage for the team's first selection in the draft. The emotional moment prompted all on the draft floor, and most of those in attendance, to a standing ovation.
Boogaard, who died earlier this spring from an accidental mix of alcohol and oxycodone, was a former Minnesota Wild enforcer who was wildly popular in the community.
• Hometown introduction: A nice touch by the New York Islanders to have Kyle Okposo up on stage when they made their first selection in the draft. Okposo was born in St. Paul and attended the University of Minnesota for two years. He was the seventh overall pick in the 2006 draft.
• Not-so-warm welcome: Good for the local fans to remember the unceremonious departure of the first Minnesota NHL franchise, the North Stars, back in 1993. They booed Dallas Stars GM Joe Nieuwendyk as he made the Dallas Stars' first pick of the draft.
• Sweden stars: Although there has been some concern in Sweden over the state of the nation's hockey development program in the past few years, there obviously remains high-end talent there. Four Swedish-born players were among the first 10 selections Friday, a first in draft history.
Left winger Gabriel Landeskog, a junior player from Kitchener of the OHL, was taken second overall by Colorado; defenseman Adam Larsson was selected by New Jersey with the fourth pick; center Mika Zibanejad was taken by the Ottawa Senators with the sixth pick (that ought to make captain Daniel Alfredsson happy); and defenseman Jonas Brodin went 10th to the local Minnesota Wild. In all, there were six Swedes taken in the first round, tying a draft record.
• And finally: No goaltenders were taken in the first round for the third time in the past five drafts.