Cross Checks:

Tyler Myers
April, 12, 2013
Apr 12
9:22
AM ET
It's that time of year when the standings finally begin to shake out, stratifying the bracket into three distinct groups: the postseason locks, the middle-of-the-pack teams still fighting for spots or jockeying for position, and the remaining clubs whose playoff hopes are all but extinguished.
Even before their embarrassing 5-1 loss to the
Montreal Canadiens
on Thursday night, the
Buffalo Sabres
were among the latter.
A spirit-sapping 4-1 road loss to the
Winnipeg Jets
on Tuesday pretty much sealed their fate, leaving the Sabres -- now six points back -- with little to play for in the remaining seven games of their season.
And it showed Thursday in a flat and uninspired effort against the Northeast Division-leading Canadiens, who became the second Eastern Conference team (joining the
Pittsburgh Penguins
) to clinch a postseason berth.
All that remains on the line for the Sabres is pride, and against Montreal they showed very little. Outshot 42-15, Buffalo players sounded both ashamed and awed at just how little effort they exhibited -- in front of a home crowd, no less.
Consider these damning statements uttered from within the bowels of the Sabres' dressing room after the game:
"It was the worst effort the Buffalo Sabres have put on the ice since I've been a part of it," 23-year-old defenseman
Tyler Myers
said, according to the Buffalo News. Myers is in his fourth season with the Sabres.
And this from goaltender
Ryan Miller
, who is never shy about sharing his opinions: "We got our butts kicked."
According to several reports, the Sabres were all stapled to their stalls when the dressing room was opened following a closed-door meeting, showing an accountability they lacked on the ice.
Even in a lockout-shortened season, when parity provides pretty much every team a chance to rise from the dead and make a viable playoff push (Exhibit A: the
Washington Capitals
), there comes a time when reality sinks in and false hope disappears.
It's a depressing time for those teams, obviously, but it provides an interesting glimpse into the character of the club. Do players hustle and compete for jobs, trying to salvage some pride? Do they relish the opportunity to play spoiler in the last weeks of the season? Or do they go through the motions, entertaining thoughts of early-May tee times?
We already saw this frustration manifested this week, when
Colorado Avalanche
goaltender
Jean-Sebastien Giguere
blasted his teammates for packing it in and looking ahead to their upcoming Vegas vacation instead of their next game.
The Avs responded to Giguere's pointed rant with a 4-1 win over the
Anaheim Ducks
two nights later (incidentally, that rant could end up costing the Avs the No. 1 pick in the draft!), showing that their fight had not been completely snuffed out.
The Sabres will have a chance to rally from Thursday's debacle and prove they are not going to simply watch the sand pass through the hourglass. And to their credit, it seemed that to a man they were humiliated by the loss and took full responsibility.
Perhaps that is because it's implicitly understood that everyone is being evaluated now -- from interim coach Ron Rolston to Miller to the rest of the team's veteran leaders and on down the lineup.
The Sabres' next game, Saturday at home against the
Philadelphia Flyers
, will be telling. Will a listless squad show up, or one that is up for the fight?
March, 13, 2012
3/13/12
7:52
PM ET
Sabres defenseman
Tyler Myers
was suspended three games for boarding Canadiens forward
Scott Gomez
on Monday night.
Myers will lose $14,189.19 in salary.
September, 15, 2011
9/15/11
2:30
PM ET
On July 1,
Tyler Myers
will wake up to find a check for $10 million sitting next to his bedside table.
That sizeable fortune represents a signing bonus that is part of
a seven-year, $38.5 million contract extension
the former rookie of the year signed Thursday morning.
That kind of money will buy you a lot of suicide wings at Duff's or the Anchor Bar.
It's also the kind of money that folks in Buffalo got used to reading about other teams spending, not the hometown Sabres.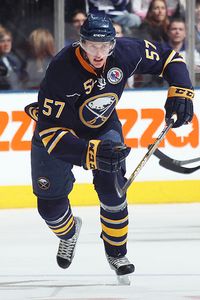 Bruce Bennett/Getty ImagesFormer Rookie of the Year Tyler Myers signed a seven-year, $38.5 million contract extension.
It's not a new story, but the Myers contract extension is another indication of just how dramatically the landscape has changed in one of the most passionate hockey markets in the United States.
Even though the
Buffalo Sabres
roared out of the post-lockout gate with two straight final four appearances, any fan will tell you the past six seasons have been marked just as much by ownership's inability or reluctance to play with the big boys when it came to spending money.
Everyone knows dollars spent don't necessarily translate into playoff games won, but there is a direct relationship between key players departing and stunted development, which has been the case in Buffalo.
Management failed to lock up co-captains Daniel Briere and
Chris Drury
, both of whom were key to the Sabres' success in 2006 and 2007, and the team never recovered. They missed the playoffs in 2008 and 2009 and were bounced in the first round the past two springs. They couldn't or wouldn't pay
Brian Campbell
what the smooth-skating defenseman wanted, and he went on to win a Cup in Chicago.
Jay McKee
left, as did
Mike Grier
,
J.P. Dumont
,
Maxim Afinogenov
and the list goes on.
For years, the Sabres have used the trade deadline as a time of unloading instead of loading up. But all that changed when longtime Buffalo fan Terry Pegula bought the team midway through last season.
GM Darcy Regier went out and added sniper
Brad Boyes
at the 2011 trade deadline. Then Regier did his best drunken sailor impersonation in the offseason, acquiring veteran defenseman
Robyn Regehr
and his hefty contract from Calgary before signing
Ville Leino
and
Christian Ehrhoff
to whopper deals.
Prior to the lockout and the introduction of a salary cap, the Sabres' payroll would routinely be between one-third and a quarter what the big boys in Toronto, Detroit and Colorado were spending. As of Thursday morning, according to CapGeek.com, the Sabres were almost $3.6 million over the salary cap and had spent more money than any other NHL team.
The Myers deal, which kicks in next season, reinforces to Sabres fans and the rest of the hockey world that Buffalo is not just adding pieces but keeping its own.
No one will be delivering an offer sheet on Myers, as the
Edmonton Oilers
did with
Thomas Vanek
in the summer of 2007 in hopes that the cash-strapped Sabres would buckle.
Myers, 21, is locked down. Let the chicken wings flow.
The lanky young man -- he stands 6-foot-8 -- who wowed fans and critics two years ago with his smooth transition from junior hockey to the NHL game represents the way of the future for big-money deals.
In the past, GMs opened the vault for players with thick resumes, and often those resumes were sadly disproportionate to what the players brought to the ice.
How many players earned how many millions of dollars from the
New York Rangers
based on deeds long past as opposed to actual value on the ice over the life of those deals?
And the Rangers weren't the only ones.
Now teams are opening the vault for what might happen, for the deeds they believe they can foresee these young players producing.
But, the gamble is no less risky.
Washington's fine center
Nicklas Backstrom
struggled through an abysmal regular season last year, the first of a monster 10-year, $67 million contract extension. The slick center then followed that with an even worse turn in the playoffs.
That said, Backstrom is 23 and one assumes there are better days ahead.
Even Myers' early NHL career has not been without its stutter-steps. After winning the Calder Trophy as rookie of the year in 2010, Myers and the Sabres struggled early in the season. In an interview with ESPN.com last week, Myers acknowledged that he'd tried to do too much and his game suffered as a result.
By the end of the year, Myers seemed to be back in his groove. He had six points in the last three games of the Sabres' first-round playoff loss to the
Philadelphia Flyers
, while playing between 21 and 28 minutes a night in the series.
Will a contract that's going to keep Myers in wings and hot sauce for the next seven years guarantee the Sabres will uncork some Stanley Cup champagne along the way? Of course not. But it does guarantee that the Sabres' dynamic new identity is now firmly entrenched in the hockey world.
September, 14, 2011
9/14/11
2:57
PM ET
Contract talks with restricted free agents have hit high gear with the start training camps days away, as is always the case in these situations.
Players get antsy and teams don't want their players to miss the start of camp, which often bridges the gap in talks.
[+] Enlarge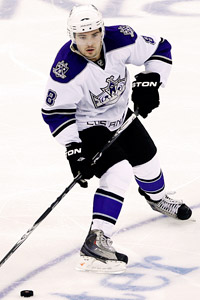 Ed Mulholland/US PresswireDoughty led the Kings in average ice time (25 minutes, 39 seconds) this past season and was plus-13, fourth-best on the team.
Drew Doughty
and the Kings remained at an impasse Wednesday, but that can change with one phone call. Sources told ESPN.com that the Kings won't pay Doughty more than the $6.8 million
Anze Kopitar
makes on average per season.
Further, Bob McKenzie of TSN reported late Tuesday night that the Kings won't do a deal for less than seven years.
In a nutshell, both term and salary remain an issue. But like I said, it just takes one phone call.
• (
Updated 5:07 p.m.
-- The
Jets agreed to a new deal with Zach Bogosian
worth $5 million over two years, a source told ESPN.com)
Zach Bogosian
's agent Bob Murray continues to chat with
Winnipeg Jets
GM Kevin Cheveldayoff on Wednesday.
"We've spoken today, will chat again later this afternoon, and we're going to try to move it forward," Murray told ESPN.com Wednesday afternoon.
While neither Cheveldayoff nor Murray would divulge any more details, it's believed the two sides are working on a short-term deal, not a long-term deal like many young RFAs are signing this summer.
The thinking here, in all likelihood, is that Bogosian can raise his game to another level in the next few years and then get a better contract next time around. At the same time, the Jets aren't exactly sure what they have in Bogosian right now so a short-term deal makes sense for them.
• RFA center
Kyle Turris
and the
Phoenix Coyotes
weren't any closer in talks on Wednesday.
"No movement on the Turris contract ... We are planning to start training camp without him," Coyotes GM Don Maloney told ESPN.com via email.
• The
Toronto Maple Leafs
and RFA blueliner
Luke Schenn
said nothing Wednesday, but it's believed both sides were getting closer to agreeing to a new deal.
"No comment," Leafs GM Brian Burke told ESPN.com.
•
As we reported earlier Wednesday
, the
Buffalo Sabres
and young star blueliner
Tyler Myers
are close to agreeing on a seven-year deal, which will pay the towering defenseman an average of $5.5 million per season starting next season. He's got one more year on his entry-level deal.
February, 10, 2011
2/10/11
11:44
PM ET
Matthew Barnaby makes his stars of the night the three guys that scored in overtime with less than 30 seconds left: the Devils' Ilya Kovalchuk, the Penguins' Jordan Staal and the Sabres' Tyler Myers.
November, 10, 2010
11/10/10
10:59
PM ET
... Because three just wasn't enough.
Barry Melrose thought the stars of the night should come from the best game of the night, Bruins-Penguins, so he picked Boston's Nathan Horton and tough guy Shawn Thornton.
Matthew Barnaby rewarded Columbus for its huge win over St. Louis by picking Rick Nash. He also highlighted Buffalo's Tyler Myers for the Sabres' shootout win over the Devils.
April, 5, 2010
4/05/10
11:23
AM ET
Hello, puckheads. The big man is back at work. One week left in the regular season and then I'm on the playoff trail for two months. Giddy-up!
But first, some random thoughts after spending a week in Florida:
1. The Calder debate

Let me preface this thought by saying I believe Jimmy Howard should be nominated for the Vezina Trophy; his season has been that outstanding. But I do not believe the Detroit Red Wings goalie should win the Calder Trophy. Confused? Don't be. Howard is 26 years old, four years older than Sidney Crosby, who is in his fifth NHL season. Howard is five years older than Patrick Kane, the Calder Trophy winner from two seasons ago.
I understand Howard is eligible for the award (he just slipped under the age cutoff) and he will be among my five choices in my official NHL awards ballot when I fill it out this week, but he won't be my first choice.
Tyler Myers turned 20 this past February. What he's done patrolling the blue line for the Buffalo Sabres has been truly outstanding. Among all his defensive talents, he's third in rookie scoring, trailing only forwards Matt Duchene and John Tavares. The fact he's six years younger than Howard is a big difference in my book. A month ago, I gave Duchene the nod in an early look at the awards, but I've shifted back to Myers.
2. The Montreal net

In the dramatic and pressure-packed market that is Montreal, the goalie story has had incredible legs this season. And it only went up a notch last week. Some Bell Centre fans booed Carey Price last Wednesday after he was named third star in a 2-1 loss to Carolina. Tough crowd, indeed. And those fans are idiots for booing him. The kid has had no offensive support this season. Price's .912 save percentage is better than the likes of Pekka Rinne, Jonathan Quick and Marc-Andre Fleury, a fact that no doubt surprises many of you.
The problem is, the other guy sharing the net with him in Montreal this season happens to have the third-best save percentage in the entire NHL at .927. Jaroslav Halak also doubles Price in the most important stat of all: wins. That's why the Slovak has won out in the season-long battle and will be the starter come playoff time. But what do you do this summer if you're GM Pierre Gauthier?
Both goalies are restricted free agents. There's no room for both to return; neither goalie wants to share the No. 1 job again and, more importantly, the Habs have cap issues and need to re-sign UFA center Tomas Plekanec. So Price or Halak will almost surely be dealt.
Which one do you deal? Halak will turn 25 next month, while Price will be 23 in August. As one NHL scout told me this season, Halak is the better goalie right now, but you can't discount the upside with Price. Tough call for Gauthier. Either way, he needs to recoup some offense in return. And regardless of which netminder the Habs choose to keep, both goalies are No. 1 material for years to come.
3. Which team comes out of the West?

Before I went on vacation, I tweeted that Washington-Vancouver was my choice for a Cup finals matchup at that point. I still like the Caps coming out of the East, but now I have some doubts with the Canucks. And it's not just Roberto Luongo's struggles, but also the defensive-zone mistakes by the blue-line corps in front of him. The Canucks would have benefited greatly from picking up a top-four blueliner at the March 3 trade deadline, but I understand those players don't grow on trees and GM Mike Gillis has made it his mantra that he doesn't like paying for rentals.
I may still stick with the Canucks next week when I am pressed for my official Cup finals prediction, but right now I'm on the fence. The question is, if not Vancouver, then who?
San Jose has played better of late after breaking out of a March swoon that had Sharks fans feeling nervous. Still, the ghosts of playoffs past always give you reason for pause, not to mention the visions of Evgeni Nabokov in the Olympic quarterfinals.
The Blackhawks? There's the team I'd personally love to see in the finals just for esthetic reasons. I mean, can you imagine the roar at the United Center? The league would drool at the chance to get the long-suffering Original Six club in the finals with Jonathan Toews and Patrick Kane taking on either Washington's Alex Ovechkin or Pittsburgh's Crosby. For that league dream to become reality, however, Antti Niemi or Cristobal Huet must turn in two months of hockey not too many people think they have in them. Niemi was solid Sunday against Calgary, but ...
The top three Western powerhouse teams have questions marks ... which has already led several of my media colleagues to jump on the comfortable Hockeytown, USA bandwagon. I mean, why not? The Red Wings are healthy, they're rolling and know what it takes once the calendar flips from April to May. Then, there's Phoenix. Is a trip to the Cup finals that much of a stretch? A bigger stretch than 102 points in the standings when everyone had them in the basement last fall?
I'll take seven more days to dwell on my Western pick, but I'll be doing it without much confidence. Never before has the West been so wide open, and that's great for fans of this game. We're in store for one heck of a postseason.