Cross Checks:

Viktor Stalberg
August, 2, 2013
8/02/13
10:33
AM ET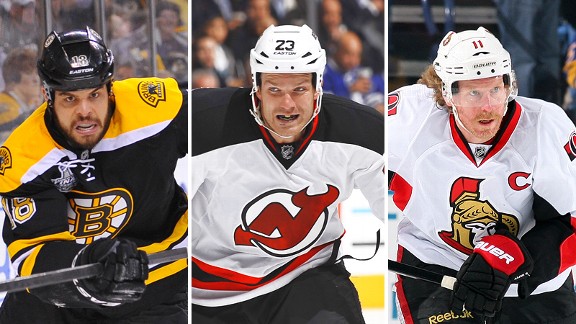 Getty ImagesBig things are expected out of big-buck signings Nathan Horton, David Clarkson and Daniel Alfredsson.
Let's end this week of questions with a lightning round, and that's not a reference to the team based in Tampa. Here we go. Give us your biggest question for 2013-14 in the comments section.
Daniel Alfredsson in Detroit:
Does Alfredsson, 40, have enough left in the tank to make a difference in the Motor City? He will get every opportunity to prove he was worth the gamble by the Red Wings and will do his darndest to win a Stanley Cup and prove the Senators were messing with him all those years.
Vincent Lecavalier in Philadelphia:
Lecavalier, 33, isn't as washed up as some people believe. It just feels like he's been in the league forever because he started so young. He has won a Stanley Cup and will be similarly motivated to show people he still has something left. But he won't be as good as the Flyers need him to be or as Flyers fans expect him to be (tough crowd), especially while carrying a $4.5 million cap hit.
Ray Emery in Philadelphia:
Montreal, Toronto and Philly are the toughest markets on goalies. Emery, 30, will do well but won't live up to lofty expectations. Again, tough market. Two reasons he could prove me wrong: He's still got a lot of hockey left in him, and he's on a one-year deal at a reasonable $1.65 million.
Jaromir Jagr in New Jersey:
Jagr, 41, loves the game, and it's loving him right back. But can you imagine him thriving while playing for Lou Lamoriello? Neither can I.
David Clarkson in Toronto:
Man, tough go there. Clarkson, 29, says
Wendel Clark
was his idol growing up and many Leafs fans are going to want a similar level of play. No disrespect intended, but Clarkson is a solid 15- to 20-goal scorer at his top end who will be a $5.25 million cap hit in his first season. He's no Wendel Clark (few are).
Matt Cooke in Minnesota:
Not going to work. Cooke, 34, is not a good value at $2.5 million, especially on that team.
Andrew Ference in Edmonton:
Ference, 34, still has some game left in him and is the kind of defenseman the Oilers have been seeking for years. He will help that young dressing room hit the mature button a lot sooner than it would have without him. This is a great move for the Oilers.
Valtteri Filppula in Tampa:
Filppula, 29, will have the same cap hit on the Lightning ($5 million) as Ryan Kessler does for the Canucks and
James Neal
does for the Penguins. Which player would you rather spend that cash on?
Nathan Horton in Columbus:
If his shoulder surgery heals properly, Horton could be a catalyst for the Blue Jackets. The biggest issue will be to see how he adapts to not having
Milan Lucic
and
David Krejci
making room for him every game.
Jarome Iginla in Boston:
Iginla, 36, will like being in the Eastern Conference, with all its relatively cushy travel, and is one of the best guys in all of sports. But, sadly, it appears his better days are behind him, so a $6 million cap hit is outright robbery.
Dustin Penner in Anaheim:
Penner, 30, was a frequent healthy scratch with the Kings last season, is on a one-year contract and could be on his way to further marginalization if he doesn't step it up.
Mike Ribeiro in Phoenix:
Ribiero, 33, is on his third team in three seasons and clearly wants to show what he's capable of when not playing one the same side as the most talented winger in the game (
Alex Ovechkin
, by the way). It is an odd choice, though, considering that the Coyotes' lack of talent likely will result in lower numbers. Still, it's nice to see a team owned by the league support the PA with such a crazy-good contract ($5.5 million cap hit) for a player who has topped 80 points just once.
Michael Ryder in New Jersey:
Ryder, 33, is usually good for 30 goals every season, which means he'll probably get 25 on the Devils. He's on his fourth team in five seasons, though, which is a concern.
Viktor Stalberg in Nashville:
Stalberg, 27, wasn't going to get that kind of coin ($3 million cap hit) from the Blackhawks, but he is talented and has a chance to show his former team that he would have been worth it by signing with a team in the same division. He'll put up decent numbers with lots of ice time.
Stephen Weiss in Detroit:
People likened Weiss to
Steve Yzerman
when he broke into the league, so this is a full circle of sorts. Weiss, 30, should fit well into the Red Wings' way of thinking. GM Ken Holland doesn't spend that kind of money ($4.9 million cap hit, fourth on the team) very often, so you know he's scoped this out from all angles.
June, 21, 2013
6/21/13
7:11
PM ET
CHICAGO -- What's with the
Patrick Kane
-like hockey mullet, I asked
Brandon Saad
?
"He was looking for guys before the year and I decided to tag along," Saad said through a smile on Friday. "It's been fun."
I'm not sure how I feel about the mullet with the lines shaved into the side, but I like what I'm seeing on the ice from the 20-year-old Pittsburgh native in his rookie NHL campaign.
Saad has only one goal and five assists in the playoffs, but he has come on over the past two rounds when the games have grown in importance.
"The way that he started his regular season and the way he finished it, is very similar to the way he started his playoffs and how he's finishing them now," said TV analyst Ed Olczyk, who works Blackhawks games during the regular season.
"Slow start pointwise, slow start generating a lot, and as the year went on, he became a permanent fixture and that's how he's played in the playoffs," said Olczyk. "A mirror image. Not a lot to show for it early in the playoffs, but a lot to show in important situations as the games have gone on."
Saad was nominated for the Calder Trophy as rookie of the year after putting up 27 points (10 goals, 17 assists) and a plus-17 rating in 46 regular-season games.
He played most of the regular season on the top line with
Jonathan Toews
and
Marian Hossa
, some kind of assignment in your first season in the league.
"Playing with Jonny and Hos during the year obviously helped out a lot, just getting that experience helped out tremendously," said Saad.
[+] Enlarge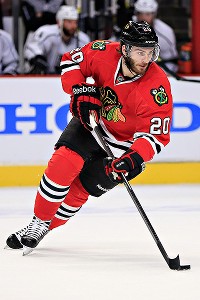 Jamie Squire/Getty ImagesBrandon Saad started the playoffs slowly, but has turned it on lately.
Head coach Joel Quenneville has had him both on the top line and the third line during the playoffs, and Saad has been mostly on the third unit with
Andrew Shaw
and
Viktor Stalberg
of late. For the coach to have that kind of trust in a rookie to play both on the top line or the third line is not something you see every day in this league.
"You don't," Mark Kelley, the director of amateur scouting for the Hawks, told ESPN.com Friday. "But he's a very smart player. He has great character. He's a well-grounded kid. He plays within the whole team concept. He's smart enough when the coach gives him a role he can embrace it, whether that's up on a line with Toews and Hossa or down on a line with Shaw and Stalberg."
To be able to comfortably fit on both the top line and a checking line as a rookie player takes high hockey IQ, agreed Olczyk.
"You have to be a smart player to be able to do it," said Olczyk. "A lot of people think anybody can play with Toews and Kane or Hossa and guys like that, but it's not the case. You have to have a lot of hockey sense and understand how to play with those guys. He just has that ability. He's a real bright kid. His hockey ability allows him to be flexible."
Kelley first saw Saad as a prospect during the 2009-10 season when Saad played for the U.S. national under-18 development team. He was immediately taken.
"He was a dominant player on that team," said Kelley. "At that point, going from his underage year to this draft year, we were as high on him as almost anyone aside from the top few guys in that draft."
Kelley said Saad played hurt for a while during the 2010-11 season, which likely hurt his draft stock a little and allowed the Hawks to get him in the second round in 2011 (43rd overall), which already looks like a steal.
"He was far from being 43rd on our list, I can tell you," said Kelley. "The fact that he was there at 43rd, we were incredibly excited."
Saad's rapid development is something to behold. He went from the Ontario Hockey League last season, to 31 AHL games with Rockford this season during the lockout, to a full-timer with the Hawks right from the start of the shortened NHL season, to a key player in the Stanley Cup finals.
"He's developed unbelievably," said Saad's current linemate, Shaw. "He's a great player now. He was great coming in but he ironed out some kinks. He's done a heck of a job. It's great having him on my line. It's nice having him as a roommate on the road, too. He's a great kid."
Just don't give him the remote control.
"He's pretty bad at flipping through the channels, he channel surfs too much," laughed Shaw. "Sometimes I have to yell at him so he stops and we can just watch something. But we agree on a lot of things, we're great roommates."
Saad admits he's had the odd moment where he's had to pinch himself to make sure this was all really happening, like when the United Center rocked during the anthem for the opening of the Cup finals.
"The anthem is always crazy here," said Saad. "There have been lots of crazy moments in these playoffs. Battling back against Detroit as an example. In general it's been a whirlwind."
At this point, he hardly feel like a rookie anymore. He's played a lot of hockey this year.
"The year's been quick," said Saad. "But with the experience I've had, I feel pretty good out there. I don't feel like a rookie anymore. Can't use that as an excuse. I have to contribute and play well. But it's been a great ride."
June, 17, 2013
6/17/13
1:14
PM ET
BOSTON -- The
Boston Bruins
were still contemplating Monday what to do about a fourth line that has been lost in the shuffle during the Stanley Cup finals.
For the most part, the fourth unit in the morning skate was
Kaspars Daugavins
,
Rich Peverley
and
Shawn Thornton
, the three guys who ended up there late in Game 2. But I'm not sure Bruins coach Claude Julien is married to it.
Carl Soderberg
may also be an option on that line.
Julien said he was still considering his options and wasn't 100 percent sure. I suspect he's contemplating the possibility of Soderberg as a countermeasure to the
Chicago Blackhawks
deciding to bring back
Viktor Stalberg
for Game 3. Stalberg was scratched the opening two games in favor of
Brandon Bollig
.
Stalberg, who brings more skill but less physicality than Bollig, skated on the fourth line with
Marcus Kruger
and
Michael Frolik
at the Hawks' morning skate.
If Soderberg does come in, I'm guessing it's for Daugavins.
What's been interesting in this series is that the Blackhawks have rolled four lines more consistently than the Bruins, and that's usually a staple for Boston. But since a season-ending injury to valuable checking center
Gregory Campbell
in the last round, the Bruins' bottom six has been a bit in flux.
Julien found some gold midway through Game 2 when he put
Chris Kelly
between
Daniel Paille
and
Tyler Seguin
, with the newly formed third line scoring the tying and overtime goals. That unit stayed together at the morning skate Monday.
Clearly, there wasn't much confidence in what became a new fourth line during Game 2, Daugavins-Peverley-Thornton, as each played sparingly. Some of that was because the Hawks had the last line change and coach Joel Quenneville often tried to put out his second line, centered by
Michal Handzus
(between
Patrick Sharp
and
Patrick Kane
), whenever Julien had his fourth line on the ice. It's a matchup the Bruins' coach obviously wanted no part of.
The reason the Hawks could afford to try to get that matchup is that Quenneville has no problem using Frolik and Kruger on a fourth line against Boston's top lines.
Now that the series has shifted to Boston, however, it's Julien who is armed with the last line changes for Games 3 and 4, and that will afford him chances to better control the matchups and perhaps get his fourth line out there a bit more with more protection.
"There's no doubt it makes it a little bit easier," Julien said. "Doesn't mean it's going to happen all the time, but it certainly is a lot easier. Joel's a pretty good coach, smart coach. When he senses something, he'll take advantage of it.
"I had to be extra careful in Chicago with that. But, again, tonight hopefully it's a little easier. Nonetheless, we're in the finals here, you got to do what you got to do. Sometimes you may play guys a little bit more, but they're capable of handling the ice time."