Cross Checks:

Winter Classic
December, 12, 2014
Dec 12
12:07
PM ET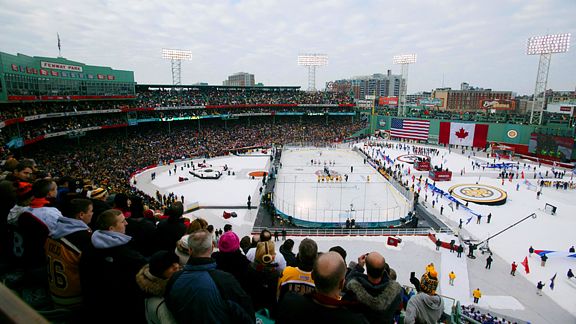 Jerry Lai/US PresswireThe Bruins hosted the Flyers at Fenway Park for the 2010 Winter Classic.
Almost as interesting as the NHL's annual forays out of doors is the debate over where those events will be held.
With the NHL scaling back its outdoor events this year -- holding two games after last season's six -- it's expected the number will jump to four next season.
Sources have told ESPN.com that the NHL wants to schedule two Stadium Series games and another installment of the Canadian-based Heritage Classic in Minnesota, Colorado and Winnipeg -- all of which have yet to host an outdoor NHL game. That would be balanced with a return to Boston for the 2016 Winter Classic, as negotiations are ongoing to make this the first repeat city.
Nothing is set in stone as far as location for the outdoor games, but it's believed the NHL would like to make an announcement in February after the All-Star Game in Columbus so teams can build in marketing plans for next season.
This four-game slate of outdoor games is right in the wheelhouse for the NHL's plans. This group of events makes a lot of money for the league and the teams involved, and creates a unique buzz in most markets. But it also requires a significant investment of manpower and planning.
Last year, the league went over the top with six games since it was the first full season after the labor stoppage that cost fans almost half of the 2012-13 season.
Taken independently, all of the games were justifiable.
There were two games in the New York City area that coincided with Super Bowl week and included all three New York-area teams.
There was the boffo Winter Classic at the Big House in Ann Arbor, Michigan, on Jan. 1 that capped off a great few days of celebration of the game at Comerica Park in downtown Detroit.
The NHL went west to Dodger Stadium for a picture-perfect night of hockey under the stars between the
Los Angeles Kings
and
Anaheim Ducks
complete with Vin Scully, the USC marching band, Wayne Gretzky and Kiss.
There was a post-Olympics game at frigid Soldier Field between the
Chicago Blackhawks
and
Pittsburgh Penguins
.
And likely the hardest sell of them all, a sort-of-outdoor game at domed B.C. Place in Vancouver between the
Vancouver Canucks
and
Ottawa Senators
.
Even though each event could be justified as being special in each of the markets, there was great debate over whether six was excessive and whether the NHL was simply trying for a massive cash grab to offset some of the lost revenues and negative press incurred during the lockout.
This year there are only two outdoor games: a long-promised Winter Classic at Nationals Park in Washington, D.C. (although without some of the additional events that have made previous events so popular like an alumni game); and a return to California on Feb. 21 when the
San Jose Sharks
will host the defending Stanley Cup champion Kings at Levi's Stadium, home of the San Francisco 49ers.
Next year, the NHL is looking to strike a balance between having enough outdoor events to keep teams happy -- as commissioner Gary Bettman is fond of saying: Everyone wants to host an outdoor game -- while not allowing one of the league's most important marketing strategies to eat itself into nothing.
Certainly going to Minnesota and Denver is a no-brainer.
The Wild have seen their profile rise in recent years with the addition of
Ryan Suter
and
Zach Parise
, and they do, after all, play in the State of Hockey.
If forced to guess, I'd suggest the Wild will try to secure a date at TCF Bank Stadium, where the University of Minnesota football team plays, but Target Field, home of the Minnesota Twins, is also an option.
The Avs, although suffering through a difficult season, are in the midst of a significant renaissance as a franchise with defending coach of the year
Patrick Roy
behind the bench and being the surprise winners of the Central Division last season. Denver provides a number of options, including Coors Field, where the Colorado Rockies play, and Sports Authority Field at Mile High, where the Denver Broncos play.
Winnipeg is almost certainly headed for Canad Inns Stadium, where the CFL's Blue Bombers play their home games.
Which brings us back to Boston and what would be the first two-time host of the Winter Classic, although not the first two-time host of an outdoor game. Chicago has hosted both a Winter Classic (2009 at Wrigley Field) and a Stadium Series game (2014 at Soldier Field).
The Bruins were the hosts of the 2010 Winter Classic against Philadelphia and, while Fenway Park remains a truly iconic location, it's hard to imagine the NHL won't want to till new ground.
Part of the league's plans from the outset was to return periodically to strong NHL cities for this event, which remains the marquee game on the NHL's regular season calendar.
The New England Patriots play in Foxborough, Massachusetts, and the NHL last used an NFL stadium for the Winter Classic in 2011 when the Pittsburgh Steelers made Heinz Field available thanks in large part to an agreeable ownership and a favorable schedule that saw the Steelers play at home on a Thursday and then go on the road the following week, allowing the NHL time to transform the field.
Could the same thing happen next Jan. 1?
Possibly.
The Patriots are believed to be enthusiastic about working with the NHL and the Bruins. Plus there is also the option to make use of Fenway Park, as the Boston Red Sox have periodically since 2010 hosted their own outdoor hockey/skating events at the venerable ballpark. A situation similar to last year where events were split between downtown Detroit and Ann Arbor is easy to imagine in Boston.
Finally, if we had to lobby for an opponent, we'd go for the
Montreal Canadiens
. As witnessed a year ago in Michigan where the Red Wings hosted the
Toronto Maple Leafs
, having some Canadian content in the Winter Classic isn't necessarily a bad thing.
September, 15, 2014
Sep 15
10:44
AM ET
The NHL will announce later this month that they have partnered with emerging premium cable provider Epix to produce and air the popular reality hockey series that precedes the annual Winter Classic outdoor game, multiple sources told ESPN.com.
Not only will Epix -- the cable entity that is a collaboration of heavyweight Hollywood film studios Lionsgate Entertainment, MGM and Paramount Pictures -- produce four segments leading up to the Jan. 1 game at Nationals Park between the
Washington Capitals
and
Chicago Blackhawks
, they will produce another four-segment series that will lead into the Stadium Series game Feb. 21 at Levi's Field between the
San Jose Sharks
and
Los Angeles Kings
, a source told ESPN.com.
The shows will be available on cable and multiple platforms in the United States. It's expected that Rogers Communications, which owns the NHL's national broadcast partner in Canada Sportsnet, will share the production costs and air the series in Canada. The two series will be available in the United States commercial-free and, as in the past with HBO's popular and critically acclaimed "24/7 Road To The Winter Classic" series, will provide fans with an uncensored look at players, coaches and managers during the lead-up to the outdoor events.
The details of the new partnership will be revealed at a Sept. 23 press briefing in Washington.
The NHL parted company with HBO after three seasons of "24/7 Road To The Winter Classic," a bold enterprise that helped expose the game to the long-sought-after casual hockey fan.
But with HBO's parent company, Time Warner, looking to reduce costs across the board, NHL officials became concerned about whether the same quality would be produced for a product that garnered 15 Emmy nominations and three Emmy awards.
Enter Epix, which was exploring producing more original content as opposed to simply airing Hollywood movies.
Epix was launched in October 2009. President Mark Greenberg has a long history working for HBO, and producer Ross Greenburg is the former HBO senior executive who helped launch the original "24/7" in 2011 that featured the Washington Capitals and the
Pittsburgh Penguins
.
Officials with Epix reached out to NHL officials to discuss the possibility of working with the league as a way to expand their sports documentary library. Their most recent project, an examination of how the color barrier was broken in the NFL in the 1940s entitled "The Forgotten Four," is produced by Greenburg and is gaining significant buzz in advance of its release.
Greenburg will produce the new NHL series for Epix.
Production qualities, always a defining element of the previous three HBO productions, are again expected to be high with per-episode production budgets expected to be about $400,000 -- on the high end for television documentaries, a source told ESPN.com.
The theory is that the bigger the budget, the more cameras and production and editing quality go into the project, thus producing a more refined product.
While last year's series chronicling the
Detroit Red Wings
and the
Toronto Maple Leafs
as they prepared for the record-breaking Jan. 1 game at Michigan Stadium was recognized with seven Emmy nominations and one Emmy award, there were complaints in some quarters that access hadn't been as unfettered as in the past. There were times when the coaches -- Mike Babcock in Detroit and Randy Carlyle in Toronto -- were seen restricting camera access.
But with the Capitals and Blackhawks both overseen by progressive and media-savvy executives like Caps owner Ted Leonsis and Chicago president John McDonagh, the expectation from both Epix and the league is that access -- key to the series' success -- will not be an issue.
As for distribution, Epix is available to 50 million U.S. subscribers and, as part of the agreement with the NHL, all hockey fans in the United States will have access to the finished product, sources told ESPN.com.
Epix provides content through a variety of platforms, including gaming systems and the Internet.
The details on how hockey fans will be able to consume the two series will also be revealed at the Sept. 23 press briefing.
November, 22, 2013
11/22/13
4:29
PM ET
Ramblings from observations of around the NHL:
Are Flyers For Real?:
The
Philadelphia Flyers
are an impressive 5-0-1 in their past six games and have dragged themselves from the depths of the Eastern Conference to being just four points back of the second wild-card spot as of Friday morning and with a game in hand. But a cautionary note: The Flyers' streak has included two wins over a struggling Ottawa team that might be among the worst teams in the league right now and a win over a Buffalo team that is without peer in its awfulness, while losing the extra point in a shootout to the ordinary
Winnipeg Jets
. The only legitimate team beaten during this stretch was with a 2-1 win over archrival Pittsburgh at a time when the Pens' offense had curiously gone dry. Points are points and kudos to head coach
Craig Berube
for getting his team into a position where it is picking up points, regardless of the opponent. The rest of the month suggests a similar path, with dates against the
New York Islanders
, Florida, slumping Tampa, the Jets again and Nashville. Only Tampa currently owns a playoff berth and the Lightning are riding a three-game losing streak in the absence of top player
Steven Stamkos
. In short, time for the Flyers to continue to make hay while the sun shines on their schedule, if indeed they've turned a corner.
The Ups With Downie:
ESPN colleague Barry Melrose has repeatedly pointed to the much-ballyhooed scrap with the
Washington Capitals
(you remember,
Ray Emery
pounding on
Braden Holtby
) as the catalyst to the Flyers' turnaround. With all due respect to Coach, the more likely the catalyst to the turnaround has been the arrival of
Steve Downie
from Colorado. The deal that saw Downie return to the team that drafted him in exchange for Max Talbot still smacks of an untold back story (it has been reported a preseason feud with captain
Gabriel Landeskog
was the impetus) but good on GM Paul Holmgren for getting a tough, skilled player to help a team that lacked both those qualities in the early going. Downie's first game after the trade was in that Washington debacle and saw him leave with an injury. But since returning to the Flyer lineup, Downie has collected five assists in five games, none of which the Flyers have lost (4-0-1).
Brind'Amour Is Hall-Worthy:
During my recent trip to Raleigh, N.C., I ran into former captain
Rod Brind'Amour
, who is, along with Dave Lewis and
John MacLean
, part of head coach
Kirk Muller
's staff. Someone wondered aloud why Brind'Amour's name rarely comes up during conversations about the Hall of Fame. It's a fair question, and a closer look at Brind'Amour's accomplishments suggests he should be in the mix. The hard-nosed center was for a long period one of the game's premier two-way forwards in the game, twice winning the Frank J. Selke Trophy as the best defensive forward in the league. He was no slouch with the puck either, collecting 1,184 points in 1,484 games, scoring 452 goals. In the postseason, Brind'Amour brought game as well, with 51 goals and 111 points in 159 games. Perhaps more notably, Brind'Amour was the glue guy in Carolina, helping transform a struggling team in a non-traditional market into a powerhouse, guiding the team as captain to their only Stanley Cup championship, in 2006. If intangibles are part of the mix when defining the line between outstanding and Hall of Fame, Brind'Amour deserves to be in the Hall.
Faulk's Making a Case:
One of the interesting battles shaping up for the U.S. Olympic team is along the blue line with a bevy of young, talented puck-movers looking to secure a trip to Sochi. Among the players whose stock continues to rise is Carolina defenseman
Justin Faulk
, who is a product of the U.S. National Team development program in Ann Arbor, Mich., and who was a member of the all-rookie team in 2012. Like all of those in contention, especially those who weren't part of the U.S. effort in Vancouver, Faulk is trying to ignore the external buzz about where his stock might or might not be. "You'd be lying if you said it doesn't go through anyone's head," the St. Paul, Minn., native told ESPN.com this week. "Turn on NHL Network and some nights and it's Olympics, Olympics, Sochi. So, obviously, it's there, people talk about it and it is what it is. If I go out there and can play my game and can put myself in a position to make the team, that's all that matters, not what he or she says on TV. That's all I can control, so that's really the extent of my thinking about it I guess." Does he worry about who's watching when he has an off night? "Just hope all of your good nights are against Pittsburgh or something, right?" Faulk said, jokingly referring to the fact head coach
Dan Bylsma
, assistant coach Tony Granato and GM Ray Shero are all integrally involved in the selection process of the U.S. team.
Left Wondering About Booth:
Hard not to watch what's happening with
David Booth
in Vancouver and wonder, what if? Booth has been a healthy scratch for the Canucks and has managed just one goal this season to go along with the single goal he delivered last season, in spite of the fact his six-year contract comes with an annual cap hit of $4.25 million. He's been sent to the Canucks' American Hockey League affiliate for conditioning as he tries to recover from ankle and groin issues, but nothing seems to have worked and his return to the big club seems in doubt with both head coach John Tortorella and GM Mike Gillis suggesting this week nothing is imminent. Still, you wonder what might have been for Booth had he not been the subject of a devastating blindside hit courtesy of
Mike Richards
, then of the Philadelphia Flyers, when Booth was skating for the
Florida Panthers
early in the 2009-10 season. The head-hunting blow on Oct. 24, 2009, saw Booth removed from the ice on a stretcher and his career thrown into disarray. A shoo-in to make the U.S. Olympic team in Vancouver, Booth was never in the hunt after the hit. He rebounded to score 23 times in 2010-11 but following his trade to Vancouver in October 2011, Booth's productivity continued to decline as other injuries mounted. Maybe you can't draw a direct line from the Richards' hit to Booth's current status as a player in limbo, but it's hard not to wonder how his career might have gone had he not been the target of the kind of hit that led directly to the NHL changing rules regarding hits on unsuspecting players.
Outdoor Wonderland:
We have never lined up with the throngs that have hammered the NHL for allowing its outdoor games to multiply like so many rabbits. Yes, six outdoor games, starting with the Winter Classic between Detroit and Toronto on Jan. 1 at the Big House in Ann Arbor, Mich., is a lot. But we've bought the league's rationale that each of these games represents something unique in widely diverse markets from Detroit to New York, where all three local teams will get a chance to play at Yankee Stadium during Super Bowl week, to the highly anticipated game at Dodger Stadium, not to mention games at Soldier Field and B.C. Place. Now, we trust the NHL will scale these events back next season, but as long as the tickets go like hotcakes -- and there is no evidence thus far that they won't -- we don't buy the "Oh, it'll water down the product" argument for this season. That said, we arched our eyebrows when the NHL announced this week it will pump these outdoor games up with a seven-part series of documentaries focusing on star players taking part in the so-called Stadium Series (those outside the Winter Classic). For us, the marriage between HBO's "24/7" documentary series and the Winter Classic, one that continues with a series focused on the Red Wings and Leafs, has been magical because it has captured the sometimes raw, sometimes comical, often emotional inner workings of the game in a pure, unadulterated presentation. Much of the magic was in not having the interplay between coaches and players, players and opponents, on-ice officials and team officials bleeped out or censored. Given the different standards for obscenity that NBC Sports and its Canadian partners in this enterprise bring to the table, it's hard to imagine the product won't be any different than the many in-house "documentaries" produced by teams around the NHL that show players in their kitchens or going out to dinner. If so, these offerings will be easy to ignore, which will only add to the widely held belief the NHL has killed the outdoor goose.
Emotional Moments:
As an aside, the one element of this multipronged documentary project that we love is that the series will follow players on an arc that takes us through the Sochi Olympic Games, including intimate looks at the dynamic that exists between teammates in the NHL, such as
Jonathan Toews
and
Patrick Kane
of the
Chicago Blackhawks
, who will face each other with medals on the line in Sochi. It's hard for people to get a handle on how much the Olympic experience means to these players, regardless of which country's jersey they wear, and a series like this might bring home that emotion in an unprecedented fashion. Given the ambiguity with which the NHL as a whole views the Olympic experience (OK, most owners hate with a deep and powerful passion that the league shuts down to take part every four years ), this kind of exposure might soften that view and help pave the way for continued participation.
August, 9, 2013
8/09/13
1:01
PM ET
By
Sarah Goldstein
| ESPN.com
NHL commissioner Gary Bettman brushed off criticism that the league is hurting its product by hosting six outdoor games this season,
according to The Globe and Mail
.
"For teams and markets that want to host this [event], for fans that want to attend, we can't do enough of them," Bettman said Thursday at Yankee Stadium, where the league was
formally announcing two of the games
.
"Fans love attending this event, the demand that we're hearing and feeling from our teams and markets and venues wanting to host this game is overwhelming," Bettman added, according to the report. "So if you're actually getting an opportunity to attend this game, you don't think we're doing too many of them."
The Winter Classic will be played at the Big House in Ann Arbour, Mich., between the
Toronto Maple Leafs
and
Detroit Red Wings
.
This will be followed by a four-game Stadium Series consisting of two games at Yankee Stadium, one game at Dodger Stadium and another at Soldier Field.
The final outdoor game will be the Heritage Classic between the
Ottawa Senators
and
Vancouver Canucks
at B.C. Place.
While some are already saying that six games is too many, it remains to be seen if the NHL will attempt more games in the future.
"We're obviously testing ourselves and our hockey operations department to make sure we can put on these six games. We're confident that we can," Bettman said, according to the paper. "But we'll take a deep breath when all six are over and evaluate what made sense, what we can do better and whether or not we can even do more."
December, 31, 2012
12/31/12
11:07
AM ET
By
Sarah Goldstein
| ESPN.com
We are inching toward the new year, the time when hockey writers everywhere are part-time weather reporters, trying to forecast what to expect on Jan. 1.
Will there be rain? Will it be too sunny? Will it be cold enough?
These are the questions we should be asking ourselves.
But no. Instead, we are stuck examining the latest offer from the NHL and wondering why this lockout has dragged on so long.
Let's forget about all of that for just a minute to remember the magic of past Winter Classics.
I'll never forget watching the Penguins and Capitals play under the lights at Heinz Field in 2011. The rain could have ruined the event, but instead we got to watch a new moment in Winter Classic history as the puck dropped later, at night.
Now, it's your turn: Give us your favorite Winter Classic memory. Send us your favorite moment in the comments field, on
Facebook
or on Twitter
@ESPN_NHL
or
@sarahgold8
.
And mouse over the photo below to view our gallery that can help refresh your memory.
Photo credits: ESPN.com/Getty Images/AP Photo
November, 2, 2012
11/02/12
3:10
PM ET
Forget this business about the league's deadline to scoop up a refund or any other financial aspect tied to Friday's announcement that the Winter Classic is canceled for this season.
Remove your labor-tainted glasses -- which is hard to do these days -- and view this controversial decision with the big picture scope that it needs.
No one wants the fruit from a poisonous tree.
Regardless of whether there's an NHL season, whether there's 70 or 60 or 50 games, the 2012-13 season has been poisoned by a labor impasse.
Players are already grumbling -- and I don't blame them -- that they won't bend over backward for league events or appearances once hockey resumes. The bad blood that's brewing between owners and players is far from done boiling over.
Which is why the NHL, and certainly the
Detroit Red Wings
, don't want to associate the league's No. 1 regular-season event with what's transpiring in the boardroom. The Winter Classic is supposed to represent everything that is good in hockey, the sport back to its roots, celebrated every Jan. 1 in a way that even the most cynical media observers can't snicker at.
The NHL and the Red Wings don't want to host a tainted Winter Classic. Nor do the Wings want to host a scaled-down version of it.
Which is why, even though the league would still have time to build up the infrastructure needed for the Jan. 1 game if there's a collective bargaining agreement in place by Nov. 30, the Wings don't want to be part of slapping together a half-sized version of the two-week festival it originally had in mind.
This is way more than just the actual game in Ann Arbor, Mich., between the
Toronto Maple Leafs
and Red Wings.
It's also about a celebration of the game in downtown Detroit with a second outdoor ice sheet at Comerica Park hosting an Ontario Hockey League doubleheader, an AHL game, two Leafs-Wings alumni games and other youth hockey games. It's about more than a quarter-million fans turning through the turnstiles in both stadiums among all the events the league and Wings had planned.
It's about the legacy that Wings owner Mike Ilitch wanted to leave behind with this event. The Wings under his helm have been the model franchise in the NHL for two-plus decades. They had plans to raise the bar on an already through-the-roof event.
It was going to be the best Winter Classic ever.
Ilitch and the Wings want it done right, not hurriedly cobbled together a month from now when perhaps there's a new CBA with zero opportunity to have promoted it since Sept. 15 when the lockout sucked the life out of the event.
While the Wings may never admit it publicly, Friday's cancellation was likely a moment of relief. If the NHL is back next season in full form, its labor troubles behind it, there will be a game at the Big House between the Leafs and Red Wings, plus the kind of festival of events at Comerica that the Wings wanted all along.
We're all just going to have to wait one year longer for it.
I'm not saying the league should escape blame for this, but I'd suggest where the blame should really lie is in the fact that this lockout is still happening. This is a CBA that, when all is said and done, will likely have most of the elements that many of us predicted months ago could bridge the gap between both sides.
If I'm a fan today, I'm angry that the league and NHLPA haven't been able to resolve their differences in labor talks. It's an absolute disgrace that the lockout had to last into November, never mind the possibility it may go even longer than that.
It should not have been that hard to figure out how to divvy up the revenue pie. And for that, NHL commissioner Gary Bettman and NHLPA executive director Donald Fehr deserve all the criticism they're getting from fans.
But when it comes to Friday's cancellation of the Winter Classic, it was the right move, and the only move.
This season is going to be a sham either way. Let's not denigrate the Winter Classic with it.
November, 2, 2012
11/02/12
3:10
PM ET
NHLPA executive director Donald Fehr
(from NHLPA statement):
"The NHL's decision to cancel the 2013 Bridgestone NHL Winter Classic is unnecessary and unfortunate, as was the owners' implementation of the lockout itself. The fact that the season has not started is a result of a unilateral decision by the owners; the players have always been ready to play while continuing to negotiate in good faith. We look forward to the league's return to the bargaining table, so that the parties can find a way to end the lockout at the earliest possible date, and get the game back on the ice for the fans."
NHL deputy commissioner Bill Daly
(from NHL statement):
The logistical demands for staging events of this magnitude made today's decision unavoidable. We simply are out of time. We are extremely disappointed, for our fans and for all those affected, to have to cancel the Winter Classic and Hockeytown Winter Festival events."
"We look forward to bringing the next Winter Classic and the Hockeytown Winter Festival to Michigan."
Wings' d-man Niklas Kronwall:
"That's one of those things that you were really looking forward to this year. Everyone here, not only the players but the fans. Everyone would be bummed out."
"I don't know if they're trying to send a message or what. I don't even know if they decide to cancel it, can they put it back on if we do come to an agreement? I think there's a lot of speculating."
Suburban Detroit native Cam Fowler:
"It's just a shame for the game. You definitely feel for the city because of the opportunity it presents and how exciting it can be for the fans. You feel for them. It hurts the game."
"It's disappointing. You have friends that were saving up just to go to that game. It's such a spectacle for the city. You feel for them. Everyone looks forward to it -- the snow is falling, the holidays. It's awesome what it can produce for the city and the fans. You just kind of feel for them."
Wings' goalie Jimmy Howard:
"It's definitely very disappointing. Not only was I looking forward to it, but so were all my friends and family. It was going to be a great event not just for us but all the businesses and hotels and fans excited to see us and Toronto play."
Wings forward Todd Bertuzzi
(from
Detroit Free Press
):
"I think the whole thing is tough for everyone. But this was a focal point for our team and for Toronto, and for our fans."
"I know that my kid's team was playing, too, at Comerica, and then you had the alumni game, which was going to be superb with the amount of talent that both teams had. I think it's a big loss."
"I've always wanted to play in one. I'd love the experience. In talking with all the guys when they played in Chicago, they said it was an outstanding atmosphere."
Wings forward Johan Franzen
(from Detroit Free Press):
"It was something we were looking forward to doing this year, but if it's not going to happen, it's not going to happen. But hopefully, we might get a carryover to next year. Hopefully, we can get it then."
President and C.O.O. of Maple Leaf Sports & Entertainment Tom Anselmi
(from Leafs statement):
"We want to thank Maple Leafs fans for their support, patience and understanding during CBA negotiations between the NHL and NHLPA. We know our fans were excited to see this historic Original Six outdoor encounter in a couple of months and we are disappointed for them. However, we know that the NHL remains committed to achieving an agreement that is fair for the players and the member clubs, and one that will be good for the fans and our game."
Michigan athletic director Dave Brandon:
"This is an unfortunate announcement but one that looked imminent given the current labor situation between the NHL and its players. We knew this was a possibility, but we stayed prepared in the event the labor dispute would get resolved."
"Our relationship with the NHL has been terrific. Both parties have a mutual interest in making the Winter Classic a successful and historical event. We are glad they committed to bring the next game to the Big House, matching the Red Wings and Maple Leafs."
October, 31, 2012
10/31/12
9:20
AM ET
By
Sarah Goldstein
| ESPN.com
It is no surprise that a decision about the Winter Classic is expected this this week, if you scan
the contract the league entered into with the University of Michigan
.
Dollars and cents:
The NHL contracted use of the Big House for $3 million. The first payment of $100,000 was delivered when they signed the contract on Feb. 8.
The rest of the payment plan called for $250,000 to be paid on Nov. 2; $1,000,000 on Dec. 7; $1,000,000 on Dec. 28; and $650,000 on Jan. 18, 2013.
Cancellation policy:
Aside from the league owing more money on Friday, Nov. 2 is a benchmark for canceling the event and not owing the university any more money.
"If cancellation occurs prior to and including November 2, 2012, to retain the $100,000 initial consideration payment.
"If cancellation occurs on November 3, 2012 or later, to retain the initial consideration payment and obtain reimbursement for all documented and actual out-of-pocket expenses reasonably incurred by the University in connection with the cancelled Event prior to cancellation."
The NHL also made sure to cover itself in case collective bargaining agreement negotiations got ugly. The contract specifies that the league can cancel the event due to a strike or lockout.
"In addition, NHLE shall, in its sole and absolute discretion, has the right to cancel any Event(s) including the Game, due to any work stoppage or other activity including a strike, work action, lock out or any other events arising at any time after September 15, 2012 in whole or in part due to the lack of a collective bargaining agreement between the National Hockey League and any labor organization representing a majority of NHL players, even if as the result of intentional conduct by the NHL."
On the clock:
Lastly, this event doesn't come together overnight. The NHL could start work in the Big House as early as Dec. 1. Ice guru Daniel Craig and his team have to build the main rink in Ann Arbor, Mich., plus one or two axillary rinks on the field. They also have to build a rink at Comerica Park for the alumni games.
This takes a lot of time, man power and organization. It's not something the league can wait until the last minute to make a decision about.
But in the end, we all lose the most anticipated regular-season game of the NHL season. Let's hope they can come to an agreement in time to try it again on Jan. 1, 2014.
Check out the full contract at AnnArbor.com »
February, 21, 2011
2/21/11
1:15
PM ET

1. No big moves in Chicago
We had a chance to chat with Chicago GM Stan Bowman before Sunday's big shootout win over Pittsburgh. He has little cap room to work with and won't be looking to make a big trade-deadline move that would involve bringing in salary or shipping salary out to bring salary back.
One area he'd like to address is acquiring a defensive forward to help the team's penalty killing. The Hawks' penalty kill hasn't been as strong as Bowman would like because his top players are doing a lot of that work, and it may be stretching them too thin.
Sounds like Bowman could use a guy like Andrew Ladd, the current captain of the Atlanta Thrashers who the GM had to trade in the offseason to deal with salary-cap issues.
Even with their win Sunday, the Hawks shockingly remain outside the playoff bubble in 11th place, although they're just two points behind the four teams tied with 68 points (Los Angeles, Dallas, Minnesota and Anaheim, respectively).
Bowman was also quick to defend defending Norris Trophy winner Duncan Keith, whose offense has dropped off, drawing criticism in some quarters. Bowman takes issue with the perception that Keith's game has dropped off. He pointed out that Keith was logging big minutes against opposing teams' top lines from the start of the season. Bowman said Keith remains the team's "rock-solid" anchor along the blue line.

2. None in Minnesota, either
Don't expect GM Chuck Fletcher and the Wild to be too active between now and the Feb. 28 trade deadline, even with Mikko Koivu's injury. When it comes to draft picks and prospects, Fletcher inherited a pretty bare cupboard, so trying to obtain the asset he needs (top-end scoring) would set the team back developmentally, so he will likely stand pat.
The good thing is, Fletcher has done a nice job of assembling what many teams want at the deadline: depth scoring, veteran experience and capable if not flashy defenders. This is a hard-working team that scores just enough (the Wild have eight players with 10 or more goals), plays terrific defense and gets good goaltending. They are 10-4-1 in their past 15 games and sit seventh in the West, but that's hardly security in the conference as three other teams also have 68 points.
Does Fletcher find himself scoreboard-watching? Yes.
"People say they don't, but I don't believe them," Fletcher said. "It's exhilarating but it's stressful."
The Wild's strong play is in stark contrast to the team's sluggish start to the season, one that prompted whispers that coach Todd Richards was on thin ice.
"I don't think we had any alternative but to be patient and stay the course," Fletcher said.
With only one successful playoff run in team history, a trip to the 2003 Western Conference finals, the Wild are desperate to return to the playoffs.
"It's been a process," Fletcher said. "I think that the character of these guys has been underrated. We're a good team."
3. Why are GMs immune to midseason dismissals?
Why don't more GMs get fired in the middle of a lousy season? Coaches getting the ax if their teams don't perform up to expectations is a given. Just ask Scott Gordon or John MacLean. And sometimes that's what it takes to turn a team around.
The New Jersey Devils are a completely different team under Jacques Lemaire and are flirting with one of the most dramatic turnarounds in recent memory. But it's been interesting to see the renaissance the Calgary Flames have enjoyed since the departure of GM Darryl Sutter. The dynamics were unique in Calgary since Darryl was the brother of coach Brent Sutter, and that relationship had gone south.
The Flames are the same, the coach is the same; but with Jay Feaster in as interim GM (surely that tag will be taken off in a hurry), Calgary is a playoff team. The Flames are 7-1-2 in their past 10 games and were tied for fifth in the conference with 70 points as of Monday.
Further, doesn't it seem counterintuitive to allow a GM of an underachieving team to make trade-deadline moves that have a direct impact on the future if he doesn't have a role with the team beyond the season?
We're not suggesting Bryan Murray should be fired, but Ottawa Senators owner Eugene Melnyk has said he will reassess the entire organization at the end of what has been a ghastly season. Yet it's Murray who has been steadily tearing apart the Sens' lineup and building for the future even if it's a future that may not include him. If Melnyk doesn't know now what he's going to do with team management, that's a pretty sad indictment of his business acumen. And if he is going to make a change, shouldn't he make that move by bringing in a GM he thinks will take the team forward?
We understand it is sometimes hard to hire a guy midseason if he's working with another team, but it still seems strange GMs are essentially immune to midseason replacements. One wonders if the Calgary situation will give owners pause in the future.
4. Don't dilute the great outdoors!
First, there was the Winter Classic in Buffalo, and no one knew what to expect. But it turned out to be the equivalent of a top-end steakhouse -- hip, distinctive, a success.
This season, the NHL decided to throw the CBC and Canadian fans a bone and added the Heritage Classic to the schedule. (The event's name borrowed from the near-disastrous outdoor game held in Edmonton before the lockout.)
And while the ice was terrible and it was bitterly cold (hey, who knew it was going to be chilly in Calgary in late February?), it turned out OK. Sponsors loved it. Fans bought up tickets. Highlights turned up on CNN on Monday morning. Think of it as a limited franchise trading on the good name the Winter Classic had built.
Our colleague Pierre LeBrun writes that the NHL is contemplating three or four of these events every season. You know what we instantly think? McDonald's. 7-Eleven. Not that there is anything wrong with McDonald's or 7-Eleven stores. Goodness knows if you need to find one you don't have to look too hard. But you hardly think "hip" or "distinctive" when you think of those establishments.
That is what the NHL is flirting with.
Yes, fans and sponsors and owners love the idea of these games and everyone wants to host one. Does that mean they should get one?
We have long insisted the Heritage Classic shouldn't even be a yearly event. Once every two or three years would be enough for us. If the NHL moves forward with this notion of flooding the marketplace with outdoor games, it will have done the nearly impossible -- sucking the pizzazz out of the Winter Classic and rendering it, dare we say, ordinary.
Because no matter how these other outdoor franchises might be marketed, no matter what kind of funky names they might be given, they will all have a certain sameness and they will all become regional events.
The Calgary/Montreal game Sunday, coming on the final day of Hockey Weekend Across America, barely registered as an event in the United States. There was no build-up like there was for the Winter Classic over the past three years. It was a regional game between two Canadian teams. Nothing wrong with that, but the league better be careful what it wishes for.
Put three or four of these games on the calendar every year and people will start to ask, "Where's the beef?"
5. OK, we've changed our minds about Minnesota
We have, in this space, regularly suggested the Winter Classic has to remain the crème de la crème of the NHL. Lots of Sidney Crosby, Alex Ovechkin, Detroit Red Wings, Chicago Blackhawks, Philadelphia Flyers on New Year's Day. And when fans from Minnesota complained to us that the State of Hockey should get some consideration, I think I suggested they might want to play in a playoff game first.
A bit harsh, perhaps, but after spending a couple of days talking to hockey folks at all levels of the game in Minnesota, I think maybe the Minnesotans have a point.
It's true the Wild have virtually no profile outside the state, and making the playoffs would improve that profile nationally and justify them hosting a Winter Classic. But there is something absolutely unique about the state's fascination and connection to the game. Whether it's high school or college, men's or women's hockey, it is a big deal and it matters, and a Winter Classic there would be a magical event.
The beauty of having an NHL outdoor game in Minnesota is the league, USA Hockey and the NCAA would be able to put on a grand show that transcends the game itself. It's what we saw in Boston, and it's what should be part of every Winter Classic event.
Even if the Wild aren't the sexiest team around, the NHL can get around that by inviting Detroit or Chicago or another higher-profile team to be the visitors. Assuming HBO will still be playing a role in this event, the Wild may also benefit from that kind of exposure.