Cross Checks:

World Cup of Hockey
September, 12, 2014
Sep 12
1:57
PM ET
The expectation back in June was that the NHL and NHL Players' Association would have some kind of World Cup announcement by the end of summer, but that's going to wait a bit longer.
Both sides have an understanding that they will wait to get more concrete details in order, including being able to commit firmly to a regular interval for the tournament, which hasn't been held since 2004 when Canada beat Finland in the final at Air Canada Centre in Toronto.
In other words, while the NHL and NHLPA could have easily announced by now that the event is returning in September 2016, they want to have much more to give than that.
What we know at this point: The World Cup is scheduled to return in September 2016, primarily anchored in Toronto, but there may also be some games in Montreal. That's still in discussion.
[+] Enlarge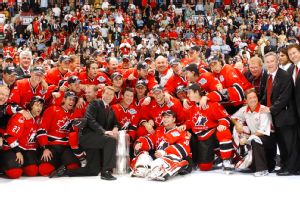 Dave Sandford/Getty ImagesThe World Cup hasn't been held since 2004 when Canada beat Finland in the final at Air Canada Centre.
There likely will be eight countries in the tournament, which is the same as 2004 and 1996. There are six countries fixed: Olympic champion Canada, Russia, the United States, Sweden, Finland and the Czech Republic. The additional two teams and the manner in which they will be selected hasn't been nailed down yet. It might be a pure invitational situation where two countries are handed entries, or there could be a play-in tournament for those last two spots. My vote is for the latter, although without question that comes with more logistical challenges. My guess is the play-in part would be overseas for obvious reasons.
What possibly could also be part of a World Cup announcement -- although it depends on the timing of it over the next few months -- is the return of the Premiere Games. The NHL hopes to have regular-season games back across the pond next season, but no firm details are finalized on that front.
Meanwhile, is an Olympic decision tied directly to a World Cup announcement? Not necessarily, and one source even suggested, "probably not." They don't need to be tied to each other. The NHL and NHLPA can announce World Cup plans for the next few years without having to know exactly what they're doing on the Olympic front.
I think the NHL and NHLPA would like to make a decision as quickly as possible about whether NHL players will continue to play in the Olympics. But part of the issue is that they're not sure where the IOC stands with respect to whether the same types of accommodations would be available to NHL players in South Korea in 2018. The standard was set really high in Sochi last February. NHL players who participated raved about the venues, the logistics, the lodging, well, pretty much everything. (The lone exception would be
the handling by the IOC
of the
Nicklas Backstrom
doping controversy.) No offense to the Vancouver Games in 2010, but it was the best NHL player experience ever.
Now, I'm not sure that even if the IOC guaranteed the exact same high-level setup in South Korea that NHL owners and commissioner Gary Bettman would vote yes. That's to be determined. But the NHLPA would almost surely be a yes if the players were guaranteed the same standard as Sochi.
However, where both the NHL and NHLPA are on the same page right now is that they need to at least find out if the IOC can deliver those goods for South Korea, and right now that answer hasn't been delivered.
There is still much to be determined on the international front; the only thing that's basically assured at this point is that there will be World Cup hockey in two years.
JOHANSEN UPDATE
It's been a long time since there were actual talks between
Ryan Johansen
's camp and the
Columbus Blue Jackets
, but that's expected to change any day.
Jackets GM
Jarmo Kekalainen
and agent Kurt Overhardt each confirmed via text to ESPN.com on Friday that they plan to meet sometime this weekend while both are in Traverse City, Michigan, for the rookie tournament.
It's believed both sides are about $3 million apart per year on a new two-year deal for the restricted free agent.
NEUVIRTH REFRESHED
The most frustrating season of
Michal Neuvirth
's career is behind him, and he's refreshed, re-energized and ready for the challenge in Buffalo this season.
"Super-excited," Neuvirth told ESPN.com this week.
That's about the exact opposite he was feeling last season. Once seen as the future No. 1 goalie in Washington -- appearing in 48 games with the Caps in 2010-11 and 38 games in 2011-12 -- Neuvirth lost the net to
Braden Holtby
. But what was obviously tough to swallow last season is that, while Holtby struggled, Neuvirth felt he didn't get much of a chance to get back in. He appeared in only 13 games with the Caps, and agent
Patrik Stefan
was working with Caps management behind the scenes to try to get Neuvirth dealt. All the while, his lack of playing time is likely what cost him a chance at an Olympic roster spot for his native Czech Republic.
All in all, a season to forget.
"It was frustrating, but you got to take it for what it is, and I think it made me stronger," Neuvirth said. "You got to go through tough times in your career sometimes. I feel it's going to make me better and stronger for the long run. I'm just focused now on the opportunity I have here in Buffalo and [will] play the best I can for the Sabres."
The Caps dealt Neuvirth to the Sabres at the trade deadline, where he'll compete in goal this season with
Jhonas Enroth
, who as the incumbent likely would start the season with just a bit of an edge. But they're both 26, both eager to prove much, and the sense is both will get a fair chance.
"The net is up for grabs," Neuvirth said. "Right now we've got two No. 1s. Jhonas is a great goaltender and I like him as a person, I respect him as a goalie. It's going to be a good competition. We're going to push each other every day to get better, and I think we're going to be a good tandem."
In the meantime, Neuvirth goes to camp next week as ready as he's ever been.
"I've been working hard in the offseason, focusing on my core, on my groin and hips, they feel like never before," he said. "I feel a lot stronger and my goal is to play as many games as I can."
As for the last-place Sabres, there's a sense of renewal all-around after a busy offseason.
"We had some great signings here," Neuvirth said over the phone from Buffalo. "We have good leadership. It's going to be a hardworking team that plays as a group, a team that never gives up on a loose puck. I think that we're going to surprise some people this year."
June, 4, 2014
Jun 4
9:28
PM ET
LOS ANGELES -- With discussions on a return of the almost forgotten World Cup of Hockey taking longer than anticipated, the next World Cup tournament might take place in the fall of 2016 and could be held in Toronto instead of multiple locations, including European cities.
And that's a good thing.
For a long time, it was believed the NHL was hoping to resurrect the tournament -- held just twice, in 1996 and 2004 -- for the fall of 2015 in the hopes of avoiding having to go up against the 2016 Summer Olympics, during which broadcast revenues, advertising dollars and general interest might be more difficult to come by.
But that's not likely to happen, sources told ESPN.com, and the fall of 2016 is now the prime target, assuming details between the league and the NHL Players' Association can be ironed out.
Commissioner Gary Bettman admitted while talking to the media Wednesday in Los Angeles it would have been nice to announce a firm date for the World Cup, but that didn't happen.
"We're not ready," Bettman said. "It's not something that's fully baked."
Still, if the NHL is going to finally get behind the tournament and schedule it on an ongoing basis -- and that is the plan, to grow it into the world's best hockey tournament -- it needs to be in a pattern that makes sense, and that means a logical pattern, starting in 2016.
By having the tournament in 2015, the league would have pretty much cut itself off from future Olympic competition with the next Winter Olympics set for South Korea in 2018. How would the World Cup fit in with that rotation if the NHL had a tournament in 2015? The short answer is, it wouldn't.
At some point, the NHL will decide whether it will continue to take part in the Olympics, although Bettman said Wednesday the league has not given it much, if any, consideration, even though the Sochi Games in Russia in February were considered, on most levels, a terrific success.
The two events are not related in that the World Cup is intended to happen, regardless of whether the NHL continues to take part in the Winter Olympics, but they are related in that they both fall under the long-term planning being undertaken by the league and the players' association toward building a comprehensive international calendar.
I still feel the NHL needs to be part of the Olympic experience, in spite of the negative elements, such as difficult time zones and injuries to top players. The tournament is too good, the drama too high, the stage too great to walk away simply because it's hard to get the games on in prime-time television in North America.
But, regardless of the Olympic decision, the return of the World Cup stands as a crucial undertaking, and, in a perfect world (or our perfect world), it will roll into a rotation that would feature a World Cup every four years, two years after the Olympics. That's why the '16 World Cup makes sense, as it will be at the midpoint of the Olympic cycle.
Bettman said the World Cup is an important entity on a number of levels.
"It's something we know is very important for our players, to be able to represent their countries," Bettman said. "We understand that and appreciate it."
These tournaments provide a way to make money in terms of ticket sales, sponsorship and broadcast rights, but they also play a role in the development of hockey players around the globe. Think about the Slovenian national team's surprise run at the Sochi Olympics and the value that has to the game in that tiny country.
And it's clear both sides are looking at this tournament as a monster event. In the same way that the NHL went out on a limb with the first Winter Classic in Buffalo, New York, in 2007, this will be a similar risk/reward proposition.
If the league is ultimately going to sever ties with the Olympics, it needs to replace that tournament with something equally impressive, and it can't just be about sending out invitations to a bunch of hockey federations and renting a couple of NHL rinks.
That's why Toronto is being touted as a possible host, given its status as a major hockey, media and corporate center.
The last tournament, in 2004, was held in various cities in North America and Europe and, in general, did not generate the interest it was expected to.
If the NHL and the players decided they wanted to run the tournament in two cities, it's believed Toronto and Montreal would be the likely host cities.
Whenever, wherever the World Cup of Hockey takes place, it won't be something held in isolation, Bettman said. There could be things like exhibition games, preseason games, regular-season games, clinics.
"Which is why the discussions are as elaborate as they are," Bettman said.
Talks regarding a new World Cup of Hockey are expected to continue this week.
"Active talks continue with the NHL regarding World Cup of Hockey plans," NHLPA spokesman Jonathan Weatherdon said Wednesday.
As for discussion of the Stadium Series, the Winter Classic will be held at Nationals Park in Washington, but it's possible the NHL will dramatically reduce the number of outdoor games from the record six held this past season.
We wouldn't be surprised if there was just one additional game, and, given the successes of the outdoor game at Dodger Stadium in late-January, it wouldn't be a surprise to see the
San Jose Sharks
get an opportunity to host in Silicon Valley, perhaps at Levi's Stadium, the new home of the NFL's
San Francisco 49ers
.