March, 13, 2014
Mar 13
7:56
PM ET
GREENSBORO, N.C. -- Pittsburgh couldn't finish off a rally when it lost to North Carolina on Feb. 15. The Panthers believe they can now if it comes down to it when the teams meet again in the ACC tournament quarterfinals Friday at 2 p.m.
Pitt cut a 12-point deficit down to three in Chapel Hill with seven seconds left and had a chance to tie but
Lamar Patterson
missed an open 3-pointer.
"It was just a close game that we didn't win," Pitt coach Jamie Dixon said. "Since then we've won a lot of close games."
Pitt won back-to-back overtime road games at Notre Dame and Clemson. The Panthers believe playing the Heels in Greensboro will be like another road game too. Fortunately for them, fatigue won't be much of a factor. The Panthers will be relatively well rested since Wake Forest offered little resistance in
Thursday's 84-55 blowout
.
"We almost came out with one down there," said Patterson, who agreed the potential atmosphere could be the equivalent of playing Syracuse in Madison Square Garden in the old Big East tournament.
They expect a physical game against the Heels. Pitt forward
Talib Zanna
said Carolina outmuscled them in the first meeting.
"We have to be more aggressive on the glass we have to execute," Zanna said. "We didn't execute our offense (and) they were more physical than us. They were pushing us all the way out almost to halfcourt. We weren't running out set right. They outplayed us."
Carolina forward
James Michael McAdoo
posted game-highs with 24 points and 12 rebounds against Pitt.
Marcus Paige
scored 11 of his 18 points in the second half to help stave off the Panthers' rally.
Unlike McAdoo and Paige, Pitt's two best players -- Patterson and Zanna -- were hampered by injuries that often kept them from practicing down the stretch. That accounted for some of their offensive struggles, but Dixon said both were healthy now.
Pitt went 0-5 against the top four finishers in the ACC, which is why some question if it is worthy of an at-large NCAA tournament bid. A win against Carolina could quell some of the doubters, but Dixon said he wasn't using a tournament bubble as a rallying point.
"We have to play better, we've got to get healthy, we've got to get guys out there," Dixon said. "That's the stuff that we can control."
March, 12, 2014
Mar 12
1:14
PM ET
By
Mike Wilson, ESPN Stats & Info
| ESPN.com
AP Photo/Gerry BroomeESPN's BPI likes Duke's chances of winning the ACC tournament, but they could face tough competition along the way.
Duke
has the best chance of winning the ACC men's basketball tournament, according to ESPN's
Basketball Power Index
, but the Blue Devils don't have the greatest likelihood of making it to the ACC semifinals.
Oregon
has the second-best BPI rating in the Pac-12, but four other teams have a greater probability of reaching the semifinals of that conference's tournament.
In
projecting the results of conference tournaments
, a team's BPI rating doesn't tell the entire story.
To project the likelihood of each team reaching and winning in a particular round, BPI takes into account how challenging the tournament has been for a team to that point. That aspect of the BPI calculations leads to interesting projections that might seem counterintuitive in light of teams' BPI ratings.
In the ACC, for example, BPI No. 7 Duke has the greatest projected likelihood of winning the tournament. But No. 10
Syracuse
has a slightly greater likelihood of reaching the ACC tournament semifinals (82 percent) than the Blue Devils (81 percent) as well as regular-season champion and No. 8
Virginia
(74 percent).
All three of these teams (as well as fourth-seeded
North Carolina
) receive byes to the quarterfinals. In that round, based on BPI projections, the Orange are most likely to play
North Carolina State
(71st in the BPI rankings), whereas Duke and Virginia are projected to have quarterfinal opponents ranking in the BPI Top 60.
There is not much difference in the projected championship chances for the top three teams. The Blue Devils have a 27 percent probability compared to Virginia's 25 percent and Syracuse's 23 percent.
Extra game has cost
In the Pac-12, only BPI No. 1
Arizona
has a higher ranking than No. 16 Oregon. The Ducks finished in a five-way tie for third place in the
standings
and are seeded seventh in the tournament, which forces them to play a first-round game.
That extra matchup helps reduce Oregon's chances of reaching the semifinals to 43 percent. BPI No. 21
UCLA
has the greatest likelihood of reaching the semifinals in that quadrant of the bracket (53 percent) and is the second-most likely Pac-12 tournament champion, with a 10 percent chance, compared with Arizona's 63 percent.
An important 'if' for Big 12
BPI No. 4
Kansas
has a 49 percent probability of reaching the Big 12 tournament final and a 37 percent chance of winning the tournament, making the Jayhawks the favorites in Kansas City, Mo.
BPI No. 17
Iowa State
, on the same side of the bracket as the Jayhawks, has a 28 percent chance of playing for the tournament title – compared with 42 percent for lower-ranked
Oklahoma
, which is in the other half of the bracket. Should Iowa State reach the final, however, the Cyclones would have a 56 percent chance of beating BPI No. 24 Oklahoma.
The projections for Kansas reflect the team's performance through the entire season and don't take into account
Joel Embiid
's back injury (which will keep him out of the conference tournament). In the three games Embiid missed, Kansas' BPI was 85.0, compared to its 88.4 rating for the season. If that's representative of the Jayhawks' true level of play without Embiid, it's enough to drop their chances to win to 24 percent, behind Oklahoma (29 percent) and slightly ahead of Iowa State (21 percent).
Big Ten projections
The Big Ten tournament projections demonstrate how BPI looks beyond wins and losses to gauge the power of teams.
Michigan
won the regular-season conference championship by three games, but the Wolverines are the third favorite to win the conference tournament based on BPI projections.
Wisconsin
, which ranks ninth in BPI and tied for second place in the Big Ten standings, has a 26 percent likelihood of winning the conference tournament. BPI No. 14
Ohio State
has a 19 percent likelihood of winning, fractionally better than No. 22 Michigan.
Not far behind is BPI No. 13
Michigan State
, which has a 17 percent likelihood of winning the conference tournament.
March, 12, 2014
Mar 12
12:30
PM ET
Admit it: You want
North Carolina
guard
Marcus Paige
to shoot more in the first halves of games. He has earned the nickname "Second-Half Marcus" for his penchant to take over after halftime. In two games against Duke, he scored a combined 31 points in the second half, including 18 in the season-finale loss.
[+] Enlarge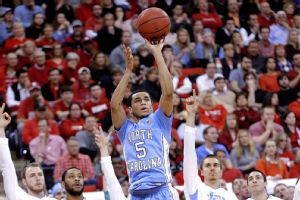 AP Photo/Gerry BroomeSophomore guard Marcus Paige averages 10.5 points in the second halves of ACC games.
Paige leads the Tar Heels in scoring with 17.1 points per game. He has scored in double figures in the second half alone on 18 occasions, compared to only six times it has happened in the first half.
"It's not easy to explain, but it is easy for me to understand," North Carolina coach Roy Williams said. "Point guards, they start the game trying to run the game plan, trying to get everybody involved -- well, point guards and intelligent players."
With Paige averaging 10.5 points in the second half in ACC play, it would seem he could have a bigger impact if he just shot more it the first half, right? Williams said it's not that simple. Even during the nine games in which Paige started at shooting guard while the statuses of
Leslie McDonald
and
P.J. Hairston
were in limbo, he was more of a second-half scorer.
In six of those nine games, Paige scored in double figures in the second half, including scoring 21 of his 23 points against Kentucky after halftime. Williams likened Paige to former UNC forward Sean May, who gained a good feel for how defenses were going to play him before deciding how to attack.
"Marcus, by nature, is not very selfish," Williams said. "By nature, he is trying to run the team more. By nature, it's, 'Do my part to help the team.' And then all of a sudden he realizes, 'Hey, my part to help this team today just might be scoring again,' and tries to go through it."
Williams sees no reason to tinker with the formula that has clearly worked for Paige.
"Would everybody agree he's had a pretty doggone good year?" Williams asked. "Why the hell would I try to screw it up?"
The sophomore guard was named first-team All-ACC, was voted the league's Most Improved Player and received a couple of votes for Player of the Year. He also was named second-team All-America by the Sporting News.
That honor will get Paige immortalized in the Dean E. Smith Center rafters among the program's honored jerseys. (Paige wrote about it on the school's website
here
.)
And if he's good enough to make the rafters, Williams doesn't see why anyone would want to change the way he's played.
"I don't understand this; has he played pretty well?" Williams asked. "I want him to keep playing well."
March, 11, 2014
Mar 11
4:27
PM ET
March, 11, 2014
Mar 11
2:46
PM ET
They don't hang banners in the Dean E. Smith Center for winning streaks.
Now that Duke has ended the Tar Heels' 12 game winning streak -- the longest since 2008-09 -- the season will be defined by what happens in the tournaments. Will the streak be a footnote to greater success, or will it end up being the crowning achievement?
"There's always a fear that you get complacent -- you think that you've accomplished something and you forget to work," UNC coach Roy Williams said. "… I'm pretty straightforward with them. I said, 'Hey, we turned it around, but let's not say the highlight of our season was a [four]-week period in January and February.'"
[+] Enlarge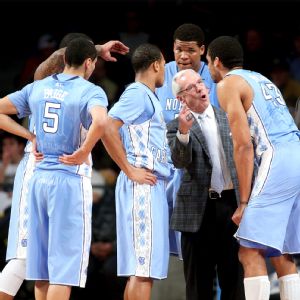 AP Photo/Jason GetzRoy Williams sees value in playing well in the ACC tournament, not necessarily winning it.
Sophomore forward
Brice Johnson
said losing to Duke to end the regular season made the team refocus after they had lost a sense of urgency during the last few games of the streak.
"Just remember how we started it at the beginning of that win streak," Johnson said. "We were clicking on all cylinders and doing everything the right way that coach wanted us to do."
The streak did serve a purpose. It validated the Heels' big wins in nonconference play and restored their confidence. But now they must reset quickly. The ACC tournament will bring a new set of challenges, starting with the expanded format. It's the first season the tournament will include 15 teams and play out over five days.
Not many imagined Carolina would finish in a tie for third in the ACC with a No. 4 seed for the league tournament after starting 1-4 for the first time in program history.
Finishing in the top four and getting a double bye to the quarterfinal round does not guarantee success. The Big East played with similar format in a 16-team tournament the past five years. In each of those five tournaments, a team that finished fifth or worse made the championship game.
Williams long has downplayed the importance of winning the ACC tournament. (And this season in particular, it probably won't have much of an impact on how the Tar Heels are seeded for the NCAA tournament.) Williams wants the Heels to gain momentum.
"Whether you win or lose, I don't think there's a huge correlation. I really don't," Williams said. "My teams have taken me to seven Final Fours and we've won the conference tournament one time out of those seven. I don't think there's a correlation between winning, but I do think there's a great correlation between playing well. You gain some confidence."
March, 11, 2014
Mar 11
10:00
AM ET
By
ESPN.com staff
| ESPN.com
There are a lot of different ways to win in college basketball, but one of the few staples of virtually all good teams is a commitment to defense.
Ironically, good individual defenders never seem to get the credit they deserve, and that can even be true with the recruiting process. Standouts on offense are not only easier to recognize, they're also easier to quantify with basic statistics. There's also a popular sentiment among college coaches that they can teach a player to defend if they have the proper physical tools.
The reality though is that college-ready defenders are perhaps even harder to find than college-ready scorers or playmakers, which should in turn make them that much more valuable. With that in mind, we went back to our team of RecruitingNation experts and asked them to pinpoint the defensive game-changers in this year's ESPN 100:
To continue reading this article you must be an Insider
March, 11, 2014
Mar 11
7:30
AM ET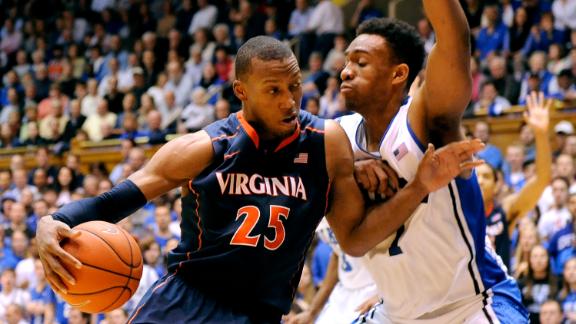 There are no longer any hot teams in the ACC, as Virginia, which won its first outright regular-season title since 1981, had its 13-game winning streak snapped by Maryland in overtime on Sunday and Duke took care of North Carolina's 12-game winning streak on Saturday, which means no team
enters the tournament
having won more than two straight games.
The ACC plays its first season with a 15-team tournament format that includes double byes for Virginia, Syracuse, Duke and North Carolina. There's also a play-in round for teams situated from 10-15. A team from the bottom third would have to win five games in five days to earn the league's automatic bid to the NCAA tournament.
Unfortunately, watching an underdog rise in Greensboro, N.C., isn't likely to happen based on what happened in the regular season. This tournament could be one of the most predictable in some time. There seems to be a noticeable separation between the top four seeds and the rest of the league. The top four had a combined 56-8 record against the remaining 11 teams in the league.
What's at stake?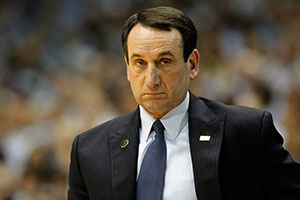 Streeter Lecka/Getty ImagesThe ACC was top heavy in the regular season, but Mike Krzyzewski thinks the league deserves more than four NCAA tournament bids.
When the ACC sought to expand, it purposely targeted schools with basketball imprints like Syracuse and Louisville (the Cardinals don't join until next season). During the league's media day, coach after coach talked about how it could be the best basketball conference ever assembled. But that dominance never manifested itself. Instead, the ACC was again a league that's top heavy and incredibly average after the top four teams.
Sensing the way Selection Sunday may develop, Duke coach Mike Krzyzewski made a preemptive strike on the ACC's teleconference last week. Speaking as a de facto ambassador, Krzyzewski said the league deserved more than five bids to the NCAA tournament. "I have a hard team thinking that our 15-team league would only get five bids," Krzyzewski said. "I find that hard to believe."
However, there's really no reason that this league should be guaranteed more than four bids. Pittsburgh, which finished fifth, went 0-for-5 against the league's top four teams and its best nonconference win was over Stanford. That's why Florida State, Clemson, NC State and conceivably the Panthers are fighting to make an 11th-hour impression on the NCAA tournament selection committee.
"[On Selection Sunday] hopefully we're congratulating seven or eight teams that get into the NCAA tournament from the ACC," Krzyzewski said.
Should the ACC get only five teams in, it would mark the third time in the past four seasons that only a third of the conference received bids.
Teams with the most to gain
Syracuse needs to halt its slide and rebuild its confidence heading into the NCAA tournament. After a 25-0 start, the Orange have stumbled down the stretch, including losses to cellar-dwellers Boston College and Georgia Tech. Injuries to an already-thin rotation haven't helped, but they are hopeful sophomore forward
Jerami Grant
can return to form after battling back issues since the loss to Duke on Feb. 22. The Orange need to find a way to bring their offense back to life as they've scored more than 62 points just once since beating Duke 91-89 in overtime on Feb. 1.
Virginia may be the least celebrated regular-season champion in conference history. Because of the unbalanced schedule, it played the remaining top three teams only once each and only the Duke game, a 69-65 loss, came on the road.
Add that to the fact that technically, the ACC doesn't recognize its regular-season winner as the league's champion. That honor is reserved for the winner of the tournament, which is a holdover from the times when the league tournament determined the lone NCAA tournament representative. And it means the Cavaliers are coming to Greensboro with a collective chip on their shoulders. Once again the Cavs will look to make history. Since the ACC tournament began in 1954, the Cavs have won it only once -- in 1976.
For Maryland, a charter member of the ACC, it's one last, awkward trip to Tobacco Road. The Terrapins didn't always feel welcomed in those parts. They felt the conference leaned too heavily toward the state of North Carolina, where it has held 49 of its 60 league tournaments. That unresolved tension that was decades in the making played a small role in the Terps' break from the conference. The acrimonious split caused a curious omission from Maryland's home schedule this season. The Terps did not get to host Duke or North Carolina, which have typically been the most anticipated and best-attended games throughout the years. With all of that as a backdrop, the Terps would sure like to go out on top before heading to the Big Ten next season.
March, 9, 2014
Mar 9
3:20
AM ET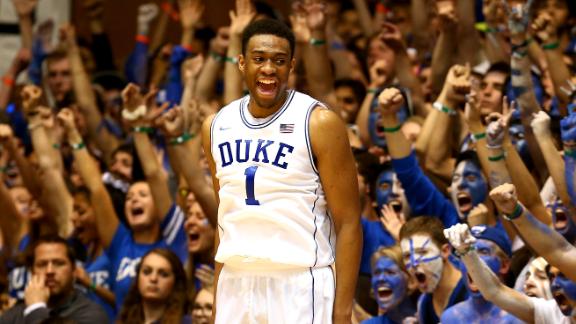 DURHAM, N.C. -- If Duke freshman
Jabari Parker
and sophomore
Rodney Hood
never play another game in Cameron Indoor Stadium for the Blue Devils, they gave a performance worthy of a senior night send-off against North Carolina.
Parker scored a career-high 30 points and Hood added 24 -- which marked the first game in ACC play that both players surpassed 20 points -- as Duke beat the rival Tar Heels 93-81. Parker's 30 points were the second-most by a freshman in a Duke-North Carolina game, falling one short of Walter Davis' 31 for North Carolina in 1974.
Neither player has revealed their intentions regarding whether or not they'll turn pro at the end of the season, but both showed why they'd be coveted by NBA teams as soon as they are ready to declare.
Parker and Hood were so dominant even teammate
Rasheed Sulaimon
confessed to being transfixed by the way they played.
"It's crazy kind of watching that," Sulaimon said. "You're in the game, but at some point you're kind of spectating as well when two great players like that just take over the game."
NFL commissioner Roger Goodell, who donned a Duke pullover, and Dallas Cowboys coach Jason Garrett and quarterback Tony Romo were among the celebrities in the crowd, but it was quite clear who the stars were.
It's long past the time when Hood can walk around town in anonymity. But after his performance in avenging the loss to the Heels, he can add a Cheshire grin.
"I got tired of walking through Durham with people screaming 'Carolina' at me when I walk through Walmart and stuff like that," Hood said. "It was a big-time win, I'm just happy to keep the streak going."
[+] Enlarge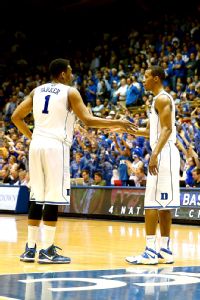 Streeter Lecka/Getty ImagesJabari Parker and Rodney Hood joined forces for 54 points Saturday against North Carolina, their best performance as a duo in ACC play.
Duke moved its nation-best home win streak to 33 consecutive games by focusing on its best two players.
In the Blue Devils' loss to Wake Forest, they got away from going to Parker and Hood in the game's deciding minutes. Saturday, Duke determined its offense had to go through Parker and Hood to be effective.
"The Wake Forest game gave us a sense of urgency after losing," Parker said. "We can't do the same things that we've been doing so we had to change, and I think today we have. That's all that matters is consistency from this point."
Hood's three-point play early in the second half sparked an 11-3 spurt that gave Duke all the separation it would need, as the Heels never got closer than eight points after that.
Parker drilled his only 3-pointer in the second half and kissed the fingers on his shooting hand as he ran back down the floor. The 19-point lead effectively helped the Blue Devils kiss North Carolina's 12-game win streak goodbye.
"I just got lost in the game, they want to share my energy and emotion -- Coach is really big on that -- but not celebrating too much," Parker said. "I kind of lost myself in the moment. That's not exceptional: I just got to get my butt back on defense."
But Parker was exceptional. Carolina tried just about everything it could to slow him down.
James Michael McAdoo
, who was the primary defender against Parker in their earlier meeting, was in foul trouble throughout.
It probably wouldn't have mattered anyway. Five different Tar Heels found themselves trying to defend Parker at some point, from 6-foot-9 forward
Brice Johnson
, whose reach was supposed to give Parker trouble, to 6-foot-5 forward
J.P. Tokoto
, whose quickness was supposed to keep Parker from getting in the lane.
Parker got the shots he wanted. During a sequence in the first half, Parker drove baseline past
Leslie McDonald
, rose over Johnson and made a floater just as
Kennedy Meeks
was swatting to try and block his shot.
"He was feeling it, he was in attack mode," Hood said. "We expect more, to be honest. Like Coach said 30 is probably not enough."
Hood was referring to points, but he easily could have referred to shots. Parker and Hood combined for 30 attempts, with no other Duke player taking more than eight shots. If nothing else, Saturday's win proved that is the formula for the Blue Devils' offense.
Parker and Hood need to be the ones leading the way.
"They are a duo that not many people, or nobody else, has," Duke senior guard
Tyler Thornton
said.
North Carolina coach Roy Williams would agree. He used zone in the Heels' win to slow the Blue Devils' offense down. But Duke, which entered the game shooting 27 percent from 3-point range in its past four games, busted the zone from deep.
Parker and Hood combined for five of the team's eight 3-pointers, including three of Duke's six in the second half. Whether inside or out, the pair was a problem for the Heels.
"Between Jabari and Rodney we really had trouble trying to figure out a way to try and stop them," Williams said. "And we still didn't figure it out."
Duke even eliminated the one big advantage the Heels were supposed to have. Carolina got outrebounded 34-20, which marked its lowest rebound total since the 1987 ACC tournament championship against N.C. State.
Parker, who had a game-high 11 rebounds, contributed to the Heels' misery in that area, too. With Carolina trailing by 11 with two minutes left, Duke finally missed a free throw (it shot 23-of-27 in the second half), but Parker got the rebound, was fouled and made a pair of free throws. According to ESPN Stats & Information, Parker scored 10 second-chance points.
Carolina shot 59.6 percent from the field. It was the first time during Williams' tenure that his team lost when shooting better than 50 percent. During those prior 141 games, the Tar Heels never faced a duo that was as on their game as Parker and Hood were Saturday.
"We're a completely different team offensively I think; it's so difficult to guard both of us at the same time," Hood said. "Then you have guys like
Andre [Dawkins]
, 'Sheed [Sulaimon],
Quinn [Cook]
that can chip in like that, we can score in the 80s, 90s every game."
March, 9, 2014
Mar 9
1:31
AM ET
Streeter Lecka/Getty ImagesJabari Parker led Duke to a win over North Carolina on Saturday.
Freshman
Jabari Parker
scored a career-high 30 points and added 11 rebounds to lead No. 4 Duke past No. 14 North Carolina, 93-81.
It's the most points ever scored by a Duke freshman against North Carolina and he's just the second freshman to ever score 30 in the Duke-UNC rivalry. North Carolina's
Walter Davis
scored 31 against Duke back in 1974.
He's only the fourth Duke freshman to score 30 points in a game against any opponent, joining Kyrie Irving, J.J. Redick and Johnny Dawkins.
It's Parker's 16th 20-point game this season, tied with Stephon Marbury and trailing only Kenny Anderson for the most 20-point games by a freshman in ACC history.
And it's his sixth consecutive double-double; he had eight double-doubles in his first 25 career games.
Parker was effective outside the paint on Saturday, scoring 10 points on 4-for-7 shooting. In the first meeting, he was 0-for-4 outside the paint.
As a team, Duke was much improved outside the paint compared to the first meeting this season, nearly doubling its point total and field goal percentage on shots outside the paint.
The Blue Devils rebounded 53 percent of their missed shots, their second-highest offensive rebounding percentage this season. Duke outscored North Carolina 20-10 on second-chance points after being outscored 16-11 on such chances in their first meeting.
Parker was a key beneficiary of the Blue Devils' offensive rebounding, with 10 of his points coming on second-chance opportunities.
Parker and
Rodney Hood
combined to score 54 of Duke's 93 points, making twice as many field goals as the rest of their teammates combined.
That's the most points those two have combined to score in a game this season and the second time they've combined to break 50.
For the Blue Devils, it's their 33rd consecutive home win, tied with Stephen F. Austin for the longest active home win streak in D-I men's hoops.
North Carolina shot 59.6 percent from the field, its second-highest in a game this season and its highest in a loss in the past 15 seasons.
March, 9, 2014
Mar 9
12:07
AM ET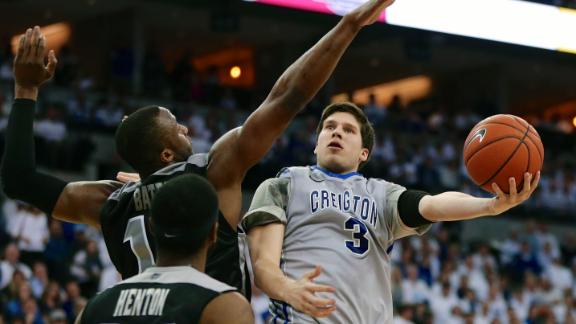 Saturday, the last full day of regular-season college hoops, was a grand affair. We had overtime and history-making matchups and buzzer-beaters and memorable Senior Nights.
And the NCAA tournament hasn't even started.
It's probably best to recap this day according to its most significant numbers:
3,000:
Bill Walton won two national championships with UCLA. Lew Alcindor won three national titles for the Bruins. J.J. Redick shattered records at Duke during his time there. Ralph Sampson won three consecutive Naismith player of the year awards at Virginia. Sampson, Alcindor and Walton are three of the greatest athletes who ever played at the collegiate level. But none of the aforementioned four players scored 3,000 points in their respective careers. Now, it's only fair to note that eligibility limits blocked freshmen from competing with the varsity squads then and the 3-point line wasn't available, either.
[+] Enlarge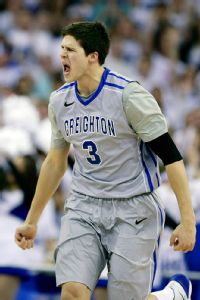 AP Photo/Nati HarnikCreighton's Doug McDermott because just the eighth player to score more than 3,000 career points.
None of that diminishes what
Doug McDermott
has accomplished, however, as the senior forward became just the eighth player in NCAA history to score 3,000 career points. He reached that historic tally on a 3-pointer with 11:27 to play in
Creighton's 88-73 win over Providence
on Saturday. He finished with 45 points total and 3,011 for his career to date.
4:
Iowa State and Oklahoma State have had two battles this season. And after Saturday's thriller, the Cyclones can claim both victories over the Pokes, but they needed four overtimes to get there. The first game, a 98-97 win for Iowa State, demanded triple overtime in Stillwater.
Naz Long
hit a 3-pointer at the buzzer to drag Saturday's game into the extra period in Ames, where Iowa State secured
the 85-81 victory
in the rematch.
41:
Remember that stuff about
Andrew Wiggins
not being aggressive enough? Well, that's so 2013. The freshman, a finalist for the Wooden Award, has been one of America's best players in recent months. Proof? He dropped a career-high 41 points in
Kansas' 92-86 loss
at West Virginia. At one point in the game, the Mountaineers had a 64-39 lead. But the Jayhawks, who were missing
Joel Embiid
, had a chance in the end. Yes, Kansas suffered a loss, which doesn't help its argument for a top seed. But Wiggins produced the second-highest point total for a freshman in Big 12 history, per ESPN Stats & Information. That's impressive.
18-0:
Kentucky made things interesting for a moment. But the Wildcats couldn't handle Florida's full onslaught in
the Gators' 84-65 victory
in Gainesville, a win that gave Florida a perfect 18-0 record in conference play. The Gators are the first team in SEC history to finish a year with 18 wins, per ESPN Stats & Information. The win also extended Florida's winning streak to 23 games.
13:
In the final home game of his career at Louisville,
Russ "Russdiculous" Smith
decided to let his teammates shine. He dished out a career-high 13 assists during
an 81-48 Senior Night win
over UConn.
1:
With Cincinnati topping Rutgers and Louisville beating UConn, the American Athletic Conference had a problem. The Bearcats and Cardinals split the league title so the conference used a coin flip to finalize the top seed in next week's AAC tourney. The winner? Cincinnati. "I requested that Coach Pitino and I play one game of liar's poker," Cincinnati coach Mick Cronin joked to reporters after the game. "We used to do that all the time -- for fun, obviously."
7 minutes, 32 seconds:
That's how long Arizona went without a field goal in the second half of
a 64-57 road loss
to Oregon, which snapped the Wildcats' five-game winning streak. That drought helped the Ducks seize a commanding lead via their 17-5 run.
73 seconds:
That's how much time remained in the game when
Glenn Robinson III
hit a go-ahead 3-pointer in
Michigan's 84-80 win
over Indiana.
33:
Wins for undefeated Wichita State after Saturday's
67-42 victory
over Missouri State in the Missouri Valley Conference tourney semifinals. The Shockers are just the third team in Division I history to achieve a 33-0 mark, per ESPN Stats & Information.
30:
Jabari Parker
's career high in
a 93-81 win over North Carolina
at Cameron Indoor (most points by a Duke freshman in a matchup against North Carolina, according to ESPN Stats & Information), which gave Duke 33 consecutive home wins -- a Division I-high that the Blue Devils currently share with Stephen F. Austin.
2007:
Eastern Kentucky upset top-seeded Belmont,
79-73
, in the Ohio Valley tourney title game. The Colonels became the second team to punch their ticket to the NCAA tournament this season. And they'll be dancing for the first time since 2007.
March, 8, 2014
Mar 8
9:00
AM ET
What a difference a delay makes.
North Carolina's postponed first meeting with Duke might have set in motion a crazy change of fortunes for both squads. The Tar Heels had confidence for the game originally scheduled for Feb. 12, but the Blue Devils had more.
Around Chapel Hill, the game didn't have the same buzz as in previous years because Carolina fans still looked at their team skeptically. Something happened when the game was moved to Feb. 20 after a snowstorm stopped Duke's charter bus from delivering them down U.S. 15-501.
It turned an accommodating Dean E. Smith Center crowd into an angry one.
[+] Enlarge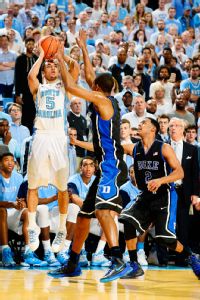 Bob Donnan/USA TODAY SportsMarcus Paige said UNC fans were anxious when the Tar Heels played Duke after weather forced a schedule change.
"The fact that it was postponed gave it a little bit different energy in the gym," UNC guard
Marcus Paige
said. "People were more anxious. Our fans were chomping at the bit for Duke to come play us. It gave it a cool and unique and interesting dynamic to the game."
More importantly for the Tar Heels, it gave them the validation they sorely needed. They'd won seven in row before handing then-No. 5 Duke a
74-66 loss
, but that was the game that made the other wins matter.
"You still have people now congratulating you on the win over Duke even though you've played [four] games afterwards," UNC senior guard
Leslie McDonald
said. "I don't know; it's just something about playing against Duke. I think that game really got everybody together and opened their eyes, saying, 'This is a good team.'"
The Tar Heels are now the self-assured team heading into Durham, with their winning streak reaching 12 in a row. According to ESPN Stats & Info, the 10 previous times Carolina has faced the Blue Devils after winning at least 12 in a row, the Heels have won nine of the meetings.
It presumably emboldened some North Carolina students to temporarily rename "Krzyzewskiville," the area where Duke students camp out for game tickets. Someone painted a white sheet with "Williamsville" written in Carolina blue and hung it up in front of Cameron Indoor Stadium.
Yes, nothing speaks of confidence like trying to clown your rival. No one was trying to taunt Duke before the postponement. But even North Carolina coach Roy Williams acknowledged that victory added an exclamation point to their winning streak.
"We know that we can win the game because we already have," Williams said. "Does that mean we're going to win [Saturday, 9 p.m. ET on ESPN]? No, and I think our players understand that. Whether it's validation, as you said, or just us gaining some confidence from the game, I think there is a difference."
Duke finds itself in need of a confidence boost after
losing at Wake Forest
on Wednesday. The Blue Devils are no longer being touted as a potential No. 1 seed for the NCAA tournament. If they lose again to the Heels, they could also lose playing the opening NCAA tournament weekend in Raleigh, N.C.
Duke senior forward
Josh Hairston
, playing in what will be in his final game in Cameron Indoor Stadium against the Heels, called the loss to the Demon Deacons "probably our worst defeat of the season."
"We basically low-balled the game," Hairston said. "We thought that because of who we were, our ranking and all that, they would lay over for us."
A troubling pattern is emerging that could make for a short postseason showing if the Blue Devils don't rectify it.
In its loss to Carolina, Duke couldn't find a way to close out the game. The Tar Heels outscored the Blue Devils 18-6 in the final 4:55. Duke was 2-for-7 from the floor during that stretch, missed all four 3-point attempts and committed two turnovers.
Duke's 82-72 loss to Wake Forest produced a similar stretch. The Blue Devils were outscored 23-6 over the final 5:44, in which they shot 2-for-10 from the floor, missed all six 3-point attempts and committed six turnovers.
"I think we let up in certain games, not all the time; we let up when we get a lead and that can't be the case going forward," said Duke forward
Rodney Hood
.
Another cause for concern is the Blue Devils' 3-point shooting. They ranked second nationally, making 42 percent from behind the arc, through their first 25 games. Since going 5-of-22 against Carolina, they have shot just 27 percent from 3-point range in their last four games.
Hood said the shooting will improve if the Blue Devils revert to making the extra pass instead of trying to score as individuals. He said they've been working on it since the Virginia game in mid-January, but it was reiterated after going 6-of-27 against Wake.
"Sometimes one game can devastate you or it can make you better. I think Wake Forest made us better," Hood said. "Before Wake Forest we were playing very good basketball in that stretch we had. We're confident we're not looking at it like the season is over. We're confident for [Carolina]."
Duke will face a confident Carolina team and the Blue Devils are partly to blame for the Heels' rise.
"It has been a lot more positive vibes around here. People are lot more optimistic about what we can do later this month and in the [NCAA] tournament," Paige said. "We're obviously feeling the same way. Even though we've played ugly the last couple of games, we're still able to win and win consistently and that kind of thing helps you later on in March."
March, 7, 2014
Mar 7
1:11
PM ET
By
Mike Wilson, ESPN Stats & Info
| ESPN.com
AP Photo/Gerry BroomeESPN's Basketball Power Index gives Jabari Parker and the Duke Blue Devils a 77 percent chance of winning against North Carolina Saturday.
ESPN's
Basketball Power Index
rates teams using a system that takes into account factors such as the pace of a game, margin of victory, game site and absence of key players.
In addition, BPI can be used to make projections of each team's chance of winning a specific matchup. The team with the higher chance to win according to BPI has won about 73 percent of the time this season.
Here is a preview of five matchups for the final weekend of the regular season, examined using information produced by BPI (through games of March 6):
BPI No. 27 North Carolina at 9 Duke (9 PM Saturday, ESPN)
BPI Projection:
Duke 77 percent likely to win

Duke
is coming off its worst performance of the season based on
BPI Game Score
, a 37 (on a 0-to-100 scale) in its 82-72 loss at Wake Forest on Wednesday. That game was two months after Wake Forest beat
North Carolina
73-67.
North Carolina has won 12 games in succession, but the three most recent victories (by one point over North Carolina State, four points over Virginia Tech and two points over Notre Dame) were against opponents outside the BPI Top 70 and earned Game Scores in the high 70s, compared with Game Scores in the 90s for the first nine games of
the Tar Heels' streak
.
The Blue Devils have the third-best home-court BPI this season (behind
Kansas
and
Arizona
), whereas North Carolina ranks 34th in road BPI.
BPI No. 44 Baylor at 49 Kansas State (1:30 PM Saturday, ESPN3)
BPI Projection
:
Kansas State 62 percent likely to win
Kansas State
would be the first team out if
current BPI ratings determined the NCAA field
;
Joe Lunardi's Bracketology
has the Wildcats as a No. 8 seed.
Baylor
, a No. 9 seed in Bracketology, is the fifth-lowest team in BPI currently projected for a tournament spot.
What does home court mean to Kansas State? In their six Big 12 series against opponents in the BPI Top 60, the Wildcats have won at home and lost on the road. These teams played Feb. 15 in Waco, Texas, where Baylor won 87-73 in two overtimes. Since losing to Oklahoma on Feb. 8, Baylor has been 6-1 (six of the games against Top 100 teams) with all six wins earning
BPI Game Scores
of at least 94.
BPI No. 17 Pittsburgh at 52 Clemson (4 PM Saturday, ESPN3)
BPI Projection:
Pittsburgh 57 percent likely to win
Clemson
would be the third team out of the NCAA field, if it were determined solely on current BPI ratings. Although the Tigers have two losses to teams outside the BPI Top 100 (Wake Forest and Auburn), they were by a combined seven points. This game represents a chance for them to improve on their 3-7 record against BPI Top 50 teams.
Pittsburgh
, unranked in
The Associated Press poll
and a projected No. 10 seed in Bracketology, would be a No. 5 seed if the NCAA field were determined by current BPI ratings. The disparity arises in part from factors BPI considers, such as final scoring margin; five of the Panthers' losses to Top 30 teams have been by a combined 15 points.
BPI No. 10 Kentucky at 2 Florida (12 PM Saturday)
BPI Projection:
Florida 78 percent likely to win
In their first meeting,
Florida
won by 10 in a relatively slow 59-possession game in Lexington, Ky. That game earned the Gators a 99.3
Game Score
, their second-best of the season. Florida has the fourth-best home-court BPI this season.
Although
Kentucky
is 3-2 since that Feb. 15 loss to Florida, the losses were by a combined nine points. Eight-loss Kentucky is No. 25 in the AP poll and a seven seed in Bracketology. Of the Wildcats' losses, all but the one to Florida have been by five points or fewer.
BPI No. 14 Michigan State at 16 Ohio State (4:30 PM Sunday)
BPI Projection:
Ohio State 64 percent likely to win
Of its 30 games,
Michigan State
has been at full strength for 13, the fewest of any BPI Top 75 team.
Considering games when teams have been at full strength (having all five of its top players based on minutes played), the Spartans rank seventh in BPI. Michigan State is first and
Ohio State
second among BPI Top 20 teams as
measured by inconsistency
.
In their last six games, the Buckeyes have had three
Game Scores
of less than 70 and three greater than 93.
March, 7, 2014
Mar 7
12:00
PM ET
It has been fun, folks. Unless, of course, you've been consulting my Weekend Picks prior to contacting your bookie in Vegas. Then it probably has been quite sad. Or scary.
In my last installment of Weekend Picks for 2013-14, I'll try to finish strong.
I went 3-2 last week
.
I'll be flawless this weekend, or flawed -- one of the two.
Last week: 3-2
Overall: 42-25
Saturday


No. 25 Kentucky at No. 1 Florida, noon ET, CBS
: In the first meeting, Florida wasn't necessarily the better team. The Gators were just the better team in the final five minutes, when it mattered. Kentucky squandered a seven-point lead midway through the second half, and
Scottie Wilbekin
carried his team to a 10-point win. Kentucky's 13 turnovers didn't help, either. But it was much closer than the 10-point margin illustrated. It usually is with Kentucky, which has suffered seven of its eight losses by five points or less. The Wildcats have been competitive in every game, but they've failed to close. And that's not a good thing in a road game against America's top team.
Prediction: Florida 74, Kentucky 70
Popcorn Factor (9)


No. 14 North Carolina at No. 4 Duke, 9 p.m. ET, ESPN:
Well, Duke lost to Wake Forest earlier this week. So there's that. Wasn't exactly the setup we'd imagined as we prepped for the second installment of the greatest rivalry in sports. But it actually makes this thing even more intriguing. Duke at home, desperate for a win to hold onto a probable 2-seed and maintain any hopes of grabbing a top seed in the Big Dance, while North Carolina continues to fatten its resume for a favorable position on Selection Sunday. This is also about momentum, a word you'll hear 50,000 times in the coming weeks. The Tar Heels have as much as any team in the country after winning 12 in a row. Duke needs it. But the Blue Devils, who have struggled from the perimeter, will continue to slide and the Tar Heels will, once again, make Petey Pablo proud. Raise up.
Prediction: North Carolina 89, Duke 86 (double OT)
Popcorn Factor (10)


No. 21 New Mexico at No. 10 San Diego State, 10 p.m. ET, CBS Sports Network:
You can't miss this game. Don't do it. This is it. This is the Mountain West championship matchup. Winner goes home with the crown. The Lobos secured a 14-point win over their Mountain West rivals in the first game. One major factor? A pair of giants.
Cameron Bairstow
(6-9, 250 pounds) and
Alex Kirk
(7-0, 260 pounds) combined to finish with 32 points (Bairstow had 26), 18 rebounds and six blocks in the first meeting. The duo helped the Lobos limit SDSU star
Xavier Thames
to one of his worst games of the season (3-for-15, seven points), too. But, the Lobos will be in San Diego this time. And "The Show" will be bananas all night. Plus, Thames won't struggle again with the home crowd behind him.
Prediction: San Diego State 63, New Mexico 60
Popcorn Factor (10)


No. 19 Connecticut at No. 11 Louisville, 2 p.m. ET, CBS:
This matchup will feature two of America's best guards,
Shabazz Napier
and
Russ Smith
. But this game is much bigger than two players. The Huskies know that. In the first meeting, a 74-64 road win by Louisville, Kevin Ollie's program couldn't get anything out of
Ryan Boatright
and
DeAndre Daniels
, who went 5-for-23 in the loss. Napier is a dynamic player who can carry the Huskies. But he can't beat the Cardinals on the road by himself. Rick Pitino's program, which could grab a slice of the AAC title with a win, has grown in recent weeks. It's not just Smith.
Luke Hancock
and
Montrezl Harrell
are playing well.
Mangok Mathiang
and
Terry Rozier
are contributing as freshmen. That takes a lot of pressure off Smith, who has reliable threats around him. And that's not always the case for the Napier.
Prediction: Louisville 80, UConn 70
Popcorn Factor (8)


Oklahoma State at No. 16 Iowa State, 2 p.m. ET, ESPN:
Marcus Smart
is back. I mean, Marcus Smart is back! Whoa. He deserves most of the credit for a four-game winning streak that has pulled the Pokes out of purgatory and pushed them into the NCAA tourney conversation. How impressive is this finish? Well, only one team since the tourney expanded in 1985 has earned an at-large bid after enduring a seven-game losing streak, according to the folks at ESPN Stats & Info. Oklahoma State could be the second, especially if it earns a win over Iowa State in Ames. That won't be an easy task, although the Cyclones have looked more like Wind Gusts in recent weeks. Tuesday night's loss at Baylor told an important story about Fred Hoiberg's program. Sometimes, his leaders don't show up together on the same night.
DeAndre Kane
played well, but
Melvin Ejim
and
Georges Niang
are still missing. And that's a troubling pattern.
Prediction: Oklahoma State 75, Iowa State 73
Popcorn Factor (10)