North Carolina Tar Heels:

Basketball Recruiting
November, 26, 2013
Nov 26
11:30
AM ET
Harry Giles
(Winston-Salem, N.C./Wesleyan Christian Academy), the No. 3 prospect in the 2016 ESPN 25, remains in good spirits following a June injury while playing for USA Basketball's U16 team in Uruguay that will sideline him this season.
Giles tore his ACL, MCL and meniscus.
"Rehab is going well," Giles said. "I started doing light floaters last week and jump hooks a little bit. I should start jogging soon. I'm around 10 degrees from my full range of motion."
With rehab on schedule and the range of motion in his knee returning with each passing week, the big decision facing Giles and his family will be when he returns to the court.
To continue reading this article you must be an Insider
November, 13, 2013
Nov 13
7:15
PM ET
By
ESPN.com staff
| ESPN.com
North Carolina head coach Roy Williams announced the signing of three student-athletes to letters of intent on Wednesday.

Headed to Chapel Hill next year are three ESPN 100 prospects, including the top-ranked small forward
Justin Jackson
(Tomball, Texas/Homeschool Christian), the No. 4 small forward
Theo Pinson
(Greensboro, N.C./Wesleyan Christian) and the third-ranked point guard
Joel Berry
(Apopka, Fla./Lake Highland Prep).
"We are ecstatic that these three young men and their families have decided to join our basketball family," Williams said. "Each of them are talented, come from wonderful families and share a common trait in that they have a tremendous desire for their teams to do well."
The Tar Heels are
ranked No. 3
in the ESPN.com RecruitingNation Top 40.
October, 24, 2013
Oct 24
9:00
AM ET
We've been talking a lot about class rankings in recent weeks. North Carolina and Ohio State have both been in the lead at various points this year while strong finishes from Duke, Kentucky, Kansas and even Baylor could put them all in contention for the top spot before it's all said and done.
With that in mind, we took a speculative look at those six programs, breaking down what they would likely need to get to the top of the mountain.

Duke
Probability of finishing on top:
45 percent
ESPN 100 SG
Grayson Allen
might be the only prospect currently in Mike Krzyzewski's incoming recruiting class, but the Blue Devils have as many top prospects left on the board as anyone. They'll host
Jahlil Okafor
and
Tyus Jones
this weekend, along with
Justise Winslow
, leading to speculation that they could be on the verge of a massive package deal. They also remain in the mix for
Myles Turner
,
Kevon Looney
and
Reid Travis
. If they land Okafor and Jones, they'll have a good chance of finishing in front. If they can add Winslow, Looney or Travis, their chances will be even better. If they could ever put Okafor, Turner and Jones in the same group, the rest of the class would be gravy. Suddenly we'd be talking about one of the best recruiting classes ever.
To continue reading this article you must be an Insider
October, 21, 2013
Oct 21
9:00
AM ET
Small forward
Justin Jackson
(Tomball, Texas/Homeschool Christian Youth Association), who has excellent size at 6-foot-7, is one of the nation's best-scoring perimeter players. He is a major part of North Carolina's No. 2-ranked recruiting class. He was one of the most consistent performers all spring and summer in terms of offensive output and efficiency.
Let's break down his game and see why he's the nation's No. 8 prospect:
Special in the mid-range
To continue reading this article you must be an Insider
September, 24, 2013
Sep 24
11:30
AM ET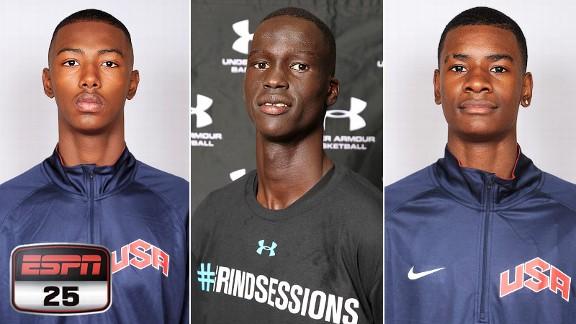 The Class of 2016 has a real chance to be one of the best classes in the last decade because of the sheer number of high-impact prospects. There are players in this group who are game-changers now and who have barely scratched the surface of their potential. Here's a look at five members of the latest ESPN 25 who performed well against older competition this summer.
Thon Maker
(Carlisle School/Martinsville, Va.)
Maker has a chance to be really special because of his rare combination of enormous height (7-feet), length and advanced skill. He handles the ball and shoots it with finesse, and on the other end, he rebounds above the crowd and blocks shots at an elite level. Maker has a Kevin Garnett-like body and better skills at the same stage but his heart and toughness are yet to be determined. How his body fills out and how he continues to approach the game will determine how far he goes. He played on the 17-and-under EYBL circuit and performed extremely well.
To continue reading this article you must be an Insider
August, 15, 2013
Aug 15
1:32
PM ET
It's so easy to blame the media for magnifying controversy.
It's a typical out for some powerbrokers. When their frustration grows, many vent and seek a scapegoat.
On Wednesday, it happened again when Roy Williams
expressed his frustration with the ongoing coverage and conversation surrounding the status
of top scorer
P.J. Hairston
. In recent months, the standout has been cited for reckless driving, booked on charges for drugs and driving without a license in a vehicle that was positioned next to a gun (charges were eventually dropped), tied to a felon who rented the car and tagged for speeding multiple times:
North Carolina coach Roy Williams says he's "tired" of talking about suspended guard P.J. Hairston.

Williams spoke briefly to reporters after his round at the Wednesday pro-am at the Wyndham Championship.

When asked about Hairston's situation, he said he's "tired of reading about it, tired of talking about it" and declined to discuss it further.

Williams suspended Hairston from the team July 28 after receiving his third traffic citation of the summer.
Well, he's in good company. Some of us are tired of asking him about it.
And it would be easy to end the chatter about one of North Carolina's NBA prospects if we just had some definitive information.
See, when Hairston was arrested in June -- weeks before he was stopped for driving 93 mph in a 65 mph zone --
Williams promised "serious consequences"
:
"P.J. and I have had several discussions already and he knows he has made serious mistakes and there will be serious consequences as a result," Williams said.

He said there are "several options available" as punishment, including a possible suspension. Hairston faces an August court hearing and isn't enrolled in summer school. The team is in the offseason so Williams says he will wait "until the process is complete" to decide on the punishment.
But before Williams reached a decision on Hairston's punishment,
the junior wing was suspended indefinitely
following his reckless driving citation.
That was late last month.
And the only thing we know about Hairston is that he's missed every college basketball game that's been played in the last two weeks. No idea when he'll be back next season. Not sure if he'll miss a significant number of games. No clue if there will be any other consequences.
We haven't heard anything specific from Williams on these matters. But North Carolina journalism professor Andy Bechtel, who attended a faculty retreat attended by Bubba Cunningham on Thursday,
tweeted that the school's athletic director
expects Hairston to return and miss some games:
Bubba Cunningham takes a PJ question. "Will he play?" Answer: "Yes, but not all the games."

— Andy Bechtel (@andybechtel) August 15, 2013
There are still unknowns even if this is accurate. So we'll continue to ask about it until Williams announces something final regarding Hairston and his 2013-14 status.
This isn't a walk-on or the sixth guy off the bench. This is a young man who led one of America's most prestigious programs in scoring last season.
This is a big deal. His presence or lack thereof next year will have a major impact on Tar Heels basketball.
Williams is "tired of reading" about Hairston, but he hasn't done enough to eliminate the questions about a crucial player.
Will he miss any meaningful games? How many? Five? Ten? How long does it take to assess something like this?
Just tell us. And then, we'll stop asking about it.
Until then -- and this really goes for Williams and other coaches who do the same thing -- don't be surprised by the headlines and dialogue.
We're just waiting for some answers.
August, 7, 2013
Aug 7
9:00
AM ET
By
RecruitingNation
| ESPN.com
North Carolina commit Theo Pinson, the No. 13 overall player in the ESPN 100, scored 17 points with 5 rebounds in the adidas Nations finale. Pinson previews the Tar Heels' 2014 class with Dave Telep.
July, 12, 2012
7/12/12
2:54
PM ET
Since he was a freshman at Chicago's Simeon High School, every elite coach in the country has dreamed of landing
Jabari Parker
. Now three years (and then some) into his recruitment, Parker is still providing zero hints.
On Wednesday, the No. 1-ranked prospect in the class of 2013 announced --
via Twitter, naturally
-- the list of schools still in the running for his services. That tweet read, simply, "UK, Stanford, michigan state, Kansas, Florida, Duke, BYU, Georgetown, Depaul, UNC. No order." It was favorited 156 times and received 1,162 retweets.
That list doesn't say much, obviously. Perhaps most interesting, or at least most unexpected, is the omission of Illinois, Parker's home-state school and one that has remained among his considerations throughout his recruitment. The firing of Bruce Weber and installation of new coach John Groce appears to have put Parker off the Illini, but there was little indication Parker was seriously considering Illinois in the first place.
Anyway,
Parker told ESPN Chicago's Scott Powers
that he plans to cut his list down to five schools sometime this fall, and he wants to make his decision in November. He also said he is concerned about geography, about making sure his family can see his games easily, but that he is also going to do what's best for his game and his long-term professional prospects. Pretty boilerplate stuff.
As of right now, Parker has plenty of options to fulfill those criteria. He has every major recruiting force of the past 10 years on his list, not to mention coaches like Mike Krzyzewski, John Calipari, Tom Izzo, Roy Williams, Billy Donovan and Bill Self. He has a hometown program just in case, a homage to his Mormon faith in the selection of BYU, and even a long shot West Coast competitor in Stanford.
Whatever he chooses, he can't really go wrong. Such are the benefits of being Jabari Parker.