North Carolina Tar Heels:

College Hoops
March, 16, 2014
Mar 16
7:31
PM ET
One year ago today, on the eve of the greatest sporting event in the world, college basketball was in crisis.
It felt that way at least after years of football-dominated conference realignment, decades of slower and lower-scoring basketball, and hundreds of overofficiated games. In 2012-13, the slowest and lowest-scoring season in the modern record, we couldn't help but feel a little down. When it was our turn to introduce the newly minted NCAA tournament field, we ranked the 68 teams in terms of "watchability" -- a condition that should never come within 1,000 miles of something so glorious and mad as the NCAA tournament. March is inherently watchable. But that was how bad it had gotten.
What a difference a year makes.
New freedom of movement rules. A crop of brilliant freshmen. An undefeated team chasing a perfect season. One of the best offensive players in the history of the game eclipsing 3,000 career points, each performance more memorable than the last. The 2013-14 season gave us all this and much, much more. It was as entertaining as four months of amateur basketball can possibly be.
The result is an NCAA tournament field that looks as deep, as wide-open, as good and as choose-your-own adjective as any we can remember. At least 15 teams are capable of winning the national title. A handful of double-digit seeds will be hard to pick against. Dangerous mid-majors lurk around every corner. The possibilities are endless.
We don't need a gimmick like watchability to get through this year's rankings. This year's rankings are entirely merit-based, top to bottom, from the least likely to win the tournament to the most. Simple. Fitting. Packed with everything you need to know about every team in the field.
Are we sure we got it right? Of course not! Are we sure these next three weeks are going melt our collective faces into moldable putty? Very much so. A season this good couldn't possibly let us down now.
To continue reading this story,
click here
.
October, 16, 2013
10/16/13
3:31
PM ET
By
ESPN.com staff
| ESPN.com
The college basketball regular season begins in just three weeks, and Wednesday marks the unofficial tipoff for four conferences holding their annual media day.
Our reporters are in place and ready to bring you the latest, so keep this page open throughout the day as we bring you tweets, quotes, pictures and more from Charlotte (ACC), Memphis (American Athletic), New York (Big East) and Hoover, Ala. (SEC).
June, 18, 2013
6/18/13
4:15
PM ET
The 2013-14 season should be a landmark year for ACC basketball. Syracuse, Notre Dame and Pitt will join the league next season. And Louisville will follow a year later in 2014.

The Big Ten has held the "best conference in America" title in recent years. But the ACC could be a juggernaut that overtakes the Chicago-based league next season.
But one of the vital components in the latter scenario involves North Carolina returning to a national perch following last season's up-and-down campaign. And that possibility is tied to the availability of junior
P.J. Hairston
(14.6 PPG), the team's leading scorer in 2012-13.
The
details of his arrest earlier this month
are still somewhat murky. But this much is clear: police discovered drugs in a rented vehicle occupied by Hairston and two other men, and a gun was found at the scene during the highly publicized stop in Durham, N.C.
On Monday, Roy Williams discussed the situation in a conversation with USA Today. Williams told the publication that he's awaiting all the facts related to the case. But he also mentioned the he has "some ideas" of a possible punishment for Hairston, who opted to play another year of college basketball after considering the NBA a few months ago.
From Eric Prisbell of USA Today
:
"We are doing one thing: We are waiting until all the information comes out," Williams told USA TODAY Sports on Monday. "The good thing is, I don't have to make a decision right now because we're in summer school, fall semester has not started, basketball has not started. We're going to wait and see what happens. I've got some ideas, but right now those ideas are staying in my mind.

"I am waiting until all the facts come in and then I will take care of everything that needs to be taken care of."
Now, I think Williams is right to wait until the facts are revealed. Can't punish a guy without knowing his true role in the matter.
Midway through June, however, Tar Heels fans still don't know how the incident will affect one of the most crucial members of a squad that is expected to compete for the ACC crown next year.
So it's still a waiting game in Chapel Hill.
September, 18, 2012
9/18/12
12:10
PM ET
At some schools, coaches who average 20 wins a season and finish second or third in their conference are given raises.
At Tulsa, it cost Doug Wojcik his job.
Still, other than labeling his firing six months ago as a "total shocker," Wojcik doesn't see any point discussing what happened following his seventh season with the Golden Hurricane. Why dwell on the past, he says, when everything seems so perfect in the present.
[+] Enlarge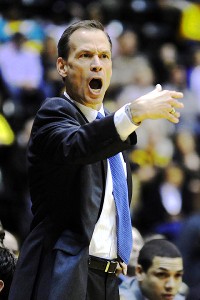 Chuck Cook-US PRESSWIREFormer Tulsa coach Doug Wojcik is getting a fresh start at the College of Charleston.
"Sometimes things just happen for a reason," Wojcik said.
Three weeks after losing his job at Tulsa, Wojcik was hired to replace Bobby Cremins at College of Charleston. In the Cougars, Wojcik inherits a team that returns four starters from last year's 19-12 squad.
The job also allows him to return to the eastern part of the country, which he considers his home. Wojcik was born in Wheeling, West Virginia and played college ball at the U.S. Naval Academy, where he started for three years alongside Hall of Fame forward
David Robinson
.
Wojcik -- who has also been an assistant at Notre Dame, North Carolina and Michigan State -- said everything is in place to win at the College of Charleston. Being located in one of the nation's desirable cities is a huge bonus -- and so is the fact that the Cougars play in a virtually brand new, state-of-the art venue. The $47 million TD Arena opened in 2008.
"It's a great place to recruit to, without question," Wojcik said. Kids from all over the country should want to come here. There are non-stop flights from Houston and Dallas. California kids love the climate.
"We've got to focus on our home and our region first, but after that there's no reason we can't branch out into Texas and California and Florida."
As much as he'll try to improve the roster, it's not as if Wojcik will be coaching a cast of scrubs in his first season. Wojcik said he couldn't have been more pleased with what he saw from the Cougars during a three-game tour of Canada last month.
College of Charleston went just 1-2 on the trip, but it was without its top player in guard
Andrew Lawrence
, who was one of only two current college players to compete in the 2012 Olympics. Saint Mary's guard
Matthew Dellavedova
was the other. Lawrence represented his native Great Britain.
Wojcik said forwards
Trent Wiedeman
and
Adjehi Baru
will form one of the top frontcourts in the Southern Conference, and junior college transfer Anthony Thomas, a small forward, will help make up for the loss of
Antwaine Wiggins
, who averaged 15.9 points as a senior last season.
"He's our most versatile player," Wojcik said of Thomas, who chose the Cougars over Fresno State. "He can guard just about every position."
Wojcik said he expects guard
Anthony Stitt
to share the backcourt with Lawrence. Stitt averaged 9.2 points off the bench last season.
One of the biggest differences under Wojcik will be an increased emphasis on defense, rebounding and toughness. Wojcik said the transition has been smooth.
"We've got high-character kids," Wojcik said. "They've really bought in. The key as a coach is to be consistent with them and communicate with them.
"People can handle what's expected of them as long as they know what's expected of them. Plus, it's not like things were broken when I got here. I took over a great situation."
It also helps that Wojcik has received loads of support from his predecessors. Cremins -- who took a medical leave of absence in January and subsequently retired -- stops by workouts whenever he is in town. And longtime Cougars coach John Kresse, who led the program to four NCAA tournament berths from 1994-99, has been more than willing to offer advice when asked. Kresse is now a fundraiser at the school.
"He's been great to me," Wojcik said. "He's really engaged me."
Wojcik's final two Tulsa teams finished second and third in Conference USA in what were supposed to be "rebuilding years" after the school lost two players (Jerome Jordan and Ben Uzoh) to the 2010 NBA draft.
Even more impressive is that Wojcik experienced that success at one of the league's four private institutions (SMU, Rice and Tulane are the others). Only 3,000 undergrads at enrolled at Tulsa yet, strangely, schools officials cited "declining attendance" as their reason for firing Wojcik.
Difficult as it is to fathom, Wojcik knows he's in a better place.
"I've moved on," he said. "I couldn't be any happier."
April, 13, 2012
4/13/12
8:04
AM ET
By
ESPN.com staff
| ESPN.com


UCLA commits Kyle Anderson and Shabazz Muhammad go a cappella with the famous jingle, joining Kentucky recruit Nerlens Noel and others. One Duke recruit, however, takes a pass.
March, 25, 2012
3/25/12
10:22
PM ET
By
ESPN Stats & Information
| ESPN.com
In a highly anticipated matchup between two of the three winningest programs in college basketball, the
Kansas Jayhawks
beat the
North Carolina Tar Heels
80-67 to advance to their 14th Final Four and first since 2008.


This was the fifth all-time meeting between Kansas and North Carolina in the NCAA tournament (Kansas now leads 3-2) and the first since the Jayhawks beat the Tar Heels in the 2008 Final Four. The winner of the previous four showdowns has gone on to win the national title.
Kansas is now 4-0 versus No. 1 seeds in the regional finals, having also beaten Arkansas in 1991, Indiana in 1993 and Arizona in 2003. That matches Duke for the most such wins by any school, according to the Elias Sports Bureau.
Why Kansas won
The Jayhawks ended the game on 12-0 run, sparked by a 3-pointer from
Elijah Johnson
with 3:07 left that gave Kansas a 71-67 lead it would not relinquish. Kansas forced North Carolina to miss all six of its field goal attempts in the final three minutes, including four shots from beyond the arc.
Kansas proved it could run with the Tar Heels, outscoring North Carolina 18-8 in transition during the game. The Jayhawks were the first team to outscore the Tar Heels in transition over the last three NCAA tournaments.
Tyshawn Taylor
shined for the Jayhawks, leading all scorers with 22 points and added five assists and five steals.
He is first player to reach each of those totals in an NCAA tournament game since Georgetown's Allen Iverson had 32 points, five steals and five assists in 1996.
Why North Carolina lost
Leading by 5 with less than 9 minutes to go, Kansas switched from man-to-man to a triangle-and-two hybrid zone defense. The Tar Heels' offense went cold against the zone, making just two shots on their final 12 half-court possessions.
Overall, North Carolina struggled with its perimeter shooting against the Jayhawks.
The Tar Heels made just 2 of 17 shots (12 percent) from beyond the arc, their second-worst 3-point shooting effort in an NCAA tournament game in school history.
North Carolina also missed
Kendall Marshall
's ability to lead the Tar Heels' fastbreak offense.
Without Marshall at the helm, the Tar Heels did not run as much in the tournament, averaging nearly eight fewer transition plays and 11 fewer points per game in its last two contests compared to its first two.
What's next
Kansas advances to the Final Four in New Orleans to face the
Ohio State Buckeyes
in a national semifinal game. This will be just the second meeting of 2-seeds in the NCAA tournament. The only other was the 1995 semifinal, when Arkansas beat North Carolina, 75-68.
March, 24, 2012
3/24/12
2:28
AM ET
By
ESPN Stats & Information
| ESPN.com
Tyler Zeller's
historic game was barely enough to help the
North Carolina Tar Heels
reach the Elite Eight.
This win over the
Ohio Bobcats
kept an impressive streak alive. The Tar Heels have now won each of their last 11 Sweet 16 games and are 5-0 all-time in Sweet 16 games against double-digit seeds.
How the Tar Heels won
Zeller finished with 20 points and 22 rebounds. He's the fifth player to have a 20-point, 20-rebound game with at least four blocked shots in the Men's Basketball Championship since 1975, as noted in the chart on the right.
Zeller's eight offensive rebounds were one more than Ohio had for the entire game.
Reggie Bullock
supported the effort with a rare statistical combination.
He's the fourth player in tournament history to have at least 10 rebounds, five assists, and five 3-pointers, joining Mitch Richmond (1987 Kansas State), Hersey Hawkins (1988 Bradley), and Ray Allen (1996 Connecticut).
Stilman White
, starting in place of injured guard
Kendall Marshall
, was the only Tar Heels player who didn't turn the ball over. He's the first North Carolina player to play at least 32 turnover-free minutes, and finish with at least six assists in the Round of 16 or later since Kenny Smith in 1985.
How Ohio hung in
North Carolina won despite committing 24 turnovers, its most in a game since 1989, when it had 26 against Loyola Marymount. Ohio's defense entered forcing an average of 17 turnovers per game, best among those teams left in the Sweet 16.
The Tar Heels also survived an inefficient game from
Harrison Barnes,
who took a season-high nine 3-pointers and finished with a career NCAA tournament-low 12 points.
Barnes was 16-for-31 in the paint in the first two games of the tournament, but just 0-for-1 in this contest.
Oh, so close
This was the seventh time that a team seeded 13th or lower played in the Round of 16. None has won, but Ohio was the first of those teams to take the game to overtime.
Ohio's
D.J. Cooper
, just missed the game-winner in regulation for Ohio. He went 3-for-20 from the field, tied for the second-worst shooting percentage by a player since college basketball went to a shot clock in 1986.
The only one to fare worse in a game with at least 20 shot attempts was Loyola Marymount's Bo Kimble in 1988 -- a 3-for-21 effort that also happened to come in a loss against North Carolina.
Ohio finished the season 1-5 when Cooper took at least 17 shots (Ohio was 28-3 in all other games).
Looking ahead
What's next for North Carolina?
The last time a No. 1 seed played an overtime game in the Sweet 16 was 2006, when
Villanova
and
Connecticut
did it.
Both of them won those Sweet 16 games and lost in the Elite Eight.
March, 21, 2012
3/21/12
10:48
PM ET
By
ESPN Stats & Information
| ESPN.com
Our Sweet 16 preview continues with a look at the matchups in the Midwest Regional on Friday:
(13) Ohio vs. (1) North Carolina, 7:47 ET


According to
North Carolina
head coach Roy Williams, the Tar Heels are preparing to play Friday's game without starting point guard
Kendall Marshall
.
Without Marshall as the primary ball handler, the Tar Heels could have difficulty getting past the
Ohio Bobcats
tomorrow. Ohio forces 17.2 turnovers per game, the fifth-highest mark in the nation and most among the remaining Sweet 16 teams.
Marshall has also shined as the team's offensive catalyst during the tournament, creating 80 points in his two games from either his own scoring or assists. Against Creighton, Marshall was responsible for 45 of the team's 87 points (55 percent).
If Marshall is not able to play, North Carolina's ability to finish in the paint and in transition will likely be hurt. Nearly 30 percent of his 201 assists since the start of ACC play have come in transition.
Also, two-thirds of Marshall's assists in that time frame have resulted in paint shots.
Tyler Zeller
has been the biggest benefactor during this stretch, with 43 percent of his field goals coming off passes from Marshall.
Ohio's most indispensable player is guard
D.J. Cooper
, who will be on the court Friday, and the Bobcats are certainly happy about that. Cooper has scored or assisted on 71 of Ohio's 127 points (56 percent), the highest percentage for any player remaining in the field.
(11) NC State vs (2) Kansas, 10:17 ET


One key battle to watch in this Sweet 16 matchup will be the ability of
NC State's
big men to dominate
Kansas'
forward-center tandem of
Thomas Robinson
and
Jeff Withey
around the basket.
The Jayhawks have allowed just 22 points in the paint per game this season, which leads the Big 12 and is second among major conference schools. The Wolfpack are averaging 33 paint points per game this season, which ranks second in the ACC and 11th among the Power 6 teams.
However, NC State struggled to find its inside game against Georgetown in the third round. The Wolfpack shot less than 35 percent and scored just 20 points on attempts in the paint, including only six in the second half.
If Kansas is going to advance to the Elite Eight, the Jayhawks might want to improve their mid-range game. Kansas is shooting 27 percent outside the paint in the tournament, the worst among the remaining teams in the field.
March, 3, 2012
3/03/12
10:26
PM ET
By
ESPN Stats & Info
| ESPN.com
Mark Dolejs/US PresswireNorth Carolina Tar Heels guard Kendall Marshall (5) and forward Tyler Zeller walk off the floor at Cameron Indoor Stadium as the ACC regular-season champions.
For the third time in the last five seasons, Duke and North Carolina met in a much-hyped season finale with identical 13-2 ACC records.
And for the third time in the last five seasons, the Tar Heels won the winner-take-all game, beating Duke
88-70
for the outright conference crown.
North Carolina's
Kendall Marshall
led five Tar Heels in double figures with 20 points and added 10 assists. He's now four assists shy of tying the ACC record for most assists in a single season (303 by Georgia Tech's Craig Neal in 1988).
It's the second time in the past two weeks Marshall has had at least 20 points and 10 assists in a game, also doing so against North Carolina State on Feb. 21 (22 points, 13 assists).
Marshall is the first Tar Heels player in the past decade to reach those totals twice in a season. (Raymond Felton and Ty Lawson did so twice as well, but in different seasons).
No other Tar Heels player has gone for at least 20 points and 10 assists against Duke in the past 15 years.
North Carolina was dominant in the paint, tallying 40 of its 88 points in the paint. They also controlled the glass, outrebounding Duke 45-28, and 32-18 on the defensive glass.
The 18-point win is the largest for North Carolina at Cameron Indoor Stadium since a 20-point win (91-71) on Jan. 18, 1989.
The Tar Heels had a 24-point lead at the half, which tied the fourth-largest halftime deficit Duke has faced in school history. It was the largest deficit Duke has faced at home since trailing by 29 to Tulane back in 1951.
At one point, UNC led Duke 22-5 with 11:55 left in the first half. Duke's
Miles Plumlee
made the only two field goals for Duke at that point, while the rest of the Blue Devils were 0-for-15.
For the game, Miles and
Mason Plumlee
combined to shoot 14-of-22 from the field, while the rest of the Blue Devils made only 12-of-41.
Duke fell to 13-3 at home, its most home losses in a season since losing four at home in 2006-07.
March, 2, 2012
3/02/12
9:45
AM ET
By
ESPN Stats & Info
| ESPN.com
Mark Dolejs/US PresswireNorth Carolina and Duke play for the second time this season on Saturday, with the Tar Heels looking to avenge a one-point loss on Feb. 8.
The
North Carolina Tar Heels
visit the
Duke Blue Devils
on Saturday (7 p.m. ET, ESPN) with the regular-season ACC title and a possible top seed in the NCAA tournament on the line.
No rivalry in the country is tighter than the one between North Carolina and Duke. In the past 82 meetings between the schools, the Tar Heels have outscored the Blue Devils by a single point -- 6,355 to 6,354.
Saturday night will be the sixth time the rivals have played each other in the regular-season finale while tied for the ACC lead with the title on the line. North Carolina has won three of the previous five contests, including both games under Roy Williams.
The schools have combined to win 47 regular-season ACC titles, with the Tar Heels claiming 28 and the Blue Devils 19. The rest of the schools in the conference have combined for just 23.
Roy Williams is 8-10 against Duke since arriving in Chapel Hill. Those 10 losses are his most against any opponent in his nine seasons with the Tar Heels. The only other ACC team that North Carolina has a losing record against under Williams is
Georgia Tech
(7-8).
When North Carolina has the ball
The Tar Heels have a big advantage in the paint, where they lead power six conference schools with an average of 39 points per game. Duke has the second-worst paint defense among power six schools, allowing 32 points per game. When the teams met on Feb. 8, North Carolina outscored Duke 42-14 in the paint.
Duke has an uncharacteristically poor defense this season. The Blue Devils are allowing 99 points per 100 possessions, which puts the team near the middle of the pack among Division I schools. The Blue Devils are on track to finish outside the top 50 in defensive efficiency for the first time since rankings became available in 2000.
Since Duke's last-second win at Chapel Hill, the defense has shown improvement. In their first 24 games, the Blue Devils allowed opponents to score 70 points per game while shooting 44 percent from the field. Over the past six games, those numbers have dropped to 63 and 40, respectively.
When Duke has the ball
What hasn't been a problem for Duke this season is its offense. The Blue Devils average 114 points per 100 possessions, 13th in the nation and tops in the ACC.
In the first meeting this season, North Carolina dictated the pace for much of the game, forcing the Blue Devils into quick shots. Nearly a third of Duke's field goal attempts came in the first 10 seconds of the shot clock.
However, the Blue Devils were able to execute more efficiently late in the shot clock. Duke made five of its seven attempts from the floor with 10 or less seconds remaining on the shot clock, including the game-winning 3-pointer by
Austin Rivers
.
Mark Malzewski, Jason McCallum and Toby Petitpas contributed to this article
February, 9, 2012
2/09/12
6:36
AM ET
By
ESPN Stats & Information
| ESPN.com
Bob Donnan/US Presswire Duke Blue Devils guard Austin Rivers shoots a last second shot over North Carolina Tar Heels forward Tyler Zeller to win the game. The Blue Devils defeated the Tar Heels 85-84 at the Dean E. Smith Center.
When the
Duke Blue Devils
and
North Carolina Tar Heels
get together the unexpected is always a possibility, but Wednesday this rivalry saw something that had never happened before.
Austin Rivers
scored a career-high 29 points, the most ever by a Duke freshman against North Carolina. Yet it was his career-high six 3-pointers, including the one over
Tyler Zeller
as time expired, that cemented Rivers' name into Duke-Carolina history.
The Tar Heels dictated the pace for much of the game, forcing the Blue Devils into quick shots. Thirty-one percent of Duke's field goal attempts came in the first 10 seconds of the shot clock.
The Blue Devils, however, were able to execute more efficiently late in the shot clock, making five of their seven attempts, including Rivers' game-winning 3-pointer.
It was a tale of two halves for Zeller as he scored 19 of his 23 points in the first half, but was on the wrong side of key plays that decided the game in the second half.
Zeller accidentally tipped the ball into Duke's basket on a rebound attempt, which cut the lead to one with 14.2 seconds left.
On the ensuing possession, he missed the second half of a one-and-one only to draw the defensive assignment on Rivers for the final basket of the game.
Of course the loss wasn't soley on Zeller as the Tar Heels led by as many as 13 points in the second half. However, over the last 2:34, they did not attempt a field goal, missed two free throws, committed two turnovers and were outscored 13-2.
The final margin was Duke's first lead since 43 seconds remained in the first half.
It was an improbable win for the ages considering how bad Duke's defense has been coupled with the firepower of North Carolina's offense this season (leads nation in scoring).
In fact, this was North Carolina's first loss in their last 32 games when scoring more than 80 points.
The loss also snapped Carolina's 31-game home winning streak, which had been the longest in school history.
Meanwhile Duke improved to 13-0 following a loss since 2009-10, the third-best record in Division I, according to Elias Sports Bureau.
February, 8, 2012
2/08/12
5:00
PM ET
By
John Parolin, ESPN Stats & Info
| ESPN.com

One of the most storied rivalries in college basketball resumes Wednesday night when
Duke
travels to the Dean Smith Center to take on
North Carolina
. In recent years Duke has dominated, winning four of the past five meetings.
Coach Mike Krzyzewski is 36-36 all time against the Tar Heels, and Duke is one of only two ACC schools with a winning record against UNC since coach Roy Williams took over (Georgia Tech is the other). Duke may have the recent history over the Heels, but the Blue Devils will need to step up their defensive game to continue their success.
Duke has an uncharacteristically poor defense this season. The Blue Devils are allowing 99.6 points per 100 possessions, which puts them in the bottom half of all Division I schools. Duke is on track to finish outside the top 50 in that category for the first time since rankings were available in 2000, and it's a bad time for the Blue Devils to be facing the nation's highest-scoring offense (84.1 ppg).
Duke's problems on defense are most apparent in the paint. The Blue Devils have allowed 31.5 points in the paint per game this season -- fifth-worst among power six conference schools -- and that will play right into a major North Carolina strength.
The Tar Heels average more than 40 points per game in the paint, the most of any power six conference school. They've grabbed 41 percent of their missed shots and average 16.4 second-chance points per game, both ACC-best numbers.

Carolina not only beats up opponents around the basket but also runs in the open floor both often and well. More than 21 percent of the Tar Heels' offensive plays are in transition, fifth-most in Division I, while their 21.3 points per game in transition is second in the country.
Even with their up-tempo style, the Tar Heels have been excellent at limiting mistakes. North Carolina has turned the ball over on 17 percent of its possessions this season, lowest in the ACC and 10th-best among power six conference schools.
While Carolina has reason for confidence, one of Duke's most highly touted players has been excellent of late. Guard
Austin Rivers
is averaging a team-high 14.5 ppg and is looking to become the first Blue Devils freshman to lead the team in scoring since Johnny Dawkins averaged 18.1 ppg in 1982-83.