North Carolina Tar Heels:

Connecticut Huskies
May, 22, 2014
5/22/14
12:05
PM ET
ESPN 60
guard
Allonzo Trier
made Nike EYBL history last weekend, becoming the first player to ever record 30 or more points in each game of a single session.
While the feat has never been accomplished before on the Nike circuit, ironically, Adidas had someone accomplish the very same thing on the same weekend when fellow ESPN 60 guard
Jalen Adams
finished with 30 or more points in all four of his games.
While Trier and Adams are similar in that they are two of the nation's best scoring guards in the 2015 class, they're unique in the way they look to attack the defense.
April, 28, 2014
4/28/14
11:00
AM ET
At 11:59 p.m. ET Sunday night, the NBA's early-entry draft deadline came and went. No key college hoops offseason date has so much, or so widespread, an impact on the landscape to come. And, for the fledgling offseason rankings writer, no consideration is trickier. Without question, that's
the hardest part about the Way Too Early Top 25
, which we published with confetti still on the keyboard just after UConn's national championship earlier this month. Until draft decisions are in, you're just making guesses. Educated guesses, sure. But guesses all the same.
Now that we know which players are staying and which are going, it's time to offer an edited addendum to this offseason's first attempt at a 2014-15 preseason top 25. How did draft decisions change the list?
In short, not a whole lot. But we do have a new No. 1. It will surprise nobody.
Jeff Gross/Getty ImagesJohn Calipari will have a roster full of future NBA players, as usual, next season. And this one will have experience.

Kentucky Wildcats: Kentucky was our No. 3 in the Way Too Early rankings back when we were almost certain the Harrison twins, Willie Cauley-Stein, Alex Poythress, and maybe even Dakari Johnson would be headed to the NBA. In the end, Kentucky kept all five, and add two of the best big men in the country (Trey Lyles, Karl Towns) in the incoming class to form a team that is surprisingly experienced, mind-bendingly tall (Calipari has three 7-footers and two 6-10 guys, all of whom are likely to play in the NBA), and every bit as loaded on natural talent as ever. Kentucky is losing Julius Randle and James Young to the draft, and will probably be better next season. Kind of insane!

Duke Blue Devils: Nothing less than a Jabari Parker return could have moved Duke beyond Kentucky and into the No. 1 spot at this point in the season, and Parker is heading to the NBA, as expected. Even so, the Blue Devils are in great shape, mixing the nation's best recruiting class with a really solid group of veteran, tried-and-tested role players.

Arizona Wildcats: The tentative No. 1 back when Nick Johnson was still weighing the proverbial options, Arizona takes the deep, chasmic plummet all the way to No. 3. In less sarcastic terms: Sean Miller has Arizona so well-oiled that it can lose its two best players (Aaron Gordon and Johnson) and still be a national title contender next season.

Wisconsin Badgers: Frank Kaminsky almost made this more work than it had to be; after a breakout postseason, Kaminsky saw scouts' interest skyrocket. But he held off in the end, which means the Badgers are still only losing one player -- senior guard Ben Brust -- from last year's excellent Final Four group.

Wichita State Shockers: Nothing to report here: The Shockers are still losing Cleanthony Early and still keeping Ron Baker and Fred VanVleet. Will they go unbeaten until late March again? No, but they'll be awfully good.

North Carolina Tar Heels: Point guard Marcus Paige played well enough in 2013-14 to earn a fair amount of NBA discussion by the time the season was over. Brice Johnson was just as promising, even in more limited minutes. But both players were always likely to come back, and now that they have, Roy Williams has more talent and experience at his disposal than at any time in the past five years.

Virginia Cavaliers: The Cavaliers are still a relatively predictable bunch going forward. Losing Akil Mitchell and Joe Harris will hurt, but Tony Bennett's team will still be led by Malcolm Brogdon and a very solid returning core.

Louisville Cardinals: Montrezl Harrell was probably a lottery pick, making his decision to stay in Louisville for another season one of the most surprising of the past month. It's also worth a big boost to Louisville's 2014-15 projections.

Florida Gators: Probably the biggest boom-or-bust team on this list, Florida's 2014-15 season will hinge on the development of point guard Kasey Hill and raw-but-gifted big man Chris Walker. Jon Horford, a graduate transfer from Michigan, will add size and stability.

Kansas Jayhawks: Bill Self's team won't have Andrew Wiggins and Joel Embiid in the fold next season, which was always a foregone conclusion (even if Embiid waited just long enough to make us wonder). But the players Self does have returning, plus another solid batch of arrivals, should make for another Big 12 regular-season title, the program's 11th in a row. Ho-hum.

Connecticut Huskies: DeAndre Daniels' pro turn is a little bit surprising, given how quickly Daniels rose from relative obscurity in the NCAA tournament, but it is far less damaging than Ryan Boatright's return is helpful. And transfer guard Rodney Purvis, eligible this fall, will help, too.

Southern Methodist Mustangs: An already good team (and one that probably deserved to get in the NCAA tournament over NC State, but oh well) gets almost everyone back and adds the No. 2 point guard in the 2014 class (Emmanuel Mudiay) to the mix, coached by Larry Brown. This should be interesting.

Villanova Wildcats: Before Jay Wright's team lost to Seton Hall in the Big East tournament and UConn in the round of 32, it lost exactly three games all season. Four starters and an excellent reserve (Josh Hart) return, and Wright's program should remain ascendant.

Virginia Commonwealth Rams: Shaka Smart has a lineup full of his prototypical ball-hawking guards, with the best recruiting class of his career en route this summer.

Gonzaga Bulldogs: As Kentucky prepares for another season in the spotlight, a player who helped the Wildcats win their last national title -- forward Kyle Wiltjer -- re-emerges at Gonzaga, where he'll be the perfect stretch 4 in a devastating offensive lineup.

Iowa State Cyclones: By and large, the Cyclones are what they were when their season ended: Seniors Melvin Ejim and DeAndre Kane are off to the Association, but Fred Hoiberg still has a lot of interesting, interchangeable pieces at his disposal.

Texas Longhorns: The recently announced transfer of Maryland forward Shaquille Cleare won't help the Longhorns until 2015-16, when Cleare becomes eligible, but with everybody back, the Longhorns have a chance to make a real leap right away.

[+] Enlarge

Steve Dykes/Getty ImagesMichigan State shouldn't slide back too far with Branden Dawson returning.

Michigan State Spartans: Our first offseason ranking of Michigan State essentially assumed that Gary Harris would leave, which he did. Branden Dawson's return is crucial, and if Denzel Valentine has a big year, Tom Izzo's team might not take as big a step back as everyone is predicting.

Oklahoma Sooners: Same story here: a very good offensive team with most of its major pieces back that needs to get a bit better defensively to really make a move into the elite.

San Diego State Aztecs: The team that should have been on our first list anyway gets here now in large part as a function of its competition. But that's not an insult: Even losing Xavier Thames, the Aztecs are going to defend really well again, with a group of exciting young West Coast players on the way.

Syracuse Orange: The Orange took not one, but two big-time hits in the draft-decision window. The first was point guard Tyler Ennis; the second, forward and sixth man Jerami Grant. Ennis was the most crucial, as it leaves Syracuse without an obvious point guard replacement.

Oregon Ducks: Now that UCLA's Jordan Adams switched his decision and will leave for the NBA (with little time to spare, too), Oregon's combination of Joseph Young, Dominic Artis and Damyean Dotson looks like the second-best Pac-12 team.

Kansas State Wildcats: Freshman star Marcus Foster was one of the pleasant surprises of the 2013-14 season; he should be even better as a sophomore.

Michigan Wolverines: The worst-case scenario for Michigan fans came true: Nik Stauskas, Glenn Robinson III and Mitch McGary all left for the NBA draft. That said, Caris LeVert is on track for a major season, and while Michigan won't have the firepower of the past two seasons, it's fair to assume the Wolverines will still put up a ton of points.

Iowa Hawkeyes: The argument for Iowa still stands: Fran McCaffery can reasonably replace Roy Devyn Marble and Melsahn Basabe with Jarrod Uthoff and Gabriel Olaseni and still get the kind of offense that fueled the pre-collapse Hawkeyes last season.
April, 28, 2014
4/28/14
10:00
AM ET
The NBA's early-entry deadline passed Sunday night as Division I coaches were returning from the only April recruiting weekend.
For the first time since the end of the season, the coaches finally know whom they will have and whom they won't for next season.
Here are the winners and losers after the early-entry deadline. Keep in mind, some teams -- Duke, Kansas, Oklahoma State, Baylor, Colorado, Arizona State and Tennessee -- knew long ago they would be losing players, so they don't fit in either category.
Winners

Kentucky:
The Wildcats could have been starting from scratch again next season. The players would have had plenty of reason to bolt after making the national title game. But only two did, and the Wildcats can absorb the losses of
Julius Randle
and
James Young
. The decisions by
Willie Cauley-Stein
,
Alex Poythress
,
Dakari Johnson
and
Marcus Lee
to stay, coupled with newcomers
Trey Lyles
and
Karl Towns Jr.
, give Kentucky a deeper and more versatile frontcourt. The return of guards Andrew and
Aaron Harrison
means coach John Calipari doesn't need to restart his perimeter. Kentucky is probably the only program in the country that can be in the winners column by losing two lottery picks because of the NBA draft-level depth of the freshman and sophomore classes.

Wisconsin:
The Badgers were within one stop of advancing to the national title game before Aaron Harrison's 3-point dagger in Arlington, Texas, in the national semifinal.
Sam Dekker
and
Frank Kaminsky
easily could have put their postgame emotions behind them and said goodbye to Madison. But they did not. The return of the two scorers -- one on the wing and one inside and out -- means the Badgers have enough returning to be a Big Ten preseason favorite, a top-five team and a national title contender.

North Carolina:
The Tar Heels were in a danger zone. UNC lost
James Michael McAdoo
, who had been inconsistent at times during his career. It could have seen point guard
Marcus Paige
and forward
Brice Johnson
bolt too. But that didn't happen. Having Paige return is huge for coach Roy Williams. Paige will be the preseason favorite for ACC Player of the Year. His return was a must for UNC to be a conference title contender.

Louisville:
The Cardinals had the most electric frontcourt player in the American last season in
Montrezl Harrell
. Few players could keep him off the backboard when he was going for a flush. The Cardinals continue to reload but don't need to restart in the ACC sans Harrell. They won't have to with his return.

Arkansas:
The Hogs were a bit of an enigma last season with a sweep of Kentucky and a near-miss overtime loss at home to Florida. But the chances for Arkansas to make the NCAA tournament next season under Mike Anderson would have been reduced considerably if 6-foot-10
Bobby Portis
and 6-6
Michael Qualls
declared for the draft. Anderson was pleased to report Sunday that they did not.

Nebraska:
The goodwill created by the Huskers' run to the NCAA tournament could have been snuffed out if
Terran Petteway
was romanced by the good fortune and declared for the NBA draft. But he chose against it, and as a result Nebraska should be in the top six in the Big Ten and competing for a bid again.

West Virginia:
The Mountaineers had moments last season when they looked like an NCAA tournament team. They should be next season with the decision by point guard
Juwan Staten
to return to Morgantown. He averaged 18.1 points, 5.6 rebounds and 5.8 assists per game. He will enter the season with a strong case to be considered for Big 12 Player of the Year honors.

Oregon:
The Ducks are constantly in transition but needed some sort of consistency from one season to another with a key transfer.
Joseph Young
had the goods to declare. But he's coming back to give them a legitimate scorer going into next season and an all-Pac-12 player in the quest to return to the NCAA tournament.

Utah:
Larry Krystkowiak has the Utes on the verge of being an NCAA tournament team. That plan could have easily been derailed if
Delon Wright
took the bait of being a possible first-round pick. Wright's return means the Utes will be an upper-half Pac-12 team and a preseason pick to make the NCAA tournament.
Losers

UCLA:
The Bruins found out late Saturday night that
Jordan Adams
was gone. He joins
Kyle Anderson
and
Zach LaVine
. That means four of five starters are not back from the Pac-12 tournament champs. Steve Alford has a stellar recruiting class, but this team will be extremely young.

Michigan:
The Wolverines are a prisoner of their own success.
Nik Stauskas
was hardly a two-year player when he was signed. But he matured into a Big Ten Player of the Year. He jumped with
Glenn Robinson III
and
Mitch McGary
, who had no choice after a one-year ban because of a failed drug test for marijuana during the NCAA tournament. The Wolverines will enter a new era under John Beilein.

Syracuse:
Tyler Ennis
was probably more of a two-year point guard when he was signed. But he was one of the best players in the country as a freshman and capitalized on his success by leaving for the lottery.
Jerami Grant
's departure means the Orange will look quite a bit different in their second year in the ACC.

Missouri:
The Tigers lost coach Frank Haith to Tulsa and their two best players in
Jordan Clarkson
and
Jabari Brown
. They will be pushing a restart button next season.

Xavier:
The Musketeers had one of the most dynamic players in the Big East last season in
Semaj Christon
. Xavier is never down, but this presents yet another challenge for Chris Mack.

New Mexico:
Alex Kirk
was a potential early entrant. Add his departure to the known exits of
Cameron Bairstow
and
Kendall Williams
and the Lobos are rebuilding under Craig Neal.

Clemson:
The Tigers had serious momentum with a strong finishing kick led by
K.J. McDaniels
. Brad Brownell always finds a way to keep his teams competitive. He'll need to reinvent the team again with the loss of McDaniels.

Oregon State:
The Beavers had a real gem in
Eric Moreland
, if he came back to work on his skills. He is tantalizing with his length and athleticism for the NBA, but he leaves the Beavers as a raw product when he and Oregon State could have benefited from his return.

Indiana:
The Hoosiers have recruited at a high level the past four years under Tom Crean.
Noah Vonleh
is the latest to bolt. The problem for the Hoosiers is that he left a year too early, before he could have a full effect on the program with an NCAA berth.

NC State:
The Wolfpack made a remarkable late surge to the NCAA tournament and won a game in the First Four before a late-game loss to Saint Louis in the round of 64. They had the ACC Player of the Year in
T.J. Warren
. The Wolfpack were supposed to be rebuilding last season and at times looked the part. But the run to the tournament changed the narrative. Now, with Warren gone, the rebuild might be underway.

UNLV:
The Runnin' Rebels were a disappointment last season even with
Khem Birch
and
Roscoe Smith
. Now they're both off to the NBA draft, putting more pressure on Dave Rice to keep the Rebels chasing San Diego State, among others, next season.

Ohio State:
The Buckeyes lost their best defensive player and leader in
Aaron Craft
. Now one of their top scorers is gone, too, with
LaQuinton Ross
' decision to declare.
Push

Arizona:
The Wildcats lost
Aaron Gordon
and
Nick Johnson
-- two significant body blows. But the return of
Brandon Ashley
,
Rondae Hollis-Jefferson
and
Kaleb Tarczewski
, coupled with another elite recruiting class led by
Stanley Johnson
, means the Wildcats will be the pick to win the Pac-12.

UConn:
The Huskies could afford to lose
DeAndre Daniels
with the addition of transfer
Rodney Purvis
but couldn't handle the loss of
Ryan Boatright
. His return gives Kevin Ollie a lead guard to run the offense and jump-start the defense. No one will pick the defending champs to win the title again, but that's exactly how UConn likes the odds.

LSU:
Johnny Jones knew he was likely going to lose
Johnny O'Bryant III
, but there were questions about whether he would be without freshmen bigs
Jordan Mickey
and
Jarell Martin
. He got them both back, and the Tigers should be in contention for the NCAA tournament.

Michigan State:
The Spartans weren't surprised
Gary Harris
left after two seasons. But Michigan State would have taken an even deeper dip if
Branden Dawson
had jumped at the chance for the NBA. Dawson wasn't a lock for the first round. He took the advice and stayed.
April, 10, 2014
4/10/14
10:00
AM ET
Connecticut's national title as a No. 7 seed provided the conclusive evidence of what we knew early on in the 2013-14 men's college basketball season. There was no dominant team. Arizona settled down the revolving door of No. 1 teams -- the Wildcats were the third to hold the mantle just six weeks into the polls, and their eight weeks atop the Associated Press poll was the longest of the five teams (Kentucky, Michigan State, Syracuse, Florida) to be ranked No. 1. With the odds of winning the Billion Dollar Bracket already outrageous, parity in college basketball made it downright impossible.
With the book finally written on the season, here are the chapters we'll remember most:
Freedom of movement:
Officials were quick to say this season they weren't creating new rules, they were enforcing the old ones. College basketball had become too defensive, the critics said. Physical play was ruining the game. The season started with an emphasis on allowing freedom of movement and handchecking was called to the point of being a "touch foul." Players, coaches and officials alike never came to a consensus of understanding how a block/charge would be called. While scoring on the whole increased slightly, there was no denying that foul calls and free throws had a substantial spike.
Champions Classic:
Teams were allowed to begin practice two weeks before the traditional Oct. 15 start date, which in a practical sense meant earlier than ever. It resulted in a November filled with high-quality games beginning with a special night in Chicago. The Champions Classic doubleheader featured Michigan State's win over Kentucky and Kansas beating Duke and ushered in the season with big-name matchups with budding superstars to get college hoops buzzing even in the midst of the BCS race and the NFL, the overlord of American sports, in the middle of its season.
[+] Enlarge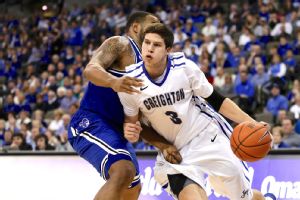 AP Photo/Nati HarnikScoring machine Doug McDermott was one of the many seniors to make an impact on this season.
Freshmen focus:
The Champions Classic just solidified what was already being said about the 2013 recruiting class. These were not ordinary freshmen. Kansas'
Andrew Wiggins
was projected as the potential No. 1 pick in the 2014 NBA draft long before ever stepping foot on campus. Those expectations might have skewed his performance this season because it was always in the context of being a top pick instead of simply being a freshman. Duke's
Jabari Parker
, Kentucky's
Julius Randle
and Arizona's
Aaron Gordon
were all expected to be exceptional before the season started. But others like Syracuse guard
Tyler Ennis
and Kansas center
Joel Embiid
elbowed their way into the elite conversation with their play.
Senior spotlight:
Plenty of seniors weren't going to let the young guys hog all the spotlight and reminded us of the value of staying four years. No way UConn's
Shabazz Napier
was mature enough in his previous three seasons to lead a team to the national title the way he did this season. Creighton's
Doug McDermott
returned to school -- as a walk-on no less -- and finished as the fifth leading scorer in Division I history. He was also the first player since Wayman Tisdale (1983-85) and just the sixth ever to have three consecutive seasons scoring 800 points or more. Louisville's
Russ Smith
returned and ranked No. 1 in offensive efficiency by kenpom.com for a second straight season.
Conference realignment:
With the dust finally settled (we think), and teams shuffled into new leagues, we saw the good and the bad from the new configurations. A record crowd of 35,000-plus at the Carrier Dome watched Syracuse's 91-89 overtime win against Duke become an instant classic in their first meeting as ACC foes. The future of ACC basketball, which adds Louisville next season, is partly why Maryland's season-long swan song as a former ACC charter member was overshadowed. Creighton excelled in its new locale, finishing second in the new Big East, even though its move from the Missouri Valley hurt Wichita State. (More on that below.) The brand-spanking new American Athletic Conference truly reflected the nation with its huge disparity between the haves at the top of the league and the have-nots at the bottom. In the end, the national championship trophy resides in the rookie league.
Shockers chase perfection:
Wichita State became the first team since St. Joseph's in 2004 to finish the regular season undefeated. Instead of drawing praise, it drew some skepticism from those who pointed to a weakened Missouri Valley schedule. Still the Shockers plugged along reaching 35-0 -- one game better than the 1990-91 UNLV squad that went 34-1 and lost to Duke in the Final Four -- and grabbing a No. 1 seed in the NCAA tournament. Their season ended against eventual national runners-up and 8-seed Kentucky in the round of 32.
Coaches behaving badly:
The season provided Internet trolls a seemingly endless supply of memes and GIFs to loop. The list was long, including Iowa's Fran McCaffery slamming chairs against Michigan State, Nebraska's Tim Miles ending the Cornhuskers' most memorable season in decades with an NCAA tournament ejection and Southern Illinois coach Barry Hinson's postgame rant that included that his wife, not his players, knows to, "at least shot-fake one time." But a few stand out. Who can forget the sight of Syracuse coach Jim Boeheim nearly losing his jacket while running on the Cameron Indoor Stadium floor to protest a charge with 10 seconds left in a loss at Duke? Boeheim joked after the game that his first trip to Tobacco Road, which resulted in his first regular-season ejection, would be a memorable one. Then there was Duke coach Mike Krzyzewski (insert sarcasm font here) who will certainly think twice before throwing a pen toward his bench. Krzyzewski got a technical foul for doing so in the ACC tournament final against Virginia.
[+] Enlarge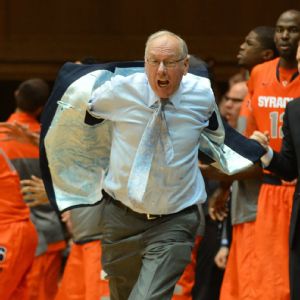 Chuck Liddy/Raleigh News & Observer/Getty ImagesJim Boeheim's jacket-removing, court-sprinting rant against Duke earned his first regular-season ejection.
Marcus Smart's split-second snap:
Oklahoma State guard
Marcus Smart
earned praise in the preseason for putting off the NBA for a year and returning to school to work on his game. He couldn't envision how frustrating the year would be. A season that began crumbling came to a boiling point at Texas Tech. With the Cowboys nearing a fourth straight loss, Smart shoved a fan when his momentum from a play carried him to the footstep of the stands. Smart said the fan called him a racial slur. The fan, Jeff Orr, said he called him a "piece of crap." Regardless, Smart received a three-game suspension.
Safety issues:
There were the things out of man's control like the postponement of Iowa's game at Indiana due to a pane of the ceiling crashing into the stands. North Carolina and Duke postponed their first meeting when a snow storm left the Blue Devils' bus unable to safely travel eight miles to Chapel Hill. It was the Tar Heels' first postponed game since the Gulf War. Court storming continued to be a topic when a fight broke out at the end of Utah Valley's win over New Mexico State. The incident started when an agitated K.C. Ross-Miller of NMSU hurled the ball at
Holton Hunsaker
as time expired. Two Aggies were suspended for their roles in the altercation. Thankfully no one was hurt when an alcohol-fused adrenaline rush sent a UC-Santa Barbara student running onto the court during the first half of a game against Hawaii; the fan got close enough to confront Hawaii coach Gib Arnold before players pushed him away and he was escorted out.
Those were the top highlights from the season. Just missing the cut were: how teams turned around their seasons (including Virginia, Wisconsin, Michigan, Kentucky and Tennessee); the impact of transfers (from the spectacular, including Duke's
Rodney Hood
; to the cautionary, including Georgetown's
Josh Smith
); the Carolina blues (potential All-American P.J. Hairston sat out the first nine games before the school announced it would not seek his reinstatement); and basketball as an emotional outlet (cellar dweller Boston College handed Syracuse its first loss after the passing of longtime BC media relations director Dick Kelley, and Georgia coach Mike Fox winning at Missouri after attending his father's memorial service).
April, 9, 2014
4/09/14
10:00
AM ET
Another NCAA tournament is in the books, and before we get too sad over saying goodbye to college basketball for six months, let's review what we just witnessed:
One player can carry a team:
It's particularly true if that player happens to be a guard. UConn's
Shabazz Napier
proved that point -- like Kemba Walker before him -- by leading the Huskies to the national championship.
One player can't carry a team:
Particularly if his team relies on outscoring its opponents. For all the scoring records Creighton's
Doug McDermott
broke, the Blue Jays defense was ultimately picked apart by Baylor, and one of the great college basketball careers of the past decade ended in the first weekend of the tournament.
Freshmen can carry a team:
Kentucky was only the second team to start five freshmen in the title game. After many stumbles during the regular season, the youthful Wildcats put it together at the right time.
[+] Enlarge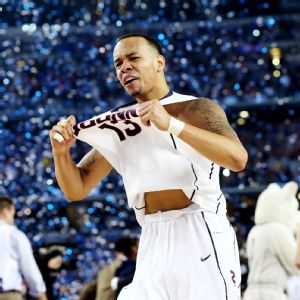 Ronald Martinez/Getty ImagesShabazz Napier took over the tournament and was a dominant force in UConn's run to the title.
Freshmen can't carry a team:
Kansas played without its talented freshman center
Joel Embiid
in the tournament. Its other highly touted freshmen starters,
Andrew Wiggins
and
Wayne Selden Jr.
, combined to shoot 2-for-11 and score six points as the Jayhawks were eliminated by Stanford. Wiggins might still prove to have Carmelo Anthony-type talent in the NBA, but he didn't come close to matching Anthony's NCAA tournament legacy.
Seeding is an inexact science:
Louisville as a 4? Kentucky as an 8? The selection committee's favorite phrase is "whole body of work," which is understandable, but it doesn't take into account a team that's playing its best late, such as the Cardinals; or a team clearly better than its record, such as the Wildcats.
Brackets aren't fair, but such is life:
The biggest example was having No. 1 seed Wichita State pitted against No. 8 Kentucky in the round of 32. The game had an Elite Eight feel for a reason -- it probably should have been played in the later rounds.
A 12-seed beating a 5-seed is no longer an upset:
The 12-seeds nearly -- and probably should have -- completed a full sweep of the 5-seeds. No. 12 seeds Harvard, Steven F. Austin and North Dakota State all advanced and North Carolina State was positioned to join them but missed 9 of 17 free throws before blowing a late eight-point lead to Saint Louis. It was the second game in three days for the Wolfpack, who had to play their way in by beating Xavier.
The 16-seeds are getting closer (incrementally, maybe, but closer):
For those counting, the No. 1 seed is 120-0 against No. 16 seeds, but the gap is closing. Coastal Carolina led Virginia by 10 in the first half and by five at halftime before losing. Albany and Weber State also gave Florida and Arizona tougher than expected games.
Four-point plays do exist:
And for Stephen F. Austin it happened at the best possible moment.
Desmond Haymon
drew a foul on VCU's JeQuan Lewis and his four-point play tied the score with three seconds left in regulation before the Lumberjacks won in overtime.
Big shots:
Whether true buzzer-beaters such as Cameron Ridley's putback in Texas' win over Arizona State or simply big shots in closing seconds such as North Dakota State's
Lawrence Alexander
forcing overtime against Oklahoma with a 3-pointer, we love seeing a game-changer. Kentucky's
Aaron Harrison
made the most of his big shots, taking down Louisville, Michigan and Wisconsin in the process.
Shots not fired:
With 2.3 seconds left, Arizona's
Nick Johnson
took one dribble too many and failed to get a shot off before time expired. The Wildcats' loss to Wisconsin in the Elite Eight proved the shot that's not taken hurts most.
Check the monitor (Shots not fired Part II):
Then again, it might hurt more to lose the game after an officials' conference. Officials didn't see North Carolina coach Roy Williams signaling for a timeout with 1.6 seconds left immediately after Iowa State's
DeAndre Kane
scored the go-ahead basket. The ball was inbounded but the clock operator started it late, allowing Carolina a timeout after the ball was advanced to half court. The officials checked the monitor, huddled and determined that time had expired before the timeout was granted.
We still never figured out the block/charge call:
It didn't outright decide the outcome of any game, but it came close. Tennessee's
Jarnell Stokes
was called for a charge with six seconds left in a one-point game. Michigan's
Jordan Morgan
sold the call and the Wolverines advanced.
[+] Enlarge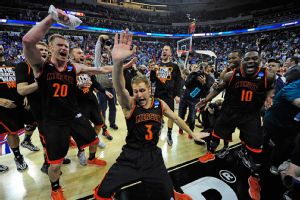 Bob Donnan/USA TODAY SportsAn upset of Duke sent Mercer's Kevin Canevari into his version of the Nae Nae.
Location. Location! Location?
Wisconsin doesn't rally to beat Oregon had the partisan crowd in Milwaukee not helped turn the momentum of that game. UConn might not get past Michigan State had it not been in the familiar confines of Madison Square Garden. Then again, Syracuse lost to Dayton in Buffalo, N.Y., and Duke lost to Mercer in Raleigh, N.C. Maybe location doesn't matter as much as we think.
Conferences might want to rethink who earns the automatic bid:
Milwaukee had a losing record in the Horizon, yet beat regular-season champ Green Bay in the league tournament en route to earning their NCAA bid. Cal Poly had a losing record overall and finished tied for sixth in the Big West, yet earned the bid and beat Texas Southern before getting pummeled by Wichita State. Mount St. Mary's also had a losing record overall before winning the Northeast tournament title. All those upsets, of course, led to NCAA tournament seeds.
Seniors matter:
Obviously the shining example was Napier carrying UConn to the title and Florida reaching the Final Four by starting four seniors. But the common thread in nearly every early-round upset was that schools such as North Dakota State, which had five seniors in its rotation, and Mercer, which had seven seniors, played a lot of experienced players.
Conference affiliation doesn't:
The Big 12 had the most teams in the tournament with seven, but they flamed early. Kansas State, Oklahoma State and Oklahoma lost their first games, only Baylor and Iowa State made it to the Sweet 16.
Michigan State starting over:
One of the best streaks came to an end this season when the Spartans lost to UConn.
Keith Appling
and
Adreian Payne
are the first players who stayed four years under coach Tom Izzo but did not play in a Final Four.
Pay more attention to the Atlantic Sun:
From the conference that gave us Florida Gulf Coast last season, Mercer came out of the league this year. The Bears beat Duke in a game they were positively poised and confident they would win.
THE University of Dayton made a statement:
A headline in the Dayton Daily News poked a little fun at Ohio State, but the way the Flyers were embraced after beating the Buckeyes, Syracuse and Stanford showed just how much March can unite a community.
Kevin Canevari can dance:
Moments after Mercer topped Duke in the tournament's biggest upset, Canevari provided arguably the tournament's best celebration dance by doing the Nae Nae in front of the Bears' fan section.
Grudges last:
Napier blasted the NCAA for keeping the Huskies out of the tournament last season because of their APR. That means SMU, which beat UConn twice, is on the clock for next season with some hard feelings of its own. The Mustangs missed the NCAA tournament and finished runners-up in the NIT. With most of their starters back, and adding arguably the best point guard from the 2014 recruiting class, Larry Brown's crew will be a force next season.
March, 16, 2014
3/16/14
10:40
PM ET
Before any team from this region makes the Final Four, it will have to first prove itself on Broadway. Madison Square Garden welcomes the NCAA tournament for the first time in more than five decades, serving as the host site for the East Regional finals. Virginia, on the strength of winning the ACC regular season and tournament, earned the No. 1 seed. But the team that already seems to have generated the most buzz is No. 4 seed Michigan State.
The Spartans navigated much of the season the way a No. 1 seed would until injuries decimated their roster. Starters
Adreian Payne
,
Branden Dawson
,
Keith Appling
and
Gary Harris
all missed time due to injury, but Michigan State coach Tom Izzo appears to have everyone again healthy at the right time, and the Spartans responded by winning the Big Ten tournament. Among the lovable underdogs in the region is a team from Durham, N.C., but not the team most identify with Durham. No. 14 seed North Carolina Central earned its first-ever bid to the tournament by winning the Mideastern Athletic Conference. The Eagles have a win over NC State on their résumé and one of the nation's top bucket getters in
Jeremy Ingram
, who averages 20.5 points per game and put up 37 against Wichita State.
Five players to watch:
[+] Enlarge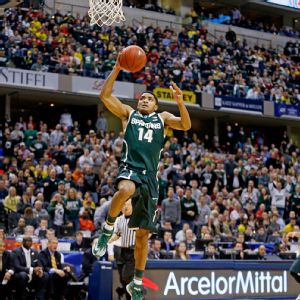 Brian Spurlock/USA TODAY SportsGary Harris' game has risen in recent weeks, giving a newly healthy Michigan State team a great chance to advance out of the East region.
A potential NBA lottery pick, Michigan State sophomore guard
Gary Harris
is as polished as they come. He can catch and shoot over defenders, drive past them and, after adding a few pounds since last season, he can finish through contact. Harris led the Spartans with 17.1 points per game.
UConn's
Shabazz Napier
has a reputation for delivering the clutch shots for the Huskies. He was the American Athletic Conference Player of the Year after leading his team in scoring (17.4), rebounding (5.9) and assists (4.9).
Speaking of players of the year, Iowa State's
Melvin Ejim
took that award among stiff competition in the Big 12. Ejim can score from anywhere on the court -- shooting 34.5 percent from 3-point range -- and averaged 18.1 points and 8.5 rebounds per game.
If you're not impressed watching North Carolina's
Marcus Paige
, make sure to check out what he does after halftime. Paige earned the moniker "Second Half Marcus" because of his knack for erupting for double-digit points after halftime, including 31 points in the second half and overtime in a win over NC State.
Get used to seeing Providence guard
Bryce Cotton
; he'll never leave the court. Seriously. Aside from leading the Friars with 21.4 points per game, he actually averaged 41.9 minutes played in Big East games due to several overtime games.
Dark horse:
Iowa State won the Big 12 tournament, beating Kansas and a very talented Baylor team to do so. The Cyclones own nonconference wins over Michigan, BYU and Iowa, which are all in the tournament field. They generally don't beat themselves. Guard
Monte Morris
led the nation with a 5.71 assist-turnover ratio.
DeAndre Kane
(17.0 PPG) and
Georges Niang
(16.5 PPG) are as capable as Ejim of erupting and scoring a lot of points. The Cyclones also shoot the ball well from 3-point range, led by Naz Long's 40.8 3-point shooting percentage.
Upset alert:
No. 12 seed Harvard has a team suited to knock off No. 5 Cincinnati. The Crimson don't have a lot of flash but boast five players who average double-figure scoring per game, led by
Wesley Saunders
' 14.0 points. More importantly, coach Tommy Amaker's bunch has experience. The Crimson return all but one rotation player from the team that knocked off No. 3 seed New Mexico in last year's tournament.
Conference with most to prove:
Three teams from the American are in the region, led by Cincinnati, which finished tied for first with Louisville. The league's reputation wasn't strong enough to get SMU a bid despite the fact the Mustangs finished tied for third with UConn and Memphis. The Bearcats, Tigers and Huskies can prove SMU belonged after the fact with a strong showing. The tournament could also be a proving ground for Memphis coach Josh Pastner, who has a 1-4 record in the NCAA. It will be the first appearance for UConn coach Kevin Ollie, whose team was banned from the postseason last year due to a low APR.
Matchup we'd most like to see:
Virginia and Michigan State in the Sweet 16. Remember the 2000 Final Four semifinal clash between Wisconsin and the Spartans? This could be the long-awaited sequel where the son (Tony Bennett) tries to avenge the loss of his father (Dick Bennett). The Cavaliers play with toughness that Izzo would approve of. The Spartans would present one of the toughest challenges that Virginia's defense has faced all season. If it materialized, the winner of this matchup would also be the most likely team to advance to the Final Four.
Most likely to reach New York:
Virginia, Michigan State, Iowa State, UConn.
Who advances to Arlington?
Michigan State.
March, 3, 2014
3/03/14
10:00
AM ET
When we analyze and evaluate the skill set of today's basketball player, we speak quite often about their ability to drive to the rim and finish as well as knocking down 3-point shots.
What has been forgotten and not emphasized enough from coaches and workout coaches is their middle game. The ability to score the ball inside the arc and before one gets to the rim in tight quarters is a true gift. I would love to see today's player really work on their middle game to be a more well-rounded scorer.
Let's take a look at which
ESPN 100
prospects possess the all-important middle game in the senior class.
To continue reading this article you must be an Insider
November, 2, 2011
11/02/11
12:36
PM ET
By
Dave Telep
| ESPN Insider
The North Carolina Tar Heels have an excellent recruiting class on their hands this year. It's going to be a highly-touted group. Let me repeat: highly touted
group.
The current four-man class, ranked in the top five, is the kind of group just about any high-major program would crave to sign. It's also a class whose sum is greater than its individual parts.
[+] Enlarge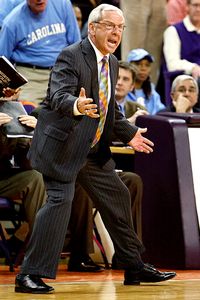 Kevin C. Cox/Getty ImagesRoy Williams never lacks intensity on the sideline.
North Carolina signs elite recruiting classes almost every season. That being said -- no class, no matter the ranking -- is identical. Some classes are rated high because they contain superstars while others attain a high rating because of their collection of players. This current class reminds me a lot of UNC's 2009 class which was highlighted by John Henson and backed up by Leslie McDonald, Dexter Strickland and the now departed David and Travis Wear. Despite the rating of the current group (No. 2 in our rankings), expectations need to be tempered because there isn't a Harrison Barnes or a James Michael McAdoo to carry the superstar load. In 2009, not even Henson was ready to step into this kind of role.
Marcus Paige
(Marion, Iowa/Linn-Marr) is in my opinion, the top senior high school point guard. He's the guy I'd want running my team. He's a better scorer at the same stage when compared to Kendall Marshall, but not as good a passer. He's the Tar Heels best recruit in terms of readiness to play and consistency.
Brice Johnson
(Edisto, S.C./Edisto) is the Henson of the group. He's the top prospect but will need time to develop; his ceiling is highest.
J.P. Tokoto
(Menomonee Falls, Wisc./Menomomee Falls) and
Joel James
(Fort Lauderdale, Fla./Dwyer) are very good supporting recruits; neither has reached their ceiling so there's room to grow.
What's my point? UNC's class is very strong and right now they are among the top classes in the country but don't be surprised if the Tar Heels slip in the rankings. Based on our mathematical formula (not quite as bad as the BCS, but still in depth) and some back-and-forth dialogue between the scouts, we come up with our rankings and adjust accordingly. Right now, coach Roy Williams has a good class with nice players but it's not a game-changing enough group. In my opinion, that ranking doesn't accurately reflect the expectations I'd have for this crop of players.
This collection of players is going to augment UNC's roster and there should be a pro or two out of the group, but they'll need time and the assistance of other players in the program and future classes to create championship expectations.
New July format has me worried
I'm not the type that is opposed to change. In fact, the NCAA had to change up the recruiting calendar and stream line some NCAA rules and regulations. The moves that were made last week -- texting, letting coaches out in April, allowing juniors to take official visits -- appear to be well intentioned and many are excited to take them for a test drive. Personally, the July ruling creating a series of three, four-day open periods, has me nervous.
July is a significant work month for myself and our staff. My goal is to see as many players as I possibly can so I don't get surprised and miss out on seeing guys with my own eyes. There's a measure of pride that accompanies July. I spend a lot of time planning out my days so that I can max out the number of players I can see. Watching Shabazz Muhammad play 25 times is not nearly as important as making sure I see unfamiliar faces like
Grant Verhoeven
(Visalia, Calif./Central Valley Christian),
Connor Lammert
(San Antonio, Tex./Winston Churchill) or
Josh Scott
(Monument, Colo./Lewis Palmer). These guys are often tucked away on AAU teams that aren't as high profile and you might only get one or two looks at them. Still, that quick look is important.
My concern is that there are going to be so many events trying to get packed into the framework of the new July calendar that my number of actual workdays gets trimmed. Frankly speaking, I need as many work days in July as possible to do my job. Reducing the period by eight days is a significant concern as an evaluator. I'm nervous because doing my job might have gotten a lot more difficult. Here's to hoping that there are still some good events floating around outside of the open periods where I can sit down and see a slew of players. The situation of evaluators isn't a concern to the NCAA or college coaches but I'm thinking my job just got a whole lot more difficult by shortening the period and cramming all these events into tighter windows.
Random Thoughts
Should T.J. Warren (Durham, N.C./Brewster Academy) select NC State as expected on Wednesday, it would mean Mark Gottfried landed his third ESPNU 100 player from North Carolina in his first year. During the Sidney Lowe Era, the Pack landed a grand total of two in-state Top 100 players. The first year for Gottfried couldn't have gone better.
To continue reading this article you must be an Insider