North Carolina Tar Heels:

Florida Gators
May, 15, 2014
May 15
10:00
AM ET
Some of the best one-on-one matchups will take place before the college basketball season tips off. They will come in the form of position battles within a team to determine a starter, which in some cases will shape an entire lineup.
Starting with point guard, ESPN.com will examine those quiet battles on a
position-by-position basis
this week while also promising we will never use the phrase "iron sharpens iron" to describe the competition.
Here are some power forward battles to keep an eye on:

Kentucky: Trey Lyles vs. Alex Poythress vs. TBD
Exactly who factors into this battle in Lexington will come down to how coach John Calipari divvies up positions. With so many frontcourt players, he has a numbers crunch that could mean guys play more hybrid positions or even out of position. Will he slide Poythress to small forward? Will he turn
Willie Cauley-Stein
or
Marcus Lee
into more of a power forward than a center? Where does
Derek Willis
fit in? Lyles, one of the best in the Class of 2014, will be a factor one way or another. The good news is that Calipari has options. The interesting thing will be to see how they all play out.

Kansas: Cliff Alexander vs. Perry Ellis
Ellis has spent the better part of his career waiting his turn. Now here he is, a junior, and he's got a whippersnapper like Alexander to battle. The two come at their position from different but equally effective ways. Alexander is the more typical power forward, a rebounding machine who muscles his way to success. Ellis can rebound and battle with the best of them, but he also has some finesse to his game. Odds are that coach Bill Self will find a way to use both at the same time -- Alexander likely at the 5 -- to form a pretty formidable backcourt.

North Carolina: Jackson Simmons vs. Isaiah Hicks
Or who will back up
Brice Johnson
? Caught in a numbers crunch, neither saw much playing time last season, but somebody will have to contribute for coach Roy Williams this coming season. Hicks, a sophomore to be, played out of position for most of last season, sliding over to the small forward spot. Meanwhile, Simmons (who will be a senior) has spent the better part of his career biding his time. It will come down to whether Williams leans on the more veteran Simmons or the more talented Hicks.
Wichita State: Who will replace Cleanthony Early?
That's the unenviable battle.
Shaquille Morris
, who stopped traveling with the Shockers in February so he could work on his weight training and get in shape, has a chance if he proves he's up to the task. Freshman
Rashard Kelly
, out of Hargrave Military, is also an option. He averaged 19.6 points and 10.4 boards in his senior season. The truth is that no one can replace Early alone, but coach Gregg Marshall at least needs to find some committee members up to the task.

Florida: Dorian Finney-Smith vs. Alex Murphy vs. Devin Robinson vs. Jon Horford
Finney-Smith, who likes to rebound, likely will get the nod here, but this could be a fluid position for coach Billy Donovan as the season progresses. Once Murphy, the Duke transfer, becomes eligible in mid-December, things could change. And if Robinson, a highly regarded freshman, develops well, it could change again. Horford, who can play immediately after finishing up his degree at Michigan, will likely get lots of minutes between the 4 and 5 spot, and Finney-Smith will float among small forward, power forward and even in the middle at times.

Gonzaga: Kyle Wiltjer vs. Domantas Sabonis
Wiltjer, the sharpshooting transfer from Kentucky, will likely get the edge here thanks to experience, but the Lithuanian Sabonis is an intriguing guy for coach Mark Few. The son of former NBA star Arvydas Sabonis, Domantas excelled in the FIBA Under-18 World Championships, averaging 14 points and 11.4 rebounds per game.
May, 14, 2014
May 14
10:00
AM ET
Some of the best one-on-one matchups will take place before the college basketball season tips off. They will come in the form of position battles within a team to determine a starter, which in some cases will shape an entire lineup.
Starting with point guard, ESPN.com will examine those quiet battles on a
position-by-position basis
this week while also promising we will never use the phrase "iron sharpens iron" to describe the competition.
It's important to remember that "small forward" does not mean the same thing to every program. Some of these players will essentially play guard slots next year. Others will resemble power forwards or combos. And most can play multiple positions.
Here are small forward battles to keep an eye on:

Arizona: Stanley Johnson vs. Rondae Hollis-Jefferson
Should coach Sean Miller go with Hollis-Jefferson, the soon-to-be sophomore who excelled against the top teams in America and blossomed into a promising NBA prospect down the stretch last season? Or should Miller insert Johnson, the 6-foot-6, 225-pound freshman beast who will probably play his first and only season of college basketball in Tucson next season?
#nationaltitlecontenderproblems
After Brandon Ashley suffered a season-ending foot injury in early February, Hollis-Jefferson played a more prominent role in Arizona's seven-man rotation, and with a summer in the weight room he should return as a more effective player capable of carrying the Wildcats in 2014-15. But Johnson is a unique talent who won't stay off the floor. Too many tools. Too much talent. California's Mr. Basketball is a natural 3-man, but he can guard three or four positions and probably play power forward if necessary. Miller is blessed with another strong roster, but assigning minutes to a pair of future pros could be a challenge.

North Carolina: Justin Jackson vs. Theo Pinson vs. Isaiah Hicks
If
J.P. Tokoto
plays more at
shooting guard
with the graduation of
Leslie McDonald
, this is a situation coach Roy Williams can address with multiple young talents. Hicks played like a typical freshman last season. He struggled in minimal action, but some of the North Carolina native's challenges were tied to his adjustment from the power forward role he played in high school to the small forward slot he manned as a reserve last season. Still, the 6-8 Hicks was one of America's top recruits in the 2013 class and understands Williams' system and demands. But a pair of McDonald's All-Americans -- Jackson and Pinson -- will fight for that spot, too. Williams might use all three players in his rotation. Jackson is a shooter who could move to shooting guard. Pinson is the most natural small forward in the group, and Hicks has the size and knowledge to play bigger if necessary. One of these players, however, could get lost in the mix next season if they're all battling for the same position.

Iowa State: Jameel McKay vs. Dustin Hogue vs. Abdel Nader
Fred Hoiberg is accustomed to turnover. It'd be odd if the Cyclones' coach didn't have some key voids to fill this offseason. Departing senior
Melvin Ejim
earned Big 12 Player of the Year honors in 2013-14 after a campaign that saw him average 17.8 PPG and 8.4 RPG. With
Monte Morris
,
Naz Long
and UNLV transfer
Bryce Dejean-Jones
, Iowa State's backcourt should be one of the best in the Big 12.
Georges Niang
will be the go-to guy inside once he's healthy again, but Hoiberg could use multiple players at the hybrid forward slot, the role that Ejim played so well last season. Hogue is more of an undersized power forward than a true small forward, but he proved his worth in the postseason. This is his spot, but McKay, a former Marquette recruit and Hogue's former junior college teammate, has been a terror in practices for the last six months. McKay is a versatile 6-9 forward who could join Niang in Iowa State's frontcourt but won't be eligible until December. Nader, who led Northern Illinois with 13.1 PPG in 2012-13, will also be a candidate to contribute, but he has some offseason issues to clear up. Nader was suspended after an April incident in which he was arrested and charged with operating a vehicle while intoxicated. He has pleaded not guilty and has a court date set for June 24.

Louisville: Wayne Blackshear vs. Shaqquan Aaron
In late March, coach Rick Pitino
gave reporters this postseason assessment
of Wayne Blackshear: "The only player I've had in the past four years that hasn't had substantial improvement is Wayne Blackshear." That's not good, but it's true. Blackshear was a McDonald's All-American in high school, but the Chicago product suffered a shoulder injury that prevented him from playing in that game, which was held in his hometown after the 2010-11 season. He has never reached that pre-injury promise. So Aaron, a four-star forward from Seattle who is ranked 33rd in the 2014 class by RecruitingNation, could grab minutes from Blackshear if he continues to underwhelm. Louisville has the pieces to compete for the ACC crown in its first year in the league, and Pitino won't let Blackshear ruin that potential, especially with all of that young talent on his bench.

Ohio State: Sam Thompson vs. Keita Bates-Diop vs. Jae'Sean Tate
Thompson is the top returning scorer on an Ohio State squad that lost its top three scorers (
Aaron Craft
,
Lenzelle Smith Jr.
and
LaQuinton Ross
) from last season. But the Buckeyes wrestled with offensive issues all season. Bates-Diop, a 6-7 forward ranked No. 22 in the 2014 class, could be the solution. He has a strong midrange game and is an elite athlete who might be the most talented player on the roster. Tate is an aggressive incoming freshman who could earn solid minutes, too. It would make sense to start Thompson, the senior, at the beginning of the season, but it won't be easy to keep Bates-Diop and Tate off the floor.

Florida: Dorian Finney-Smith vs. Devin Robinson
Florida had multiple interchangeable parts in 2013-14.
Casey Prather
chased national player of the year honors as a 6-5 combo forward who loved to attack the rim. Coach Billy Donovan will have the personnel to play a more traditional lineup next season. Experience has been crucial in his team's streak of four consecutive Elite Eight appearances, so Finney-Smith -- who averaged 8.7 PPG and 6.7 RPG for the Gators last season -- will have an early edge. But Robinson is a five-star talent who is ranked No. 23 in the 2014 class. He's more of a true wing than Finney-Smith, which should give Donovan more variety. Duke transfer
Alex Murphy
, who should be eligible in December, could also be used in that role. It'll be interesting to see how Florida's rotation changes throughout the season.
May, 13, 2014
May 13
10:00
AM ET
Some of the best one-on-one matchups will take place before the 2014-15 season tips off. They will come in the form of position battles within a team to determine a starter, which will in some cases shape an entire lineup.
Starting with point guard, ESPN.com will examine those quiet battles on a position-by-position basis this week while also promising we will never use the phrase "iron sharpens iron" to describe the competition.
Here are shooting guard battles to keep an eye on:

Duke: Rasheed Sulaimon versus Grayson Allen
As C.L. noted Monday, Sulaimon won a big share of Quinn Cook's perimeter minutes down the stretch of the 2013-14 season, and there's good reason to be very bullish about Sulaimon's junior season. I'm so bullish Virginia fans thought I included Sulaimon at the expense of Virginia star Malcolm Brogdon last week. Brogdon was a regrettable omission, but I do think Sulaimon is "worth watching" for a whole variety of reasons, and this list is one of them. If Sulaimon has the same kind of early-season struggles as last season, he'll have a very capable five-star shooting guard in Allen just waiting to soak up his minutes at the 2 -- not to mention the chance that Coach K could decide to play Tyus Jones and Cook together. There is competition for minutes all over the Duke backcourt. If Sulaimon plays a lot, that means he'll be playing well.

Kentucky: Aaron Harrison versus Devin Booker
Kentucky's most fascinating positional intrigue will come from the frontcourt, where John Calipari has approximately 754 NBA-prospect forwards to parse into some recognizable rotation. It's harder to imagine him shaking things up in the backcourt after March's runner-up run, especially now that the Harrisons seem to have figured things out. But Booker is absolutely a player to watch, especially if one or both of the Harrisons regress.

Indiana: James Blackmon Jr. versus Stanford Robinson versus Robert Johnson versus …
If trades were allowed in college basketball -- maybe this could be one of the hidden upsides of unionization! -- Indiana would be burning up the phones. The Hoosiers have real holes in their frontcourt after losing freshmen Noah Vonleh (to the lottery) and Luke Fischer (to transfer). But boy, do they have guards: Besides star point guard Yogi Ferrell, there's fan favorite Robinson, 6-foot-7 wing Troy Williams, and now two top-rated incoming freshmen. Five-star prospect Blackmon is too good to sit on the bench, but where does that leave Johnson, the No. 10-ranked shooting guard in the class? There are a lot of bodies here. The best possible outcome is that Tom Crean has a ton of 2005-era Phoenix Suns tape on his shelf, says "hey, why not," puts Williams at the center, and plays 80 possessions a game.


Illinois: Kendrick Nunn versus Ahmad Starks
John Groce has a bunch of starters back and an interesting little backcourt situation on his hands. Nunn looked promising as a freshman, but Starks was a knockdown shooter for Oregon State, and it's not like Rayvonte Rice is going to be giving up any of his minutes.

Virginia Tech
Given how awful Virginia Tech was last year, new coach Buzz Williams will put his best players on the floor regardless. But it is worth noting that his best players -- and the three best players in his four-person recruiting class -- are all designated as shooting guards. Ahmed Hill and Justin Bibbs are both top-100 guys, and Jalen Hudson should get some run, too.

Florida: Michael Frazier II versus Brandone Francis
Francis won't unseat Frazier -- you don't bench a guy who made 118 of his 264 3s a season ago -- but Francis may work his way into the backcourt as a more versatile change of pace if Frazier doesn't add a skill or two to his offensive set.

North Carolina, sort of
Having lost Leslie McDonald to graduation, J.P. Tokoto may now be the closest thing the Tar Heels will have to a shooting guard in 2014-15. The good news: Tokoto is a tough, physical player who excels in transition, and he's even better on the defensive end. The downside: He can't shoot. The question here is which of the Tar Heels' incoming players can provide perimeter production. Small forwards Justin Jackson and Theo Pinson are both top-10 overall players in the incoming class, and point guard Joel Berry may be able to play off the ball a bit as well. There isn't a good way to describe this personnel in the context of just one position. Save Marcus Paige, the shape of UNC's backcourt is very much up for grabs.
April, 28, 2014
Apr 28
11:00
AM ET
At 11:59 p.m. ET Sunday night, the NBA's early-entry draft deadline came and went. No key college hoops offseason date has so much, or so widespread, an impact on the landscape to come. And, for the fledgling offseason rankings writer, no consideration is trickier. Without question, that's
the hardest part about the Way Too Early Top 25
, which we published with confetti still on the keyboard just after UConn's national championship earlier this month. Until draft decisions are in, you're just making guesses. Educated guesses, sure. But guesses all the same.
Now that we know which players are staying and which are going, it's time to offer an edited addendum to this offseason's first attempt at a 2014-15 preseason top 25. How did draft decisions change the list?
In short, not a whole lot. But we do have a new No. 1. It will surprise nobody.
Jeff Gross/Getty ImagesJohn Calipari will have a roster full of future NBA players, as usual, next season. And this one will have experience.

Kentucky Wildcats: Kentucky was our No. 3 in the Way Too Early rankings back when we were almost certain the Harrison twins, Willie Cauley-Stein, Alex Poythress, and maybe even Dakari Johnson would be headed to the NBA. In the end, Kentucky kept all five, and add two of the best big men in the country (Trey Lyles, Karl Towns) in the incoming class to form a team that is surprisingly experienced, mind-bendingly tall (Calipari has three 7-footers and two 6-10 guys, all of whom are likely to play in the NBA), and every bit as loaded on natural talent as ever. Kentucky is losing Julius Randle and James Young to the draft, and will probably be better next season. Kind of insane!

Duke Blue Devils: Nothing less than a Jabari Parker return could have moved Duke beyond Kentucky and into the No. 1 spot at this point in the season, and Parker is heading to the NBA, as expected. Even so, the Blue Devils are in great shape, mixing the nation's best recruiting class with a really solid group of veteran, tried-and-tested role players.

Arizona Wildcats: The tentative No. 1 back when Nick Johnson was still weighing the proverbial options, Arizona takes the deep, chasmic plummet all the way to No. 3. In less sarcastic terms: Sean Miller has Arizona so well-oiled that it can lose its two best players (Aaron Gordon and Johnson) and still be a national title contender next season.

Wisconsin Badgers: Frank Kaminsky almost made this more work than it had to be; after a breakout postseason, Kaminsky saw scouts' interest skyrocket. But he held off in the end, which means the Badgers are still only losing one player -- senior guard Ben Brust -- from last year's excellent Final Four group.

Wichita State Shockers: Nothing to report here: The Shockers are still losing Cleanthony Early and still keeping Ron Baker and Fred VanVleet. Will they go unbeaten until late March again? No, but they'll be awfully good.

North Carolina Tar Heels: Point guard Marcus Paige played well enough in 2013-14 to earn a fair amount of NBA discussion by the time the season was over. Brice Johnson was just as promising, even in more limited minutes. But both players were always likely to come back, and now that they have, Roy Williams has more talent and experience at his disposal than at any time in the past five years.

Virginia Cavaliers: The Cavaliers are still a relatively predictable bunch going forward. Losing Akil Mitchell and Joe Harris will hurt, but Tony Bennett's team will still be led by Malcolm Brogdon and a very solid returning core.

Louisville Cardinals: Montrezl Harrell was probably a lottery pick, making his decision to stay in Louisville for another season one of the most surprising of the past month. It's also worth a big boost to Louisville's 2014-15 projections.

Florida Gators: Probably the biggest boom-or-bust team on this list, Florida's 2014-15 season will hinge on the development of point guard Kasey Hill and raw-but-gifted big man Chris Walker. Jon Horford, a graduate transfer from Michigan, will add size and stability.

Kansas Jayhawks: Bill Self's team won't have Andrew Wiggins and Joel Embiid in the fold next season, which was always a foregone conclusion (even if Embiid waited just long enough to make us wonder). But the players Self does have returning, plus another solid batch of arrivals, should make for another Big 12 regular-season title, the program's 11th in a row. Ho-hum.

Connecticut Huskies: DeAndre Daniels' pro turn is a little bit surprising, given how quickly Daniels rose from relative obscurity in the NCAA tournament, but it is far less damaging than Ryan Boatright's return is helpful. And transfer guard Rodney Purvis, eligible this fall, will help, too.

Southern Methodist Mustangs: An already good team (and one that probably deserved to get in the NCAA tournament over NC State, but oh well) gets almost everyone back and adds the No. 2 point guard in the 2014 class (Emmanuel Mudiay) to the mix, coached by Larry Brown. This should be interesting.

Villanova Wildcats: Before Jay Wright's team lost to Seton Hall in the Big East tournament and UConn in the round of 32, it lost exactly three games all season. Four starters and an excellent reserve (Josh Hart) return, and Wright's program should remain ascendant.

Virginia Commonwealth Rams: Shaka Smart has a lineup full of his prototypical ball-hawking guards, with the best recruiting class of his career en route this summer.

Gonzaga Bulldogs: As Kentucky prepares for another season in the spotlight, a player who helped the Wildcats win their last national title -- forward Kyle Wiltjer -- re-emerges at Gonzaga, where he'll be the perfect stretch 4 in a devastating offensive lineup.

Iowa State Cyclones: By and large, the Cyclones are what they were when their season ended: Seniors Melvin Ejim and DeAndre Kane are off to the Association, but Fred Hoiberg still has a lot of interesting, interchangeable pieces at his disposal.

Texas Longhorns: The recently announced transfer of Maryland forward Shaquille Cleare won't help the Longhorns until 2015-16, when Cleare becomes eligible, but with everybody back, the Longhorns have a chance to make a real leap right away.

[+] Enlarge

Steve Dykes/Getty ImagesMichigan State shouldn't slide back too far with Branden Dawson returning.

Michigan State Spartans: Our first offseason ranking of Michigan State essentially assumed that Gary Harris would leave, which he did. Branden Dawson's return is crucial, and if Denzel Valentine has a big year, Tom Izzo's team might not take as big a step back as everyone is predicting.

Oklahoma Sooners: Same story here: a very good offensive team with most of its major pieces back that needs to get a bit better defensively to really make a move into the elite.

San Diego State Aztecs: The team that should have been on our first list anyway gets here now in large part as a function of its competition. But that's not an insult: Even losing Xavier Thames, the Aztecs are going to defend really well again, with a group of exciting young West Coast players on the way.

Syracuse Orange: The Orange took not one, but two big-time hits in the draft-decision window. The first was point guard Tyler Ennis; the second, forward and sixth man Jerami Grant. Ennis was the most crucial, as it leaves Syracuse without an obvious point guard replacement.

Oregon Ducks: Now that UCLA's Jordan Adams switched his decision and will leave for the NBA (with little time to spare, too), Oregon's combination of Joseph Young, Dominic Artis and Damyean Dotson looks like the second-best Pac-12 team.

Kansas State Wildcats: Freshman star Marcus Foster was one of the pleasant surprises of the 2013-14 season; he should be even better as a sophomore.

Michigan Wolverines: The worst-case scenario for Michigan fans came true: Nik Stauskas, Glenn Robinson III and Mitch McGary all left for the NBA draft. That said, Caris LeVert is on track for a major season, and while Michigan won't have the firepower of the past two seasons, it's fair to assume the Wolverines will still put up a ton of points.

Iowa Hawkeyes: The argument for Iowa still stands: Fran McCaffery can reasonably replace Roy Devyn Marble and Melsahn Basabe with Jarrod Uthoff and Gabriel Olaseni and still get the kind of offense that fueled the pre-collapse Hawkeyes last season.
April, 10, 2014
Apr 10
10:00
AM ET
Connecticut's national title as a No. 7 seed provided the conclusive evidence of what we knew early on in the 2013-14 men's college basketball season. There was no dominant team. Arizona settled down the revolving door of No. 1 teams -- the Wildcats were the third to hold the mantle just six weeks into the polls, and their eight weeks atop the Associated Press poll was the longest of the five teams (Kentucky, Michigan State, Syracuse, Florida) to be ranked No. 1. With the odds of winning the Billion Dollar Bracket already outrageous, parity in college basketball made it downright impossible.
With the book finally written on the season, here are the chapters we'll remember most:
Freedom of movement:
Officials were quick to say this season they weren't creating new rules, they were enforcing the old ones. College basketball had become too defensive, the critics said. Physical play was ruining the game. The season started with an emphasis on allowing freedom of movement and handchecking was called to the point of being a "touch foul." Players, coaches and officials alike never came to a consensus of understanding how a block/charge would be called. While scoring on the whole increased slightly, there was no denying that foul calls and free throws had a substantial spike.
Champions Classic:
Teams were allowed to begin practice two weeks before the traditional Oct. 15 start date, which in a practical sense meant earlier than ever. It resulted in a November filled with high-quality games beginning with a special night in Chicago. The Champions Classic doubleheader featured Michigan State's win over Kentucky and Kansas beating Duke and ushered in the season with big-name matchups with budding superstars to get college hoops buzzing even in the midst of the BCS race and the NFL, the overlord of American sports, in the middle of its season.
[+] Enlarge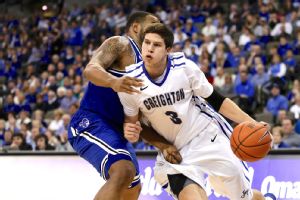 AP Photo/Nati HarnikScoring machine Doug McDermott was one of the many seniors to make an impact on this season.
Freshmen focus:
The Champions Classic just solidified what was already being said about the 2013 recruiting class. These were not ordinary freshmen. Kansas'
Andrew Wiggins
was projected as the potential No. 1 pick in the 2014 NBA draft long before ever stepping foot on campus. Those expectations might have skewed his performance this season because it was always in the context of being a top pick instead of simply being a freshman. Duke's
Jabari Parker
, Kentucky's
Julius Randle
and Arizona's
Aaron Gordon
were all expected to be exceptional before the season started. But others like Syracuse guard
Tyler Ennis
and Kansas center
Joel Embiid
elbowed their way into the elite conversation with their play.
Senior spotlight:
Plenty of seniors weren't going to let the young guys hog all the spotlight and reminded us of the value of staying four years. No way UConn's
Shabazz Napier
was mature enough in his previous three seasons to lead a team to the national title the way he did this season. Creighton's
Doug McDermott
returned to school -- as a walk-on no less -- and finished as the fifth leading scorer in Division I history. He was also the first player since Wayman Tisdale (1983-85) and just the sixth ever to have three consecutive seasons scoring 800 points or more. Louisville's
Russ Smith
returned and ranked No. 1 in offensive efficiency by kenpom.com for a second straight season.
Conference realignment:
With the dust finally settled (we think), and teams shuffled into new leagues, we saw the good and the bad from the new configurations. A record crowd of 35,000-plus at the Carrier Dome watched Syracuse's 91-89 overtime win against Duke become an instant classic in their first meeting as ACC foes. The future of ACC basketball, which adds Louisville next season, is partly why Maryland's season-long swan song as a former ACC charter member was overshadowed. Creighton excelled in its new locale, finishing second in the new Big East, even though its move from the Missouri Valley hurt Wichita State. (More on that below.) The brand-spanking new American Athletic Conference truly reflected the nation with its huge disparity between the haves at the top of the league and the have-nots at the bottom. In the end, the national championship trophy resides in the rookie league.
Shockers chase perfection:
Wichita State became the first team since St. Joseph's in 2004 to finish the regular season undefeated. Instead of drawing praise, it drew some skepticism from those who pointed to a weakened Missouri Valley schedule. Still the Shockers plugged along reaching 35-0 -- one game better than the 1990-91 UNLV squad that went 34-1 and lost to Duke in the Final Four -- and grabbing a No. 1 seed in the NCAA tournament. Their season ended against eventual national runners-up and 8-seed Kentucky in the round of 32.
Coaches behaving badly:
The season provided Internet trolls a seemingly endless supply of memes and GIFs to loop. The list was long, including Iowa's Fran McCaffery slamming chairs against Michigan State, Nebraska's Tim Miles ending the Cornhuskers' most memorable season in decades with an NCAA tournament ejection and Southern Illinois coach Barry Hinson's postgame rant that included that his wife, not his players, knows to, "at least shot-fake one time." But a few stand out. Who can forget the sight of Syracuse coach Jim Boeheim nearly losing his jacket while running on the Cameron Indoor Stadium floor to protest a charge with 10 seconds left in a loss at Duke? Boeheim joked after the game that his first trip to Tobacco Road, which resulted in his first regular-season ejection, would be a memorable one. Then there was Duke coach Mike Krzyzewski (insert sarcasm font here) who will certainly think twice before throwing a pen toward his bench. Krzyzewski got a technical foul for doing so in the ACC tournament final against Virginia.
[+] Enlarge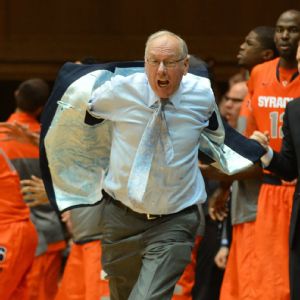 Chuck Liddy/Raleigh News & Observer/Getty ImagesJim Boeheim's jacket-removing, court-sprinting rant against Duke earned his first regular-season ejection.
Marcus Smart's split-second snap:
Oklahoma State guard
Marcus Smart
earned praise in the preseason for putting off the NBA for a year and returning to school to work on his game. He couldn't envision how frustrating the year would be. A season that began crumbling came to a boiling point at Texas Tech. With the Cowboys nearing a fourth straight loss, Smart shoved a fan when his momentum from a play carried him to the footstep of the stands. Smart said the fan called him a racial slur. The fan, Jeff Orr, said he called him a "piece of crap." Regardless, Smart received a three-game suspension.
Safety issues:
There were the things out of man's control like the postponement of Iowa's game at Indiana due to a pane of the ceiling crashing into the stands. North Carolina and Duke postponed their first meeting when a snow storm left the Blue Devils' bus unable to safely travel eight miles to Chapel Hill. It was the Tar Heels' first postponed game since the Gulf War. Court storming continued to be a topic when a fight broke out at the end of Utah Valley's win over New Mexico State. The incident started when an agitated K.C. Ross-Miller of NMSU hurled the ball at
Holton Hunsaker
as time expired. Two Aggies were suspended for their roles in the altercation. Thankfully no one was hurt when an alcohol-fused adrenaline rush sent a UC-Santa Barbara student running onto the court during the first half of a game against Hawaii; the fan got close enough to confront Hawaii coach Gib Arnold before players pushed him away and he was escorted out.
Those were the top highlights from the season. Just missing the cut were: how teams turned around their seasons (including Virginia, Wisconsin, Michigan, Kentucky and Tennessee); the impact of transfers (from the spectacular, including Duke's
Rodney Hood
; to the cautionary, including Georgetown's
Josh Smith
); the Carolina blues (potential All-American P.J. Hairston sat out the first nine games before the school announced it would not seek his reinstatement); and basketball as an emotional outlet (cellar dweller Boston College handed Syracuse its first loss after the passing of longtime BC media relations director Dick Kelley, and Georgia coach Mike Fox winning at Missouri after attending his father's memorial service).
April, 9, 2014
Apr 9
10:00
AM ET
Another NCAA tournament is in the books, and before we get too sad over saying goodbye to college basketball for six months, let's review what we just witnessed:
One player can carry a team:
It's particularly true if that player happens to be a guard. UConn's
Shabazz Napier
proved that point -- like Kemba Walker before him -- by leading the Huskies to the national championship.
One player can't carry a team:
Particularly if his team relies on outscoring its opponents. For all the scoring records Creighton's
Doug McDermott
broke, the Blue Jays defense was ultimately picked apart by Baylor, and one of the great college basketball careers of the past decade ended in the first weekend of the tournament.
Freshmen can carry a team:
Kentucky was only the second team to start five freshmen in the title game. After many stumbles during the regular season, the youthful Wildcats put it together at the right time.
[+] Enlarge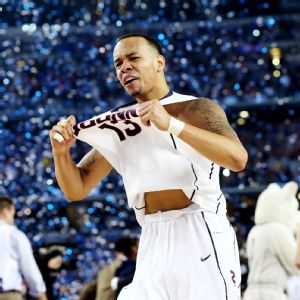 Ronald Martinez/Getty ImagesShabazz Napier took over the tournament and was a dominant force in UConn's run to the title.
Freshmen can't carry a team:
Kansas played without its talented freshman center
Joel Embiid
in the tournament. Its other highly touted freshmen starters,
Andrew Wiggins
and
Wayne Selden Jr.
, combined to shoot 2-for-11 and score six points as the Jayhawks were eliminated by Stanford. Wiggins might still prove to have Carmelo Anthony-type talent in the NBA, but he didn't come close to matching Anthony's NCAA tournament legacy.
Seeding is an inexact science:
Louisville as a 4? Kentucky as an 8? The selection committee's favorite phrase is "whole body of work," which is understandable, but it doesn't take into account a team that's playing its best late, such as the Cardinals; or a team clearly better than its record, such as the Wildcats.
Brackets aren't fair, but such is life:
The biggest example was having No. 1 seed Wichita State pitted against No. 8 Kentucky in the round of 32. The game had an Elite Eight feel for a reason -- it probably should have been played in the later rounds.
A 12-seed beating a 5-seed is no longer an upset:
The 12-seeds nearly -- and probably should have -- completed a full sweep of the 5-seeds. No. 12 seeds Harvard, Steven F. Austin and North Dakota State all advanced and North Carolina State was positioned to join them but missed 9 of 17 free throws before blowing a late eight-point lead to Saint Louis. It was the second game in three days for the Wolfpack, who had to play their way in by beating Xavier.
The 16-seeds are getting closer (incrementally, maybe, but closer):
For those counting, the No. 1 seed is 120-0 against No. 16 seeds, but the gap is closing. Coastal Carolina led Virginia by 10 in the first half and by five at halftime before losing. Albany and Weber State also gave Florida and Arizona tougher than expected games.
Four-point plays do exist:
And for Stephen F. Austin it happened at the best possible moment.
Desmond Haymon
drew a foul on VCU's JeQuan Lewis and his four-point play tied the score with three seconds left in regulation before the Lumberjacks won in overtime.
Big shots:
Whether true buzzer-beaters such as Cameron Ridley's putback in Texas' win over Arizona State or simply big shots in closing seconds such as North Dakota State's
Lawrence Alexander
forcing overtime against Oklahoma with a 3-pointer, we love seeing a game-changer. Kentucky's
Aaron Harrison
made the most of his big shots, taking down Louisville, Michigan and Wisconsin in the process.
Shots not fired:
With 2.3 seconds left, Arizona's
Nick Johnson
took one dribble too many and failed to get a shot off before time expired. The Wildcats' loss to Wisconsin in the Elite Eight proved the shot that's not taken hurts most.
Check the monitor (Shots not fired Part II):
Then again, it might hurt more to lose the game after an officials' conference. Officials didn't see North Carolina coach Roy Williams signaling for a timeout with 1.6 seconds left immediately after Iowa State's
DeAndre Kane
scored the go-ahead basket. The ball was inbounded but the clock operator started it late, allowing Carolina a timeout after the ball was advanced to half court. The officials checked the monitor, huddled and determined that time had expired before the timeout was granted.
We still never figured out the block/charge call:
It didn't outright decide the outcome of any game, but it came close. Tennessee's
Jarnell Stokes
was called for a charge with six seconds left in a one-point game. Michigan's
Jordan Morgan
sold the call and the Wolverines advanced.
[+] Enlarge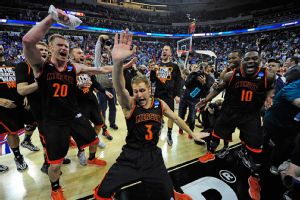 Bob Donnan/USA TODAY SportsAn upset of Duke sent Mercer's Kevin Canevari into his version of the Nae Nae.
Location. Location! Location?
Wisconsin doesn't rally to beat Oregon had the partisan crowd in Milwaukee not helped turn the momentum of that game. UConn might not get past Michigan State had it not been in the familiar confines of Madison Square Garden. Then again, Syracuse lost to Dayton in Buffalo, N.Y., and Duke lost to Mercer in Raleigh, N.C. Maybe location doesn't matter as much as we think.
Conferences might want to rethink who earns the automatic bid:
Milwaukee had a losing record in the Horizon, yet beat regular-season champ Green Bay in the league tournament en route to earning their NCAA bid. Cal Poly had a losing record overall and finished tied for sixth in the Big West, yet earned the bid and beat Texas Southern before getting pummeled by Wichita State. Mount St. Mary's also had a losing record overall before winning the Northeast tournament title. All those upsets, of course, led to NCAA tournament seeds.
Seniors matter:
Obviously the shining example was Napier carrying UConn to the title and Florida reaching the Final Four by starting four seniors. But the common thread in nearly every early-round upset was that schools such as North Dakota State, which had five seniors in its rotation, and Mercer, which had seven seniors, played a lot of experienced players.
Conference affiliation doesn't:
The Big 12 had the most teams in the tournament with seven, but they flamed early. Kansas State, Oklahoma State and Oklahoma lost their first games, only Baylor and Iowa State made it to the Sweet 16.
Michigan State starting over:
One of the best streaks came to an end this season when the Spartans lost to UConn.
Keith Appling
and
Adreian Payne
are the first players who stayed four years under coach Tom Izzo but did not play in a Final Four.
Pay more attention to the Atlantic Sun:
From the conference that gave us Florida Gulf Coast last season, Mercer came out of the league this year. The Bears beat Duke in a game they were positively poised and confident they would win.
THE University of Dayton made a statement:
A headline in the Dayton Daily News poked a little fun at Ohio State, but the way the Flyers were embraced after beating the Buckeyes, Syracuse and Stanford showed just how much March can unite a community.
Kevin Canevari can dance:
Moments after Mercer topped Duke in the tournament's biggest upset, Canevari provided arguably the tournament's best celebration dance by doing the Nae Nae in front of the Bears' fan section.
Grudges last:
Napier blasted the NCAA for keeping the Huskies out of the tournament last season because of their APR. That means SMU, which beat UConn twice, is on the clock for next season with some hard feelings of its own. The Mustangs missed the NCAA tournament and finished runners-up in the NIT. With most of their starters back, and adding arguably the best point guard from the 2014 recruiting class, Larry Brown's crew will be a force next season.
December, 16, 2013
12/16/13
9:00
AM ET
The high school basketball season is in full swing and some of the nation's best are playing well and leading their teams. Others are extremely productive and having great individual performances.
There's also a small group of players who are good now with a chance of big-time growth.
As top-ranked players, they have talent. It's what they do with it that will determine their ultimate success. To reach their potential, it's a matter of two important questions. Does the prospect have the necessary tools to perform at a high level? And will he do what is necessary from an effort standpoint to be great?
Let's take a look at players who are playing at a high level now and who have plenty of potential to be even better down the road.
ESPN No. 2 Myles Turner
The Texas native has a combination of size and skill, and he's a shot blocker with mobility. Turner was one block shy of a triple double, as he had 29 points, 15 rebounds and nine blocks last week against Homeschool Christian.