North Carolina Tar Heels:

Georgetown Hoyas
June, 3, 2014
Jun 3
11:38
AM ET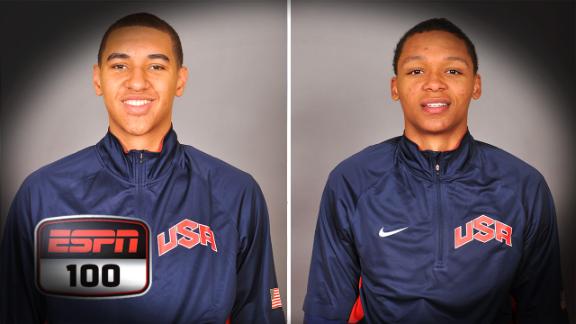 After a long and detailed conversation about the nation's best prospects,
Ivan Rabb
holds on to his No. 1 spot as we launch the new
ESPN 100
for the Class of 2015.
Why he is No. 1:
Many factors go into being tabbed the nation's top prospect such as strong performance, consistent production and potential. At 6-foot-11 and 210 pounds, Rabb has all the physical markers to impact a game. Rabb has mobility and an enormous wing span (7-4). He utilizes those features along with speed and lateral quickness to protect the basket, outrun opponents and score the ball. It's his efficiency that is impressive, as the majority of shots come inside the paint. After 16 games in the Elite Youth Basketball League, he had made more than 60 percent of his field-goal attempts, per GameChanger stats service.
May, 22, 2014
May 22
12:05
PM ET
ESPN 60
guard
Allonzo Trier
made Nike EYBL history last weekend, becoming the first player to ever record 30 or more points in each game of a single session.
While the feat has never been accomplished before on the Nike circuit, ironically, Adidas had someone accomplish the very same thing on the same weekend when fellow ESPN 60 guard
Jalen Adams
finished with 30 or more points in all four of his games.
While Trier and Adams are similar in that they are two of the nation's best scoring guards in the 2015 class, they're unique in the way they look to attack the defense.
To continue reading this article you must be an Insider
April, 17, 2014
Apr 17
10:00
AM ET
The Jordan Brand Classic features the best talent high school basketball has to offer. Here are some of the most intriguing potential matchups in this terrific annual event, which airs Friday night at 7 p.m. ET on ESPN2.
Tyus Jones (Duke) vs. Tyler Ulis (Kentucky)
This matchup will be the battle for who can get the most assists. Both are terrific pass-first point guards who can play fast or slow. They can make open shots in order to keep the defense honest, and their decision-making on the offensive end of the floor is excellent, as well. Ulis can apply more heat on the ball defensively, while Jones is stronger and the better finisher in heavy traffic. It will be interesting to see who makes the fewest mistakes with the ball and who will win the assist category as Jones and Ulis push each other on both ends of the floor.
To continue reading this article you must be an Insider
April, 9, 2014
Apr 9
10:00
AM ET
Scouting the country each year I'll not only see players' skills, athletic ability and basketball IQ, but I'll also witness their character along the way. This year's class might not have any NBA superstars at the moment, but it will have difference-makers for the college game, both in the short term as well as those who will make a difference in time because of their character traits combined with their talent.
As we wrap up the Class of 2014, here are my five final thoughts:
1. The land of the giants
[+] Enlarge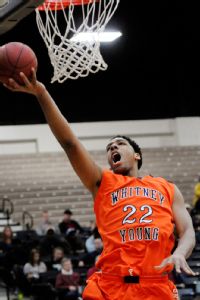 AP Photo/The Sun News/Charles SlateDuke center signee Jahlil Okafor finishes the season as the nation's top prospect.
When you look at the top of a class it's so rare to have three post players sitting in the top three spots.
Jahlil Okafor
, who held the top spot for much of the season, finishes the season as the nation's top prospect. The center from Chicago is a dominating presence in the paint. A Duke signee, Okafor led his high school team to a 4A state championship and was named the McDonalds Morgan Wooten player of the year.
He is special because he scores down low in the paint with his back to the basket. His combination of size, touch and fluid footwork is too much for one defender and when he doesn't score, he attracts a double-team, which gives his team an advantage. He operates with patience and poise and when he reads the double-team he will accurately pass out to the open man. Defensively he guards the post and is improving at ball-screen defense as he is a barrier to the rim for his team.
Myles Turner
, the nation's No. 2 prospect, challenged hard for the No. 1 position and shows a big upside. Turner, who is uncommitted, is an elite shot-blocker and scores baskets with a soft touch and range.
Cliff Alexander
is going to be an absolute difference-maker for Kansas with his ability to rebound, finish and block shots, and he does it in an aggressive manner.
Trey Lyles
is one of the most skilled post players in this group and his future teammate at Kentucky
Karl Towns Jr.
has franchise skill-to-size ratio.
Thomas Welsh
is a fundamentally sound big who will anchor the middle at UCLA.
To continue reading this article you must be an Insider
December, 16, 2013
12/16/13
9:00
AM ET
The high school basketball season is in full swing and some of the nation's best are playing well and leading their teams. Others are extremely productive and having great individual performances.
There's also a small group of players who are good now with a chance of big-time growth.
As top-ranked players, they have talent. It's what they do with it that will determine their ultimate success. To reach their potential, it's a matter of two important questions. Does the prospect have the necessary tools to perform at a high level? And will he do what is necessary from an effort standpoint to be great?
Let's take a look at players who are playing at a high level now and who have plenty of potential to be even better down the road.
ESPN No. 2 Myles Turner
The Texas native has a combination of size and skill, and he's a shot blocker with mobility. Turner was one block shy of a triple double, as he had 29 points, 15 rebounds and nine blocks last week against Homeschool Christian.
To continue reading this article you must be an Insider
November, 24, 2013
11/24/13
12:00
PM ET
On Holiday is College Basketball Nation's daily rundown of the holiday tournaments, complete with previews, recaps and links to all of the early-season tournament info you'll need in the weeks to come.
IN REVIEW
College football was more exciting Saturday, and I don't love college football: "On a slow Saturday for college basketball, there just weren't many gems. North Carolina struggled with Richmond but eventually pulled away to win 82-72. Louisville dismissed Fairfield 71-57, which set up a marquee Sunday matchup against the Tar Heels. Winless Tulsa gave Creighton a scare. But overall, it certainly wasn't the game's sexiest Saturday. But there were a variety of under-the-radar and mid-major programs that offered some impressive individual efforts." -- Myron Medcalf, ESPN.com
[+] Enlarge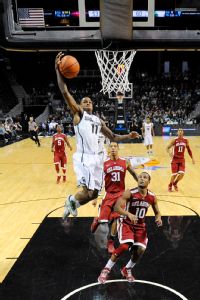 Maddie Meyer/Getty ImagesKeith Appling's career-high 27 points and clutch plays helped Michigan State overcome Oklahoma.
COACHES V. CANCER: Michigan State "got punched, almost KO'd' by Oklahoma; wins Coaches' title 87-76 anyway: "The Sooners came out with something to prove. The Spartans did not. They won anyway, 87-76, despite falling behind by double digits midway through the first half in the finals of the Coaches vs. Cancer Classic. And despite building an 18-point second-half lead, only to fritter it away with turnovers and missed free throws. … They might not have were it not for Keith Appling, whose 3-pointer in the first half ignited a run for MSU and whose three-point play in the second half stopped a run for Oklahoma. That driving layup and ensuing free throw began a run of seven consecutive points for Appling. He finished with 27 -- a career high. He scored many of them down the stretch, driving into the lane, tossing acrobatic floaters." --Shawn Windsor, Detroit Free Press
UP NEXT
**HALL OF FAME TIP-OFF: No. 3 Louisville, No. 24 North Carolina survive in semis, give us marquee title game -- with one caveat: The tournament organizers at the Mohegan Sun in Uncasville, CT could rest easy Saturday afternoon. Defending national champs Louisville handled Fairfield 71-57 and continued to look impressive. North Carolina, on the other hand, was a little bit shakier against Richmond -- a more solid, healthier Richmond than in recent seasons, but Richmond all the same.
Strong recap from C.L.: "Erase for a minute everything you're used to assuming about a North Carolina basketball team under coach Roy Williams. The No. 24 Tar Heels are not that team." -- C.L. Brown, ESPN.com.
They're also not last season's team, in one very obvious way. The Tar Heels still won't have last season's leading scorer, P.J. Hairston, against Louisville on Sunday, though that is not exactly new news. What is new, now, is the open question of whether Hairston might ever come back for North Carolina. To put it simply, if Williams and UNC are worried that Hairston's summertime dalliances with convicted felon Haydn "Fats" Thomas (and the rental cars Hairston was driving that led back to Thomas's payment info and addresses at rental vendors), then he can't play. If he did, and the NCAA ruled against Hairston or UNC in the future, every game it played in the time being -- whether Richmond or Louisville or wherever -- would be in dispute.
For the first time since Hairston was pulled over, North Carolina officials -- down to Williams himself -- aren't evincing optimism about his return.
— Will Williams ever coach Hairston again? "I think I will," he said. "There's no doubt in my mind that I think I will. But I don't know." To understand the weight of that quote you need to understand that Williams would never rule anything out until it's officially ruled out. He's forever positive and hopeful. But it should be noted that even the Hall of Fame coach has changed his position since the preseason. Back then, Williams admittedly seemed unsure about how much time Hairston might miss, but he never publicly entertained the idea that Hairston would not play for the Tar Heels again. Now, Williams acknowledges he just doesn't know, and that public uncertainty can be interpreted as serious doubt. … But the prevailing theory among sources around the North Carolina program is that Hairston might not have been completely honest with investigators about the extent of his use of rental cars connected to a convicted felon named Haydn 'Fats' Thomas that were seemingly occupied by Hairston in violation of NCAA bylaws." -- Gary Parrish, CBS
[+] Enlarge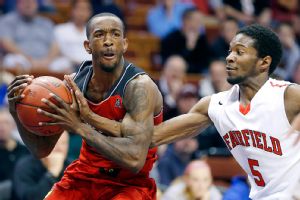 AP Photo/Michael DwyerAfter beating Fairfield, Russ Smith and the Cards face North Carolina on Sunday afternoon.
Oh, also: Louisville: It would be a shame to allow the ongoing North Carolina psychodrama to blot out Russ Smith and the Cardinals. Sure, Saturday represents Louisville's first test against quality competition -- besides Fairfield, the Cardinals have treated College of Charleston, Hofstra, Cornell and Hartford like a bored housecat with a mouse. But two things stand out about Louisville thus far:
Much like VCU, it is still turning people over at the same rate as in 2012-13 despite the new handchecking rules.
The Cardinals are not turning the ball over themselves. They finished No. 77 in turnover rate in 2012-13 -- coughing up on 18.3 percent of their trips. This season, with Chris Jones installed in place of departed senior Peyton Siva, the Cardinals are turning it over just 11.3 percent of the time.
The small sample size disclaimer applies here. Actually, make that a double disclaimer -- small sample size and poor competition. Jones is unlikely to make things look this easy all season. But the juco transfer junior hasn't missed a step in his first season in Louisville, Smith is even better offensively thus far, and the Cardinals are rolling as a result.
Paradise Jam (updated bracket) semifinal rounds: Seeds mostly held on Day 1 of the Paradise Jam, which I think we should abbreviate to "PJ," even if support among my colleagues remains tepid. Northern Iowa and Maryland square off at 7 p.m. ET, and La Salle gets Providence at 9:30 ET in the winners' half of the bracket.
Puerto Rico Tip-Off (updated bracket): Will Act III be as crazy as the first two? Georgetown-VCU sounds like a pretty solid November nonconference game, right? By March, it might be possible for both teams to have fully shaken off the reasons why they played on the final day of Puerto Rico; they may have improved so much by then we'll look back on today's consolation -- yes, consolation -- in a whole different context.
Today, however, it's a product of the unpredictability of the week in Puerto Rico -- where Florida State manhandled VCU and probably should have beaten Michigan late; where Northeastern made Georgetown look like a fellow CAA team, and not a very good one; where Charlotte, a seemingly nondescript program at this point, finds itself in today's 6:30 p.m. ET title game in Bayamon, PR.
With all due respect to the 49ers, the Florida State game may well have hardened Michigan in crucial ways. The Wolverines were physically dominated and just straight-up played badly and still, thanks to some timely, late heroics, managed to dispatch Leonard Hamilton's team and progress to the title game. It's hard to see them losing to Charlotte now.
Then again, we've been wrong before -- which is how we got Georgetown and VCU in the 2 p.m. ET consolation game in the first place. VCU was the favorite coming in to Puerto Rico, but FSU did a number on the Rams in Round 1, and Long Beach State kept that crucial turnover number startlingly low in VCU's win in Round 2. Georgetown has not protected the ball particularly well to date. The Hoyas turn it over on 18.0 percent of their offensive possessions. And their one clear personnel advantage -- massive center Josh Smith -- may not be able to stay on the court in an uptempo affair.
And that's it: There are other tournaments out there, but only so much space on the Internet to discuss them. Enjoy the Sunday of hoops everyone.