North Carolina Tar Heels:

Gonzaga Bulldogs
May, 16, 2014
May 16
10:00
AM ET
CHICAGO --
Julius Randle
is gone, but he wouldn't mind watching the
Kentucky
big men battle in the fall.
"Yes, there's going to be some competition," Randle said at the NBA draft combine in Chicago. "But Coach [John Calipari] will figure it out."
Randle wasn't going to return next season. He was a one-and-done player from the moment he arrived, looking like a chiseled NBA veteran. He was the one big man who didn't need seasoning. But the rest did. Toss in newcomer
Karl Towns Jr
., and the Wildcats have as many bigs as any team assembled recently.
Randle's favorite to replace his low-post ability? He's leaning toward sophomore to-be
Dakari Johnson
.
"He's very good in the low post," Randle said. "He's got a nice touch. It's hard to move him down there."
Randle should know. He had to tussle with Johnson in the low block in practice every day. Now, Johnson will take Randle's role as the player whom the others try to knock off in the post -- for position and, possibly, playing time.
ESPN.com is
examining position battles this week
. Here are some center battles to keep an eye on:

Kentucky:
Dakari Johnson,
Willie Cauley-Stein
,
Marcus Lee
versus Karl Towns Jr.: Yes, there are veterans -- three of them -- returning against the young pup. Calipari could figure out how to play all four of them at some point during a game. Johnson, Cauley-Stein and Lee all had their moments in which they shined. Johnson has the best chance to be in the low post, Cauley-Stein can be the top shot-blocker and Lee is a bit of an X factor among the group. Now, enter the newcomer. Towns can do a bit of everything, but he doesn't need to be the primary option. That's key for him and rare for a high-profile Kentucky player. This isn't even mentioning
Trey Lyles
and
Alex Poythress
, who are more positioned to play smaller forward positions next to the bigs. This team is loaded.

North Carolina:
Kennedy Meeks
versus
Brice Johnson
. Meeks is much more of a physical specimen. He can be immovable at times in the low post. Johnson has more finesse to his game. The two of them can play together, but they could take turns sharing the focal point in the middle, depending on the opponent or the flow of the game. They have a chance to both average double figures and nearly seven or eight rebounds per game. If that happens, the Tar Heels could be a force in the ACC and beyond.

Texas:
Cameron Ridley
versus
Myles Turner
. Ridley made himself into a real threat last season. He was nearly a double-double player (he averaged 11.2 points and 8.2 rebounds per game). Ridley could progress even more next season. The Longhorns nabbed a late-recruiting season coup in Turner. Turner is too good, too effective to not be on the court. The key for coach Rick Barnes will be whether he can play the two as a tandem. If he can't, then who is on the court when the game matters most is more of a competition than the overall minutes. Regardless, both players can help Texas take a huge leap next season.

Gonzaga:
Przemek Karnowski
versus
Kyle Wiltjer
. Karnowski is the traditional post player. He can be difficult to move around, and his offensive game continues to develop. Wiltjer can certainly play with Karnowski because he's slender and is much more of a face-up player. The two can be an effective high-low tandem, but if there is a need to see who is on the floor late, then that is also, like with Texas, where the real competition begins. Wiltjer had a year to get stronger, but he won't turn out like
Kelly Olynyk
. Wiltjer is still going to be skill first, strength last. Karnowski needs to be the opposite for the Zags to find the right balance.

LSU :
Jarell Martin
,
Jordan Mickey
versus
Elbert Robinson
. The Tigers have a chance to make the NCAA tournament because of the decisions of Martin and Mickey. The two were effective double-figure scorers last season playing with
Johnny O'Bryant III
. Now, toss in the newcomer Robinson. He'll need to find minutes as well. Coach Johnny Jones can't play all three together, but the minutes will need to be divided up. These are good problems to have, and with 15 fouls to expend among the three, the Tigers are one of the few teams in the SEC with the numbers to hang with Kentucky's frontcourt.

Arizona:
Kaleb Tarczewski
versus
Brandon Ashley
. Tarczewski was one of the most improved players in the country last season. Give him another summer and he should really be a regular to score in the post. But he has to command the ball even more next season without the presence of
Aaron Gordon
. Ashley is coming off a foot injury that sidelined him for the second half of the Pac-12 season. He will play with Tarczewski, but if there is any question who would demand more minutes, then that can be a highly competitive battle in practice. It might be moot for coach Sean Miller since the two can coexist, but dividing up the frontcourt minutes will still be an interesting decision for the staff.
May, 15, 2014
May 15
10:00
AM ET
Some of the best one-on-one matchups will take place before the college basketball season tips off. They will come in the form of position battles within a team to determine a starter, which in some cases will shape an entire lineup.
Starting with point guard, ESPN.com will examine those quiet battles on a
position-by-position basis
this week while also promising we will never use the phrase "iron sharpens iron" to describe the competition.
Here are some power forward battles to keep an eye on:

Kentucky: Trey Lyles vs. Alex Poythress vs. TBD
Exactly who factors into this battle in Lexington will come down to how coach John Calipari divvies up positions. With so many frontcourt players, he has a numbers crunch that could mean guys play more hybrid positions or even out of position. Will he slide Poythress to small forward? Will he turn
Willie Cauley-Stein
or
Marcus Lee
into more of a power forward than a center? Where does
Derek Willis
fit in? Lyles, one of the best in the Class of 2014, will be a factor one way or another. The good news is that Calipari has options. The interesting thing will be to see how they all play out.

Kansas: Cliff Alexander vs. Perry Ellis
Ellis has spent the better part of his career waiting his turn. Now here he is, a junior, and he's got a whippersnapper like Alexander to battle. The two come at their position from different but equally effective ways. Alexander is the more typical power forward, a rebounding machine who muscles his way to success. Ellis can rebound and battle with the best of them, but he also has some finesse to his game. Odds are that coach Bill Self will find a way to use both at the same time -- Alexander likely at the 5 -- to form a pretty formidable backcourt.

North Carolina: Jackson Simmons vs. Isaiah Hicks
Or who will back up
Brice Johnson
? Caught in a numbers crunch, neither saw much playing time last season, but somebody will have to contribute for coach Roy Williams this coming season. Hicks, a sophomore to be, played out of position for most of last season, sliding over to the small forward spot. Meanwhile, Simmons (who will be a senior) has spent the better part of his career biding his time. It will come down to whether Williams leans on the more veteran Simmons or the more talented Hicks.
Wichita State: Who will replace Cleanthony Early?
That's the unenviable battle.
Shaquille Morris
, who stopped traveling with the Shockers in February so he could work on his weight training and get in shape, has a chance if he proves he's up to the task. Freshman
Rashard Kelly
, out of Hargrave Military, is also an option. He averaged 19.6 points and 10.4 boards in his senior season. The truth is that no one can replace Early alone, but coach Gregg Marshall at least needs to find some committee members up to the task.

Florida: Dorian Finney-Smith vs. Alex Murphy vs. Devin Robinson vs. Jon Horford
Finney-Smith, who likes to rebound, likely will get the nod here, but this could be a fluid position for coach Billy Donovan as the season progresses. Once Murphy, the Duke transfer, becomes eligible in mid-December, things could change. And if Robinson, a highly regarded freshman, develops well, it could change again. Horford, who can play immediately after finishing up his degree at Michigan, will likely get lots of minutes between the 4 and 5 spot, and Finney-Smith will float among small forward, power forward and even in the middle at times.

Gonzaga: Kyle Wiltjer vs. Domantas Sabonis
Wiltjer, the sharpshooting transfer from Kentucky, will likely get the edge here thanks to experience, but the Lithuanian Sabonis is an intriguing guy for coach Mark Few. The son of former NBA star Arvydas Sabonis, Domantas excelled in the FIBA Under-18 World Championships, averaging 14 points and 11.4 rebounds per game.
April, 28, 2014
Apr 28
11:00
AM ET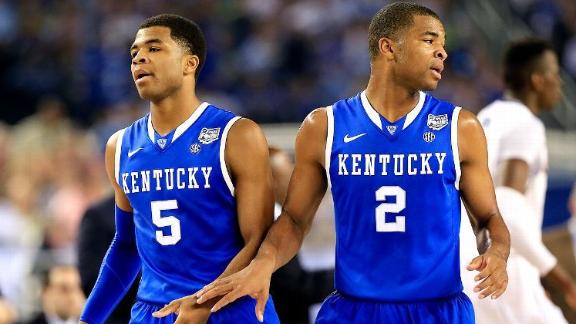 At 11:59 p.m. ET Sunday night, the NBA's early-entry draft deadline came and went. No key college hoops offseason date has so much, or so widespread, an impact on the landscape to come. And, for the fledgling offseason rankings writer, no consideration is trickier. Without question, that's
the hardest part about the Way Too Early Top 25
, which we published with confetti still on the keyboard just after UConn's national championship earlier this month. Until draft decisions are in, you're just making guesses. Educated guesses, sure. But guesses all the same.
Now that we know which players are staying and which are going, it's time to offer an edited addendum to this offseason's first attempt at a 2014-15 preseason top 25. How did draft decisions change the list?
In short, not a whole lot. But we do have a new No. 1. It will surprise nobody.
Jeff Gross/Getty ImagesJohn Calipari will have a roster full of future NBA players, as usual, next season. And this one will have experience.

Kentucky Wildcats: Kentucky was our No. 3 in the Way Too Early rankings back when we were almost certain the Harrison twins, Willie Cauley-Stein, Alex Poythress, and maybe even Dakari Johnson would be headed to the NBA. In the end, Kentucky kept all five, and add two of the best big men in the country (Trey Lyles, Karl Towns) in the incoming class to form a team that is surprisingly experienced, mind-bendingly tall (Calipari has three 7-footers and two 6-10 guys, all of whom are likely to play in the NBA), and every bit as loaded on natural talent as ever. Kentucky is losing Julius Randle and James Young to the draft, and will probably be better next season. Kind of insane!

Duke Blue Devils: Nothing less than a Jabari Parker return could have moved Duke beyond Kentucky and into the No. 1 spot at this point in the season, and Parker is heading to the NBA, as expected. Even so, the Blue Devils are in great shape, mixing the nation's best recruiting class with a really solid group of veteran, tried-and-tested role players.

Arizona Wildcats: The tentative No. 1 back when Nick Johnson was still weighing the proverbial options, Arizona takes the deep, chasmic plummet all the way to No. 3. In less sarcastic terms: Sean Miller has Arizona so well-oiled that it can lose its two best players (Aaron Gordon and Johnson) and still be a national title contender next season.

Wisconsin Badgers: Frank Kaminsky almost made this more work than it had to be; after a breakout postseason, Kaminsky saw scouts' interest skyrocket. But he held off in the end, which means the Badgers are still only losing one player -- senior guard Ben Brust -- from last year's excellent Final Four group.

Wichita State Shockers: Nothing to report here: The Shockers are still losing Cleanthony Early and still keeping Ron Baker and Fred VanVleet. Will they go unbeaten until late March again? No, but they'll be awfully good.

North Carolina Tar Heels: Point guard Marcus Paige played well enough in 2013-14 to earn a fair amount of NBA discussion by the time the season was over. Brice Johnson was just as promising, even in more limited minutes. But both players were always likely to come back, and now that they have, Roy Williams has more talent and experience at his disposal than at any time in the past five years.

Virginia Cavaliers: The Cavaliers are still a relatively predictable bunch going forward. Losing Akil Mitchell and Joe Harris will hurt, but Tony Bennett's team will still be led by Malcolm Brogdon and a very solid returning core.

Louisville Cardinals: Montrezl Harrell was probably a lottery pick, making his decision to stay in Louisville for another season one of the most surprising of the past month. It's also worth a big boost to Louisville's 2014-15 projections.

Florida Gators: Probably the biggest boom-or-bust team on this list, Florida's 2014-15 season will hinge on the development of point guard Kasey Hill and raw-but-gifted big man Chris Walker. Jon Horford, a graduate transfer from Michigan, will add size and stability.

Kansas Jayhawks: Bill Self's team won't have Andrew Wiggins and Joel Embiid in the fold next season, which was always a foregone conclusion (even if Embiid waited just long enough to make us wonder). But the players Self does have returning, plus another solid batch of arrivals, should make for another Big 12 regular-season title, the program's 11th in a row. Ho-hum.

Connecticut Huskies: DeAndre Daniels' pro turn is a little bit surprising, given how quickly Daniels rose from relative obscurity in the NCAA tournament, but it is far less damaging than Ryan Boatright's return is helpful. And transfer guard Rodney Purvis, eligible this fall, will help, too.

Southern Methodist Mustangs: An already good team (and one that probably deserved to get in the NCAA tournament over NC State, but oh well) gets almost everyone back and adds the No. 2 point guard in the 2014 class (Emmanuel Mudiay) to the mix, coached by Larry Brown. This should be interesting.

Villanova Wildcats: Before Jay Wright's team lost to Seton Hall in the Big East tournament and UConn in the round of 32, it lost exactly three games all season. Four starters and an excellent reserve (Josh Hart) return, and Wright's program should remain ascendant.

Virginia Commonwealth Rams: Shaka Smart has a lineup full of his prototypical ball-hawking guards, with the best recruiting class of his career en route this summer.

Gonzaga Bulldogs: As Kentucky prepares for another season in the spotlight, a player who helped the Wildcats win their last national title -- forward Kyle Wiltjer -- re-emerges at Gonzaga, where he'll be the perfect stretch 4 in a devastating offensive lineup.

Iowa State Cyclones: By and large, the Cyclones are what they were when their season ended: Seniors Melvin Ejim and DeAndre Kane are off to the Association, but Fred Hoiberg still has a lot of interesting, interchangeable pieces at his disposal.

Texas Longhorns: The recently announced transfer of Maryland forward Shaquille Cleare won't help the Longhorns until 2015-16, when Cleare becomes eligible, but with everybody back, the Longhorns have a chance to make a real leap right away.

[+] Enlarge

Steve Dykes/Getty ImagesMichigan State shouldn't slide back too far with Branden Dawson returning.

Michigan State Spartans: Our first offseason ranking of Michigan State essentially assumed that Gary Harris would leave, which he did. Branden Dawson's return is crucial, and if Denzel Valentine has a big year, Tom Izzo's team might not take as big a step back as everyone is predicting.

Oklahoma Sooners: Same story here: a very good offensive team with most of its major pieces back that needs to get a bit better defensively to really make a move into the elite.

San Diego State Aztecs: The team that should have been on our first list anyway gets here now in large part as a function of its competition. But that's not an insult: Even losing Xavier Thames, the Aztecs are going to defend really well again, with a group of exciting young West Coast players on the way.

Syracuse Orange: The Orange took not one, but two big-time hits in the draft-decision window. The first was point guard Tyler Ennis; the second, forward and sixth man Jerami Grant. Ennis was the most crucial, as it leaves Syracuse without an obvious point guard replacement.

Oregon Ducks: Now that UCLA's Jordan Adams switched his decision and will leave for the NBA (with little time to spare, too), Oregon's combination of Joseph Young, Dominic Artis and Damyean Dotson looks like the second-best Pac-12 team.

Kansas State Wildcats: Freshman star Marcus Foster was one of the pleasant surprises of the 2013-14 season; he should be even better as a sophomore.

Michigan Wolverines: The worst-case scenario for Michigan fans came true: Nik Stauskas, Glenn Robinson III and Mitch McGary all left for the NBA draft. That said, Caris LeVert is on track for a major season, and while Michigan won't have the firepower of the past two seasons, it's fair to assume the Wolverines will still put up a ton of points.

Iowa Hawkeyes: The argument for Iowa still stands: Fran McCaffery can reasonably replace Roy Devyn Marble and Melsahn Basabe with Jarrod Uthoff and Gabriel Olaseni and still get the kind of offense that fueled the pre-collapse Hawkeyes last season.