North Carolina Tar Heels:

Indiana Hoosiers
May, 13, 2014
May 13
10:00
AM ET
Some of the best one-on-one matchups will take place before the 2014-15 season tips off. They will come in the form of position battles within a team to determine a starter, which will in some cases shape an entire lineup.
Starting with point guard, ESPN.com will examine those quiet battles on a position-by-position basis this week while also promising we will never use the phrase "iron sharpens iron" to describe the competition.
Here are shooting guard battles to keep an eye on:

Duke: Rasheed Sulaimon versus Grayson Allen
As C.L. noted Monday, Sulaimon won a big share of Quinn Cook's perimeter minutes down the stretch of the 2013-14 season, and there's good reason to be very bullish about Sulaimon's junior season. I'm so bullish Virginia fans thought I included Sulaimon at the expense of Virginia star Malcolm Brogdon last week. Brogdon was a regrettable omission, but I do think Sulaimon is "worth watching" for a whole variety of reasons, and this list is one of them. If Sulaimon has the same kind of early-season struggles as last season, he'll have a very capable five-star shooting guard in Allen just waiting to soak up his minutes at the 2 -- not to mention the chance that Coach K could decide to play Tyus Jones and Cook together. There is competition for minutes all over the Duke backcourt. If Sulaimon plays a lot, that means he'll be playing well.

Kentucky: Aaron Harrison versus Devin Booker
Kentucky's most fascinating positional intrigue will come from the frontcourt, where John Calipari has approximately 754 NBA-prospect forwards to parse into some recognizable rotation. It's harder to imagine him shaking things up in the backcourt after March's runner-up run, especially now that the Harrisons seem to have figured things out. But Booker is absolutely a player to watch, especially if one or both of the Harrisons regress.

Indiana: James Blackmon Jr. versus Stanford Robinson versus Robert Johnson versus …
If trades were allowed in college basketball -- maybe this could be one of the hidden upsides of unionization! -- Indiana would be burning up the phones. The Hoosiers have real holes in their frontcourt after losing freshmen Noah Vonleh (to the lottery) and Luke Fischer (to transfer). But boy, do they have guards: Besides star point guard Yogi Ferrell, there's fan favorite Robinson, 6-foot-7 wing Troy Williams, and now two top-rated incoming freshmen. Five-star prospect Blackmon is too good to sit on the bench, but where does that leave Johnson, the No. 10-ranked shooting guard in the class? There are a lot of bodies here. The best possible outcome is that Tom Crean has a ton of 2005-era Phoenix Suns tape on his shelf, says "hey, why not," puts Williams at the center, and plays 80 possessions a game.


Illinois: Kendrick Nunn versus Ahmad Starks
John Groce has a bunch of starters back and an interesting little backcourt situation on his hands. Nunn looked promising as a freshman, but Starks was a knockdown shooter for Oregon State, and it's not like Rayvonte Rice is going to be giving up any of his minutes.

Virginia Tech
Given how awful Virginia Tech was last year, new coach Buzz Williams will put his best players on the floor regardless. But it is worth noting that his best players -- and the three best players in his four-person recruiting class -- are all designated as shooting guards. Ahmed Hill and Justin Bibbs are both top-100 guys, and Jalen Hudson should get some run, too.

Florida: Michael Frazier II versus Brandone Francis
Francis won't unseat Frazier -- you don't bench a guy who made 118 of his 264 3s a season ago -- but Francis may work his way into the backcourt as a more versatile change of pace if Frazier doesn't add a skill or two to his offensive set.

North Carolina, sort of
Having lost Leslie McDonald to graduation, J.P. Tokoto may now be the closest thing the Tar Heels will have to a shooting guard in 2014-15. The good news: Tokoto is a tough, physical player who excels in transition, and he's even better on the defensive end. The downside: He can't shoot. The question here is which of the Tar Heels' incoming players can provide perimeter production. Small forwards Justin Jackson and Theo Pinson are both top-10 overall players in the incoming class, and point guard Joel Berry may be able to play off the ball a bit as well. There isn't a good way to describe this personnel in the context of just one position. Save Marcus Paige, the shape of UNC's backcourt is very much up for grabs.
May, 1, 2014
May 1
4:00
PM ET
For the third time since the ACC/Big Ten Challenge began in 1999, more teams have been added to the mix. The battle for conference supremacy started with just nine games deciding the outcome back when that was the extent of ACC membership.
The league has ballooned to 15 teams and now that the Big Ten expanded too, a slate of 14 games over three consecutive nights from Dec. 1-3 will determine bragging rights.


The ACC was 6-0 when just nine teams played in the Challenge. It was 4-2 after ACC expansion and 11 teams played. Since going to 12 teams the Big Ten won once and the Challenge has ended in consecutive ties.
The ACC still holds an advantage winning 10 of the 15 meetings overall, but it has not won the Challenge since 2008.
Louisville (ACC) and Rutgers (Big Ten) will make their respective debuts in the Challenge this season. Clemson, Wake Forest and Virginia Tech did not participate last season for the ACC. Boston College will sit this one out this season.
As Maryland changes allegiances from ACC charter member to Big Ten expansion team, it becomes the Big Ten team with the most wins. The Terrapins have participated in every challenge and has a 10-5 record, and trails only Duke (13) for most Challenge wins. Five Big Ten teams (Illinois, Minnesota, Ohio State, Purdue, Wisconsin) are tied with seven wins in the series.
From top to bottom, here are the best matchups of the ACC/Big Ten Challenge:


1. Duke at Wisconsin:
It just might be an early Final Four preview. On paper, both have the rosters that could be playing the final weekend of the season. The Badgers, led by center
Frank Kaminsky
, return most of the rotation that got Bo Ryan to his first Final Four during his Wisconsin tenure. Duke restocks with the No. 1 recruiting class led by center
Jahlil Okafor
and guard
Tyus Jones
. The Blue Devils were 0-4 versus top 10 teams away from home last season in a year that ended with a NCAA second round flameout against Mercer. Wisconsin will be an early test to see if Duke will write a different narrative this season.


2. Iowa at North Carolina:
Expect a high-scoring game because the Hawkeyes and Tar Heels both want to run early and often. Forward
Jarrod Uthoff
and center
Gabriel Olaseni
give Iowa a formidable frontcourt duo that will put up points in Fran McCaffery's system despite their roster losses from last season. The Hawkeyes have never won on the road (0-5) in the Challenge. UNC will be a much more athletic team than it was last season with the addition of freshmen
Joel Berry
,
Theo Pinson
and
Justin Jackson
. The game could offer a small bit of redemption back home for guard
Marcus Paige
, who is a Marion, Iowa, native, after the Heels were bounced by Iowa State in the NCAA tournament.


3. Ohio State at Louisville:
The last time Thad Matta squared off against Rick Pitino, Xavier upset the Cardinals in the 2004 NCAA tournament en route to the Elite Eight. It was the run that helped Matta land the Buckeyes job. Matta will learn what he's working with in an early road test for a young, but talented team. The game will also serve as a homecoming for Ohio State freshman guard
D'Angelo Russell
, a Louisville native, who had an offer from Louisville. Ironically, next season, the Cards will rely heavily on sophomore guard
Terry Rozier
, a Cleveland native, who is expected to have a breakout year with the departure of
Russ Smith
.
Montrezl Harrell
's decision to return to school was like a recruiting coup for the Cards.


4. Virginia at Maryland:
A new twist to an old rivalry. The two foes have literally played the past 100 years, and as ACC rivals the game had the exalted status of the final regular season game for the better part of the last four decades. It could easily be the most intense game of the Challenge since both teams know each other so well. The backcourt battle pitting Virginia's
London Perrantes
and
Malcolm Brogdon
against Maryland's
Seth Allen
and
Dez Wells
could determine the outcome.


5. Michigan State at Notre Dame:
From 1908 to 1979 the Spartans and Irish had a healthy basketball rivalry, meeting 94 times. It's the first meeting between the schools since MSU beat the Irish in the Elite Eight en route to its 1979 national championship. The Spartans bring back
Branden Dawson
, who considered turning pro. The Irish welcome back
Jerian Grant
, who withdrew from school at the start of conference play due to an "academic matter."


6. Syracuse at Michigan:
Think of how great this game would have been with guard
Tyler Ennis
and forward
Jerami Grant
still suiting up for the Orange and guard
Nik Stauskas
, forward
Glenn Robinson III
and center
Mitch McGary
playing for the Wolverines. Instead, they form an all-star lineup of NBA early entries. In a rematch of the 2013 Final Four game, only a combined five players (Syracuse:
Rakeem Christmas
,
Trevor Cooney
; Michigan:
Spike Albrecht
,
Caris LeVert
) remain who played in the game.

7. Nebraska at Florida State:
If the Cornhuskers plan on improving on last season's NCAA appearance, they have to learn to win games like this. The Huskers were just 3-8 last season on the road and Tallahassee can be a tough place to play. The Seminoles missed the NCAA tournament last season due to several close nonconference losses, a trend they'll need to reverse this season.


8. Pittsburgh at Indiana:
The Panthers haven't played the Hoosiers in Bloomington since 1941 and Pitt's experienced guards
Cameron Wright
and
James Robinson
won't be intimidated by Assembly Hall.
Noah Vonleh
's decision to turn pro possibly set IU back in its bid to rejoin the nation's elite. But guard
Yogi Ferrell
and newcomer
James Blackmon Jr.
means the Hoosiers' cupboard isn't bare.


9. Illinois at Miami:
The Illini could be a darkhorse in league and an early road win could prove it. Guard
Rayvonte Rice
will be even harder to stop if he can improve his 3-point shooting from 29.5 percent last season. The Canes return just three players from last season, who accounted for just 15 percent of their scoring. Transfers
Angel Rodriguez
(Kansas State) and
Sheldon McClellan
(Texas) should make immediate impact for Miami.


10. Minnesota at Wake Forest:
Guards
Deandre Mathieu
and
Andre Hollins
give Minnesota backcourt stability. The Deacons counter with their top duo of leading scorer
Codi Miller-McIntyre
and leading rebounder
Devin Thomas
, who should help Danny Manning make a smooth transition in his first season as coach.


11. Rutgers at Clemson:
The Mack and Jack show is back for Rutgers.
Myles Mack
and
Kadeem Jack
were the top two scorers from last season and a formidable duo. Clemson returned everyone of impact except leading scorer and rebounder
K.J. McDaniels
. Guard
Rod Hall
will likely expand his scoring role after leading the Tigers in assists.


12. NC State at Purdue:
The Boilermakers are the hottest team in the Challenge with five straight wins. Junior 7-footer
A.J. Hammons
gives Purdue a solid centerpiece to build around. NCSU has the monumental task of replacing 2014 ACC Player of the Year
T.J. Warren
. The Wolfpack's fortunes could rest with talented, yet erratic, point guard
Anthony Barber
.


13. Georgia Tech at Northwestern:
Both teams hope to get a boost from guards lost to injury last season. Tech's
Travis Jorgenson
played in just four games before tearing his ACL. Northwestern's oft-injured guard
JerShon Cobb
, its leading scorer returning, missed the last five games with a foot injury. The Yellow Jackets have only won once on the road in the Challenge.


14. Virginia Tech at Penn State:
The Nittany Lions return most of their rotation that lost eight games by five or fewer points. Senior guard
D.J. Newbill
, who led the team in scoring, is now the unequivocal leader with
Tim Frazier
gone. Buzz Williams begins Hokies rebuilding project with a good starting point -- guard
Devin Wilson
was on both the coaches and media all-ACC freshmen teams and ranked third in the league in assists.
April, 28, 2014
Apr 28
10:00
AM ET
The NBA's early-entry deadline passed Sunday night as Division I coaches were returning from the only April recruiting weekend.
For the first time since the end of the season, the coaches finally know whom they will have and whom they won't for next season.
Here are the winners and losers after the early-entry deadline. Keep in mind, some teams -- Duke, Kansas, Oklahoma State, Baylor, Colorado, Arizona State and Tennessee -- knew long ago they would be losing players, so they don't fit in either category.
Winners

Kentucky:
The Wildcats could have been starting from scratch again next season. The players would have had plenty of reason to bolt after making the national title game. But only two did, and the Wildcats can absorb the losses of
Julius Randle
and
James Young
. The decisions by
Willie Cauley-Stein
,
Alex Poythress
,
Dakari Johnson
and
Marcus Lee
to stay, coupled with newcomers
Trey Lyles
and
Karl Towns Jr.
, give Kentucky a deeper and more versatile frontcourt. The return of guards Andrew and
Aaron Harrison
means coach John Calipari doesn't need to restart his perimeter. Kentucky is probably the only program in the country that can be in the winners column by losing two lottery picks because of the NBA draft-level depth of the freshman and sophomore classes.

Wisconsin:
The Badgers were within one stop of advancing to the national title game before Aaron Harrison's 3-point dagger in Arlington, Texas, in the national semifinal.
Sam Dekker
and
Frank Kaminsky
easily could have put their postgame emotions behind them and said goodbye to Madison. But they did not. The return of the two scorers -- one on the wing and one inside and out -- means the Badgers have enough returning to be a Big Ten preseason favorite, a top-five team and a national title contender.

North Carolina:
The Tar Heels were in a danger zone. UNC lost
James Michael McAdoo
, who had been inconsistent at times during his career. It could have seen point guard
Marcus Paige
and forward
Brice Johnson
bolt too. But that didn't happen. Having Paige return is huge for coach Roy Williams. Paige will be the preseason favorite for ACC Player of the Year. His return was a must for UNC to be a conference title contender.

Louisville:
The Cardinals had the most electric frontcourt player in the American last season in
Montrezl Harrell
. Few players could keep him off the backboard when he was going for a flush. The Cardinals continue to reload but don't need to restart in the ACC sans Harrell. They won't have to with his return.

Arkansas:
The Hogs were a bit of an enigma last season with a sweep of Kentucky and a near-miss overtime loss at home to Florida. But the chances for Arkansas to make the NCAA tournament next season under Mike Anderson would have been reduced considerably if 6-foot-10
Bobby Portis
and 6-6
Michael Qualls
declared for the draft. Anderson was pleased to report Sunday that they did not.

Nebraska:
The goodwill created by the Huskers' run to the NCAA tournament could have been snuffed out if
Terran Petteway
was romanced by the good fortune and declared for the NBA draft. But he chose against it, and as a result Nebraska should be in the top six in the Big Ten and competing for a bid again.

West Virginia:
The Mountaineers had moments last season when they looked like an NCAA tournament team. They should be next season with the decision by point guard
Juwan Staten
to return to Morgantown. He averaged 18.1 points, 5.6 rebounds and 5.8 assists per game. He will enter the season with a strong case to be considered for Big 12 Player of the Year honors.

Oregon:
The Ducks are constantly in transition but needed some sort of consistency from one season to another with a key transfer.
Joseph Young
had the goods to declare. But he's coming back to give them a legitimate scorer going into next season and an all-Pac-12 player in the quest to return to the NCAA tournament.

Utah:
Larry Krystkowiak has the Utes on the verge of being an NCAA tournament team. That plan could have easily been derailed if
Delon Wright
took the bait of being a possible first-round pick. Wright's return means the Utes will be an upper-half Pac-12 team and a preseason pick to make the NCAA tournament.
Losers

UCLA:
The Bruins found out late Saturday night that
Jordan Adams
was gone. He joins
Kyle Anderson
and
Zach LaVine
. That means four of five starters are not back from the Pac-12 tournament champs. Steve Alford has a stellar recruiting class, but this team will be extremely young.

Michigan:
The Wolverines are a prisoner of their own success.
Nik Stauskas
was hardly a two-year player when he was signed. But he matured into a Big Ten Player of the Year. He jumped with
Glenn Robinson III
and
Mitch McGary
, who had no choice after a one-year ban because of a failed drug test for marijuana during the NCAA tournament. The Wolverines will enter a new era under John Beilein.

Syracuse:
Tyler Ennis
was probably more of a two-year point guard when he was signed. But he was one of the best players in the country as a freshman and capitalized on his success by leaving for the lottery.
Jerami Grant
's departure means the Orange will look quite a bit different in their second year in the ACC.

Missouri:
The Tigers lost coach Frank Haith to Tulsa and their two best players in
Jordan Clarkson
and
Jabari Brown
. They will be pushing a restart button next season.

Xavier:
The Musketeers had one of the most dynamic players in the Big East last season in
Semaj Christon
. Xavier is never down, but this presents yet another challenge for Chris Mack.

New Mexico:
Alex Kirk
was a potential early entrant. Add his departure to the known exits of
Cameron Bairstow
and
Kendall Williams
and the Lobos are rebuilding under Craig Neal.

Clemson:
The Tigers had serious momentum with a strong finishing kick led by
K.J. McDaniels
. Brad Brownell always finds a way to keep his teams competitive. He'll need to reinvent the team again with the loss of McDaniels.

Oregon State:
The Beavers had a real gem in
Eric Moreland
, if he came back to work on his skills. He is tantalizing with his length and athleticism for the NBA, but he leaves the Beavers as a raw product when he and Oregon State could have benefited from his return.

Indiana:
The Hoosiers have recruited at a high level the past four years under Tom Crean.
Noah Vonleh
is the latest to bolt. The problem for the Hoosiers is that he left a year too early, before he could have a full effect on the program with an NCAA berth.

NC State:
The Wolfpack made a remarkable late surge to the NCAA tournament and won a game in the First Four before a late-game loss to Saint Louis in the round of 64. They had the ACC Player of the Year in
T.J. Warren
. The Wolfpack were supposed to be rebuilding last season and at times looked the part. But the run to the tournament changed the narrative. Now, with Warren gone, the rebuild might be underway.

UNLV:
The Runnin' Rebels were a disappointment last season even with
Khem Birch
and
Roscoe Smith
. Now they're both off to the NBA draft, putting more pressure on Dave Rice to keep the Rebels chasing San Diego State, among others, next season.

Ohio State:
The Buckeyes lost their best defensive player and leader in
Aaron Craft
. Now one of their top scorers is gone, too, with
LaQuinton Ross
' decision to declare.
Push

Arizona:
The Wildcats lost
Aaron Gordon
and
Nick Johnson
-- two significant body blows. But the return of
Brandon Ashley
,
Rondae Hollis-Jefferson
and
Kaleb Tarczewski
, coupled with another elite recruiting class led by
Stanley Johnson
, means the Wildcats will be the pick to win the Pac-12.

UConn:
The Huskies could afford to lose
DeAndre Daniels
with the addition of transfer
Rodney Purvis
but couldn't handle the loss of
Ryan Boatright
. His return gives Kevin Ollie a lead guard to run the offense and jump-start the defense. No one will pick the defending champs to win the title again, but that's exactly how UConn likes the odds.

LSU:
Johnny Jones knew he was likely going to lose
Johnny O'Bryant III
, but there were questions about whether he would be without freshmen bigs
Jordan Mickey
and
Jarell Martin
. He got them both back, and the Tigers should be in contention for the NCAA tournament.

Michigan State:
The Spartans weren't surprised
Gary Harris
left after two seasons. But Michigan State would have taken an even deeper dip if
Branden Dawson
had jumped at the chance for the NBA. Dawson wasn't a lock for the first round. He took the advice and stayed.
April, 17, 2014
Apr 17
10:00
AM ET
The Jordan Brand Classic features the best talent high school basketball has to offer. Here are some of the most intriguing potential matchups in this terrific annual event, which airs Friday night at 7 p.m. ET on ESPN2.
Tyus Jones (Duke) vs. Tyler Ulis (Kentucky)
This matchup will be the battle for who can get the most assists. Both are terrific pass-first point guards who can play fast or slow. They can make open shots in order to keep the defense honest, and their decision-making on the offensive end of the floor is excellent, as well. Ulis can apply more heat on the ball defensively, while Jones is stronger and the better finisher in heavy traffic. It will be interesting to see who makes the fewest mistakes with the ball and who will win the assist category as Jones and Ulis push each other on both ends of the floor.
April, 15, 2014
Apr 15
10:00
AM ET
By
RecruitingNation staff
| ESPN Insider
The
ESPN 100
has just three remaining uncommitted prospects, and the competition remains furious for their services.
Myles Turner
, No. 2 in the ESPN 100, leads the way, followed by No. 94
Elijah Stewart
, who was released from his letter of intent to Loyola Marymount following the firing of coach Max Good, and No. 98
Josh Cunningham
.
Devonte Graham
wasn't ESPN 100 eligible by virtue of his post-graduate status, but there is no denying he is a wanted man after receiving his release from Appalachian State. He will take official visits to Kansas and North Carolina State while also considering Virginia, Virginia Tech, Xavier and Providence.
So where are these remaining four prospects headed? No one knows for sure just yet, but here are a few educated guesses:
To continue reading this article you must be an Insider
April, 10, 2014
Apr 10
10:00
AM ET
Connecticut's national title as a No. 7 seed provided the conclusive evidence of what we knew early on in the 2013-14 men's college basketball season. There was no dominant team. Arizona settled down the revolving door of No. 1 teams -- the Wildcats were the third to hold the mantle just six weeks into the polls, and their eight weeks atop the Associated Press poll was the longest of the five teams (Kentucky, Michigan State, Syracuse, Florida) to be ranked No. 1. With the odds of winning the Billion Dollar Bracket already outrageous, parity in college basketball made it downright impossible.
With the book finally written on the season, here are the chapters we'll remember most:
Freedom of movement:
Officials were quick to say this season they weren't creating new rules, they were enforcing the old ones. College basketball had become too defensive, the critics said. Physical play was ruining the game. The season started with an emphasis on allowing freedom of movement and handchecking was called to the point of being a "touch foul." Players, coaches and officials alike never came to a consensus of understanding how a block/charge would be called. While scoring on the whole increased slightly, there was no denying that foul calls and free throws had a substantial spike.
Champions Classic:
Teams were allowed to begin practice two weeks before the traditional Oct. 15 start date, which in a practical sense meant earlier than ever. It resulted in a November filled with high-quality games beginning with a special night in Chicago. The Champions Classic doubleheader featured Michigan State's win over Kentucky and Kansas beating Duke and ushered in the season with big-name matchups with budding superstars to get college hoops buzzing even in the midst of the BCS race and the NFL, the overlord of American sports, in the middle of its season.
[+] Enlarge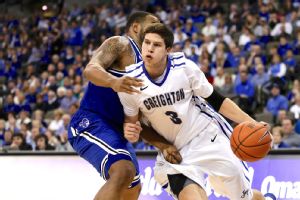 AP Photo/Nati HarnikScoring machine Doug McDermott was one of the many seniors to make an impact on this season.
Freshmen focus:
The Champions Classic just solidified what was already being said about the 2013 recruiting class. These were not ordinary freshmen. Kansas'
Andrew Wiggins
was projected as the potential No. 1 pick in the 2014 NBA draft long before ever stepping foot on campus. Those expectations might have skewed his performance this season because it was always in the context of being a top pick instead of simply being a freshman. Duke's
Jabari Parker
, Kentucky's
Julius Randle
and Arizona's
Aaron Gordon
were all expected to be exceptional before the season started. But others like Syracuse guard
Tyler Ennis
and Kansas center
Joel Embiid
elbowed their way into the elite conversation with their play.
Senior spotlight:
Plenty of seniors weren't going to let the young guys hog all the spotlight and reminded us of the value of staying four years. No way UConn's
Shabazz Napier
was mature enough in his previous three seasons to lead a team to the national title the way he did this season. Creighton's
Doug McDermott
returned to school -- as a walk-on no less -- and finished as the fifth leading scorer in Division I history. He was also the first player since Wayman Tisdale (1983-85) and just the sixth ever to have three consecutive seasons scoring 800 points or more. Louisville's
Russ Smith
returned and ranked No. 1 in offensive efficiency by kenpom.com for a second straight season.
Conference realignment:
With the dust finally settled (we think), and teams shuffled into new leagues, we saw the good and the bad from the new configurations. A record crowd of 35,000-plus at the Carrier Dome watched Syracuse's 91-89 overtime win against Duke become an instant classic in their first meeting as ACC foes. The future of ACC basketball, which adds Louisville next season, is partly why Maryland's season-long swan song as a former ACC charter member was overshadowed. Creighton excelled in its new locale, finishing second in the new Big East, even though its move from the Missouri Valley hurt Wichita State. (More on that below.) The brand-spanking new American Athletic Conference truly reflected the nation with its huge disparity between the haves at the top of the league and the have-nots at the bottom. In the end, the national championship trophy resides in the rookie league.
Shockers chase perfection:
Wichita State became the first team since St. Joseph's in 2004 to finish the regular season undefeated. Instead of drawing praise, it drew some skepticism from those who pointed to a weakened Missouri Valley schedule. Still the Shockers plugged along reaching 35-0 -- one game better than the 1990-91 UNLV squad that went 34-1 and lost to Duke in the Final Four -- and grabbing a No. 1 seed in the NCAA tournament. Their season ended against eventual national runners-up and 8-seed Kentucky in the round of 32.
Coaches behaving badly:
The season provided Internet trolls a seemingly endless supply of memes and GIFs to loop. The list was long, including Iowa's Fran McCaffery slamming chairs against Michigan State, Nebraska's Tim Miles ending the Cornhuskers' most memorable season in decades with an NCAA tournament ejection and Southern Illinois coach Barry Hinson's postgame rant that included that his wife, not his players, knows to, "at least shot-fake one time." But a few stand out. Who can forget the sight of Syracuse coach Jim Boeheim nearly losing his jacket while running on the Cameron Indoor Stadium floor to protest a charge with 10 seconds left in a loss at Duke? Boeheim joked after the game that his first trip to Tobacco Road, which resulted in his first regular-season ejection, would be a memorable one. Then there was Duke coach Mike Krzyzewski (insert sarcasm font here) who will certainly think twice before throwing a pen toward his bench. Krzyzewski got a technical foul for doing so in the ACC tournament final against Virginia.
[+] Enlarge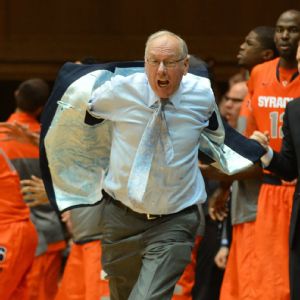 Chuck Liddy/Raleigh News & Observer/Getty ImagesJim Boeheim's jacket-removing, court-sprinting rant against Duke earned his first regular-season ejection.
Marcus Smart's split-second snap:
Oklahoma State guard
Marcus Smart
earned praise in the preseason for putting off the NBA for a year and returning to school to work on his game. He couldn't envision how frustrating the year would be. A season that began crumbling came to a boiling point at Texas Tech. With the Cowboys nearing a fourth straight loss, Smart shoved a fan when his momentum from a play carried him to the footstep of the stands. Smart said the fan called him a racial slur. The fan, Jeff Orr, said he called him a "piece of crap." Regardless, Smart received a three-game suspension.
Safety issues:
There were the things out of man's control like the postponement of Iowa's game at Indiana due to a pane of the ceiling crashing into the stands. North Carolina and Duke postponed their first meeting when a snow storm left the Blue Devils' bus unable to safely travel eight miles to Chapel Hill. It was the Tar Heels' first postponed game since the Gulf War. Court storming continued to be a topic when a fight broke out at the end of Utah Valley's win over New Mexico State. The incident started when an agitated K.C. Ross-Miller of NMSU hurled the ball at
Holton Hunsaker
as time expired. Two Aggies were suspended for their roles in the altercation. Thankfully no one was hurt when an alcohol-fused adrenaline rush sent a UC-Santa Barbara student running onto the court during the first half of a game against Hawaii; the fan got close enough to confront Hawaii coach Gib Arnold before players pushed him away and he was escorted out.
Those were the top highlights from the season. Just missing the cut were: how teams turned around their seasons (including Virginia, Wisconsin, Michigan, Kentucky and Tennessee); the impact of transfers (from the spectacular, including Duke's
Rodney Hood
; to the cautionary, including Georgetown's
Josh Smith
); the Carolina blues (potential All-American P.J. Hairston sat out the first nine games before the school announced it would not seek his reinstatement); and basketball as an emotional outlet (cellar dweller Boston College handed Syracuse its first loss after the passing of longtime BC media relations director Dick Kelley, and Georgia coach Mike Fox winning at Missouri after attending his father's memorial service).
April, 3, 2014
Apr 3
12:24
AM ET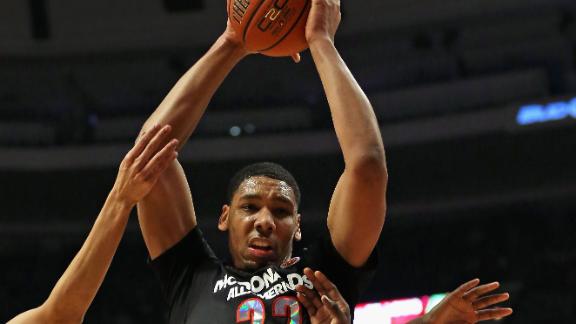 CHICAGO -- Wednesday marked the 37th Annual McDonald's All-American game featuring the top high school boys basketball players in the country. The game took place at the United Center, home of the NBA's Chicago Bulls.
Best low-post player: Jahlil Okafor
To continue reading this article you must be an Insider
March, 2, 2014
Mar 2
9:25
AM ET
By
ESPN.com staff
| ESPN.com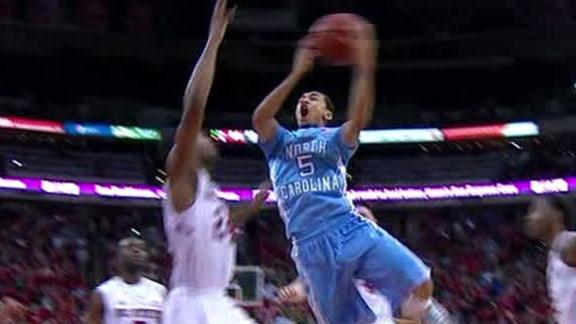 The nominees for the Capital One Cup Impact Performance of the Week include North Carolina's Marcus Paige, Tennessee's Jordan McRae, Michigan's Glenn Robinson III and Indiana's Will Sheehey.
January, 29, 2014
Jan 29
7:00
PM ET
The McDonald's All American Game is annually the nation's most prestigious high school basketball all-star event. The rosters have been announced for the Class of 2014, and this year's game will once again be played at the United Center in Chicago and will air live on ESPN on April 2.
Here's a deeper look at five exciting matchups we'll see in the 2014 contest.
1. The battle of the giants
Jahlil Okafor (West) vs. Myles Turner (East)
To continue reading this article you must be an Insider