North Carolina Tar Heels:

MAC
March, 23, 2012
3/23/12
10:37
PM ET
ST. LOUIS -- Quick thoughts from North Carolina's
73-65 overtime victory
over Ohio in the Sweet 16 on Friday.


Overview:
On a night when it didn't have star point guard
Kendall Marshall
, No. 1 seed North Carolina couldn't have been more thankful for
Reggie Bullock
after its overtime win against No. 13 seed Ohio. A sophomore, Bullock helped bail out a sloppy Tar Heels team that clearly wasn't at its best with its floor leader out and leading scorer
Harrison Barnes
struggling to find his groove.
Bullock's clutch 3-pointer with 39 seconds remaining turned a 61-60 deficit into a 63-61 lead. Ohio forced a tie on its next possession when
Walter Offutt
was fouled while making a layup. Offut squandered the opportunity for a 3-point play when he missed the ensuing free throw. Offut blocked Barnes' game-winning shot attempt on the other end to force overtime.
Bullock came up huge again moments later when he opened the extra period with a 3-pointer to put his team ahead 66-63. The shot set the tone for the game's final five minutes, when North Carolina cruised to a victory by outscoring the scrappy Bobcats, 10-2.
Bullock finished with 17 points and made five of his 10 attempts from beyond the arc. The victory had to be special for the Kinston, N.C., native, who missed last season's NCAA tournament with a knee injury.
Fearless as Bullock was Friday, the best player on the floor was North Carolina's
Tyler Zeller
, who 20 points and a career-high 23 rebounds. Eight of Zeller's boards came on the offensive end, which helped North Carolina outscore Ohio 14-4 on second-chance points.
Barnes, who averages a team-high 17.4 points, was just 3-of-16 from the field Friday and finished with 12 points. Offut had a game-high 26 points for Ohio on 10-of-18 shooting.
Gutsy as the victory may have been, North Carolina's chances of advancing to the Final Four appear to be in jeopardy without Marshall, who is generally regarded as one of the top two or three point guards in all of college basketball. Marshall, who injured his wrist in last Sunday's victory over Creighton, averages 9.7 assists and is the key reason the Tar Heels have been able to play at a fast, frenetic pace all season.
With combo guard
Dexter Strickland
out with a knee injury, North Carolina's only option Friday was to turn to freshman
Stilman White
, who entered the game averaging 4.3 minutes and 0.7 points on the season. Considering the circumstances, White did a more than admirable job Friday. His only points came on a pair of free throws, but he had 6 assists in 32 minutes and didn't commit a single turnover.
Still, the Tar Heels will have a tough time beating either Kansas or North Carolina State on Sunday without Marshall, whose status is uncertain.
Turning point:
Bullock's 3-pointer at the beginning of overtime set the tone for the extra period and appeared to deflate Ohio. Bobcats guard
D.J. Cooper
missed a 3-pointer on the other end on Ohio's next possession, and UNC responded with a 17-footer by Barnes. At that point, the Tar Heels had a 68-63 lead and momentum they would never relinquish.
Key player:
Bullock's 3-pointers were huge and Zeller, as he's been all season, was steady from start to finish. But in this situation it's hard not to praise White for his performance on such a big stage. As coach Roy Williams likes to say, White helped the Tar Heels by not hurting them.
Key stat:
North Carolina has now won 11 consecutive Sweet 16 games.
Miscellaneous:
North Carolina opened the game on a 26-11 run before allowing an 11-3 march by Ohio to end the half. It was 29-22 at intermission. ... Ohio shot just 23 percent in the first half. ... Barnes missed 11 of his first 12 shots.
Up next:
The Tar Heels will take on No. 2 seed Kansas. The teams haven't met since the 2008 Final Four. Kansas won that game and went on to win the NCAA title with an overtime victory over Memphis two nights later.
March, 21, 2012
3/21/12
12:15
PM ET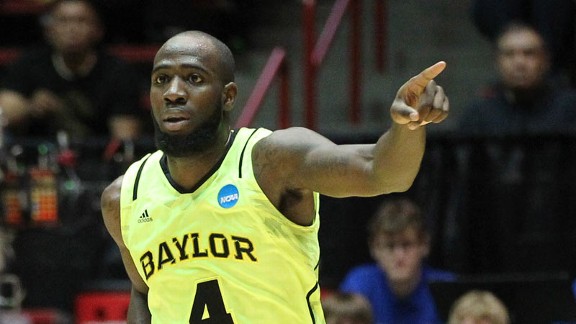 Nelson Chenault/US PresswireQuincy Acy's superior offensive skills help make him Baylor's most indispensable player.
When North Carolina guard
Kendall Marshall
fractured his wrist in Sunday's win against Creighton, it was momentarily easy to forget Marshall isn't the most talented or productive player on his team. There's
Tyler Zeller
and
Harrison Barnes
and
John Henson
, and that's just for starters. So why is losing Marshall such a big deal?
Because he is, without question, UNC's
most important
player. The most efficient? No. The most gifted? Probably not. But there's little question Marshall -- with his visionary, table-setting passing (second nationally in assists), intelligent tempo management and offensive initiation, and the lack of a viable backup -- was/is the most crucial personnel component to Carolina's style, identity and ultimately success.
Which got us thinking: Who is everyone else's Marshall? Who's the most indispensable player on each of the Sweet 16 rosters, the one each team could least afford to lose? Well, we're glad you (OK, we) asked. Here's what we came up with:
South Region
No. 1 Kentucky: Anthony Davis, forward
-- No overthinking this one. Sure, there's an argument to be made for
Marquis Teague
, who appeared for much of the season to be Kentucky's lone potential weakness; Teague's two months of consistently increased success -- culminating in a brilliant performance in a rout of Iowa State -- have cast doubts about whether he could be easily replaced. But one can envision a scenario in which guard
Doron Lamb
, whose ballhandling is probably slightly underrated at this point, would be able to get UK into its offense. Coach John Calipari would find a way to make it work. Without Davis, the Cats lose a downright transcendent shot-blocking force and the source of countless easy baskets on the other end of the floor, the type of player who opposing coaches frequently say "changes the game." It's Davis, and it's hard to find the counterintuitive argument here.
No. 3 Baylor: Quincy Acy, forward
-- While not the most talented big man in Baylor's lineup, Acy's absence would irreparably harm the Bears for two obvious reasons: He scores easy buckets in the low block, and he rebounds.
Perry Jones III
does some of these same things, too, but hardly to the level Acy does (and not nearly as consistently), and the Bears -- a very good offensive rebounding team that struggles on the defensive glass -- would not be nearly as good on offense were Acy not around to clean up so many misses.
No. 4 Indiana: Cody Zeller, forward
-- Again, no use in overthinking this. Zeller is by far IU's leader in offensive efficiency and rebounding, and he has changed the way the Hoosiers -- who were immensely foul-prone the past three years under Tom Crean -- guard the rim and chase down misses. Plus, without him, Indiana's big man rotation would consist of
Tom Pritchard
and
Derek Elston
. We've seen that movie before. It was not critically acclaimed.
No. 10 Xavier: Kenny Frease, center
-- Sticking with the all-big-men theme here, Frease is the most indispensable player because Xavier really doesn't have another guy who can do what he does, primarily on the glass. If star guard
Tu Holloway
went missing, the Musketeers would certainly lack for offensive creativity, but they'd have another talented (if mercurial) guard in
Mark Lyons
, who would no doubt be more than willing to hoist a few extra shots. Without Frease, Chris Mack's team would be in no-man's-land on the low block.
West Region
No. 1 Michigan State: Draymond Green, forward
-- When you do this much for your team, your membership on this list requires no explanation. Really, it's not even close.
No. 3 Marquette: Darius Johnson-Odom, guard
--
Jae Crowder
's breakout senior season has been a huge factor in this team's success, no doubt about it. But DJO's relentless, attacking, bruising style -- not to mention his all-court game, his lockdown perimeter defense and his ability to go end-to-end on the fast break both with rim finishes and pull-up jumpers -- gives this Marquette team its hard-won identity.
No. 4 Louisville: Gorgui Dieng, forward
-- I promise, this list isn't all forwards. The obvious answer here is
Peyton Siva
, but the Cardinals already have a pretty willing on-ball defender and shot-happy penetrator in guard
Russ Smith
, while Dieng -- a crazy-lanky shot-blocker, rebounder and defensive anchor -- has keyed so much of the Cards' No. 2-ranked per-possession defense this season.
No. 7 Florida: Kenny Boynton, guard
-- The original temptation was to go with another big man, in this case
Patric Young
, but let's be real: The Gators don't use their frontcourt on offense anyway. Which is why Boynton's ability not only to take a lot of long-range jumpers but actually make them at a high rate is so important. That isn't always the case with the rest of this backcourt. Plus, Boynton -- with the possible exception of
Bradley Beal
-- happens to be Florida's most creative scorer off the dribble, one of the Gators' few players who can do more than chuck long-range shots to fuel this high-powered offense.
[+] Enlarge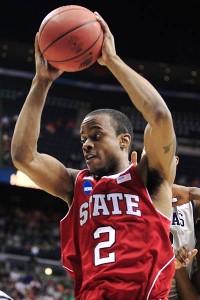 Tony Dejak/AP PhotoLorenzo Brown and NC State will be facing high expectations this upcoming season.
Midwest Region
No. 1 North Carolina: Kendall Marshall, guard
-- By now, you get the idea.
No. 2 Kansas: Tyshawn Taylor, guard
-- The obvious choice is
Thomas Robinson
and, you know, duh: Dude's a national player of the year candidate for a reason. But at this stage of the season, Kansas' ability to win a national title rests in large part on Taylor's play at the point guard spot. If he is on -- attacking the rim and finding teammates without coughing up turnovers -- he's truly the biggest X factor on Bill Self's team. If he's off, the Jayhawks turn to
Elijah Johnson
,
Travis Releford
and ...
Conner Teahan
? The defense rests.
No. 11 North Carolina State: Lorenzo Brown, guard
--
C.J. Leslie
has blossomed into this team's most impressive player, but its point guard deserves as much if not more credit for the unlikely late-season Sweet 16 run this Wolfpack team has somehow managed to piece together. On a team with no tournament experience and plenty of young players, Brown's calming influence on the ball is a major asset.
No. 13 Ohio: D.J. Cooper, guard
-- Cooper demonstrated his worth with huge shots down the stretch against a South Florida team that prides itself on disallowing exactly the kind of offensive display Cooper generated. For a team with the No. 2-ranked opponents' turnover percentage in the country, Cooper's 4.3 percent steals rate (the 22nd-ranked individual mark in the country) truly makes it go.
East Region
No. 1 Syracuse: C.J. Fair, forward
-- It's hard to pick from Syracuse's still-stacked-minus-Fab lineup, but Fair gets the nod. With all due respect to
Scoop Jardine
,
Dion Waiters
,
Kris Joseph
and
Brandon Triche
, the Orange wouldn't exactly hurt for scoring guards were one of them to suffer an injury. If Fair went down, Jim Boeheim would lose his last truly effective big man, and the only viable interior option this side of
Rakeem Christmas
and
Baye Keita
.
No. 2 Ohio State: William Buford, guard
-- This is a bit of a tricky one, because there's simply no replacing
Jared Sullinger
's interior prowess or
Aaron Craft
's incredible perimeter defense. But if OSU is truly a national title threat -- and it looks the part thus far -- that's because Buford, who struggled with his shot in nearly every Ohio State loss this season, isn't cashing in from the perimeter. Having Buford as a go-to option on the outside only aids Sullinger's load and takes as much pressure off Craft and the rest of the Buckeyes as possible. The senior has to score efficiently for this team to make a run. Simple as that.
No. 4 Wisconsin: Jordan Taylor, guard
-- Again: No overthinking required, no explanation needed. May a resounding
duh
ring forth across the land.
No. 6 Cincinnati: Yancy Gates, forward
-- With all due respect to
Sean Kilpatrick
, who has quietly become one of the stars of the tournament, the Bearcats would be a team full of guards with no interior punch (sorry) were it not for the indomitable Gates. Losing Kilpatrick would be a major blow, but lineup and skill-set facsimiles abound. Not so with Gates. He's crucial.