North Carolina Tar Heels:

SEC
December, 14, 2013
12/14/13
11:22
PM ET
CHAPEL HILL, N.C. -- North Carolina coach Roy Williams refused to acknowledge it.
But he didn't have to.
The signs were all there in Carolina's
82-77 victory
against No. 11 Kentucky.
The No. 18 Tar Heels have figured things out. They're no longer a team struggling in new roles because they were stretched outside of their collective comfort zones.
They've settled down now to the point where saying Carolina is playing short-handed even seems like a misnomer.
P.J. Hairston
and
Leslie McDonald
didn't dress for the ninth time this season, and it didn't seem to matter.
[+] Enlarge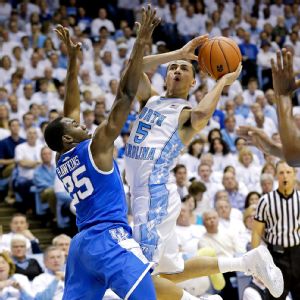 AP Photo/Gerry BroomeMarcus Paige has come a long way from his pass-first days as a freshman last season.
"I don't know if we've figured it out like we're clicking like no other right now, but guys do understand their roles better," sophomore guard
Marcus Paige
said. "We know that we're going to have to play without them until they're ruled eligible or whatever. We've just decided that this is our squad that we're rolling with for the time being."
The Heels have plenty of flaws. Paige is their only consistent 3-point shooter. They're atrocious from the free throw line. They haven't had anyone claim the center spot. But they have learned what their strengths are.
Paige is the face of the successful transitions. As a freshman last season, he was asked only to be a distributor at point guard. With Hairston out, he has moved to shooting guard and has become the Heels' leading scorer.
Early in the season, it wasn't natural for Paige to hunt for his own shot. It's safe to say he has learned now, scoring 21 of his game-high 23 points in the second half and shooting 6-of-8 from the floor.
One of his biggest baskets of the game came while going right at UK center
Willie Cauley-Stein
, who had five blocked shots. Paige completed a teardrop over the 7-footer's outstretched arm to give Carolina a 70-65 lead with 1 minute, 41 seconds left, which kept it at least a two-possession lead until 7 seconds remained.
"He made two unbelievable shots," Williams said. "That little floater on the baseline -- I'm always kiddingly harping on, I don't like floaters until you show me you can make them, and he's coming pretty doggone close."
Junior
James Michael McAdoo
is coming close to erasing worries at small forward. His transition from power forward to reserve duty at the 3 had made him pretty ineffective offensively. He had a four-game stretch in which he didn't reach double figures in scoring and shot just 29.2 percent from the floor.
McAdoo played arguably his best game of the season with 20 points, 5 rebounds and 4 assists. He has put up bigger numbers against lesser competition, but his performance caused Wildcats coach John Calipari to say, "McAdoo made a statement."
"Games like today are huge; it feels a lot better," McAdoo said. "If we would have won and I had zero points, zero rebounds, I'd still be happy, but as a human being I want to be able to contribute to the team."
McAdoo got the ball in positions where he could score. Over and over he'd take passes from the wing and aggressively drive to the basket. That led to fouls and was the reason he tied his season high with 19 free throw attempts.
UK forward
James Young
said McAdoo's offensive outburst took him a bit by surprise, given his recent struggles.
"In the second half, I played most, if not all, my minutes at the 3," McAdoo said. "To be able to log those minutes, it's definitely huge, not only personally, but for the team moving forward."
[+] Enlarge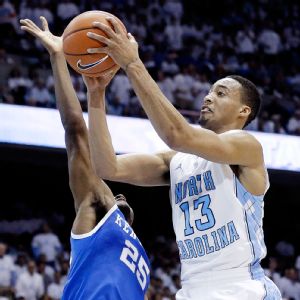 AP Photo/Gerry BroomeJ.P. Tokoto has adapted well to playing more minutes and playing more as a shooting guard.
J.P. Tokoto
teamed with McAdoo to carry the Heels in the first half, with 11 of his 15 points. Tokoto eased into playing more at shooting guard, which, along with McAdoo at small forward, has allowed the Heels to play a bigger lineup, usually with
Brice Johnson
and
Kennedy Meeks
rounding out the five.
"Guys are accepting the challenge of stepping up and producing when they get the chance," Paige said. "J.P.'s playing a lot more minutes this year as a starter, and he's really producing. It's cool to see our team grow and accept the fact that we're going to have to all step up as a group."
Williams was concerned about how Carolina would perform against the Wildcats after a lackluster practice Friday. It was just the second full practice of the week due to final exams changing players' schedules.
Passes floated to areas with no one waiting to receive them. Man-to-man defensive assignments were missed, and their focus was distant. It was the complete opposite of their practice before the Michigan State game.
Freshman guard
Nate Britt
attributed it to players coming off the mental fatigue of final exams.
"Coach might have been worried, because he felt like the intensity wasn't there," Britt said. "But I feel like the players, we were fine mentally coming into the game."
Isn't that a sign of a good team?
Williams still says the Tar Heels have a ways to go. But after beating their third ranked team this season -- and shooting a combined 55.1 percent in the second half of those three games -- he has to be flashing a Cheshire grin.
"We're such a young group, and sometimes an immature group," Williams said. "You don't want to get them too fat and happy."
December, 13, 2013
12/13/13
10:00
AM ET
In last week's predictions
, I "called" Baylor over Kentucky, but I missed Missouri over UCLA and Colorado over Kansas.
It happens. It will continue to happen, I'm sure. I'll get a few right (maybe) and I'll miss some. Either way, you all will let me know.
There are a variety of must-see matchups this weekend. Let's see how many games I can pick correctly in a new round of weekend predictions.
Last week: 3-2
Overall: 3-2
Friday


No. 23 Iowa at No. 17 Iowa State, 9:30 p.m. ET, ESPNU:
There will be fireworks in Ames on Friday night. Iowa State averages 91.7 points per game (the NCAA's No. 1 scoring offense) and Iowa averages 89.5 (No. 6). This is only the second time that both teams have been ranked during the rivalry's history. Both teams can obviously push the tempo. But I think the game will be decided at the 3-point line. Iowa State coach Fred Hoiberg's offense is built on the 3-ball (five Cyclones shoot 38 percent or better from beyond the arc). But Iowa's 6-foot-6 wing
Roy Devyn Marble
& Co. have held opponents to a 26 percent clip from the 3-point line this year. I think this will be a tight game. But I expect Iowa's length, depth and ability to defend the 3-point to be the difference Friday night.
Prediction: Iowa 98, Iowa State 97 (OT)
Saturday


No. 1 Arizona at Michigan, noon ET, CBS:
I think we'll see the best Michigan performance of the year Saturday. The Wolverines will be home and they're due for an upset. But it still won't be enough. This is just a terrible matchup for Michigan. I think there's definitely a chance the Wolverines could get hot from beyond the arc (38.6 percent). But there are so many mismatches against an Arizona team that's eighth in offensive rebounding percentage per Ken Pomeroy and boasts (arguably) America's best frontcourt with
Aaron Gordon
,
Kaleb Tarczewski
,
Brandon Ashley
and
Rondae Hollis-Jefferson
. The Wildcats have held opponents to just 58.0 PPG and a 27.2 percent mark from the 3-point line. That's a problem for Michigan, even though it's hosting Arizona.
Prediction: Arizona 73, Michigan 67


No. 11 Kentucky at No. 18 North Carolina, 5:15 p.m. ET, ESPN:
Probably the best game of the weekend. I hope. You really don't know what you'll get from North Carolina. The Tar Heels have lost to UAB and Belmont and they've defeated Michigan State and Louisville. So recent history suggests that they'll be ready for Kentucky, which will play its first true road game of the season, because this is another big game. Kentucky's
Julius Randle
had eight turnovers in his team's loss to Michigan State last month. He's averaging 3.5 TPG. That's significant because he's such an offensive catalyst for the Wildcats. And North Carolina has the length to frustrate him and force him into mistakes.
Marcus Paige
will help the Tar Heels harass
Andrew Harrison
. North Carolina has already defeated two teams that are playing better basketball than Kentucky is right now. The Tar Heels will get another big win on Saturday in Chapel Hill.
Prediction: North Carolina 81, Kentucky 78


Tennessee at No. 12 Wichita State, 2 p.m. ET, ESPN2:
Last season, the Vols topped the Shockers 69-60 in Knoxville. But Tennessee has struggled in the first few weeks of the 2013-14 season. Cuonzo Martin has utilized some young players and re-inserted
Jeronne Maymon
into his rotation after the forward missed last season with a knee injury. The Vols have won three in a row and Maymon is gradually regaining his pre-injury form (15-for-20 in his last three games). But Wichita State is still riding the wave that was created in last year's Final Four run. And this Shockers team might be even better than last season's crew. Fred VanVleet is one of America's top point guards and a healthy
Ron Baker
has emerged as a star (15.3 PPG). The Shockers recently held BYU (90.8 PPG) to a season-low 62 points. That defense will be tough for Tennessee to overcome.
Prediction: Wichita State 75, Tennessee 67


New Mexico vs. No. 13 Kansas (Kansas City), 7 p.m. ET, ESPN2:
Kansas suffered its third loss in four games Tuesday when it faced Florida in Gainesville. Saturday's matchup against New Mexico will be Kansas' sixth consecutive matchup outside Lawrence, Kan. The road has not been kind to Kansas thus far. The Jayhawks had a lot of issues against the Gators. But they showed some fight down the stretch. They'll have to fight for 40 minutes, however, to beat Mountain West contender New Mexico. The Lobos have a potent trio of
Cameron Bairstow
,
Kendall Williams
and
Alex Kirk
. But they're facing a wounded animal. Kansas is desperate for a win. And the Jayhawks have the size, skill and athleticism to end this slide.
Prediction: Kansas 78, New Mexico 74
December, 12, 2013
12/12/13
10:00
AM ET
After a one-year hiatus, North Carolina and Kentucky renew their rivalry in Chapel Hill on Saturday.
Ol' Roy versus coach Cal.
One embraces the past. One constantly chases the future. They do things differently, but their contrasting philosophies often end with the same results.
[+] Enlarge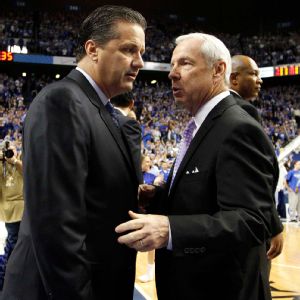 Mark Zerof/USA TODAY SportsJohn Calipari and Roy Williams have had similar up-and-down seasons so far this year.
Since the 2008 season, North Carolina's Roy Williams and Kentucky's John Calipari have won a national title and coached in two Final Fours. Williams also has reached two Elite Eights to Calipari's one during that span, but UK ended the Heels' season in the 2011 Elite Eight. (Both also finished at least one humbling season in the NIT.)
The Tar Heels, who lead the all-time series 22-13, have a "White Out" promotion planned. Williams is too old school to go along with the theme by wearing a white suit. But that doesn't mean he's outdated.
Perhaps that's what provoked UNC assistant coach C.B. McGrath, filling in on Williams' radio show Monday, to go on a rant reminding listeners of Williams' achievements at Carolina.
"Coach obviously has done a great job, with Twitter and this kind of stuff now, it's all about self-promotion," McGrath said. "Coach doesn't have a Twitter account, he's not going to brag about himself."
Never mind that Calipari has his own website and Twitter account while Williams would like to retire never knowing what it's like to maintain either. Or that Williams once starred on his high school square dance team while Calipari once welcomed Jay Z into his locker room. Or even that Calipari's rosters tend to turn over from the exodus of players to the pros while Williams likes to add pieces each year to build a contender. When the teams meet at 5 p.m. ET in the Dean E. Smith Center, it's not a matchup of whose style is right and whose is wrong.
Williams and Calipari will have more in common than many realize. The Heels and Wildcats have both been a bit unpredictable this season.
Carolina players are still adapting to playing without
P.J. Hairston
and
Leslie McDonald
, who are still awaiting word on their eligibility. Their highs have included wins over Louisville and Michigan State, but their lows came in losses to Belmont and UAB.
UK assembled arguably the best freshman class in history, but relying on freshmen -- no matter how talented -- comes with some inconsistency. Earlier in the week Calipari said his team was so young, he had to teach them how to huddle. The Cats' losses were to ranked teams in Michigan State and Baylor, but they've still struggled to find their groove.
The team that wins Saturday will be one step closer to finding it.
October, 30, 2013
10/30/13
10:00
AM ET
After cops found cocaine and marijuana in a car that
Marshall Henderson
was driving over the summer, Ole Miss fans feared the worst for the SEC star. Andy Kennedy had previously announced an indefinite suspension for the troubled standout who'd been reprimanded for a variety of antics since his arrival last season.
On Tuesday, Ole Miss threw the book at Henderson.
A three-game suspension for incidents
in the postseason and his behavior late last season -- a penalty that will cost Henderson the team's first two SEC games.
The opponents in those league matchups? Auburn and Mississippi State.
[+] Enlarge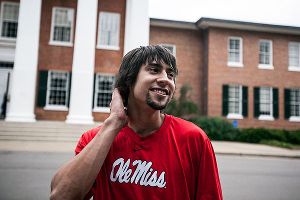 Benjamin Lowy for ESPNAfter a lot of talk about punishing Marshall Henderson, it seems as if the oft-troubled guard got off light with his suspension.
Harsh, I know.
But it's typical.
Throughout the offseason, there has been more smoke than fire with regard to possible suspensions of significant players. The punishments will ultimately prove to be meaningless because players involved probably won't miss a significant chunk of the season or contests that will matter much on Selection Sunday.
In July, North Carolina's
P.J. Hairston
was cited for reckless driving weeks after an arrest for marijuana possession and driving without a license. Roy Williams promised "serious consequences" after Hairston
was suspended indefinitely
following his July citation. But Hairston will return.
He was the star of
North Carolina's "Late Night with Roy" preseason event
last week. During the team's media day earlier this month, Williams told reporters that he's still undecided on Hairston's punishment but earlier reports confirmed that he will play at some point in 2013-14.
"He's been assigned some things that he has to do," Williams told reporters. "He's achieved some of those already -- he's got some more -- and I promise everybody we're not going to go in on game night and say, 'Oh yeah, P.J., you're not playing tonight.' We'll make an announcement before that, but right now he's still going through the process, we're going through the process and we'll wait and see what happens."
Got it.
Rick Pitino seemed furious at Louisville standout
Chane Behanan
when he recently announced that the forward had been suspended indefinitely and
that the earliest he'd return would be early December
. He also said that it was "not probable" that the junior would rejoin the defending national champions. That was mid-October. About a week later, Pitino announced that Behanan
would return "in a short period of time."
Oh.
Purdue's
A.J. Hammons
, a Big Ten player of the year candidate, will miss two exhibitions and the season opener against Northern Kentucky
due to a suspension for misconduct
. Florida's
Scottie Wilbekin
was suspended for the second time in seven months in June, but
he's back practicing with the Gators
.
A memo to the mischievous: If you're going to mess up, do it during the offseason.
Offseason problems give college coaches the ability to chastise players privately because there are no games for them to miss and there's less overall chatter about the sport. The timing of the issues allows them to reprimand players without putting them in situations that require them to miss meaningful games. And they can shroud the entire process under the "rules violation" and "internal punishment" tags.
The players involved in some of the offseason's high-profile mischief haven't necessarily escaped punishment.
Perhaps Hairston has to run to Charlotte every week and Behanan has to do pushups outside the KFC YUM! Center with the national championship trophy on his back to make amends.
We'll most likely never know the extent of the chastisement for them or other players in similar situations.
But they've avoided predicaments that would have potentially forced them to miss significant matchups had their challenges occurred in the middle of the season.
The offseason fuss has exceeded the actual aforementioned penalties thus far -- although we're still not clear on the fate of Behanan and Hairston.
Overall, it seems as though the punishments won't do a lot of damage to the programs that have disciplined key players.
Missing time against the Northern Kentuckys of the college basketball world is trivial.
The suspensions all warranted headlines when they were announced. But come March, we'll barely remember them if the players return and thrive during the season without creating additional drama.
Seems to work out for everyone involved.
October, 16, 2013
10/16/13
3:31
PM ET
By
ESPN.com staff
| ESPN.com
The college basketball regular season begins in just three weeks, and Wednesday marks the unofficial tipoff for four conferences holding their annual media day.
Our reporters are in place and ready to bring you the latest, so keep this page open throughout the day as we bring you tweets, quotes, pictures and more from Charlotte (ACC), Memphis (American Athletic), New York (Big East) and Hoover, Ala. (SEC).
January, 23, 2013
1/23/13
2:06
PM ET
By
Jeremy Lundblad, ESPN Stats & Information
| ESPN.com
On Wednesday at Miami (7 ET on ESPN),
Seth Curry
needs 12 points for the Curry brothers to pass Larry and Eddie Bird for the second-most by a pair of brothers in Division I history.
Barring injury, the Curry brothers should pass the Hansbroughs in February for the most ever.
Below is one man's opinion on the top 10 pairs of brothers to play college basketball. Just missing the list? Tyler and
Cody Zeller
.
10. Dominique and Gerald Wilkins
Both Wilkins brothers were more successful NBA players, but that shouldn't diminish what they accomplished in the college ranks. Dominique is arguably the best player in Georgia history, and its only player to win SEC Player of the Year. Younger brother Gerald helped guide Chattanooga to the NCAA Tournament in his first season, and his 21.0 points per game as a senior is the highest in school history.
9. Tom and Dick Van Arsdale
The most accomplished twins to ever play basketball, it wasn't just looks that made the two difficult to distinguish. Tom averaged 17.4 points and 10.0 rebounds in his three seasons at Indiana, while Dick averaged 17.2 points and 10.0 rebounds.
8. Chuck and Wesley Person
Only three players in Auburn history have scored 2,000 points. Two of them were brothers. Chuck is the school's all-time leader with 2,311 points, while Wesley is third at 2,066. While both were elite at Auburn, it's worth noting that neither won SEC Player of the Year.
7. Mark and Brent Price
At a school famous for producing guards, no one had a better career at Georgia Tech than Mark Price. He was the first freshman to lead the ACC in scoring, and was the Yellow Jackets' leading scorer in all four seasons. Brent Price split his college career between South Carolina and Oklahoma. He was an All-Big Eight selection as senior, once scoring 56 points in a game.
6. George and Ed Mikan
Named of ESPN's 25 greatest college basketball players in 2008, George Mikan helped revolutionize the game with his height. A two-time national player of the year, he led DePaul to the NIT title in 1945, averaging 40.0 PPG in that tournament. A year younger, Ed was also a member of that championship team. He also went on to become a member of DePaul's Hall of Fame and play in the NBA.
5. Ed and Charles O'Bannon
The O'Bannon brothers combined to bring UCLA a national title in 1995. Ed won the Wooden Award that year, as well as the Most Outstanding Player of the tournament. Charles was an All-Pac-10 selection in each of the two years after Ed left, making it five consecutive years than an O'Bannon was so honored.
4. Larry and Eddie Bird
No two brothers have scored more points at the same school. Larry Bird requires no introduction. Over three seasons at Indiana State, he averaged 30.3 PPG and 13.3 RPG. In 2008, ESPN's panel of experts named him the ninth-greatest college player of all-time. But did you know he had a brother? Eddie Bird came to Indiana State a decade later and averaged double figures in all four seasons with the Sycamores. He's still sixth on their all-time scoring list.
3. Stephen and Seth Curry
Barring injury, the Curry brothers will be the highest-scoring duo of brothers in Division I history. Older brother Stephen led Davidson to the Elite Eight as a sophomore and finished as the school's all-time leading scorer despite playing for only three years. In fact, only five players have scored more total points in a three-year college career. Seth's career at Duke isn't nearly as prolific, but the senior captain could help lead the Blue Devils to a national title.
2. Bernard and Albert King
The best player in Tennessee history, Bernard King won SEC Player of the Year in all three seasons in Knoxville. He averaged more than 25 PPG in all three seasons. Overshadowed by his older brother, Albert was certainly no slouch. He averaged in double figures in all four seasons at Maryland and is the fourth-leading scorer in school history. Albert garnered ACC Player of the Year honors as a junior.
1. Tyler and Ben Hansbrough
No pair of brothers has scored more combined points than the 4,485 from the Hansbroughs. Tyler Hansbrough finished his North Carolina career as the ACC's all-time leading scorer (2,872 points) and eighth all-time with 1,219 rebounds. One of only five players with 2,800 points and 1,200 rebounds, it's no stretch to call him one of the greatest college basketball players of all time. But younger brother Ben was no slouch. In 2011, he averaged 18.4 PPG at Notre Dame and was named Big East Player of the Year.
Honorable Mention
George and Derrick Gervin, Horace and Harvey Grant, Blake and Taylor Griffin, Brook and Robin Lopez, Jay and Sam Vincent, Gus and Ray Williams, Cody and Tyler Zeller.
November, 19, 2012
11/19/12
9:35
AM ET
This year marks the 30th anniversary of the game that tiny Chaminade (then an NAIA school) upset Ralph Sampson's top-ranked Virginia team on Dec. 23, 1982 -- leading to the creation of the Maui Classic (now EA Sports Maui Invitational). Because there are plenty of teams in the field with plenty of question marks and plenty to prove, there may be plenty of room for an upset or two this season.
The basics:
Nov. 19-21 at Lahaina Civic Center in Maui, Hawaii
The set matchups:
Monday -- Butler vs. Marquette, 3:30 p.m. ET; Mississippi State vs. UNC, 6 p.m.; Texas vs. Chaminade, 9:30 p.m.; USC vs. Illinois, midnight. (Consolation games and semifinals on Tuesday; consolation games and championship game Wednesday.)
The favorite:
North Carolina.
Although the 11th-ranked Tar Heels are still getting their bearings after losing four starters from last season's Elite Eight team, they've got some talented pieces to meld together, beginning with sophomore forward
James Michael McAdoo
and junior wing
Reggie Bullock
. This three-day tournament will be an important test, though, for UNC's ballhandling (freshman
Marcus Paige
is the starter), scoring (it has struggled in stretches) and confidence. If any falter, so could the Heels.
FIVE PLAYERS TO WATCH
Javan Felix, Texas
-- With
Myck Kabongo
sidelined (see below), the point guard is one of three freshmen to start for the Longhorns. He's struggled with his shooting over two games (5-for-18), but even more worrisome is that he's struggled to hold on to the ball. He recorded 11 turnovers to go with 10 assists in wins over Coppin State and Fresno State, and he'll need to be more efficient this week.
Trent Lockett, Marquette
-- The former Arizona State forward transferred to be closer to his ill mother and adds a scoring threat to a team that lost last season's leading scorers, Darius Johnson-Odom and Jae Crowder. After averaging 13 points and 5.8 rebounds for the Sun Devils last season, he's averaged 7.5 points and 4.5 rebounds this season.
[+] Enlarge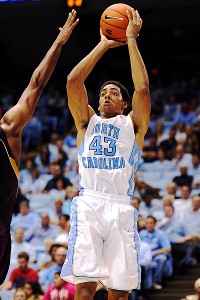 Cal Sport Media via AP ImagesJames Michael McAdoo has been the leading scorer and rebounder for the Tar Heels in each of their games so far.
James Michael McAdoo, UNC
-- Everyone wondered whether the sophomore could consistently pick up where he left off in March -- and he has. The forward has been both confident and focused, and is leading the Tar Heels with 21.3 points and 11 rebounds per game over their first three wins. With his team's inexperience in the post, he'll need to continue to come up big for UNC to be successful.
Omar Oraby, USC
-- The 7-foot-2, 260-pound transfer from Rice was granted an NCAA hardship waiver to play this season just before the regular-season opener, and he has taken advantage of the opportunity. He averaged 10.5 points, 6.5 rebounds and 1.5 blocks off the bench in the Trojans' two wins and should be a physical post challenge for foes in this tournament.
D.J. Richardson, Illinois
-- The senior guard capped a 16-point rally with a buzzer-beating 3-pointer in overtime to top Hawaii 78-77 in the wee hours of Saturday morning. You might not have seen the play, considering the late timing. But the team's leading rebounder (5.7 per game) and third-leading scorer (11.0) needs to keep coming up big for the Illini to stay in the winner's bracket.
FIVE BIG QUESTIONS
Will Myck Kabongo do anything more than watch?
Texas' sophomore point guard was allowed to travel with the team to Hawaii, but he has not been cleared to play as the NCAA continues to investigate him for possibly receiving impermissible benefits during the offseason. His status could be a difference-maker in this tournament.
Will Butler start connecting from the outside?
Arkansas transfer
Rotnei Clarke
and freshman
Kellen Dunham
were supposed to help fix Butler's outside shooting woes from a year ago, when the Bulldogs shot worse than 30 percent from beyond the 3-point arc. But the duo are a combined 10-for-28 in two games (including 2-for-10 in a 15-point loss to Xavier) on 3-pointers, and the Bulldogs are shooting only 31 percent from long distance.
Can Mississippi State stay healthy?
It needs to, because the Bulldogs have only six healthy scholarship players with which to play three games in three days. Junior guard
Jalen Steele
, who recorded 16 points in MSU's season-opening loss, broke his wrist in the team's win over Florida Atlantic. The Bulldogs also suspended forward
Colin Borchert
last week for violating team rules, and freshmen
Jacoby Davis
and DeAndre Applewhite are also out for the season with knee injuries.
Can UNC keep its shooting sharp?
The Tar Heels, who need outside shooting to be a strength, finally started hitting from the outside during Friday night's win at Long Beach State, making 10 of 27 3-pointers, including six during a pivotal 23-7 second-half run. That was after beginning the season by making only a combined 7 of 27 3-point shots in their first two games. Wings Reggie Bullock,
P.J. Hairston
and
Leslie McDonald
need to keep connecting.
Will Chaminade pull another upset?
Probably not. But on the 30th anniversary, it's fun to wonder whether the now-Division II school could do it again ....
THE PICKS
Opening games: Marquette over Butler, UNC over Mississippi State, Texas over Chaminade, Illinois over USC
Semifinals: UNC over Marquette, Texas over Illinois
Championship game: UNC over Texas
July, 26, 2012
7/26/12
12:36
PM ET
Tournament bracket
for the EA SPORTS Maui Invitational
When and where:
Nov. 19-21 at Lahaina Civic Center in Maui, Hawaii
Initial thoughts:
This year marks the 30th anniversary of what many consider the greatest upset in college basketball history -- when tiny Chaminade, then an NAIA school, upset Ralph Sampson's top-ranked Virginia team on Dec. 23, 1982. The stunning upset (in what was supposed to be an easy stopover game for the Cavaliers, on their way home from Tokyo) spurred creation of the Maui Classic, now known as the EA Sports Maui Invitational. Chaminade, now a Division II school, still serves as host, and it will be interesting to see if there is a surprise or two this season. After all, North Carolina will still be rejiggering its lineup after losing four starters to the NBA draft; Texas has to figure out how to replace J'Covan Brown's 20.1 ppg; and Marquette will still be looking to see which members of last season's supporting cast will step up and stand out without
Jae Crowder
and
Darius Johnson-Odom
.
[+] Enlarge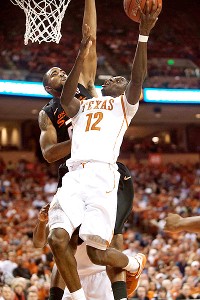 Brendan Maloney/US PresswireSophomore point guard Myck Kabongo will direct a talented group of freshmen at Texas.
Meanwhile, Illinois (John Groce) and Mississippi State (Rick Ray) will be breaking in new coaches; USC's Kevin O'Neill will be melding a passel of new players (including a couple of transfers and a couple of guys sidelined by injuries last season); and Butler will be trying to prove it can shoot the ball a whole lot better than 2011-12 (28 percent on 3-pointers). Chaminade, by the way, holds an all-time record of 6-76 in this tournament.
Matchup I can't wait to see:
Illinois-USC could be interesting just because everything is so new. After losing 12 of its final 14 games, Illinois fired Bruce Weber and replaced him with Groce, who led Ohio to the Sweet 16 in March. USC is also coming off a bad season, having won only one conference game. But a couple of transfers from Wake Forest (Ari Stewart and
J.T. Terrell
) and a high-scoring forward from UC Irvine (Eric Wise), plus the return of point guard
Jio Fontan
and center Dewayne Dedmon from knee injuries, have folks wondering if the Trojans can bounce back all the way to March.
Potential matchup I'd like to see:
UNC-Texas. Granted, these two are scheduled to play in Austin on Dec. 19, but why not a preview in paradise? The title game would feature a bunch of rookie big men --
Joel James
and
Brice Johnson
for UNC;
Cameron Ridley
,
Prince Ibeh
and
Connor Lammert
for Texas -- with a chance to make a big impact.
Five players to watch
Vander Blue, Marquette:
It's hard to get a whole lot of attention when you're in a starting lineup with guys like Jae Crowder and Darius Johnson-Odom. But now that they've gone to the NBA, the Golden Eagles need the junior to improve upon his 8.4 points and 4.4 rebounds from last season.
Rotnei Clarke, Butler:
The Bulldogs are hoping the senior guard -- who sat out last season per NCAA transfer rules -- will add some accuracy from outside. He averaged 15.2 points and made 43.8 percent of his 3-pointers during his junior season at Arkansas before opting out. Butler made fewer than 30 percent of its 3-point shots last season.
Myck Kabongo, Texas:
The Longhorns bring in a deep recruiting class, led by heralded center Cameron Ridley. But they'll need Kabongo, a sophomore point guard, to get him the ball. And to be a strong leader to the newbies.
Marcus Paige, North Carolina:
Whether the freshman point guard begins the season as a starter probably depends on how well senior
Dexter Strickland
has recuperated from February ACL surgery. Either way, the Iowa product (who also had foot surgery during the offseason) will be counted on to contribute quickly. And a lot.
J.T. Terrell, USC:
Trojans coach Kevin O'Neill is excited about the addition of Terrell, and the 6-3 guard will get a chance to show why. He averaged 11.1 points and 1.6 assists at Wake Forest in 2010-11, but played at Peninsula College in Washington last season. Terrell withdrew from Wake after he was arrested last September and charged with driving while impaired.
Title-game prediction
North Carolina over Texas. The Tar Heels preceded their last two national championships by winning the Maui Invitational. And although they don't have that caliber of a team this season, they do have some talented returning veterans (Dexter Strickland,
Leslie McDonald
,
Reggie Bullock
) already out to prove they are being overlooked.
Who others are picking:
Eamonn Brennan:
Butler over Texas
Andy Katz:
North Carolina over Texas
Jason King:
North Carolina over Texas
Myron Medcalf:
North Carolina over Texas
Dana O'Neil:
North Carolina over Texas
March, 21, 2012
3/21/12
12:15
PM ET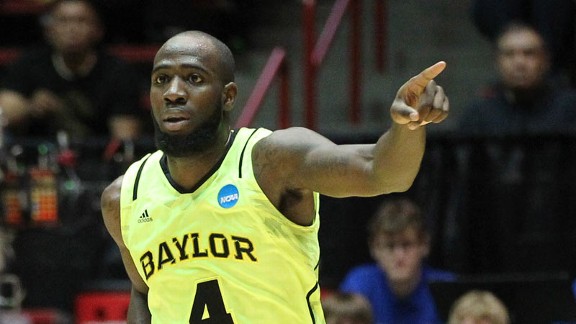 Nelson Chenault/US PresswireQuincy Acy's superior offensive skills help make him Baylor's most indispensable player.
When North Carolina guard
Kendall Marshall
fractured his wrist in Sunday's win against Creighton, it was momentarily easy to forget Marshall isn't the most talented or productive player on his team. There's
Tyler Zeller
and
Harrison Barnes
and
John Henson
, and that's just for starters. So why is losing Marshall such a big deal?
Because he is, without question, UNC's
most important
player. The most efficient? No. The most gifted? Probably not. But there's little question Marshall -- with his visionary, table-setting passing (second nationally in assists), intelligent tempo management and offensive initiation, and the lack of a viable backup -- was/is the most crucial personnel component to Carolina's style, identity and ultimately success.
Which got us thinking: Who is everyone else's Marshall? Who's the most indispensable player on each of the Sweet 16 rosters, the one each team could least afford to lose? Well, we're glad you (OK, we) asked. Here's what we came up with:
South Region
No. 1 Kentucky: Anthony Davis, forward
-- No overthinking this one. Sure, there's an argument to be made for
Marquis Teague
, who appeared for much of the season to be Kentucky's lone potential weakness; Teague's two months of consistently increased success -- culminating in a brilliant performance in a rout of Iowa State -- have cast doubts about whether he could be easily replaced. But one can envision a scenario in which guard
Doron Lamb
, whose ballhandling is probably slightly underrated at this point, would be able to get UK into its offense. Coach John Calipari would find a way to make it work. Without Davis, the Cats lose a downright transcendent shot-blocking force and the source of countless easy baskets on the other end of the floor, the type of player who opposing coaches frequently say "changes the game." It's Davis, and it's hard to find the counterintuitive argument here.
No. 3 Baylor: Quincy Acy, forward
-- While not the most talented big man in Baylor's lineup, Acy's absence would irreparably harm the Bears for two obvious reasons: He scores easy buckets in the low block, and he rebounds.
Perry Jones III
does some of these same things, too, but hardly to the level Acy does (and not nearly as consistently), and the Bears -- a very good offensive rebounding team that struggles on the defensive glass -- would not be nearly as good on offense were Acy not around to clean up so many misses.
No. 4 Indiana: Cody Zeller, forward
-- Again, no use in overthinking this. Zeller is by far IU's leader in offensive efficiency and rebounding, and he has changed the way the Hoosiers -- who were immensely foul-prone the past three years under Tom Crean -- guard the rim and chase down misses. Plus, without him, Indiana's big man rotation would consist of
Tom Pritchard
and
Derek Elston
. We've seen that movie before. It was not critically acclaimed.
No. 10 Xavier: Kenny Frease, center
-- Sticking with the all-big-men theme here, Frease is the most indispensable player because Xavier really doesn't have another guy who can do what he does, primarily on the glass. If star guard
Tu Holloway
went missing, the Musketeers would certainly lack for offensive creativity, but they'd have another talented (if mercurial) guard in
Mark Lyons
, who would no doubt be more than willing to hoist a few extra shots. Without Frease, Chris Mack's team would be in no-man's-land on the low block.
West Region
No. 1 Michigan State: Draymond Green, forward
-- When you do this much for your team, your membership on this list requires no explanation. Really, it's not even close.
No. 3 Marquette: Darius Johnson-Odom, guard
--
Jae Crowder
's breakout senior season has been a huge factor in this team's success, no doubt about it. But DJO's relentless, attacking, bruising style -- not to mention his all-court game, his lockdown perimeter defense and his ability to go end-to-end on the fast break both with rim finishes and pull-up jumpers -- gives this Marquette team its hard-won identity.
No. 4 Louisville: Gorgui Dieng, forward
-- I promise, this list isn't all forwards. The obvious answer here is
Peyton Siva
, but the Cardinals already have a pretty willing on-ball defender and shot-happy penetrator in guard
Russ Smith
, while Dieng -- a crazy-lanky shot-blocker, rebounder and defensive anchor -- has keyed so much of the Cards' No. 2-ranked per-possession defense this season.
No. 7 Florida: Kenny Boynton, guard
-- The original temptation was to go with another big man, in this case
Patric Young
, but let's be real: The Gators don't use their frontcourt on offense anyway. Which is why Boynton's ability not only to take a lot of long-range jumpers but actually make them at a high rate is so important. That isn't always the case with the rest of this backcourt. Plus, Boynton -- with the possible exception of
Bradley Beal
-- happens to be Florida's most creative scorer off the dribble, one of the Gators' few players who can do more than chuck long-range shots to fuel this high-powered offense.
[+] Enlarge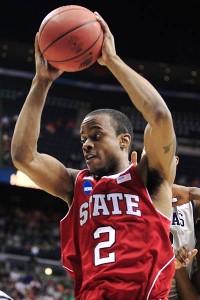 Tony Dejak/AP PhotoLorenzo Brown and NC State will be facing high expectations this upcoming season.
Midwest Region
No. 1 North Carolina: Kendall Marshall, guard
-- By now, you get the idea.
No. 2 Kansas: Tyshawn Taylor, guard
-- The obvious choice is
Thomas Robinson
and, you know, duh: Dude's a national player of the year candidate for a reason. But at this stage of the season, Kansas' ability to win a national title rests in large part on Taylor's play at the point guard spot. If he is on -- attacking the rim and finding teammates without coughing up turnovers -- he's truly the biggest X factor on Bill Self's team. If he's off, the Jayhawks turn to
Elijah Johnson
,
Travis Releford
and ...
Conner Teahan
? The defense rests.
No. 11 North Carolina State: Lorenzo Brown, guard
--
C.J. Leslie
has blossomed into this team's most impressive player, but its point guard deserves as much if not more credit for the unlikely late-season Sweet 16 run this Wolfpack team has somehow managed to piece together. On a team with no tournament experience and plenty of young players, Brown's calming influence on the ball is a major asset.
No. 13 Ohio: D.J. Cooper, guard
-- Cooper demonstrated his worth with huge shots down the stretch against a South Florida team that prides itself on disallowing exactly the kind of offensive display Cooper generated. For a team with the No. 2-ranked opponents' turnover percentage in the country, Cooper's 4.3 percent steals rate (the 22nd-ranked individual mark in the country) truly makes it go.
East Region
No. 1 Syracuse: C.J. Fair, forward
-- It's hard to pick from Syracuse's still-stacked-minus-Fab lineup, but Fair gets the nod. With all due respect to
Scoop Jardine
,
Dion Waiters
,
Kris Joseph
and
Brandon Triche
, the Orange wouldn't exactly hurt for scoring guards were one of them to suffer an injury. If Fair went down, Jim Boeheim would lose his last truly effective big man, and the only viable interior option this side of
Rakeem Christmas
and
Baye Keita
.
No. 2 Ohio State: William Buford, guard
-- This is a bit of a tricky one, because there's simply no replacing
Jared Sullinger
's interior prowess or
Aaron Craft
's incredible perimeter defense. But if OSU is truly a national title threat -- and it looks the part thus far -- that's because Buford, who struggled with his shot in nearly every Ohio State loss this season, isn't cashing in from the perimeter. Having Buford as a go-to option on the outside only aids Sullinger's load and takes as much pressure off Craft and the rest of the Buckeyes as possible. The senior has to score efficiently for this team to make a run. Simple as that.
No. 4 Wisconsin: Jordan Taylor, guard
-- Again: No overthinking required, no explanation needed. May a resounding
duh
ring forth across the land.
No. 6 Cincinnati: Yancy Gates, forward
-- With all due respect to
Sean Kilpatrick
, who has quietly become one of the stars of the tournament, the Bearcats would be a team full of guards with no interior punch (sorry) were it not for the indomitable Gates. Losing Kilpatrick would be a major blow, but lineup and skill-set facsimiles abound. Not so with Gates. He's crucial.
December, 3, 2011
12/03/11
3:00
PM ET
"Let's run that back."
At the gym, that's all it would take. Both teams would grab a drink of water, check the ball up top, and begin again.
Unfortunately, college basketball doesn't work that way. Alas, we won't get an immediate rematch of the thrilling 40 minutes to which we were just treated, a
game that ended as a 73-72 Kentucky win over North Carolina
when the clock expired (under questionable circumstances, which we'll get to in a second) in front of a bananas Rupp Arena crowd in Lexington, Ky. The best we can hope for is that these teams meet again in the spring, whether in the Final Four, or the national title game, or even -- who knows? -- maybe a little earlier.
Because make no mistake: If any game we've seen so far this season deserves a rematch, it's this one. Count the reasons:
According to Chad Ford's 2012 top 100 draft list, there were six prospective lottery picks and eight first-round choices on the floor at any given time Saturday afternoon.
It lived up to that talent, and all the hype that accompanied it -- no game this season has been played at such a high level and with such entertainment value to boot.
It ended in the strangest of ways. Marquis Teague was the beneficiary of a really soft foul call on UNC, which sent him to the line up 73-72 with 21 seconds left in the game. Teague missed the front end of the one-and-one. North Carolina set up a quick post entry to Tyler Zeller, who had it stripped in the paint. The ball flew into John Henson's hands on the baseline. With nine seconds left -- probably too early, but Henson seemed to have an open look -- the lanky forward shot a jumper ... which was spectacularly blocked by equally lanky UK freshman forward Anthony Davis. That's when things got really weird. Davis grabbed the ball and swallowed it up, and instead of fouling immediately -- there were about five seconds left when Davis was standing immobile with the ball -- the Tar Heels, seemingly shell-shocked, just left Davis alone. By the time UNC realized it had to foul, Davis had dumped the ball to Teague. The controversy didn't end there -- Teague traveled in celebration before the clock had expired. There was barely any time left, but by all rights, UNC should have had another possession.
Throw in the timeout UNC coach Roy Williams left on the board, which he could have taken at any time in UNC's final possession, and it's safe to say this game didn't end nearly as well as it was played. And it was still decided on the narrowest of margins.
Yeah, we
have
to see this one again.
The questions abound. What would this game look like on a neutral floor? Or in Chapel Hill? How will Kentucky's defense -- already the best unit in the country efficiency-wise but one that let UNC's shooters run free for the entire first half -- improve as the season goes along? Can
Harrison Barnes
(14 points on 5-of-12 for the field) score efficiently against defenses that can match his combination of size and perimeter proficiency? Can UNC figure out how to get the most out of its hot shooting reserve guards --
P.J. Hairston
and
Reggie Bullock
combined to shoot 5-of-9 from 3, and every shot felt like a big one -- without losing the defensive ability of starting guard
Dexter Strickland
?
This was a great win for Kentucky -- a great, great win -- in a tight and well-played Dec. 3 game. But it's only Dec. 3. There's no telling what this game might look like in the NCAA tournament.
It's too bad we have to wait that long. The good news? If Saturday is any indication, we can take solace in knowing at least one thing: This rematch is bound to happen. It may be March 31. It may be April 2. But it'll happen eventually.
If only we could run it back right now.
December, 3, 2011
12/03/11
2:44
PM ET
LEXINGTON, Ky. -- A few quick thoughts after Kentucky's thrilling
73-72 victory
over North Carolina on Saturday.


Overview
: Kentucky's
Anthony Davis
blocked
John Henson
's attempt at a game-winning field goal from the baseline with 5 seconds remaining in the top-ranked Wildcats' 73-72 victory over No. 5 North Carolina at Rupp Arena.
Michael Kidd-Gilchrist
had a game-high 17 points for UK, while
Harrison Barnes
and
Tyler Zeller
added 14 each for North Carolina, which led 60-56 with about 8 minutes remaining before losing the lead down the stretch. It was an epic game between two of the three winningest programs of all time and what certainly appear to be two of the three best teams in the country this season.
Turning point
: Trailing 60-56, Kentucky uncorked a 13-4 run late in the second half and never trailed again.
Doron Lamb
hit two huge 3-pointers in that span, the second of which stretched a 66-64 lead into a 69-64 cushion with 3:25 remaining. North Carolina still had a chance when Kentucky point guard
Marquis Teague
missed the front end of a one-and-one with 21.5 seconds left and the Wildcats leading 73-72. The Tar Heels passed inside to Zeller on their final possession, but the senior center lost the ball and it ended up in the hands of Henson, whose shot was blocked by Davis on the baseline. Davis corralled the ball and passed it to Teague, who ran up the court as time expired, setting off a wild celebration as the Tar Heels somehow failed to foul.
Why Kentucky won
: The Wildcats were simply better down the stretch. Lamb's 3-pointers were huge and Kidd-Gilchrist, who also had 11 rebounds, was active throughout the game. Kentucky continues to play excellent defense as well. UK blocked seven shots and forced North Carolina to shoot 41 percent from the field.
Why North Carolina lost
: The Tar Heels struggled to get good looks in crunch time. They didn't have a 2-point field goal in the final 6 minutes, and even the two 3-pointers they hit (one by Barnes, the other by
Reggie Bullock
) were heavily defended. Still, this game was played at an extremely high level between two teams with rosters full of future first-round draft picks. It's hard to knock the Heels for a strong, gutsy performance in one of the toughest road environments in all of college basketball.
Star of the game
: Davis came up with the biggest play by blocking Henson, but he hadn't been all that effective up to that point. Lamb scored 12 in the second half and his two late 3-pointers were huge, mainly because each of them were answer shots after North Carolina had pulled within one or two points on its previous possession. Those kinds of baskets will drain the life out of an opposing team. Still, the star of the game can be no one other than Kidd-Gilchrist, who finished with 17 points and 11 boards and was 6-of-10 from the field. There's no question he outplayed preseason All-American Barnes.
Other observations
: North Carolina's
P.J. Hairston
was questionable entering the game, but he played and contributed 11 points and missed all but one shot. ... Former Kentucky stars John Wall, DeMarcus Cousins and Brandon Knight were in attendance. ... Carolina made six of its nine 3-point attempts in the opening half and finished 11-of-18 (61 percent) ... Barnes picked up his third foul with more than 6 minutes left in the opening half. ... Nearly 30 NBA scouts and front-office types attended Saturday's game. ... Third-year Kentucky coach John Calipari remains undefeated in Rupp Arena.
What's next
: North Carolina kicks off a stretch of six straight home games when it hosts Evansville on Tuesday. Included in the stretch are tilts with Long Beach State and Texas. Kentucky's next game is against undefeated Indiana next Saturday in Bloomington. That should be another classic battle between blue bloods, although it'll be tough to top this one.