North Carolina Tar Heels:

Stanford Cardinal
April, 9, 2014
Apr 9
10:00
AM ET
Another NCAA tournament is in the books, and before we get too sad over saying goodbye to college basketball for six months, let's review what we just witnessed:
One player can carry a team:
It's particularly true if that player happens to be a guard. UConn's
Shabazz Napier
proved that point -- like Kemba Walker before him -- by leading the Huskies to the national championship.
One player can't carry a team:
Particularly if his team relies on outscoring its opponents. For all the scoring records Creighton's
Doug McDermott
broke, the Blue Jays defense was ultimately picked apart by Baylor, and one of the great college basketball careers of the past decade ended in the first weekend of the tournament.
Freshmen can carry a team:
Kentucky was only the second team to start five freshmen in the title game. After many stumbles during the regular season, the youthful Wildcats put it together at the right time.
[+] Enlarge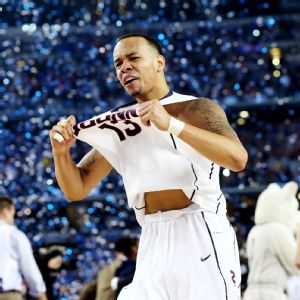 Ronald Martinez/Getty ImagesShabazz Napier took over the tournament and was a dominant force in UConn's run to the title.
Freshmen can't carry a team:
Kansas played without its talented freshman center
Joel Embiid
in the tournament. Its other highly touted freshmen starters,
Andrew Wiggins
and
Wayne Selden Jr.
, combined to shoot 2-for-11 and score six points as the Jayhawks were eliminated by Stanford. Wiggins might still prove to have Carmelo Anthony-type talent in the NBA, but he didn't come close to matching Anthony's NCAA tournament legacy.
Seeding is an inexact science:
Louisville as a 4? Kentucky as an 8? The selection committee's favorite phrase is "whole body of work," which is understandable, but it doesn't take into account a team that's playing its best late, such as the Cardinals; or a team clearly better than its record, such as the Wildcats.
Brackets aren't fair, but such is life:
The biggest example was having No. 1 seed Wichita State pitted against No. 8 Kentucky in the round of 32. The game had an Elite Eight feel for a reason -- it probably should have been played in the later rounds.
A 12-seed beating a 5-seed is no longer an upset:
The 12-seeds nearly -- and probably should have -- completed a full sweep of the 5-seeds. No. 12 seeds Harvard, Steven F. Austin and North Dakota State all advanced and North Carolina State was positioned to join them but missed 9 of 17 free throws before blowing a late eight-point lead to Saint Louis. It was the second game in three days for the Wolfpack, who had to play their way in by beating Xavier.
The 16-seeds are getting closer (incrementally, maybe, but closer):
For those counting, the No. 1 seed is 120-0 against No. 16 seeds, but the gap is closing. Coastal Carolina led Virginia by 10 in the first half and by five at halftime before losing. Albany and Weber State also gave Florida and Arizona tougher than expected games.
Four-point plays do exist:
And for Stephen F. Austin it happened at the best possible moment.
Desmond Haymon
drew a foul on VCU's JeQuan Lewis and his four-point play tied the score with three seconds left in regulation before the Lumberjacks won in overtime.
Big shots:
Whether true buzzer-beaters such as Cameron Ridley's putback in Texas' win over Arizona State or simply big shots in closing seconds such as North Dakota State's
Lawrence Alexander
forcing overtime against Oklahoma with a 3-pointer, we love seeing a game-changer. Kentucky's
Aaron Harrison
made the most of his big shots, taking down Louisville, Michigan and Wisconsin in the process.
Shots not fired:
With 2.3 seconds left, Arizona's
Nick Johnson
took one dribble too many and failed to get a shot off before time expired. The Wildcats' loss to Wisconsin in the Elite Eight proved the shot that's not taken hurts most.
Check the monitor (Shots not fired Part II):
Then again, it might hurt more to lose the game after an officials' conference. Officials didn't see North Carolina coach Roy Williams signaling for a timeout with 1.6 seconds left immediately after Iowa State's
DeAndre Kane
scored the go-ahead basket. The ball was inbounded but the clock operator started it late, allowing Carolina a timeout after the ball was advanced to half court. The officials checked the monitor, huddled and determined that time had expired before the timeout was granted.
We still never figured out the block/charge call:
It didn't outright decide the outcome of any game, but it came close. Tennessee's
Jarnell Stokes
was called for a charge with six seconds left in a one-point game. Michigan's
Jordan Morgan
sold the call and the Wolverines advanced.
[+] Enlarge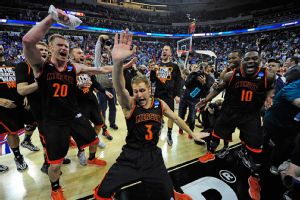 Bob Donnan/USA TODAY SportsAn upset of Duke sent Mercer's Kevin Canevari into his version of the Nae Nae.
Location. Location! Location?
Wisconsin doesn't rally to beat Oregon had the partisan crowd in Milwaukee not helped turn the momentum of that game. UConn might not get past Michigan State had it not been in the familiar confines of Madison Square Garden. Then again, Syracuse lost to Dayton in Buffalo, N.Y., and Duke lost to Mercer in Raleigh, N.C. Maybe location doesn't matter as much as we think.
Conferences might want to rethink who earns the automatic bid:
Milwaukee had a losing record in the Horizon, yet beat regular-season champ Green Bay in the league tournament en route to earning their NCAA bid. Cal Poly had a losing record overall and finished tied for sixth in the Big West, yet earned the bid and beat Texas Southern before getting pummeled by Wichita State. Mount St. Mary's also had a losing record overall before winning the Northeast tournament title. All those upsets, of course, led to NCAA tournament seeds.
Seniors matter:
Obviously the shining example was Napier carrying UConn to the title and Florida reaching the Final Four by starting four seniors. But the common thread in nearly every early-round upset was that schools such as North Dakota State, which had five seniors in its rotation, and Mercer, which had seven seniors, played a lot of experienced players.
Conference affiliation doesn't:
The Big 12 had the most teams in the tournament with seven, but they flamed early. Kansas State, Oklahoma State and Oklahoma lost their first games, only Baylor and Iowa State made it to the Sweet 16.
Michigan State starting over:
One of the best streaks came to an end this season when the Spartans lost to UConn.
Keith Appling
and
Adreian Payne
are the first players who stayed four years under coach Tom Izzo but did not play in a Final Four.
Pay more attention to the Atlantic Sun:
From the conference that gave us Florida Gulf Coast last season, Mercer came out of the league this year. The Bears beat Duke in a game they were positively poised and confident they would win.
THE University of Dayton made a statement:
A headline in the Dayton Daily News poked a little fun at Ohio State, but the way the Flyers were embraced after beating the Buckeyes, Syracuse and Stanford showed just how much March can unite a community.
Kevin Canevari can dance:
Moments after Mercer topped Duke in the tournament's biggest upset, Canevari provided arguably the tournament's best celebration dance by doing the Nae Nae in front of the Bears' fan section.
Grudges last:
Napier blasted the NCAA for keeping the Huskies out of the tournament last season because of their APR. That means SMU, which beat UConn twice, is on the clock for next season with some hard feelings of its own. The Mustangs missed the NCAA tournament and finished runners-up in the NIT. With most of their starters back, and adding arguably the best point guard from the 2014 recruiting class, Larry Brown's crew will be a force next season.
April, 3, 2014
Apr 3
12:24
AM ET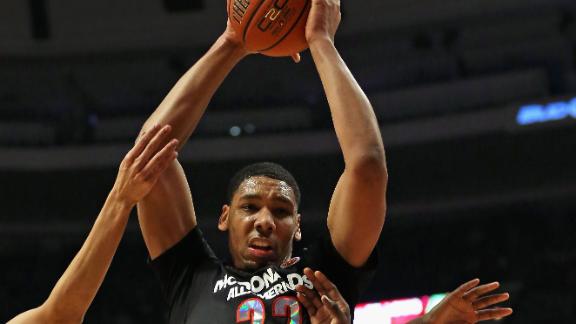 CHICAGO -- Wednesday marked the 37th Annual McDonald's All-American game featuring the top high school boys basketball players in the country. The game took place at the United Center, home of the NBA's Chicago Bulls.
Best low-post player: Jahlil Okafor
April, 1, 2014
Apr 1
10:00
AM ET
CHICAGO -- The prestigious
McDonald's All American Game
annually brings together the best talent in high school basketball, all on one stage. Here are a few game matchups to watch for this year's star-studded event, which can be seen live on ESPN Wednesday night at 9:30 ET.
To continue reading this article you must be an Insider
November, 2, 2011
11/02/11
12:36
PM ET
The North Carolina Tar Heels have an excellent recruiting class on their hands this year. It's going to be a highly-touted group. Let me repeat: highly touted
group.
The current four-man class, ranked in the top five, is the kind of group just about any high-major program would crave to sign. It's also a class whose sum is greater than its individual parts.
[+] Enlarge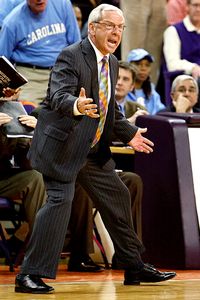 Kevin C. Cox/Getty ImagesRoy Williams never lacks intensity on the sideline.
North Carolina signs elite recruiting classes almost every season. That being said -- no class, no matter the ranking -- is identical. Some classes are rated high because they contain superstars while others attain a high rating because of their collection of players. This current class reminds me a lot of UNC's 2009 class which was highlighted by John Henson and backed up by Leslie McDonald, Dexter Strickland and the now departed David and Travis Wear. Despite the rating of the current group (No. 2 in our rankings), expectations need to be tempered because there isn't a Harrison Barnes or a James Michael McAdoo to carry the superstar load. In 2009, not even Henson was ready to step into this kind of role.
Marcus Paige
(Marion, Iowa/Linn-Marr) is in my opinion, the top senior high school point guard. He's the guy I'd want running my team. He's a better scorer at the same stage when compared to Kendall Marshall, but not as good a passer. He's the Tar Heels best recruit in terms of readiness to play and consistency.
Brice Johnson
(Edisto, S.C./Edisto) is the Henson of the group. He's the top prospect but will need time to develop; his ceiling is highest.
J.P. Tokoto
(Menomonee Falls, Wisc./Menomomee Falls) and
Joel James
(Fort Lauderdale, Fla./Dwyer) are very good supporting recruits; neither has reached their ceiling so there's room to grow.
What's my point? UNC's class is very strong and right now they are among the top classes in the country but don't be surprised if the Tar Heels slip in the rankings. Based on our mathematical formula (not quite as bad as the BCS, but still in depth) and some back-and-forth dialogue between the scouts, we come up with our rankings and adjust accordingly. Right now, coach Roy Williams has a good class with nice players but it's not a game-changing enough group. In my opinion, that ranking doesn't accurately reflect the expectations I'd have for this crop of players.
This collection of players is going to augment UNC's roster and there should be a pro or two out of the group, but they'll need time and the assistance of other players in the program and future classes to create championship expectations.
New July format has me worried
I'm not the type that is opposed to change. In fact, the NCAA had to change up the recruiting calendar and stream line some NCAA rules and regulations. The moves that were made last week -- texting, letting coaches out in April, allowing juniors to take official visits -- appear to be well intentioned and many are excited to take them for a test drive. Personally, the July ruling creating a series of three, four-day open periods, has me nervous.
July is a significant work month for myself and our staff. My goal is to see as many players as I possibly can so I don't get surprised and miss out on seeing guys with my own eyes. There's a measure of pride that accompanies July. I spend a lot of time planning out my days so that I can max out the number of players I can see. Watching Shabazz Muhammad play 25 times is not nearly as important as making sure I see unfamiliar faces like
Grant Verhoeven
(Visalia, Calif./Central Valley Christian),
Connor Lammert
(San Antonio, Tex./Winston Churchill) or
Josh Scott
(Monument, Colo./Lewis Palmer). These guys are often tucked away on AAU teams that aren't as high profile and you might only get one or two looks at them. Still, that quick look is important.
My concern is that there are going to be so many events trying to get packed into the framework of the new July calendar that my number of actual workdays gets trimmed. Frankly speaking, I need as many work days in July as possible to do my job. Reducing the period by eight days is a significant concern as an evaluator. I'm nervous because doing my job might have gotten a lot more difficult. Here's to hoping that there are still some good events floating around outside of the open periods where I can sit down and see a slew of players. The situation of evaluators isn't a concern to the NCAA or college coaches but I'm thinking my job just got a whole lot more difficult by shortening the period and cramming all these events into tighter windows.
Random Thoughts
Should T.J. Warren (Durham, N.C./Brewster Academy) select NC State as expected on Wednesday, it would mean Mark Gottfried landed his third ESPNU 100 player from North Carolina in his first year. During the Sidney Lowe Era, the Pack landed a grand total of two in-state Top 100 players. The first year for Gottfried couldn't have gone better.
To continue reading this article you must be an Insider