North Carolina Tar Heels:

Syracuse Orange
March, 11, 2014
Mar 11
7:30
AM ET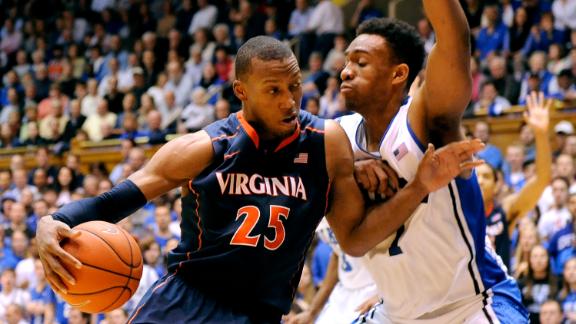 There are no longer any hot teams in the ACC, as Virginia, which won its first outright regular-season title since 1981, had its 13-game winning streak snapped by Maryland in overtime on Sunday and Duke took care of North Carolina's 12-game winning streak on Saturday, which means no team
enters the tournament
having won more than two straight games.
The ACC plays its first season with a 15-team tournament format that includes double byes for Virginia, Syracuse, Duke and North Carolina. There's also a play-in round for teams situated from 10-15. A team from the bottom third would have to win five games in five days to earn the league's automatic bid to the NCAA tournament.
Unfortunately, watching an underdog rise in Greensboro, N.C., isn't likely to happen based on what happened in the regular season. This tournament could be one of the most predictable in some time. There seems to be a noticeable separation between the top four seeds and the rest of the league. The top four had a combined 56-8 record against the remaining 11 teams in the league.
What's at stake?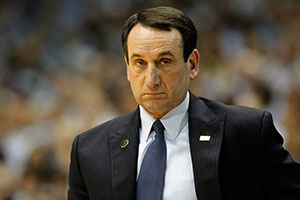 Streeter Lecka/Getty ImagesThe ACC was top heavy in the regular season, but Mike Krzyzewski thinks the league deserves more than four NCAA tournament bids.
When the ACC sought to expand, it purposely targeted schools with basketball imprints like Syracuse and Louisville (the Cardinals don't join until next season). During the league's media day, coach after coach talked about how it could be the best basketball conference ever assembled. But that dominance never manifested itself. Instead, the ACC was again a league that's top heavy and incredibly average after the top four teams.
Sensing the way Selection Sunday may develop, Duke coach Mike Krzyzewski made a preemptive strike on the ACC's teleconference last week. Speaking as a de facto ambassador, Krzyzewski said the league deserved more than five bids to the NCAA tournament. "I have a hard team thinking that our 15-team league would only get five bids," Krzyzewski said. "I find that hard to believe."
However, there's really no reason that this league should be guaranteed more than four bids. Pittsburgh, which finished fifth, went 0-for-5 against the league's top four teams and its best nonconference win was over Stanford. That's why Florida State, Clemson, NC State and conceivably the Panthers are fighting to make an 11th-hour impression on the NCAA tournament selection committee.
"[On Selection Sunday] hopefully we're congratulating seven or eight teams that get into the NCAA tournament from the ACC," Krzyzewski said.
Should the ACC get only five teams in, it would mark the third time in the past four seasons that only a third of the conference received bids.
Teams with the most to gain
Syracuse needs to halt its slide and rebuild its confidence heading into the NCAA tournament. After a 25-0 start, the Orange have stumbled down the stretch, including losses to cellar-dwellers Boston College and Georgia Tech. Injuries to an already-thin rotation haven't helped, but they are hopeful sophomore forward
Jerami Grant
can return to form after battling back issues since the loss to Duke on Feb. 22. The Orange need to find a way to bring their offense back to life as they've scored more than 62 points just once since beating Duke 91-89 in overtime on Feb. 1.
Virginia may be the least celebrated regular-season champion in conference history. Because of the unbalanced schedule, it played the remaining top three teams only once each and only the Duke game, a 69-65 loss, came on the road.
Add that to the fact that technically, the ACC doesn't recognize its regular-season winner as the league's champion. That honor is reserved for the winner of the tournament, which is a holdover from the times when the league tournament determined the lone NCAA tournament representative. And it means the Cavaliers are coming to Greensboro with a collective chip on their shoulders. Once again the Cavs will look to make history. Since the ACC tournament began in 1954, the Cavs have won it only once -- in 1976.
For Maryland, a charter member of the ACC, it's one last, awkward trip to Tobacco Road. The Terrapins didn't always feel welcomed in those parts. They felt the conference leaned too heavily toward the state of North Carolina, where it has held 49 of its 60 league tournaments. That unresolved tension that was decades in the making played a small role in the Terps' break from the conference. The acrimonious split caused a curious omission from Maryland's home schedule this season. The Terps did not get to host Duke or North Carolina, which have typically been the most anticipated and best-attended games throughout the years. With all of that as a backdrop, the Terps would sure like to go out on top before heading to the Big Ten next season.
March, 3, 2014
Mar 3
10:00
AM ET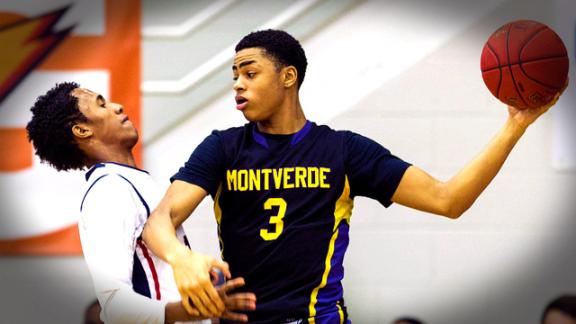 When we analyze and evaluate the skill set of today's basketball player, we speak quite often about their ability to drive to the rim and finish as well as knocking down 3-point shots.
What has been forgotten and not emphasized enough from coaches and workout coaches is their middle game. The ability to score the ball inside the arc and before one gets to the rim in tight quarters is a true gift. I would love to see today's player really work on their middle game to be a more well-rounded scorer.
Let's take a look at which
ESPN 100
prospects possess the all-important middle game in the senior class.
To continue reading this article you must be an Insider
January, 11, 2014
Jan 11
4:54
PM ET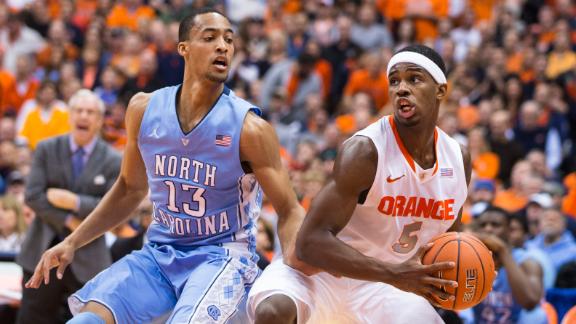 SYRACUSE, N.Y. -- For a team that's been as impressive as Syracuse has in its march to a 16-0 record and No. 2 ranking in both polls, the Orange could be the hardest team to impress as any in the nation.
Syracuse handled North Carolina 57-45
and held the Tar Heels to a historic-low scoring output while establishing itself as the ACC front-runner in the process.
Duke, the overwhelming preseason pick to win the league, lost its second league road game at Clemson. The Blue Devils are just one game above Carolina, which was picked third in the preseason, and now, with its third straight conference loss, owns sole possession of the cellar.
Pittsburgh hasn't cracked the polls, although it is tied with Syracuse at the top of the standings. And Virginia, which also started the day unbeaten in the league, has been embarrassed enough times this season (Wisconsin, at Tennessee) that it doesn't strike fear into opponents.
[+] Enlarge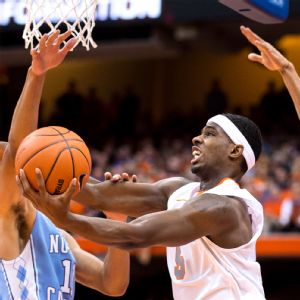 Brett Carlsen/Getty ImagesC.J. Fair led the way with 20 points in Syracuse's win over North Carolina.
The Orange, however, can potentially do just that. From the unknown element of ACC opponents having to face their zone for the first time to actually figuring out how to defend their growing arsenal of weapons, the Orange will be handful during their inaugural ACC run.
Carolina had no answer, especially for
Jerami Grant
, who was recently inserted in the starting lineup. He posted his second straight double-double with 12 points and 12 rebounds against the Tar Heels.
UNC forward
J.P. Tokoto
said that out of pride he didn't want to agree that Syracuse was the No. 1 team in the ACC, but "playing against us the way they did today, yes, they definitely are."
Yet it seems it's a hard time convincing the Orange of that. There were no signs in the locker room that winning registered as anything special. No loud music blaring. No players playing jokes on one another. There really weren't even a lot of smiles or laughter.
"They don't get that high, they're not celebrating a lot -- they haven't celebrated yet," Syracuse coach Jim Boeheim said. "I don't think they even celebrated [the Maui Invitational] that much and that was a good tournament win. They've been good, they come to work every day."
Most days at work don't take place before 32,121 at the Carrier Dome, even for the Orange. Last weekend against Miami in their ACC opener, attendance was just 21,839. The game bested the 28,153 who watched the Orange against former Big East foe Villanova as the season's best crowd.
Syracuse senior
C.J. Fair
at least would admit having the Tar Heels come through for the first time as a conference opponent gave a different energy in the Dome.
"This is a great statement game for us to the teams in the league to show them we're coming our first year to win it," Fair said.
That's about as big as it gets as far as declarations go on this team.
Syracuse freshman point guard
Tyler Ennis
said being 3-0 in the league meant only that it was still a long season ahead. Boeheim wouldn't even say he has a great team.
"You're going to get beat up in a league like this, no matter who you are, unless you have a great team," Boeheim said. "And there's no great teams anymore."
North Carolina coach Roy Williams would disagree.
Williams watched the Heels tie the 1996-97 team for their lowest scoring output of the shot-clock era. It also represented the lowest point total for a Williams-coached team in his 896 games.
"There are some other good teams in our league, Syracuse so far has played better than everybody else, I don't think there's any question about that," Williams said. "They've accomplished more. They're 16-0. So everybody is going to have to play their best, there's no question. You're not going to beat Syracuse unless you're playing to the top of your potential."
And that came after Carolina caught the Orange on an off game offensively.
Ennis had not had more than two turnovers in a game this season but totaled four on Saturday.
Trevor Cooney
, who entered the game shooting 45 percent from 3-point range, managed to make just 2 of 12 from behind the arc. The Orange shot a season-low 35.0 percent from the field.
But they never trailed UNC after taking the lead midway through the first half.
"Today impressed us more than other wins because I don't think we played that well offensively, but we played really well defensively," Cooney said.
Rakeem Christmas
had four of Syracuse's nine blocks, which is the most for a UNC opponent this season.
With a 16-0 start to the season, it's valid to wonder if the Orange have improved this season to the point that they are better than their Final Four team of last season.
"I don't know which team is better," Fair said. "But I think we have the same shot to get to the championship game."
January, 11, 2014
Jan 11
10:20
AM ET
No. 2 Syracuse is playing very much like a No. 1 team. The Tar Heels did win at Michigan State when the Spartans were the nation's top-ranked team. That's why Carolina hopes its 3-0 mark against ranked teams this season means it can avoid an 0-3 start in ACC play.


"Michigan State, Louisville, Kentucky -- I thought when we played them those were really good teams," UNC coach Roy Williams said. "We caught them on a night when they didn't play well and we played very well. I hope that that would happen again."
For that to happen, the Heels will have to figure out the Orange zone better than it operated against Miami. That means getting better shots and taking better care of the ball.
UNC sophomore forward
J.P. Tokoto
said the team has to be smart with its decision-making against Syracuse and not take too many risks of trying to squeeze a pass in a small window.
"One big key for us is recognizing their length, you can't really simulate their length in zone [defense]," Tokoto said. "The passes we make right now probably won't be there. So just recognizing that and be smart with our decision making in the game."
Syracuse doesn't look at playing zone as being passive. It generates as many deflections and steals as a team that plays man-to-man full time.
"People don't realize how aggressive it is," Williams said. "We try to steal the ball, that's what we try to do -- we don't do a good job of it so far this year -- but our turnover margin is 2.2. They play zone, they're turnover margin is plus-6."
Tokoto added that it was important to stay active against the Orange in order to exploit their weak spots. In the loss to Miami, Tokoto said he got stagnant and his movement was something that could have helped Carolina become more efficient.
UNC shot a season-low 30.8 percent to the Hurricanes, which came after shooting just 38.7 percent in the loss to Wake Forest. It's not a coincidence that leading scorer
Marcus Paige
had his worst two games shooting this season in those contests.
Williams said getting Paige some help and out of his shooting slump was his biggest concern heading into the game.
He had little concern that the Heels would be ready. Williams said "no question" his team was a bit more focused and played harder in meetings with ranked teams.
"If that's the same kind of attitude that shows up (against the Orange) I'll be very pleased," said Williams, who later added, "…We have to be completely fired up, completely enthused, completely motivated or we have no chance."
January, 10, 2014
Jan 10
12:15
PM ET
C'mon, Memphis.
I never thought Cincy would stomp the Tigers the way it did last weekend. That was my lone blemish.
I figured out the rest, though.
I have a feeling, however, that I'll be less accurate this weekend. Too many difficult matchups to predict.
So I'd advise you to take all of this with a grain of salt. (What on earth does that mean anyway?)
Last week: 4-1
Overall: 17-8
Saturday
[+] Enlarge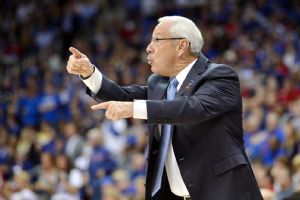 Peter G. Aiken/USA TODAY SportsRoy Williams takes his wildly inconsistent squad into the Carrier Dome to play No. 2 Syracuse.
North Carolina at No. 2 Syracuse, noon ET, ESPN:
Oh, Tar Heels, college basketball's chameleon. At least they make it fun, right? I mean, every time North Carolina takes the floor, we're all curious about the version of the program that will actually show up. Will it be the team that has defeated every ranked opponent that it has played this season (Louisville, Michigan State, Kentucky)? Or will it be the team that has suffered losses to UAB, Texas, Miami and Wake Forest? Saturday's matchup at Syracuse might be this team's toughest test thus far. The Orange do most things well. They're a Ken Pomeroy gem. They're great on the offensive glass, they don't commit many turnovers, they force plenty of turnovers, they defend well, and they're loaded -- the same situation that North Carolina has encountered and overcome multiple times against ranked opponents.
Prediction: North Carolina 82, Syracuse 80
No. 9 Iowa State at Oklahoma, noon ET, ESPNU:
When I was in Ames earlier this week for Iowa State-Baylor, Cyclones fans told me that they were nervous about this game. Lon Kruger's program has given other nationally ranked opponents fits this season. The Sooners are fifth in the country with 87.0 PPG scoring average. On paper, Iowa State is certainly the better team. And the Cyclones are coming off a 15-point whipping of Baylor. But this is their third true road game of the season. Plus, there's a gigantic matchup versus Kansas coming on Monday. This is dangerous for the Cyclones because Oklahoma is good enough to ruin Iowa State's undefeated record, especially if Fred Hoiberg's program gets caught looking ahead.
Prediction: Iowa State 82, Oklahoma 75
No. 25 Kansas State at No. 18 Kansas, 2 p.m. ET, ESPN:
San Diego State became just the third team to beat Kansas in Allen Fieldhouse over the past 115 games. Think about that. That's a tremendous streak. The Jayhawks rarely lose at the Phog. But Bill Self's current assembly is still figuring things out. That's fine in early December. But it should be troubling in early January, especially when Kansas has so much competition at the top of the Big 12, perhaps the best league in the country pound for pound. And the Jayhawks are playing a confident Wildcats team that is nationally ranked after upsetting Oklahoma State last weekend. Kansas State has a stubborn defense that can exploit KU's knack for committing turnovers (K-State is 39th in defensive turnover rate per Ken Pomeroy). Can and will, however, are two different things.
Prediction: Kansas 79, Kansas State 76
Sunday
No. 20 Iowa at No. 3 Ohio State, 1:30 p.m. ET, CBS:
Ohio State nearly knocked off Michigan State in East Lansing after recovering from a 17-point deficit earlier this week. That's really all you need to know about the Buckeyes. Their defensive prowess and guts have anchored the program all season. This wasn't their first close call, but it was more proof that it will take a 40-minute effort (and possibly extra time) to beat Thad Matta's program. For 30 minutes, Iowa outplayed Wisconsin on Sunday. Illinois' lopsided loss in Madison on Wednesday should put the Hawkeyes' performance in Madison in the proper perspective. Even after Fran McCaffery was ejected from that game, the Hawkeyes continued to fight. McCaffery's team might be a legit Big Ten contender. Iowa would prove it by beating a top-tier squad on the road. Iowa will prove it by beating a top-tier Big Ten squad on the road.
Prediction: Iowa 69, Ohio State 68
Xavier at Creighton, 3 p.m. ET, CBS Sports Network:
Grant Gibbs
' knee injury is a major blow for Creighton. The Bluejays could have lost star
Doug McDermott
too. McDermott suffered a shoulder injury in a win over DePaul earlier this week. But he'll be available this weekend for a critical Big East battle with Xavier. The Musketeers haven't lost since late November when they ended the month on a three-game losing streak. They outplayed preseason title favorite Marquette on Thursday night behind Semaj Christon's 28-point effort. Creighton, Villanova and Xavier are all 3-0 in league play. So Sunday's matchup could be critical in the race, even though it's early. The next time Xavier faces Creighton (March 1), Gibbs should be back in the mix. But even without him, Creighton will tough to beat in Omaha.
Prediction: Creighton 90, Xavier 88 (overtime)
January, 9, 2014
Jan 9
4:00
PM ET
October, 30, 2013
10/30/13
11:00
AM ET
The previous time the ACC expanded -- in a move clearly made to boost football -- the impact on basketball simply equated to scheduling more games. The league didn't get stronger. In fact, in some ways it appeared to get weaker.
The latest expansion will be different, league coaches and players say. Newcomers Syracuse, Notre Dame and Pittsburgh -- with Louisville joining in 2014 -- will elevate the ACC back to what some would say is its rightful standing as the nation's best basketball conference.
"Our league now -- the depth of the league, the tradition, the history, the success that all the programs have had -- is unmatched," North Carolina coach Roy Williams said.
[+] Enlarge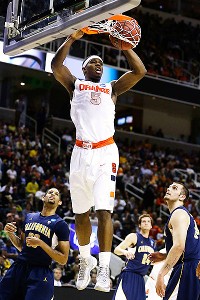 Ezra Shaw/Getty ImagesSyracuse forward C.J. Fair is hoping the Orange can end the stranglehold Duke and UNC have had on ACC bragging rights.
The depth. That's what the ACC has been sorely missing. Virginia, Wake Forest, NC State and Georgia Tech used to be reasons why the conference was strong. But none of those programs has been consistent the past decade.
As the first expansion proved, depth doesn't come from merely adding schools to the mix. Miami, Boston College and Virginia Tech have combined to win one regular-season league title. On four occasions, one of those teams has finished last in the conference.
The Irish, Orange and Panthers, however, are expected to live in the upper echelon of the conference, as they did in the Big East. Pitt finished fourth or better in the 16-team Big East in three of the past four seasons, including winning the 2011 regular-season title. The team that finished second to Pitt that season was Notre Dame, which placed third or better in two of the past three seasons.
Syracuse and eventually Louisville, both of which have both won national titles and made multiple Final Four appearances, add historically elite-level programs to the league. Syracuse has the potential to immediately loosen Duke and North Carolina's vise grip on the crown.
"I read a stat as far as Duke and North Carolina -- they're the only two teams that be winning it," Syracuse forward
C.J. Fair
said. "We want to win the ACC and start off right and have bragging rights early."
The ACC has been shallow for too long, dependent on Duke and North Carolina to carry the league. The pair from Tobacco Road has accounted for at least a share of every conference regular-season title but three since 1997, and 10 of the league's 13 Final Four appearances in that same span.
Consider that since Georgia Tech appeared in the 2004 national title game, no team from the league outside of the Blue Devils and Tar Heels has reached the NCAA tournament's Elite Eight, and only five have been to the Sweet 16.
Only four teams from the ACC received NCAA tournament bids last season. That has been closer to the norm than the exception since expanding to 12 teams in the 2005-06 season.
In eight seasons, the league put only four teams in the Big Dance on four occasions. Considering North Carolina and Duke made it in each of those seasons where the ACC had only four teams in the tournament, that means only two other programs were representing the conference.
Compare that to the span of 1992 to 2004, when as a nine-member league, the ACC received six tournament bids on five occasions.
"Those were glory days in the ACC ... But you know what, I think bigger glory days are coming with this thing," Notre Dame coach Mike Brey said.
The ACC had its best seasons in 2006-07 and 2008-09, when seven teams received NCAA tournament bids. Brey believes that number will only increase based on how the depth of the Big East bolstered its tournament bids.
"We had years where we were under .500 in the league in early February, but you have enough big games on your schedule where if you get one or two of them, they're RPI top 50, top 25 wins, all of a sudden you're 9-9 and you're on the board," Brey said. "You're never dead in a league like this."
Thanks to the expansion, the ACC will feel alive again.
October, 23, 2013
10/23/13
2:30
PM ET
By
ESPN.com staff
| ESPN.com
From Sept. 30 through Oct. 25, Insider will be rolling out its
college basketball preview
, including breakdowns on every Division I team, projected order of finish for every conference and essays from Insider's hoops experts.
Here are previews for each team in the ACC:
Boston College Eagles

Clemson Tigers
(free)
Duke Blue Devils

Florida State Seminoles

Georgia Tech Yellow Jackets

Maryland Terrapins

Miami Hurricanes

North Carolina Tar Heels

North Carolina State Wolfpack

Notre Dame Fighting Irish

Pittsburgh Panthers

Syracuse Orange

Virginia Cavaliers

Virginia Tech Hokies

Wake Forest Demon Deacons

October, 16, 2013
10/16/13
8:24
PM ET
CHARLOTTE, N.C. -- The slogan plastered across the Atlantic Coast Conference's signage read: "The Best Get Better." And it seemed every coach and player who sat down for an interview pitched from the same talking points to that end.
The additions of Syracuse, Pittsburgh and Notre Dame will unequivocally make the league that grew up on basketball the nation's best. And at least on paper, it's hard to argue against it.
"For 60 years the ACC has been the best conference in college basketball," North Carolina coach Roy Williams said. "… There may have been a little lull where the Big East, the [SEC] or Big Ten -- I don't see anybody being the best –- any better than us now. I don't care what year it is."
Duke was the overwhelming choice to win the conference by media attending today's event. The Blue Devils garnered 50 first-place votes out of 54. Syracuse received three first-place votes and was picked second. North Carolina, which got one first place vote, was picked third.
Since 1997, there have only been three years when the Tar Heels or Blue Devils didn't have at least a share of the ACC regular-season championship. The newcomers are expected to challenge the stranglehold UNC and Duke have had on the title.
[+] Enlarge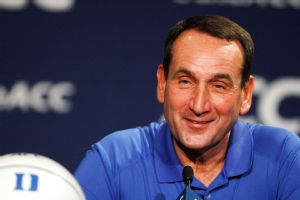 AP Photo/Nell RedmondMike Krzyzewski's Duke team was picked by the media to win the conference title.
"We'll have instant rivalries," Duke coach Mike Krzyzewski said. "It won't take long to develop a Duke-Syracuse … that's why I think our conference is way ahead -- of anybody."
At the very least, the newest league members should add needed depth after the ACC received only four NCAA tournament bids last season.
The league will have three active Hall of Fame coaches in Krzyzewski, Williams and Syracuse's Jim Boeheim -- and add a fourth next season when Rick Pitino and Louisville become a member.
Boeheim once voiced resistance to the move when talk of the Orange joining the ACC remained just talk. Now that Syracuse is in the league, he spoke like a longtime resident of Tobacco Road.
Boeheim said the transition from being a charter member of the Big East to the ACC wasn't difficult because his former league changed so much. He pointed out the ACC now has more former Big East schools (including Virginia Tech, Miami and Boston College) than the current Big East (Villanova, Providence, Seton Hall, St. John's, Georgetown.)
"I mean, there's a certain degree of nostalgia of being in that league because that's where you worked 34 years," Boeheim said. "But this is a better league."
Boeheim pointed out that Syracuse has sold more than 20,000 season tickets, which has already surpassed last season's total of about 15,000. Duke's visit to the Carrier Dome on Feb. 1 is already sold out and the North Carolina game on Jan. 11 isn't far behind.
"The only thing our fans will miss," Boeheim said, "is the Big East tournament."
Other notes:
Many players hate that Maryland is playing in its final season before joining the Big Ten, but it has nothing to do with the Terrapins being an ACC charter member or the tradition it's had in the league. The Maryland/Washington, D.C. area has produced a lot of players who were looking forward to coming home to College Park. "It still feels weird to think about they're not going to be there," said Notre Dame guard Eric Atkins, a Columbia, Md., native. "The only thing I think about is beating them, actually. That's the only thing I can think about. I'm really looking forward to that Jan. 15 game." Pitt forward Talib Zanna said facing Maryland was what excited him most about joining the league. "I know a lot of people when you don't say Duke or North Carolina they look at you like you're crazy," Zanna said. "Duke and North Carolina have a lot of history, they win a lot of games but I'm looking up to playing Maryland just because that's where I grew up. I just want to play in the arena."


The ACC will have its share of impact transfers this season, including Duke's Rodney Hood, who came from Mississippi State; Virginia's Anthony Gill, who came from South Carolina; and Maryland's Evan Smotrycz, who played at Michigan. Hood thinks it is a trend that will only increase. "Other than the money, it does feel like free agency," Hood said. "Guys transfer for different reasons. I'm sure mine was different than a lot of other guys. I really like the school I was at and made a basketball decision."


Syracuse senior forward C.J. Fair was selected the ACC preseason Player of the Year by the media. Fair was the leading scorer for the Orange last season, but it's his leadership role that will have to expand this season after the departures of Michael Carter-Williams and Brandon Triche. "It's something I haven't experienced since high school," Fair said. "Not so much to carry the team, but lead the team."