North Carolina Tar Heels:

Tennessee Volunteers
April, 10, 2014
4/10/14
10:00
AM ET
Connecticut's national title as a No. 7 seed provided the conclusive evidence of what we knew early on in the 2013-14 men's college basketball season. There was no dominant team. Arizona settled down the revolving door of No. 1 teams -- the Wildcats were the third to hold the mantle just six weeks into the polls, and their eight weeks atop the Associated Press poll was the longest of the five teams (Kentucky, Michigan State, Syracuse, Florida) to be ranked No. 1. With the odds of winning the Billion Dollar Bracket already outrageous, parity in college basketball made it downright impossible.
With the book finally written on the season, here are the chapters we'll remember most:
Freedom of movement:
Officials were quick to say this season they weren't creating new rules, they were enforcing the old ones. College basketball had become too defensive, the critics said. Physical play was ruining the game. The season started with an emphasis on allowing freedom of movement and handchecking was called to the point of being a "touch foul." Players, coaches and officials alike never came to a consensus of understanding how a block/charge would be called. While scoring on the whole increased slightly, there was no denying that foul calls and free throws had a substantial spike.
Champions Classic:
Teams were allowed to begin practice two weeks before the traditional Oct. 15 start date, which in a practical sense meant earlier than ever. It resulted in a November filled with high-quality games beginning with a special night in Chicago. The Champions Classic doubleheader featured Michigan State's win over Kentucky and Kansas beating Duke and ushered in the season with big-name matchups with budding superstars to get college hoops buzzing even in the midst of the BCS race and the NFL, the overlord of American sports, in the middle of its season.
[+] Enlarge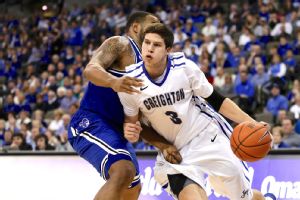 AP Photo/Nati HarnikScoring machine Doug McDermott was one of the many seniors to make an impact on this season.
Freshmen focus:
The Champions Classic just solidified what was already being said about the 2013 recruiting class. These were not ordinary freshmen. Kansas'
Andrew Wiggins
was projected as the potential No. 1 pick in the 2014 NBA draft long before ever stepping foot on campus. Those expectations might have skewed his performance this season because it was always in the context of being a top pick instead of simply being a freshman. Duke's
Jabari Parker
, Kentucky's
Julius Randle
and Arizona's
Aaron Gordon
were all expected to be exceptional before the season started. But others like Syracuse guard
Tyler Ennis
and Kansas center
Joel Embiid
elbowed their way into the elite conversation with their play.
Senior spotlight:
Plenty of seniors weren't going to let the young guys hog all the spotlight and reminded us of the value of staying four years. No way UConn's
Shabazz Napier
was mature enough in his previous three seasons to lead a team to the national title the way he did this season. Creighton's
Doug McDermott
returned to school -- as a walk-on no less -- and finished as the fifth leading scorer in Division I history. He was also the first player since Wayman Tisdale (1983-85) and just the sixth ever to have three consecutive seasons scoring 800 points or more. Louisville's
Russ Smith
returned and ranked No. 1 in offensive efficiency by kenpom.com for a second straight season.
Conference realignment:
With the dust finally settled (we think), and teams shuffled into new leagues, we saw the good and the bad from the new configurations. A record crowd of 35,000-plus at the Carrier Dome watched Syracuse's 91-89 overtime win against Duke become an instant classic in their first meeting as ACC foes. The future of ACC basketball, which adds Louisville next season, is partly why Maryland's season-long swan song as a former ACC charter member was overshadowed. Creighton excelled in its new locale, finishing second in the new Big East, even though its move from the Missouri Valley hurt Wichita State. (More on that below.) The brand-spanking new American Athletic Conference truly reflected the nation with its huge disparity between the haves at the top of the league and the have-nots at the bottom. In the end, the national championship trophy resides in the rookie league.
Shockers chase perfection:
Wichita State became the first team since St. Joseph's in 2004 to finish the regular season undefeated. Instead of drawing praise, it drew some skepticism from those who pointed to a weakened Missouri Valley schedule. Still the Shockers plugged along reaching 35-0 -- one game better than the 1990-91 UNLV squad that went 34-1 and lost to Duke in the Final Four -- and grabbing a No. 1 seed in the NCAA tournament. Their season ended against eventual national runners-up and 8-seed Kentucky in the round of 32.
Coaches behaving badly:
The season provided Internet trolls a seemingly endless supply of memes and GIFs to loop. The list was long, including Iowa's Fran McCaffery slamming chairs against Michigan State, Nebraska's Tim Miles ending the Cornhuskers' most memorable season in decades with an NCAA tournament ejection and Southern Illinois coach Barry Hinson's postgame rant that included that his wife, not his players, knows to, "at least shot-fake one time." But a few stand out. Who can forget the sight of Syracuse coach Jim Boeheim nearly losing his jacket while running on the Cameron Indoor Stadium floor to protest a charge with 10 seconds left in a loss at Duke? Boeheim joked after the game that his first trip to Tobacco Road, which resulted in his first regular-season ejection, would be a memorable one. Then there was Duke coach Mike Krzyzewski (insert sarcasm font here) who will certainly think twice before throwing a pen toward his bench. Krzyzewski got a technical foul for doing so in the ACC tournament final against Virginia.
[+] Enlarge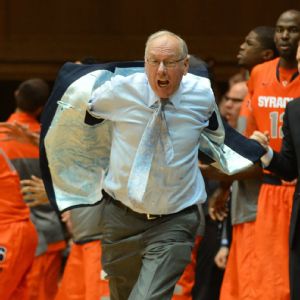 Chuck Liddy/Raleigh News & Observer/Getty ImagesJim Boeheim's jacket-removing, court-sprinting rant against Duke earned his first regular-season ejection.
Marcus Smart's split-second snap:
Oklahoma State guard
Marcus Smart
earned praise in the preseason for putting off the NBA for a year and returning to school to work on his game. He couldn't envision how frustrating the year would be. A season that began crumbling came to a boiling point at Texas Tech. With the Cowboys nearing a fourth straight loss, Smart shoved a fan when his momentum from a play carried him to the footstep of the stands. Smart said the fan called him a racial slur. The fan, Jeff Orr, said he called him a "piece of crap." Regardless, Smart received a three-game suspension.
Safety issues:
There were the things out of man's control like the postponement of Iowa's game at Indiana due to a pane of the ceiling crashing into the stands. North Carolina and Duke postponed their first meeting when a snow storm left the Blue Devils' bus unable to safely travel eight miles to Chapel Hill. It was the Tar Heels' first postponed game since the Gulf War. Court storming continued to be a topic when a fight broke out at the end of Utah Valley's win over New Mexico State. The incident started when an agitated K.C. Ross-Miller of NMSU hurled the ball at
Holton Hunsaker
as time expired. Two Aggies were suspended for their roles in the altercation. Thankfully no one was hurt when an alcohol-fused adrenaline rush sent a UC-Santa Barbara student running onto the court during the first half of a game against Hawaii; the fan got close enough to confront Hawaii coach Gib Arnold before players pushed him away and he was escorted out.
Those were the top highlights from the season. Just missing the cut were: how teams turned around their seasons (including Virginia, Wisconsin, Michigan, Kentucky and Tennessee); the impact of transfers (from the spectacular, including Duke's
Rodney Hood
; to the cautionary, including Georgetown's
Josh Smith
); the Carolina blues (potential All-American P.J. Hairston sat out the first nine games before the school announced it would not seek his reinstatement); and basketball as an emotional outlet (cellar dweller Boston College handed Syracuse its first loss after the passing of longtime BC media relations director Dick Kelley, and Georgia coach Mike Fox winning at Missouri after attending his father's memorial service).
March, 2, 2014
3/02/14
9:25
AM ET
By
ESPN.com staff
| ESPN.com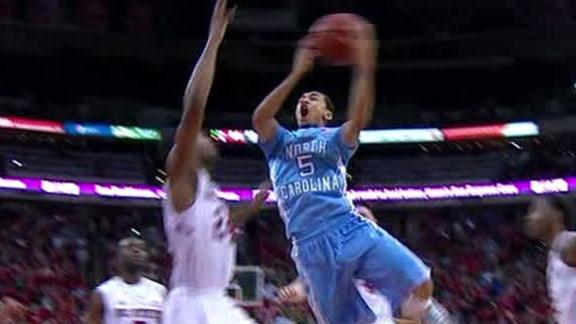 The nominees for the Capital One Cup Impact Performance of the Week include North Carolina's Marcus Paige, Tennessee's Jordan McRae, Michigan's Glenn Robinson III and Indiana's Will Sheehey.
December, 13, 2013
12/13/13
10:00
AM ET
In last week's predictions
, I "called" Baylor over Kentucky, but I missed Missouri over UCLA and Colorado over Kansas.
It happens. It will continue to happen, I'm sure. I'll get a few right (maybe) and I'll miss some. Either way, you all will let me know.
There are a variety of must-see matchups this weekend. Let's see how many games I can pick correctly in a new round of weekend predictions.
Last week: 3-2
Overall: 3-2
Friday


No. 23 Iowa at No. 17 Iowa State, 9:30 p.m. ET, ESPNU:
There will be fireworks in Ames on Friday night. Iowa State averages 91.7 points per game (the NCAA's No. 1 scoring offense) and Iowa averages 89.5 (No. 6). This is only the second time that both teams have been ranked during the rivalry's history. Both teams can obviously push the tempo. But I think the game will be decided at the 3-point line. Iowa State coach Fred Hoiberg's offense is built on the 3-ball (five Cyclones shoot 38 percent or better from beyond the arc). But Iowa's 6-foot-6 wing
Roy Devyn Marble
& Co. have held opponents to a 26 percent clip from the 3-point line this year. I think this will be a tight game. But I expect Iowa's length, depth and ability to defend the 3-point to be the difference Friday night.
Prediction: Iowa 98, Iowa State 97 (OT)
Saturday


No. 1 Arizona at Michigan, noon ET, CBS:
I think we'll see the best Michigan performance of the year Saturday. The Wolverines will be home and they're due for an upset. But it still won't be enough. This is just a terrible matchup for Michigan. I think there's definitely a chance the Wolverines could get hot from beyond the arc (38.6 percent). But there are so many mismatches against an Arizona team that's eighth in offensive rebounding percentage per Ken Pomeroy and boasts (arguably) America's best frontcourt with
Aaron Gordon
,
Kaleb Tarczewski
,
Brandon Ashley
and
Rondae Hollis-Jefferson
. The Wildcats have held opponents to just 58.0 PPG and a 27.2 percent mark from the 3-point line. That's a problem for Michigan, even though it's hosting Arizona.
Prediction: Arizona 73, Michigan 67


No. 11 Kentucky at No. 18 North Carolina, 5:15 p.m. ET, ESPN:
Probably the best game of the weekend. I hope. You really don't know what you'll get from North Carolina. The Tar Heels have lost to UAB and Belmont and they've defeated Michigan State and Louisville. So recent history suggests that they'll be ready for Kentucky, which will play its first true road game of the season, because this is another big game. Kentucky's
Julius Randle
had eight turnovers in his team's loss to Michigan State last month. He's averaging 3.5 TPG. That's significant because he's such an offensive catalyst for the Wildcats. And North Carolina has the length to frustrate him and force him into mistakes.
Marcus Paige
will help the Tar Heels harass
Andrew Harrison
. North Carolina has already defeated two teams that are playing better basketball than Kentucky is right now. The Tar Heels will get another big win on Saturday in Chapel Hill.
Prediction: North Carolina 81, Kentucky 78


Tennessee at No. 12 Wichita State, 2 p.m. ET, ESPN2:
Last season, the Vols topped the Shockers 69-60 in Knoxville. But Tennessee has struggled in the first few weeks of the 2013-14 season. Cuonzo Martin has utilized some young players and re-inserted
Jeronne Maymon
into his rotation after the forward missed last season with a knee injury. The Vols have won three in a row and Maymon is gradually regaining his pre-injury form (15-for-20 in his last three games). But Wichita State is still riding the wave that was created in last year's Final Four run. And this Shockers team might be even better than last season's crew. Fred VanVleet is one of America's top point guards and a healthy
Ron Baker
has emerged as a star (15.3 PPG). The Shockers recently held BYU (90.8 PPG) to a season-low 62 points. That defense will be tough for Tennessee to overcome.
Prediction: Wichita State 75, Tennessee 67


New Mexico vs. No. 13 Kansas (Kansas City), 7 p.m. ET, ESPN2:
Kansas suffered its third loss in four games Tuesday when it faced Florida in Gainesville. Saturday's matchup against New Mexico will be Kansas' sixth consecutive matchup outside Lawrence, Kan. The road has not been kind to Kansas thus far. The Jayhawks had a lot of issues against the Gators. But they showed some fight down the stretch. They'll have to fight for 40 minutes, however, to beat Mountain West contender New Mexico. The Lobos have a potent trio of
Cameron Bairstow
,
Kendall Williams
and
Alex Kirk
. But they're facing a wounded animal. Kansas is desperate for a win. And the Jayhawks have the size, skill and athleticism to end this slide.
Prediction: Kansas 78, New Mexico 74