North Carolina Tar Heels:

VCU Rams
June, 4, 2014
Jun 4
12:50
PM ET
As the
Class of 2016 ESPN 60
takes shape, there are indications that there are key players at every position who could be special. The star power is intriguing, and we are discovering more talent each weekend. We'll be keeping a close eye on this class throughout the summer.
Dennis Smith Jr.
, a prospect not many outside of North Carolina know about, has become a top-10 player and is the best point guard in the class. As a rising junior, his recent performances on the spring circuit have made some lasting impressions, and he still has plenty of room to grow. As a sophomore, Smith averaged 17 points and 9 assists per game. Simply put, he has impressive tools, instincts and basketball IQ at a young age. The future looks extremely bright for this young guard.
May, 7, 2014
May 7
10:00
AM ET
This week, ESPN.com will feature a position-by-position look at players to watch for the 2014-15 season.
In 2003, a young man from Akron, Ohio, excelled during his rookie season in the NBA (20.9 PPG, 5.5 RPG, 5.9 APG, 1.6 SPG) and crushed philosophies about
specific roles and positions
in 21st century basketball. Stat hub basketball-reference.com lists LeBron James as a shooting guard his first season, a small forward the next eight years and a power forward from 2012 to the present. That might be a typo. But James does everything. He pushes the ball, he flows in the midrange, he rebounds, he posts up and he guards wings and big men. What can't he do?
[+] Enlarge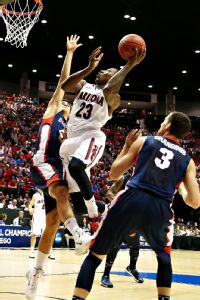 Jeff Gross/Getty ImagesWith several departures, Rondae Hollis-Jefferson could be the focal point of Arizona's team next season.
At this level, there is a pool of "small forwards" who idolize the icon, and have expanded their games beyond the traditional descriptions of what a small forward should be and instead focused on what it could be. The college game, much like the pros, has been seized by lengthy forwards who demonstrate dexterity in everything they do. The elite small forwards play multiple slots and they're often asked to stretch on defense, too. Guard/forward or combo forward is probably more accurate than small forward. Simply put, the following players are not one-dimensional:
Top returnees to watch
Rondae Hollis-Jefferson, Arizona:
As a reserve and occasional starter in the final weeks of the season, Hollis-Jefferson blossomed on one of the most talented rosters in the country. And that's not easy to do, especially for a freshman. He averaged 9.1 PPG, 5.7 RPG and 1.1 BPG in just 25.3 MPG. He also accrued a 113.1 offensive rating. He'll be even more pivotal for the Wildcats next season, now that
Aaron Gordon
and
Nick Johnson
have departed. The NBA prospect has All-America ability.
Sam Dekker, Wisconsin:
With the key pieces returning from Bo Ryan's first Final Four team, the Badgers will compete for the national championship in 2014-15, and Dekker is a significant component in the quest. The 6-foot-8 NBA prospect had a solid sophomore season, when he logged more minutes (29.8 MPG compared to 22.3 as a freshman) and improved his defense. His 3-point shooting numbers were down in 2013-14 (33 percent compared to 39 as a freshman), but Dekker also finished with 12.4 PPG, 6.1 RPG and 1.4 APG in a system that demands balance. Next season, Dekker could take the next step as he continues to evolve into an elite talent.
Treveon Graham, VCU:
As a junior, Graham earned first-team all-Atlantic 10 honors last season after averaging 15.8 PPG, 7.0 RPG and 2.0 APG. Even though the Rams lost
Rob Brandenberg
and
Juvonte Reddic
, this will be Shaka Smart's most talented VCU squad. It will also be Smart's deepest VCU squad now that he has added the top recruiting class of his tenure. There were offensive issues all season for a program that averaged 75.4 PPG but finished 107th in adjusted offensive efficiency (per Ken Pomeroy), but Graham, the team's top scorer, wasn't the issue. He ended the year with a 111.2 offensive rating, No. 1 among A-10 players with a minimum 24 percent usage rate (per Pomeroy).
Branden Dawson, Michigan State:
Dawson considered the NBA but ultimately returned to East Lansing, where he'll be Michigan State's featured act next season. The forward missed nearly a month of action last season with a hand injury, but he found a rhythm shortly after he returned. He wasn't as effective as he could have been in Michigan State's loss to Connecticut in the Elite Eight (1-for-3, five points, eight rebounds). But in the six previous games, he averaged 17.5 PPG and 8.1 RPG. If he brings that game into 2014-15, the Spartans will still be viable contenders in the Big Ten, despite losing
Adreian Payne
and
Gary Harris
.
Anthony Drmic, Boise State:
The Broncos did not meet expectations last season. Although the anchors of an NCAA tourney squad, Drmic and
Derrick Marks
, returned to Leon Rice's program, Boise State failed to earn a bid to the Big Dance. But Drmic and Marks are back again. And in a Mountain West that has absorbed many blows since the conclusion of the 2014-15 campaign, Drmic (111.2 offensive rating) could lead the Broncos back to March Madness, especially if he duplicates last season's impressive numbers (15.9 PPG, 34 percent from the 3-point line).
Top newcomers to watch
[+] Enlarge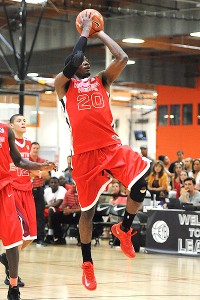 Chris Williams/Icon SMIJustise Winslow isn't the highest-rated recruit in Duke's loaded class, but he could be the most important.
Justise Winslow, Duke:
Rodney Hood
and
Jabari Parker
are gone. Winslow, a 6-6 McDonald's All-American from Texas, will help the program fill that void. The Blue Devils have ESPN RecruitingNation's top recruiting class, which includes
Tyus Jones
,
Jahlil Okafor
and
Grayson Allen
, but Winslow might be the most significant recruit in that foursome considering what the program has lost.
Stanley Johnson, Arizona:
One day, Johnson will explain how he and his 6-6, 225-pound NFL tight end frame found their way to a basketball court instead of a football field. This freshman is built like Colossus. He's a physical player who embarrassed the boys in high school who tried to contain him. Things won't be that easy at the college level, but Johnson, the No. 7 recruit in the 2014 class, will play early and often for Sean Miller.
Theo Pinson, North Carolina:
Maybe he'll end up playing more of a true wing role, but the 6-6 small forward is the type of explosive athlete that Roy Williams will need to compete in a conference that will add Louisville next season. Pinson, the No. 10 recruit in the 2014 recruiting class per RecruitingNation, is a fearless youngster who could crack the Tar Heels' starting rotation early.
Kelly Oubre, Kansas:
Andrew Wiggins
is gone, but Oubre, a McDonald's All-American, could be the next one-and-done small forward at Kansas.
April, 28, 2014
Apr 28
11:00
AM ET
At 11:59 p.m. ET Sunday night, the NBA's early-entry draft deadline came and went. No key college hoops offseason date has so much, or so widespread, an impact on the landscape to come. And, for the fledgling offseason rankings writer, no consideration is trickier. Without question, that's
the hardest part about the Way Too Early Top 25
, which we published with confetti still on the keyboard just after UConn's national championship earlier this month. Until draft decisions are in, you're just making guesses. Educated guesses, sure. But guesses all the same.
Now that we know which players are staying and which are going, it's time to offer an edited addendum to this offseason's first attempt at a 2014-15 preseason top 25. How did draft decisions change the list?
In short, not a whole lot. But we do have a new No. 1. It will surprise nobody.
Jeff Gross/Getty ImagesJohn Calipari will have a roster full of future NBA players, as usual, next season. And this one will have experience.

Kentucky Wildcats: Kentucky was our No. 3 in the Way Too Early rankings back when we were almost certain the Harrison twins, Willie Cauley-Stein, Alex Poythress, and maybe even Dakari Johnson would be headed to the NBA. In the end, Kentucky kept all five, and add two of the best big men in the country (Trey Lyles, Karl Towns) in the incoming class to form a team that is surprisingly experienced, mind-bendingly tall (Calipari has three 7-footers and two 6-10 guys, all of whom are likely to play in the NBA), and every bit as loaded on natural talent as ever. Kentucky is losing Julius Randle and James Young to the draft, and will probably be better next season. Kind of insane!

Duke Blue Devils: Nothing less than a Jabari Parker return could have moved Duke beyond Kentucky and into the No. 1 spot at this point in the season, and Parker is heading to the NBA, as expected. Even so, the Blue Devils are in great shape, mixing the nation's best recruiting class with a really solid group of veteran, tried-and-tested role players.

Arizona Wildcats: The tentative No. 1 back when Nick Johnson was still weighing the proverbial options, Arizona takes the deep, chasmic plummet all the way to No. 3. In less sarcastic terms: Sean Miller has Arizona so well-oiled that it can lose its two best players (Aaron Gordon and Johnson) and still be a national title contender next season.

Wisconsin Badgers: Frank Kaminsky almost made this more work than it had to be; after a breakout postseason, Kaminsky saw scouts' interest skyrocket. But he held off in the end, which means the Badgers are still only losing one player -- senior guard Ben Brust -- from last year's excellent Final Four group.

Wichita State Shockers: Nothing to report here: The Shockers are still losing Cleanthony Early and still keeping Ron Baker and Fred VanVleet. Will they go unbeaten until late March again? No, but they'll be awfully good.

North Carolina Tar Heels: Point guard Marcus Paige played well enough in 2013-14 to earn a fair amount of NBA discussion by the time the season was over. Brice Johnson was just as promising, even in more limited minutes. But both players were always likely to come back, and now that they have, Roy Williams has more talent and experience at his disposal than at any time in the past five years.

Virginia Cavaliers: The Cavaliers are still a relatively predictable bunch going forward. Losing Akil Mitchell and Joe Harris will hurt, but Tony Bennett's team will still be led by Malcolm Brogdon and a very solid returning core.

Louisville Cardinals: Montrezl Harrell was probably a lottery pick, making his decision to stay in Louisville for another season one of the most surprising of the past month. It's also worth a big boost to Louisville's 2014-15 projections.

Florida Gators: Probably the biggest boom-or-bust team on this list, Florida's 2014-15 season will hinge on the development of point guard Kasey Hill and raw-but-gifted big man Chris Walker. Jon Horford, a graduate transfer from Michigan, will add size and stability.

Kansas Jayhawks: Bill Self's team won't have Andrew Wiggins and Joel Embiid in the fold next season, which was always a foregone conclusion (even if Embiid waited just long enough to make us wonder). But the players Self does have returning, plus another solid batch of arrivals, should make for another Big 12 regular-season title, the program's 11th in a row. Ho-hum.

Connecticut Huskies: DeAndre Daniels' pro turn is a little bit surprising, given how quickly Daniels rose from relative obscurity in the NCAA tournament, but it is far less damaging than Ryan Boatright's return is helpful. And transfer guard Rodney Purvis, eligible this fall, will help, too.

Southern Methodist Mustangs: An already good team (and one that probably deserved to get in the NCAA tournament over NC State, but oh well) gets almost everyone back and adds the No. 2 point guard in the 2014 class (Emmanuel Mudiay) to the mix, coached by Larry Brown. This should be interesting.

Villanova Wildcats: Before Jay Wright's team lost to Seton Hall in the Big East tournament and UConn in the round of 32, it lost exactly three games all season. Four starters and an excellent reserve (Josh Hart) return, and Wright's program should remain ascendant.

Virginia Commonwealth Rams: Shaka Smart has a lineup full of his prototypical ball-hawking guards, with the best recruiting class of his career en route this summer.

Gonzaga Bulldogs: As Kentucky prepares for another season in the spotlight, a player who helped the Wildcats win their last national title -- forward Kyle Wiltjer -- re-emerges at Gonzaga, where he'll be the perfect stretch 4 in a devastating offensive lineup.

Iowa State Cyclones: By and large, the Cyclones are what they were when their season ended: Seniors Melvin Ejim and DeAndre Kane are off to the Association, but Fred Hoiberg still has a lot of interesting, interchangeable pieces at his disposal.

Texas Longhorns: The recently announced transfer of Maryland forward Shaquille Cleare won't help the Longhorns until 2015-16, when Cleare becomes eligible, but with everybody back, the Longhorns have a chance to make a real leap right away.

[+] Enlarge

Steve Dykes/Getty ImagesMichigan State shouldn't slide back too far with Branden Dawson returning.

Michigan State Spartans: Our first offseason ranking of Michigan State essentially assumed that Gary Harris would leave, which he did. Branden Dawson's return is crucial, and if Denzel Valentine has a big year, Tom Izzo's team might not take as big a step back as everyone is predicting.

Oklahoma Sooners: Same story here: a very good offensive team with most of its major pieces back that needs to get a bit better defensively to really make a move into the elite.

San Diego State Aztecs: The team that should have been on our first list anyway gets here now in large part as a function of its competition. But that's not an insult: Even losing Xavier Thames, the Aztecs are going to defend really well again, with a group of exciting young West Coast players on the way.

Syracuse Orange: The Orange took not one, but two big-time hits in the draft-decision window. The first was point guard Tyler Ennis; the second, forward and sixth man Jerami Grant. Ennis was the most crucial, as it leaves Syracuse without an obvious point guard replacement.

Oregon Ducks: Now that UCLA's Jordan Adams switched his decision and will leave for the NBA (with little time to spare, too), Oregon's combination of Joseph Young, Dominic Artis and Damyean Dotson looks like the second-best Pac-12 team.

Kansas State Wildcats: Freshman star Marcus Foster was one of the pleasant surprises of the 2013-14 season; he should be even better as a sophomore.

Michigan Wolverines: The worst-case scenario for Michigan fans came true: Nik Stauskas, Glenn Robinson III and Mitch McGary all left for the NBA draft. That said, Caris LeVert is on track for a major season, and while Michigan won't have the firepower of the past two seasons, it's fair to assume the Wolverines will still put up a ton of points.

Iowa Hawkeyes: The argument for Iowa still stands: Fran McCaffery can reasonably replace Roy Devyn Marble and Melsahn Basabe with Jarrod Uthoff and Gabriel Olaseni and still get the kind of offense that fueled the pre-collapse Hawkeyes last season.
April, 9, 2014
Apr 9
10:00
AM ET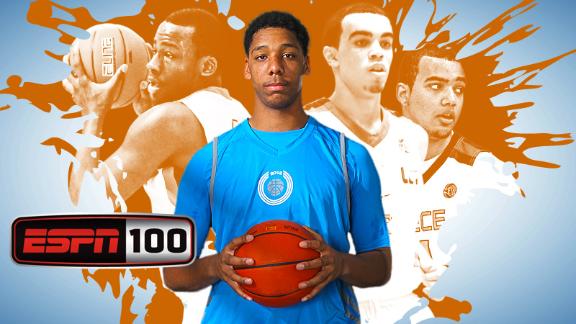 Scouting the country each year I'll not only see players' skills, athletic ability and basketball IQ, but I'll also witness their character along the way. This year's class might not have any NBA superstars at the moment, but it will have difference-makers for the college game, both in the short term as well as those who will make a difference in time because of their character traits combined with their talent.
As we wrap up the Class of 2014, here are my five final thoughts:
1. The land of the giants
[+] Enlarge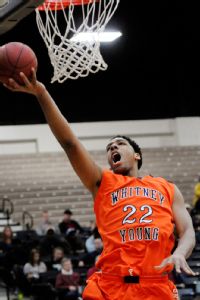 AP Photo/The Sun News/Charles SlateDuke center signee Jahlil Okafor finishes the season as the nation's top prospect.
When you look at the top of a class it's so rare to have three post players sitting in the top three spots.
Jahlil Okafor
, who held the top spot for much of the season, finishes the season as the nation's top prospect. The center from Chicago is a dominating presence in the paint. A Duke signee, Okafor led his high school team to a 4A state championship and was named the McDonalds Morgan Wooten player of the year.
He is special because he scores down low in the paint with his back to the basket. His combination of size, touch and fluid footwork is too much for one defender and when he doesn't score, he attracts a double-team, which gives his team an advantage. He operates with patience and poise and when he reads the double-team he will accurately pass out to the open man. Defensively he guards the post and is improving at ball-screen defense as he is a barrier to the rim for his team.
Myles Turner
, the nation's No. 2 prospect, challenged hard for the No. 1 position and shows a big upside. Turner, who is uncommitted, is an elite shot-blocker and scores baskets with a soft touch and range.
Cliff Alexander
is going to be an absolute difference-maker for Kansas with his ability to rebound, finish and block shots, and he does it in an aggressive manner.
Trey Lyles
is one of the most skilled post players in this group and his future teammate at Kentucky
Karl Towns Jr.
has franchise skill-to-size ratio.
Thomas Welsh
is a fundamentally sound big who will anchor the middle at UCLA.
To continue reading this article you must be an Insider
November, 24, 2013
11/24/13
12:00
PM ET
On Holiday is College Basketball Nation's daily rundown of the holiday tournaments, complete with previews, recaps and links to all of the early-season tournament info you'll need in the weeks to come.
IN REVIEW
College football was more exciting Saturday, and I don't love college football: "On a slow Saturday for college basketball, there just weren't many gems. North Carolina struggled with Richmond but eventually pulled away to win 82-72. Louisville dismissed Fairfield 71-57, which set up a marquee Sunday matchup against the Tar Heels. Winless Tulsa gave Creighton a scare. But overall, it certainly wasn't the game's sexiest Saturday. But there were a variety of under-the-radar and mid-major programs that offered some impressive individual efforts." -- Myron Medcalf, ESPN.com
[+] Enlarge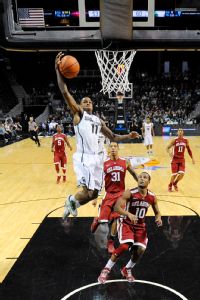 Maddie Meyer/Getty ImagesKeith Appling's career-high 27 points and clutch plays helped Michigan State overcome Oklahoma.
COACHES V. CANCER: Michigan State "got punched, almost KO'd' by Oklahoma; wins Coaches' title 87-76 anyway: "The Sooners came out with something to prove. The Spartans did not. They won anyway, 87-76, despite falling behind by double digits midway through the first half in the finals of the Coaches vs. Cancer Classic. And despite building an 18-point second-half lead, only to fritter it away with turnovers and missed free throws. … They might not have were it not for Keith Appling, whose 3-pointer in the first half ignited a run for MSU and whose three-point play in the second half stopped a run for Oklahoma. That driving layup and ensuing free throw began a run of seven consecutive points for Appling. He finished with 27 -- a career high. He scored many of them down the stretch, driving into the lane, tossing acrobatic floaters." --Shawn Windsor, Detroit Free Press
UP NEXT
**HALL OF FAME TIP-OFF: No. 3 Louisville, No. 24 North Carolina survive in semis, give us marquee title game -- with one caveat: The tournament organizers at the Mohegan Sun in Uncasville, CT could rest easy Saturday afternoon. Defending national champs Louisville handled Fairfield 71-57 and continued to look impressive. North Carolina, on the other hand, was a little bit shakier against Richmond -- a more solid, healthier Richmond than in recent seasons, but Richmond all the same.
Strong recap from C.L.: "Erase for a minute everything you're used to assuming about a North Carolina basketball team under coach Roy Williams. The No. 24 Tar Heels are not that team." -- C.L. Brown, ESPN.com.
They're also not last season's team, in one very obvious way. The Tar Heels still won't have last season's leading scorer, P.J. Hairston, against Louisville on Sunday, though that is not exactly new news. What is new, now, is the open question of whether Hairston might ever come back for North Carolina. To put it simply, if Williams and UNC are worried that Hairston's summertime dalliances with convicted felon Haydn "Fats" Thomas (and the rental cars Hairston was driving that led back to Thomas's payment info and addresses at rental vendors), then he can't play. If he did, and the NCAA ruled against Hairston or UNC in the future, every game it played in the time being -- whether Richmond or Louisville or wherever -- would be in dispute.
For the first time since Hairston was pulled over, North Carolina officials -- down to Williams himself -- aren't evincing optimism about his return.
— Will Williams ever coach Hairston again? "I think I will," he said. "There's no doubt in my mind that I think I will. But I don't know." To understand the weight of that quote you need to understand that Williams would never rule anything out until it's officially ruled out. He's forever positive and hopeful. But it should be noted that even the Hall of Fame coach has changed his position since the preseason. Back then, Williams admittedly seemed unsure about how much time Hairston might miss, but he never publicly entertained the idea that Hairston would not play for the Tar Heels again. Now, Williams acknowledges he just doesn't know, and that public uncertainty can be interpreted as serious doubt. … But the prevailing theory among sources around the North Carolina program is that Hairston might not have been completely honest with investigators about the extent of his use of rental cars connected to a convicted felon named Haydn 'Fats' Thomas that were seemingly occupied by Hairston in violation of NCAA bylaws." -- Gary Parrish, CBS
[+] Enlarge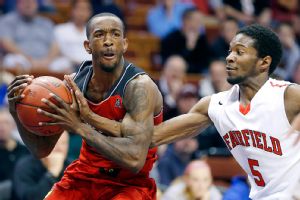 AP Photo/Michael DwyerAfter beating Fairfield, Russ Smith and the Cards face North Carolina on Sunday afternoon.
Oh, also: Louisville: It would be a shame to allow the ongoing North Carolina psychodrama to blot out Russ Smith and the Cardinals. Sure, Saturday represents Louisville's first test against quality competition -- besides Fairfield, the Cardinals have treated College of Charleston, Hofstra, Cornell and Hartford like a bored housecat with a mouse. But two things stand out about Louisville thus far:
Much like VCU, it is still turning people over at the same rate as in 2012-13 despite the new handchecking rules.
The Cardinals are not turning the ball over themselves. They finished No. 77 in turnover rate in 2012-13 -- coughing up on 18.3 percent of their trips. This season, with Chris Jones installed in place of departed senior Peyton Siva, the Cardinals are turning it over just 11.3 percent of the time.
The small sample size disclaimer applies here. Actually, make that a double disclaimer -- small sample size and poor competition. Jones is unlikely to make things look this easy all season. But the juco transfer junior hasn't missed a step in his first season in Louisville, Smith is even better offensively thus far, and the Cardinals are rolling as a result.
Paradise Jam (updated bracket) semifinal rounds: Seeds mostly held on Day 1 of the Paradise Jam, which I think we should abbreviate to "PJ," even if support among my colleagues remains tepid. Northern Iowa and Maryland square off at 7 p.m. ET, and La Salle gets Providence at 9:30 ET in the winners' half of the bracket.
Puerto Rico Tip-Off (updated bracket): Will Act III be as crazy as the first two? Georgetown-VCU sounds like a pretty solid November nonconference game, right? By March, it might be possible for both teams to have fully shaken off the reasons why they played on the final day of Puerto Rico; they may have improved so much by then we'll look back on today's consolation -- yes, consolation -- in a whole different context.
Today, however, it's a product of the unpredictability of the week in Puerto Rico -- where Florida State manhandled VCU and probably should have beaten Michigan late; where Northeastern made Georgetown look like a fellow CAA team, and not a very good one; where Charlotte, a seemingly nondescript program at this point, finds itself in today's 6:30 p.m. ET title game in Bayamon, PR.
With all due respect to the 49ers, the Florida State game may well have hardened Michigan in crucial ways. The Wolverines were physically dominated and just straight-up played badly and still, thanks to some timely, late heroics, managed to dispatch Leonard Hamilton's team and progress to the title game. It's hard to see them losing to Charlotte now.
Then again, we've been wrong before -- which is how we got Georgetown and VCU in the 2 p.m. ET consolation game in the first place. VCU was the favorite coming in to Puerto Rico, but FSU did a number on the Rams in Round 1, and Long Beach State kept that crucial turnover number startlingly low in VCU's win in Round 2. Georgetown has not protected the ball particularly well to date. The Hoyas turn it over on 18.0 percent of their offensive possessions. And their one clear personnel advantage -- massive center Josh Smith -- may not be able to stay on the court in an uptempo affair.
And that's it: There are other tournaments out there, but only so much space on the Internet to discuss them. Enjoy the Sunday of hoops everyone.