North Carolina Tar Heels:

Wichita State Shockers
May, 15, 2014
May 15
10:00
AM ET
Some of the best one-on-one matchups will take place before the college basketball season tips off. They will come in the form of position battles within a team to determine a starter, which in some cases will shape an entire lineup.
Starting with point guard, ESPN.com will examine those quiet battles on a
position-by-position basis
this week while also promising we will never use the phrase "iron sharpens iron" to describe the competition.
Here are some power forward battles to keep an eye on:

Kentucky: Trey Lyles vs. Alex Poythress vs. TBD
Exactly who factors into this battle in Lexington will come down to how coach John Calipari divvies up positions. With so many frontcourt players, he has a numbers crunch that could mean guys play more hybrid positions or even out of position. Will he slide Poythress to small forward? Will he turn
Willie Cauley-Stein
or
Marcus Lee
into more of a power forward than a center? Where does
Derek Willis
fit in? Lyles, one of the best in the Class of 2014, will be a factor one way or another. The good news is that Calipari has options. The interesting thing will be to see how they all play out.

Kansas: Cliff Alexander vs. Perry Ellis
Ellis has spent the better part of his career waiting his turn. Now here he is, a junior, and he's got a whippersnapper like Alexander to battle. The two come at their position from different but equally effective ways. Alexander is the more typical power forward, a rebounding machine who muscles his way to success. Ellis can rebound and battle with the best of them, but he also has some finesse to his game. Odds are that coach Bill Self will find a way to use both at the same time -- Alexander likely at the 5 -- to form a pretty formidable backcourt.

North Carolina: Jackson Simmons vs. Isaiah Hicks
Or who will back up
Brice Johnson
? Caught in a numbers crunch, neither saw much playing time last season, but somebody will have to contribute for coach Roy Williams this coming season. Hicks, a sophomore to be, played out of position for most of last season, sliding over to the small forward spot. Meanwhile, Simmons (who will be a senior) has spent the better part of his career biding his time. It will come down to whether Williams leans on the more veteran Simmons or the more talented Hicks.
Wichita State: Who will replace Cleanthony Early?
That's the unenviable battle.
Shaquille Morris
, who stopped traveling with the Shockers in February so he could work on his weight training and get in shape, has a chance if he proves he's up to the task. Freshman
Rashard Kelly
, out of Hargrave Military, is also an option. He averaged 19.6 points and 10.4 boards in his senior season. The truth is that no one can replace Early alone, but coach Gregg Marshall at least needs to find some committee members up to the task.

Florida: Dorian Finney-Smith vs. Alex Murphy vs. Devin Robinson vs. Jon Horford
Finney-Smith, who likes to rebound, likely will get the nod here, but this could be a fluid position for coach Billy Donovan as the season progresses. Once Murphy, the Duke transfer, becomes eligible in mid-December, things could change. And if Robinson, a highly regarded freshman, develops well, it could change again. Horford, who can play immediately after finishing up his degree at Michigan, will likely get lots of minutes between the 4 and 5 spot, and Finney-Smith will float among small forward, power forward and even in the middle at times.

Gonzaga: Kyle Wiltjer vs. Domantas Sabonis
Wiltjer, the sharpshooting transfer from Kentucky, will likely get the edge here thanks to experience, but the Lithuanian Sabonis is an intriguing guy for coach Mark Few. The son of former NBA star Arvydas Sabonis, Domantas excelled in the FIBA Under-18 World Championships, averaging 14 points and 11.4 rebounds per game.
April, 28, 2014
Apr 28
11:00
AM ET
At 11:59 p.m. ET Sunday night, the NBA's early-entry draft deadline came and went. No key college hoops offseason date has so much, or so widespread, an impact on the landscape to come. And, for the fledgling offseason rankings writer, no consideration is trickier. Without question, that's
the hardest part about the Way Too Early Top 25
, which we published with confetti still on the keyboard just after UConn's national championship earlier this month. Until draft decisions are in, you're just making guesses. Educated guesses, sure. But guesses all the same.
Now that we know which players are staying and which are going, it's time to offer an edited addendum to this offseason's first attempt at a 2014-15 preseason top 25. How did draft decisions change the list?
In short, not a whole lot. But we do have a new No. 1. It will surprise nobody.
Jeff Gross/Getty ImagesJohn Calipari will have a roster full of future NBA players, as usual, next season. And this one will have experience.

Kentucky Wildcats: Kentucky was our No. 3 in the Way Too Early rankings back when we were almost certain the Harrison twins, Willie Cauley-Stein, Alex Poythress, and maybe even Dakari Johnson would be headed to the NBA. In the end, Kentucky kept all five, and add two of the best big men in the country (Trey Lyles, Karl Towns) in the incoming class to form a team that is surprisingly experienced, mind-bendingly tall (Calipari has three 7-footers and two 6-10 guys, all of whom are likely to play in the NBA), and every bit as loaded on natural talent as ever. Kentucky is losing Julius Randle and James Young to the draft, and will probably be better next season. Kind of insane!

Duke Blue Devils: Nothing less than a Jabari Parker return could have moved Duke beyond Kentucky and into the No. 1 spot at this point in the season, and Parker is heading to the NBA, as expected. Even so, the Blue Devils are in great shape, mixing the nation's best recruiting class with a really solid group of veteran, tried-and-tested role players.

Arizona Wildcats: The tentative No. 1 back when Nick Johnson was still weighing the proverbial options, Arizona takes the deep, chasmic plummet all the way to No. 3. In less sarcastic terms: Sean Miller has Arizona so well-oiled that it can lose its two best players (Aaron Gordon and Johnson) and still be a national title contender next season.

Wisconsin Badgers: Frank Kaminsky almost made this more work than it had to be; after a breakout postseason, Kaminsky saw scouts' interest skyrocket. But he held off in the end, which means the Badgers are still only losing one player -- senior guard Ben Brust -- from last year's excellent Final Four group.

Wichita State Shockers: Nothing to report here: The Shockers are still losing Cleanthony Early and still keeping Ron Baker and Fred VanVleet. Will they go unbeaten until late March again? No, but they'll be awfully good.

North Carolina Tar Heels: Point guard Marcus Paige played well enough in 2013-14 to earn a fair amount of NBA discussion by the time the season was over. Brice Johnson was just as promising, even in more limited minutes. But both players were always likely to come back, and now that they have, Roy Williams has more talent and experience at his disposal than at any time in the past five years.

Virginia Cavaliers: The Cavaliers are still a relatively predictable bunch going forward. Losing Akil Mitchell and Joe Harris will hurt, but Tony Bennett's team will still be led by Malcolm Brogdon and a very solid returning core.

Louisville Cardinals: Montrezl Harrell was probably a lottery pick, making his decision to stay in Louisville for another season one of the most surprising of the past month. It's also worth a big boost to Louisville's 2014-15 projections.

Florida Gators: Probably the biggest boom-or-bust team on this list, Florida's 2014-15 season will hinge on the development of point guard Kasey Hill and raw-but-gifted big man Chris Walker. Jon Horford, a graduate transfer from Michigan, will add size and stability.

Kansas Jayhawks: Bill Self's team won't have Andrew Wiggins and Joel Embiid in the fold next season, which was always a foregone conclusion (even if Embiid waited just long enough to make us wonder). But the players Self does have returning, plus another solid batch of arrivals, should make for another Big 12 regular-season title, the program's 11th in a row. Ho-hum.

Connecticut Huskies: DeAndre Daniels' pro turn is a little bit surprising, given how quickly Daniels rose from relative obscurity in the NCAA tournament, but it is far less damaging than Ryan Boatright's return is helpful. And transfer guard Rodney Purvis, eligible this fall, will help, too.

Southern Methodist Mustangs: An already good team (and one that probably deserved to get in the NCAA tournament over NC State, but oh well) gets almost everyone back and adds the No. 2 point guard in the 2014 class (Emmanuel Mudiay) to the mix, coached by Larry Brown. This should be interesting.

Villanova Wildcats: Before Jay Wright's team lost to Seton Hall in the Big East tournament and UConn in the round of 32, it lost exactly three games all season. Four starters and an excellent reserve (Josh Hart) return, and Wright's program should remain ascendant.

Virginia Commonwealth Rams: Shaka Smart has a lineup full of his prototypical ball-hawking guards, with the best recruiting class of his career en route this summer.

Gonzaga Bulldogs: As Kentucky prepares for another season in the spotlight, a player who helped the Wildcats win their last national title -- forward Kyle Wiltjer -- re-emerges at Gonzaga, where he'll be the perfect stretch 4 in a devastating offensive lineup.

Iowa State Cyclones: By and large, the Cyclones are what they were when their season ended: Seniors Melvin Ejim and DeAndre Kane are off to the Association, but Fred Hoiberg still has a lot of interesting, interchangeable pieces at his disposal.

Texas Longhorns: The recently announced transfer of Maryland forward Shaquille Cleare won't help the Longhorns until 2015-16, when Cleare becomes eligible, but with everybody back, the Longhorns have a chance to make a real leap right away.

[+] Enlarge

Steve Dykes/Getty ImagesMichigan State shouldn't slide back too far with Branden Dawson returning.

Michigan State Spartans: Our first offseason ranking of Michigan State essentially assumed that Gary Harris would leave, which he did. Branden Dawson's return is crucial, and if Denzel Valentine has a big year, Tom Izzo's team might not take as big a step back as everyone is predicting.

Oklahoma Sooners: Same story here: a very good offensive team with most of its major pieces back that needs to get a bit better defensively to really make a move into the elite.

San Diego State Aztecs: The team that should have been on our first list anyway gets here now in large part as a function of its competition. But that's not an insult: Even losing Xavier Thames, the Aztecs are going to defend really well again, with a group of exciting young West Coast players on the way.

Syracuse Orange: The Orange took not one, but two big-time hits in the draft-decision window. The first was point guard Tyler Ennis; the second, forward and sixth man Jerami Grant. Ennis was the most crucial, as it leaves Syracuse without an obvious point guard replacement.

Oregon Ducks: Now that UCLA's Jordan Adams switched his decision and will leave for the NBA (with little time to spare, too), Oregon's combination of Joseph Young, Dominic Artis and Damyean Dotson looks like the second-best Pac-12 team.

Kansas State Wildcats: Freshman star Marcus Foster was one of the pleasant surprises of the 2013-14 season; he should be even better as a sophomore.

Michigan Wolverines: The worst-case scenario for Michigan fans came true: Nik Stauskas, Glenn Robinson III and Mitch McGary all left for the NBA draft. That said, Caris LeVert is on track for a major season, and while Michigan won't have the firepower of the past two seasons, it's fair to assume the Wolverines will still put up a ton of points.

Iowa Hawkeyes: The argument for Iowa still stands: Fran McCaffery can reasonably replace Roy Devyn Marble and Melsahn Basabe with Jarrod Uthoff and Gabriel Olaseni and still get the kind of offense that fueled the pre-collapse Hawkeyes last season.
April, 10, 2014
Apr 10
10:00
AM ET
Connecticut's national title as a No. 7 seed provided the conclusive evidence of what we knew early on in the 2013-14 men's college basketball season. There was no dominant team. Arizona settled down the revolving door of No. 1 teams -- the Wildcats were the third to hold the mantle just six weeks into the polls, and their eight weeks atop the Associated Press poll was the longest of the five teams (Kentucky, Michigan State, Syracuse, Florida) to be ranked No. 1. With the odds of winning the Billion Dollar Bracket already outrageous, parity in college basketball made it downright impossible.
With the book finally written on the season, here are the chapters we'll remember most:
Freedom of movement:
Officials were quick to say this season they weren't creating new rules, they were enforcing the old ones. College basketball had become too defensive, the critics said. Physical play was ruining the game. The season started with an emphasis on allowing freedom of movement and handchecking was called to the point of being a "touch foul." Players, coaches and officials alike never came to a consensus of understanding how a block/charge would be called. While scoring on the whole increased slightly, there was no denying that foul calls and free throws had a substantial spike.
Champions Classic:
Teams were allowed to begin practice two weeks before the traditional Oct. 15 start date, which in a practical sense meant earlier than ever. It resulted in a November filled with high-quality games beginning with a special night in Chicago. The Champions Classic doubleheader featured Michigan State's win over Kentucky and Kansas beating Duke and ushered in the season with big-name matchups with budding superstars to get college hoops buzzing even in the midst of the BCS race and the NFL, the overlord of American sports, in the middle of its season.
[+] Enlarge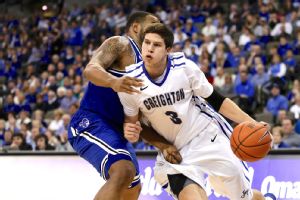 AP Photo/Nati HarnikScoring machine Doug McDermott was one of the many seniors to make an impact on this season.
Freshmen focus:
The Champions Classic just solidified what was already being said about the 2013 recruiting class. These were not ordinary freshmen. Kansas'
Andrew Wiggins
was projected as the potential No. 1 pick in the 2014 NBA draft long before ever stepping foot on campus. Those expectations might have skewed his performance this season because it was always in the context of being a top pick instead of simply being a freshman. Duke's
Jabari Parker
, Kentucky's
Julius Randle
and Arizona's
Aaron Gordon
were all expected to be exceptional before the season started. But others like Syracuse guard
Tyler Ennis
and Kansas center
Joel Embiid
elbowed their way into the elite conversation with their play.
Senior spotlight:
Plenty of seniors weren't going to let the young guys hog all the spotlight and reminded us of the value of staying four years. No way UConn's
Shabazz Napier
was mature enough in his previous three seasons to lead a team to the national title the way he did this season. Creighton's
Doug McDermott
returned to school -- as a walk-on no less -- and finished as the fifth leading scorer in Division I history. He was also the first player since Wayman Tisdale (1983-85) and just the sixth ever to have three consecutive seasons scoring 800 points or more. Louisville's
Russ Smith
returned and ranked No. 1 in offensive efficiency by kenpom.com for a second straight season.
Conference realignment:
With the dust finally settled (we think), and teams shuffled into new leagues, we saw the good and the bad from the new configurations. A record crowd of 35,000-plus at the Carrier Dome watched Syracuse's 91-89 overtime win against Duke become an instant classic in their first meeting as ACC foes. The future of ACC basketball, which adds Louisville next season, is partly why Maryland's season-long swan song as a former ACC charter member was overshadowed. Creighton excelled in its new locale, finishing second in the new Big East, even though its move from the Missouri Valley hurt Wichita State. (More on that below.) The brand-spanking new American Athletic Conference truly reflected the nation with its huge disparity between the haves at the top of the league and the have-nots at the bottom. In the end, the national championship trophy resides in the rookie league.
Shockers chase perfection:
Wichita State became the first team since St. Joseph's in 2004 to finish the regular season undefeated. Instead of drawing praise, it drew some skepticism from those who pointed to a weakened Missouri Valley schedule. Still the Shockers plugged along reaching 35-0 -- one game better than the 1990-91 UNLV squad that went 34-1 and lost to Duke in the Final Four -- and grabbing a No. 1 seed in the NCAA tournament. Their season ended against eventual national runners-up and 8-seed Kentucky in the round of 32.
Coaches behaving badly:
The season provided Internet trolls a seemingly endless supply of memes and GIFs to loop. The list was long, including Iowa's Fran McCaffery slamming chairs against Michigan State, Nebraska's Tim Miles ending the Cornhuskers' most memorable season in decades with an NCAA tournament ejection and Southern Illinois coach Barry Hinson's postgame rant that included that his wife, not his players, knows to, "at least shot-fake one time." But a few stand out. Who can forget the sight of Syracuse coach Jim Boeheim nearly losing his jacket while running on the Cameron Indoor Stadium floor to protest a charge with 10 seconds left in a loss at Duke? Boeheim joked after the game that his first trip to Tobacco Road, which resulted in his first regular-season ejection, would be a memorable one. Then there was Duke coach Mike Krzyzewski (insert sarcasm font here) who will certainly think twice before throwing a pen toward his bench. Krzyzewski got a technical foul for doing so in the ACC tournament final against Virginia.
[+] Enlarge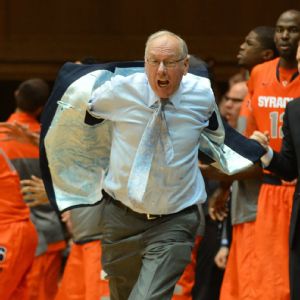 Chuck Liddy/Raleigh News & Observer/Getty ImagesJim Boeheim's jacket-removing, court-sprinting rant against Duke earned his first regular-season ejection.
Marcus Smart's split-second snap:
Oklahoma State guard
Marcus Smart
earned praise in the preseason for putting off the NBA for a year and returning to school to work on his game. He couldn't envision how frustrating the year would be. A season that began crumbling came to a boiling point at Texas Tech. With the Cowboys nearing a fourth straight loss, Smart shoved a fan when his momentum from a play carried him to the footstep of the stands. Smart said the fan called him a racial slur. The fan, Jeff Orr, said he called him a "piece of crap." Regardless, Smart received a three-game suspension.
Safety issues:
There were the things out of man's control like the postponement of Iowa's game at Indiana due to a pane of the ceiling crashing into the stands. North Carolina and Duke postponed their first meeting when a snow storm left the Blue Devils' bus unable to safely travel eight miles to Chapel Hill. It was the Tar Heels' first postponed game since the Gulf War. Court storming continued to be a topic when a fight broke out at the end of Utah Valley's win over New Mexico State. The incident started when an agitated K.C. Ross-Miller of NMSU hurled the ball at
Holton Hunsaker
as time expired. Two Aggies were suspended for their roles in the altercation. Thankfully no one was hurt when an alcohol-fused adrenaline rush sent a UC-Santa Barbara student running onto the court during the first half of a game against Hawaii; the fan got close enough to confront Hawaii coach Gib Arnold before players pushed him away and he was escorted out.
Those were the top highlights from the season. Just missing the cut were: how teams turned around their seasons (including Virginia, Wisconsin, Michigan, Kentucky and Tennessee); the impact of transfers (from the spectacular, including Duke's
Rodney Hood
; to the cautionary, including Georgetown's
Josh Smith
); the Carolina blues (potential All-American P.J. Hairston sat out the first nine games before the school announced it would not seek his reinstatement); and basketball as an emotional outlet (cellar dweller Boston College handed Syracuse its first loss after the passing of longtime BC media relations director Dick Kelley, and Georgia coach Mike Fox winning at Missouri after attending his father's memorial service).
March, 9, 2014
Mar 9
12:07
AM ET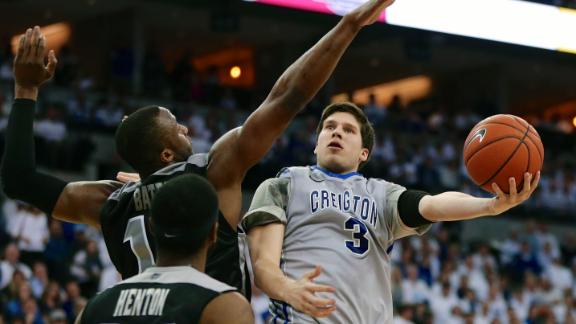 Saturday, the last full day of regular-season college hoops, was a grand affair. We had overtime and history-making matchups and buzzer-beaters and memorable Senior Nights.
And the NCAA tournament hasn't even started.
It's probably best to recap this day according to its most significant numbers:
3,000:
Bill Walton won two national championships with UCLA. Lew Alcindor won three national titles for the Bruins. J.J. Redick shattered records at Duke during his time there. Ralph Sampson won three consecutive Naismith player of the year awards at Virginia. Sampson, Alcindor and Walton are three of the greatest athletes who ever played at the collegiate level. But none of the aforementioned four players scored 3,000 points in their respective careers. Now, it's only fair to note that eligibility limits blocked freshmen from competing with the varsity squads then and the 3-point line wasn't available, either.
[+] Enlarge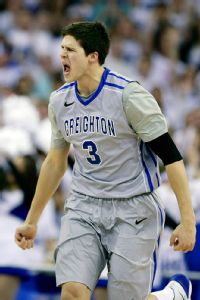 AP Photo/Nati HarnikCreighton's Doug McDermott because just the eighth player to score more than 3,000 career points.
None of that diminishes what
Doug McDermott
has accomplished, however, as the senior forward became just the eighth player in NCAA history to score 3,000 career points. He reached that historic tally on a 3-pointer with 11:27 to play in
Creighton's 88-73 win over Providence
on Saturday. He finished with 45 points total and 3,011 for his career to date.
4:
Iowa State and Oklahoma State have had two battles this season. And after Saturday's thriller, the Cyclones can claim both victories over the Pokes, but they needed four overtimes to get there. The first game, a 98-97 win for Iowa State, demanded triple overtime in Stillwater.
Naz Long
hit a 3-pointer at the buzzer to drag Saturday's game into the extra period in Ames, where Iowa State secured
the 85-81 victory
in the rematch.
41:
Remember that stuff about
Andrew Wiggins
not being aggressive enough? Well, that's so 2013. The freshman, a finalist for the Wooden Award, has been one of America's best players in recent months. Proof? He dropped a career-high 41 points in
Kansas' 92-86 loss
at West Virginia. At one point in the game, the Mountaineers had a 64-39 lead. But the Jayhawks, who were missing
Joel Embiid
, had a chance in the end. Yes, Kansas suffered a loss, which doesn't help its argument for a top seed. But Wiggins produced the second-highest point total for a freshman in Big 12 history, per ESPN Stats & Information. That's impressive.
18-0:
Kentucky made things interesting for a moment. But the Wildcats couldn't handle Florida's full onslaught in
the Gators' 84-65 victory
in Gainesville, a win that gave Florida a perfect 18-0 record in conference play. The Gators are the first team in SEC history to finish a year with 18 wins, per ESPN Stats & Information. The win also extended Florida's winning streak to 23 games.
13:
In the final home game of his career at Louisville,
Russ "Russdiculous" Smith
decided to let his teammates shine. He dished out a career-high 13 assists during
an 81-48 Senior Night win
over UConn.
1:
With Cincinnati topping Rutgers and Louisville beating UConn, the American Athletic Conference had a problem. The Bearcats and Cardinals split the league title so the conference used a coin flip to finalize the top seed in next week's AAC tourney. The winner? Cincinnati. "I requested that Coach Pitino and I play one game of liar's poker," Cincinnati coach Mick Cronin joked to reporters after the game. "We used to do that all the time -- for fun, obviously."
7 minutes, 32 seconds:
That's how long Arizona went without a field goal in the second half of
a 64-57 road loss
to Oregon, which snapped the Wildcats' five-game winning streak. That drought helped the Ducks seize a commanding lead via their 17-5 run.
73 seconds:
That's how much time remained in the game when
Glenn Robinson III
hit a go-ahead 3-pointer in
Michigan's 84-80 win
over Indiana.
33:
Wins for undefeated Wichita State after Saturday's
67-42 victory
over Missouri State in the Missouri Valley Conference tourney semifinals. The Shockers are just the third team in Division I history to achieve a 33-0 mark, per ESPN Stats & Information.
30:
Jabari Parker
's career high in
a 93-81 win over North Carolina
at Cameron Indoor (most points by a Duke freshman in a matchup against North Carolina, according to ESPN Stats & Information), which gave Duke 33 consecutive home wins -- a Division I-high that the Blue Devils currently share with Stephen F. Austin.
2007:
Eastern Kentucky upset top-seeded Belmont,
79-73
, in the Ohio Valley tourney title game. The Colonels became the second team to punch their ticket to the NCAA tournament this season. And they'll be dancing for the first time since 2007.
March, 4, 2014
Mar 4
12:18
AM ET
We're just two weeks away from the start of the NCAA tournament. And we still have some legitimate questions about a few squads, right?
Well, here are eight teams that you shouldn't trust yet:

North Carolina:
The Tar Heels made some great plays to finish Notre Dame in a 63-61 win on Monday and extend their winning streak to 12 games. But they entered the second half with a 14-point lead against a Fighting Irish team with a 6-12 record in ACC play. That's just North Carolina basketball. That stretch illustrated their entire season. Always up for the top dogs, always vulnerable against the rest. This team might show up and make a remarkable run in the Big Dance. But don't be surprised if they don't get past the first weekend, either.

Texas:
The truth about Texas is that Rick Barnes' program has been overachieving for months. The Longhorns have lost three of their past four, although all three losses came on the road against ranked teams. This is a squad that's hovering around the 50s in Ken Pomeroy's adjusted offensive and defensive efficiency ratings. The Longhorns have had issues with turnovers.
Javan Felix
is enduring a tremendous 16-for-48 slump.
Isaiah Taylor
looks like a freshman. But Texas has wins over North Carolina, Iowa State and Kansas because it has found ways to play to its potential in tough matchups. Texas is a good team on its best nights and a really sloppy, poor-shooting, turnover-prone assembly on its worst nights.

Oklahoma State:
In its past four games, Oklahoma State has been reborn. This four-game winning streak (victories over Texas Tech, TCU, Kansas and Kansas State) has been orchestrated by a desperate team that's making a strong push for an at-large bid. If the Pokes make the field of 68, they'll be only the second team since tourney expansion in 1985 to reach the Big Dance after enduring a seven-game losing streak, according to ESPN Stats & Information. Remember that losing streak? Remember the Oklahoma State team that struggled for about three weeks? Maybe everything is different now with
Marcus Smart
back. Travis Ford's program has played well in recent matchups. But let's see if it lasts.

Cincinnati:
Cincinnati possesses one of America's most impenetrable defenses. Only 11 of its 29 opponents thus far have scored 60 or more. There's just one problem. The Bearcats (129th in adjusted offensive efficiency, per Ken Pomeroy) can't score.
Sean Kilpatrick
is a dynamic player, but it's clear that he's also Mick Cronin's only reliable scoring option in clutch situations. When he's on, Cincinnati usually finds enough offense to compete with the best teams in the country. When he's off (18-for-60 in the team's past three losses), Cincy is an unstable operation. Can the Bearcats beat the best teams in America? Yes, they've proven that. But few teams rely so heavily on one player's production to reach their ceiling.

Wichita State:
This is probably unfair. Wichita State's limited competition in the Missouri Valley Conference and throughout its nonconference slate (BYU, Tennessee and Saint Louis are its best wins), however, demands it. The Shockers were in the Final Four last year, and this team seems equally capable of making another run. Fred Van Vleet is one of America's best point guards. Gregg Marshall also has
Tekele Cotton
,
Ron Baker
,
Cleanthony Early
and a bunch of glue guys. That's a good formula for a repeat. But the naysayers can't be dismissed. Wichita State, in terms of national perception, still has something to prove in the Big Dance. A run in the NCAA tournament would add another layer of validation to Wichita State's 31-0 record. But beyond that, we need to see Wichita State face an opponent that's in the top 50 of the RPI because the MVC (Indiana State is 74th) doesn't have one outside Wichita, Kan.

Iowa:
Which Iowa will show up in the NCAA tournament? It's not clear. Fran McCaffery clearly has his best roster in Iowa City, but he also commands a program that can't seem to get out of its own way in critical moments.
Roy Devyn Marble
& Co. have already proven their worth in wins against Ohio State and Michigan, but the Hawkeyes also have looked like the same team that hasn't been able to finish tight games in recent years. And their defense hasn't been impressive in weeks. This stretch of three losses in four games has created some suspense about the Selection Sunday fate of a team that should be a unanimous lock for the NCAA tourney by now. The Hawkeyes should get into the field, but they haven't exactly looked like a squad that will do much if they do secure a berth.

Saint Louis:
Jim Crews' squad has been a defensive force all season. The Billikens are fifth in adjusted defensive efficiency, per Ken Pomeroy. And they've only lost four games this season. It's not like teams are praying that Saint Louis ends up in their region, but in these past two games, losses to Duquesne and VCU, the Billikens have committed 33 turnovers combined. They've recorded turnovers on nearly one of five possessions (18.4 percent, 169th, per Ken Pomeroy) this season. For a team with a mediocre offense, its margin for offensive error is slim. And that's what we've learned in the past week about Saint Louis. Definitely a dangerous team. But it's also a program that could be hindered by its offensive inconsistency and questionable ballhandling.

Kentucky:
Well, this didn't work. Kentucky entered the season as one of the most hyped squads in college basketball history. The Wildcats had everything, it seemed.
Julius Randle
& Co. were supposed to be another great Kentucky team. Now look at the Wildcats, who lost to South Carolina over the weekend. You definitely can't trust them. But this is still a team with a bunch of guys who could be NBA millionaires in a matter of months. Yes, a win over Louisville is the only major accomplishment on Kentucky's resume. The Wildcats are ranked only because they're the Wildcats. Who have they defeated? And yet, no coach in America wants to play this disjointed group of talent that might figure it out in the Big Dance.
December, 13, 2013
12/13/13
10:00
AM ET
In last week's predictions
, I "called" Baylor over Kentucky, but I missed Missouri over UCLA and Colorado over Kansas.
It happens. It will continue to happen, I'm sure. I'll get a few right (maybe) and I'll miss some. Either way, you all will let me know.
There are a variety of must-see matchups this weekend. Let's see how many games I can pick correctly in a new round of weekend predictions.
Last week: 3-2
Overall: 3-2
Friday


No. 23 Iowa at No. 17 Iowa State, 9:30 p.m. ET, ESPNU:
There will be fireworks in Ames on Friday night. Iowa State averages 91.7 points per game (the NCAA's No. 1 scoring offense) and Iowa averages 89.5 (No. 6). This is only the second time that both teams have been ranked during the rivalry's history. Both teams can obviously push the tempo. But I think the game will be decided at the 3-point line. Iowa State coach Fred Hoiberg's offense is built on the 3-ball (five Cyclones shoot 38 percent or better from beyond the arc). But Iowa's 6-foot-6 wing
Roy Devyn Marble
& Co. have held opponents to a 26 percent clip from the 3-point line this year. I think this will be a tight game. But I expect Iowa's length, depth and ability to defend the 3-point to be the difference Friday night.
Prediction: Iowa 98, Iowa State 97 (OT)
Saturday


No. 1 Arizona at Michigan, noon ET, CBS:
I think we'll see the best Michigan performance of the year Saturday. The Wolverines will be home and they're due for an upset. But it still won't be enough. This is just a terrible matchup for Michigan. I think there's definitely a chance the Wolverines could get hot from beyond the arc (38.6 percent). But there are so many mismatches against an Arizona team that's eighth in offensive rebounding percentage per Ken Pomeroy and boasts (arguably) America's best frontcourt with
Aaron Gordon
,
Kaleb Tarczewski
,
Brandon Ashley
and
Rondae Hollis-Jefferson
. The Wildcats have held opponents to just 58.0 PPG and a 27.2 percent mark from the 3-point line. That's a problem for Michigan, even though it's hosting Arizona.
Prediction: Arizona 73, Michigan 67


No. 11 Kentucky at No. 18 North Carolina, 5:15 p.m. ET, ESPN:
Probably the best game of the weekend. I hope. You really don't know what you'll get from North Carolina. The Tar Heels have lost to UAB and Belmont and they've defeated Michigan State and Louisville. So recent history suggests that they'll be ready for Kentucky, which will play its first true road game of the season, because this is another big game. Kentucky's
Julius Randle
had eight turnovers in his team's loss to Michigan State last month. He's averaging 3.5 TPG. That's significant because he's such an offensive catalyst for the Wildcats. And North Carolina has the length to frustrate him and force him into mistakes.
Marcus Paige
will help the Tar Heels harass
Andrew Harrison
. North Carolina has already defeated two teams that are playing better basketball than Kentucky is right now. The Tar Heels will get another big win on Saturday in Chapel Hill.
Prediction: North Carolina 81, Kentucky 78


Tennessee at No. 12 Wichita State, 2 p.m. ET, ESPN2:
Last season, the Vols topped the Shockers 69-60 in Knoxville. But Tennessee has struggled in the first few weeks of the 2013-14 season. Cuonzo Martin has utilized some young players and re-inserted
Jeronne Maymon
into his rotation after the forward missed last season with a knee injury. The Vols have won three in a row and Maymon is gradually regaining his pre-injury form (15-for-20 in his last three games). But Wichita State is still riding the wave that was created in last year's Final Four run. And this Shockers team might be even better than last season's crew. Fred VanVleet is one of America's top point guards and a healthy
Ron Baker
has emerged as a star (15.3 PPG). The Shockers recently held BYU (90.8 PPG) to a season-low 62 points. That defense will be tough for Tennessee to overcome.
Prediction: Wichita State 75, Tennessee 67


New Mexico vs. No. 13 Kansas (Kansas City), 7 p.m. ET, ESPN2:
Kansas suffered its third loss in four games Tuesday when it faced Florida in Gainesville. Saturday's matchup against New Mexico will be Kansas' sixth consecutive matchup outside Lawrence, Kan. The road has not been kind to Kansas thus far. The Jayhawks had a lot of issues against the Gators. But they showed some fight down the stretch. They'll have to fight for 40 minutes, however, to beat Mountain West contender New Mexico. The Lobos have a potent trio of
Cameron Bairstow
,
Kendall Williams
and
Alex Kirk
. But they're facing a wounded animal. Kansas is desperate for a win. And the Jayhawks have the size, skill and athleticism to end this slide.
Prediction: Kansas 78, New Mexico 74