Another chapter of 'Hard Work' for Roy Williams
November, 2, 2011
11/02/11
7:30
AM ET
Algonquin Books considered publishing the paperback version of North Carolina coach Roy Williams' autobiography in 2010, a year after the hardback became a New York Times bestseller. But it seems fitting, now, that the publisher waited one extra season, because the new "afterword" does better justice to the book's title: "Hard Work."
In a new 30-page chapter, written with former Sports Illustrated writer Tim Crothers and released as part of the paperback last month, Williams gives his analysis of 17-loss 2009-10 year, which he calls "the worst season I've ever been involved with."
[+] Enlarge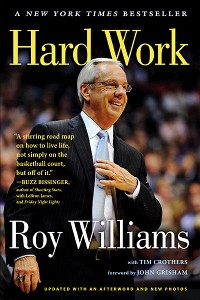 Courtesy of Algonquin BooksRoy Williams' book has a new chapter.
Then he writes about last year's team, which battled through losing four players to transfer and suspension and advanced to the Elite Eight -- and which, Williams wrote, "renewed my faith in my coaching and my love for being a coach."
"When the 2010 season ended, his first reaction was 'I'm going to analyze everything I've done, everything that went wrong, and keep grinding and figure out what we need to do to fix this,'" Crothers said. "It really was the Roy Williams that he had portrayed in the regular text in the book … we saw that everything he preached in regular book is what he used to pull himself out of the hole that had been created in 2010. He's a grinder, and I don't think he really knows any other way than to try to figure out a way. And I think we've seen that."
Some highlights from the new chapter:
Williams wrote that his grandson Aiden -- born three days before the Tar Heels lost to the College of Charleston in January 2010, "soothed my soul" during that rough season: "I could have made it through the season without him, but it would have been much harder. He was something else to live for. Something there to make sure I got my exercise, to make sure I took my heart medicine."

After UNC lost in the final game of the NIT that season, Williams couldn't make himself attend the NCAA Final Four. "On the night of the championship game, I watching Dancing With the Stars. I wanted to watch Erin Andrews and see if Pamela Anderson could dance,'' he wrote.

He wrote of coach Dean Smith's memory loss, and how much he misses the advice Smith used to give him. "He still has good days," Williams wrote. "He sent me a handwritten note during the 2010 season that said exactly what he would have said to me 15 years ago. The writing was so clear; the punctuation and grammar were perfect. A couple days later, I thanked him for the note, and it took a few seconds for him to remember that he'd sent it to me."

Losing the Wear twins (transfer before last season), Will Graves (kicked off the team before last season, and Larry Drew II (transfer during the middle of the season "were the three biggest shocks of my 23 years as a head coach," he wrote.
But he never considered giving up -- and just worked harder.
"The previous season had been a battle every day,'' he wrote. "I had never thought about quitting. I had never thought that I couldn't coach anymore. But if we had endured another season in 2011 when I couldn't get the kids to do what I wanted them to do, I'm not sure what I would've done. The 2011 team renewed my enthusiasm, renewed my confidence, renewed my faith in my coaching and my love for being a coach. They renewed my belief that we were trying to do was right."