Davis finding his comfort zone
November, 5, 2013
11/05/13
11:30
AM ET
North Carolina assistant coach Hubert Davis is still happy with his decision to coach, even though he's no longer viewed as the happy coach.
Davis has brought a more assertive presence to his second year on the sideline since leaving his analyst position at ESPN to join Roy Williams' staff.
"Even though I had been a part of Carolina basketball pretty much my whole life and had experienced it as a player, this is my first time experiencing it as a coach, so everything was new to me last year," said Davis, who played at UNC from 1988-92. "This year, everything is familiar to me and so, in terms of what one thing is different (in the second year), everything is different."
Sophomore forward
Brice Johnson
said he literally hears the difference every day. Davis has become a lot more vocal in practices this season.
[+] Enlarge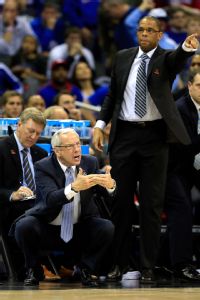 Jamie Squire/Getty ImagesHubert Davis is trying to be more vocal and critical in his second season under Roy Williams at North Carolina.
"Last year he didn't really say as much; he was like the happy guy in practice," Johnson said.
When he was vocal last season, Davis' tendency last season was to err on the side of positivity:
Having a bad shooting day? That's OK, tomorrow will be better.

Confidence shattered because Roy Williams yelled at you? That's OK, tomorrow will be better.

Trouble understanding the system? That's OK, tomorrow will be better.
While that's still a staple of his approach this season, Davis' statement doesn't end there. He's more comfortable criticizing players now. So his brand of positive reinforcement is followed by what they need to do in order to improve.
"It was his first year, so he was getting a feel for how things were run [and] he was really positive all the time – no matter what -- he was positive," sophomore
Marcus Paige
said. "Now he's doing a good job of getting on us being more constructive rather than just encouraging. It's good to see him get mad and get on us and work with us a little bit more now that he's comfortable."
Williams said Davis used the year wisely to understand how he could make an impact in recruiting and in practice. Williams added a responsibility that he believes could help Davis take an even bigger step in his growth.
Williams offered Davis a chance to be the head coach of the junior varsity teams, just as Dean Smith once did for him.
"I had two practices every day for eight years and I thought it was great for me," Williams said. "I got to make decisions and not just suggestions. I think that will help him in is development as a young coach."
Davis has started like many Tar Heels assistant coaches before him, taking their practice plan straight from the book of Dean Smith. He has a thought for the day, an offensive emphasis of the day and a defensive emphasis of the day.
"I'm going to teach in the way that I believe and I believe in the way Williams, (Bill) Guthridge and Smith taught the game of basketball," Davis said. "… The other day I used one coach Smith had always given us: A mistake is good when you recognize it, admit it, learn from it and grow from it."
Davis said the biggest area of his growth between his first and second seasons is the relationships he's built with the players. This season he knows them well enough that he doesn't have to be cautious.
"I know what motivates them; I know what gets their attention; I know what they need to hear; I know what not to say to a particular player," Davis said.
Davis has become a shot doctor of sorts on the staff. When forward
J.P. Tokoto
sought to eliminate the glitch in his shooting form, he only considered one coach for advice.
Davis still holds the school record with a career 3-point shooting percentage of 43.5. When he graduated, he held the record for highest 3-point shooting percentage in a season at 48.9 percent. (Dante Calabria made 49.6 percent in 1994-95.)
Tokoto admitted he'd heard people tell him to tuck in his elbow before, but "hearing it from coach Davis it was a lot easier to take."
"I know about coach Davis [as a player]. If he's saying it, it must be something to it," Tokoto said.
There are few things Davis enjoys more than being out on the court. But he was adamant that his experience with the junior varsity squad and being an assistant was not to essentially serve an apprenticeship to later become a head coach.
"So many people ask me -- not one second have I ever thought about wanting to be a head coach," Davis said. "The only thing on my mind is trying to be the best assistant coach I can be for coach Williams and the University of North Carolina. That's it."