North Carolina Tar Heels:

112113 weekend homework
November, 21, 2013
11/21/13
10:30
AM ET
We have given Richmond fodder for this weekend.
North Carolina has given the Spiders reason to believe.
No one is giving Fairfield a shot against Louisville in the Hall of Fame Classic at the Mohegan Sun in Uncasville, Conn. So pencil in the Cardinals into Sunday's championship game.
But we have anticipated a Louisville-North Carolina matchup for the title. And we are not alone. The organizers planned this accordingly, selling the event as a major showdown between two Hall of Fame coaches and storied programs.
[+] Enlarge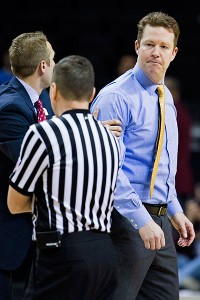 AP Photo/John MinchilloCoach Chris Mooney and the Richmond Spiders could be bracket busters in the Hall of Fame Classic.
And then the Tar Heels started to implode, losing
P.J. Hairston
over the summer and then again into the fall as the NCAA and the school investigate possible extra benefits. Toss in
Leslie McDonald
for similar reasons and the Tar Heels are now officially less than whole. It showed when they struggled with Holy Cross and lost at home to a traditionally pesky -- but not as strong as in the past -- Belmont.
Oh, and Richmond beat Belmont earlier this season. Could the Spiders spoil this planned matchup?
Of course.
"I've noticed that," Richmond coach Chris Mooney said of the hype for Louisville-North Carolina any time the Hall of Fame Classic bracket is posted on television or online. "Hopefully we can [upset the plans]. It's a huge opportunity for us. We are pretty good, I think."
Here's why:
The Spiders, two years removed from a Sweet 16 appearance, have the type of point guard they need under Mooney and must have to beat out a player like North Carolina's
Marcus Paige
.
Cedrick Lindsay
is averaging 19 points and has nearly as many steals (7) as turnovers (8) in four games.
The Spiders have defended well, save the only loss, to Minnesota. Richmond didn't give up 3s to Belmont (4-of-18); North Carolina did (Belmont was 15-of-37).
The issue for Richmond is its own perimeter shooting.
"We have shot horribly so far [9-for-65 in the first three games, 8-of-26 against zone against Hofstra]," Mooney said. "We are a pretty good shooting team, so those numbers will go up, of course."
They must if the Spiders are to pull off the upset. The frontcourt is still green and
James Michael McAdoo
has been one of the few strengths for the Tar Heels. This is a wounded UNC team that can't afford to be bruised again so soon after the Belmont loss. UNC sees the need to play Louisville as well, especially with Michigan State in East Lansing, Mich., and Kentucky at home within the next few weeks.
The Spiders have an opportunity in an Atlantic 10 that will be led by VCU, UMass and Saint Louis. There is room for a fourth challenger. La Salle has struggled of late. Richmond can seize the spotlight with a win this weekend. The chance is at hand.
November, 21, 2013
11/21/13
10:00
AM ET
Will North Carolina's nightmarish outing at the free throw line against Belmont carry over into Saturday's meeting with Richmond?

The Tar Heels repeatedly talked about the mental aspect of free throw shooting after missing 26 free throws in Sunday's 83-80 loss to the Bruins. They talked about misses in the first half having a snowball effect and spreading no matter which player went to the line.
"You can talk about it, you can not talk about it -- I mean, it's free throws," sophomore guard
Marcus Paige
said. "He [Roy Williams] can't make them for us, there's really not anything you can say to a guy struggling on the line. I mean, what do you say to him?"
So if they miss a few early against the Spiders, does the Belmont outing creep back into their collective minds?
Sophomore
J.P. Tokoto
's first trip to the line will be the litmus test because he had the toughest outing against Belmont.
Coach Roy Williams said the last time he had the team shoot 200 free throws in practice, Tokoto shot 84 percent. He made his first free throw against Belmont -- then missed the next nine en route to 4-of-16 shooting.
His body language grew increasingly worse with every trip to the line. The uneasiness within the Dean E. Smith Center crowd was palpable until they finally just started clapping in support for Tokoto before he shot his final few free throws.
"That's pretty much all it was, just mental for me," he said.
Tokoto was back in the gym Sunday night practicing free throws before reporters had completely cleared out of the media room.
It's inevitable that he'll get to the line -- he's the only natural small forward on the team, and his game is to slash to the rim. Tokoto has the second-most attempts on the team (25), just four behind
James Michael McAdoo
. No other Carolina player has registered 10 attempts.
Considering that the Heels lost to Belmont and Richmond beat the Bruins, UNC could again be locked in a close game in which free throws matter. Will it be strong enough to handle it?