North Carolina Tar Heels:

2013-Hall-Tipoff
November, 24, 2013
11/24/13
11:39
PM ET
UNCASVILLE, Conn. -- North Carolina coach Roy Williams walked over to his players huddled in a circle and jumping after their
93-84 win over No. 3 Louisville
on Sunday at Mohegan Sun Arena.
The 63-year-old cracked a smile and disappeared into the blue, his shiny white top barely visible, as he hopped, jumped and bumped into the players. Williams broke from the pack and gave a salute to the fans before the team ran off, hauling the Hall of Fame Tip-Off championship trophy to their locker room.
The No. 24 Tar Heels haven't had a November win that warranted such an impromptu celebration in a while. Just one week ago, the Heels' loss to Belmont was just their second nonconference home defeat during Williams' tenure. The program has also been carrying an albatross of uncertainty while awaiting a final judgment on the status of
P.J. Hairston
and
Leslie McDonald
.
That's why a little celebration was in order. Carolina needed this one.
"Since June 5
th
it's not been a very pleasant time -- it's been probably the most difficult time I've had as a coach," Williams said. "It has not been fun in every way, shape or form. But today, out on that court watching their excitement, bumping with them, then going in the locker room celebrating, that's what I coach for."
Former coach and mentor Dean Smith used to tell Williams he could accept whatever the outcome was as long as the team played well. Williams said he would respond by saying he'd rather win, but he changed his thinking before the Louisville game because of the many growing pains UNC has endured so far.
[+] Enlarge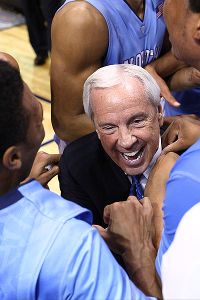 Mark L. Baer/USA TODAY SportsRoy Williams celebrates with the Tar Heels after they knocked off No. 3 Louisville.
"I would have accepted it today. I wasn't worried about result," Williams said. "I really wasn't. I wasn't thinking win, win, win, I was thinking we had to play better. If we played better we'd have a chance."
The Cardinals proved to be the right opponent at the right time for the Heels.
The Cards aren't as deep in the front court and the Heels seem to never run out of big bodies. The Cards preferred to play a faster pace that the Heels enjoy, too. The Cards preferred to press, and the Heels have been playing two points guards in the lineup with
Nate Britt
and
Marcus Paige
.
"We tried to outscore them and I think they were better at it," Louisville coach Rick Pitino said.
Paige said the Heels were "best in that environment" of playing a fast tempo and it certainly helped that they had a good example to learn from in Ty Lawson. Williams showed his team clips from the Heels' 2008 Elite Eight win over Louisville in which they consistently beat the press by quickly getting Lawson an outlet pass.
Carolina, which had just 14 turnovers, never allowed the press to be a problem. Often the hidden effect of Louisville's pressure is end of game fatigue for its opponents. But since Britt and Paige both handled the ball, that wasn't a problem either.
"There were stretches where I was pretty tired, I played 38 minutes [on Saturday]," Paige said. "Nate being able to be out there, me and him together, kept both us from getting too fatigued and worn down, which is what they want to do."
Not many could have predicted a nine-point outing on 3-of-11 shooting from
James Michael McAdoo
, who averaged 17 points, would end in a Carolina victory. But McAdoo's offensive struggles never were a factor thanks to a group that virtually grew overnight.
Williams called freshman center
Kennedy Meeks
"one of the worst players on the planet" for his one-point, three rebound performance in five minutes against Richmond, but added that against Louisville he was "unbelievable."
In his most extensive playing time this season, Meeks nearly posted a triple double with 13 points, 12 rebounds and seven assists. His outlet passes were crucial in helping the Heels break the press.
"I just realize [against Richmond] that's not the way I play, that's not the way I've played my whole life. It was time for me to step up," Meeks said. "This is college now, it's all about me being a man so I did pretty good today."
Britt, who was benched for critical stretches in the second half against Holy Cross and Belmont, also had his best outing of the season. The freshman guard set personal bests with nine points and five assists.
"I just feel like I'm starting to get more comfortable and I can kind of play like myself," Britt said. "Earlier it's just a lot of things I had to learn, lot of things I'm still learning. The more and more I play, I'm starting to get more relaxed and I'm coming into my own."
Paige continued to show his development in his new role as a shooting guard with a career-high 32 points. That marks the third time in the last four games that the sophomore guard has set a new scoring high. He did it with on efficient 9-of-12 shooting.
Paige had high praise for Louisville's
Russ Smith
, who scored a career-high 36 points, saying "there's a reason why he's a National Player of the Year candidate." Paige is playing his way on that list too, whether he realizes it or not.
"I don't know about all that I'm just trying to help this team win," Paige said. "Whether it's dishing the ball, or shooting the ball, whether it's defending, I'm trying to be the guy that consistently brings something to the table for this team."
The win changes the season narrative for Carolina and raises expectations back that may have been reconsidered after the Belmont loss.
"We understand that we still have a chance to be special. We just have to come out and play as hard as we did today consistently," Paige said. "The belief in this locker room is that we're one of the best teams in the country."
They proved it by beating the Cardinals, and on this November that's reason enough for the Tar Heels to celebrate.
November, 23, 2013
11/23/13
8:15
PM ET
UNCASVILLE, Conn. – There's no convincing Louisville players that they're not about to face an elite North Carolina squad at 1 p.m. Sunday at Mohegan Sun Arena.
Most of the third-ranked Cardinals said they had not seen the Tar Heels play this season until they watched the Heels beat Richmond in Saturday's first game of the Hall of Fame Tip-Off Tournament. Despite Carolina being a shell of the team ranked No. 12 in the preseason, the Cardinals are still showing respect for the name.
Maybe a tad too much respect considering
P.J. Hairston
and
Leslie McDonald
did not make the trip for UNC.


"We know they're the real deal," Louisville's
Luke Hancock
said. "It's always going to be Carolina, it's a top program. Coach [Roy] Williams is going to have them ready to play."
When the schedule was released, a potential Louisville-Carolina matchup looked to be the first real test for both teams. The reality is it will be more of a barometer for the Tar Heels.
With no word on the status of Hairston and McDonald, whose eligibility is under review by the school and NCAA, Carolina will be playing with its current rotation for the foreseeable future. It's about to hit a rough five-game stretch that includes a Dec. 4 trip to No. 1 Michigan State and a Dec. 14 home date against No. 4 Kentucky.
"We're definitely going to try to show up -- well, we will show up -- and compete like we did today," UNC forward
James Michael McAdoo
said after Saturday's 82-72 victory over the Spiders. "We'll start focusing on games like this which are definitely huge games for us going into conference play."
The Cardinals had the kind of win against Fairfield that coach Rick Pitino can use to grab his team's attention. After winning their first four games by an average of nearly 34 points, Pitino called their 71-57 victory on Saturday their "poorest game of the season." He even hinted that the Cardinals might have been looking ahead to UNC.
Louisville's postgame locker room reflected his sentiment. Players sat slumped into their lockers, the entire room void of the laughter and energy usually associated with winning. On the contrary, the Cardinals had the look and feel of a group that had just lost.
"It's eye-opening for us just to not play as well as we want," Hancock said. "This type of effort will lose against a lot of teams."
Forward
Montrezl Harrell
, who led Louisville with 14 points and 12 rebounds, said the Cardinals played like they didn't respect Fairfield, and it showed early.
"We should have come out and been prepared to play from the very beginning," Harrell said. "But we weren't and got burned for it in the first half. Playing against a team like North Carolina, if we start off like that we can really get burned and not be able to bounce back."
Pitino even elevated the praise for the Heels, after watching his team shoot just 38 percent and his starting backcourt of
Russ Smith
and
Chris Jones
commit a combined eight turnovers.
He said North Carolina's size could give the Cardinals problems, especially with the Heels' offensive rebounding.
"You're going to see a close game [on Sunday] -- if we don't get blown out," Pitino said. "If we play this way, there won't even be a game."
Just two games ago, Carolina players were thinking they might not belong on a court with Louisville after struggling to a 62-54 win over Holy Cross. McAdoo joked afterward that if the Heels played that poorly against the Cardinals, all he could do was "hope that Louisville played bad, too."
The bad news for the Heels is Louisville might have gotten that one out of the way.
"We'll come back," Pitino said. "I don't expect us to have two bad games in a row."
November, 23, 2013
11/23/13
5:15
PM ET
UNCASVILLE, Conn. -- Erase for a minute everything you're used to assuming about a North Carolina basketball team under coach Roy Williams.
The No. 24 Tar Heels are not that team.
This team can't impose its pace and use the fast break to outrun teams. It can't merely overpower an opponent on sheer talent. It will have to grind out wins much in the fashion of
Saturday's 82-72 victory
over Richmond in the Hall of Fame Tip-Off Tournament at the Mohegan Sun Arena.
North Carolina (3-1) trailed for much of the first half, and its lead didn't reach double digits until 1:35 remained in the game.
Because
P.J. Hairston
and
Leslie McDonald
have yet to suit up for the Heels, every game could present something new. Williams agreed it's probably the least conventional team he's coached since arriving in Chapel Hill.
"By this time of the year most times, it's fairly close to a set lineup," Williams said.
Nothing is set this season.
Not the lineups.
Not even the playing style.
[+] Enlarge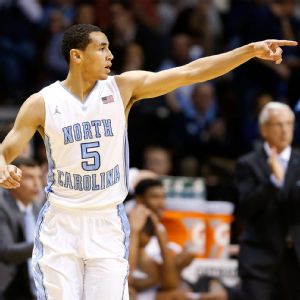 AP Photo/Michael DwyerMarcus Paige made a career-high six 3-pointers and played point guard for much of the victory over Richmond.
The Tar Heels were so unpredictable against the Spiders that sophomore
Marcus Paige
, who made a career-high six 3-pointers and set a career high with 26 points, even played point guard.
Paige is a point guard, but he's had to play shooting guard with their current roster situation. When he moved back to point for a span against Richmond, forward
J.P. Tokoto
played shooting guard for the first time this season.
"I played more minutes at point guard in this game than I probably did all year so far," Paige said. "That was a little different."
Williams generally avoids playing zone defense. But Spiders guard
Cedrick Lindsay
couldn't be defended in man-to-man as he scored a career-high 29 points against the Heels.
Lindsay almost single-handedly forced the Heels to unveil a 1-2-2 zone for stretches throughout the game as he was successful driving the lane for baskets. After this game, zone isn't likely to be a one-time occurrence for Carolina either.
"We have been working more on the zone with this team than any team I've ever had," Williams said. "We gave up some straight drives to the basket, which the zone is supposed to stop that kind of stuff. We've got to get a lot better at it, but we'll play it some more -- there's no question."
The game ventured into uncharted territory for senior guard
Wade Moody
, a walk-on who had played a total of 60 seconds through the first three games. He entered the game with four minutes left in the first half and played three minutes.
"Wade can shoot the ball," Williams said. "I wanted to give him some time today. You never can tell; he may get more time later on."
Forward
Brice Johnson
is making his case for more time -- whether it comes at center or power forward. He came off the bench to record career highs with 24 points and 12 rebounds, his first double-double.
In the past three games, Johnson has played center with
James Michael McAdoo
at power forward during the deciding stretches. It gives the Heels their best scoring options in the frontcourt while
Kennedy Meeks
and
Joel James
are still developing.
"I did it last year, so it's whatever they need," Johnson said. "I might now be able to guard the biggest guy, but I've added a little bit of weight and a little bit of strength so I can hold my own now."
What the Tar Heels lack in flash, they make up with toughness. Williams said he wanted to see how they would bounce back from their first loss.
They showed their resilience from the free throw line after missing 26 free throws in the loss to Belmont. Carolina responded against Richmond by shooting 70 percent from the line. They showed it during the game after falling behind by nine in the first half but taking a 36-33 lead into halftime.
"With North Carolina basketball, you've got five guys on the court that are all capable of going off for big games," McAdoo said. "I think that's really what you just saw today -- them trying to take certain things away and other guys stepping up, which is huge, definitely, as the season goes on."