North Carolina Tar Heels:

Adreian Payne
December, 5, 2013
12/05/13
1:16
AM ET
The 15th annual Big Ten-ACC Challenge ended with no resolution to conference supremacy. For the second straight season the clash ended in a 6-6 tie, leaving the ACC with a 10-3-2 advantage.
We know which teams really won the night though: North Carolina, for sure, with its upset over No. 1 Michigan State. No. 8 Wisconsin, which like the Tar Heels won on the road, beating Virginia. And No. 5 Ohio State, which is on a steady ascent up the polls.
On the surface the Buckeyes' win doesn't look that big, as they had unranked Maryland at home. But the way they controlled the game from start to finish and gave the Terrapins a harsh introduction to the league they'll join next year.
Defensively, Ohio State dissected everything the Terps wanted to do. Maryland shot just 39 percent from the field and gave up 25 points off 14 turnovers. That included the final sequence of the first half, when
Aaron Craft
dove to the floor for a steal and passed ahead to
Sam Thompson
for a buzzer-beating basket.
[+] Enlarge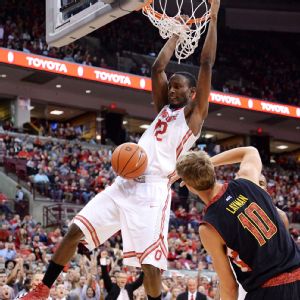 Jamie Sabau/Getty ImagesSam Thompson's highlight-reel dunks capped off a dominating night for No. 5 Ohio State.
The Buckeyes basically beat the Terps like a ranked team should at home. They never let the lead dip below 10 the entire second half and once up 25 turned the game into one long highlight reel for Thompson.
Columbus discovered the alley-oop Wednesday night as Thompson slammed down lobs on four different occasions.
And those shooting woes that threatened to drag down OSU seem to be a thing of the past too. The Buckeyes shot 52 percent from the field, powered by
LaQuinton Ross
' 7-of-13 performance. Ross finished with a game-high 20 points.
Ohio State honored former coach Gary Williams prior to the game. Williams coached the Buckeyes from 1986-89 before leaving Columbus for College Park, where he would win the 2002 national title at Maryland. Williams then had to sit through the Terps being handled by the Buckeyes.
Chris Collins also returned to familiar territory, as the Northwestern coach returned to ACC country for the first time since taking the Wildcats job in the offseason. Collins, who played for Duke and also spent 13 years as an assistant coach under Mike Krzyzewski, knows Northwestern's opponent Wednesday, NC State, well. But his intimate knowledge didn't help the Wildcats muster a win.
Collins' welcome-back package included a technical foul and 22 points from
T.J. Warren
, as the Wolfpack cruised to a 69-48 win.
Purdue matched NC State for the biggest margin of victory in the challenge with its 88-67 victory over Boston College. The Boilermakers, led by a season-high 18 points from
Terone Johnson
, have quietly won five straight in the challenge.
Nebraska salvaged the night for the Big Ten by beating Miami 60-49 in Lincoln. The Cornhuskers held the Canes to a frigid 24 percent shooting performance in the first half en route to a season-low 13 points at the break.
Michigan State didn't hit new lows against the Tar Heels, it simply didn't hit back at all.
Most expected Northwestern, Boston College and Miami to have a hard time winning on the road. No one expected the Spartans to lack the fight generally accepted as the norm from Tom Izzo's team. Even though they bounced back from a 12-point deficit in the first half to tie the game at intermission, they never seemed to bring the fight to the Tar Heels.
MSU's punchless night could be summed up in one second-half exchange.
Branden Dawson
seemingly had a clear path to the rim and was poised to give Sparty its first lead of the game, breaking a 38-38 tie. But
J.P. Tokoto
rotated in time to block the shot and start a fast break that ended with
Marcus Paige
completing a three-point play.
Carolina never trailed afterward and Michigan State literally hobbled through the rest of the game.
Senior forward
Adreian Payne
kept cramping up, at one point during the middle of a play, he literally stood on one leg while grabbing his other foot behind him to stretch.
Gary Harris
, who sat out Michigan State's win over Mount St. Mary's with an ankle injury, seemed to lack some of his explosiveness.
Keith Appling
suffered an apparent hip injury late in the first half and shot 5-of-15 from the field.
Virginia joined Michigan State as a big loser from Wednesday night. The Cavs have made quite the acquaintance with the NCAA bubble and missed possibly their last chance for a statement win before conference play begins.
Both of the Cavaliers' losses have come at home to ranked teams, and the common thread is that they haven't mustered much offense either time.
UVA, which lost to VCU 59-56 on a last-second shot, scored its lowest point total in 20 years against Wisconsin. The Cavs managed only 18 points in the second half, and their total of 38 was the lowest output since losing to UConn 77-36 in 1993.
So while the challenge ended in a tie, the winners and losers Wednesday were clearly defined.
December, 3, 2013
12/03/13
4:15
PM ET
North Carolina coach Roy Williams addressed the media before the Tar Heels headed to Michigan State for Wednesday's game in the Big Ten/ACC Challenge.
The highlights:
" Williams attempted to explain why the Heels have had such huge swings the past three Sundays – from losing at home to Belmont, to beating Louisville, to losing at UAB.
"Our margin is really small. In '09, we could play really poorly and still win a lot of games," Williams said. "… As a coach, you would like to have that margin where you could win by 30 or lose by two. Right now our margin is not really big and it's not really good on the positive side. We have to play really well."
" Part of that small margin revolves around how involved
Marcus Paige
is in the offense. He was the focus of the Blazers' defense as they played him tight on the perimeter and sagged on everyone else.
[+] Enlarge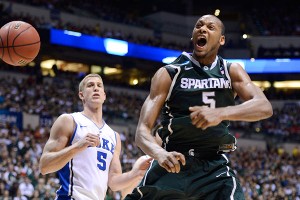 Jamie Rhodes-USA TODAY SportsAdreian Payne and Michigan State will provide a big test for the Tar Heels on Wednesday.
"Those other guys have to step up and make a shot to help him. At the same time, we have to have better ball movement. Marcus has got to move better without it himself," Williams said. "We have to do a better job setting screens."
Paige, who leads the team with 20.8 points per game, is the only player who has scored in double figures in every game. Brice Johnson had his streak snapped at five games on Sunday when he netted eight points.
"The biggest thing is we can't just be one-dimensional," Williams said. "Against Louisville we scored 93 – yes he scored 32, but we had some other guys who scored for us and that's what we lacked against UAB."
" Johnson admitted that if the Heels play with the same lack of intensity against Michigan State, they'd get "blown out" on Wednesday. But Williams added that the Spartans' toughness couldn't be replicated in practice.
"You can't [replicate it], and that's the bottom line," he said. "
James Manor
is a great kid, but he's not [
Adreian
]
Payne
.
Wade Moody
is not
Gary Harris
. You can't simulate it, you can explain it to make sure they're not surprised by it."
" The Tar Heels' last loss to the Spartans? That would be their last trip to East Lansing, Mich., in the 2000 Big Ten/ACC Challenge. Carolina is 6-0 against Michigan State under Williams, but this is a different Spartans team than the Heels have seen in their last few meetings.
"They play faster, I think," Williams said. "They've never played slow, but to me this one appears to be playing even faster. The first part of that Kentucky game, Kentucky needed a bicycle."
October, 21, 2013
10/21/13
3:45
PM ET
It goes without saying the games against Duke won't take a backseat to any opponent this season. Here are five games that could gauge how good, or average, this season will be for the Tar Heels:
5. at Virginia, Jan. 20

The Heels lost for the first time in five trips to John Paul Jones Arena last season. This game could be determined by style points. The Cavs want to use their slow, methodical pace while Carolina wants to run. The difference with this Virginia team is it doesn't have to play slow to be successful. UVa has the talent to make a move into the upper echelon of the ACC. And with the only regular-season meeting between these two, the outcome could end up serving as a tiebreaker.
4. vs. Louisville, Nov. 24

Both teams have to win in order to face each other (the Cards against Fairfield, UNC against Richmond). But if this game comes to fruition as it should, it could be like an NCAA Tournament game in November. Even without Chane Behanan, Louisville will have a formidable frontcourt led by Tarboro, N.C., native Montrezl Harrell. Surprisingly, the biggest test for Carolina won't be seeing how Marcus Paige and Nate Britt will handle the Cards' formidable pressure. It will be seeing if the defense has improved on stopping dribble penetration. If they can't Louisville's Russ Smith is going to give them fits.
3. at Syracuse, Jan. 11

Carolina and Syracuse have faced off seven times (the Heels hold a 4-3 edge), but ironically six of those meetings have come on neutral courts. Only once have they played a true road game and that came the final season Michael Jordan donned Carolina blue in December 1983. This will be the only regular-season meeting with the Orange in their inaugural season in the ACC. In anticipation, Orange fans have already purchased more than 30,000 tickets for the game that's quickly headed towards a sellout. It's one signal that the ACC will no longer just be measured by the Carolina-Duke rivalry.
2. Kentucky, Dec. 14

After a one-year hiatus, it will be great to see two of college basketball's marquee programs back at it. The Wildcats, who are No. 1 in the USA Today/Coaches preseason poll, have a tough non-conference schedule, too. I don't expect them to waltz into the Dean E. Smith Center with an undefeated record, despite coach John Calipari openly discussing the possibility for an undefeated season as a goal. But it will be UK's first true road test and Carolina's first home game against a ranked opponent. The last three regular-season games in the series have been determined by a basket.
1. at Michigan State, Dec. 4

This game, more than any other non-conference matchup, will be an early season barometer for North Carolina. Remember last year's disaster on the road at Indiana? Well, the Breslin Center can be as loud and intimidating for opponents as Assembly Hall (or Cameron Indoor Stadium for that matter); if the Heels aren't ready it could produce similar results. Carolina will see exactly how far their stable of big men have matured going against State's Adreian Payne. The Heels can use a lineup that matches up with the Spartans, so the bigger question will be how they will handle a top five team on the road.
November, 12, 2011
11/12/11
12:20
AM ET
SAN DIEGO -- After an event aboard the USS Carl Vinson that will be a lifetime memory, the Michigan State basketball team found that its identity mirrored in some small way the servicemen and women it entertained Friday night.
The Spartans will have to be tough and rugged and able to adjust on the fly if they are going to be a success this season.
"We played hard, we made the hustle plays," said an emotionally drained Tom Izzo. "We can be better offensively."
The Spartans lost to top-ranked North Carolina
67-55
, despite outrebounding the Tar Heels by 15. MSU dealt with multiple players in foul trouble and a woeful 30.6 shooting percentage as a slight breeze blew across the deck. The weather couldn't mask a 2-for-20 effort from behind the 3-point arc, though.
Austin Thornton
was a brutal 0-for-7 from the field, while freshman
Travis Trice
began his career 1-for-8. But Michigan State's
Keith Appling
said the wind wasn't an excuse he or teammates were willing to give.
[+] Enlarge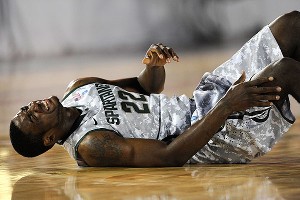 Christopher Hanewinckel/US PresswireBranden Dawson suffered a scare in the first half, but was able to return for the Spartans.
The Spartans got off to decent start in the first few minutes when they were controlling the offensive backboard. But that was before the Tar Heels started to click and run past MSU.
The Spartans weren't helped by a first-half injury to freshman forward
Branden Dawson
, who tweaked his right knee on a center-court logo. Izzo said at halftime and again after the game that the decals are a detriment to players and a serious concern for coaches and players. Dawson said he was a bit nervous after he went down.
He worked on his knee behind the basket, doing slide drills to loosen it up. It worked, as he ended up playing all but five minutes. But he wasn't as effective in the second half, scoring only 4 points and grabbing two of his seven rebounds after the break.
Dawson had ice on his knee after the game, but didn't appear to be having any issues. He will have to be a major factor for the Spartans, helping
Draymond Green
as well as
Adreian Payne
and
Derrick Nix
inside. The Spartans are already down one forward with Delvon Roe having to give up the sport due to injury.
"Coach Izzo told me I have to keep going to the glass," Dawson said. "We know that's what we have to do."
Green was down on himself for his play (6-of-19 from the field), but he did finish with 18 boards.
"We outrebounded them by 15 so you can see that we can be the old Michigan State," Green said. "We have to shoot the ball better, but we can win a lot of games rebounding like that."
The Spartans play Duke on Tuesday night at the Champions Classic in New York City. The Blue Devils have their tallest team in years, giving MSU another challenge inside.
But the Spartans love every minute of this. Izzo said he wouldn't have it any other way, playing the No. 1 Heels in Friday's spectacular and moving environment and then going across the country to play Duke on what could be coach Mike Krzyzewski's clinching victory to own the all-time win record.
"I do this because I'm selfish," Izzo said. "I want to be at these games. We're still building our program. We got something out of this. We competed. There was a different look in our players' eyes. There were no issues, none with the weather. It was just great."
November, 11, 2011
11/11/11
10:04
PM ET
SAN DIEGO -- A quick look at North Carolina's
67-55
victory Friday over Michigan State in the Carrier Classic aboard the USS Carl Vinson:


What it means
: It means nothing in the big scheme of things -- one game in November won't make or break either of these teams. But certainly North Carolina didn't want to come out in its first game and lay an egg, not with all the preseason excitement around this team. And the Tar Heels didn't. They acquitted themselves well. Meanwhile, Michigan State also is what we expected. The Spartans have some good interior play with
Draymond Green
,
Adreian Payne
and
Derrick Nix
, but they need help outside and didn't get it Friday night (finished 2-of-20 from 3).
How it happened
: No smoke and mirrors here. The Tar Heels simply have better players than the Spartans -- and lots of them. They were able to force Michigan State into mistakes and get out in transition to open up the game in their favor. Carolina was beaten on the boards, but it shot a respectable 46 percent given the conditions. Just 31 percent for MSU.
Harrison Barnes
led all scorers with 17 points, while teammate
John Henson
was 6-of-10 from the field.
Kendall Marshall
and
Dexter Strickland
dished out five assists apiece for UNC.
Halftime
: Beat up on the boards early, North Carolina erased a seven-point first-half deficit by going to its bread and butter, its transition offense. The Tar Heels capitalized on missed Michigan State shots and forced turnovers to get out on the break, where the Spartans are simply no match. By the half, UNC led 36-25.
Hubbub
: Since this wasn't a typical game, time to point out some of the not-so-typical stuff. The pregame featured an all-sailor rock band, called The Destroyers, and in-game it was the tunes of the Navy Band. ... Some fans got to the flight deck by taking the lift used to bring the planes on board. ... Both teams sported camouflage-themed uniforms, and the UNC coaching staff wore khaki cargo pants tucked into military boots.
Quotable
: "As some of you may know, because it was reported, the men and women of this ship were part of the critical mission to bring Osama bin Laden to justice" -- President Barack Obama addressing the crowd before the tip.
What's next
: North Carolina will charter to Asheville, N.C., arriving sometime around 5 a.m. and playing UNC Asheville at 4 p.m. Sunday. The Bulldogs are opening a new arena, and Asheville is Roy Williams' hometown. ... Michigan State, meantime, jets cross-country for a Tuesday-night tip against No. 6 Duke in the Champions Classic at Madison Square Garden. The Spartans will make a quick stop in East Lansing, heading to New York on Monday.