North Carolina Tar Heels:

Alex Len
March, 6, 2013
3/06/13
11:00
AM ET
North Carolina, which is on a five-game winning streak, wants to wrap up a top-four seed in the upcoming ACC tournament. Maryland, 2-2 since upsetting then-No. 2 Duke last month, wants to re-ignite its NCAA tournament hopes.
It should make for an even more emotional Senior Night in College Park, Md., on Wednesday.


"We try not to think about where we are just because people think we're on the bubble,'' Terrapins coach Mark Turgeon said earlier this week. "We might not be. You don't know what the committee's thinking, where they have us.
"We're fired up to play North Carolina because it's North Carolina. They're one of the hottest teams in the country."
Indeed, the Tar Heels -- who finished just out of the Associated Press rankings this week -- have been on a roll since going to a four-guard starting lineup last month. Currently in third place in the ACC standings, they not only want to wrap up a first-day bye in next week's league tournament, they want to keep building momentum.
"You want to keep winning, and you want to have your team more confident,'' UNC coach Roy Williams said. "And they gain confidence from winning."
UNC (21-8), at 11-5 in the ACC, currently stands in third place, behind first-place Miami (14-2) and second-place Duke (13-4). NC State and Virginia are tied for fourth, at 10-6, and also play Wednesday night.
On paper, the Tar Heels appear to face the toughest final week of the lower trio, with the game at Maryland on Wednesday and a Saturday finale versus third-ranked Duke. NC State, meanwhile, faces Wake Forest and a game at Florida State; while Virginia also travels to Florida State and hosts Maryland.
No team has ever won four games in four days at the ACC tournament, so the ability to skip the opening Thursday is key.
"I think you're at a greater advantage, if you want to win the tournament, and that's what we want to do is to win it,'' Williams said. "It's easier to win it if you only have to win three games as opposed to four. We'd like to do that."
Maryland (20-9), meanwhile, is 8-8 in the league and may need to win the conference tournament if it wants to play in the NCAAs. It's been an odd turnaround since Feb. 16, when the Terps' home win over the Blue Devils seemed to secure their NCAA hopes. But since then, they have lost road games at Boston College and Georgia Tech, two teams in the bottom half of the league standings.
If Maryland still is on the bubble, it is in danger of slipping completely off.
"We put ourselves behind the eight ball, lost a few games we shouldn't have lost maybe on paper,'' Turgeon said. "We did, so we are where we are. We got 20 wins with this young team; [we are] headed in the right direction. Proud of this group.
"[We] haven't been as consistent as we'd like, but hopefully we can get some wins down the stretch."
A few things to watch during Wednesday's 7 p.m. tipoff:
REGGIE BULLOCK
The UNC junior has been on a roll of late, averaging 18 points, 10.6 rebounds and 4.6 assists over UNC's last three victories. And the Terps well know the wing's scoring ability; Bullock scored a season-high 24 points when UNC beat Maryland in January. He needs to stay aggressive.
ALEX LEN
With the Tar Heels going small, now would be a good time for Len, the Terps' 7-foot-1 center, to come up big. He had 10 points the last time these two teams played, and is averaging 12 for the season. But he has only posted double-digit points twice in the Terps' past six games. He needs to stay focused.
ETC.
The Terps are 16-2 at home this season, including 6-2 in ACC play; the Tar Heels are 4-4 on the road in conference play this season. … UNC ranks ninth in ACC games in free throw shooting, connecting on 66.1 percent; Maryland is last in the league at 62.4 percent. … Turgeon said he expects an entirely different game than the last time these two teams played, "because they're in a smaller lineup now, it's at our place, much further along. It will be interesting. But they are one of the hottest teams in the country -- I really believe that -- right now."
February, 22, 2013
2/22/13
7:30
AM ET
With roughly two weeks left in the regular season, the race is on for a top-four seed (and first-day bye) in the ACC tournament. In the meantime, here are this week's rankings based on myriad factors, including how teams have performed lately and the foes they've faced:
1. Miami.
Clemson and Virginia both tested the Canes, but a late 3-pointer from
Kenny Kadji
at the Tigers and
Reggie Johnson
's tiebreaking layup versus the Cavs kept Miami undefeated in league play. The 13-0 record marks the hottest league start since Duke went 16-0 en route to the conference title in 1998-99.
2. Duke.
The Devils bounced back from a close loss at Maryland with a blowout win at Virginia Tech as
Mason Plumlee
followed a four-point, three-rebound performance with a double-double Thursday night. Coach Mike Krzyzewski is now third on the career list for victories at one school (877), behind Dean Smith and Jim Boeheim.
3. NC State.
The Wolfpack got a big boost by inserting 6-foot-8
T.J. Warren
into the starting lineup this week. Not only did he turn in a 31-point, 13-rebound performance against FSU, but the team grabbed a season-best 45 boards. The Pack have won three straight, and it will be interesting to see whether they stay big against the Tar Heels this weekend.
4. North Carolina.
Coach Roy Williams continues to start a smaller lineup with sophomore
P.J. Hairston
at the 4, and the Tar Heels continue to look faster and more aggressive with another scorer on the floor. Forward
James Michael McAdoo
's double-double at Georgia Tech, after he scored in single digits for three straight games, is a good sign, too.
5. Virginia.
The Cavs are in the midst of a tough stretch. They lost at both UNC and No. 2 Miami in the past week, play a Georgia Tech team this weekend that beat them earlier this month, and then face another test in No. 6 Duke coming up next week. Junior
Joe Harris
, though, continues to be on a tear, averaging 22.4 points over his past five games.
6. Maryland.
Another (way) up and (way) down week for the Terps, who upset the then-second-ranked Blue Devils at home, only to lose on the road to a focused Boston College team that had won just three previous ACC games. After posting an impressive 19-point, nine-rebound game against Mason Plumlee, Maryland big man
Alex Len
managed only four points against the Eagles.
7. Florida State.
For all his last-second shots this season, Seminoles point guard
Michael Snaer
hadn't managed 20 points against an ACC foe this year, until this week. He followed a 21-point game in a win against Boston College with 20 during a loss at NC State. Next up: a trip to Virginia Tech.
8. Clemson.
Another week, another home heartbreaker for the Tigers, who lost to Miami on Kadji's 3 after losing to NC State on a
Scott Wood
3 on Feb. 10. At least they won a close one in the middle at Georgia Tech.
Devin Booker
posted his fifth double-double of the season in Clemson's latest loss.
9. Georgia Tech.
Freshman
Robert Carter Jr.
hit two free throws in the final 10 seconds to beat Wake Forest before Georgia Tech lost by double figures to the Tar Heels. The Yellow Jackets were an ouch-worthy 4-for-11 from the free throw line in their latest game and remain the worst foul-shooting team in the league (63.2 percent).
10. Boston College.
And to build on the above note about the importance of free throws: The Eagles hit 16 straight down the stretch to protect the lead in their win over Maryland. Freshman
Olivier Hanlan
scored a career-high 26 points in that game, and BC has won two of its past three.
11. Wake Forest.
A three-point loss at Boston College followed by a one-point loss to Georgia Tech? The bottom tier of the ACC likes to make things interesting, at least. The Deacs are second in the league in steals, sandwiched between UNC and Duke, and
C.J. Harris
continues to lead the team with 14.8 points per game.
12. Virginia Tech.
Erick Green
is still really good, adding a 22-point game against Duke to his nation-leading scoring average. His team still is struggling, though, losing nine in a row -- including two in overtime and Thursday's loss to the Blue Devils.
January, 18, 2013
1/18/13
4:30
PM ET
CHAPEL HILL, N.C. – All season, North Carolina coach Roy Williams has talked about how his team needs to play with a better sense of urgency.
The players see it on game tape, he said Friday, and they understand what they need to do.
"Now they need to put it on the court," he said.
Especially
now.
The Tar Heels (11-5, 1-2 ACC) escaped an 0-3 league start last Saturday by winning at Florida State, and they've had an open week to try to heal a few injuries and reflect on early-season inconsistencies. But they face another tough test Saturday against a deep, defensive-minded Maryland team that broke a two-game ACC losing streak of its own by upsetting No. 14 NC State on Wednesday.
"I do think the win is going to give us confidence," coach Mark Turgeon said of his Terrapins (14-3, 2-2).
A few things to watch in the game, which tips off at noon ET:
ALEX LEN
[+] Enlarge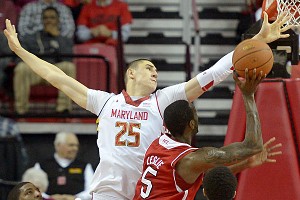 Jonathan Newton / The Washington PostAlex Len is averaging almost 26 minutes of playing time, 13.5 points and 8.1 rebounds a game.
Maryland's 7-foot-1 center had his team's fans storming the court Wednesday night when he dropped in teammate
Pe'Shon Howard
's air ball with 0.9 seconds left to beat the Wolfpack. It marked the first time the Terps have topped a ranked foe since March 3, 2010.
Len was good last year as a freshman, Williams said.
Now, he's better, and he is averaging 13.5 points and 8.1 rebounds per game.
"He's improved a great deal," Williams said. "He's stronger, quicker, more aggressive mentally and physically. … Just the consistency of his effort, the condition of his body, the success that he's having. He's played well against everybody, whether it's Kentucky or anybody else on their schedule. He's been their most consistent player."
And he's not the only big body the Terps will throw at the Tar Heels. Maryland also boasts 6-8 senior
James Padgett
(6.2 PPG, 4.4 RPG), 6-8 freshman
Charles Mitchell
(5.8, 6.2) and 6-9 freshman
Shaquille Cleare
as part of a 10-man rotation averaging double-figure minutes.
That frontcourt depth provides a tall challenge for UNC, Williams agreed, "because we're still searching to find that great play from the post," he said. "A lot of people say I'm still searching for the one guy; I don't care if it's one or all four of them, I just want us to play better in the post. Be more aggressive, score more, shoot a higher percentage and keep the other team from shooting a high percentage."
REBOUNDING
This game will feature the two best rebounding teams in the ACC, and two of the best in the nation (each squad is pulling down 43.2 per game).
Maryland, as mentioned above, has the advantage of having a bunch of big guys to control the boards. Meanwhile, UNC, which has rotated three (and sometimes four) players at center this season, has enlisted more help from its wings, as
Reggie Bullock
(5.8) and
P.J. Hairston
(4.4) rank second and third on the team in rebounding.
Expect rebounding to be an emphasis for Williams and Turgeon (who was an assistant Kansas Jayhawks coach under Williams).
"First year at Kansas, I had a prospect come in that said, 'I thought there were just 10 commandments, but there must be an 11
th
– 'Thou Shalt Box Out,' Williams recalled. "Because if we see one guy in practice not box out, we stop and run every day. Because I really do believe it's that important."
HAIRSTON
Williams joked on his radio show Monday night that he wasn't going to be nice to the reserve wing (who scored a career-high 23 points against FSU) because "I was nice to him after UNLV and he stopped playing for two games."
Hairston scored 15 points in that Dec. 29 win over the then-20th-ranked Rebels -- only to follow that with eight and five points, respectively, in losses at Virginia and to Miami. The Tar Heels need him to keep scoring against the Terps, who have held each of their past four foes to 37.3 percent shooting or worse. Especially given that another sharpshooting UNC reserve,
Leslie McDonald
,
is expected to miss his third straight game
because of a sore knee.
January, 11, 2013
1/11/13
7:30
AM ET
Can we just call places 3 through 6 a tie? After the first week of ACC play, it's harder than ever to judge the middle of the league pack. But here are this week's ACC Power Rankings, based on myriad factors, including how teams have performed lately and the foes they've faced:

1. Duke.
Still undefeated, still No. 1 after victories over Wake Forest and Clemson. But the Blue Devils will be tested Saturday not only by an NC State team that has won nine in a row, but by playing without senior forward
Ryan Kelly
, who is out indefinitely with an injured right foot.
2. NC State.
The Wolfpack was picked to win the ACC during the preseason by both media and coaches, and Saturday's home game against the Blue Devils will show if it has what it takes to make that push.
Lorenzo Brown
, with 21 points against Georgia Tech, was the latest to lead his team in scoring. Who's next?
3. Miami.
The Hurricanes have never started 2-0 in the ACC -- until now. Senior forward
Kenny Kadji
had 18 points to help break his team's 10-game losing streak to UNC on Thursday night, and sixth-year senior
Julian Gamble
(14 points against the Tar Heels) has been filling in admirably for the injured
Reggie Johnson
.
4. Maryland.
Dez Wells
had a bad shooting night,
Alex Len
at times got pushed around, and the Terps saw their 13-game winning streak snapped via a 12-point comeback by Florida State. Whether they bounce back at Miami this weekend could be a good indication of whether they're a top-tier ACC team.
5. Florida State.
Junior forward
Okaro White
has come up big during the Seminoles' 2-0 ACC start, averaging 17.5 points and 8 rebounds. And so has his team. "We sat down, the juniors and seniors, with the young guys and told them we have to stop talking, and we have to show them how hard you have to play,'' White told Tallahassee.com.
6. Virginia.
Beat North Carolina, only to lose to Wake Forest? It might be that sort of topsy-turvy season for the Cavs, who should get more and more of a boost as senior guard
Jontel Evans
, who returned from injury last weekend, gets more and more back in sync with the offense.
7. North Carolina.
Coach Roy Williams said his team was stressed in the locker room after losing to Miami on Thursday night. And for good reason: This marks only the fourth time UNC has ever started 0-2 in the ACC, and things won't get any easier at Florida State on Saturday.
8. Boston College.
The Eagles have now won six of their past seven games, and gave NC State a scare in their only loss since Dec. 4. Sophomore
Lonnie Jackson
has posted double digit points for three consecutive games, including a season-high 22 at Virginia Tech.
9. Georgia Tech.
The Yellow Jackets had a six-game winning streak broken by the start of ACC play. Tech is shooting just 35.2 percent during its 0-2 conference start.
10. Wake Forest.
Despite shooting just 26 percent after halftime and failing to score a field goal for the final 10 minutes, the Deacs survived Virginia's comeback attempt. "We stayed with it," Wake Forest forward
Travis McKie
told The Times-News. "I think early in the season we would've put our head down and had a pity party. But we stayed with it and continued to fight hard." Wake has now won five of seven games.
11. Clemson.
The Tigers scored only 10 points, on just 12 percent shooting, in the first half at Duke on Wednesday. Yikes.
Devin Booker
has posted two double-doubles in Clemson's 0-2 ACC start.
12. Virginia Tech.
Already-undermanned Tech was down to six scholarship players during its midweek loss to BC, thanks to illness and injury.
Erick Green
continues to lead the nation in scoring, but the Hokies have now lost four in a row, and are 0-2 in ACC play.
January, 23, 2012
1/23/12
8:00
AM ET
Four teams now top the ACC standings with one league loss; thank Florida State's resurgence for making this conference race so all-of-a-sudden competitive. My attempt at this week's power rankings (up for debate, as always):
1. Duke:
After coming off the bench to score 20 points in a win over Wake Forest, freshman
Austin Rivers
was back in the starting lineup against FSU -- only to have his would-be overtime-inducing shot upstaged by
Michael Snaer
's game-winner. The Devils allowed the Seminoles to make two-thirds of their shots in the second half; Duke's defense has got to continue to improve.

2. Florida State:
Is this really the same team that lost to two Ivys, and at Clemson by 20? The Seminoles said at the beginning of the season that the goal was to push their way into the top two of the ACC. By blowing out North Carolina, beating Maryland, then ending Duke's 45-game home winning streak (all in a matter of eight days), they've done just that. FSU is the hottest team in the league right now.
3. North Carolina:
The Tar Heels bounced back from the worst loss of the Roy Williams era, at FSU, by getting an intense win at Virginia Tech, fueled by 27 points from
Harrison Barnes
. But it still suffered another huge loss in that game, in the form of
Dexter Strickland
. The team's best perimeter defender/starting shooting guard/fastest player/backup point guard is out for the season with a torn ACL. How will the Tar Heels rally?
4. N.C. State:
After Sunday's win over Miami, the Wolfpack is 4-1 in the ACC. One of the positives of the game: Guard
C.J. Williams
, who injured his shoulder against Boston College last week, started and played 31 minutes. The Wolfpack isn't very deep, and the loss of any key player would be devastating.
5. Virginia:
First,
Assane Sene
suffered an ankle injury last week that will keep him out for about six weeks. Then, the Cavs lost to Virginia on Sunday for their second league defeat. Virginia will need to adjust without its center, and one thing that would help: more production from guard
Sammy Zeglinski
, who has made only 4 of his 23 shots over his past three games.
6. Maryland:
After averaging 14 points and eight rebounds in his first three games, freshman center
Alex Len
has struggled -- averaging only 2.6 points and 4.3 rebounds in his next three, then exiting the Terps' loss at Temple early because of a twisted ankle. Maryland lost both of its games last week, and a healthy, rejuvenated Len would be key to getting back on track.
7. Miami:
The Hurricanes' latest loss, to N.C. State on Sunday, means they have dropped three of their last four. This isn't exactly what first-year coach Jim Larranaga was expecting out of this team, especially with its returning talent. "I was anticipating what our squad would be like before my staff and I arrived and I've found that we have a lot more work to do than we originally thought," he said Sunday, according to the Fort Lauderdale Sun-Sentinel.
8. Virginia Tech:
Dorenzo Hudson
's 3-pointer from the corner with 16.5 seconds left secured the Hokies' rivalry win over Virginia -- and their first ACC victory of the season. But after a slow conference start, they have a lot of work (and winning) to do in order to catch up to the top of the pack.
9. Clemson:
Andre Young
crushed his shooting slump by scoring a career-high 29 points (including seven 3-pointers) to hold off Georgia Tech and break a three-game losing streak. The Tigers need him to continue scoring.
10. Georgia Tech:
The Jackets managed only 38 points in their loss to Virginia, their worst output since 1982. Then they fell short in their rally at Clemson, losing by two. They've now dropped three straight, and seven of their last eight.
11. Wake Forest:
After losing three straight, coach Jeff Bzdelik called Saturday's game at Boston College a must-win. After beating freshman-laden BC by 15, he told the Winston-Salem Journal: "This game was our Super Bowl. Every win is huge, and they are hard to come by. This is another big step for us in our journey to be the type of team we want to be."
12. Boston College:
After winning two ACC games, the young Eagles' team have now lost two in a row. "Right now, we have a snowball effect -- in both directions,'' coach Steve Donahue told The Boston Globe. "When things go bad, we have a tendency to let them get to us and compound it on both sides of the ball. When we do positive things, it ends up snowballing in that direction." Not a great sign, with a trip to Virginia next up.
Robbi Pickeral can be reached at bylinerp@gmail.com. Twitter: bylinerp.
January, 2, 2012
1/02/12
9:00
AM ET
Would the fourth-best team in the league please raise your collective hand? Or at least, your level of play? One more attempt to rank the ACC squads before conference competition (finally) begins this week. As always, feel free to debate or weigh in:
1. North Carolina:
Blowout wins against Elon and Monmouth certainly don't help UNC's RPI. But then again, its ACC opener against Boston College next weekend probably won't, either. Forward
John Henson
continues to average a double-double, plus a league-leading 3.2 blocks per game.
2. Duke:
After a 40-point win over Western Michigan followed by a 30-point win over Penn, the Devils have one more road game, at Temple on Wednesday, to gear up for league play. Rookie
Austin Rivers
continues to lead the team -- and the ACC Rookie of the Year race -- with 15.4 ppg.
3. Virginia:
The Cavs, who have won 10 straight, should get a good pre-conference test Monday night in Baton Rouge, where they will face an LSU team that has won seven straight by holding its competition to fewer than 60 points per game.
4. Virginia Tech:
The Hokies have now beaten Oklahoma State twice this season, the second time snapping the Cowboys' 37-game home winning streak against nonconference foes. Tech has won six in a row entering its ACC opener at Wake Forest on Saturday.
5. N.C. State:
Scoring depth could be an issue come conference play, but the Wolfpack's starting five sure knows how to keep things interesting.
Lorenzo Brown
leads the league in steals at 2.1 per game.
6. Florida State:
For the second time this season, the Seminoles lost to an Ivy League school -- this time to Princeton in triple overtime. With six scholarship seniors on the team, FSU should be showing more motivation.
7. Miami:
The Hurricanes haven't lost since forward
Reggie Johnson
returned, and trail only Duke in the league in 3-pointers made per game (8.3).
Malcolm Grant
is the team's leader (and the ACC co-leader) in that category with 2.8 made per game.
8. Maryland:
Center
Alex Len
made an alley-oop dunk in the opening minute of his college debut against Albany -- a sign of good things to come for the Terps? He's averaging 13.5 points and 7.5 rebounds after two games, and Maryland has won six straight.
9. Wake Forest:
Led by
C.J. Harris
(18.7 ppg), the Deacs have already won nine games this season, one more than 2010-11. They've won three straight, but are still tied for last in the league in rebounding margin, at minus-5 per game.
10. Georgia Tech:
The Jackets' latest loss was at Fordham, which only managed one victory in the Atlantic 10 last season. One problem: Tech can't seem to hold on to the ball, as its turnover margin is minus-3 per game.
11. Clemson:
Forwards
Milton Jennings
and
Devin Booker
are combining to average only about three more points per game than last season. More was expected.
12. Boston College:
The Eagles managed only three points (all on free throws) in the final 8:32 of their loss to Harvard, and the point-less stretches are becoming a theme for young BC. Boston College is averaging a league-worst 61 ppg.
Robbi Pickeral can be reached at bylinerp@gmail.com. Twitter: @bylinerp.