North Carolina Tar Heels:

Andre Dawkins
February, 20, 2014
Feb 20
12:00
PM ET
Here's a look at the individual matchups that could determine Thursday night's game between North Carolina and Duke:
McAdoo vs. Parker
James Michael McAdoo
is coming off his worst game of the season. He fouled out scoreless having played just 13 minutes in Monday's win over Florida State. If the Kentucky game was any indication, McAdoo will be up for facing
Jabari Parker
. McAdoo rendered Kentucky's
Julius Randle
, another highly-touted freshman, a non-factor offensively during the Heels' win over the Wildcats.
Parker will be more of a challenge because he's more comfortable stepping out on the perimeter than Randle. McAdoo may want Parker to drift out, however, as Parker has scored more than 20 points in three of Duke's last four games while making more of a concerted effort to stay in the paint.
"He's taking it upon himself to get the basket, he's posting up a lot more. That's where he's most effective," Duke's
Rodney Hood
said of Parker. "Not saying he can't hit a jump shot, [but in the paint] that's where he can punish people."
[+] Enlarge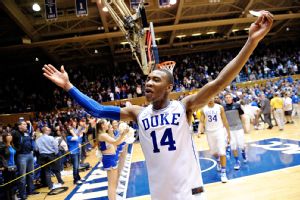 Grant Halverson/Getty ImagesDuke's Rasheed Sulaimon has the length to make scoring a little tougher for UNC point guard Marcus Paige.
Sulaimon on Paige
Rasheed Sulaimon
has started three of the last four games at point and could be matched up with
Marcus Paige
, the Heels' leading scorer. At 6-foot-4, Sulaimon brings a little more length than
Tyler Thornton
or
Quinn Cook
and could make scoring a little more difficult for Paige. Florida State tried the same strategy by using the 6-foot-5
Aaron Thomas
on Paige. It was effective for a half until the Heels started running Paige off more screens and he lit it up with 14 points in a nine-minute span in the second half. That went right along with Paige's recent trend of producing big in the second half after a slow start.
"I don't let my performance in one half dictate how I feel the rest of the game. I'm usually pretty even keeled throughout the game," Paige said. "I'm not going to let a poor shooting performance or a couple of turnovers in the first half affect my mindset for the second half because I know my teammates are counting on me to produce."
Tokoto on Hood
J.P. Tokoto
is accustomed to drawing the opponent's best wing player, having just chased around Pittsburgh's
Lamar Patterson
for the better part of a game. Hood may be the best player Tokoto will have faced this season. Hood isn't one-dimensional. He's shooting 45 percent from 3-point range, yet he can put the ball on the floor and create shots on his own. Tokoto said his defensive strategy doesn't change regardless of the opponent.
"I just approach every game with the mentality that I'm going to beat him up defensively," Tokoto said. "Not so much foul, but just kind of get into him, get the ball out of his hands, keep the ball out of his hands -- whoever it is."
[+] Enlarge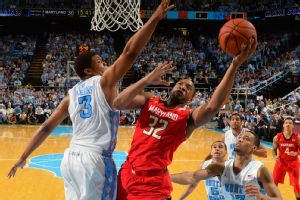 Bob Donnan/USA TODAY SportsUNC's Kennedy Meeks has size on his side, but Duke's Amile Jefferson will try to counter with quickness.
Jefferson on Meeks
Kennedy Meeks
played arguably his second-best game of the season against Florida State (trumped only by his Louisville performance of 13 points, 12 rebounds and seven assists). He scored a career-high 23 points on 11 of 12 shooting from the field, and most of those baskets were point-blank putbacks.
Duke's
Amile Jefferson
, meanwhile, has been outsized all season. He's listed as 6-foot-9, 210 pounds. Meeks is listed at 6-foot-9, 290 pounds.
"For me it's about fighting the other guy because a lot of times they're bigger, stronger, height-wise," Jefferson said. "For me it's about using my quickness to beat them up and down the floor length, on offense and defense. Really it's just about fighting the entire game, making sure they feel me every possession."
McDonald & Cook vs. Slumps
Carolina's
Leslie McDonald
and Duke's Cook are fighting similar slumps. McDonald has made just two of his last 15 from 3-point range and is 8 of 31 from the field since scoring a season-high 20 points against NC State on Feb. 1.
"He's a phenomenal shooter from outside. We need him, and he knows that," McAdoo said. "We're not going to put too much pressure on him because as you've seen, we are still capable. But hopefully [against Duke] his shot is falling. When he is on, he's just another great player, an added dimension."
Cook's recent performance against Maryland highlighted his inconsistencies. It was the only game this season that he didn't record an assist, and he also had three turnovers. He played a season-low 14 minutes in the game.
If either player can emerge in this game, it could be a huge boost for his respective team.
The X-factors
Carolina's Brice Johnson just posted his second double-double of the season with 14 points and 11 rebounds against Florida State. Johnson could see extended minutes if the Heels are hurt by Duke pulling its five out to the perimeter on pick-and-rolls. Johnson is better suited to defend it than Meeks or Joel James.

Duke's Andre Dawkins shoots like every shot is going in and was a big factor off the bench when he scored a season-high 20 in the Blue Devils' win at Pittsburgh in late January.
March, 10, 2012
3/10/12
10:30
AM ET
ATLANTA – North Carolina and Duke are still vying for a top seed in the NCAA tournament.
NC State is trying to solidify a spot in the field of 68.
And Florida State – which has already secured a spot in the NCAAs – would like to become only the second team not named "UNC" or "Duke" to win the ACC tournament in 16 years.
A quick preview of today's NCAA semifinals at Philips Arena:


No. 1 seed North Carolina vs. No. 5 seed N.C. State, 1 p.m. EST
Will he play or won't he play? The status of UNC forward
John Henson
's left wrist – which he sprained in the first half of his team's quarterfinal win over Maryland on Friday – hasn't reached the scrutiny level of "Ty Lawson Toe-Gate", circa 2009 (when the starting point guard sat out the entire ACC tournament, and part of the NCAAs, en route to a national title).
But give it time.
Official word Friday was that the 6-foot-11 junior would test his pain threshold Saturday morning to see if he would be able to play against the Wolfpack. But frankly, it would make sense to be cautious with the ACC's leading rebounder, blocker and defender. UNC, after all, has wrapped up an NCAA tournament berth, and it's just a matter of whether it ends up with a No. 1 or No. 2 seed.
If Henson doesn't play, it opens up more room the lane for NC State forward
C.J. Leslie
, who has come on particularly strong of late. He's averaging 18.9 points and 11 rebounds over his past seven games – including 19 points and 14 rebounds in Friday's quarterfinal victory over Virginia.
"He [Henson] is a great player – first-team All-ACC, Defensive Player of the Year; we want him to play,'' Wolfpack guard
C.J. Williams
said. "We don't want to give a team an excuse, 'Oh, we didn't have one of our best players.' He's definitely a matchup problem for us, with his length and his size … but we want him to play."
The Tar Heels beat their in-state rival in both match-ups this season.


No. 2 seed Duke vs. No. 3 seed Florida State, approximately 3:30 p.m. EST
Duke, which lost to Florida State on its home court in January, offered up a little bit of payback last month, when it beat the Seminoles in Tallahassee, Fla.
Guard
Andre Dawkins
was 6-for-12 for 22 points that game, with all six of those made shots being 3-pointers.
But since then, however, he's made only 1 of his 12 shot attempts over his past four games. Not a good stat for the Blue Devils, especially since they are also missing forward
Ryan Kelly
for the ACC tournament because of a foot injury.
The key for FSU will be to limit Duke's outside scoring while taking advantage of the Devils' thin depth inside.
And if it's close at the end, they have a couple of clutch options in
Michael Snaer
and
Ian Miller
, who have both buried game-winners this season.
"We know we have a tremendous opportunity to do something great,'' Snaer said. "My team is really confident in our abilities, and we're playing like it. We're playing together. … We know how important this game is to us, and to our program and to the history of our program. And I can't wait for it to get started."