North Carolina Tar Heels:

Andre Young
February, 18, 2012
2/18/12
8:47
PM ET
CHAPEL HILL, N.C. – Someday, somehow, "The Streak" will end.
But not Saturday. Not against this seventh-ranked North Carolina team.
Maybe never as long as
Harrison Barnes
is here.
The sophomore forward scored 24 points to push UNC's home winning streak over Clemson to 56, dating back to 1926. The Tar Heels'
74-52 victory
at the Smith Center means the Tigers still have never won in Chapel Hill.
[+] Enlarge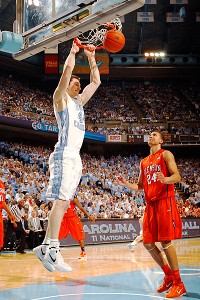 Bob Donnan/US PresswireNorth Carolina senior Tyler Zeller slams home two of his 14 points over Clemson's Milton Jennings.
"I always seem to have good games against them," said Barnes, who now has averaged 24.2 points in four career games against the Tigers. "… It must be the orange. My high school colors were orange, and it must give me that confidence."
Like he needs it.
Barnes – even playing on a 90-percent-healed sprained ankle – has been more aggressive lately. UNC's leading scorer has been pounding the backboards more (he had 7 rebounds Saturday), looking to create more shots, connecting when the Tar Heels need those buckets the most.
"I think Harrison is being the player that everybody tried to make him out to be a year and a half ago. He's becoming that player now,'' said UNC point guard
Kendall Marshall
, who finished with 4 points and 13 assists. "That's not to insult his game at all; I think players just grow into that."
Usually more of a second-half scorer, Barnes got started early this time against the Tigers, scoring UNC's first two buckets to cut Clemson's early lead to 7-4. He then scored a couple of 3-pointers during a 21-4 first-half run.
And after the Tigers cut their deficit to six points with about 12 minutes left in the second half, Barnes scored four points, pulled down a rebound and swiped two steals as UNC pushed its lead back to 11.
"You've got to get North Carolina to a point where they can get a little nervous," Clemson coach Brad Brownell said. "You've got to get it to five minutes or six minutes in the game and it's a couple of possessions, and then you've got a chance. But we couldn't get it."
Barnes made sure of it.
Before he left the game, for good, with 1:31 left, the preseason ACC player of the year beat the buzzer with another 3-pointer. That gave the Tar Heels a 22-point advantage.
It also kept UNC tied atop the ACC standings with No. 21 Florida State at 10-2. With only four regular-season games left, Barnes said both he and his team have a new sense of urgency – which is why he's been working harder to expand his game.
"No question, this is it, this is what you play for, this is what you come to college basketball for,'' he said. "You're preparing for March Madness. And if you go out there on the court these last two or three games, and you don't leave it all out there, you're cheating yourself and you're cheating your teammates.
"This is what your season is going to be defined as, is these coming games, so we have to leave it out there."
Forward
Tyler Zeller
added 14 points for the Tar Heels, who held the Tigers to 37.5 percent shooting and out-rebounded them by 14.
Andre Young
led Clemson with 13 points.
But it was Barnes, who buried the go-ahead shots in the final five minutes of all three of UNC's victories over the Tigers last season, who led the effort to leave Clemson with a bitter outcome in Chapel Hill.
Again.
"I'm sure he's averaging 18 or 20 against everyone else, so I'm not sure it's that skewed [when he plays against us],'' Brownell said of Barnes' scoring. "He's just a great player. We don't have a guy that's his size that matches up very well, and you have so many guys that you're trying to stop that it's hard to do a good job on him. And certainly he rose to the occasion last year in the ACC tournament [when he scored 40 points in the Heels' semifinal victory], and he made plays today."
Follow Robbi Pickeral on Twitter at @bylinerp.
February, 18, 2012
2/18/12
5:56
PM ET
CHAPEL HILL, N.C. -- A quick look at seventh-ranked North Carolina's
74-52
win over Clemson at the Smith Center on Saturday:


What it means
: That "The Streak" continues. Clemson remains 0-for-forever in Chapel Hill; UNC has now topped the Tigers there 56 straight times, dating back to 1926. It extends the longest home winning streak in a series in NCAA history
How it happened
: Clemson had lost ACC road games by two, three, four and two points this season -- but not this time, because it never got that close down the stretch. The Tigers took an early 7-2 lead before the Tar Heels ripped off a
Harrison Barnes
-led 21-4 run to take a 23-11 lead. UNC dominated the boards, while Clemson shot only 32.1 percent, and the only reason the Tigers trailed by only single digits (31-22) at halftime was point guard
Andre Young
's 3-pointer at the buzzer.
Clemson stuck around in the second half, too, cutting its deficit to as little as six points with about 12 minutes left. And even when UNC pushed its lead to nine, 10, 11, the Tigers kept countering --until
Tyler Zeller
scored on a putback, Barnes and
John Henson
each made a free throw, and Barnes made another jump shot to give UNC a 66-49 cushion with about three minutes left.
Barnes led the Tar Heels with 24 points, Zeller added 14 and point guard
Kendall Marshall
finished with 13 assists.
Clemson, which shot 37.5 percent for the game, got 13 points from Young.
Number to know
: The Tar Heels -- who are always trying to score more points off free throws than their opponents attempt -- didn't have an attempt in the first half, and went 6-for-8 for the game. Their fewest attempts this season before that? When they tried only 10 foul shots (and made eight) in a win over Long Beach State in December.
What's next
: The Tar Heels will play at N.C. State on Tuesday. The Tigers will play at Georgia Tech on Tuesday
Follow Robbi Pickeral on Twitter at @bylinerp.
January, 30, 2012
1/30/12
8:00
AM ET
This week's attempt at ranking the surprisingly tight-at-the-top ACC:

1. North Carolina:
No
Dexter Strickland
? No problem. Not only did the Tar Heels give their best defensive effort of the season in a 74-55 win against NC State on Jan. 26 that wasn't as close as its final 19-point margin, they finally started connecting from 3-point land against Georgia Tech -- something they had struggled with during ACC play -- for a 93-81 victory Saturday. That 33-point loss at Florida State on Jan. 14 still stings, but it's looking more and more like a much-needed slap in the face to a team that is the best in the conference when it competes with focus and passion.
2. Florida State:
The Seminoles remain the hottest team in the conference, beating Wake Forest 75-52 in their only game last week to extend their winning streak to five. FSU has now scored at least 75 points in four straight games -- a good sign for a team that struggled to reach 50 a couple of times earlier in the season.
3. Duke:
When is a win not a win? When coach Mike Krzyzewski says it feels more like a loss. That was his sentiment after the Blue Devils' seven-point victory over St. John's on Saturday, during which Duke allowed a 22-point second half lead to dwindle because of a lackadaisical defensive effort. In a surprisingly-tight ACC race, that's enough to drop Duke from the top of these power rankings this week.
4. Virginia:
The Cavs continue to get it done with defense. After holding Boston College to 49 points (the ninth time this season they've held a foe to fewer than 50),
Jontel Evans
and
Sammy Zeglinski
cut off NC State guard
Lorenzo Brown
's penetration to the basket in the final seconds of that game, forcing a 3-pointer that missed -- and securing a 61-60 victory.
5. NC State:
Although State did a solid job of rallying after its blowout loss at UNC, Brown's potential game-winning 3-pointer fell short against Virginia. The Tar Heels and Cavaliers did a good job of slowing down
Scott Wood
, as State's leading scorer was held to 7-for-23 shooting in the two losses.
6. Maryland:
The Terps broke a three-game losing streak -- including a 74-61 loss to Duke on Jan. 25 -- by beating Virginia Tech 73-69 at home.
Terrell Stoglin
scored 21 of his 28 points in the second half to lead the effort, and he continues to lead the ACC in scoring with 21.3 points per game.
7. Miami:
The Canes followed a 64-49 win at Georgia Tech with a 76-54 victory at Boston College, pulling away from the Eagles with a 27-5 game-ending run. Junior forward
Kenny Kadji
continues to impress, averaging 17.5 points, 7.5 rebounds and 2.5 blocks during those two games.
8. Clemson:
When
Andre Young
shoots 40 percent or better, Clemson is 3-0 in ACC play. When Young shoots below 40 percent, Clemson is 0-3 in ACC play. He did the former against Wake Forest, scoring 19 points on 7-for-12 shooting during his team's win over Wake Forest.
9. Virginia Tech:
The Hokies lost by two points to BYU, before falling by four points in Maryland last week. The only Tech game this month that hasn't been decided by four or fewer points was its double-digit loss to UNC. The Hokies are now 1-6 during that stretch, and it's going to get more difficult to dig out of the ACC basement.
10. Wake Forest:
C.J. Harris
has now scored in double figures for 20 straight games -- the first Deacon to do so since Jeff Teague -- but it wasn't enough to contend with Florida State at home, or Clemson on the road, last week. Wake has now lost five of its last six games.
11. Georgia Tech:
The Jackets managed to score a few more points in the first half against UNC on Sunday (32) than they had in their previous four losses (19.3, on average). But leading scorer
Glen Rice Jr.
's sore big toe, injured in practice last week, isn't helping matters.
12. Boston College:
The young Eagles have now lost four straight since beating Clemson and Virginia Tech earlier this month.
Follow Robbi Pickeral on Twitter at @bylinerp.
January, 23, 2012
1/23/12
4:25
PM ET
Each week, a 12-member panel votes for the ACC Player of the Week and ACC Rookie of the Week.
This week's selections:
POW: Michael Snaer, Florida State guard:
The junior averaged 16.5 points, three rebounds and 1.5 steals in wins against Maryland and at Duke. Snaer beat the buzzer with a 3-pointer Saturday to break the Blue Devils' 45-game homecourt winning streak. He made 50 percent of his shots for the week, including 42.9 percent from behind the 3-point arc. FSU is the hottest team in the ACC right now.
ROW: Austin Rivers, Duke guard:
If not for Snaer's game-winner, Rivers might have been the hero of Saturday's game, as he tied it before the FSU guard buried his jaw-dropping shot. Still, Rivers averaged 19.5 points and 3.5 rebounds in the loss to the Seminoles and win over Wake Forest. He made 48.1 percent of his shots last week, and has now earned ROW honors four times this season.
Other POW nominations:
Scott Wood, N.C. State forward:
The Wolfpack junior averaged 18.5 points and shot 55 percent during wins against Boston College and at Miami last week. At the Hurricanes on Sunday, Wood eclipsed J.J. Redick's ACC record for consecutive free throws made by going 7-for-7; he has now made 58 in a row.
Andre Young, Clemson guard:
The senior averaged 18.5 points during a loss at Miami and win at Georgia Tech. His 29 points against the Yellow Jackets were a career high.
Dorenzo Hudson, Va. Tech guard:
The senior averaged 14 points off the bench in the Hokies' loss versus UNC, then win over Virginia. His 3-pointer from the corner with 17 seconds left gave Tech a four-point lead against the Cavaliers, and eventually its first ACC win of the season.
Travis McKie, Wake Forest forward:
The sophomore averaged 18 points and 10 rebounds in a loss at Duke and win at Boston College. He ranks fourth in the ACC with 17.2 ppg.
Kenny Kadji, Miami forward:
Averaged 17 points and six rebounds last weeks, shooting 56.5 percent from the field and 80 percent from the free throw line.
Harrison Barnes, UNC forward:
The sophomore led all scorers with 27 points in UNC's victory at Virginia Tech, scoring 21 of them in the second half. He was 8-of-14 from the floor in the game, including 6-for-6 in the second half. He also recorded six rebounds, a block and three steals.
Other ROW nominations
Robert Brown, Virginia Tech guard
: In his first two starts of the season, he averaged eight points and 32.5 minutes.
January, 23, 2012
1/23/12
8:00
AM ET
Four teams now top the ACC standings with one league loss; thank Florida State's resurgence for making this conference race so all-of-a-sudden competitive. My attempt at this week's power rankings (up for debate, as always):
1. Duke:
After coming off the bench to score 20 points in a win over Wake Forest, freshman
Austin Rivers
was back in the starting lineup against FSU -- only to have his would-be overtime-inducing shot upstaged by
Michael Snaer
's game-winner. The Devils allowed the Seminoles to make two-thirds of their shots in the second half; Duke's defense has got to continue to improve.

2. Florida State:
Is this really the same team that lost to two Ivys, and at Clemson by 20? The Seminoles said at the beginning of the season that the goal was to push their way into the top two of the ACC. By blowing out North Carolina, beating Maryland, then ending Duke's 45-game home winning streak (all in a matter of eight days), they've done just that. FSU is the hottest team in the league right now.
3. North Carolina:
The Tar Heels bounced back from the worst loss of the Roy Williams era, at FSU, by getting an intense win at Virginia Tech, fueled by 27 points from
Harrison Barnes
. But it still suffered another huge loss in that game, in the form of
Dexter Strickland
. The team's best perimeter defender/starting shooting guard/fastest player/backup point guard is out for the season with a torn ACL. How will the Tar Heels rally?
4. N.C. State:
After Sunday's win over Miami, the Wolfpack is 4-1 in the ACC. One of the positives of the game: Guard
C.J. Williams
, who injured his shoulder against Boston College last week, started and played 31 minutes. The Wolfpack isn't very deep, and the loss of any key player would be devastating.
5. Virginia:
First,
Assane Sene
suffered an ankle injury last week that will keep him out for about six weeks. Then, the Cavs lost to Virginia on Sunday for their second league defeat. Virginia will need to adjust without its center, and one thing that would help: more production from guard
Sammy Zeglinski
, who has made only 4 of his 23 shots over his past three games.
6. Maryland:
After averaging 14 points and eight rebounds in his first three games, freshman center
Alex Len
has struggled -- averaging only 2.6 points and 4.3 rebounds in his next three, then exiting the Terps' loss at Temple early because of a twisted ankle. Maryland lost both of its games last week, and a healthy, rejuvenated Len would be key to getting back on track.
7. Miami:
The Hurricanes' latest loss, to N.C. State on Sunday, means they have dropped three of their last four. This isn't exactly what first-year coach Jim Larranaga was expecting out of this team, especially with its returning talent. "I was anticipating what our squad would be like before my staff and I arrived and I've found that we have a lot more work to do than we originally thought," he said Sunday, according to the Fort Lauderdale Sun-Sentinel.
8. Virginia Tech:
Dorenzo Hudson
's 3-pointer from the corner with 16.5 seconds left secured the Hokies' rivalry win over Virginia -- and their first ACC victory of the season. But after a slow conference start, they have a lot of work (and winning) to do in order to catch up to the top of the pack.
9. Clemson:
Andre Young
crushed his shooting slump by scoring a career-high 29 points (including seven 3-pointers) to hold off Georgia Tech and break a three-game losing streak. The Tigers need him to continue scoring.
10. Georgia Tech:
The Jackets managed only 38 points in their loss to Virginia, their worst output since 1982. Then they fell short in their rally at Clemson, losing by two. They've now dropped three straight, and seven of their last eight.
11. Wake Forest:
After losing three straight, coach Jeff Bzdelik called Saturday's game at Boston College a must-win. After beating freshman-laden BC by 15, he told the Winston-Salem Journal: "This game was our Super Bowl. Every win is huge, and they are hard to come by. This is another big step for us in our journey to be the type of team we want to be."
12. Boston College:
After winning two ACC games, the young Eagles' team have now lost two in a row. "Right now, we have a snowball effect -- in both directions,'' coach Steve Donahue told The Boston Globe. "When things go bad, we have a tendency to let them get to us and compound it on both sides of the ball. When we do positive things, it ends up snowballing in that direction." Not a great sign, with a trip to Virginia next up.
Robbi Pickeral can be reached at bylinerp@gmail.com. Twitter: bylinerp.