North Carolina Tar Heels:

Appalachian State
December, 18, 2011
12/18/11
8:00
AM ET
The Morning After: Thoughts, notes and anything else that didn't quite make this space after North Carolina's latest game (in this case, the No. 5/6 Tar Heels' 97-82 victory over Appalachian State on Saturday night, during which senior forward Tyler Zeller scored 31 points).
CHAPEL HILL, N.C. – Everything the Tar Heels ran Saturday night, Appalachian State coach Jason Capel said, "I knew it was coming."
After all, he was coaching in the arena – albeit on the opposing sideline – where he started at forward for North Carolina from 1998-2002. And he was coaching against a program that he once helped to a Final Four.
"It was good to be home,'' he said.
Capel, a former two-time All-ACC player, said he was proud of the way his Mountaineers responded against his No. 5/6-ranked alma mater at the Smith Center. Appalachian State trailed by as many as 29 points in the second half, yet lost 97-82.
"We didn't just play hard, we competed,'' Capel said. "We didn't take a step back when they clocked us in the mouth, we just kept coming forward. We got down [29] … we stayed together. That's part of the process."
Capel -- who, at 31, is the third-youngest Division I men's head basketball coach in the nation -- admitted he was a bit nervous before the game. Although he returned to watch his former teammates play in 2005, and came back for the 100-year celebration of Carolina basketball a couple seasons ago, he hadn't been around the program as much as some alums.
So, "it was good to come to back, it was good to share that [pre-game] moment with Coach [Roy] Williams, it was good to see … a lot of familiar faces, people I know. It meant a lot to me."
The highlight: when Bill Guthridge, his head coach for his first two seasons at UNC, attended the Mountaineers' shootaround. "And no one understands how much that meant to me,'' Capel said.
But it does make it easy to understand why each team's plays were so familiar to the other; Carolina coaching ties, and strategies, run deep.
"They call it 'B1', I call it 'Detroit'. They call it 'B2', I call it 'Detroit Double','' he said. "… I tried to stay away from the stuff we run alike, because I know they know it. [But] I called 'Detroit' one time, and
Kendall [Marshall
, UNC's point guard] said 'B1.' It's the same stuff, you try to give it two names. He put the two fists up one time, and I told my guys, 'They're trapping the first pass.' The signals are the same.
"Obviously, they have a different athlete to be able to execute some different things, but we got them in some things they do themselves, and that makes you feel good a little bit. Because we were able to execute it knowing they knew what was coming."
Follow Robbi Pickeral on Twitter at @bylinerp.
December, 17, 2011
12/17/11
10:25
PM ET
CHAPEL HILL, N.C. -- In an attempt to try to prepare his squad for how quickly North Carolina's big guys can get ahead of a fast break, Appalachian State coach Jason Capel had team managers start sprinting at half-court during practice last week. Then he told his players, beginning from the baseline, to try to catch them.
"But nothing can prepare you for a 7-footer running that fast,'' the former Tar Heels forward said after his team
lost 97-82
at the Smith Center. "It's impossible to do."
Using a bevy of hook shots, free throws – and yes, fast-break buckets – 7-foot UNC senior
Tyler Zeller
led the Tar Heels with 31 points (one shy of tying his career high).
Coach Roy Williams said the forward has had better all-around outings this year. But, according to Zeller, "it was just one of those games where everything seemed to be going in."
Then again, it always helps to have a tall guy who can beat everyone to the bucket.
"Z does a great job running,'' said point guard
Kendall Marshall
, who finished with 13 assists and only 2 turnovers. "He kind of reminds me of a deer almost when he gets out and runs."
"[Then] when he gets in the post, he does such a great job of getting post depth and showing me his whole body, I have no choice by to give him the ball."
Marshall got Zeller the ball early and often Saturday, as the forward scored 7 points en route to UNC's early 13-2 lead.
He scored his 20
th
point, just before halftime, when Marshall threw up an almost-full-court shot/pass with time winding down that ended up ricocheting off the rim and into the hands of teammate
Dexter Strickland
. Strickland then found Zeller for the bucket, which gave the Tar Heels a 48-32 lead.
[+] Enlarge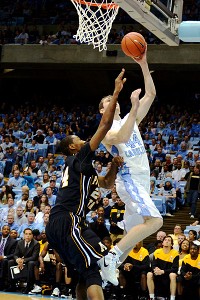 Rob Kinnan/US PresswireSuperior speed got Tyler Zeller and UNC past Appalachian State.
The field goal was Zeller's reward for sprinting down the court so fast. It was an advantage he realized he could use during the pregame, when an assistant coach wrote the opposing players' names, heights and weights on a planning board in the locker room.
The dimensions of 6-foot-10, 290-pound Mountaineer
Isaac Butts
particularly stood out.
"We saw 290, and I think
John [Henson]
was the first one to say, 'Yeah, we're going to get out on them … because we know 290 is tough to run," Zeller said.
UNC built a lead as large as 29 points (76-47, on a Zeller free throw) in the second half before the Mountaineers dug back.
"We were really good for about the last 4 minutes of the first half and the first 4-5 minutes of the second half," said Williams, whose team had limited practice time this week because of exams. "And then we went brain-dead there for a while."
Still, the Tar Heels never trailed, and led by double figures for the entire second half as Zeller flirted with setting a new career high. But when he checked back into the game at the 6:41 mark with 31 points in his pocket, he didn't attempt another shot before exiting again with 4 minutes to go.
"I don't get caught up in that as much as everyone else,'' he said of his numbers. "I thought it was funny when I missed a free throw [with 10:15 left], but just because it was one point short of 30 and everybody got kind of sad. But it was just something that … [once I checked back in], if I got the ball again, I'd try scoring it, and if not, then I'll end up with 31."
Zeller also finished with 10 rebounds, while Henson added 17 points and
Reggie Bullock
and
P.J. Hairston
chipped in 10 points apiece.
Omar Carter
led Appalachian State with 21 points off the bench, but the Mountaineers – despite all that sprinting in practice this week – just couldn't quite keep up.
"It's something that we're always looking for,'' Zeller said of his team's fast break. "It's kind of funny, I heard their coach one time: I ran down and got a layup – and he said, 'I told you he was going to do that.'"
Follow Robbi Pickeral on Twitter at @bylinerp.
December, 17, 2011
12/17/11
7:58
PM ET
CHAPEL HILL, N.C. -- A quick look at No. 5/6 North Carolina's
97-82 victory
over Appalachian State on Saturday:


What it means:
UNC senior forward
Tyler Zeller
, after an inconsistent start to his season, might finally be back on track. The senior 7-footer scored 31 points – one off his career high – and pulled down 10 rebounds to push UNC to victory.
How it happened:
The Tar Heels took an early 13-2 lead (on 7 points from Zeller) before Mountaineers senior guard
Omar Carter
, who had started the previous nine games, came off the bench. Carter immediately scored on a jumper, and led a surge that cut UNC's advantage to 34-30 (on a Carter 3-pointer) with 4:32 left in the first half. But the Tar Heels reeled off a 12-0 run before Carter (and App State) scored again. In all, UNC completed the half with a 14-2 run (the final bucket by Zeller) to take a 48-32 lead into the break.
UNC continued to pull away after that in the second half. It shot 54.5 percent, out-rebounded ASU by seven and won the scoring battle in the paint, 54-34.
John Henson
chipped in 17 points for the Tar Heels; point guard
Kendall Marshall
had 13 assists and 2 turnovers. Carter led the Mountaineers with 21 points.
Numbers to know:
The last time the Tar Heels played Appalachian State was in November 2000. Jason Capel – now head coach of the Mountaineers -- had 10 points, 6 rebounds and 6 assists for UNC in that game.
(Another) number to know:
UNC forward
Harrison Barnes
had scored in double figures 24 consecutive games before Saturday – which he finished with 9 points.
Hubbub:
UNC coach Roy Williams was sporting a new, blue-and-black plaid coat for the occasion. It garnered mixed reviews from the folks on Twitter, but it did blend in with the Tar Heels' color scheme better than the green jacket he donned during the Las Vegas Invitational.
What's next:
This marked the first contest in a three-games-in-five-days stretch for the Tar Heels, who will play Nicholls State at the Smith Center on Monday night. The Mountaineers will face Campbell at home on Thursday.