North Carolina Tar Heels:

Barack Obama
November, 20, 2013
11/20/13
11:00
AM ET
Former North Carolina coach Dean Smith will receive the Presidential Medal of Freedom -- the nation's highest civilian honor -- today along with 15 other recipients that include former President Bill Clinton.
[+] Enlarge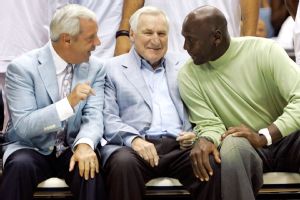 AP Photo/Gerry BroomeDean Smith (center) has mentored coaches and players alike.
Smith's wife, Linnea, told WNCN television in Raleigh last week that traveling was difficult for the 82-year-old Hall of Fame coach and that he would not be able to attend. Back in 2010, the family revealed Smith had a neurocognitive disorder that affected his memory.
UNC coach Roy Williams and former coach Bill Guthridge will accompany Smith's wife and family members to the White House ceremony to receive the award on his behalf.
"I feel very honored to be about to go up there and see that happen, to be with his wife and some of his children," Williams said. "That will be a neat deal for me."
President John F. Kennedy signed the Executive Order that created the Presidential Medal of Freedom in 1963. There will be a special recognition of its inaugural class today.
President Barack Obama, who selected the honorees, announced this year's class in August. He said the award goes to individuals who have, "dedicated their own lives to enriching ours. This year's honorees have been blessed with extraordinary talent, but what sets them apart is their gift for sharing that talent with the world."
That's a definition that Williams would say fits Smith perfectly.
"I'm very thrilled to have worked with coach Smith, he taught me so much more about people than he did about zone defense or man-to-man defense or anything whatsoever," Williams said. "I think he's truly one of the great mentors that you could possibly have and he was a mentor to me and every player. He truly cared his players."
Smith joins former UCLA coach John Wooden and former Tennessee women's coach Pat Summitt as the only college basketball coaches who have received the award.
"Coach Smith, you've heard me say this before, is the best that ever was, in my opinion, on a basketball court and he was far better off the court," Williams said. "And the things that he did off the court meant so much more than the time that he spent on the court."
Williams was nearly brought to tears when asked about Smith on Sunday saying he was, "just a unique man and leader for so many people." Williams said there wasn't a day that goes by that he doesn't utilize some principle -- not just on the court, but in life -- that Smith used to emphasize.
"I ask myself all the time what would coach Smith do right now?" Williams said. "Would coach Smith be proud of the way I handled some things?"
Smith's 879 wins, which were the most when he retired in 1997, has been surpassed by other coaches. And Williams has matched Smith's two national titles. But he said no number could quantify the impact Smith has had.
"I'll never be as good as he was," Williams said. "I don't think anybody ever will be."
November, 12, 2011
11/12/11
7:45
AM ET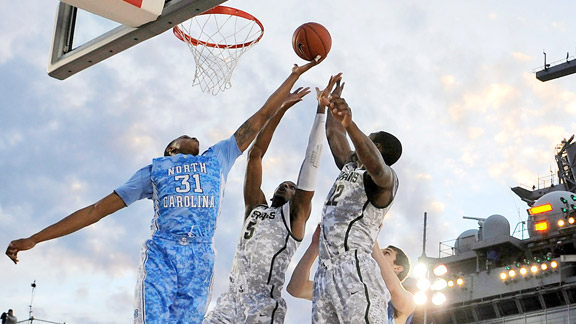 AP Photo/Mark J. TerrillPlayers from both teams gave their jerseys to servicemembers after Friday's game.
Thoughts, notes and anything else that didn't quite make this space after North Carolina's latest game (in this case, a 67-55 victory over Michigan State in the Carrier Classic on Friday night).
SAN DIEGO -- UNC coach Roy Williams, suffering a bout of vertigo, felt so sick Friday, "I was just trying to make sure I could remember what was up and what was down for a while,'' he said.
But at least one of his players didn't know he was ill until after the game.
Shooting guard
Dexter Strickland
said he saw his coach go down to one knee when he approached him during the game to ask him which play he wanted to run. "I asked him if he was OK, he said he was fine, and he gave me the play,'' Strickland said. "But later, he told us he was feeling dizzy, and was ready to get off the ship."
Williams said he's had the vertigo problem for 14 or 15 years, "and there are some things you can do to help it. I talked to the doctor on this trip and made sure I did the right things and it worked out. But I enjoyed every possible moment of it. Hopefully I'll coach another 10-15 years, but it'll be hard to top this unless it's a Final Four."
A FAMILIAR GREETING
: Sophomore
Harrison Barnes
--
who led UNC with 17 point
s -- was both surprised, and impressed, that President Barack Obama was already familiar with the Tar Heels when he met with them before the game.
"He said, 'Hey, Z [
Tyler Zeller
], good seeing you again. Hey
John [Henson]
, are you going to block some shots? Harrison, are you going to make some 3s?' Barnes said. "It was kind of cool to see that he kind of knew us, he was in touch."
Obama has some history with the Tar Heels. In April 2008, then-Sen. Obama played pick-up with the team in Chapel Hill while on a campaign stop. He chose the Tar Heels to win the national title
in an NCAA bracket
the next season – then welcomed them to the White House when he was proven right.
"It's kind of a humbling experience when the president knows who you are,'' said Zeller, who was a freshman on that '09 national title team. "I don't know if he knew me from when I met him the first time, or it's one of those things where he's seen me play on TV. It was very cool."
CLOTHES SWAP
: Credit Michigan State's
Draymond Green
, according to Strickland, for approaching the Tar Heels after the game and suggesting both teams take off their camouflage jerseys and give them to the Wounded Warriors sitting courtside.
UNC's bench attire was a nice tribute, too.
As a show of appreciation to the military, the coaches wore matching khaki combat boots, with cargo pants tucked in.
QUOTABLE:
"Turn around and look – how many times have you never seen a full moon while watching a game at the Smith Center?" UNC associate athletics director for communications Steve Kirschner said, during a second half break in the action
Follow Robbi Pickeral on twitter at @bylinerp
November, 11, 2011
11/11/11
10:04
PM ET
SAN DIEGO -- A quick look at North Carolina's
67-55
victory Friday over Michigan State in the Carrier Classic aboard the USS Carl Vinson:


What it means
: It means nothing in the big scheme of things -- one game in November won't make or break either of these teams. But certainly North Carolina didn't want to come out in its first game and lay an egg, not with all the preseason excitement around this team. And the Tar Heels didn't. They acquitted themselves well. Meanwhile, Michigan State also is what we expected. The Spartans have some good interior play with
Draymond Green
,
Adreian Payne
and
Derrick Nix
, but they need help outside and didn't get it Friday night (finished 2-of-20 from 3).
How it happened
: No smoke and mirrors here. The Tar Heels simply have better players than the Spartans -- and lots of them. They were able to force Michigan State into mistakes and get out in transition to open up the game in their favor. Carolina was beaten on the boards, but it shot a respectable 46 percent given the conditions. Just 31 percent for MSU.
Harrison Barnes
led all scorers with 17 points, while teammate
John Henson
was 6-of-10 from the field.
Kendall Marshall
and
Dexter Strickland
dished out five assists apiece for UNC.
Halftime
: Beat up on the boards early, North Carolina erased a seven-point first-half deficit by going to its bread and butter, its transition offense. The Tar Heels capitalized on missed Michigan State shots and forced turnovers to get out on the break, where the Spartans are simply no match. By the half, UNC led 36-25.
Hubbub
: Since this wasn't a typical game, time to point out some of the not-so-typical stuff. The pregame featured an all-sailor rock band, called The Destroyers, and in-game it was the tunes of the Navy Band. ... Some fans got to the flight deck by taking the lift used to bring the planes on board. ... Both teams sported camouflage-themed uniforms, and the UNC coaching staff wore khaki cargo pants tucked into military boots.
Quotable
: "As some of you may know, because it was reported, the men and women of this ship were part of the critical mission to bring Osama bin Laden to justice" -- President Barack Obama addressing the crowd before the tip.
What's next
: North Carolina will charter to Asheville, N.C., arriving sometime around 5 a.m. and playing UNC Asheville at 4 p.m. Sunday. The Bulldogs are opening a new arena, and Asheville is Roy Williams' hometown. ... Michigan State, meantime, jets cross-country for a Tuesday-night tip against No. 6 Duke in the Champions Classic at Madison Square Garden. The Spartans will make a quick stop in East Lansing, heading to New York on Monday.
November, 11, 2011
11/11/11
1:35
AM ET
Editor's Note: For Dana O'Neil's game preview, click here. Also, check out a historic photo gallery of basketball being played on aircraft carriers for decades, including a WWII-era shot of a future President.

SAN DIEGO -- A number of sailors, some on and some off duty, milled around the court atop the USS Carl Vinson on Thursday, giddy about getting to watch North Carolina-Michigan State in an unprecedented event Friday.
The sailors, like everyone else involved in this game -- from the president to the Secretary of the Navy to the captain of the ship to every member of the military on board -- will still actually get the chance, regardless of the weather. The threat of rain is diminishing for Friday night, which is a huge relief to those who fretted over what was a more foreboding forecast a couple days ago.
The conditions were so perfect Thursday evening that Michigan State coach Tom Izzo said during the team's shootaround, "We're playing here. It will be this nice. It's beautiful.''
The decision to play the game on the deck, as originally planned, was actually made Wednesday morning, according to the game's initial innovator, Michigan State athletic director Mark Hollis. Hollis said a half-set was put together in the hangar below deck. And it was a disaster.
[+] Enlarge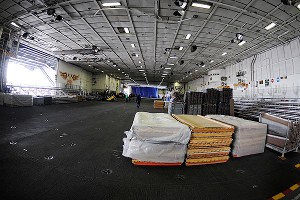 Christopher Hanewinckel/US PresswireCrews stopped construction on the court in the indoor hangar bay after the area was ruled out. The plan is to go forward above deck.
If the game had been moved below deck, it would have had a totally different feel. Seating was only good for 2,500, rather than 7,000. Hollis said the Navy would have had to set up viewing stations around the ship with televisions. It simply wouldn't have been the same.
"It was like a small junior high gymnasium down there,'' Hollis said. "No one wanted it to happen.''
Not the coaches. Not the players. Not the military personnel. No one.
"I had a few of the troops say that if this game isn't outside, they won't see it,'' North Carolina sophomore
Harrison Barnes
said.
Hollis said there is a rain contingency plan -- simply a rain delay. A number of servicemen from a nearby base volunteered throughout the week, setting up the court and the stands. They put a tarp, just like on a baseball diamond, over the court each of the past three days. A tarp was on the court Thursday night.
"We'll stop it if there is any kind of moisture,'' Hollis said. "The biggest concern is the safety of the student-athletes.''
Those student-athletes certainly don't seem concerned, though.
"This is so special to be the first outdoor college basketball game and anyone who doesn't play for Michigan State or North Carolina can't say they played in it,'' Michigan State senior forward
Draymond Green
said. "If we went underneath, we couldn't have said it either.
"You worry about the rain, but I grew up playing outside on the playground, and if there's wind just shoot it off the backboard.''
Hollis said a number of waivers had to be granted by the NCAA.
"There were a lot of operational logistics we were dealing with since we had the government, the Navy, the two institutions and the NCAA,'' Hollis said. "The approval of the uniforms, the long sleeves, the ability to come out a day earlier than normal. There were a lot of things that [Big East coordinator of officials] Art Hyland and [NCAA coordinator of officials]
John Adams
had to help us get through for all the waivers. We also had to get the endorsement of [NCAA president] Mark Emmert and [NCAA vice president] Greg Shaheen.''
The setup on the Vinson's flight deck, where normally 39 jets are stationed, ready to be deployed, is as picture-perfect as any venue in the history of the sport. The court sits on the middle of the deck, with the San Diego skyline across the water. The stands, which seat 7,000, are next to the court, with courtside seating for dignitaries that will include President Barack Obama and First Lady Michelle Obama.
[+] Enlarge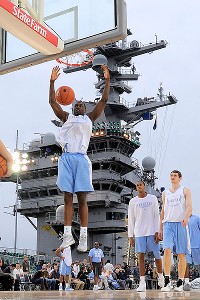 AP Photo/Mark J. Terrill It was quite an experience when the players took the court for the first time Thursday.
At one point Thursday, sailors took turns sitting in their seats in their blue-tinted fatigues. The image was akin to an Army-Navy game.
North Carolina coach Roy Williams said he was filled with pride in advance of the game. His first reaction to coming on board the ship Wednesday was: "Wow. Wow. Every player had their phones and cameras out," Williams said. "No one was talking to each other. Their eyes and mouths were wide open. This is going to be a celebration.
"From the tipoff to the final horn, we'll be working our tails off for the game. But we'll be thinking about the smiles on the faces of the people who serve our country. We're thrilled. It sends a cold chill for me just talking about it. It's the neatest thing I've ever been involved in.''
North Carolina's
Tyler Zeller
said the last time he played outside was in middle school. He said he was a bit worried about his hook shot and sizing up the distance with the potential for wind.
The elements were on everyone's mind, but not in a negative way.
"I like it out here,'' North Carolina junior forward
John Henson
said. "I think we should get the Dean Dome to open up. I'd hate to go down low and miss this experience.''
Barnes called the whole thing "unreal."
"There's no other way to say describe it," he said. "It's so nice with the sky and the cool weather. There will be such a special aura about this game. No matter how far we go in the tournament, we'll never see something like this. We're showing appreciation for the troops, see how they live and this game is put in perspective.''
Michigan State sophomore guard
Keith Appling
called this a once-in-a-lifetime experience.
"I'm only concerned that a couple of my shots get some wind and they could far right or far left,'' he said with a laugh. "It might be embarrassing with the president in the stands.''
Nevertheless, this game will be outside, whether there is wind or mist. That much we know.
"Weather is not going to be a factor,'' Green said. "It's going to be great.''