North Carolina Tar Heels:

Bernard James
March, 11, 2012
3/11/12
7:30
PM ET
ATLANTA — Florida State forward
Bernard James
has a simple message for those who dare to doubt his basketball team.
"You should be a believer now," he yelled as the last specs of championship confetti floated down around him from the Philips Arena ceiling.
Guard
Ian Miller
wasn't so reserved with his response.
"I guess they believe now," he said.
"If they don't, tough luck because we're getting a ring for this one."
It's hard not to believe in this FSU team after the Seminoles knocked off top-seeded North Carolina
85-82 in the ACC tournament final
. The Seminoles captured their first ACC tournament championship and became the first team since Georgia Tech in 1995-96 to beat both Duke and North Carolina twice in the same season.
The same team that lost 6 of 10 games from the end of November to the beginning of January, suffering losses by 20 and 18 points along the way, went 4-1 against Duke and North Carolina, proving that FSU's successes were no accident.
"This is not a fluke," Miller said. "You can't win a championship on a fluke. Today, by winning this championship, our coaches told us it ain't a fluke no more. People know we're real now."
Added James: "We silenced a lot of the doubters who say we don't belong in the same breath as Duke and Carolina."
Sunday, FSU stood alone, again, but only because it was above Tobacco Road's giants.
[+] Enlarge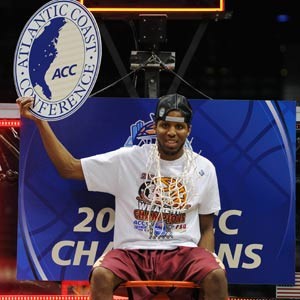 Bob Donnan/US PresswireGuard Michael Snaer and the Seminoles will be a tough force in the NCAA tournament.
Now, the Seminoles, turn their attention to the NCAA tournament and are looking to take their high-flying act to the top of the college basketball mountain.
"We have five or six more wins until the national championship," Miller said. "We're trying to get there now."
The notion of FSU making such a run in the craziest of months is no longer laughable. This team is legit. It went from trouble to tremendous in a few months and now has tons of momentum to thrive off of.
Plus, it's going to be hard for teams to keep up with the Noles. FSU's up-tempo offense frustrated its victims throughout the ACC tournament. UNC, which desperately wanted to slow things down, was left zonked after its uncomfortable foot race.
With such a deep bench, FSU was able to keep its motor going and the legs churning.
"We were all coming off a third day of playing so we wanted to impose our will and try to let them know that they couldn't outrun us," forward
Xavier Gibson
said.
That sort of thing will come in handy during the Dance.
This team can shoot, too, with guards like
Michael Snaer
(ACC tournament MVP),
Luke Loucks
and
Deividas Dulkys
lighting it up from the floor. The Noles shot just under 60 percent against the Heels and shot no worse than 42 percent during its current five-game winning streak.
FSU is also hot from beyond on the arc after hitting 25 of 49 3s in the ACC tournament.
With as fast, physical and athletic as the Noles are, this will be a formidable group for any team to face in the coming weeks. Physically, this team is ready, but players want to make sure that once the celebration of Sunday's win has subsided that this team is in the right frame of mind for another championship run.
"We can't get satisfied with this," James said.
For as sweet as Sunday's win was, this team is still hungry.
"The ACC was just to let people know that we're not a game, there's no jokes no more," Miller said. "We wanted to make a statement and today we did that."
March, 11, 2012
3/11/12
3:36
PM ET
ATLANTA -- Florida State survived a vicious rally and a last-second 3-point attempt from top-seeded North Carolina to capture its first ACC tournament championship with a
85-82 win Sunday
.
With the win, the Seminoles became the first team since Georgia Tech in 1995-96 to beat both Duke and North Carolina twice in the same season.
The Seminoles' up-tempo offense was too much for the Tar Heels to handle for most of the afternoon, but it also helped that FSU shot 58.9 percent from the field (33-of-56).


UNC matched FSU well in the second half, but a nine-point halftime deficit was too much for the Heels to overcome. Florida State also connected on 11 of 22 3-point shots, including four from both
Michael Snaer
and
Deividas Dulkys
.
Four Seminoles players -- Snaer, Dulkys,
Luke Loucks
and
Ian Miller
-- were all double-digit scorers.
Without forward
John Henson
, who was out with a sprained left wrist, UNC failed to have a consistent down-low presence on both ends of the floor.
Turning point:
With UNC down one with 10 seconds left, point guard
Kendall Marshall
chucked a deep 3 that rimmed out and was rebounded by Dulkys. He was fouled and converted two free throws to put FSU up three with five seconds remaining.
Key player:
Snaer scored a team-high 18 points on 7-of-13 shooting and hit 4 of 5 3-point attempts. He was also named the tournament MVP.
Key stat:
Florida State shot 58.9 percent from the field Sunday and hit 11 of 22 3s.
Miscellaneous:
This was North Carolina's ACC-leading 31st appearance in the ACC tournament championship game. ... Since Dulkys scored a career-high 32 points in the regular-season win over UNC, his best point total had been 14 points. He scored 16 Sunday. ... UNC's
P.J. Hairston
hit three 3s Sunday. Since hitting four against Monmouth on Jan. 1, Hairston had made only eight 3s heading into Sunday. ... FSU's
Bernard James
recorded five blocks. ... Both teams each scored 40 points in the paint. ... FSU's bench outscored UNC's 28-14.
What's next:
FSU's tournament chances were never in doubt, but with the win, it earned an automatic bid to the Big Dance. Now, the Noles will sit back and wait for their seeding fate. FSU could now be seriously considered for a No. 3 seed. UNC likely locked up a No. 1 seed with Duke's loss to the Noles on Saturday, but there could be some worry with Missouri capturing the Big 12 championship Saturday night.
March, 11, 2012
3/11/12
10:15
AM ET
ATLANTA – Florida State hasn't looked at any of the film from its 33-point victory over North Carolina on Jan. 14.
"When you get big blowout wins like that, it's probably not the best idea to go back and watch; you might get a sense of comfort, or forget that we have to play hard – or what got us that 33-point lead,'' forward
Bernard James
said. "So we just put that one behind us, and chalked it up to Carolina not being ready."
He knows the Tar Heels will be this time.


The Seminoles downright embarrassed the UNC two months ago, beating the Tar Heels on the boards, holding them to 37 percent shooting. The
90-57 rout
marked the most lopsided loss of the Roy Williams era, and it was so irritating/befuddling/maddening that Williams and most of the team left the court early – leaving three walk-ons and two reserves to finish the game.
Since then, the Tar Heels have lost only once, to Duke on a buzzer-beater.
Since then, the Seminoles have lost three times, but won three games with last-second heroics.
"We can't necessarily worry about the games that we've played prior to this game coming up,'' FSU coach Leonard Hamilton said. "Each game takes on a different personality and I'm sure the team that we played in Tallahassee will not be the team we play on Sunday."
UNC will be competing for its first ACC title since 2008; FSU will be vying for its first ACC title, period.
A few things to watch in the 1 p.m. EST showdown at Philips Arena:
WILL UNC'S JOHN HENSON PLAY?
The ACC Defensive Player of the Year sat out Saturday's semifinal victory over NC State after spraining his left wrist during Friday's quarterfinal win over Maryland.
His status will
once again be a game-time decision
– and his potential absence will hurt.
James, a former Air Force sergeant and all a member of the ACC's All-Defense team, is a load for anyone to handle, and if Henson can't go, James would probably match up with UNC's
James Michael McAdoo
. The Tar Heels freshman has been more confident and aggressive lately, but got he into foul trouble during Saturday's game against the Wolfpack.
3-POINTERS
One of the reasons FSU was so successful against UNC last time was
Deividas Dulkys
, who shot 8-for-10 from behind the 3-point arc and scored a career-high 32 points.
The Seminoles senior hasn't approached anything close to that since (with 12 points being his high), but you get the point: UNC (which also lost to Duke at home when the Blue Devils shot 14-for-36 on 3s) can't afford to let an opposing team get hot.
The Seminole to watch:
Michael Snaer
. He's shooting better than 40 percent from 3-point land for the season, and buried two of those aforementioned game-winners this season.
THAT COMPETITIVE FLARE
One of the reasons UNC lost so badly – and looked so listless in doing so – in the last meeting, according to players, was that they bought into their own preseason No. 1 hype and didn't compete as hard as necessary. That shouldn't be a problem Sunday.
The last time UNC was looking for revenge was last weekend, when it went into Cameron Indoor Stadium and pasted the Blue Devils, building a 24-point lead by halftime en route to the ACC regular-season title.
FSU, though, has plenty of motivation, too.
Lots of folks wrote the Seminoles off
when they lost to two Ivy League schools, then opened the ACC season with a 20-point defeat at Clemson. Since then, they've beaten UNC and Duke, but winning the league tournament would prove that the conference is more than a two-team league.
"This has been our goal since the beginning of the season, and we want to accomplish it,'' Dulkys said.
Follow Robbi Pickeral on Twitter at @bylinerp.
February, 13, 2012
2/13/12
8:00
AM ET
Remember earlier this season, when it looked as if the ACC might not get more than three NCAA tournament bids? As many as six are making cases now. My attempt at this week's power rankings:

1. Duke:
The Blue Devils beat Maryland over the weekend, but it will be their come-from-behind victory at UNC last Wednesday -- rallying from 10 points down in the final 2:38 -- that will linger in the annals of the rivalry. Freshman
Austin Rivers
, who scored 29 points (including the game-winning 3-pointer) in the victory, averaged 20 points, three rebounds and three assists for the week -- and shot his team back to the top of these ratings.
2. North Carolina:
The Tar Heels -- led by forward
Tyler Zeller
-- bounced back from the Duke loss with a double-digit win over Virginia. But they've hit only 2 of their last 16 3-pointers, and will be thin on the bench until freshman
P.J. Hairston
(who missed Saturday's win with a sore foot) returns.
3. Florida State:
Forward
Bernard James
scored 15 of his 18 points in the second half to help beat Miami, but the loss at Boston College still has to burn. Guard
Michael Snaer
, who had been shooting better than 57 percent from 3-point range during his team's seven-game winning streak, managed only one 3 against the Eagles, proving again how key he is to this team's success.
4. Virginia:
Coach Tony Bennett was able to rest star forward
Mike Scott
for a long second half stretch in a blowout victory versus Wake Forest. But Bennett would have liked to have been able to use him more at UNC, where the senior was in foul trouble early and his team lost by double figures. The Cavs have now lost two of their last three games, both to top-25 foes.
5. N.C. State:
Junior
Scott Wood
finally missed a free throw, ending his ACC-record streak at 66. But the Wolfpack won their only game last week, at Georgia Tech, avenging their loss to the Yellow Jackets last month. They have now won three in a row.
6. Miami:
Reggie Johnson
was held to four points as FSU halted the Hurricanes' winning streak at five. Next up: a home rematch with UNC.
7. Maryland:
With players moving in and out of the lineup early on, first-year coach Mark Turgeon said it felt like he had coached several different seasons in one. Add another. Starting point guard
Pe'Shon Howard
, who missed the first nine games with a stress fracture in his foot, is now out for the rest of the season with a torn ACL in his knee. The Terps lost their first game without him (again), at Duke.
8. Clemson:
After losing three straight games by four points or fewer, the Tigers got a 20-point blowout win at Wake Forest. Forward
Milton Jennings
, back from his second suspension of the season, scored 15 points.
9. Virginia Tech:
The Hokies followed a sloppy 16-point loss at Miami with a one-point win over Boston College on Sunday when
Dorian Finney-Smith
hit a tip-in with 1.8 seconds left.
10. Boston College
: Eagles coach Steve Donahue said he doesn't put great emphasis on wins and losses, considering the youth of his team. But he had to be thrilled with the Eagles' upset win over Florida State, its third ACC victory of the season. They followed that with a one-point loss to Virginia Tech.
11. Georgia Tech:
Tech made only 1 of 17 3-point attempts against N.C. State, and has now lost seven of its past eight games.
12. Wake Forest:
The Deacons' 20-point loss to Clemson marked their sixth straight defeat. "Obviously we are embarrassed," coach Jeff Bzdelik said, according to the Winston-Salem Journal. "Obviously we have some limitations on this team… . What we have to do is be stronger and tougher to stay the course with great energy in those areas we can control -- like defending and rebounding and running the court."
Follow Robbi Pickeral on Twitter at @bylinerp.
January, 13, 2012
1/13/12
11:20
AM ET
With Virginia Tech shooting back from a double-digit deficit on Tuesday night, Florida State forward
Bernard James
said he had one thing running through his head:
We're not going to lose this game
.
"I just got the mindset that I was going to do whatever it takes … that we were not going to fall to 0-2 [in the ACC],'' the senior said.
That's when the 6-foot-10 former Air Force sergeant showed just what kind of player he can be -- and maybe his team can be? -- when he plays with ruthless focus, aggression and energy.
[+] Enlarge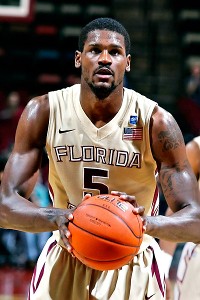 Phil SearsFlorida State big man Bernard James is nearly averaging a douible-double this season.
FSU's lead chipped to four points, James grabbed two offensive rebounds and slammed them back in the closing minutes, securing his team's first league victory and his best game of the season (18 points, a career-high 15 rebounds (nine offensive), three blocks, 6-for-8 from the free throw line).
It was an important outcome for the Seminoles, who were expected to be a top-25 team, but had lacked the consistent unity, leadership and consistent physical defense that made them a Sweet 16 team last year. (It lost to two Ivy League teams this season, and then its ACC opener at Clemson by 20 points).
It was an important step for James, especially with Saturday's showdown with No. 3 North Carolina on the horizon.
"I felt like I'd been in a little slump the last few games … so I knew I needed to play better defense, knew I needed to concentrate on rebounding and defense," he said.
Those skills have been James' bread-and-butter since joining FSU from Tallahassee Community College last season (and after three tours of duty in Iraq). Now at age 26, James may be the elder statesman on a team that calls him "Sarge," but he has a lot less hoops experience than most of his teammates, since he didn't play organized hoops until a supervisor volunteered him for an intramural team in the service.
It wasn't until facing the best big guys in the ACC last season that he realized that he could play with, and potentially better than, the best big guys in the ACC. So during the offseason, James put on some more weight so he wouldn't be pushed around as easily. He worked on his shot.
He changed up his free throw routine, trying to find a more consistent release, "and I don't leave the gym until I make 150 each day," he said.
Tuesday, it all came together for the athletic big man, who is averaging 10.2 points and 9.1 rebounds per game.
The goal now: keep it together for the Tar Heels, who escaped the Leon County Civic Center after hitting a game winner in the final seconds last season.
"That game was a heartbreaker,'' James said. "We fought so hard … and
Harrison Barnes
hit a great shot. It's been on my mind -- it's something I've been thinking about, leading up to this game."
And should serve as an extra motivator (as if he and his team need it, what with the gaze and hoopla of ESPN's College GameDay coming to town.)
James said he loves the challenge of matching up with the best big guys in the league, and he'll get another chance against UNC's tall and talented frontcourt of 6-11
John Henson
and 7-foot
Tyler Zeller
.
He plans to enter the game with the same
whatever-it-takes
mentality that helped him push his team to Tuesday's win. And he believes his teammates will bring it, too.
"I think we've found our rhythm,'' he said. "It's taken a long time, we've kind of been up and down all season. But for the last three halves of basketball, we've played very well, and together. So I do think we've finally found that formula."
Follow Robbi Pickeral on Twitter at @bylinerp.