North Carolina Tar Heels:

Big Ten/ACC Challenge 2011
November, 30, 2011
11/30/11
11:38
PM ET
CHAPEL HILL, N.C. -- A quick look at No. 5 North Carolina's
60-57 victory
over seventh-ranked Wisconsin the Smith Center in the Big Ten/ACC Challenge on Wednesday night:


What it means:
UNC forward
Harrison Barnes
' ankle is fine. And it looks like the Tar Heels are going to be, as well. It wasn't the prettiest outing, but North Carolina bounced back from losing its first game of the season -- and its No. 1 ranking -- by outrebounding the Badgers by 13 and holding them to less than 36 percent shooting. Barnes did most of the damage in the points column, scoring 14 of his 20 in the second half while junior
John Henson
did most of the damage on the backboards, pulling down 16 rebounds.
How it happened:
It looked like UNC might pull away early, when a Barnes bucket put the Tar Heels ahead 19-10. But Wisconsin countered with a 12-2 run, taking a 22-21 lead on a
Rob Wilson
3-pointer. That included about a four-minute span when no one scored.
North Carolina led 25-24 at halftime, but Wisconsin took a 36-31 lead in the second half. That's when the Tar Heels pulled away, using an 18-5 run -- during which Barnes did most of the damage -- to take a 49-41 advantage. That was just-enough to survive UW's comeback try at the end.
Injury report:
UNC freshman reserve
P.J. Hairston
fell on his left wrist during the second half, and was taken to the locker room. He returned to the bench, but not to the game.
Numbers to note:
The Tar Heels buried eight straight free throws during their second-half 18-5 run; they were shooting only 60.7 from behind the line entering the game. ... The last time UNC lost to a nonconference opponent in the Smith Center was Nov. 29, 2005, to Illinois. ... Wisconsin point guard
Jordan Taylor
finished with 18 points and four assists, but made only 6 of 20 shots.
Hubbub:
Shammond Williams, Mike Copeland, Antawn Jamison, Raymond Felton, Marvin Williams, Tyler Hansbrough and Rasheed Wallace were among the Tar Heel alumni in attendance. Wallace was wearing a red sweatshirt and was seated behind the bench, which caused some chuckles, considering
Roy Williams' comments Tuesday about red-wearing fans and BB guns
.
What's next:
It doesn't get any easier for the Tar Heels, who travel to Rupp Arena to face top-ranked Kentucky on Saturday. Wisconsin faces Marquette at home, also on Saturday.
Follow Robbi Pickeral on Twitter at @bylinerp.
November, 30, 2011
11/30/11
10:32
PM ET
CHAPEL HILL, N.C. -- The good news for the Tar Heels: they've held Wisconsin to 32.3 percent shooting. The bad news for the Tar Heels: they only lead by one point at halftime, 25-24. A few quick thoughts:


North Carolina isn't going to hit the two-Bojangles-biscuits-for-a-buck promotion, because there's no way they're going to hit 100 points. The scoring has been so slow-paced -- which favors the Badgers -- that both teams failed to score for about a four-minute span.
UNC forward Tyler Zeller's parents -- fresh off watching their youngest son, Cody, score 19 points in Indiana's win over NC State about 23 miles down the road, showed up during the first TV timeout. Was it a coincidence that Tyler scored his first points of the game right after his parents arrived? He has six points at the break.
First half numbers to know: The Tar Heels are shooting 47.8 percent, but have committed eight turnovers, compared to UW's two. ... Starting shooting guard Dexter Strickland leads the Tar Heels with seven points, but he has three fouls. ... UW point guard Jordan Taylor leads all scorers with nine points, but he's made only 3 of 9 shots. ... UNC leads on the boards, 20-15.
November, 30, 2011
11/30/11
11:04
AM ET
CHAPEL HILL, N.C. – North Carolina coach Roy Williams can't help but be impressed by seventh-ranked Wisconsin, which plays his No. 5 Tar Heels in the Big Ten/ACC Challenge tonight.
"You watch them on tape, and they are really something," he said. "They're shooting 47 percent as a team from the 3-point line. They have a guy who's shooting 71 percent from (the) 3-point line. They're out-rebounding people by 14 rebounds a game. They're holding people to 39 points a game. And people can say, 'Well, they've haven't played that tough a schedule' but it's hard to hold people to 39 points a game after six games."
But the stat Williams is most impressed by: 30.5. That's the percentage teams are shooting against the Badgers' defense.
"It's a difficult matchup for us, there's no question,'' Williams said. "Our big guys have to be able to get out on the court. We have to be able to defend the 3-point line."
[+] Enlarge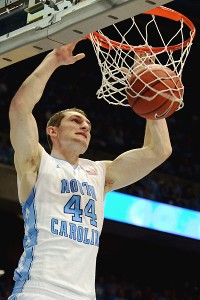 Rob Kinnan/US PresswireThe Tar Heels are counting on Tyler Zeller to be more aggressive on the boards against Wisconsin.
They've also got to be able to rebound – something they struggled with in their loss to UNLV, when the Runnin' Rebels out-toughed them, particularly on the offensive glass.
Some other things to watch tonight:
1. UNC forward Tyler Zeller
At the beginning of the season, the 7-foot senior said his most important personal goal was a high shooting percentage. But over his last two games, he's made only 5 of his 18 shots, including a 1-for-6 night against UNLV. Foul trouble may have been a factor, but so was a lack of aggression.
"I used to say the greatest thing about Sean May and Tyler Hansbrough, both, is the last thing the opposing coach said before he left his locker room was, 'We've got to stop May, we've got to stop Hansbrough,'" Williams said on his Monday night radio show. "They were the focus of the defense, but they still shot 54, 56, 58 percent. Brad Daugherty is the most efficient player who ever played here, the defense was designed to stop Brad, and he led the entire nation in field-goal percentage. So now, all of a sudden, defenses are really focusing on John [Henson] and Z.
"… He's got to throw the ball out, and guys have got to do a better job of moving and making shots, and then it's going to be more difficult to double on him."
Zeller also need to me more of a factor on the boards – he's only pulled down 12 rebounds his last two games.
2. The point guard matchup
Wisconsin coach Bo Ryan called the duel between UNC's
Kendall Marshall
and Badgers senior
Jordan Taylor
'the challenge within the Challenge,'
and although there will be plenty of other factors in this game, which ballhandler helps his team control the pace could ultimately earn bragging rights.
Transition defense will be particularly key for the Badgers, Ryan said.
"The idea is to get back, protect the rim, and then protect against shooters – and that takes five guys,'' he said. "You definitely want to be in a five-on-five games with them. If you're in an open area of three-on-three, Carolina wins three-on-three. Carolina beats anybody in the country three-on-three, four-on-four. Five-on-five is your best chance."
For UNC, whoever matches up with Taylor – and it probably will be shooting guard
Dexter Strickland
– has got to stop his dribble penetration in hopes of slowing a Badgers 3-point barrage.
"That's what college basketball is these days,'' Williams said. "You've got to do a better job guarding dribble penetration, and if they break you down off the dribble, and they can shoot it a lick, it's difficult guard them."
3. Harrison Barnes' ankle
The sophomore wasn't limping when he walked through the press room Tuesday, and he gave a thumbs-up sign when he walked back through, returning to practice. A team spokesman said he practiced fully, and was feeling good. But is that right ankle, turned during Saturday's loss, 100 percent?
Robbi Pickeral can be reached at bylinerp@gmail.com. Follow her on Twitter at @bylinerp.