North Carolina Tar Heels:

Bill Self
March, 24, 2013
3/24/13
1:28
AM ET
KANSAS CITY, Mo. -- At their shoot-around on Thursday and again during Friday's win over Villanova, the
North Carolina Tar Heels
received rousing ovations from an unlikely group of supporters.
Kansas fans.
For nearly a decade almost anyone who called themselves a Jayhawk held resentment toward former coach Roy Williams for leaving KU in 2003 and returning to North Carolina, his alma mater. But if this week is any indication, Kansas fans have moved on and come to appreciate Williams for what he accomplished during his 15 seasons in Lawrence.
"Time heals all wounds," Williams said Saturday. "The people have been really nice. There have been people driving by on the streets when we're out walking in the morning that have been yelling and saying nice things.
"I've only had one person yell something that wasn't quite as nice, but that's part of it."
[+] Enlarge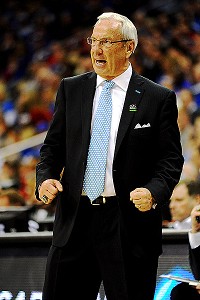 Denny Medley/USA TODAY SportsUNC coach Roy Williams hasn't had any success against Kansas, the school he once led. Will that change on Sunday?
Williams' Tar Heels -- the No. 8 seed in the South Region -- will take on top-seeded Kansas at the Sprint Center on Sunday for a chance to go to the Sweet 16. The Tar Heels are 0-2 against the Jayhawks since Williams became their coach. KU beat UNC in the national semifinals in 2008 and again in the Elite Eight last season.
A lot of the attention leading into each of those games centered on the ill will that some Kansas fans held toward Williams for leaving in 2003, just two years after vowing he'd retire at Kansas. "Benedict Roy" shirts were a hot seller in Lawrence. One barbershop owner went so far as to hang Williams' picture above his toilet.
This season, though, most of the buzz during Saturday's news conference centered around the actual game. That had to have been refreshing to both Williams and KU coach Bill Self, who coached for three seasons at Illinois before taking over for Williams.
"Nobody can ever take away that he did a fabulous job and ran a first-class program [at Kansas]," Self said. "Anybody that doesn't feel that way isn't real, because that's the reality of it.
"Since we've had a chance to play a couple of times in the tournament, I think there were some story lines [before] that probably aren't as good of a story line now."
Self has certainly made it easy for KU fans to move on. By beating No. 16 seed Western Kentucky Friday, Self became the first coach in history to guide his team to four consecutive 30-win seasons. (It should be noted that John Calipari accomplished the feat from 2006-09, but the Tigers' wins from the 2007-08 season were vacated.)
Kansas has also won nine straight Big 12 titles under Self and one national championship. Self is 299-58 (.838) during his tenure at KU, while Williams is 282-78 with six ACC championships and two NCAA titles at North Carolina.
As much as he hopes to win Saturday's game, Williams has made it clear that he doesn't enjoy playing Kansas.
"It's not immoral to love two schools," Williams said. "Someone asked me the other day if I would ever consider coming and playing a home-and-home against Kansas. I said no. My athletic director would understand and the Pope will understand, because I will never walk out of that far tunnel. That will never happen.
"I said this before I left Kansas: 'The day I ever walk into Allen Fieldhouse and don't get cold chills, I'll know it's time to stop.' I feel the same way about the Smith Center. If I walk out on game night and don't have cold chills, I'll quit."
Kansas City news and notes:
North Carolina's switch to a smaller lineup earlier this season could make things difficult for KU center Jeff Withey, who will likely have to guard players such as James Michael McAdoo outside of the paint from time to time. Withey said the shortage of true centers in the Big 12 has forced him to become a better perimeter defender. "I've definitely gotten used to it," Withey said. "I've had to learn to guard and move my feet."

Kansas leading scorer Ben McLemore is averaging just seven points in his past three games -- more than nine points below his average of 16.2. He had just 11 points in 32 minutes against Western Kentucky on Friday, when he only attempted five shots. "He's young," Self said of McLemore, a redshirt freshman. "Obviously this is his first time on a big stage. He's capable of doing it all. When he's aggressive, we're better. We've just got to get him to be more aggressive."

Ole Miss guard Marshall Henderson celebrated Friday's victory over Wisconsin by hanging out with some of his friends at a bar across the street from the arena. Photos of Henderson (who was holding a clear cup containing a red drink) ended up on Twitter, which prompted Rebels AD Ross Bjork to summon Henderson back to the team hotel. "It wasn't like he was guzzling a beer," Bjork said. Ole Miss coach Andy Kennedy was asked if he approved of Henderson hanging out in bars in between NCAA tournament games. "He's 22 years old," Kennedy said of Henderson. "I didn't give him an alcohol sobriety test. We didn't make him recite his ABCs backward, but I know this. I know we had a pretty intense 10 o'clock meeting and he was involved in it, as they all were."

LaSalle coach John Giannini said playing in the "First Four" has been beneficial to his team. The No. 13 seed Explorers upset No. 4-seeded Kansas State on Friday. "You're certainly in a better rhythm," Giannini said. "If you look at yesterday's game, it perfectly demonstrated the advantages and disadvantages. One team was really in a rhythm in the first half. There is an advantage to having played, working out some nerves and being comfortable on the court."
January, 1, 2013
1/01/13
10:59
AM ET
By
Jeremy Lundblad, ESPN Stats & Info
| ESPN.com
Syracuse coach Jim Boeheim recently became the third member of the 900-win club, joining Mike Krzyzewski and Bob Knight as the only Division I men's coaches to reach that milestone.
So who, if anyone, might join that elite trio down the line?
Here's a subjective look at the most likely candidates based on age and current win total.
10. Jeff Capel (37 years old) - 162 wins
Currently an assistant at Duke, Capel got his head coaching start at 27. He'd obviously need to get another head-coaching job soon, but at 162 wins, he's got a good head start -- especially if he ends up as Coach K's successor.
9. Steve Alford (48) - 447 wins
In his sixth season at New Mexico, Alford has been a head coach every year since he was 27. At 48, he's almost halfway to 900.
8. Brad Stevens (36) - 149 wins
Stevens was one of the fastest ever to reach both 50 and 100 wins. Still only 36, he has many years in front of him. But Stevens won't have the Horizon League to kick around anymore.
7. Rick Pitino (60) - 641 wins
Six seasons in the NBA have set him back, but Pitino would reach 900 wins in about 10 years if he averages 25 per season.
6. Roy Williams (61) - 685 wins
Williams didn't become a head coach until he was 38. That's six years older than Boeheim was. With 215 wins to go, Williams would likely need to coach until he was about 70.
5. John Calipari (53) - 513 wins
Averaging 34 wins per season at Kentucky, Calipari is making up for the four seasons he lost to the NBA. At 53, he needs fewer than 400 more wins to reach 900.
4. Thad Matta (45) - 333 wins
Matta is in his 13th season, and he's never had fewer than 20 wins. In fact, Roy Williams is the only coach with more wins through his first 12 seasons.
3. Billy Donovan (47) - 430 wins
Only Boeheim and Krzyzewski have longer active streaks of 20-win seasons than Billy Donovan. At 47, he figures to be halfway to 900 before the end of this season.
2. Bill Self (50) - 487 wins
No one under 50 years old has more wins than Self. Since coming to Kansas, he's averaged more than 29 wins. At that rate, he's less than 15 seasons away from 900.
1. Bob Huggins (59) - 717 wins
Bob Huggins is already well beyond 700 wins and hasn't turned 60. That's well ahead of where Boeheim was at the same age. At 24 wins per year since arriving at West Virginia, he's on track to get to 900 at a younger age than either Boeheim or Bob Knight.
March, 25, 2012
3/25/12
7:40
PM ET
ST. LOUIS -- Quick thoughts from Kansas'
80-67 victory
over North Carolina in the Elite Eight on Sunday at the Edward Jones Dome.


Overview:
Tyshawn Taylor
scored 22 points and
Thomas Robinson
added 18 to lead Kansas to a 13-point victory over North Carolina and a berth in the Final Four. The Jayhawks, the No. 2 seed in the Midwest Region, will take on Ohio State on Saturday night in New Orleans.
This marks the second time in four years that KU has advanced to college basketball's final weekend. The Jayhawks won the NCAA title in 2008. This will also be the second Final Four appearance in Bill Self's career. The Kansas coach was 1-5 in the Elite Eight before Sunday.
Sunday's win came against a North Carolina squad that was playing without All-America point guard
Kendall Marshall
, who ranks second in the nation in assists with 9.8 per game. Marshall injured his wrist in the round-of-32 victory over Creighton on March 18 and didn't play at all this weekend in St. Louis.
Still, top-seeded North Carolina gave KU all it could handle until the game's final few minutes, when a 3-pointer by
Elijah Johnson
stretched the Jayhawks' lead to 71-67 and ignited a 12-0, game-ending run.
The score was tied 47-47 after a first half that saw UNC make 63 percent of its shots from the field, with KU hitting 56 percent.
James Michael McAdoo
had a team-high 15 points for North Carolina, which ends its season 32-6.
Turning point:
Johnson's 3-pointer was the spark in KU's finishing kick, but the shot was hardly the only heroic moment of the march. A few possessions later, Taylor came up with a steal and raced down the court on a fast-break. He was fouled hard while attempting a layup but somehow hung in the air, double-clutched and scored. He converted the 3-point play to make it 74-67 with 1:59 remaining. North Carolina never threatened again.
Key player:
Taylor's 22 points came on 10-of-19 shooting. He also had 5 assists and 5 steals. Robinson made just 6 of his 16 shots, but he grabbed 9 boards and helped KU out-rebound a UNC squad that features three future lottery picks down low in McAdoo,
Tyler Zeller
and
John Henson
.
Jeff Withey
's three blocks and overall presence was also a big factor for Kansas.
Key stat:
North Carolina was just 2-of-17 from 3-point range. The Tar Heels shot just 22.6 percent overall in the second half.
Up next:
Kansas' game against Ohio State on Saturday will mark the second time the Jayhawks and Buckeyes have played this season. KU won the first meeting 78-67 in Lawrence, but standout Ohio State forward
Jared Sullinger
didn't play because of back spasms.
March, 24, 2012
3/24/12
8:35
PM ET
ST. LOUIS -- The worry
over Kendall Marshall's wrist
continues.
The concern over
Harrison Barnes
' shot does not.
Although top-seeded North Carolina doesn't know if its starting point guard will miss his second straight game Sunday because of a fractured right wrist, the team is confident that its starting small forward -- who made only 3 of 16 shots Friday, with Marshall out -- will play well.
[+] Enlarge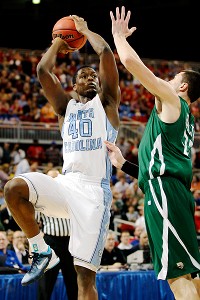 AP Photo/Charlie RiedelHarrison Barnes struggled with his shot against Ohio, making just 3 of 16 attempts.
"We're not worried about Harrison,'' senior forward
Tyler Zeller
said. "… He's got the mindset that, even if he's missed 15 shots, he can make the next 15. When he gets going, he gets going. He can score a lot of points very quickly, and we just wait for that moment, and hope it happens."
They probably need it to happen in the NCAA Midwest Region final against No. 2 seed Kansas, especially if Marshall is out.
The Tar Heels got just about all they could out of Zeller (20 points, 22 rebounds) and
Reggie Bullock
(17 points, 10 rebounds) against Ohio on Friday.
John Henson
added a double-double, and freshman point guard
Stilman White
, making his first collegiate start, performed better than expected: six assists, zero turnovers.
And the 13th-seeded Bobcats still took them to overtime.
If Marshall is a scratch, that leaves the biggest bounce-back growth possibility to Barnes, who admits he had a "poor game," but tried to make up for it with two late-game stints.
First, with about three minutes left, he buried a free throw then hit a 3-pointer off an offensive rebound to tie the score at 57. Then -- after missing a game-winning shot at the end of regulation -- he scored five points in overtime to help his team survive elimination.
In three NCAA tournament games, he's still made only 15 of 47 shots, including 6 of 18 3-point attempts.
But he's not worried. Part of his makeup -- the calm and confidence that has made him clutch for the Tar Heels over so many games -- is that he's willing to keep shooting.
Especially in big situations -- like the upcoming one Sunday.
"I judge my good and bad games by wins and losses,'' he said. "I do whatever I can to win the game; that's what I'm defined by. Individual stats -- obviously, if I'm not putting up 30, 10 and 10, I'm probably going to get some criticism. But you just have to go out there and play to win, and as long as my team wins, everything's going to be all right."
KANSAS-UNC SERIES?
Williams said he would not be open to a Kansas-UNC home-and-home series. But Jayhawks coach Bill Self wouldn't mind seeing the teams play more often.
"I understand why we don't, if we don't. But I certainly think that it would be a great, great series,'' Self said. "… Certainly neither place has a hard time selling out, but we could certainly raise the price of season tickets a couple bucks."
Williams, though, said it would be "too emotional" for him to play at Allen Fieldhouse, considering he used to coach the Jayhawks there and has so many positive memories.
"I don't want to go in there as the coach of the opposing team,'' he said.
INJURY (BESIDES MARSHALL) REPORT:
Reggie Bullock, who left Friday's game for a couple of minutes in the second half after his left knee buckled, said Saturday he is feeling fine.
"It was basically just a player tried to box me out and he just came to my knee level and [it] just buckled back,'' said Bullock, who scored 12 of his 17 points after halftime. " It just scared me a little bit because I was just thinking, I hope it's not another time for me to not be able to play. But I just kept my confidence high and just hoped for the best, and it just worked out."
Meanwhile, Henson continues to wear a wrap on his previously sprained left wrist, which caused him to miss three postseason games. He said it continues to feel better.
And Williams, who had a couple of dizzy spells during Friday's game, was healthier Saturday, as well.
"After the game I had a little headache, not bad,'' Williams said. "I got something to eat, feel great today. I just wish I would get over this dadgum sore throat is the bottom line."
Follow Robbi Pickeral on Twitter at @bylinerp.