North Carolina Tar Heels:

Bo Ryan
December, 1, 2011
12/01/11
1:50
AM ET
CHAPEL HILL, N.C. – His team trailing by five points to seventh-ranked Wisconsin with 13 minutes left Wednesday night, North Carolina forward
Harrison Barnes
knew it was test time.
"Thinking back to the UNLV game, that's the area where you go down 12, or come back and tie the game,'' the preseason All-American said, referring to the Saturday night upset that knocked his team from atop the polls. "That's the area where you find out whether you learned something from that loss."
Apparently, UNC did.
Behind a 20-point effort from Barnes – 10 of which came during the ensuing, decisive 18-5 run – plus 17 rebounds from
John Henson
and a solid defensive effort by
Kendall Marshall
and
Dexter Strickland
(who combined to hold star Badgers guard
Jordan Taylor
to 6-for-20 shooting), the fifth-ranked Tar Heels ground out a
60-57 victory
. It marked the first loss of the season for Wisconsin (6-1).
UNC didn't play well for stretches, and the game wasn't particularly pretty. But Carolina's second-half surge was enough to restore confidence in a club that had been outrebounded for two consecutive games (but beat Wisconsin on the boards by 13), had allowed the Runnin' Rebels to hit too many outside shots (but held the Badgers to 8-for-28 from 3-point land), and had been worried about the status of Barnes after he sprained his right ankle Saturday.
"[It was] a little stiff before I got it going, '' Barnes, who also chipped in three rebounds, said of his injury. "But once adrenaline set in, it was fine."
[+] Enlarge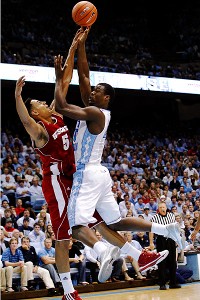 AP Photo/Julie JacobsonHarrison Barnes scored 10 points during the second-half run that put North Carolina up for good.
Indeed, UNC coach Roy Williams had predicted a big game from his leading scorer, even telling Barnes' mother earlier in the day, "Your son's going to have a big basketball game tonight."
And the sophomore's ankle looked fine about midway through the second half, after forward
Ryan Evans
' bucket gave the Badgers a 36-31 lead.
It had been a teeth-clenching game before that, with each team trying to force its style upon the other – Wisconsin's deliberate, UNC's fast-paced – with varying success. Carolina (6-1) had led by as many as nine points in the first half, allowed that to slip away, and seemed to be slipping farther out onto a precipice that Barnes was referring to earlier.
"The momentum was going their way,'' Barnes said. "We had to get something going."
Sensing, too, that his team needed a jump-start, Williams ran a set play for Barnes called "Quick."
Swish.
"He made a 3, and that seemed to get him energized,'' Williams said.
So much so, Barnes followed that 3 with a 2. Then added a couple of free throws. Then another 3.
"At the end of games, it's like he gets better,'' Henson said. "That's just what he does."
In all, Barnes contributed 10 points to an 18-5 run that put the Tar Heels ahead 49-41. They wouldn't trail again, although the Badgers kept most UNC fans in their seats until the end, chipping a 10-point lead to three in the final minute.
"That was as hard a fought game as I have ever been in as a coach,'' said Wisconsin coach Bo Ryan, whose team was led by Taylor's 18 points, but only shot 35.9 percent as a whole.
Said Williams: "Like I told Bo, 'I'm glad I don't play you anymore.' It was a difficult game for us."
But a good one. Several Tar Heels said their Saturday loss was a wake-up call, a realization that they had to make improvements – or else. There's still plenty more to build upon, they say, but withstanding this game, even if it wasn't perfect, was a step (and victory) in the right direction.
"Thinking back to the UNLV game, we weren't tough enough to get that win,'' Barnes said. "… That game was the education, and tonight was translating it from what you learned from that [game] into this one. So it was good to see that. This was a test, and we passed today."
Follow Robbi Pickeral on Twitter at @bylinerp.
November, 30, 2011
11/30/11
2:54
PM ET
Over at ESPN Recruiting Nation, Dave Telep has a good read on the recruiting implications of tonight's North Carolina vs. Wisconsin matchup. He writes:
"On paper, tonight's ACC/Big Ten Challenge game between No. 5 UNC and No. 9 Wisconsin is a game that the ACC needs to win in order to exit the challenge with a measure of pride.

However, it's not unreasonable to think coach Roy Williams and coach Bo Ryan had this matchup circled on their calendars a long time ago. In fact the recruiting rivalry between these two coaches dates back to 2002 when Williams, as a coach of Kansas, and Ryan went hard after Wisconsin native and McDonald's All-American Brian Butch, who ultimately ended up at Wisconsin. Since then, Williams and the Tar Heels are determined to dip into Wisconsin whenever possible."
For the entire story, click
here

.
November, 30, 2011
11/30/11
11:04
AM ET
CHAPEL HILL, N.C. – North Carolina coach Roy Williams can't help but be impressed by seventh-ranked Wisconsin, which plays his No. 5 Tar Heels in the Big Ten/ACC Challenge tonight.
"You watch them on tape, and they are really something," he said. "They're shooting 47 percent as a team from the 3-point line. They have a guy who's shooting 71 percent from (the) 3-point line. They're out-rebounding people by 14 rebounds a game. They're holding people to 39 points a game. And people can say, 'Well, they've haven't played that tough a schedule' but it's hard to hold people to 39 points a game after six games."
But the stat Williams is most impressed by: 30.5. That's the percentage teams are shooting against the Badgers' defense.
"It's a difficult matchup for us, there's no question,'' Williams said. "Our big guys have to be able to get out on the court. We have to be able to defend the 3-point line."
[+] Enlarge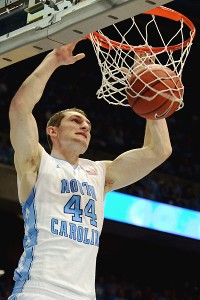 Rob Kinnan/US PresswireThe Tar Heels are counting on Tyler Zeller to be more aggressive on the boards against Wisconsin.
They've also got to be able to rebound – something they struggled with in their loss to UNLV, when the Runnin' Rebels out-toughed them, particularly on the offensive glass.
Some other things to watch tonight:
1. UNC forward Tyler Zeller
At the beginning of the season, the 7-foot senior said his most important personal goal was a high shooting percentage. But over his last two games, he's made only 5 of his 18 shots, including a 1-for-6 night against UNLV. Foul trouble may have been a factor, but so was a lack of aggression.
"I used to say the greatest thing about Sean May and Tyler Hansbrough, both, is the last thing the opposing coach said before he left his locker room was, 'We've got to stop May, we've got to stop Hansbrough,'" Williams said on his Monday night radio show. "They were the focus of the defense, but they still shot 54, 56, 58 percent. Brad Daugherty is the most efficient player who ever played here, the defense was designed to stop Brad, and he led the entire nation in field-goal percentage. So now, all of a sudden, defenses are really focusing on John [Henson] and Z.
"… He's got to throw the ball out, and guys have got to do a better job of moving and making shots, and then it's going to be more difficult to double on him."
Zeller also need to me more of a factor on the boards – he's only pulled down 12 rebounds his last two games.
2. The point guard matchup
Wisconsin coach Bo Ryan called the duel between UNC's
Kendall Marshall
and Badgers senior
Jordan Taylor
'the challenge within the Challenge,'
and although there will be plenty of other factors in this game, which ballhandler helps his team control the pace could ultimately earn bragging rights.
Transition defense will be particularly key for the Badgers, Ryan said.
"The idea is to get back, protect the rim, and then protect against shooters – and that takes five guys,'' he said. "You definitely want to be in a five-on-five games with them. If you're in an open area of three-on-three, Carolina wins three-on-three. Carolina beats anybody in the country three-on-three, four-on-four. Five-on-five is your best chance."
For UNC, whoever matches up with Taylor – and it probably will be shooting guard
Dexter Strickland
– has got to stop his dribble penetration in hopes of slowing a Badgers 3-point barrage.
"That's what college basketball is these days,'' Williams said. "You've got to do a better job guarding dribble penetration, and if they break you down off the dribble, and they can shoot it a lick, it's difficult guard them."
3. Harrison Barnes' ankle
The sophomore wasn't limping when he walked through the press room Tuesday, and he gave a thumbs-up sign when he walked back through, returning to practice. A team spokesman said he practiced fully, and was feeling good. But is that right ankle, turned during Saturday's loss, 100 percent?
Robbi Pickeral can be reached at bylinerp@gmail.com. Follow her on Twitter at @bylinerp.
November, 30, 2011
11/30/11
6:00
AM ET
CHAPEL HILL, N.C. -- The first time North Carolina point guard
Kendall Marshall
remembers meeting Wisconsin ballhandler
Jordan Taylor
was at last summer's Chris Paul camp -- and Marshall really wanted to hate him.
"We play the same position, people are going to compare us. He's a great player,'' Marshall explained. " But … once I got to know him off the court, he's very cool to be around and, I admire how much he's gotten better over the years and done things the right way."
[+] Enlarge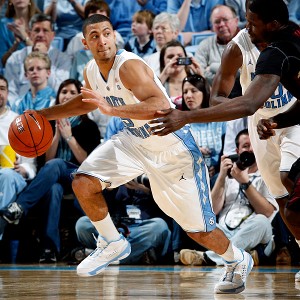 Bob Donnon/US PresswireKendall Marshall will be matched up with one of the top point guards in college basketball in Jordan Taylor when North Carolina faces Wisconsin.
Marshall, though, has tried to put all that friendliness aside this week, as Taylor's seventh-ranked Badgers come to town to face the No. 5 Tar Heels.
Although there will be plenty of keys to Wednesday night's Big Ten/ACC matchup -- rebounding, outside shooting, which team sets the pace -- the point guard showdown will be what Wisconsin coach Bo Ryan dubbed "a challenge within the Challenge."
"Those two guys, they understand the game, they understand what the team needs, and they bring that every night when they are on the floor,'' Ryan told reporters Monday. "Some nights are better than others. But in college basketball, I think that's pretty exciting, having attempted the position as a player and having coached some guys who I thought were pretty good point points guards."
The two ballhandlers key vastly different styles of offenses. Taylor's Badgers play at a deliberate pace that tends to cut down on possessions while looking for the best shot (often a 3-pointer, of which they are making 47.2 percent). Marshall's Tar Heels, meanwhile, prefer a breakneck transition game in which even the 7-footers try to beat everyone else down the floor.
The former is right-handed and averages 11 points and 5.8 assists per game; the latter is a leftie who is averaging 4.8 points and 10.8 assists. One wasn't highly recruited; the other was a McDonalds All-American.
But it's their similarities that make them two of the top point guards in the country.
"Both of them really like to make their team win,'' UNC coach Roy Williams said. "They try to make their [teammates] better. They try to get the ball to other people. They're more facilitators than scorers, although Jordan can really score.
"He is really, really good. Everybody's going to be treated to watch this kid play, because he is really, really good. He plays it on both ends on the court, he can drive and pull up, he's strong, he can go to the basket, and he can shoot the ball from the outside."
Indeed, Marshall said what he admires most about the 6-foot-1 senior is that he's multidimensional. Taylor, in turn, called the 6-4 sophomore "the consummate point guard."
"What I admire about his game is the way he sees the floor,'' Taylor said. " He's always finding the open guy and he's really unselfish."
Whether the duo will match up one-on-one for the entire game, though, is in doubt. To make up for Marshall's lack of defensive footspeed, UNC usually puts shooting guard
Dexter Strickland
on an opponent's quickest scorer.
Even if that happens, though, expect all eyes to be on the ballhandlers -- who, since last summer, have kept in touch via text messaging.
(Although not this week.)
"I try not to be too friendly with my competitors days before the game,'' Marshall said. "I'm sure once the game goes by, we'll talk about it, and hopefully I'll be able to have bragging rights."
Robbi Pickeral can be reached at bylinerp@gmail.com. Follow her on Twitter at @bylinerp.